Rick & Val Van Unen's 1964 Chevelle Wagon
By Nick Licata   –   Photography by Wes Allison
If you grew up in and around the '60s and '70s you no doubt have spent some time in the back of a station wagon of some kind–no seatbelts, rear window down, pulling in enough exhaust fumes to knock out an entire Little League team cranked up on Red Vines and Coca-Cola. Ford, Chevy, Pontiac, Chrysler, Jeep, Buick, Oldsmobile, AMC, Cadillac, and more all made extended family haulers of just about every shape and size. Back then we didn't have thoughts about them being cool—probably due to just about every family having one, and in our youthful eyes, the more wood siding, the less cool they were. It wouldn't be long before the minivan replaced the station wagon, which has since been rolled over by today's SUV.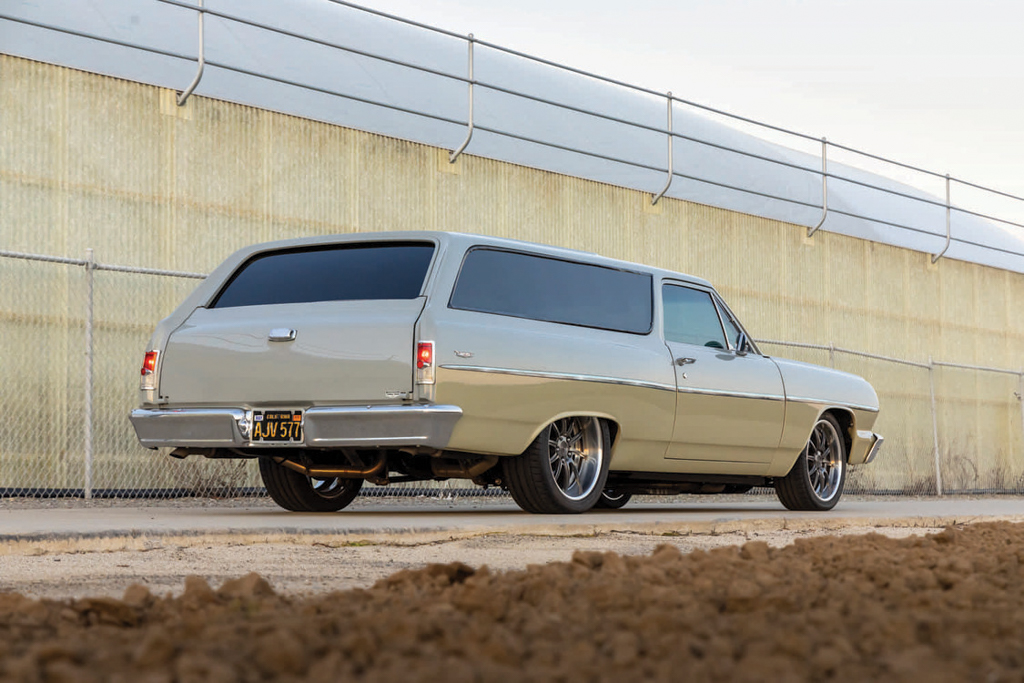 Rick Van Unen has been a fan of '64-65 two-door Chevelle wagons since his high school days and picked up this '64 with the idea to build his wagon in a Pro Touring motif. "I had this car built with a couple goals in mind," Rick states. "It had to be fast and possess the handling and braking performance found in a new car."
Rick and his wife, Val, enjoy going on cross-county classic car tours and taking long weekend trips with friends, so the wagon's seemingly endless rectangular real estate offers plenty of room for packing massive amounts of luggage and necessities required for those day's long drives. Such was the case when they drove on the Barrett-Jackson cruise from the West Coast to New York City a few years back. The wagon was packed with all they needed and had room to spare.
Don't Miss This Wagon: 1966 Chevelle Wagon, as a Gasser!!!
While on said cruise, one of the featured stops was at Dutchboys Hotrods in Vicksburg, Michigan. Rick was so impressed by the shop's high-quality work that while booking a hauler to have the car shipped back to California took longer than expected, he decided to have the Dutchboys' crew pull the LS3 and 4L60 trans and swap in a more-modern and powerful LT4 engine and a Speartech 10L80 10-speed transmission, making the car even more highway friendly and, as Rick says, "more exciting to drive."
Dutchboys' general manager Jason Mitchell explains, "We had to do extensive work on the trans tunnel and also massage the firewall to make the LT4 and 10-speed transmission fit. After all that heavy lifting, we then cleaned up the engine bay and tidied up the carpet to conform to the floor's slightly expanded dimensions."
The LT4's power makes its way to a GearFX 9-inch rearend rebuilt with an unusual 3.00:1 gear ratio and Eaton Truetrac differential. "It was important to have as close a gear ratio as possible to replicate the combination of the sixth-gen ZL1 Camaro," Mitchell reports.
"I couldn't be happier with this engine and transmission combination," Rick says. "It's amazing to have a '64 Chevelle with the drivetrain out of a late-model Camaro. It drives so smoothly, has tons of power, and stays in the rpm sweet spot regardless of what sort of driving I'm doing. I also take a lot of comfort knowing the car can be taken to a Chevy dealer's service department and be recognized as a '21 ZL1 Camaro for tuning and diagnostics."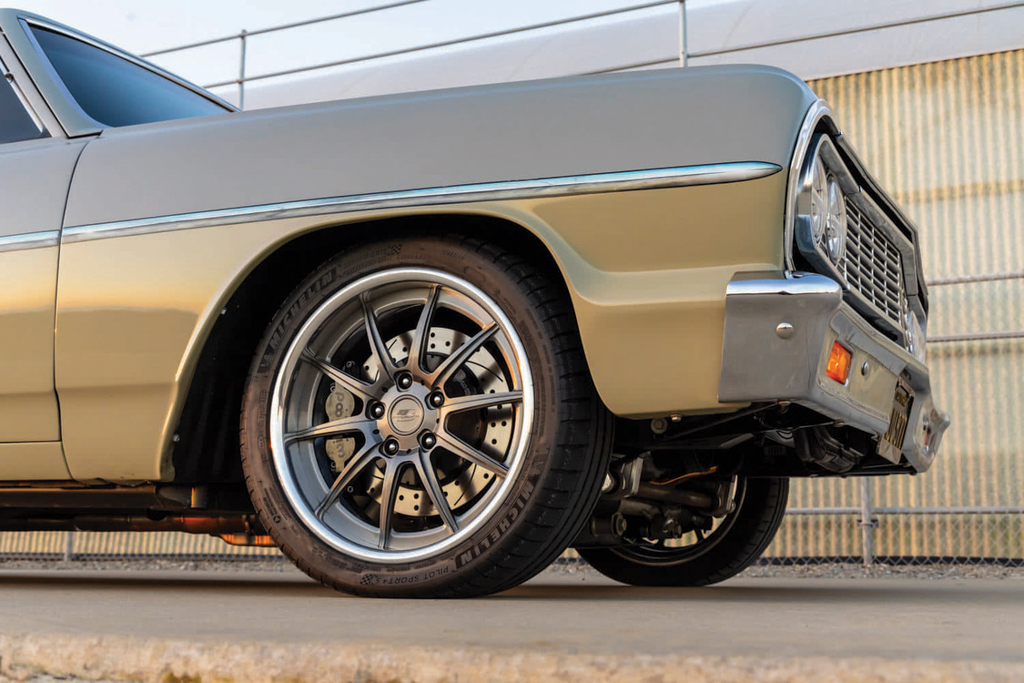 Rick's history with the car began when he purchased it in Grass Valley, California, a few years back. A man similar in age to Rick built the car for his son who didn't fully appreciate what the freshly built wagon had to offer. "When I took over the car it had a 350ci small-block and 700-R4 transmission with stock suspension–it was cool but not what I wanted in the long run," Rick says. "Being solid with no rust made it a good candidate for what I had in mind."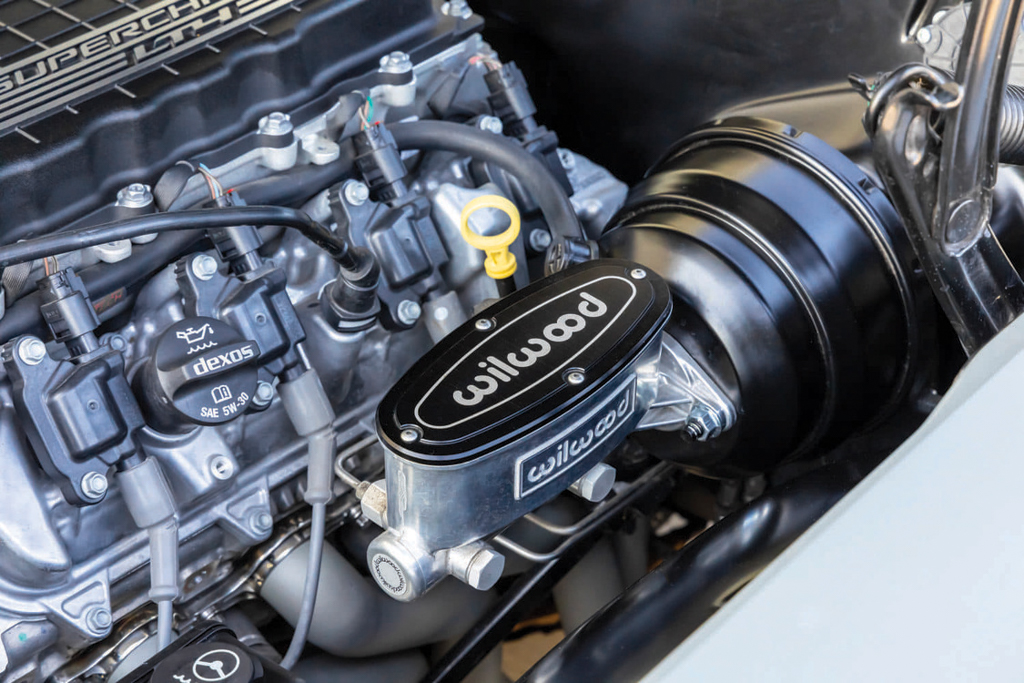 Wagon Alert: CHEVY CONCEPTS – '63 Chevrolet Nova Wagon
Prior to installing the aforementioned LS3, Rick wanted a solid foundation, so he went to Art Morrison for an AME Sport GT Chassis dressed in Strange Ultra Series shocks and springs with a 1-inch sway bar up front and a ¾-inch sway bar out back. A set of Billet Specialties Turbo wheels (18×8 front, 19×9 rear) wrapped in Michelin Pilot Sport tires (235/40R18 front, 255/40R19 rear) add modern style and performance while offering plenty of room for the big Wilwood disc brakes that bring this heavy Chevy to a halt with ease.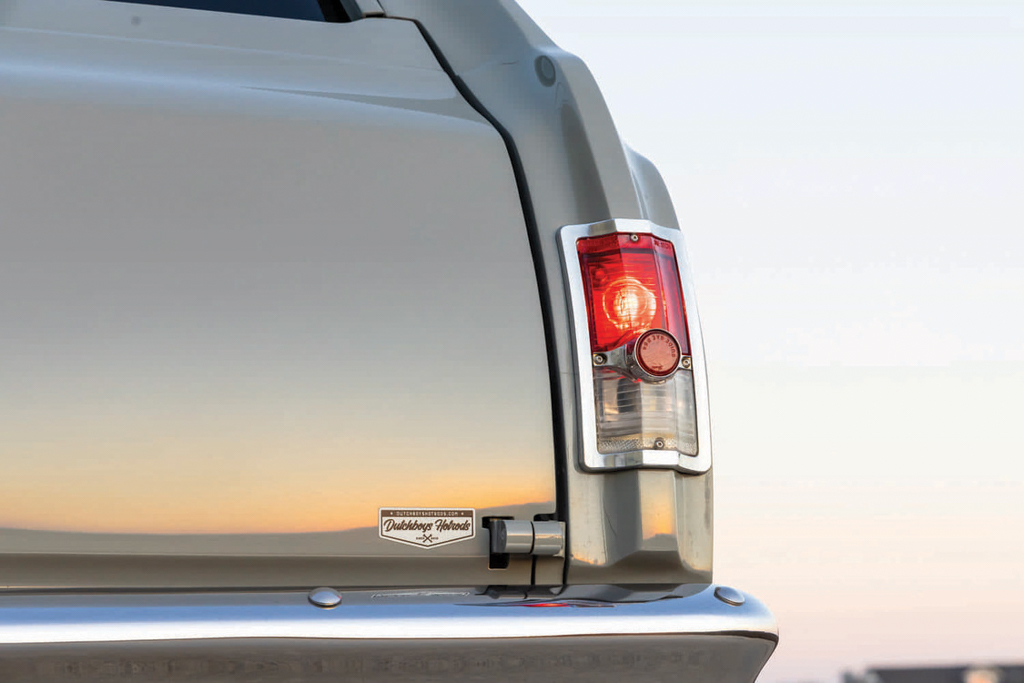 The seemingly miles of sheetmetal was smoothed and bodyworked to perfection prior to receiving a slathering of Glasurit Porsche Heron and Smyrna Green custom mix applied by Art Himsl from Concord, California. The original trim and chrome bits survived and were brought back to life by Sherm's Custom Plating in Sacramento, California, for a better-than-factory appearance.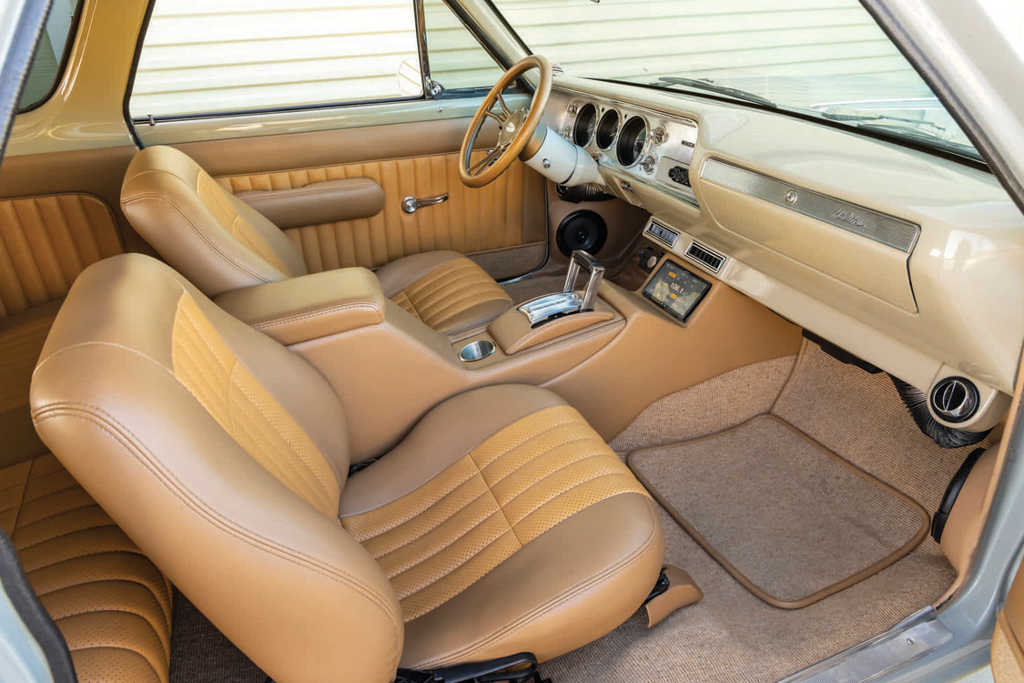 The interior consists of a somewhat factory presentation, although late-model BMW seats replaced the stock bench seat up front for exceptional comfort and style. The side bolsters keep Rick in place while exercising the AME chassis and letting the LT4 eat some asphalt. Auburn, California's Roman's Auto Upholstery used a Tan leather on the seats and door panels and laid down a matching German square-weave carpet, creating an appealing office space, including the acers of real estate behind the rear seats. That ordinary-looking picnic basket behind the rear seat contains no food or refreshments, but instead cleverly houses the battery. Dakota Digital gauges reside in the stock dash for accurate operational intelligence and the Vintage Air HVAC system keeps the massive airspace in a climate-controlled comfort zone. The overall scene stays true to its '64 born-on date.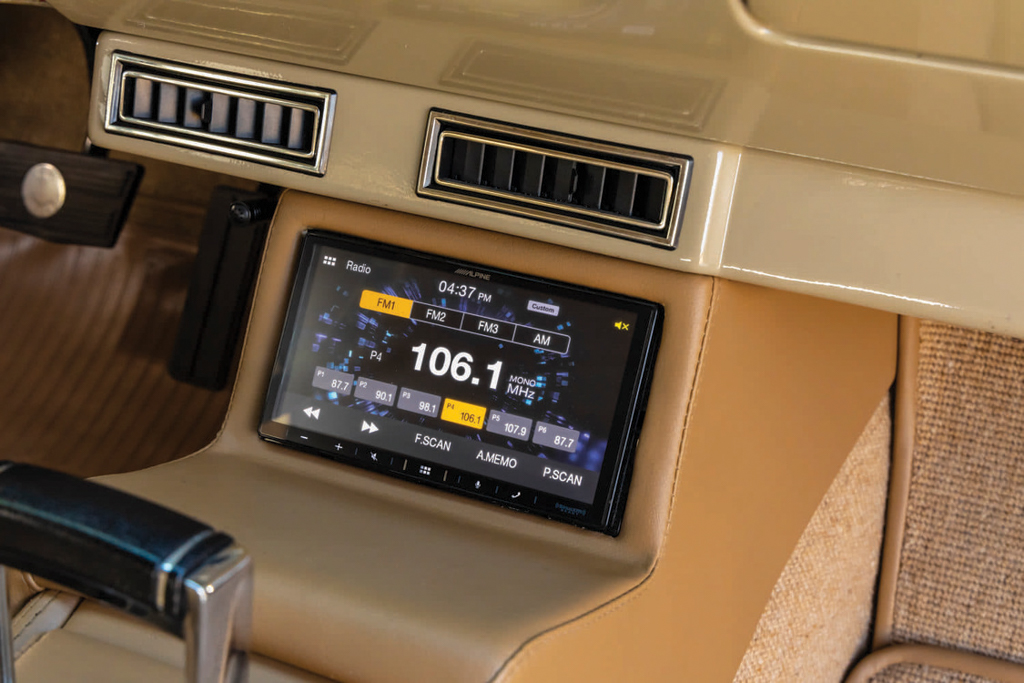 A Pioneer touch screen head unit relies on a Rockford Fosgate amp to power a pair of 6-inch speakers in the kick panels—a sonically adequate hi-fi system that keeps Rick and Val rocking while racking up thousands of road miles per year.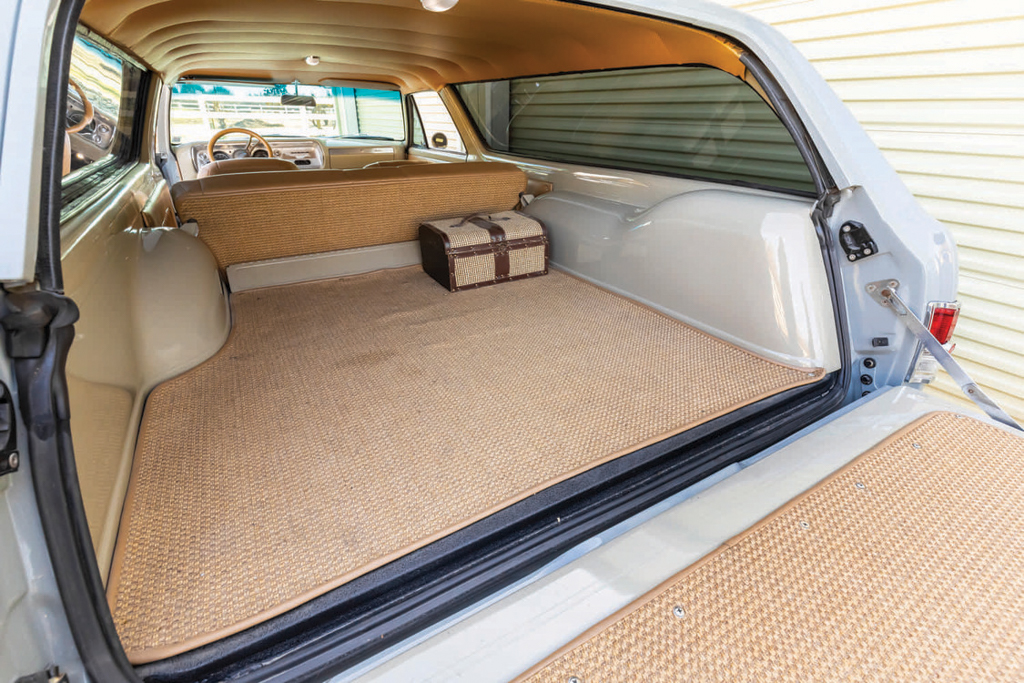 It's great to hear about folks taking their vintage cars on cross-county road trips, and Rick and Val aren't shy when it comes to packing up their long-roof Chevelle and hitting the road. As Rick says, "I don't much care to look at my cars in the garage. These things are made to be driven, so that's what we do.
TECH CHECK
Owner: Rick and Val Van Unen, Ripon, California
Vehicle: '64 Chevy Chevelle Two-Door Wagon
Engine
Type: Chevrolet Performance LT4
Displacement: 376 ci (6.2L)
Compression Ratio: 10.0:1
Bore: 4.065 inches
Stroke: 3.622 inches
Cylinder Heads: A356-T6 rotocast aluminum
Rotating Assembly: Forged steel crankshaft, forged powdered-metal steel connecting rods, forged aluminum pistons
Camshaft: Hydraulic roller
Induction: 1.7L Eaton R1740 TVS supercharger
Assembly: GM
Exhaust: Ultimate Headers, 2.5-inch stainless exhaust, MagnaFlow mufflers
Ancillaries: Griptec 2.3-inch supercharger pulley, C&R heat exchanger, Holley 20-220 accessory drive system, modified Harrison '63-67 Corvette radiator tank used as supercharger coolant tank, Dutchboys flex fuel sensor kit, Walbro 525ml in-tank fuel pump, Tanks Inc. fuel tank
Tuning: Katech Performance
Output: 650 hp and 630 lb-ft
Drivetrain
Transmission: Speartech 10L80 10-speed, Speartech cruise control
Rear Axle: Ford 9-inch rearend rebuilt by GearFX Truetrac limited-slip differential, GM 3.00 gearset
Chassis
Chassis: Art Morrison GT Sport
Front Suspension: C6-style aluminum knuckles, tubular A-arms, Strange Ultra Series single-adjustable coilover shocks, 550-pound springs, 1¼-inch sway bar
Rear Suspension: Triangulated four-bar system, Strange Ultra Series single-adjustable shocks, 250-pound springs, ¾-inch sway bar
Brakes: Wilwood 14-inch rotors, six-piston calipers front, Wilwood 14-inch rotors, four-piston calipers rear, Wilwood master cylinder, Wilwood proportion valve, GM booster
Wheels & Tires
Wheels: Billet Specialties Turbo (18×8 front, 18×9 rear)
Tires: Michelin Pilot Sport; 235/40R18 front, 255/40R19 rear
Interior
Upholstery: Tan leather, German square-weave carpet, OE door panels, custom center console
Installation: Roman's Auto Upholstery (Auburn, CA)
Seats: BMW
Interior Fabrication: Custom trans tunnel by Dutchboys Hotrods (Vicksburg, MI)
Steering: Ididit steering column, Budnik steering wheel
Shifter: Horseshoe
Dash: Factory
Instrumentation: Dakota Digital
HVAC: Vintage Air
Entertainment System: Pioneer head unit, Rockford Fosgate amp and speakers
Installation: Jason Cho (Ripon, CA)
Insulation: Dynamat
Wiring: American Autowire by Jim Guerero (Manteca, CA)
Exterior
Bodywork and Paint: Art Himsl (Concord, CA)
Paint: Glasurit Porsche Heron Gray and Smyrna Green custom mix
Front Bumper: Stock
Rear Bumper: Stock
Headlights: United Pacific
Taillights: Stock
Plating: Sherm's Custom Plating (Sacramento, CA)
Glass: Single side windows