Nick Cincotti's Asphalt-Burning 1966 Chevy Nova
By Chuck Vranas   –   Photography by the Author
Driven to perfection . . . it's something that many Chevy owners aspire to, especially when taking on a ground-zero build with the desire to create something truly unique. With each car being as individual as the owner, it presents a personal fingerprint once completed, incorporating a stream of cutting-edge parts along with seamless fabrication to establish a truly unique vibe. The wicked '66 Chevy Nova laid out across our pages owned by Nick Cincotti III of Billerica, Massachusetts, is representative of a vision to fuse stance, performance, and a razor-sharp look to deliver a knock-out punch.
Everyone in the hot rod world gets inspired in one way or another to take on their next build, regardless of whether it's personalizing a new acquisition or the excitement to start on something fresh. For Nick, it was when Dave Kindig and his team crafted a '66 Nova with a ferocious 638ci aluminum, Nelson-built twin-turbo V-8 packed perfectly into a seductive Pro Touring form drenched in a Hibiscus Red glow. From there, all of his young dreams and aspirations came to life from when he first started wrenching in the family garage on a multitude of Chevy muscle cars. Youthful influence from his dad, Nick Jr., as well as neighbor and hard-core GM performance car owner Dick Bagni led him on a quest to locate a suitable base for his next project.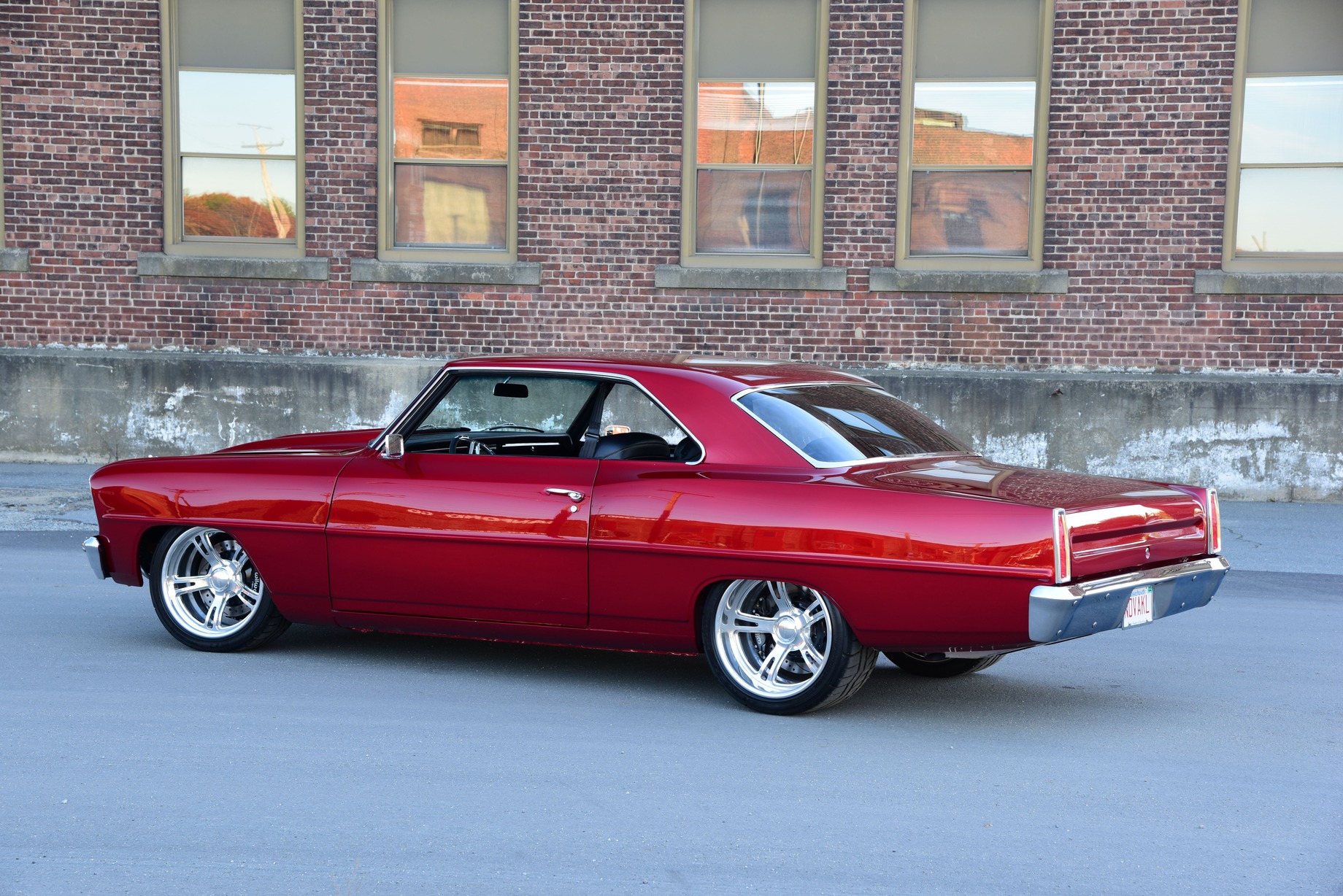 After looking at countless potential candidates, a lead brought him to KMS Kustoms in New York where a particular '66 Nova being offered for sale caught his attention. The car had been blasted clean revealing its needs and had been given a rebirth by the KMS team, including fresh interior and trunk floors, quarter-panels, rockers, and doors from Auto Metal Direct as well as a set of Detroit Speed mini-tubs out back. The freshly primed roller was a perfect start to bring to the next level. After swapping cash for keys, Nick began laying out plans for the next stages.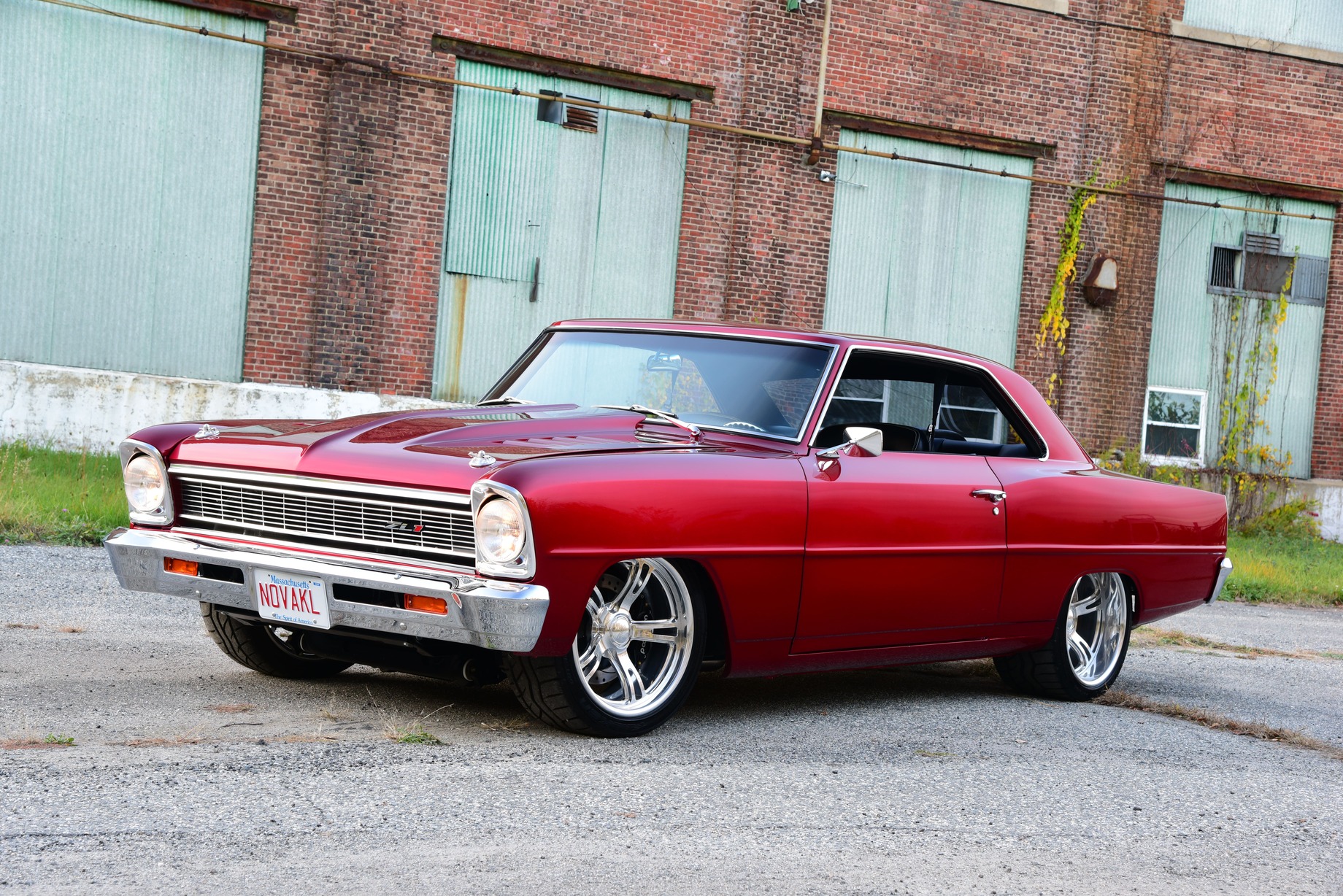 Check this out: Super Clean LS Swapped 1964 Chevy Nova Full Custom
He contacted well-known drag racer, Mark Dykeman of Dykeman Welding and Fabrication to set the stage for updating the suspension and brakes knowing he wanted the car to handle like it was on 'rails with enough braking power to stop on a dime. Out back a Detroit Speed QUADRALink system ups the ante matched with an adjustable Panhard bar and single-adjustable JRi coilover shocks with "Detroit Speed Tuned" valving. A DSE Ford 9-inch rear packs a GearFX N-Series center with 3.70:1 gears to spin matching 31-spline axles for planting the power. A Detroit Speed front subframe incorporates their cutting-edge technology starting with stamped crossmembers matched to TIG-welded tubular upper and lower control arms, spindles, integrated splined sway bar, and single-adjustable JRi coilover shocks. When it's time to hit the brakes, a Wilwood dual master pushes fluid through stainless lines to matching front 13-inch Superlite 6R discs with six-piston calipers matched to 14-inch Superlite 4R rears and four-piston calipers. For the ultimate in style and grip, a set of Schott MOD 5 billet wheels sized 18×9 front and 18×11 rear wear Falken Azenis RT615K 265/35R18 and Falken Azenis RT615K 315/30R18 tires, respectively.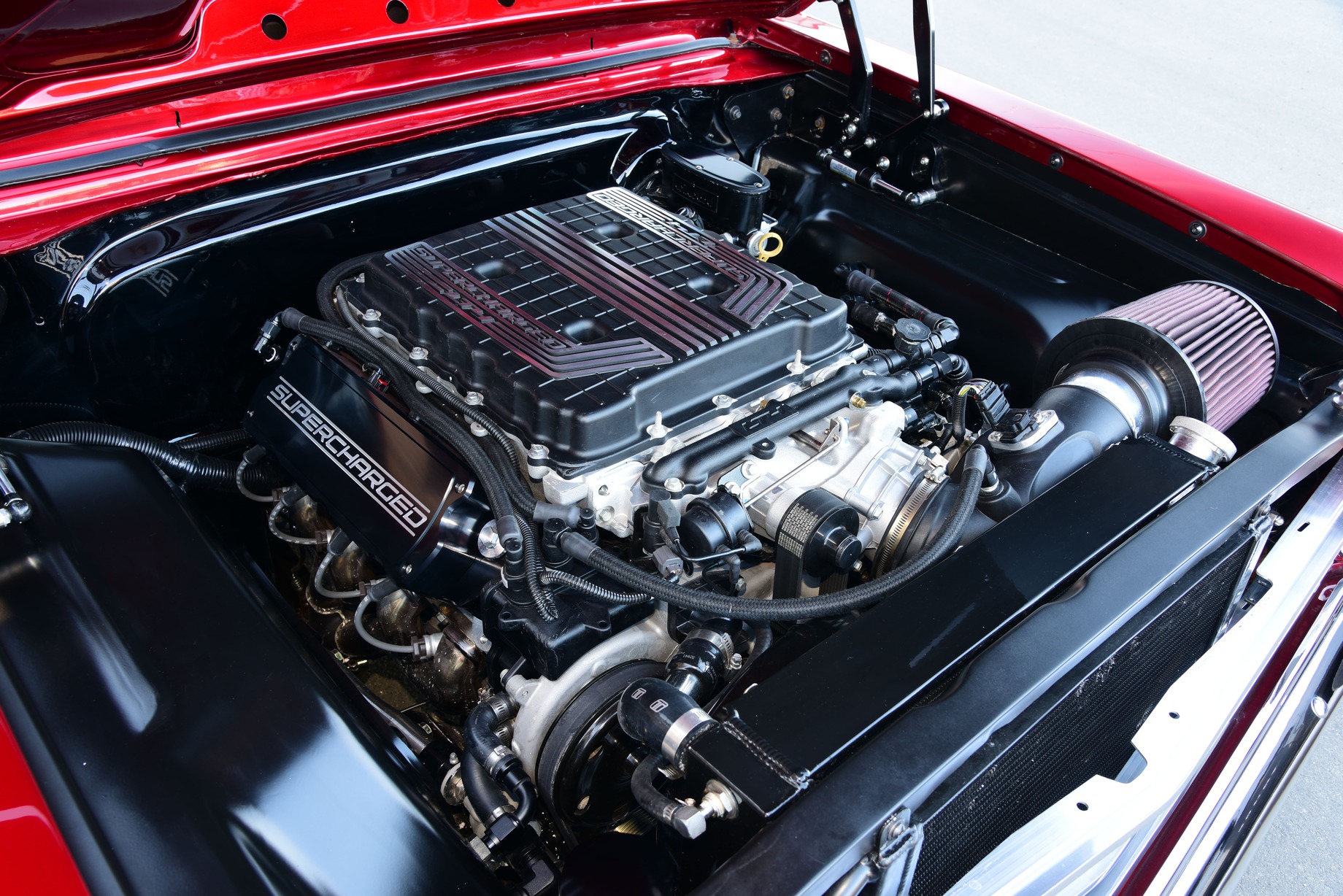 If you're going to turn up the heat under the hood, nothing does it better than one of Chevrolet Performance's ultimate crate engines. Straight from the heart of the Corvette C7 Z06, the 6.2L LT4 V-8 is the most powerful offering for a production car in Chevrolet history. Starting with a cast-aluminum block featuring six-bolt, cross-bolted main caps, it's filled with a forged steel crank linked to matching forged powdered-metal rods wearing forged aluminum pistons getting bumped by a hydraulic roller cam. Up top, a set of A356T6 Rotocast aluminum heads, as cast, with 65.5cc chambers make plenty of thundering power especially when matched to a 1.7L Eaton R1740 TVS Supercharger with direct-injection and 87mm throttle body. A factory coil-pack ignition lights the fire with exhaust flowing through a set of modified factory stainless headers from The Bowtie Shop in Billerica, Massachusetts, to a custom 3-inch stainless exhaust with Borla mufflers installed by R&D Custom Exhaust also in Billerica. Additional cool bits include a set of custom-engraved Wegner Automotive LTx valve covers, Billet Specialties Tru Trac serpentine system, and a Bowtie Shop cold-air intake. To move the goods, a GM 8L90-E connects to a driveshaft from Montrose Driveline in Wakefield. It's all good for a tire-melting 650 hp.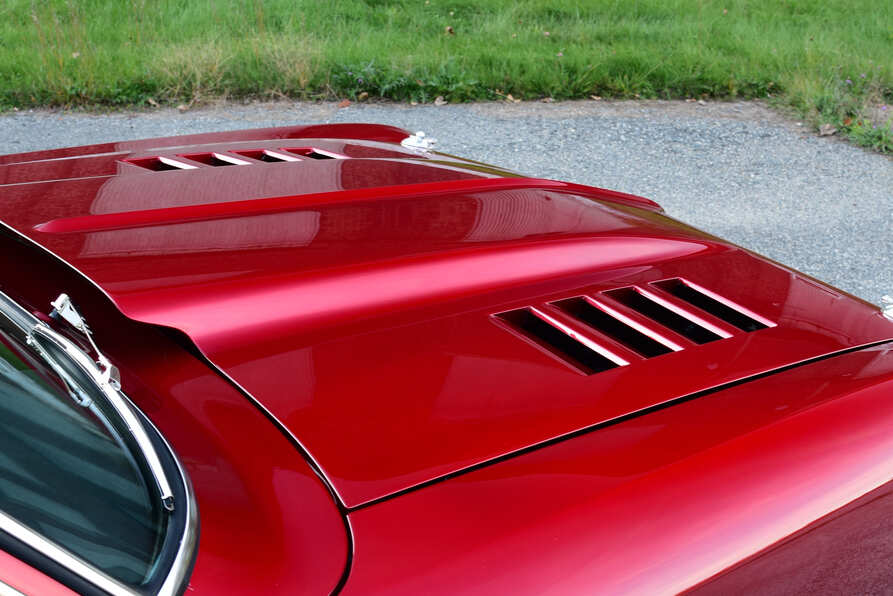 When it came time to addressing the final fit and finish, the devil is always in the details, so Nick met with Joe Scafidi, owner of The Bowtie Shop, to set a plan for the journey to bring the Nova to the highest level. Starting at the top, the team added a fresh roof skin from Auto Metal Direct (AMD) and followed under the hood with a bevy of updates, including filling and smoothing the firewall and radiator support, adding DSE inner fenders, finessing the new AMD cowl-induction hood with vented steel louvers from Gray Area Steel, and fitting the Ringbrothers hood pins and hinges. While underhood they continued on by custom routing all plumbing and wiring to keep the engine bay sharp. The team then installed their exclusive one-piece side glass to the doors and followed by completing all final welding to the replacement panels while also dialing in all the gaps and metal finishing the body to perfection. A decadent coating of Diamont Soul Red Crystal metallic brought the project to life. Upon reassembly, fresh exterior candy, including bumpers, grille, trim, and all related bits were sourced from Year One.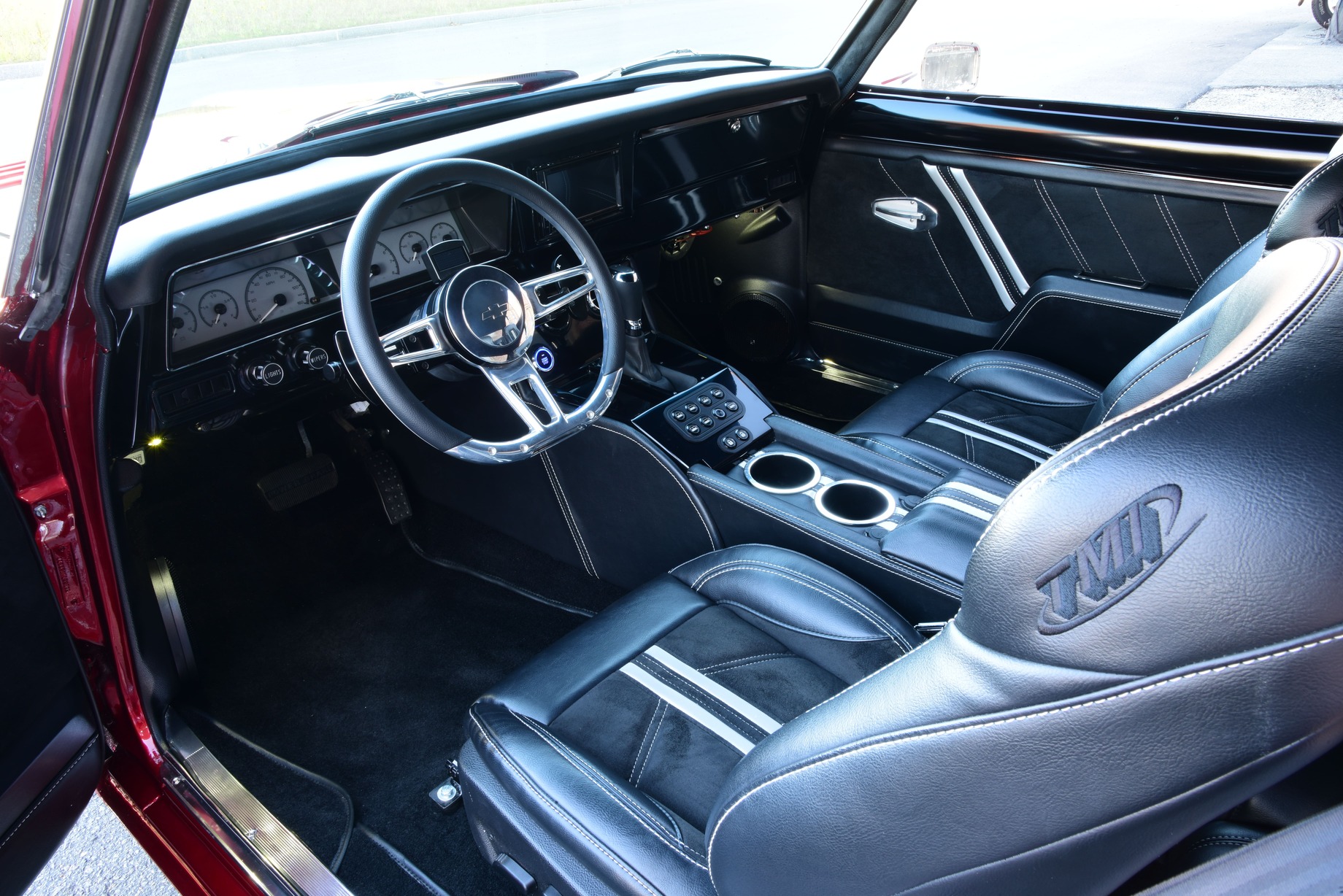 To bring the same amount of allure to the interior, The Bowtie Shop smoothed the factory dash while also treating it to a fresh top pad from Year One. A Dakota Digital HDX instrument cluster monitors the vitals, while a Billet Specialties Formula 14 D-shaped steering wheel on an ididit column carves a course with shifts moving through a choice of a Powertrain Control Solutions (PCS) PCS SFT5000 floor shift or PCS Paddle Shifter for lightning-fast hits.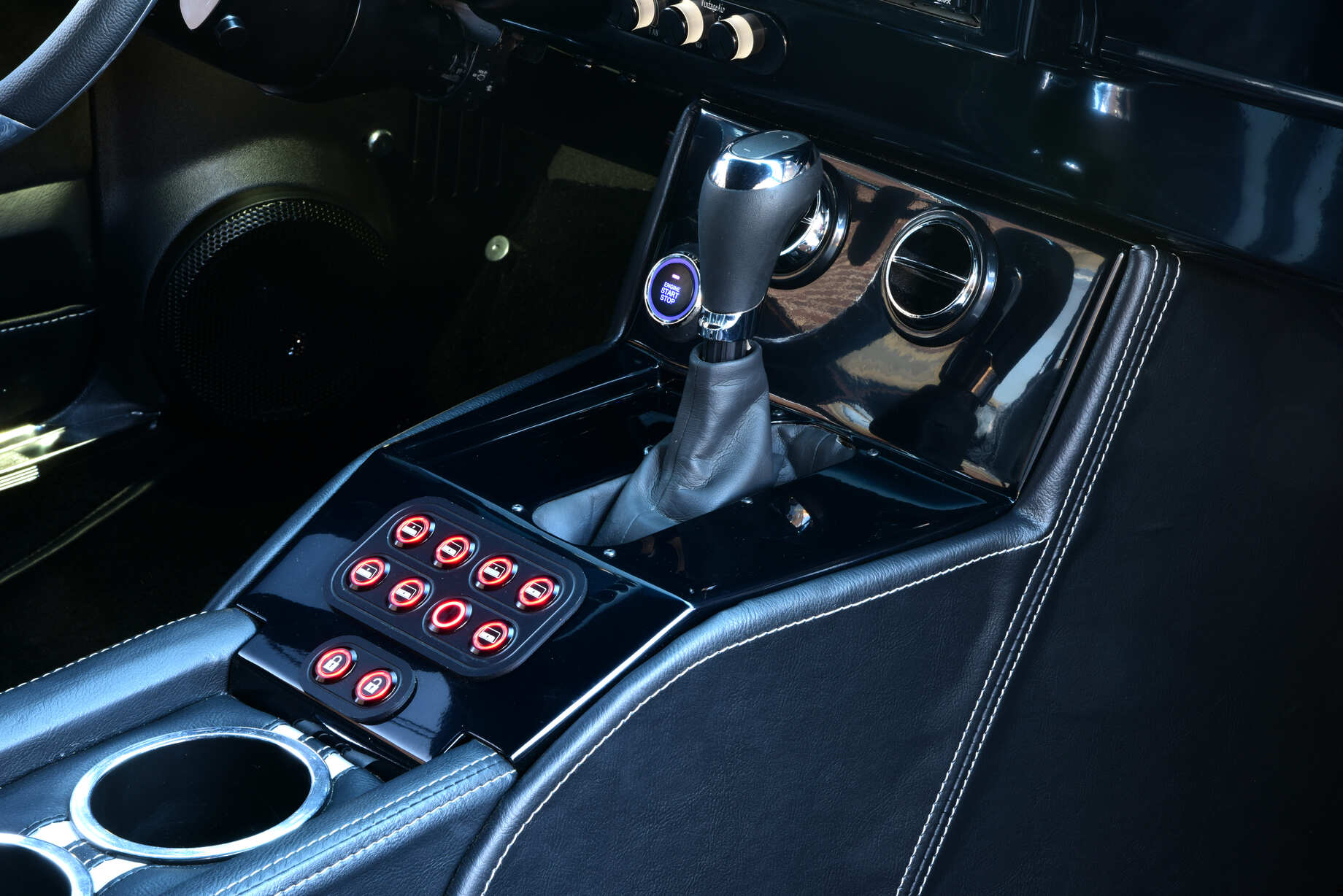 Full Custom Chevelle: LS Swapped Pro Touring 1965 Chevelle Restomod
Cool breezes are from Vintage air while a Pioneer audio system brings the boom. A custom transmission tunnel and console by The Bowtie Team houses more electronics, including a push-button start and power windows with an American Autowire system tying it all together. For comfort, a set of TMI Pro-Series Power Sport-LR Grand buckets in black suede and vinyl are complemented by matching rear seating and side panels accented by a black suede headliner and black carpet—all installed by The Bowtie Shop.
Nick would also like to thank Pat O'Brien from Procision Industries in Taunton, Massachusetts, for his support throughout the build. This is one memorable Nova that will leave a long-lasting impression, especially when you see it roaring down the highway. We know Nick's dad would be proud!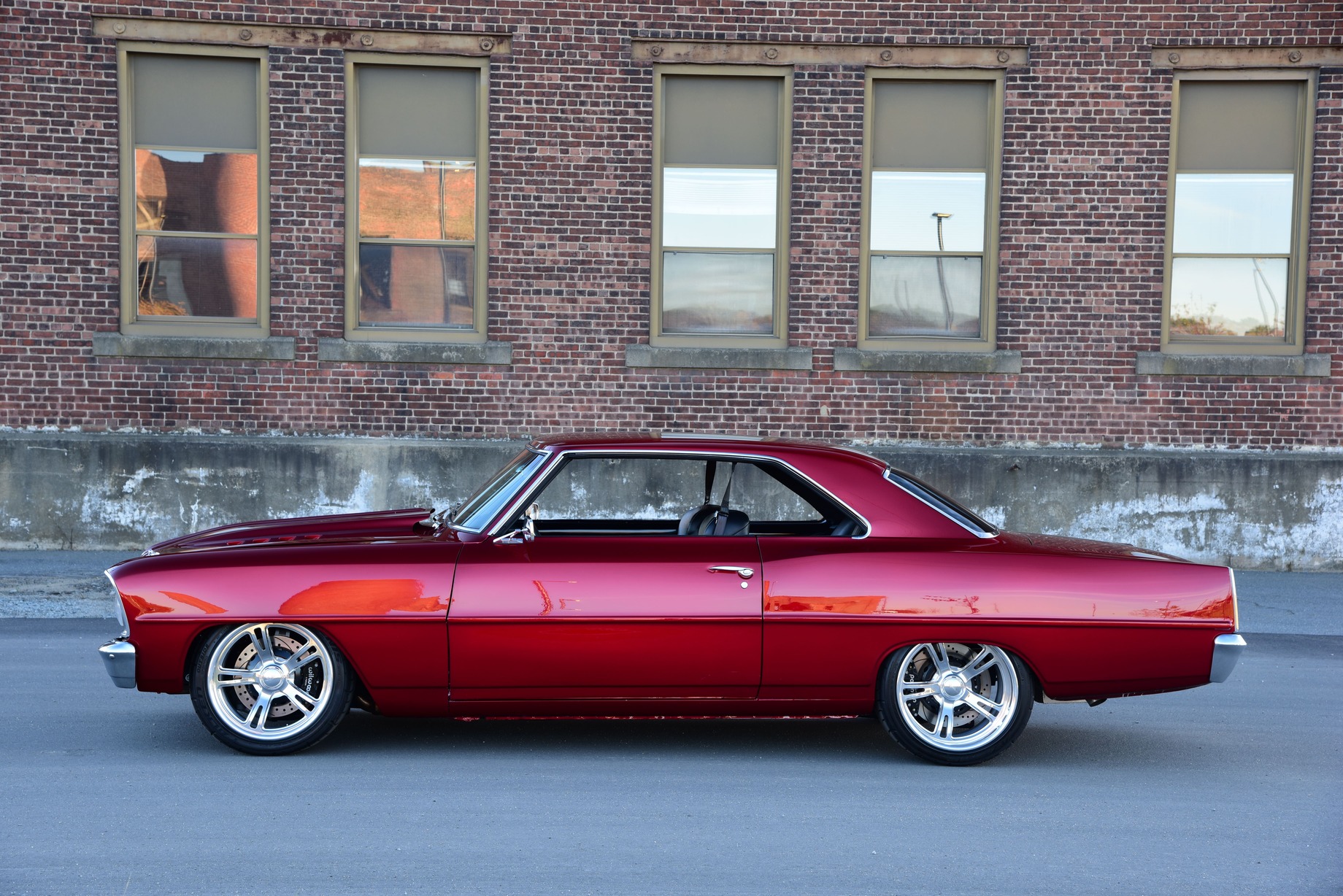 TECH CHECK
Owner:  Nick Cincotti, Billerica, Massachusetts
Vehicle: '66 Chevy Nova
Engine
Type: Chevrolet Performance LT4
Displacement: 6.2L
Compression: 10:1
Bore: 4.065
Stroke: 3.622
Cylinder Heads: A356T6 Rotocast aluminum, 65.5cc chambers
Rotating Assembly: Forged steel crank, forged powdered-metal rods, forged aluminum pistons
Camshaft: Hydraulic roller
Induction: 1.7L Eaton R1740 TVS Supercharger
Ignition: GM
Exhaust: Modified stainless factory headers, custom 3-inch stainless exhaust, Borla mufflers
Output: 650 hp
Transmission: GM 8L90-E
Rear Axle: Detroit Speed Ford 9-inch with 31-spline axles, GearFX N-Series center, 3.70:1 gears
Chassis
Steering: Detroit Speed rack-and-pinion
Front Suspension: Detroit Speed subframe, control arms, spindles, single-adjustable coilover shocks, integrated splined sway bar
Rear Suspension: Detroit Speed QUADRALink, Panhard rod, single-adjustable coilover shocks
Brakes: Wilwood dual master, 13-inch Superlite 6R series front discs, six-piston calipers, 14-inch Superlite 4R rear discs, four-piston calipers
Wheels & Tires
Wheels: Front, Schott MOD 5 18×9, rear, Schott MOD 5 18×11
Tires: Front, Falken Azenis RT615K 265/35R18; rear, Falken Azenis RT615K 315/30R18
Interior
Seats: TMI Pro-Series Power Sport-LR Grand
Upholstery: TMI black vinyl, suede inserts
Gauges: Dakota Digital HDX
Steering: Ididit
Carpet: TMI Essex black
Shifter: PCS SFT5000 with PCS Paddle Shifter
Exterior
Paint: Diamont Soul Red Crystal metallic
Hood: Stock with Gray Area Steel Louvers