Sidney Dyson's 1965 Chevelle Malibu SS
By Joe Greeves   –   Photography by Kevin DiOssi
Every enthusiast remembers that one unique old car—the one that was a special gift or the one you wish you never sold. While it wasn't perfect, over the years memory erased its faults and all your succeeding cars were measured against it. It's always a great reminiscence but that's not quite the tale that Sidney Dyson from Tampa, Florida, recalls.
Joining the Air Force after high school in 1965, Sidney has fond memories of the best assignment in his military career; the time when he and his wife enjoyed an accompanied tour in Okinawa, Japan. Returning to the states in 1971 and needing transportation, his first purchase was '65 Chevelle Malibu SS. The affordable $400 car was fairly quick and reasonably good looking but not without its faults. He drove it to South Carolina the following summer and wound up replacing the worn-out cam and rockers. On the way home, the left front wheel fell off. Although it wasn't a good start, Sidney was not a man easily discouraged. Not only did he make those initial repairs, he continued the maintenance effort on this family favorite for the last half century.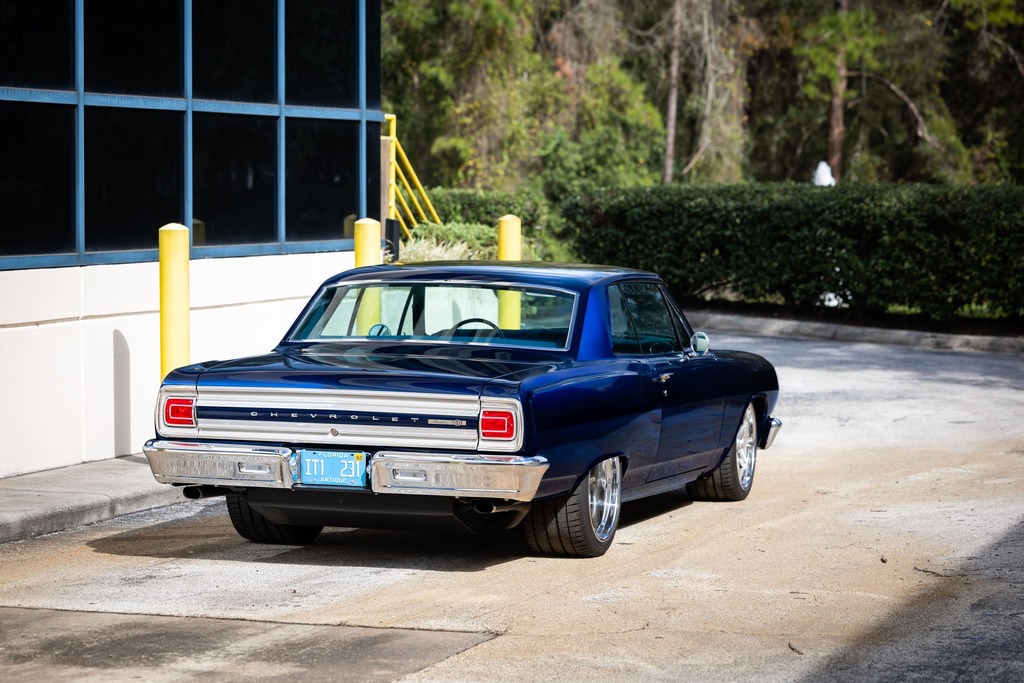 Fast-forward to this century when Sidney and his son, Sam, found Tom Argue of Tom Argue Design in Clearwater, Florida. Argue and his crew have been specializing in restorations and custom builds for over 20 years.
Check it out: Malibu 2.0 – Sully's '65 Chevelle SS
When the father and son team initially contacted Argue, they discussed their goal of a Pro Touring car with modern suspension, high performance, comfort, and, of course, reliability. The three reviewed multiple options, beginning with replacing the Chevelle's tired V-8. Although several Chevrolet Performance naturally aspirated crate packages were available, they topped out at about 525 hp, not quite in line with the Dyson team's go-faster philosophy. Argue suggested a BluePrint Engines 427ci, LS3-based stroker package capable of a stout 635 hp.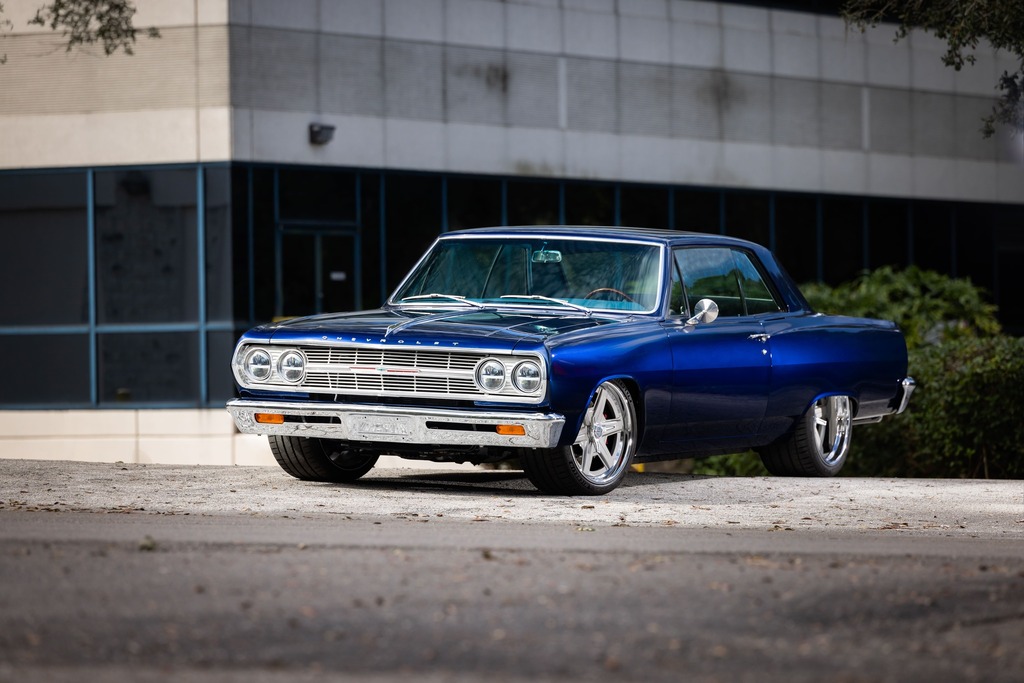 Handling concerns were next on the list, especially knowing that cars built in the mid '60s saw enough lean-in turns to jeopardize the door handles. Argue recommended an ExtReme Chassis from Speedtech Performance. The frame's built-in, high-clearance geometry and enhanced upper and lower front control arms would allow both a low profile and a tight turning radius. Forged aluminum spindles with heavy-duty C7 hubs teamed up with their torque arm rear suspension, holding a Speedtech Performance 9-inch housing with Dutchman-built, Eaton limited-slip rear, and 31-spline axles. With most of the items on the menu finalized, the ordinary was about to become extraordinary.
When the car arrived at the shop it was determined there was evidence of several previous paintjobs. Rudimentary repairs had been made over the years, complete with artistic applications of chicken wire and Bondo. Mediablasting showed that the car needed both rear quarters, a trunk pan, decklid, floor, and more, causing a rebuild process that required a full year just to return the body back to stock.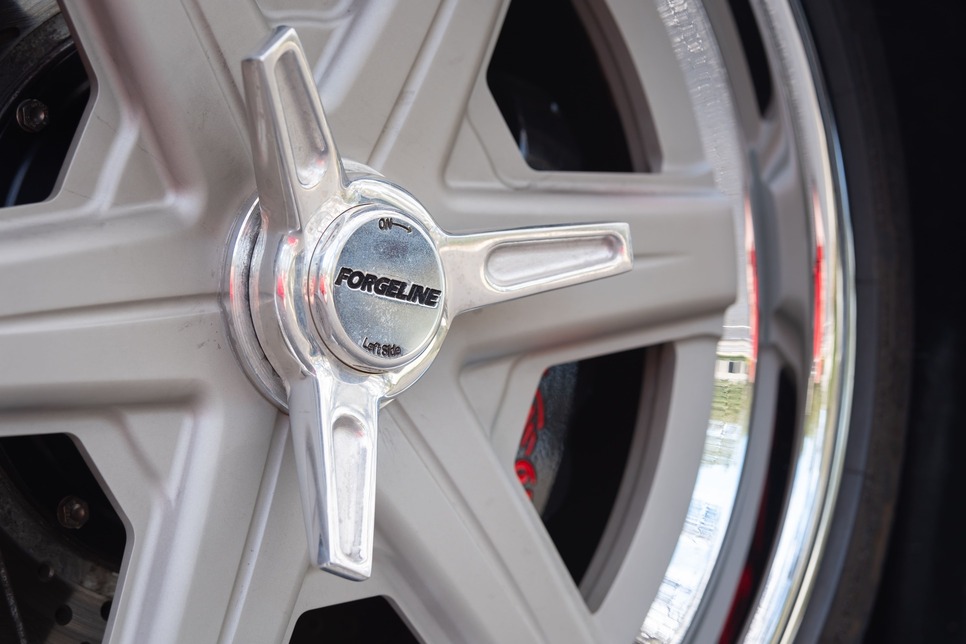 While the bodywork was underway, Tom concentrated on chassis upgrades, turning to Sweet Manufacturing for their fast rack-and-pinion power steering, then bolting up Viking Warrior double-adjustable coilovers to ensure autocross-level handling. Finally, Baer 14-inch, six-piston calipers on all four corners provide that critical dose of friction necessary to rein in 600-plus horsepower. The chassis became a roller thanks to Forgeline RS6 Center Lock rims, featuring true knock-off hubs with 19x10s up front and 19x12s in the rear. Michelin Pilot rubber sticks the car's thundering herd of horses to the asphalt.
The engine compartment received a complete makeover with a clean firewall and new inner fender panels designed to accent the showy new powerplant. Although the 427 came equipped, Argue turned to CVF Racing for their pulley system to power the Vintage Air A/C and power steering. Ultimate stainless steel headers, a custom Argue-designed exhaust, and MagnaFlow mufflers ensured free breathing while simultaneously announcing arrival to the neighbors. Both Dysons are fans of the three-pedal shuffle, so the T56 Magnum six-speed transmission was the right choice. Bowler Stage 2 internal upgrades and a Tilton twin-disc clutch allows for higher rpm shift points under heavy torque loads.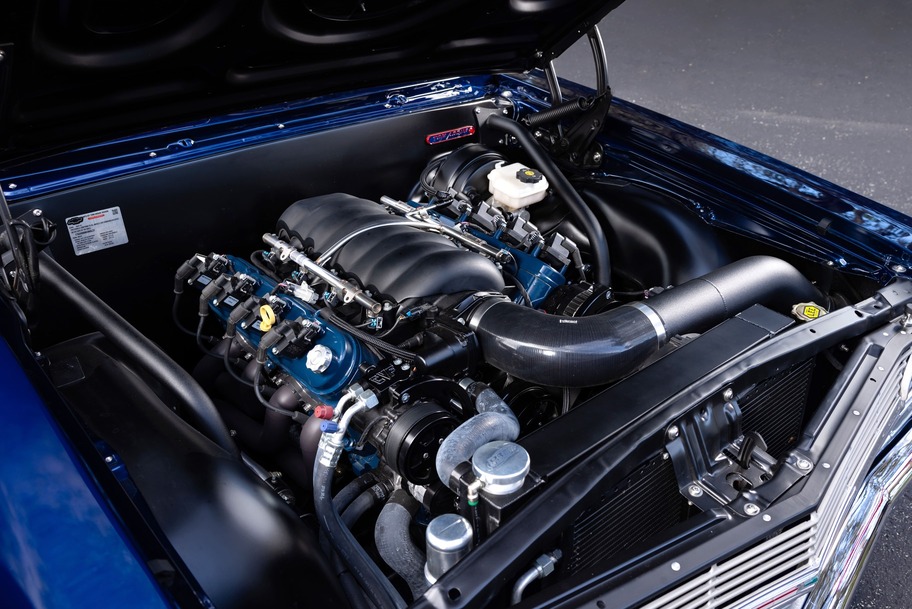 This Day Two Resto 1965 Chevelle Has Lived its Life on the Streets of New York City
Once handling and performance needs were met, the goal was to reinvigorate the car's original identity rather than tamper with an already-successful design. The front fenders were widened to accommodate the front wheel and tire package. The cowl panel was smoothed, the driprails eliminated, and several seams welded shut—all designed to keep the car fairly stock looking. LED headlights reside up front, and all the chrome and stainless was either polished or replaced. Called "Blue Dream," the custom-mixed PPG paint is a close shade to the original.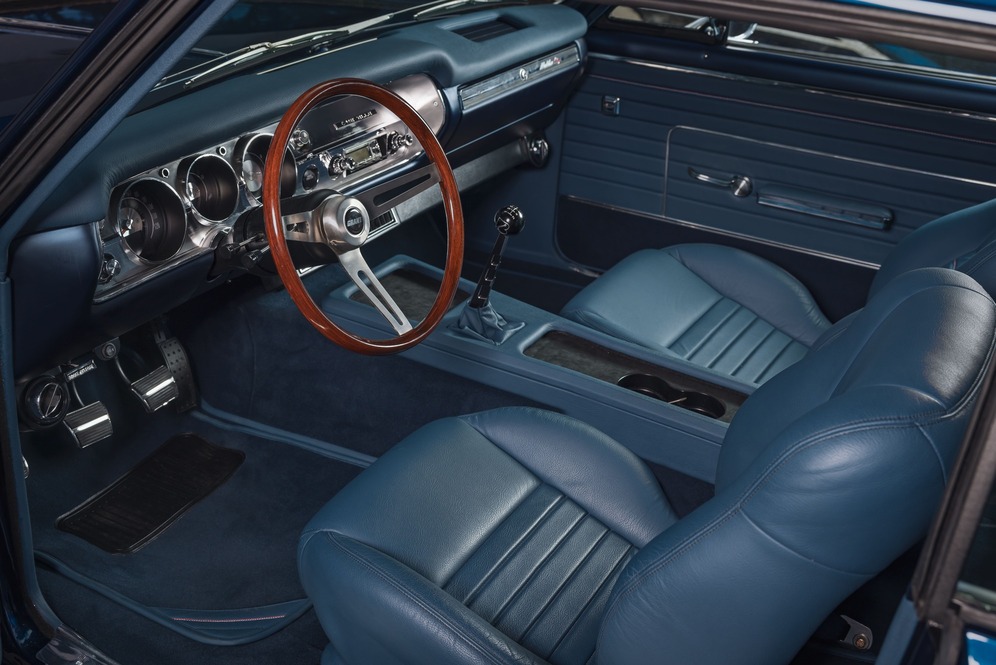 The interior features stock-looking but subtly customized Hyundai bucket seats. A new center console was fashioned to accommodate the distinctive Bowler shifter. Argue used Hydes Leather on everything except for the factory headliner. A stereo adds to the fun on a road trip, beginning with a Custom Autosound radio that controls a pair of 6×9 speakers set in the rear package tray. Argue squeezed twin tweeters into the factory center location on the dash and stuffed a Pioneer amplifier/sub combination under the driver seat. The Dakota Digital RTX gauges keep track of vital information with an unexpected twist. Sidney found out that the car was capable of a bit more performance than expected, especially after learning about the RTX speedometer's High Speed Recall (tattletale!) feature that recorded one of Sam's triple-digit adventures. Gotcha! Nu-Relics power windows, Bowler Touch and Go push-button start, and keyless entry system added new millennium upgrades to the ride.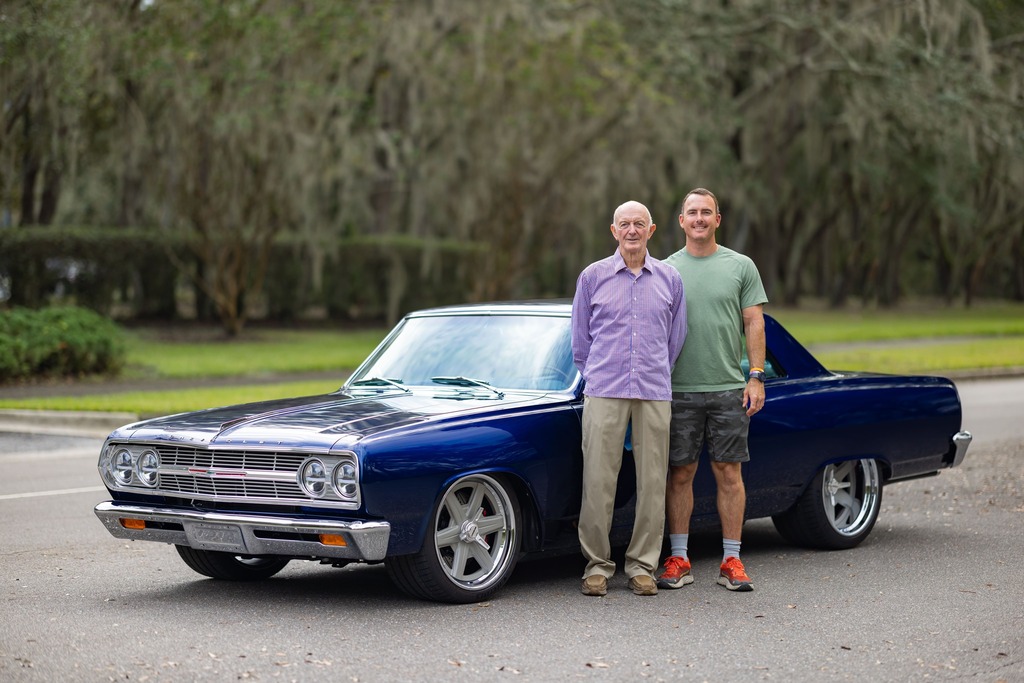 How is the completed car to drive? The chassis possesses just the right choice of ride height—somewhere between stock and slammed. Both Dysons get behind the wheel on a regular basis and the current altitude has proven to be the perfect blend of a sleek, low profile without the anguish of an errant speed bump. The Viking double-adjustable coilovers are set for a softer, more pleasant ride although with just a few quick turns, the car can slide sideways through the cones at an autocross. Finally, the 625hp V-8 is quick enough to outrun a thunderstorm, tempting both men to ignore their limitations.
Thanks to the right dose of talent and dedication, this louder, faster, better, half-century favorite might just be around for another 50 years!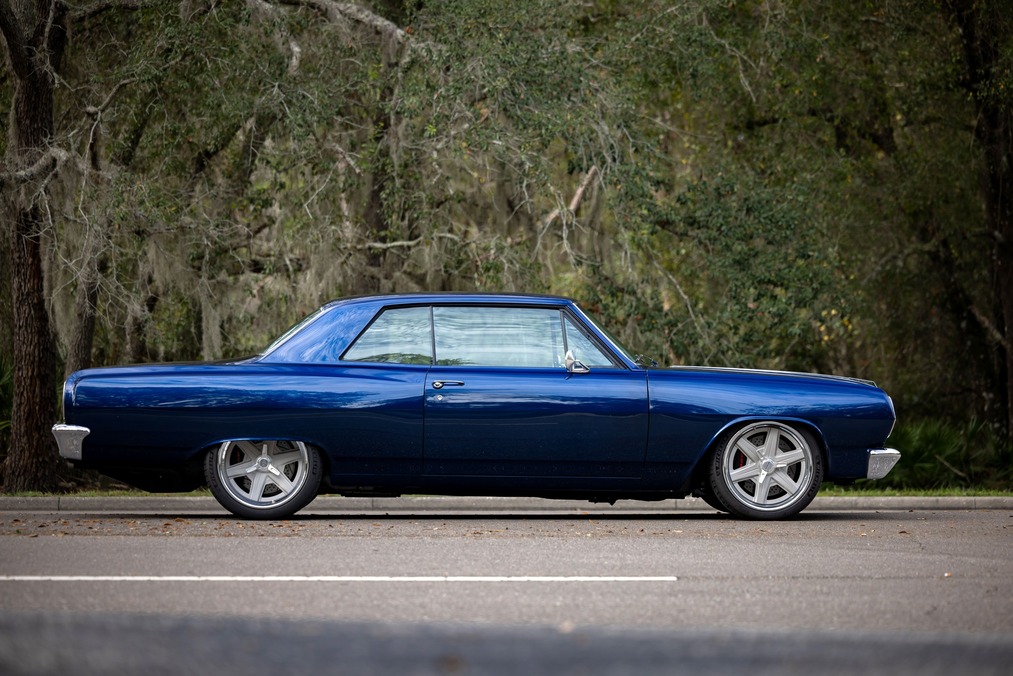 TECH
OWNER: Sidney Dyson, Tampa, Florida
VEHICLE: '65 Chevrolet Chevelle Malibu SS
ENGINE
TYPE: BluePrint Engines LS 427
DISPLACEMENT: 427 ci
COMPRESSION RATIO: 11:1
BORE: 4.069
STROKE: 4.125
CYLINDER HEADS: BluePrint Engines Aluminum PS8015
ROTATING ASSEMBLY: Forged crank, rods, and pistons with BluePrint Engines BP Racing bearings
CAMSHAFT: BluePrint Engines
MACHINE WORK AND ASSEMBLY: BluePrint Engines
INDUCTION: GM LS3
IGNITION: GM ECM Coil
EXHAUST: Ultimate 1 7/8-inch headers, custom Tom Argue Design (Clearwater, FL) 3-inch exhaust system feeding 4×9-inch oval, center offset, MagnaFlow mufflers
ANCILLARIES: CVF Hi Flow aluminum water pump, SPAL 12-inch electric fan, Performance Rod and Custom radiator, 140-amp one-wire alternator, CVF Racing accessory drive system, BluePrint Engines valve covers
EFI TUNING: Jeremy Formato of Fasterproms
OUTPUT: 625 hp and 565 lb-ft
DRIVETRAIN
TRANSMISSION: TREMEC T56 by Bowler Transmissions
CLUTCH: Tilton Twin Disc clutch and flywheel
REAR AXLE: Speedtech Performance 9-inch housing, Eaton limited-slip differential, 31-spline axles
CHASSIS
FRONT SUSPENSION: Speedtech Performance USA Extreme, Sweet Manufacturing rack-and-pinion power steering, Viking Warrior Springs, Viking Warrior coilovers
REAR SUSPENSION: Speedtech Performance torque arm, Panhard bar, Viking Warrior  springs, Viking Warrior coilovers
BRAKES: Baer 14-inch rotors, six-piston calipers front and rear, GM master cylinder and booster
FABRICATION AND ASSEMBLY: Tom Argue Design
WHEELS & TIRES
WHEELS: Forgeline RS6 Center Lock wheels; 19×10 front, 19×12 rear
TIRES: Michelin Pilot Sport 295/30R19 front, 325/30R19 rear
INTERIOR
SEATS: Modified Hyundai buckets
STEERING: Ididit column and Grant wheel
SHIFTER: Bowler
INSTRUMENTATION: Dakota Digital RTX
WIRING: Sparks and Shorts LLC, Matt Prescott
STEREO: Custom Autosound USA-230 radio, JL Audio 4.5 tweeters and 6×9 speakers, Pioneer TS-WX13CD combination 160-watt output Class-D amplifier and Compact Active subwoofer
EXTERIOR
BODYWORK: Tom Argue Design
PAINTER: Tom Argue
PAINT: Custom-mix PPG Blue Dream
CUSTOM TOUCHES: Shaved driprails, cowl vents removed, front fenders widened 2 inches, firewall smoothed, custom inner fenderwells, LED headlights, Billet Rides outside mirrors