How To Swap The Roof On Our 1955 Chevy Wagon With Kev's Rod & Custom
By Brian Brennan   –   Photography By the Author   –   Videography By Ryan Foss Productions
Sometimes hot rodders have been known to "drive the long way around the barn" to get to their final goal. It sure seems like that's the case for our Modern Rodding Project 1955 Chevy Wagon. We've been tinkering with small projects so far, like removing and replacing the spare tire well as well as the tailgate, with special thanks to Danchuk for helping us out on those projects. But the latest effort is a doozy. We want to keep the patina look but upgrade and make the remainder of our 1955 Chevy wagon.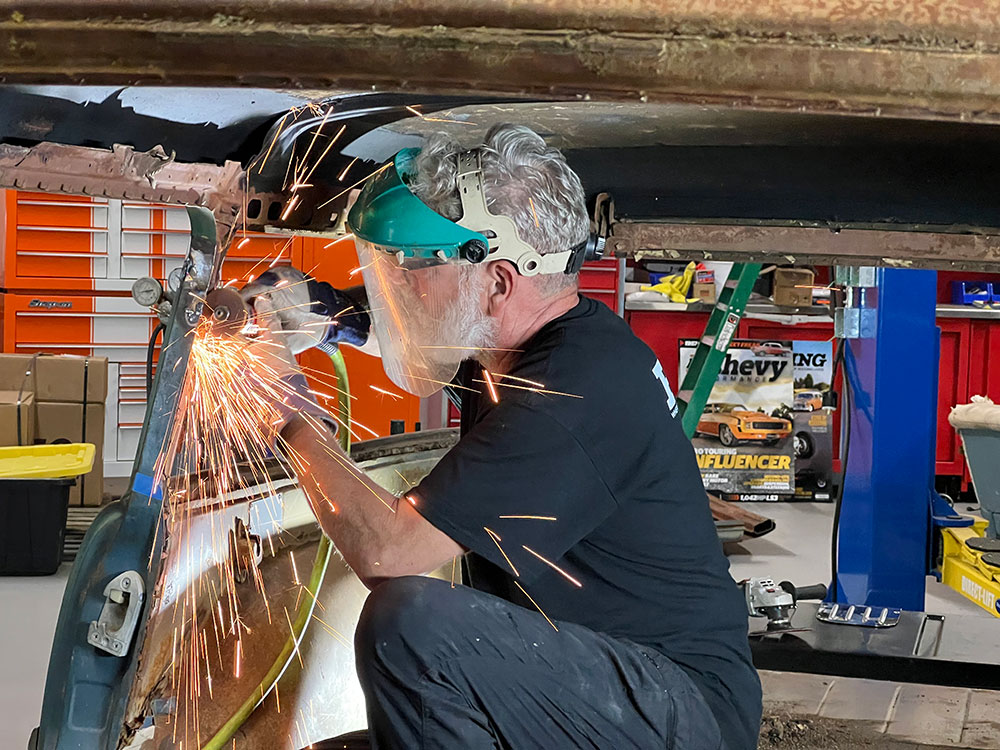 The first step was to go through the self-analysis of the sheetmetal. Well, it's loaded with what you would expect from years of hard-earned patina–thoroughly abused paint (or lack thereof) and rust. Really good rust; you know, the kind that you can see through! That was our first clue that something had to be done to our 1955 Chevy wagon roof–patina is good, holes aren't. Upon close inspection and the fact that we could see through the holes in the roof in the rain gutter area had us scratching our heads.
Read More: Shop Truck: 1955 Tri-Five Chevy Station Wagon
Apparently, Plato, the Greek philosopher dude, had a rust problem on his Chevy wagon. His writings were once translated to say: "The true creator is necessity, who is the mother of our invention." And that's exactly where we found ourselves. We needed to think and come up with a solution.
Our solution was to find another 1955 Chevy wagon and cut the patina roof off of it and install it on our wagon. As I was writing this out it sure sounds like a marginal idea at best. But alas, that's what we did. We found another patina-ridden wagon and removed the roof from it and took our Swiss cheese–looking roof off and replaced it with another one that looked just as "bad" minus the "rust windows."
We figured if we came up with this idea there must be other rodders with equally as questionable intellect and we should share the step-by-step approach. Working in our In The Garage Media Tech Center we began the process. Since a project like this really requires a metal man with expertise and a great deal of confidence, we knew exactly who to go to. For this we turned to Kev Elliott of Kev's Rod & Custom located nearby. Elliott is truly a metal man supreme, but he's also a "magazine guy" so he understood our dilemma of needing the work done but also in such a way that we could share what was done for the rest of us to see.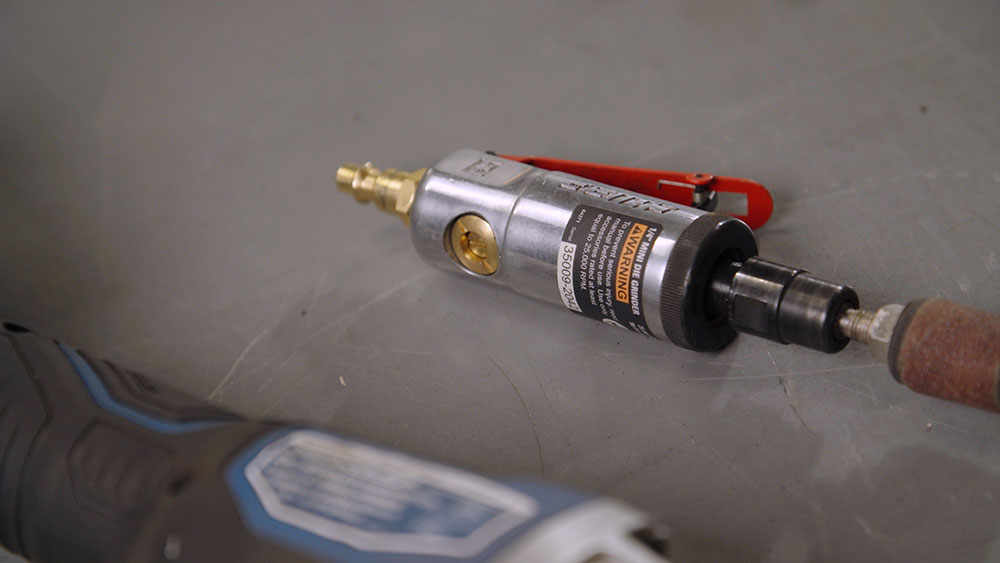 Increasing The Overall Strength & Rigidity
An important step was to brace the sheetmetal (doors, windshield, tailgate, and so on) areas other than the roof so nothing moves. We want the sheetmetal to stay in position so when the roof is removed it will stay in position so that the new top will drop into position. There will be some adjustment, but the new top should go on without much drama. There will be bracing in the windshield, side windows, across the back, and several X-braces throughout the interior. Once this bracing is in position, we can cut the wagon roof off. Remember, there will be no bracing attaching to the roof.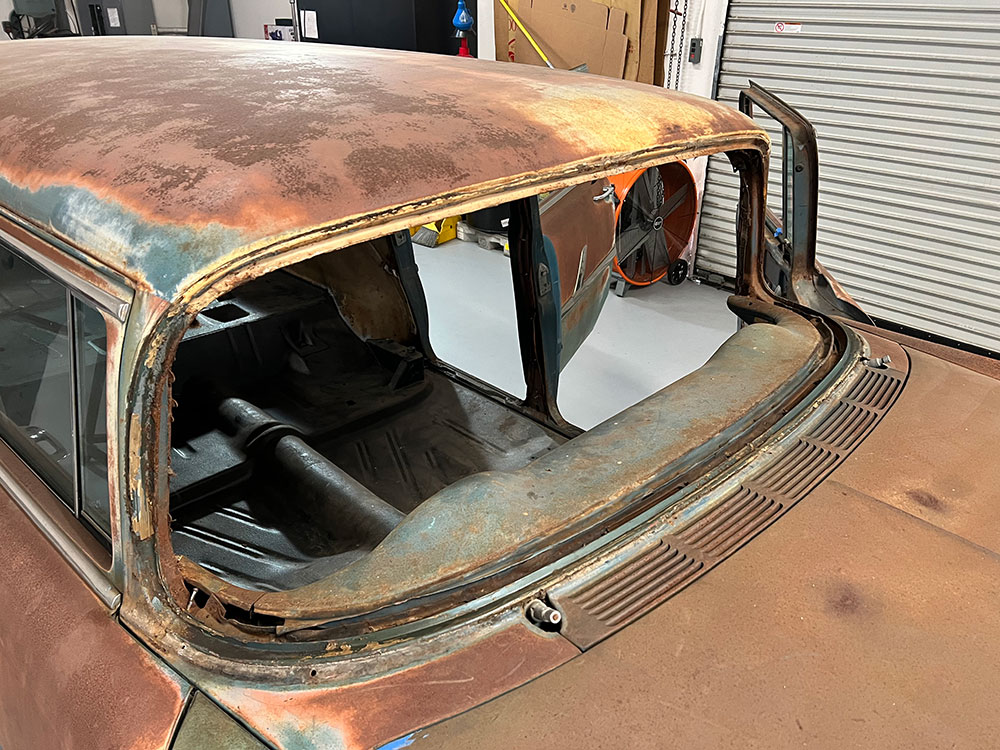 Read More: 1955 Wagon Danchuk TailGate Retractor Install Using Harbor Freight Tools
Preventive Maintenance
Something to keep in mind, you might want to keep some POR-15 on hand as you will want to paint exposed areas within the pillars that show rust. (All the pillars will be showing rust.) Make sure not to get POR-15 on any areas to be welded; that's a no-no.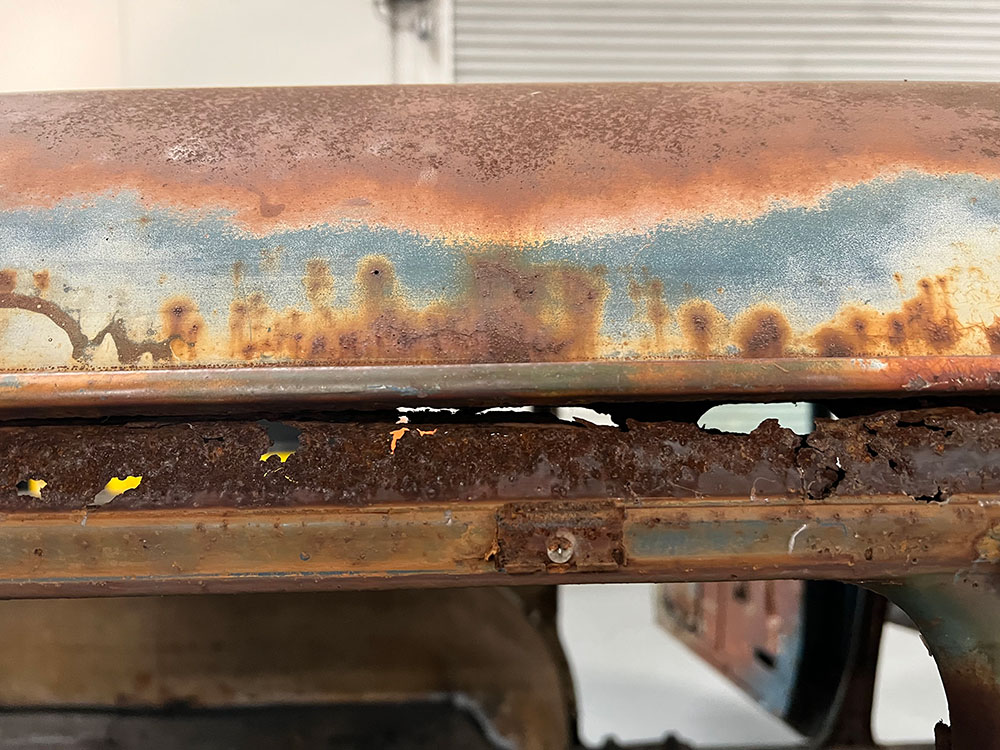 Matching Cuts To Body Lines & Making Templates
Next you are going to match the posts that remain on the car and what's been removed from the new top. The curved area near each of the window pillars is particularly important. Elliott made cardboard templates from the curves on the car to now copy over to the new roof. It's especially important at all the door/pillar areas.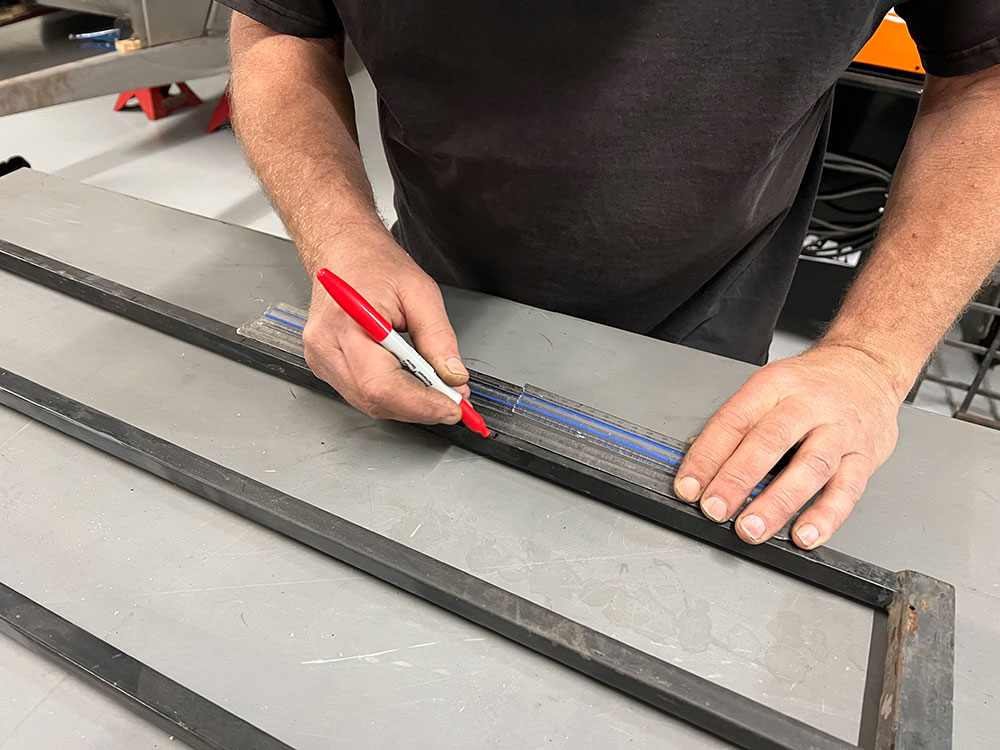 Ready For Liftoff
With the bracing in place, the appropriate cuts made it so the top can be peeled off. Once the cuts are matched to the new top and the original sheetmetal the top can be lowered into position. In our case we used our SnapTrac crane to easily move the top around and get it into position. If you don't have some form of crane to lift the new top it will take at least four (six would be better) guys to lift, position, and lower into place.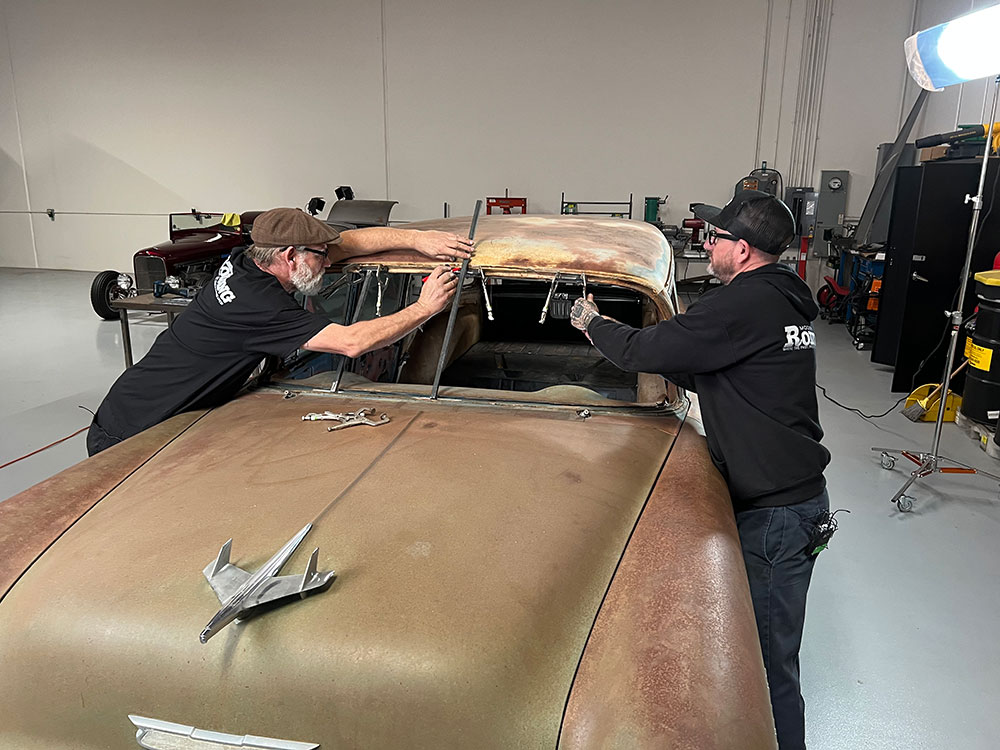 Read More: 1955 Wagon Spare Tire Delete
Patience Is Key
It will take some repositioning and trimming to make all the corners fit but patience will win out. The result is the removal of a very weak roof and a new sturdy one installed. Also, we have managed to keep the patina appearance, which was one of our primary goals. Next up, we will begin working on the suspension and the powertrain.  MR

Source
Kev's Rod & Custom
(714) 686-8982