1939 Ford DeLuxe Coupe Built For The Modern Era
By Dale M. Moreau   –   Photography By the Author
From the earliest days of young hot rodders, the 1939 Ford DeLuxe coupe was the choice of many. For one thing, old Henry finally caved in and started equipping his Fords and the new Mercury line with hydraulic brakes. Another advancement Ford made was to be able to stamp larger pieces of their bodies, making less time for assembly. In comparing the 1939 Ford coupe to the 1938, you can see the loss of the bead line on the rear of the top. One more design change between the two years was the rear fenders. In the '38, they extended out beyond the body, and the next year they tucked them in, making the beautiful rear of the cars extended in the '40 model year.
Read More: Gauntt's Three-Window Coupe: Award Winning Craftsmanship
Marv Shetler has improved on those brakes and a whole lot more with his 1939 coupe. But, before it was in Marv's extensive collection, it had quite a history going back into the late '40s. It was purchased by a young man in San Diego as his daily driver. It was mostly stock, with a very nice custom interior, and he drove it until around 1951. Uncle Sam called him for the Korean conflict, so he put the car in his mom's name and garaged it. When he returned home, the car was tuned up and he drove it until 1955. For some reason, he garaged it again, and there it sat until 2014. It found its way to a broker and was subsequently purchased for a customer by Steve's Auto Restorations. The project went on to the final stages of chassis and bodywork. The customer, at that time, came upon a 1939 Ford DeLuxe Convertible in Washington and changed horses in the middle of the stream. The coupe was bolted onto the convertible chassis and sold to a man in Vancouver, Washington. He finished the car using the ragtop's chassis but replaced the 1939 Ford transmission and rear end with an automatic TH350 transmission and a Ford 8 inch rear end. He also painted it black and had it stitched in a red tuck 'n' roll interior. Onto the next project, he traded it to Matthews Memory Lane Motors in Portland, Oregon. Dale Matthews sold it to a longtime customer and friend of Marv's. Marv showed an interest in the car early on, and after a year or so took possession of the coupe. He drove it for a while and then did major surgery on it.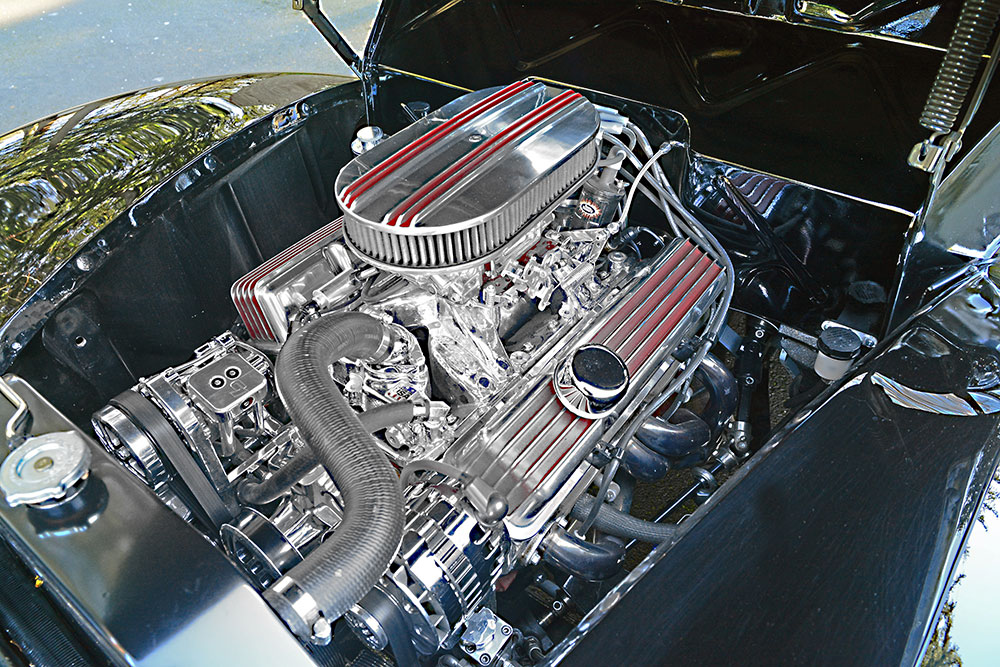 Read More: "Baby Zephyr" A Perfect Blend of Vintage Ford Cars
Taking it just down the road from his business, Marv went to Bowers Race and Rod Shop. He had Joe Bowers slip a complete Total Cost Involved chassis under it, set up for a 383 small block Chevy and a six speed TREMEC transmission connected to a Ford 9 inch rear end with 4:11 gears and GM big brake kit. They're all kept in place with a 4-inch link and coilover shocks. The front suspension consists of a Mustang II style of independent front suspension with 2-inch dropped spindles, coilover shocks and GM 11-inch disc brakes, and rack-and-pinion steering. A custom-built, stainless steel, 20-gallon gas tank holds the go juice, and a Flaming River steering column is topped by a Ford Crestliner steering wheel from LimeWorks.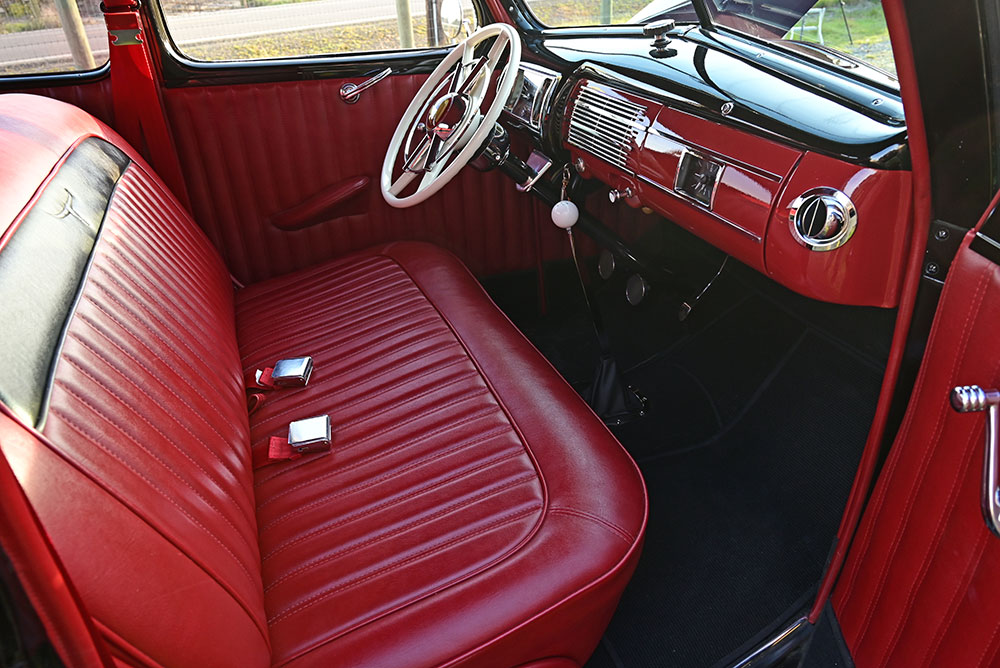 The car was totally rewired by Bowers with an American Autowire Power Plus 13 kit. The original '39 Ford dash was hung on the wall and a refurbished '40 dash slid into the coupe. A Dakota Digital '40 Ford–style dash insert makes the final new touches to the interior perfect. Heat and air are not the same as the Ford came with in 1939, thanks to a trunk-mounted unit from Vintage Air.
Rolling stock is made up of 16×6 and 16×7 Wheel Vintiques and 185/HR16VS Sprint Classics and 215/70R16 Michelin Premier LTX tires.
Read More: The Metalwork Behind The GNRS 2022 Al Slonaker Award Winning Highboy Coupe
Talk about a sleeper, the new engine with stainless steel exhaust and Flowmaster mufflers by, you guessed it, Joe Bowers, makes the car sound at speed like a toned-down stock car. I had a chance to ride in the car for a trip to the Oregon Coast and it was a blast. With the 383 small block Chevy and Tremec Transmission doing their thing and the upgraded suspension taking us through the twists and turns of the Van Duzer corridor … it was not this much fun when we were kids! MR
Road Hugging 1939 Ford DeLuxe Coupe