Bruce Benson's 1936 Ford Coupe With Devilish Good Looks
By Fuelish Media
There's nothing worse than the feeling of passing up a truly golden opportunity. This nagging emotion doesn't usually rear its ugly head until it's too late to do anything about it. Not one to put himself in such a predicament, Bruce Benson, of Chandler, Arizona, made sure to purchase a very special hot rod when the opportunity arose—and it did when this 1936 Ford 3-window coupe was put in front of him.
Read More: Reminisce: Premier Street Rod Built 1956 Buick Special
Bruce worked in the auto dealer business as well as being an avid hot rodder since the early '70s, and in that time he has developed quite the palate for unique cars. While he is retired from work, he is still very active in building custom hot rods. Over the years, he has made a lot of friends and connections within the industry. This would include his good friend Squeeg Jerger of Squeeg's Kustoms, who's always tinkering with fun vehicles.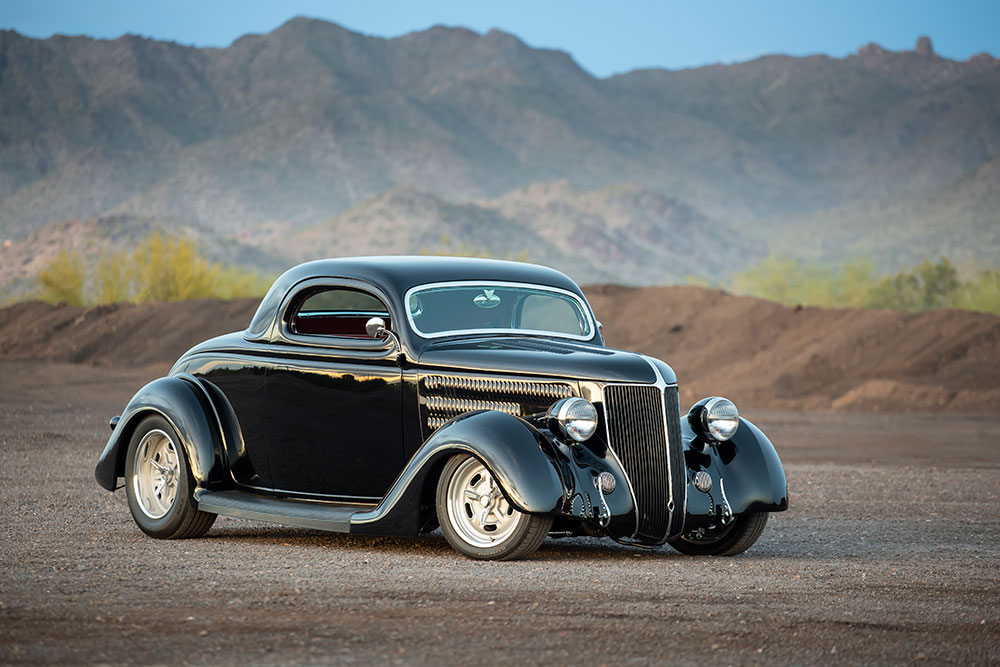 Squeeg, the shop's namesake, grew up and became involved in the local custom car culture of Mansfield, Ohio, which was later moved to Chandler. Now, the car was a super-cool 1936 Ford coupe that was once owned by Kenny Gartman, who had originally modified the car back in the '60s. Gartman performed most of the car's body mods, including the 3-inch top chop, peaked fenders, cowl vent removal, and a whole lot more.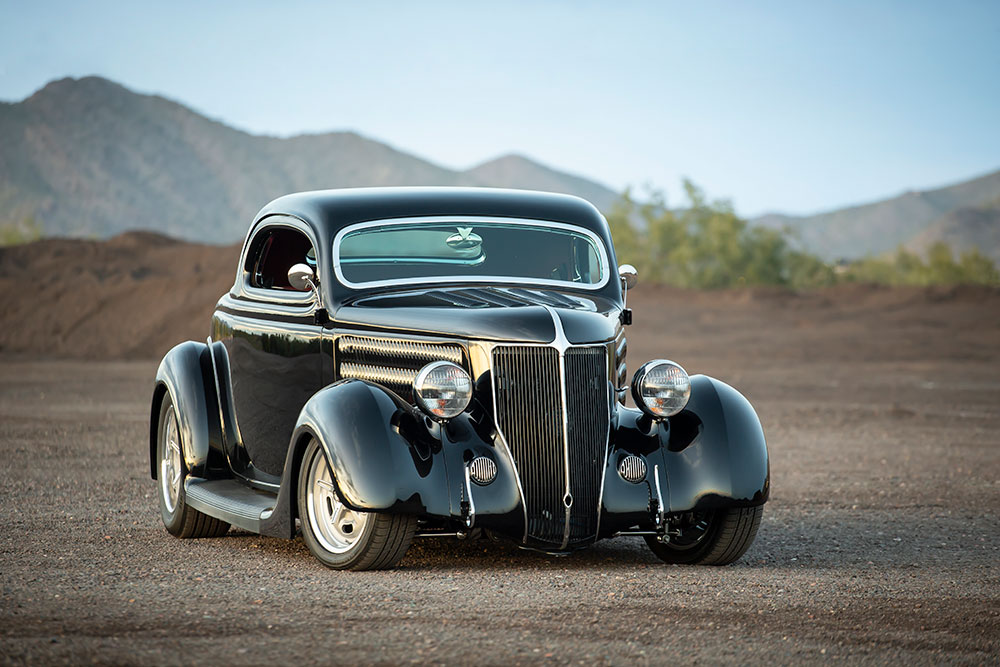 When he died, Squeeg found out that the car was promised to him in Gartman's will and he purchased it from the estate. Though Bruce has seen his fair share of custom autos in his day, this one spoke to him loud and clear, even though it was partially disassembled. It needed some extensive repairs and the Jergers (Squeeg and son Doug) thought Bruce was the one person who could take ownership of the car to finish it out.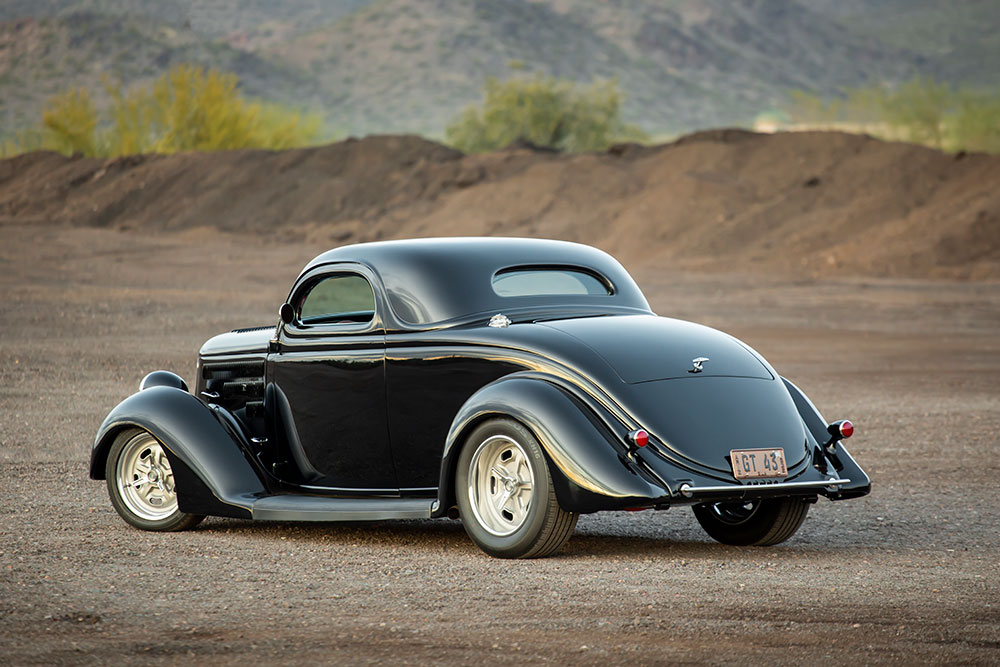 While at home, Bruce began tearing into the coupe and built a new frame with the help of John Boyle, as he had a frame table. He leaned hard on Kugel Komponents, as he sourced the polished independent front suspension as well as the front anti-roll bar and steering box. Bruce then cooked up a custom rear parallel leaf spring setup, as well as fabricated one-off front spring mounts and shackles. A Ford 9 inch rear end from John's Industries, custom Speedway Motors rear anti-roll bar, and custom additions from Boyle in the way of a Ford center section and 16-gallon stainless steel fuel cell all come together to breathe new life to the chassis.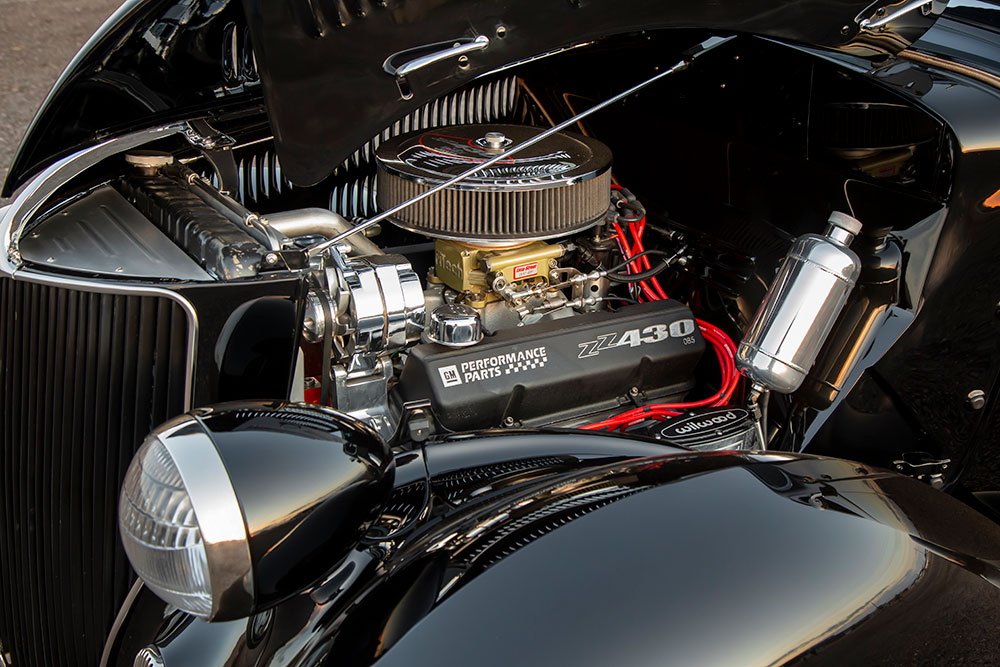 The front and rear braking systems were also addressed with Wilwood brake kits that are now featured throughout the build. A set of 16×6 and 17×8 E-T Indy wheels with Sebring knockoffs give the coupe a true traditional appearance; covering the throwback salt flat–style rollers are 195/50R16 and 235/60R17 tires from Kumho. The staggered front and rear fitment were perfectly arranged to give the Ford the aggressive and capable stance of a predator.
Read More: How To French Tail Lights On A Ford Model 48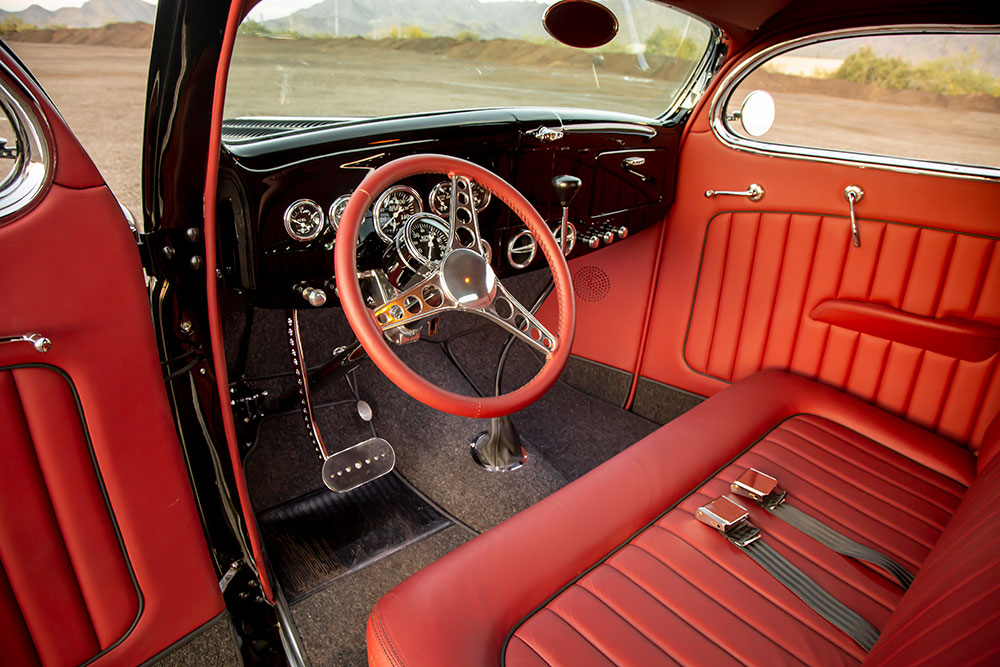 To power the car, Bruce pulled the trigger on an '05 GM Performance Parts ZZ430 350 engine that features a modified factory air cleaner and a 2-1/2-inch custom exhaust system for increased performance without going overboard. A brass custom radiator ensures the coupe stays cool even during the hottest Arizona heatwave, and an overdrive 700R4 transmission always makes for easy cruising, in all scenarios.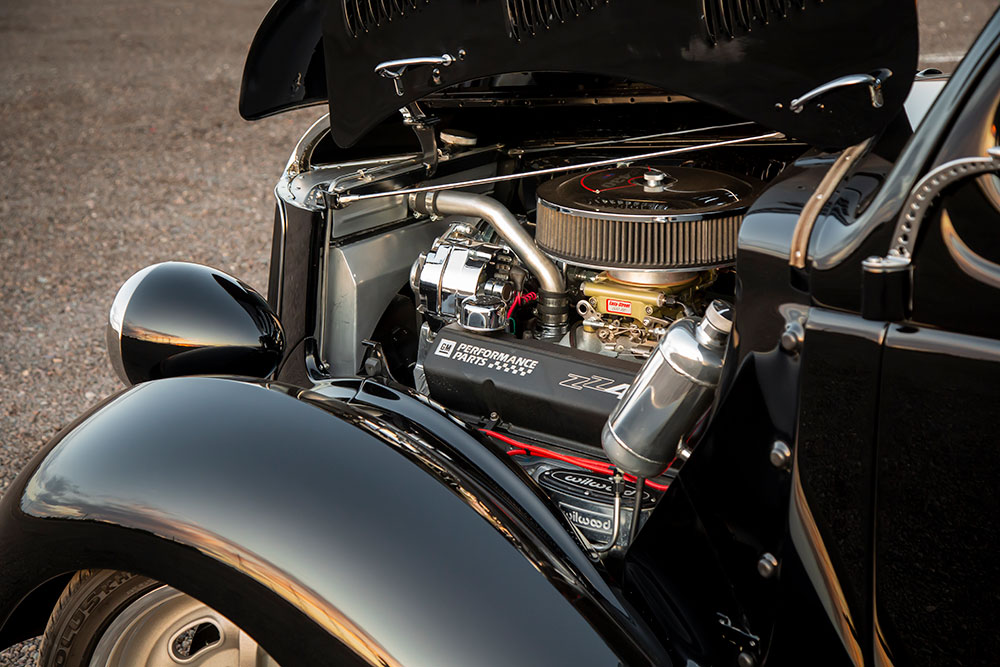 Picking up where Gartman left off years ago, Doug was asked to rejoin the build by performing enough bodywork that would simply prepare the 1936 for paint without changing any of its original vintage modifications. The roof was filled with an early GM top and a few accessories were sent out to Speed & Sport Chrome Plating for a fresh chrome dip. For paint, the guys decided on four coats of PPG black, which goes a mile deep when it's freshly cut and polished. To capitalize on the coupe's clean appearance, Bruce slightly modified a set of 1937 Ford tail lights and installed a set of stylish front nerf bars (Doug handled the rear bars). The result is classy yet menacing—the exact combination Bruce was hoping for.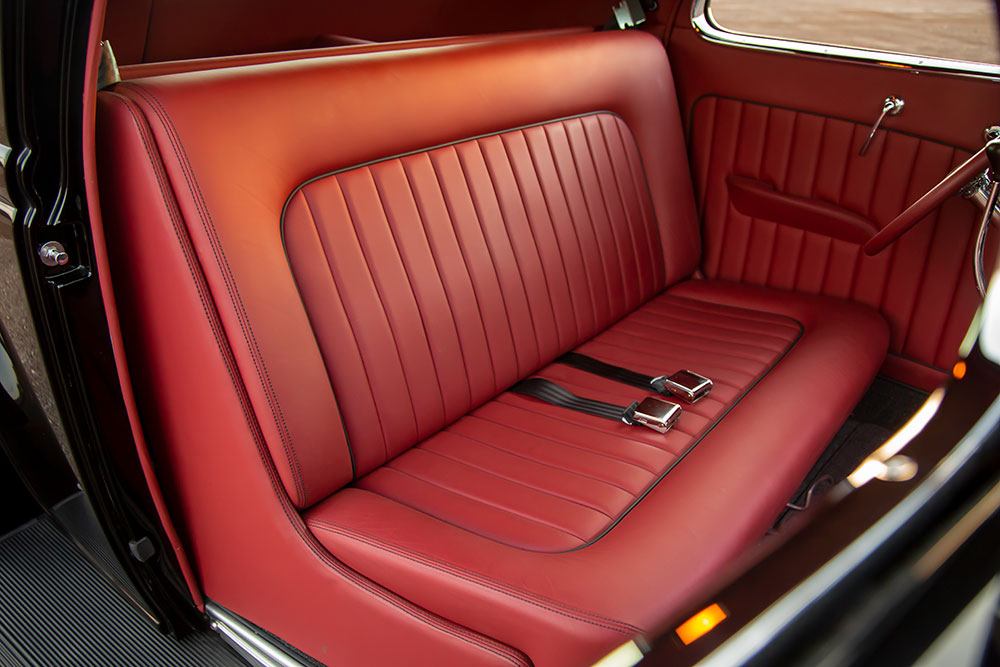 The interior was next to be taken care of, and to add to the car's sinister appearance, Gabe's Custom Interiors of San Bernardino, California, was brought in to wrap the factory bench seat and all panels in deep burgundy leather. Stewart-Warner gauges and Vintage Air vents and control panel were then placed within the gloss black–painted dash. Doug created the steering wheel from scratch, but the pedal assembly is not a new addition to the interior, as it was something that Gartman had cooked up decades ago.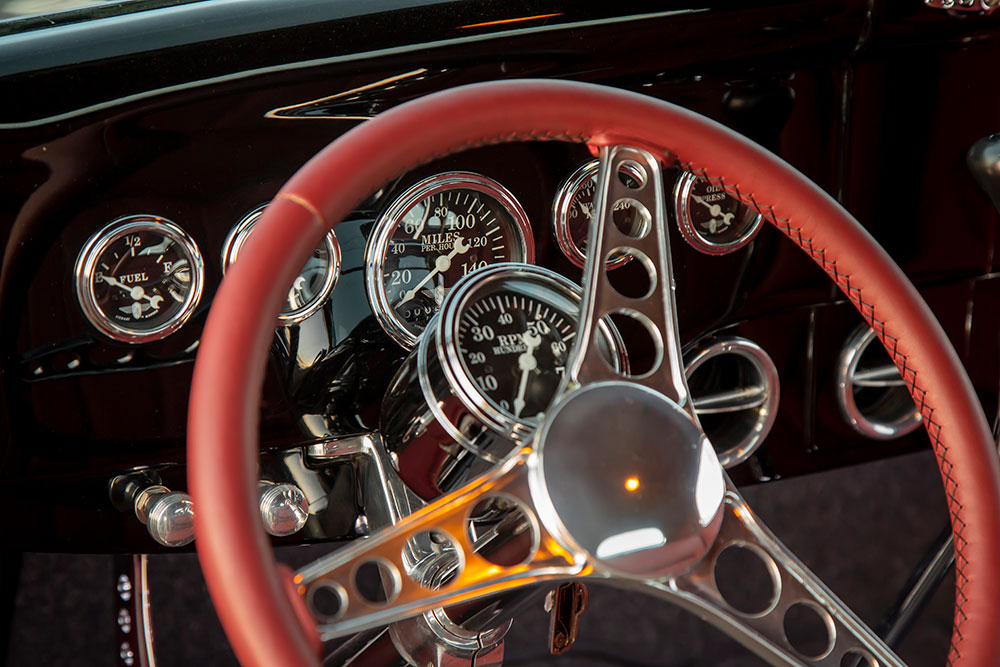 While one might not think that a bangin' sound system is required inside a car like this, Bruce begged to differ. The BlueTooth-controlled Infinity Kappa 6-inch front and rear speakers and 12-inch subwoofer have all been strategically positioned to provide all-around crystal-clear audio signals.
Read more: This 1933 Ford Coupe Hot Rod Cleans Up Nicely
In a matter of six years, Bruce was able to get his 1936 Ford 3-window coupe in order with the help of Doug Jerger, Doug Reynolds, and John Boyle. There's so much great history that goes along with this car. Just knowing that it once belonged to a seasoned fabricator from the past and still shows signs of his handiwork from back in the day is something special that Bruce had admired from the start. The Ford's dark demeanor, presence of lightening holes throughout its landscape, and other close attention to detail makes for a legitimate work of automotive art that dates back years ago but is still relevant in today's custom hot rod scene. MR