Adjusting The Attitude Of This 1933 Ford Coupe
By Brian Brennan   –   Photography By Wes Allison
There are about as many ways to build a hot rod as there are grits of sandpaper. And that's what makes owning a hot rod so much fun and a worthwhile hobby. Ron James, of Paducah, Kentucky, found himself owning a 1933 Ford 3-window coupe. Now, when Ron picked up his latest ride, it was a functioning hot rod complete with a Ford Flathead V8 and a T5 transmission. A respectable hot rod, to say the least. But it wasn't "Ron's" hot rod.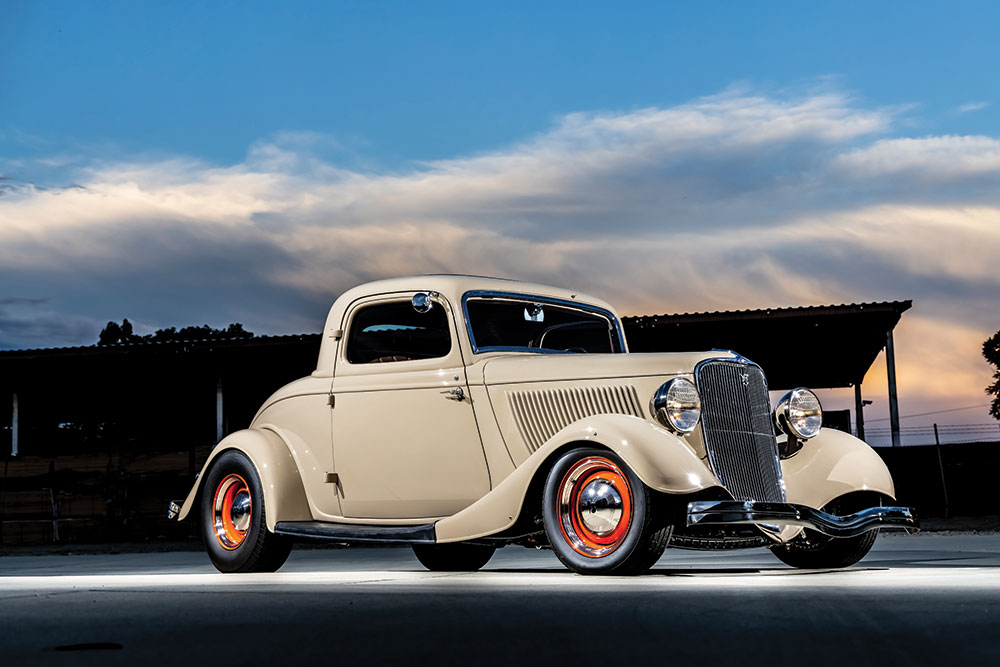 Read More: Road Hugging 1939 Ford DeLuxe Coupe
Back in the day the late Pete Chapouris (of Pete and Jake's Hot Rod Parts, PC3, SO CAL Speed Shop fame) had an expression: "shave and a haircut build." He would keep much of what was there and gently (or not-so gently) massage the look so that the result was a very cool looking hot rod.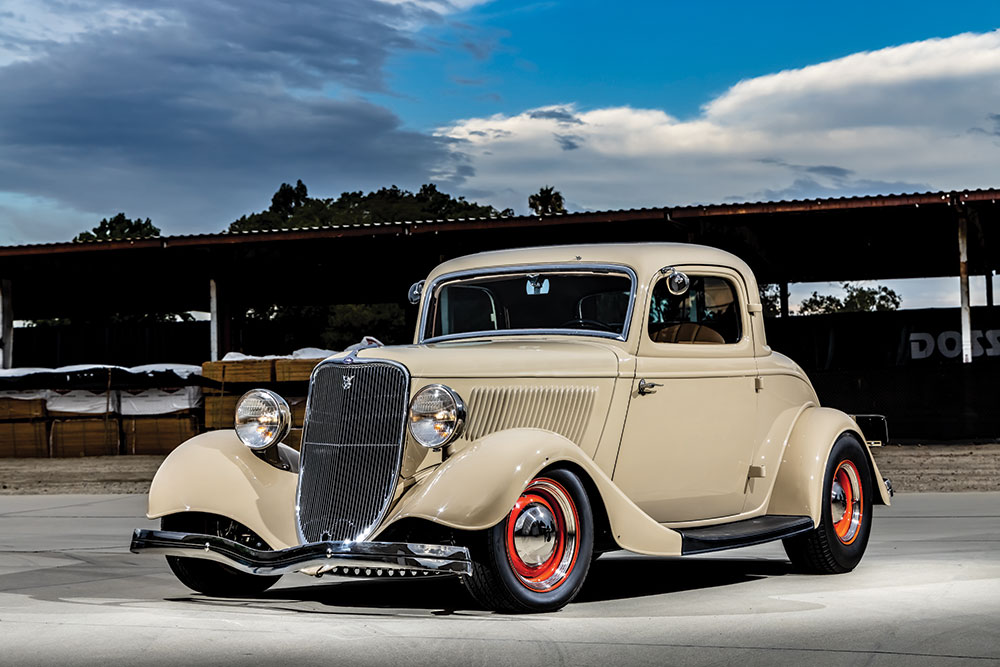 How would Ron pull off this "shave and haircut"? He took the coupe to Justin and Evin Veazie of the Veazie Brothers Fabrication in Pomona (located in the old SO CAL Speed Shop complex). The brothers worked at SO CAL for many years and were very familiar with Chapouris' colloquialisms and the end results. In time they would go out on their own building some great looking hot rods. Justin went on to say, "This redo was more than a shave and haircut. It was more of an open-heart transplant coupled with an attitude adjustment."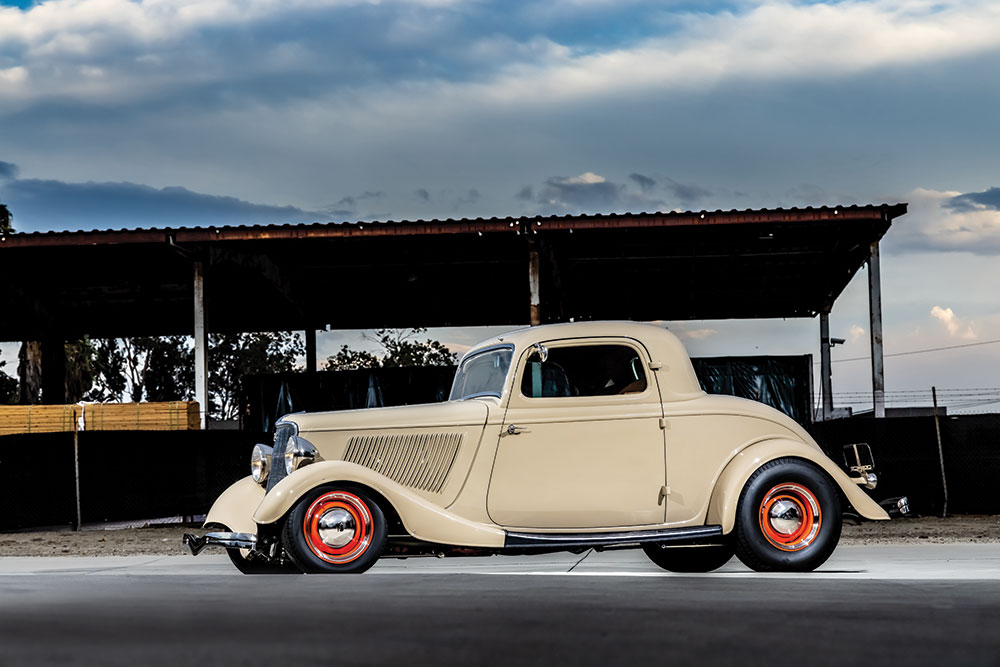 The 1933 Ford coupe retained its paint, but the Ford Flathead V8 and 5-speed manual transmission were swapped out along with several other changes. In place of the Flathead engine is a vintage 327 small block Chevy held in place with a modified Hurst-style front motor mount that incorporates a low alternator bracketry. Influencing the V8 is a "big-box" Rochester mechanical fuel injection ('63-65) that is fully detailed with paint- and brightwork. The vintage Delco distributor was retained but filled with a PerTronix Ignitor kit along with an external coil and PerTronix spark plug wires. Firing the ignition comes by way of an Optima battery. Modified block hugger-style headers were used along with 2-1/2-inch tubing running to and out of a pair of Flowmaster mufflers all ceramic coated by Young Gun Performance Coatings. All exhaust fabrication was handled by Howard Hammond. Other engine accessories include an electric SPAL fan coupled with a Powermaster alternator and starter. Backed up to the Small Block Chevy is now a 700R4 transmission with a B&M Shift Kit and a Gennie shifter.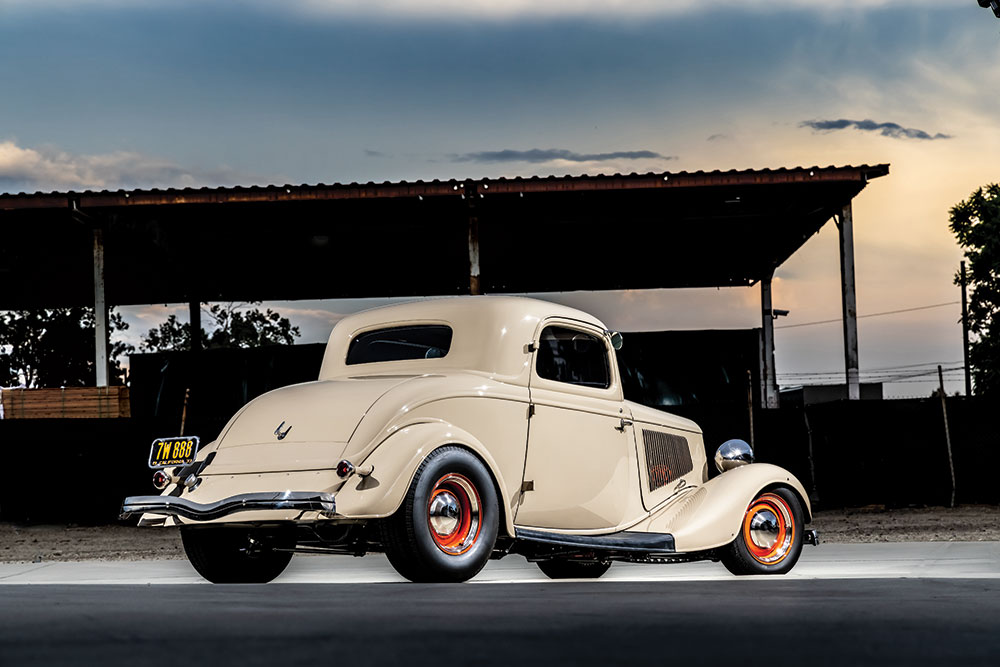 Read More: Ford Highboy Coupe With Plenty Of Attitude
The rear suspension is based on a Ford 9 inch rear end setup, including axles, drums, and 3.50 gears from John's Industries along with Aldan coilovers. The Kiwi Connection received the nod for the fabricating of the frame that utilizes American Stamping 'rails that also holds the Tanks Inc. gas tank. In front the suspension is based on the always-reliable I-beam that features a 4-inch drop, is drilled, and features a polished axle from SO CAL Speed Shop along with a Borgeson-Vega steering box. Other SO CAL parts like the axle appointments include the shackles, perch bolts, and tube shocks. The replica Buick finned brake drums conceal the twin-puck Wilwood brakes actuated through a Wilwood master cylinder and Kiwi Connection bracket.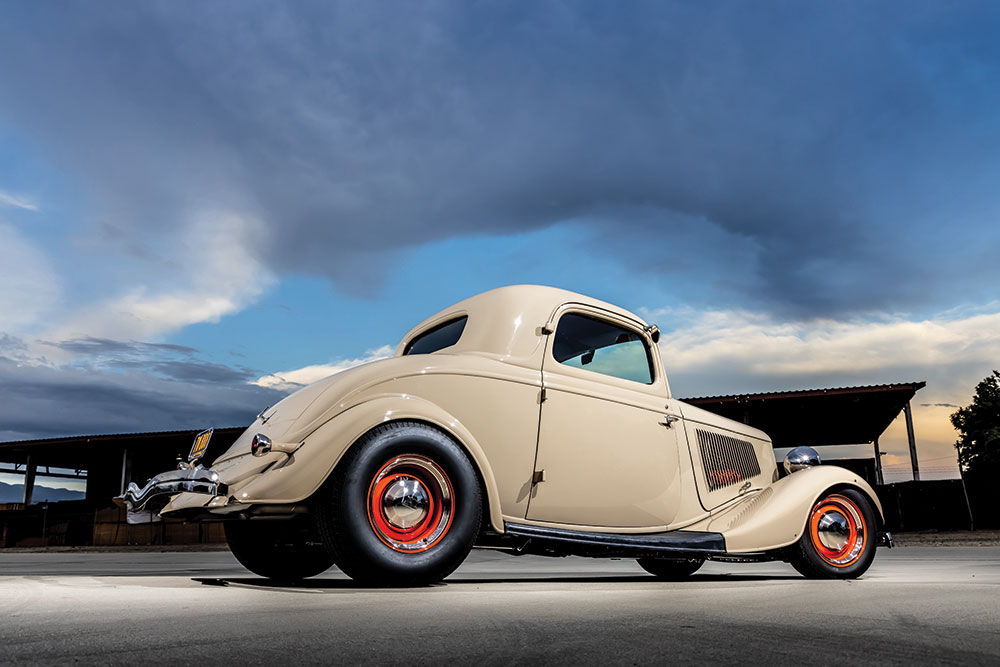 At the corners are WheelSmith steelies that are accented in orange paint and topped with caps and trim rings. In the photos are Diamondback smooth sidewall rubber mounted to 15×6 and 15×8 wheels. (Later the wheel combo was changed to ET Mag Indys with full polish that measure 16×6 and 18×8 and, once again, mounted with Diamond Back rubber.)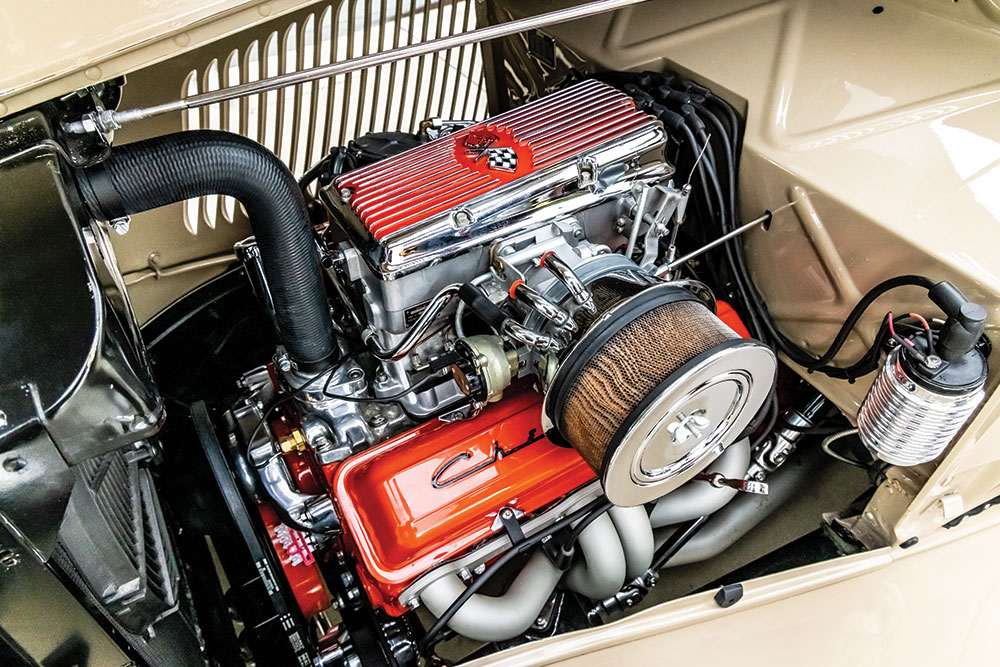 The sheetmetal is all Henry, as is the lighting, grille shell, bumpers, and so on. From here the interior was stitched by Ron Mangus of Ron Mangus Hot Rod Interiors over the stock bench seat and panels. The stock dash does feature a full woodgrain effort from Lyman Woodgraining Classics that was fitted with restored original factory gauges. A pair of Classic Instruments "hot rod" gauges (water temp and fuel) are mounted to the bottom of the dash and to the right of the steering column along with a Classic Instruments tach mounted to the left of the column. All the necessary wiring was based on a Ron Francis Wiring kit installed by the Veazie Brothers. The steering features a reproduction '32 wheel on top of a stock tube that's been modified to work with a Borgeson-Vega steering box. Wrapped around the steering tube is a SO CAL throttle (spoon) and brake pedal.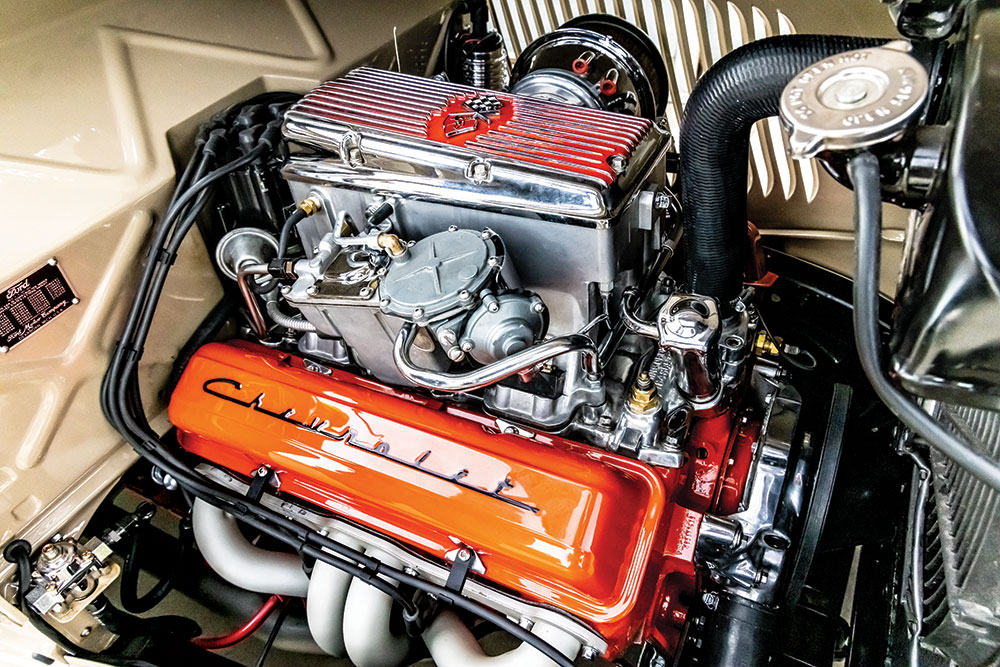 Read More: 1930 Ford Highboy Coupe Hot Rod Dream Build
There is always another way to get the hot rod of your dreams without going to the drawing board and starting from scratch. Here Ron has managed to come up with a very cool hot rod by taking a running car and massaging it to reflect his taste and his look. Job well done. MR