Radical Second-Gen Camaro is the Best of this Guy's Stash
By Scotty Lachenauer – Photography by the Author
In a time of national pandemic, most of our hobby's typical car shows, cruise-ins, and get-togethers have been canceled or postponed. Thus, finding new and interesting rides to brag about in this here magazine has become a little more difficult. However, we here at All Chevy Performance have learned to adapt to these trying times and some of us (including myself) have earnestly taken to the world of social media to find our next big feature car.
While scrolling through some friends' social pages I came upon a post by Keith Seaman, owner of KMS Kustoms in Ronkonkoma, New York. On his page I spied a menacing 1970 split bumper that had gone through a magical metal-metamorphosis of sorts. I had to ask Seaman who owned it. "Yeah, that's Rocco's Rescelo's ride, and it's nasty … you got to take a look at it." So check it out, I did.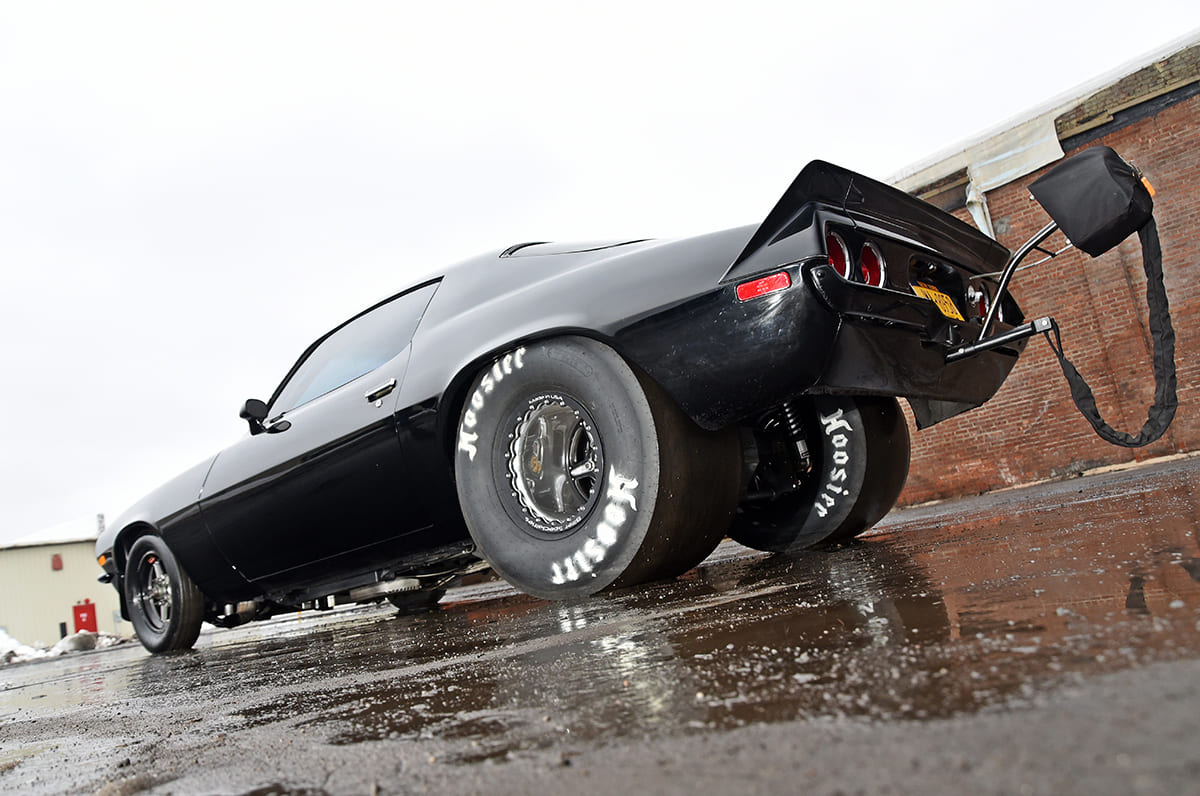 Rocco always has his eyes wide open, seeking out new rides to bring into the family stable. A while back, an interesting 1970 Camaro came up for sale locally. The car had been built up nicely by its previous owner, Pat Buono, who put a massive list of modern speed parts into the F-body, including a potent twin-turbo setup. The Camaro had been built by Buono and good friend Joe LaChance, who was the main welder and chief fabricator on the car. Their goal was to make this ride into an 8-second street terror. Though it wasn't trashed, Rocco realized that this Bowtie bruiser could certainly be a treasure … with the right tweaking. A deal was quickly hashed-out and the Chevy soon joined the other top rides back at the shop.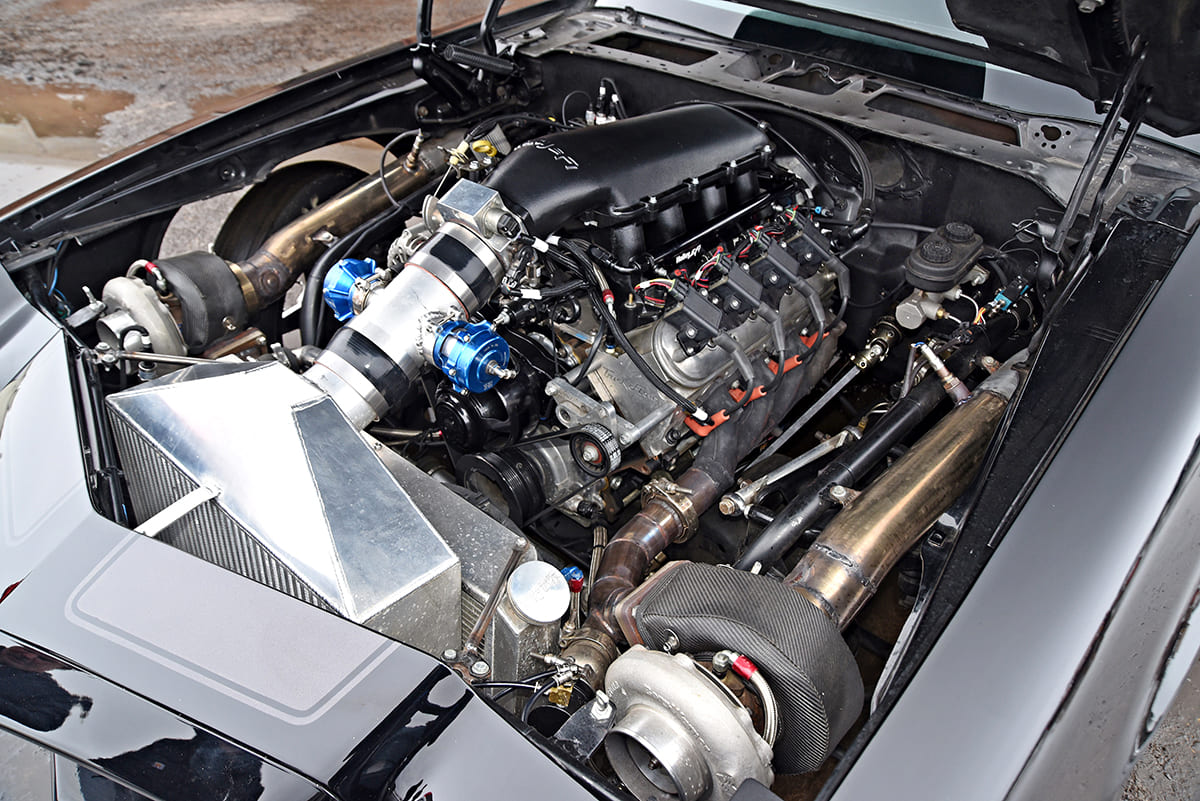 The first thing in the Camaro to grab Rocco's attention was the twin-turbo LS stuffed under the hood. The 408ci LS stroker had been put together on a wide-open budget, sporting a Manley forged rotating assembly at 9.6:1 compression, Trick Flow 225 aluminum heads, a Victor Jr. intake, and an HCS HP 1000 blow-through E85 carb with dual needles and seats. To get that power push, the previous owner installed a pair of S300 BorgWarner 66mm turbos, running dual JGS wastegates, Tial BOV, and an EV carb hat. Overall, the Camaro was properly built and done with kid gloves, but the setup was constantly having issues and just not compatible for street use. Rocco had ideas on how to fix this twin-twisted Camaro and get it back on the tarmac.
Next, Rocco put the Camaro up on the shop lift to check out the suspension. Chassis Engineering supplied a lot of the parts here, including a 2×3 back-half wishbone kit and a set of ladder bars. QA1 coilovers sit up front while a pair of Strange single-adjustable coilovers were installed out back. A Mustang II rack handles the job of keeping this missile pointed in the right direction and a pair of 2-inch drop spindles give the slight rake the owner was after.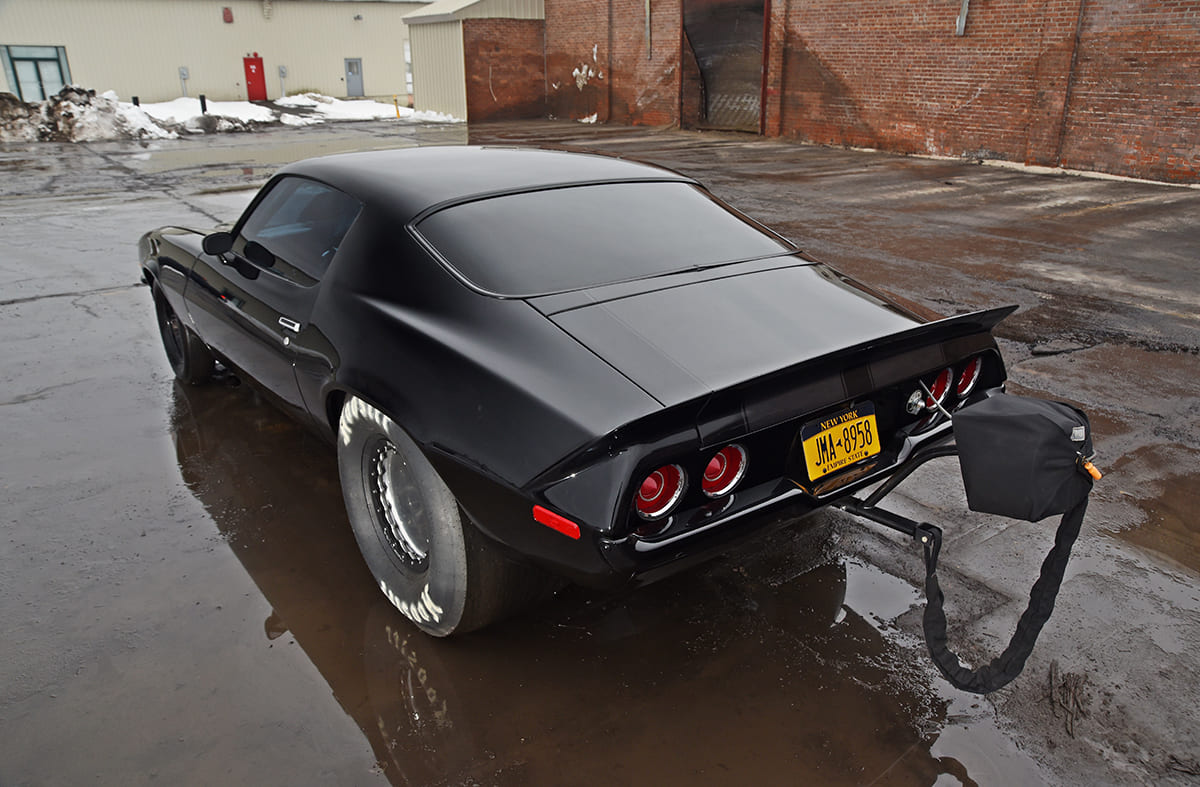 The power from the LS is shifted through a reverse pattern JW TH400 built with an SFI bellhousing, a ProTourque 9.5-inch Revolution series converter, and cooled with a Derale trans cooler. A Precision Shaft Technologies 1350 3.5-inch chromoly driveshaft feeds a Chassis Engineering Fab9 housing stuffed with a Strange 9-inch HD aluminum centersection running 3.73 gears. Strange 40-spline axles twist the massive 15×15 Billet Specialties Street Lite double-beadlock wheels, which are shod in a set of 33×16 Hoosier Drag Slicks. Up front, Billet Specialties Comp 5 SFI wheels handle the chores and are skinned in Mickey Thompson ET tires. Braking is handled by a set of Stainless Steel Brake Company brakes up front and a pair of Strange discs out back.
The Camaro's 12-point rollcage was an important part of the deal as the new owner had thoughts about bringing this F-body to the track. Certified to 8.50, it is an invaluable piece to the rebuild. Other standout features include the Custom Works fiberglass nose, AMD fenders, and new upper and lower front valences. Just before Rocco received the Camaro, it was basted in a fresh coat of gloss black and received all LED lighting and a blackout window tint to make this already menacing Camaro reach Darth Vader levels.
To say Rocco was impressed would be the understatement. However, there was still issues with the ill-performing LS. There was a lot of experimenting with poor results. "I tried hard with the carb setup but ended up blowing this engine three times over the year. After that, I decided that EFI was the only way to go," Rocco says.
Out came the engine, off came the blow-through system, and in went a complete Holley EFI kit. To feed this beast, a Magnafuel Pro Tuner 750 fuel pump was placed out back feeding from a custom 17-gallon fuel cell fabricated by Custom Performance.
With the engine buttoned up, a Holley Pro 12 dash kit was sourced and installed in the VFN aftermarket fiberglass dash to help keep track of the vitals. Once that was complete, Rocco finished off the interior with a fresh set of door panels and new carpet to go along with the updated pieces in the cockpit.
It didn't take Rocco long to get the Camaro back on the road and performing the way it should. "The blow-through just wasn't working with this engine. I just felt that EFI was a much better way to go, plus I could tune it for the track as well," Rocco says. Once dialed in, the Camaro worked as it was meant to, pulling the kind of numbers muscle heads dream about.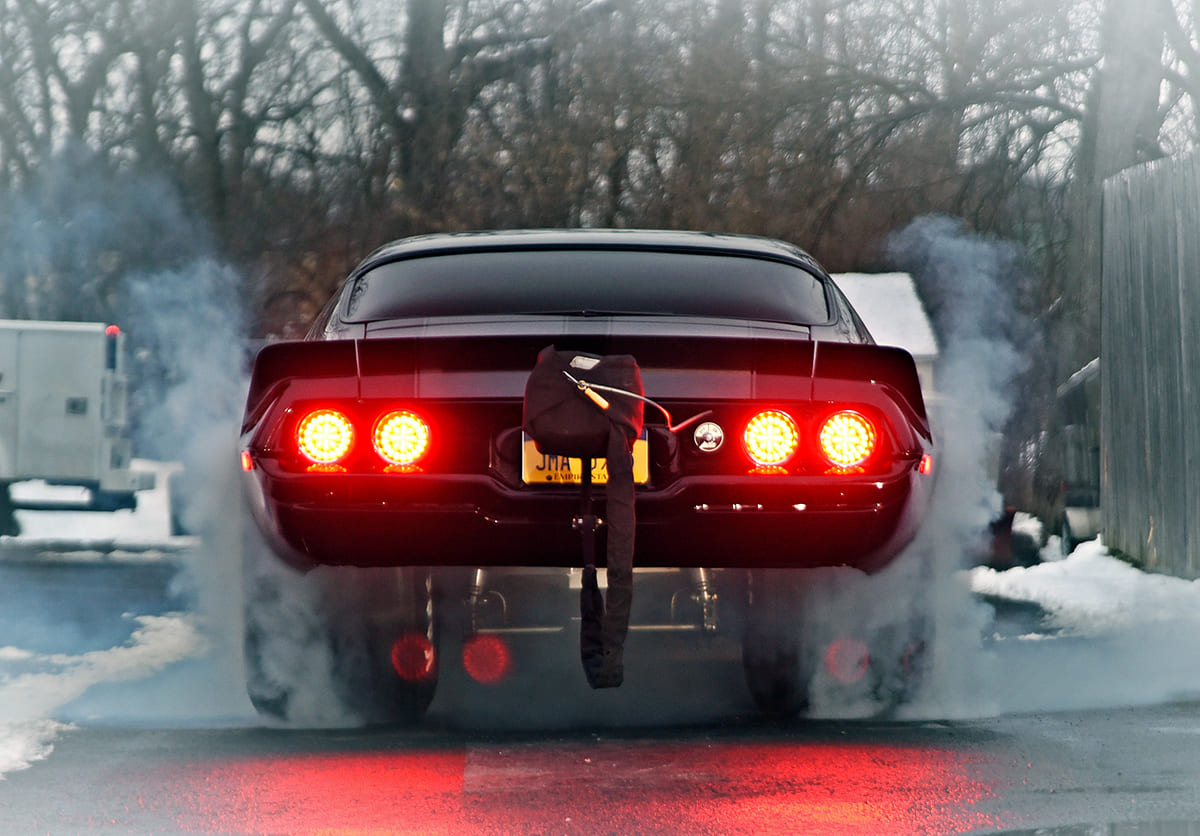 Rocco has plenty of people to thank: a group who has been alongside him throughout his years in the hobby. "I'd like to first thank my pit crew, Paully, Jesse, Justin, Kenny, Dane, Anthony, Kevin, and Mullet. They help me out when we hit the track.  I would also like to thank Pat and the Galesi Group for helping out on the photoshoot and giving us a great place to show what this ride has got.
Lastly and most importantly, I'd like to thank my dad for the taking the time to bring me into this hobby and teaching me all about horsepower and cool rides. I wouldn't be where I am without him," Rocco says.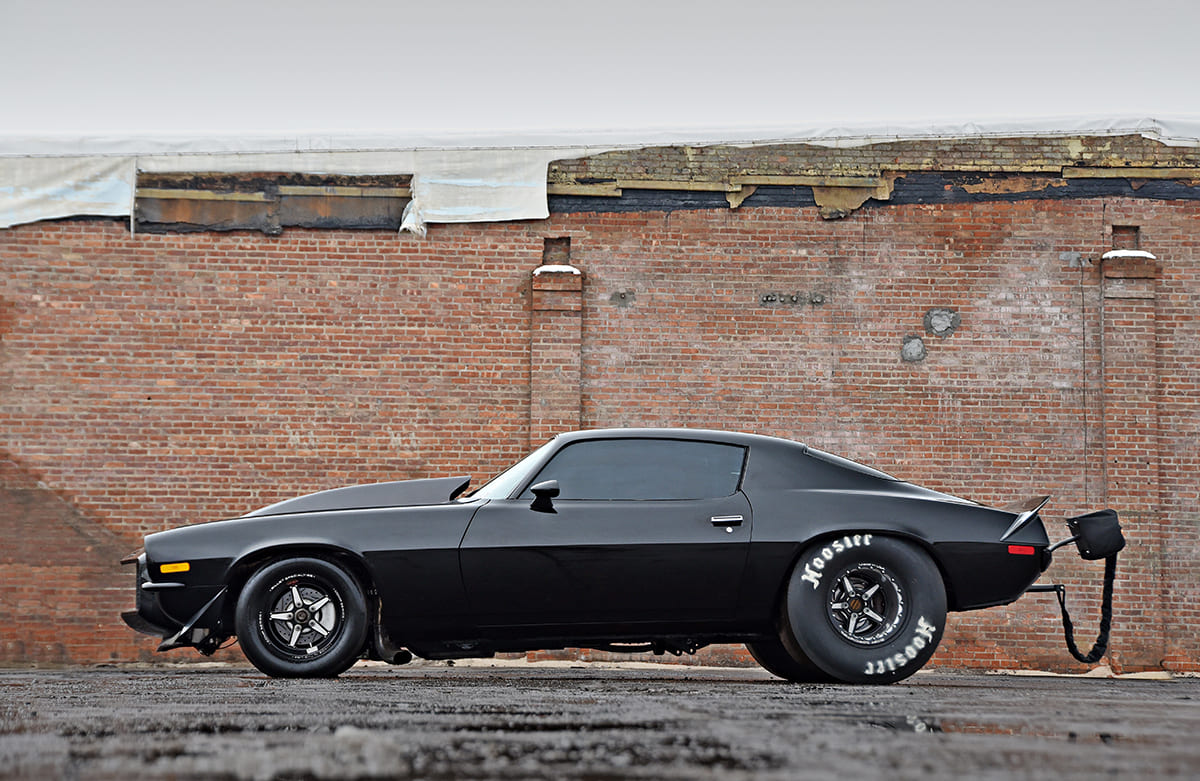 TECH CHECK
Owner: Rocco Rescelo, Schenectady, NY
Vehicle: 1970 Camaro
Engine
Type: LS2
Displacement: 408 ci
Compression Ratio: 9.6:1
Bore: 4.00
Stroke: 4.00
Cylinder Heads: Trick Flow 225 aluminum heads
Rotating Assembly: Manley 4340 4.00-inch crank, Manley Forged pistons, Manley 4340 Forged H-beam rods
Valvetrain: Comp Cams pushrods, LS7 lifters
Camshaft: BTR Stage Four Turbo Cam (0.612/0.610-inch lift, 243/239 deg. duration at 0.050, 115 deg. LSA)
Induction: Holley EFI, Magnafuel Pro Tuner 750 fuel pump, Aeromotive fuel pressure regulator
Ignition: Holley
Exhaust: 3-inch stainless pipe
Ancillaries: Two BorgWarner S300 66mm turbos, Tial Q Bov, JGS wastegates
Output (at crank): 1,300 hp
Drivetrain
Transmission: JW TH400, Pro Torque Revolution Series 9.5 converter, SFI bellhousing and brake
Rear Axle: Chassis Engineering Fab9 housing with back brace, Strange 9-inch Pro HD aluminum centersection with 3.73 gears, Strange 40-spline axles
Chassis
Front Suspension: QA1 Aluminum Pro front coilovers, 2-inch drop spindles, Mustang II rack-and-pinion
Rear Suspension: Chassis Engineering 2×3 back-half, wishbone, and ladder bars; Strange single-adjustable rear coilovers
Brakes: Stainless Steel Brake Company front disc, Strange rear disc
Wheels & Tires
Wheels: Billet Specialties Comp 5 SFI 15×3.5 front, Billet Specialties Street Lite Double Beadlock 15×15 rear
Tires: Mickey Thompson ET 26×4.5×15 front, Hoosier Drag Slicks 33x16x15 rear
Interior
Upholstery: Unknown
Material: Vinyl
Seats: ProCar
Steering: Spraco
Shifter: Hurst
Dash: VFN fiberglass dash
Instrumentation: Holley 12.3 Pro dash gauge kit
Exterior
Bodywork: Unknown
Paint By: Unknown
Paint: Black with GM Iridium Metallic Stripe
Hood: 8-inch cowl
Grille: Custom Works fiberglass nose piece
Bumpers: Original