This '32 Ford Pickup is More Than Something Found in an Abandoned Field
By Brian Brennan – Photography & Videography by Michael Christensen
Oftentimes, "it's the backstory that makes a hot rod interesting." And while this is truly the case with Mary Lou Whitcomb's '32 Ford pickup, it's but one of two stories that makes this pickem-up really fascinating. Mary Lou grew up in Wyoming and as such had a fascination with the pickups that ranchers would use all day and then wash and take to town on the weekends. But in her case she wanted there to be a twist. Her husband gladly obliged, coming up with a potent small block Chevy to be nestled into a modern hot rod chassis. Next, Mary Lou called Mike Moal of Moal Coachbuilders to put all of this together, which is where the second backstory comes about.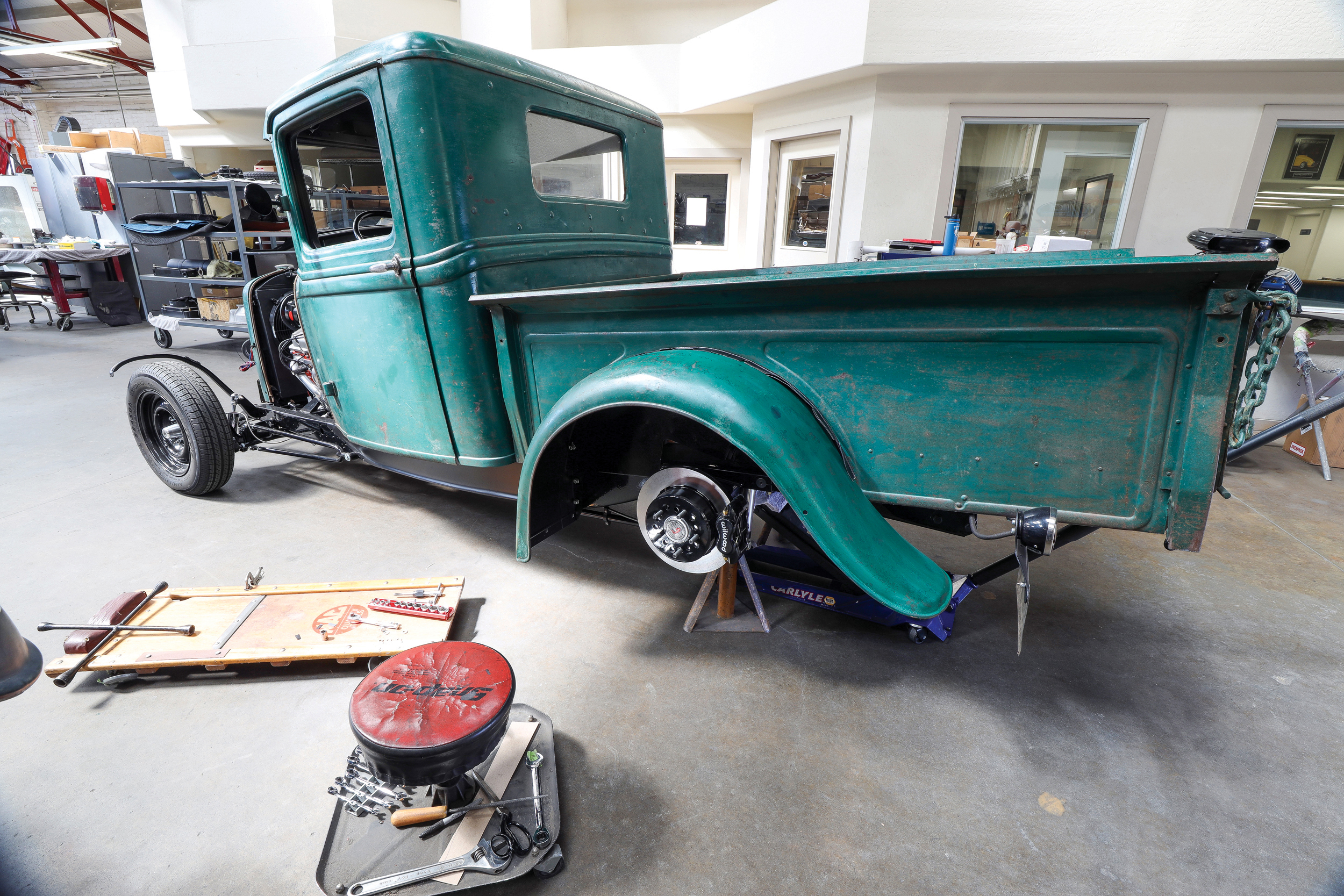 Read More: Born to Tow, Built to Haul Ass: 1939 Ford Pickup
As all hot rod projects begin, there needs to be "them bones" to start with and Mary Lou was able to round up a natural patina '32 Ford pickup that, while complete, it had clearly seen the sun, the moon, the stars, the rain, and everything else Mother Nature could bestow on it–for decades. Patina is Nature's eye candy covering for sheet metal that hot rodders have grown accustomed to and have thoroughly accepted. There's faux-tina but that's a poor substitute for those who cannot find Nature's offering. Such wasn't the case with this Wyoming tin as it's the real deal. But as is often the case, Mother Nature is a much better "painter" than the best our hobby has to offer.
I've mentioned the "second backstory" and it involves Moal Coachbuilders. Well, it's more of a "my" backstory, but it fits. I've covered Steve Moal and his shop builds for decades and become accustomed to looking at a car and knowing the signature trademarks of a Moal-built hot rod. I have to admit this Moal-built patina hot rod is a first for me. This may not be their first "unfinished" build but it's a strange sight given what I have seen over many years, whether it be a contender for America's Most Beautiful Roadster or sitting on the 18th green at Pebble Beach. It must be said, whether it's a concours build with unequalled fit and finish worthy of a Concours d'Elegance, this patina '32 Ford pickup still exemplifies a Moal Coachbuilders accomplishment.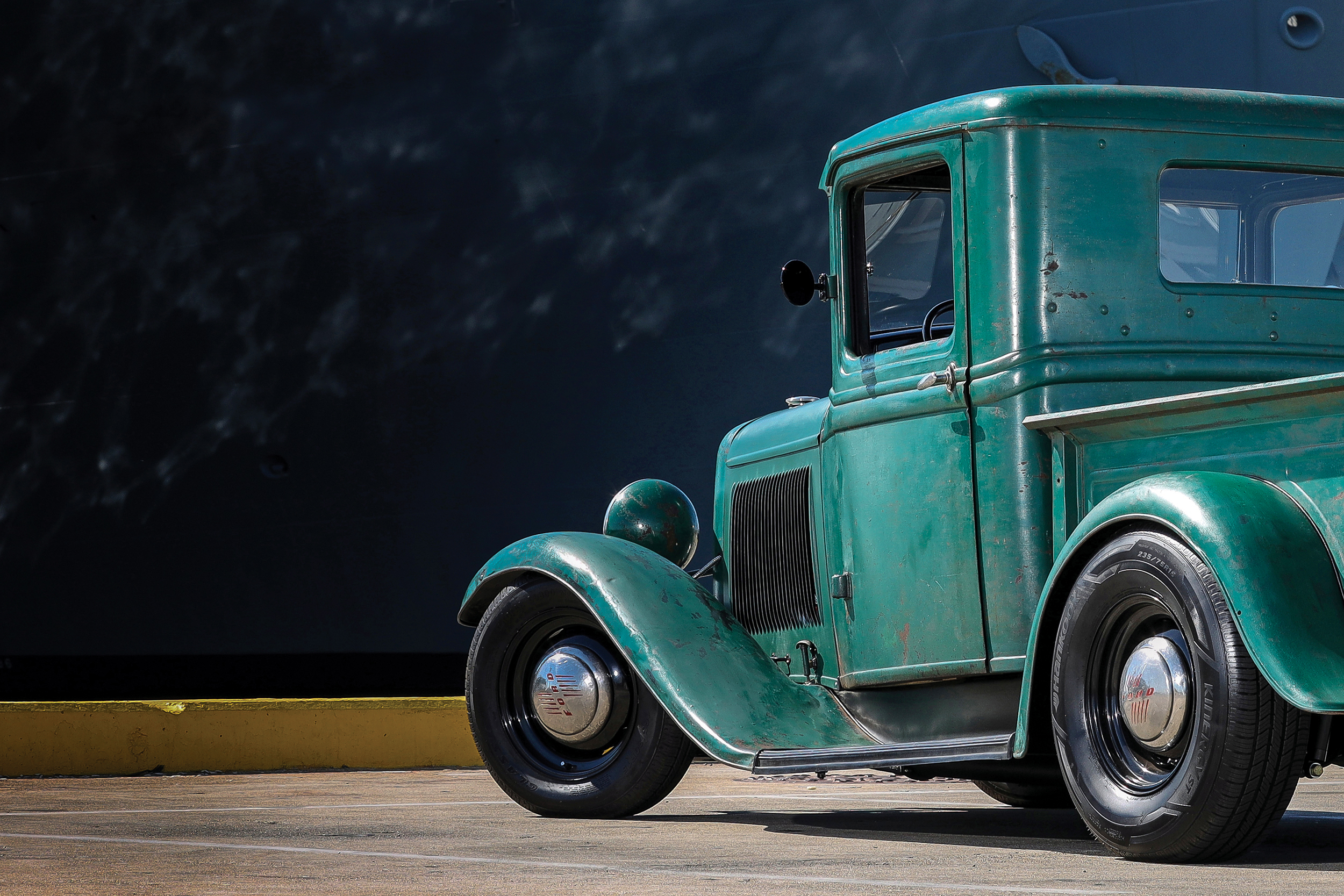 I digress, let us continue with the project at hand. Mary Lou wanted a hot rod pickup that looked like it drove out of the fields of Wyoming yet will easily navigate the highways and town roads surrounding home.
Read More: Deuce Coupe Returns To Its Former Glory
The original '32 Ford pickup frame was used and then fitted with Moal boxing plates, crossmembers, and their trademark torsion bar suspension. A Super Bell drop I-beam axle is outfitted with early Ford spindles (1937 to 1941, round), a Saginaw 525 steering box with a 16:1 ratio, single-adjustable QA1 shocks, and Moal torsion bar for spring control. Wilwood 12-inch rotors with black powdercoated Dynalite calipers are used in front and 11-inch rotors with the matching calipers are used in back. The Wilwood twin-reservoir master cylinders are coupled with the Moal hanging pedals in conjunction with a Wilwood hydraulic clutch reservoir to satisfy the brake and clutch needs. We've mentioned rear braking but more rear goodies include a Moal-built Ford 9-inch rear end housing filled with Currie 3.70 gears and 31-spline axles as well as more QA1 adjustable shocks, and the foundation of the rear suspension is a Moal torsion bar system. It's held in place by an unequal four-bar setup.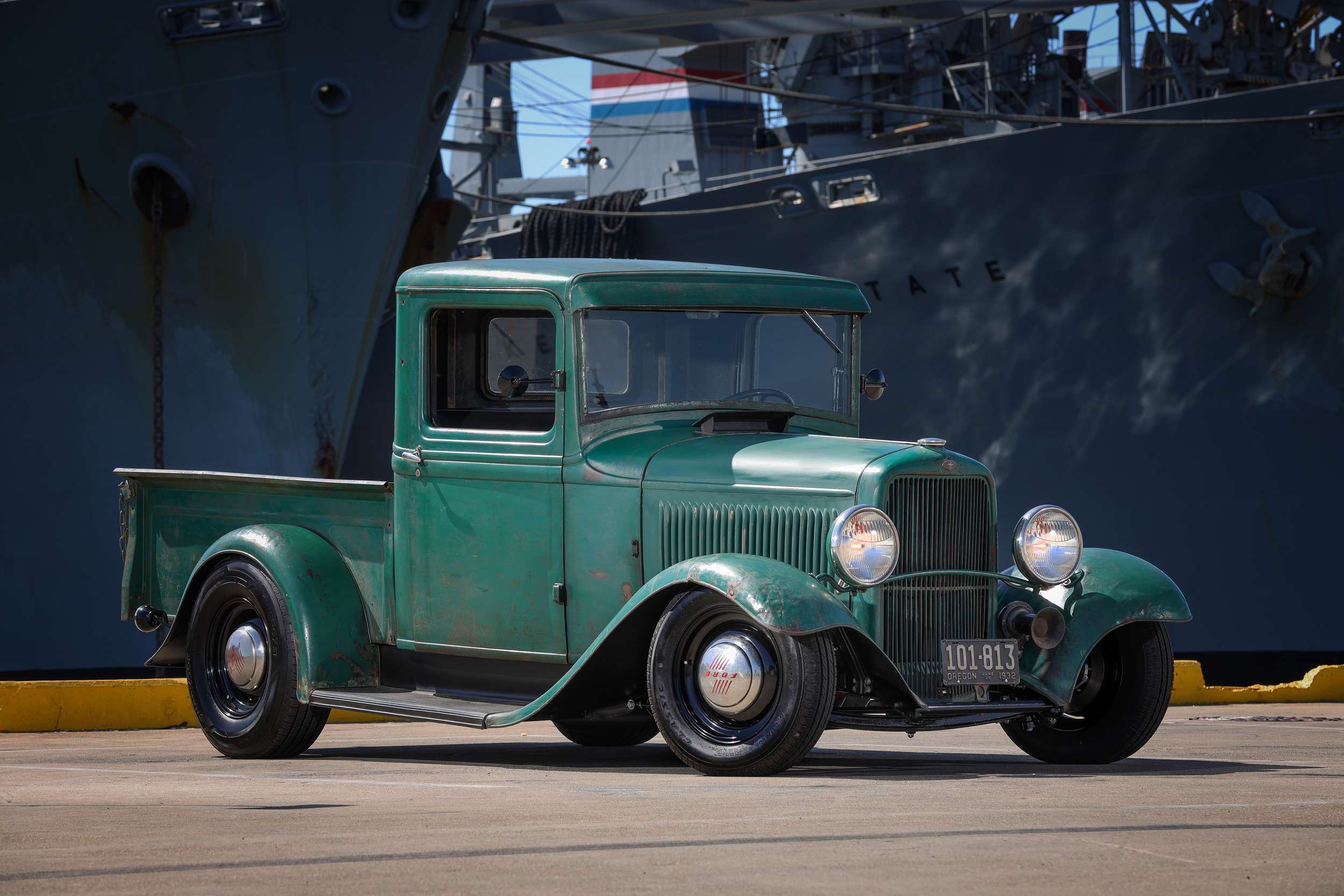 Working our way forward from the rear end we will find a TREMEC TKO 5-speed with a '32 Ford shifter modified to fit by Moal Coachbuilders. The small block Chevy uses a cast-iron flywheel to work with the trans to get the power rearward. On the subject of the small block Chevy, it features both a cast-iron block and heads and comes in at 360 ci. Inside, Competition Proven pistons are used along with a Bullet camshaft from John Partridge all topped with an aluminum 4-barrel intake dressed with a Holley Sniper EFI, MSD distributor and coil, and Moroso primary wires. Of course, there are the obligatory 7-fin Corvette valve covers but these are reproduction ones made to fit the modern Vortech head. What looks like an early exhaust system are long-tube headers that feed the Moal-fabricated custom exhaust system that is routed through a pair of DynoMax Turbo mufflers. Other engine appointments include an Edelbrock water pump, SPAL electric fan, Powermaster alternator, Meziere starter, and a Honda automotive battery that's neatly hidden within a vintage-fabricated Conoco Super Motor Oil canister mounted in the pickup bed. Actually, this is pretty cool! Another custom bed mounted accessory is the stainless steel, 18-gallon gas tank that's covered with what appears to be a Sinclair Oils lubester tank but it's truly a riveted gas tank cover. This nifty aftermarket chassis is held up by Classic radial rubber in front that measures 165/80R15 and Hankook 235/75R15 in back. All are mounted to steelies (15×5 and 15×7) with early Ford caps snapped on.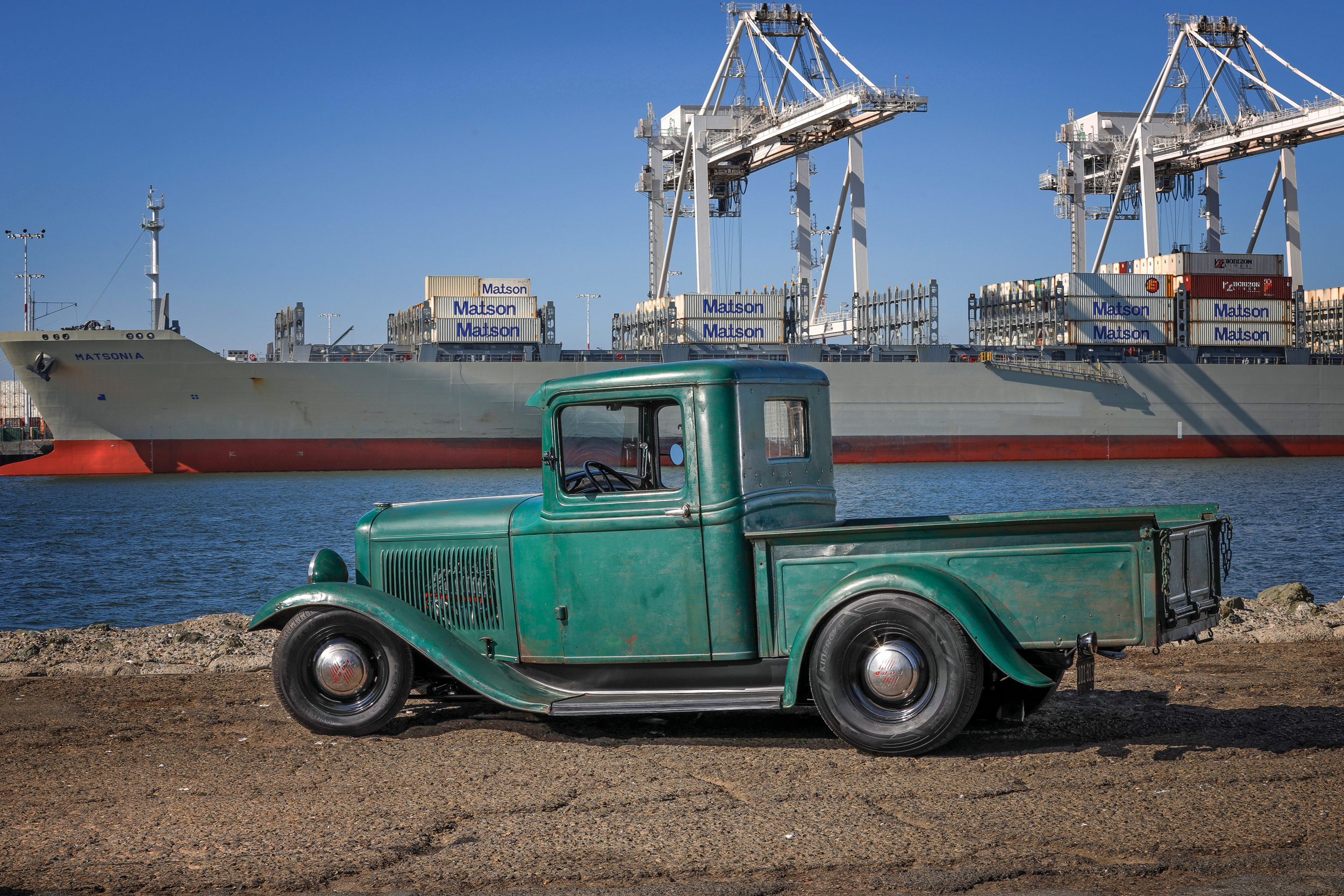 Read More: Hot Rod Model T: 1926 Ford Tudor Sedan
As mentioned earlier, the body was virtually complete as the body, bed, hood, and grille shell were all retained with Nature's paint job. We've already spoken about the cosmetic touch of the hidden gas tank and battery in the bed but after this it's Henry all the way. Inside Henry's Lady one will find a stock dash with an engine-turned gauge panel outfitted with mechanical AutoMeter instruments, along with a stock steering column and wheel. The shifter, as mentioned earlier, is Deuce but it was modified to work with the TKO 5-speed. While air conditioning is supplied by Mother Nature through the factory cowl vent there's a Moal Coachbuilders heater—one can't be foolish during the winters in Wyoming! If one looks closely, you will see the tach mounted over the dash "way over" on the passenger side. The prerequisite wiring is supplied by the craftsmen at Moal Coachbuilders and while the battery is in the truck's bed, the "kill" switch is floor mounted on the passenger-side plywood flooring. The seating is a simple bench covered in black vinyl by the Sid Shavers Company. To maintain the "ranch look" there's no headliner (but you will see the dome light and its single wire in all of its visible glory) and the absence of any carpeting, just plywood. It should be noted there's no fooling around with the lap belts as they are substantive with an aircraft heavy-duty latch. MR