Stock-Appearing Hot Rod Truck Built for Speed… and Tractors, Too!
By Scotty Lachenauer – Photography by the Author
Chuck Rosencranz, of Clifton, New Jersey, has a thing for Fords. Not just for trucks, like his stylish 1939 Ford Pickup on the pages in front of you, but also the slower, bigger-wheeled variety found out on the farms and fields of this great nation—those torqued-up tractors! Not just your typical tractors, per se, but the rarer Blue Oval ones, including some that sport a unique bonnet on them.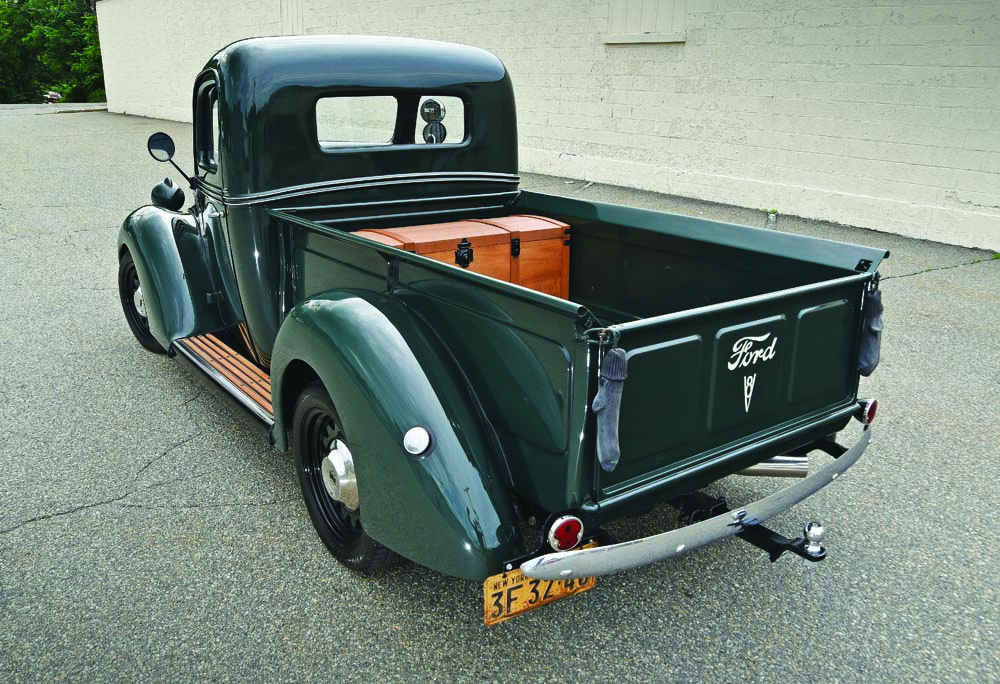 "I collect 1939 9N tractors that came with the aluminum hoods on them. These are a pretty rare piece of history and are highly sought after amongst farm equipment collectors," Chuck states. Most everyone knows of the huge impact Mr. Ford had on the automobile industry, but it seems only a select group of knowledgeable collectors understand the huge impact ol' Henry had on farming in America. "His contributions to the farmers of America were immense and helped move agricultural science into the 21st century," Chuck says. His complete assemblage is quite impressive, to say the least, and includes Ford tractors from 1939-1952 (9N, 2N, and 8N models), 1953 Golden Jubilees, and also the rare 1959 Gold Demonstrators with Select-O Speed Transmissions.
Tractor Pull
Chuck got the idea to seek out and acquire his own Ford F-1 one day while looking over his vast collection of Ford farm equipment. "I thought to myself, wouldn't it be great to be able to tow my tractors to shows using a bedded Blue Oval of the same vintage. I immediately got to work and started an all-out search for a usable 1939 F-1," Chuck says. After nearly three years of searching he finally found what he was looking for.
"While carousing through a collector's magazine, I spotted a good match. Lucky for me this particular truck was located only about 40 miles from where I lived. In the photos it looked promising, so I went over to take a quick peek," Chuck states. When he arrived and saw the 1939 Ford Pickup in person he was doubly impressed. "It was exactly what I wanted. It was an older restoration that had been cared for and kept inside. The paint was a little worn but still really nice and the truck ran and drove, even though it had sat basically for 20-odd years. I made an offer and he accepted," he says.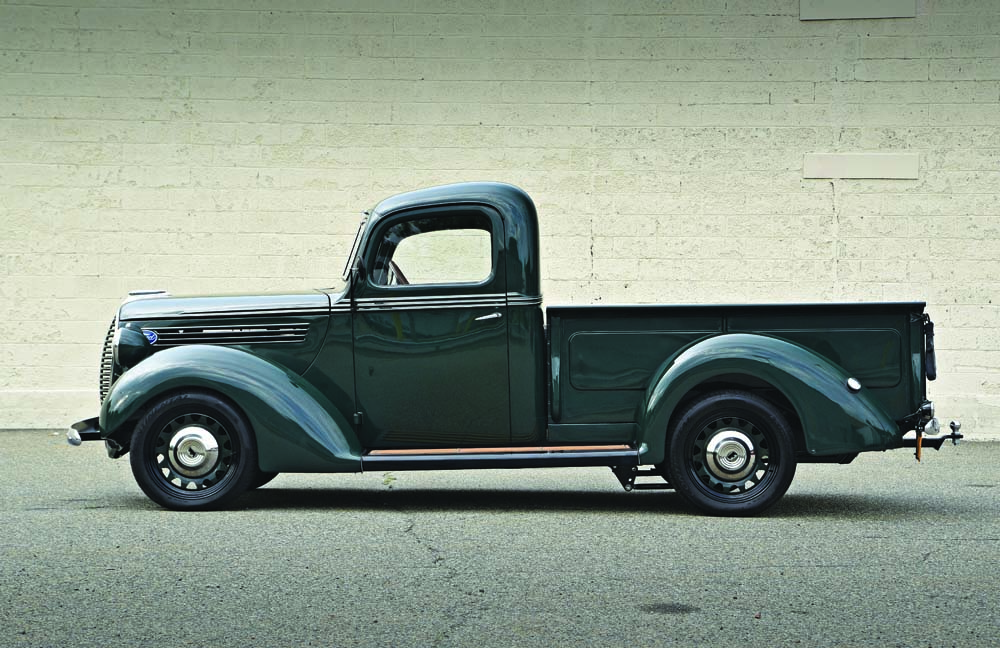 U-Hauler
Once in his possession, Chuck had some options to mull over. "I wanted to make the truck stronger and add some torque and horsepower so I could easily tow my tractors, so it needed to be brought up to snuff mechanically. I had previously passed by Blue Sky Restoration and Performance in Budd Lake, New Jersey, and saw that they had a lot of work going on at the shop. I stopped in one day and talked with owners Jesse Barratt and Jeff Manzella. They immediately impressed me with both their work ethic and their passion for their chosen profession," Chuck says. He decided then and there that these guys would be the team who would make his concept truck become a reality.
Read More: Everything You Need To Know About Wiring Harnesses For Your Classic Truck
The threesome then quickly hashed out a game plan for the old pickup truck. What that strategy entailed was to create a visual "survivor"-style build. This meant leaving the older paint job with little or no exterior modifications to make the truck appear like a stock, vintage truck on the outside. However, it would be "hopped-up" where it counted most. "We'd make it dependable enough so I could take it for extended 3,000-mile trips while towing 5,500 pounds and not break a sweat," Chuck says. So, the prevailing proposal was to disassemble the truck, add a modern frame and running gear underneath it, and then install a mill with enough push to pull his prized tractors to the big farm shows across the country.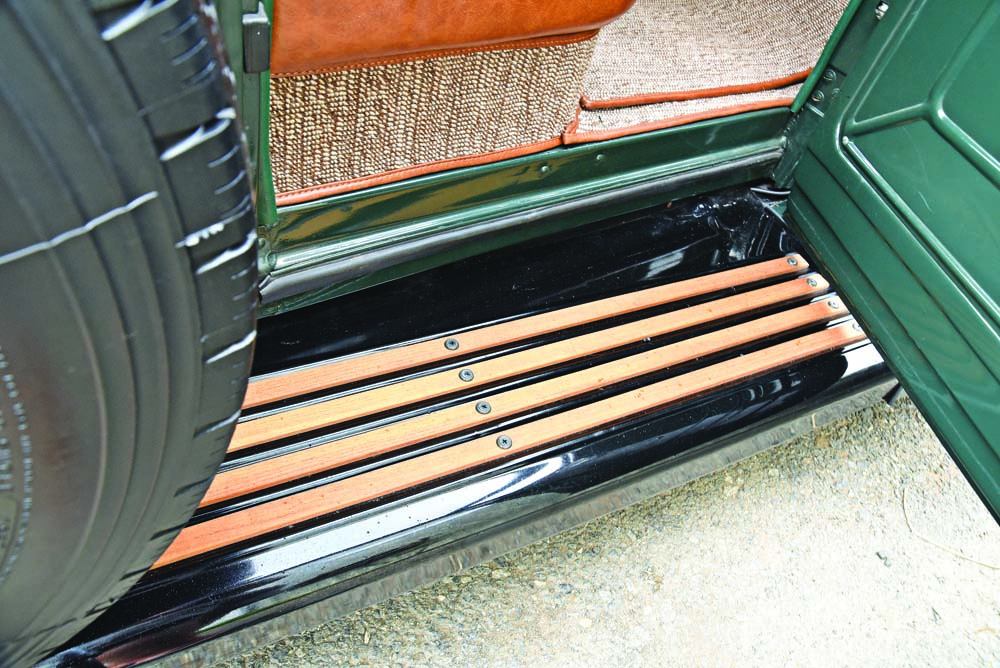 Starts with an F
Soon after the truck arrived at Blue Sky Restoration and Performance, parts were ordered to commence the transformation. "We essentially based the build off a 2018 F-150 from the start and then figured we would add our personal touches along the way," Barratt says. The main ingredients for their rodder's recipe were the first parts to show up at the shop. "TCI supplied us with a new chassis, built up with an Independent Front Suspension in the front and leaf spring suspension in the rear. It was finished off with a 3.90-geared Ford 9-inch rear end with helper bags out back. We also added a set of Calvert Racing CalTracs to eliminate axle wrap in case of wheelspin. As far as the powertrain goes, it came directly from Ford Performance in the form of a 5.0 Coyote and 6R80 automatic transmission," Manzella says.
The work began in April 2019 and moved along briskly. "We commenced the build by mocking everything up on the TCI chassis and then joining the body back on the frame. Next, we started getting creative with shoehorning in the 5.0 Coyote so it would fit under the hood and within the confinements of the factory sheet metal," Barratt states. The crew made two adjustments at this point to guarantee a smooth installation, adding both a recessed firewall and a pair of flat inner fenders to assist with housing the potent Ford power plant within the truck's tight engine bay.
Luckily, during the process, the crew did not have to modify any of the factory exterior sheet metal, which in turn helped the guys meet their goal of keeping all the truck's present paintwork intact. Once the powertrain was 100 percent situated, Blue Sky Restoration and Performance then fabricated a full custom exhaust, which consisted of a set of Patriot block hugger headers, feeding into 3-inch polished piping, a Borla muffler, and then finishing off in a 3.5-inch single tailpipe exiting behind the right rear tire.
Read More: 1950 Ford F-1: Iconic Style With 4BT Diesel Power
As things were going as smooth as silk, the guys at Blue Sky Restoration and Performance decided to throw a wrench of their own into the works. "We wanted the truck to have many of the creature comforts that come with a modern vehicle, like AC and power steering, however this proved to be a bit difficult because of the sheer size of the 5.0 Coyote and the small-ish engine bay on the truck," Barratt says. So the crew modified the upper shock mount to clear the factory alternator and finished it off with just a small adjustment to the mounting bracket. It took a few "tweaks" to make everything clear. Even the factory AC compressor that feeds the new Vintage Air system fits like a glove. Unfortunately, now there was no room left for the power steering pump. But, leave it to the crew at Blue Sky Restoration and Performance to come up with a solution.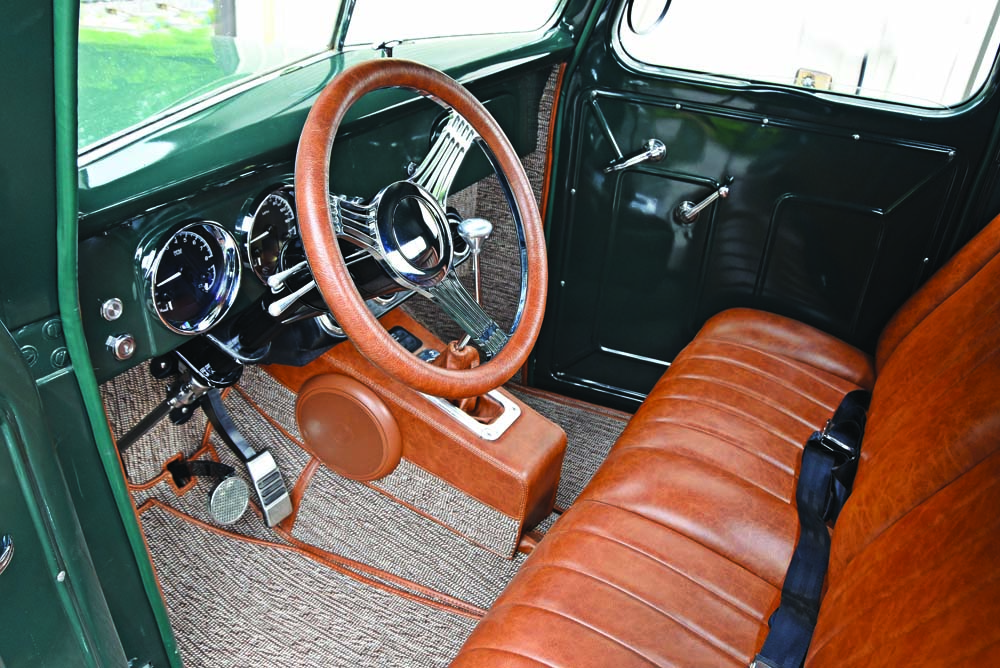 To add the need for power steering, the guys had to think out of the box and on the fly. "We sourced a Volvo electric power steering pump that remotely mounts on the frame rail in a serviceable spot, which would then supply the perfect amount of assist for the driver. Next, we installed a Flaming River steering column and then fabricated the most complex custom steering shaft we've ever had to make to wind its way out of the cab, around the 5.0 engine, and down to the rack," Manzella states.
The rear suspension got a boost with an air bag suspension kit from AccuAir Systems. "They have a set of ride height sensors to level the load when towing a trailer. We then fabricated an extended hitch to bolt to the TCI chassis," Barratt says. For styling reasons the guys didn't want anything too flashy in the wheel wells. "We wanted to keep it lowkey and almost stock at first glance," Barratt says. A set of Detroit Steel "Ambassador"-style rims were ordered up, 18×8 front and 18×9 rear, wrapped in a set of Continental rubber to give the truck a modern look with vintage flair.
The wheels were then painted in two-tone black and body color and classic "F Dog" poverty caps were added for that total ol'-school style. To finish off the classic aesthetics, a one-off teak wood storage chest was built for the bed. This box houses the battery as well as storage for towing supplies and anything else that he may need on the road. "We also added teak wood strips to the running boards to tie everything together," Barratt states.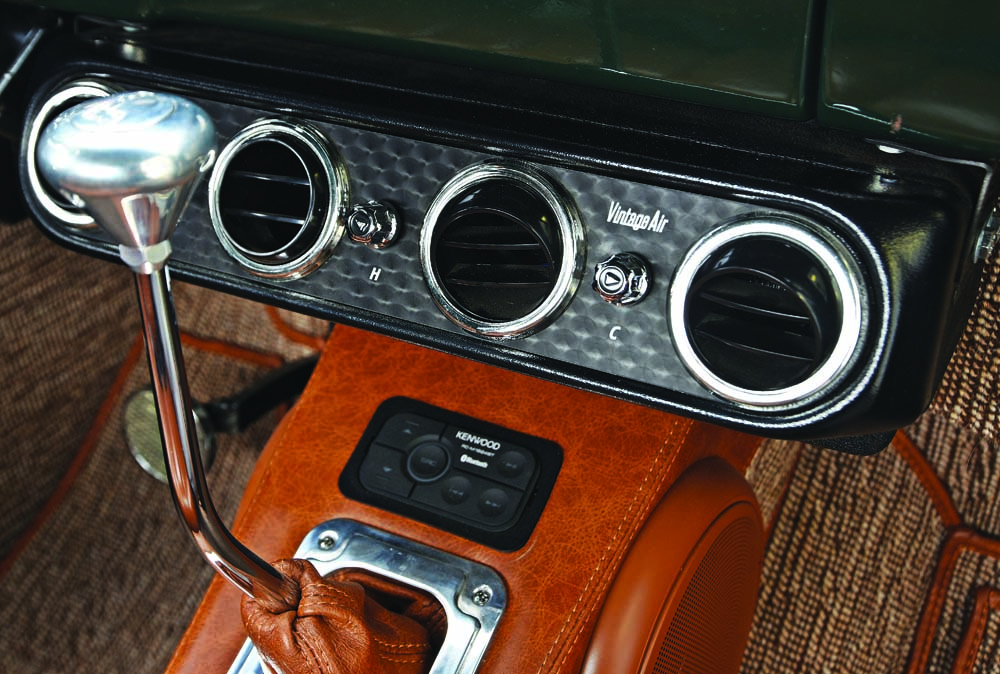 Last but not nearly least was the interior. "Once we installed the storage chest in the bed we started planning the interior. Gillin Auto Interiors, out of Middletown, New York, rebuilt the factory seat using Relicate leather that matched the exterior teak wood and then added fresh bolstering to the seat without making it look too modern," Barratt says. Gillin also added a small center console to house a set of speakers, a swing-out cup holder, and the Lokar shifter. The interior was finished off with a set of Dakota Digital gauges, a Banjo steering wheel wrapped in leather, and Relicate square-weave carpeting.
Tow … NAILED
Once the old Ford was nearing completion, the guys turned back to the motorvation of this ride, tuning the Coyote crate engine to handle the payloads that would soon be pulled out back. "We used a Lund Racing tune to get the mill to perform the way we wanted it to," Barratt says. To feed this beast the air it needs to run wild, the guys fabricated a custom air intake to fit within the confines of the engine bay.
Read More: "Rusty Ripper" The Supercharged 5.0 Coyote Powered F100
Once the Coyote was howlin', the guys at Blue Sky Restoration and Performance readied the old Ford Pickup for some shakedown runs. "The truck was built to haul 5,500-pound tractors across the country. Without a doubt we accomplished that goal. This nearly stock-appearing F-1 has some 'tooth and nail' underneath that sleeper exterior. I wouldn't challenge it at a stoplight," Barratt states.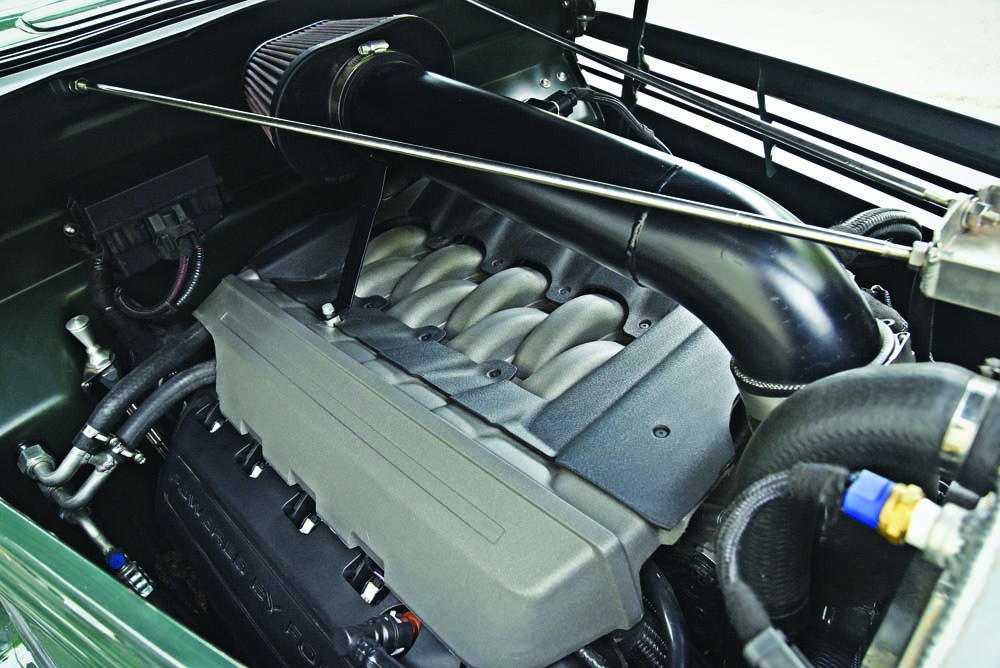 As for Chuck he's just over the moon about his new ride and the experience he had working with the crew at Blue Sky Restoration and Performance. "[Barratt] and [Manzella] have been great to work with. Between their ideas and my crazy ideas I know heads will turn once they see this old Ford coming down the road or into a show! I'm not into trophies, I just like to see people's expressions, their smiles, and to listen to their stories of their experiences and dreams. That's what makes life enjoyable!"