Remembering Hot Rodding's Pinstriping Picasso
By Michael Dobrin   –   Photography by the Author, Courtesy of the Greg Sharp Collection, the Tyler Hoare Collection & the Bob de Bisschop Collection
"If your car wasn't done by me, you wasn't nothin'." —"Tommy The Greek" Hrones
Sometime in the mid '60s, Tommy Hrones took a call at his Oakland, California, paint shop. By then he was celebrated in motoring circles as "Tommy The Greek" and his palette of subtle and scintillating scallops, slick lines, and teardrop signatures were defining accents on hundreds of show cars, customs, street and strip hot rods.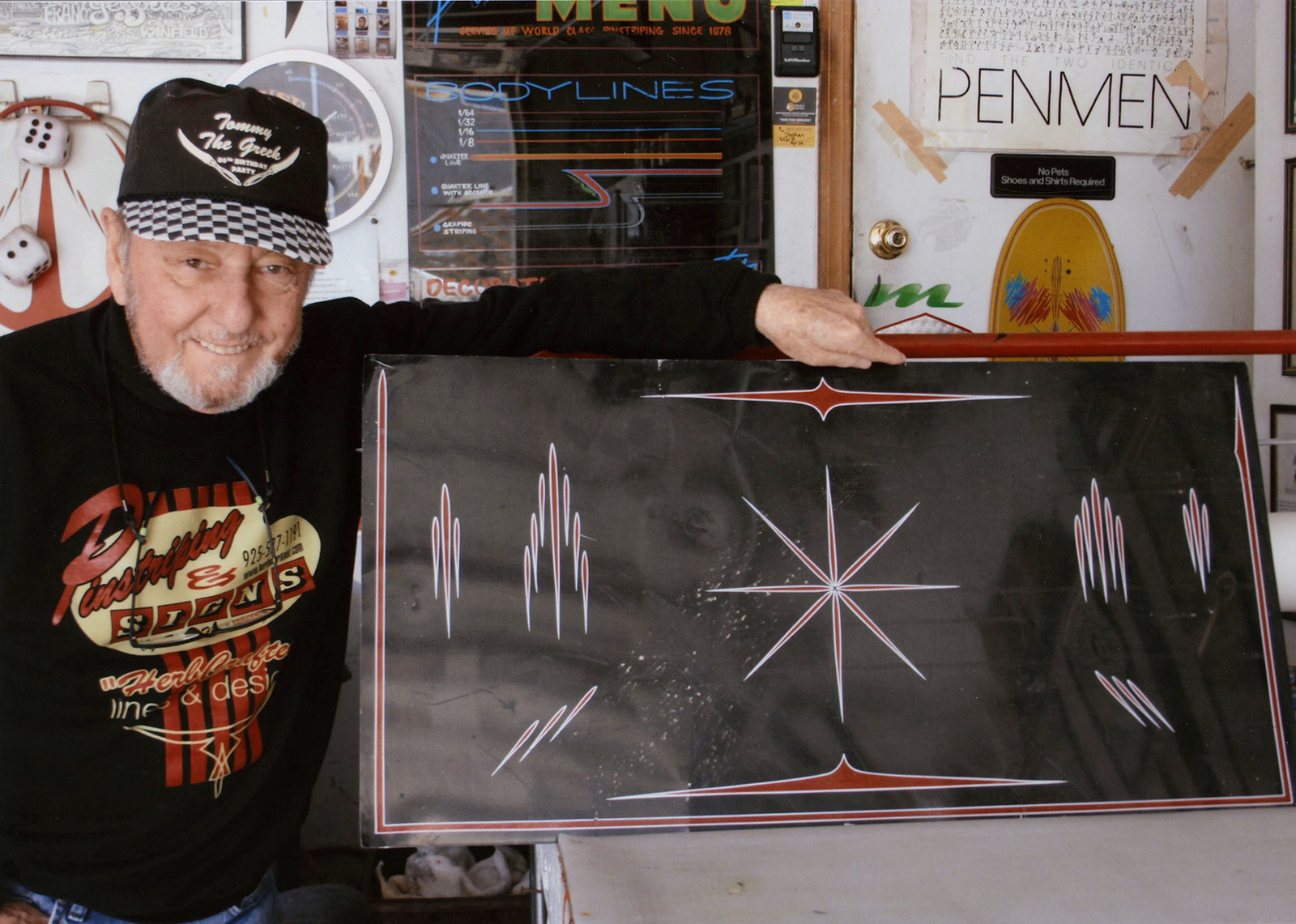 The caller said he was with GM Design, and they wanted Tommy to come to Detroit and discuss accents and styling.
The prankster kicked in: "Who's calling?" "What?" "Where are you calling from?" "Hold on." "Who's this?"
"GM in Detroit. Detroit, Michigan. ''
"Detroit. Does it snow there?"
"Yes, it does."
"I ain't goin'."
At times impish and impulsive, he was a deft performer who took his art in stride, living his 88-year life pretty much the way he chose.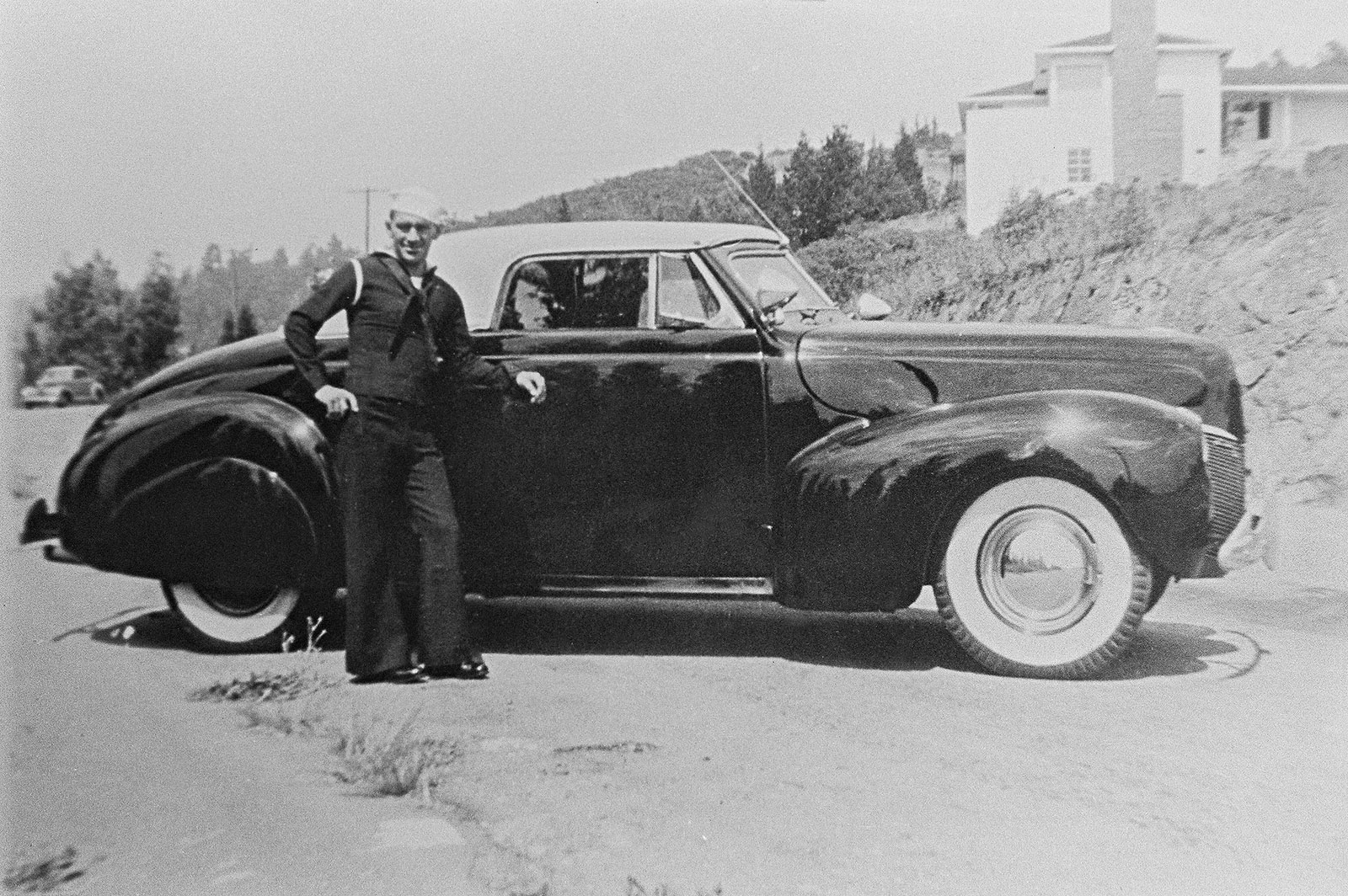 A Legacy of Automotive Artistry
"He knew who he was. He didn't care about the press," Tyler Hoare, Berkeley, California, artist/sculptor and custom car enthusiast who met Tommy in 1975 and actively brought him the recognition he deserved both during and after his painting career ended in 1993, says. He took Tommy to West Coast Kustoms gatherings in Paso Robles, California, and helped stage an annual luncheon gathering of Tommy's best friends at the now-closed Pier 29 Restaurant on the Oakland Estuary.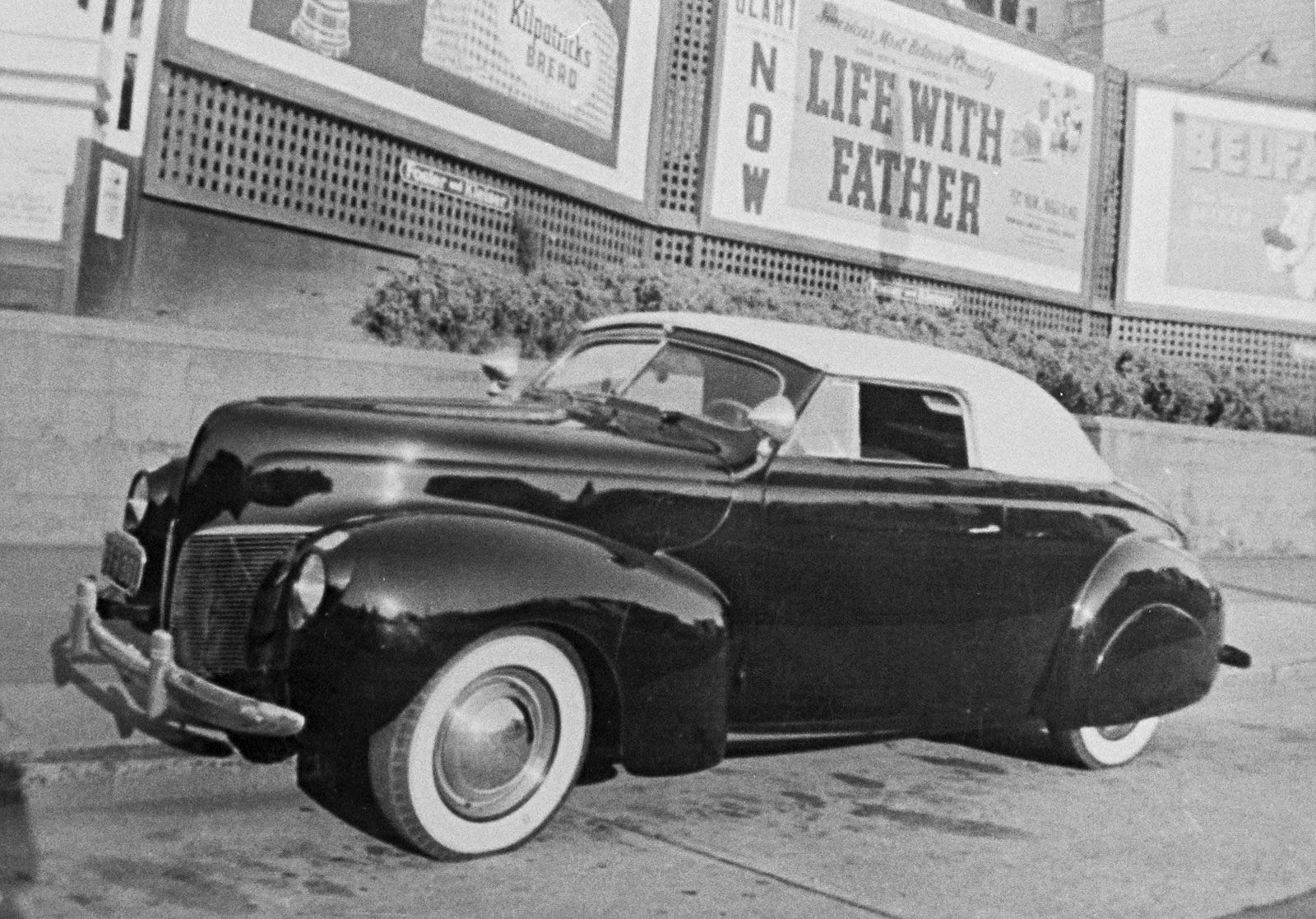 "He's the guy," the late Cory Greenwood noted, another leading Bay Area accent artist who studied and admired Tommy's work. "He's been overlooked because of Von Dutch and the Southern California scene."
Read More: A Closer Look At Jack Chisenhall's Champ Deuce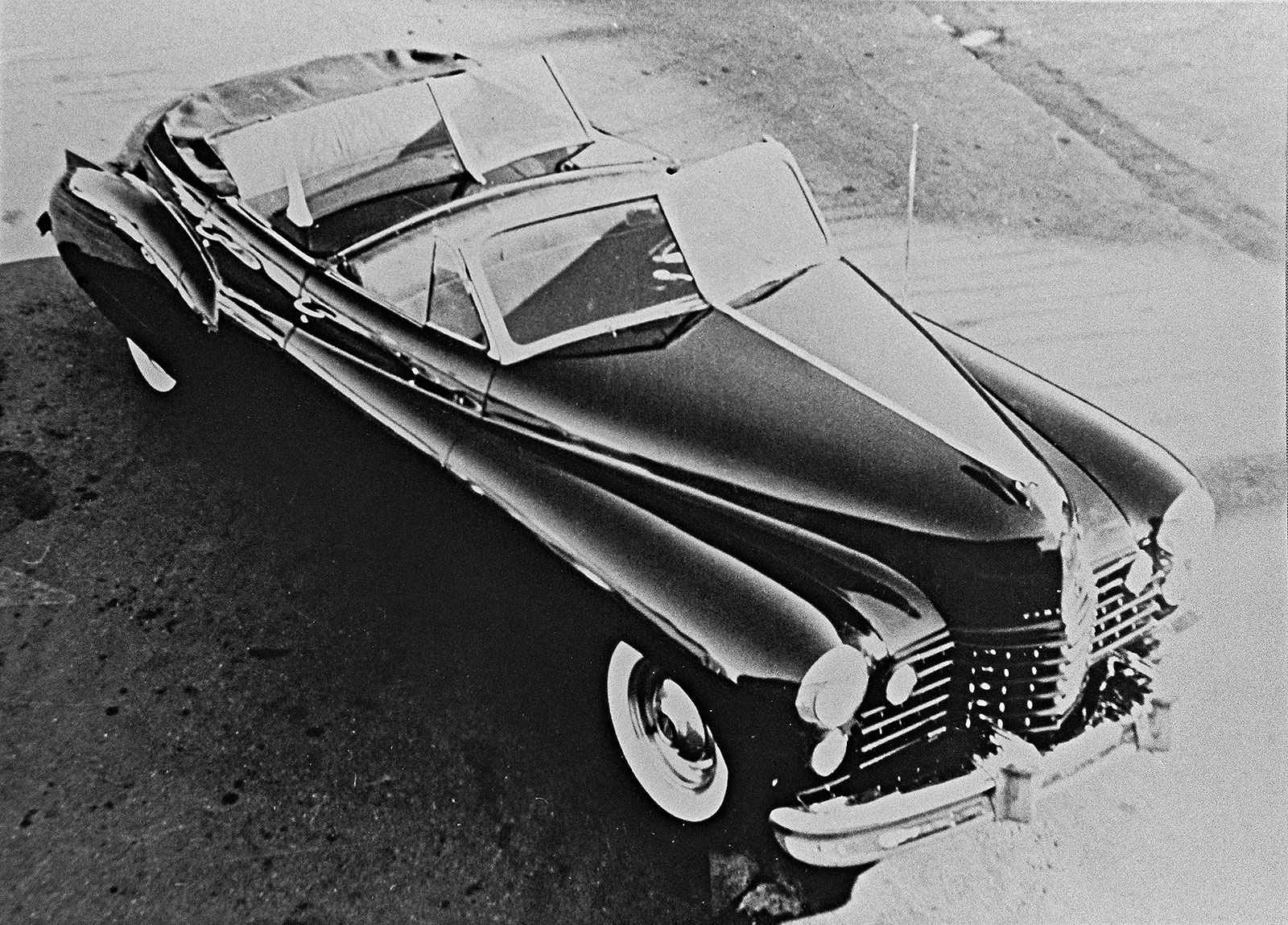 But according to Hoare, Tommy was not competitive or jealous. "He knew his place amongst other artists like Von Dutch. He was close with Ed Roth." He and the irascible Von Dutch (Kenneth Howard) once went on a curbside 'striping spree before one Oakland Roadster Show (now known as the Grand National Roadster Show).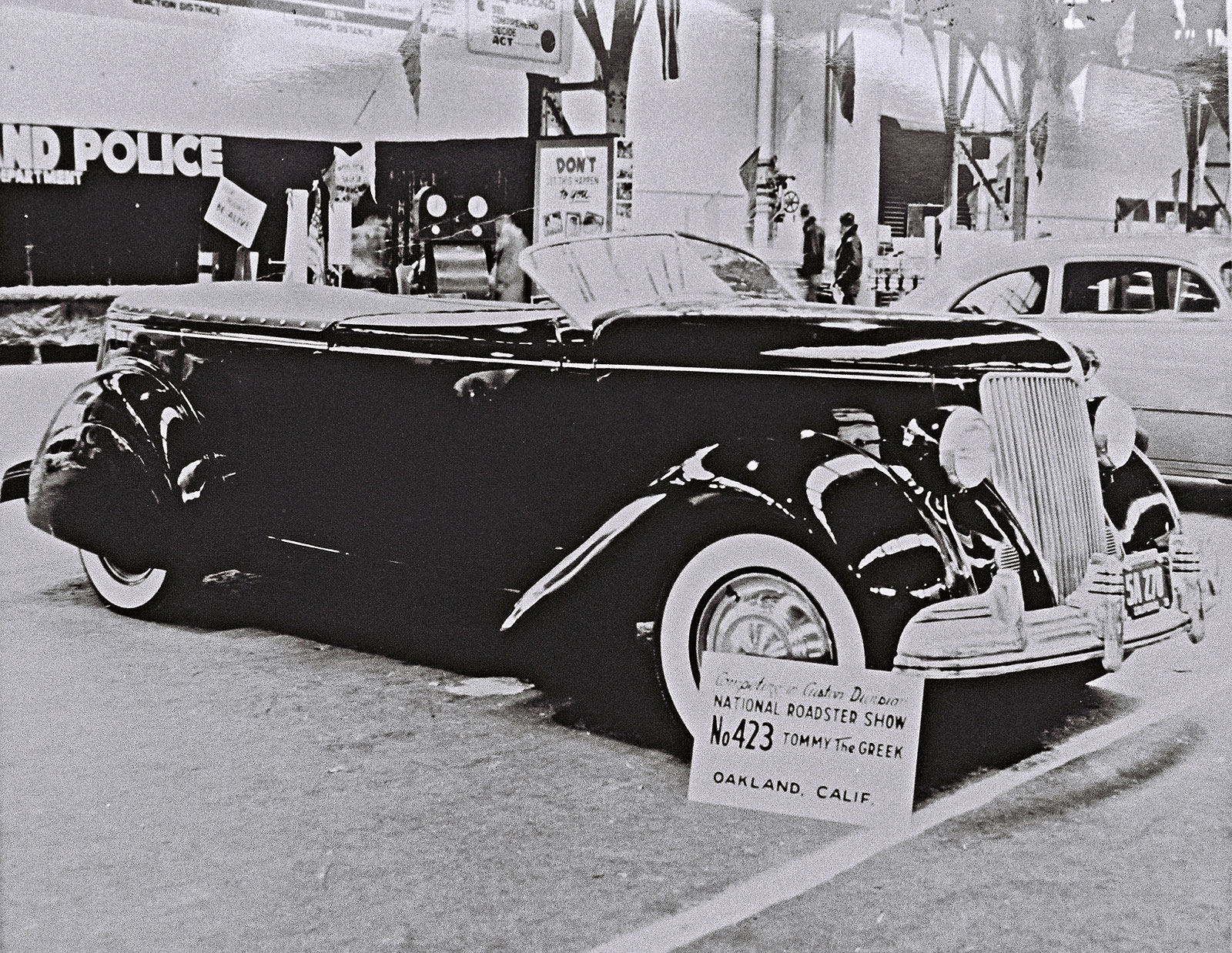 Oakland California: The Birthplace of Tommy's Legacy
By his own estimate and beginning in 1926 when he went to work in his uncle's auto body shop in Oakland, Tommy had painted and 'striped 10,000 cars. "And in the '30s and '40s sometimes just a buck a car," he added. He did race cars, five white fire engines headed for wartime Britain, airplanes, boats (including Stanley Dollar's Skip-A-Long hydroplane), kitchens, motorcycles, helmets, commercial trucks, and several Oakland Roadster Show America's Most Beautiful Roadster (AMBR) winners.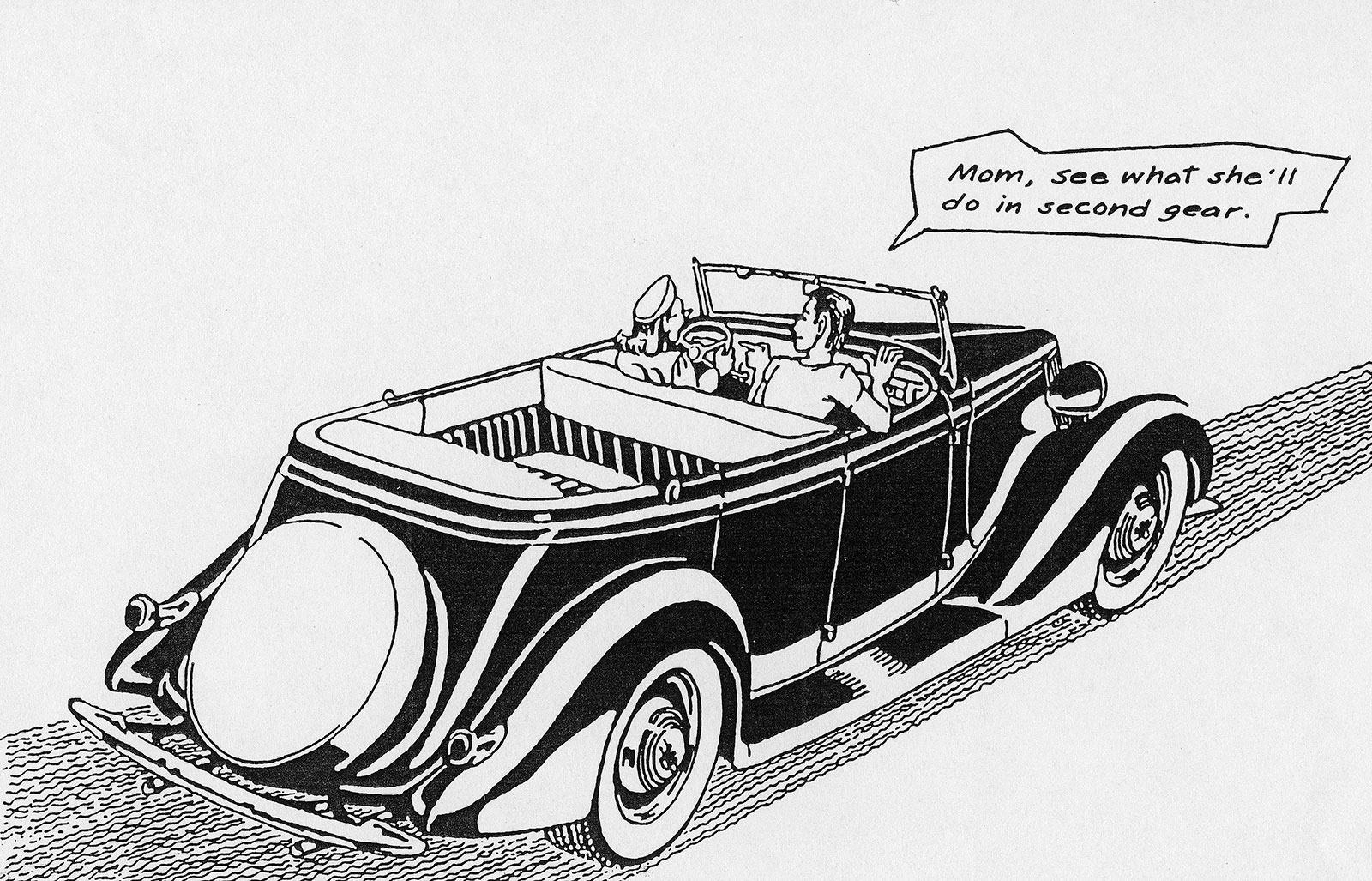 His apprenticeship was in the pit–literally. "We had no lifts, so we'd work all day under the car in the grease pit. It was hot and dirty in summer, cold and dirty in the winter. I started pulling and scraping wooden wheels. We'd varnish them and rub them out with pumice stone. We'd wax and polish car bodies after rubbing them out with gunny sacks.
In those days you had to do everything. My uncle wasn't good at 'striping. He'd shake that line. I started 'striping then."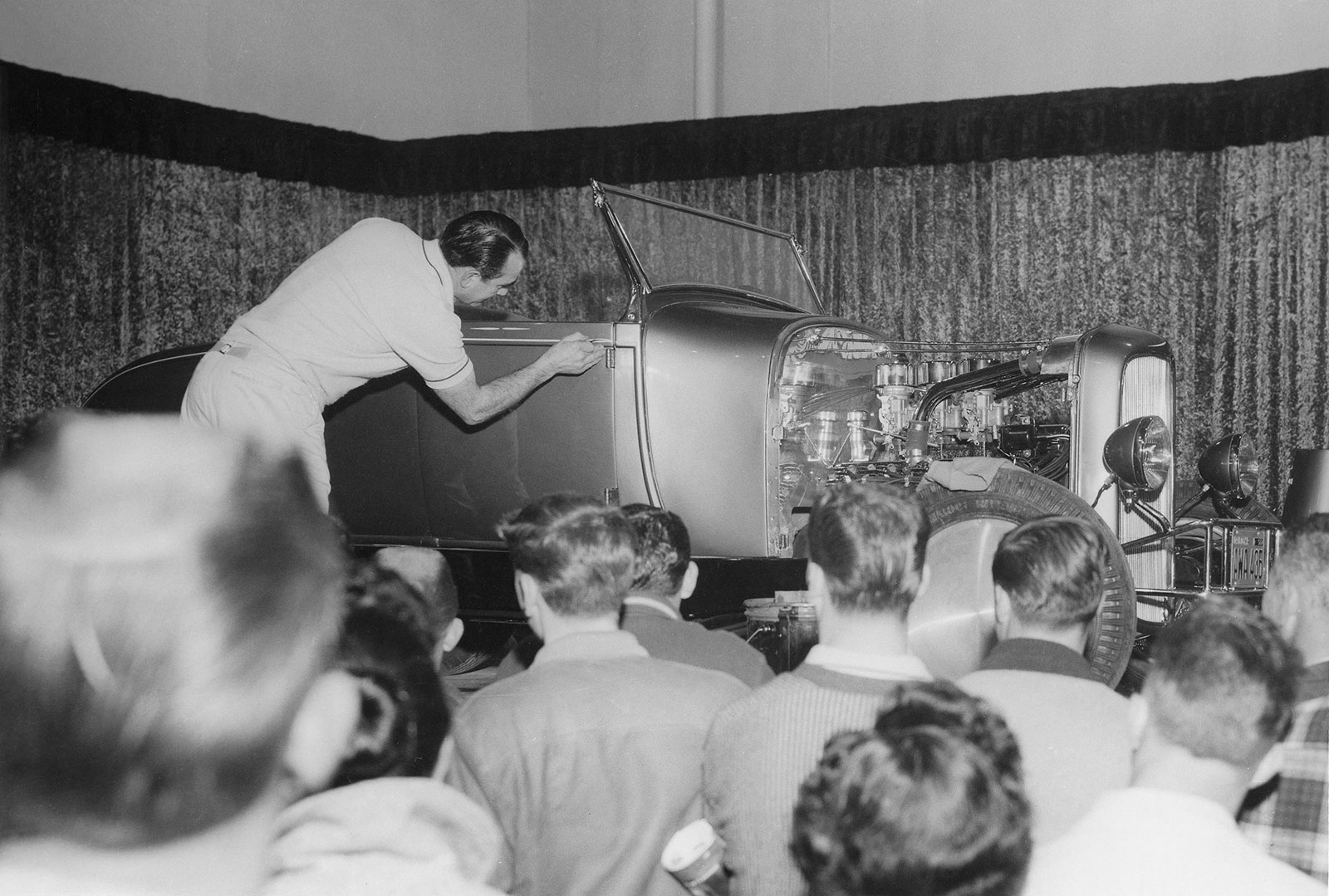 The eldest of eight, Tommy was born in December 1913, in Oakland's Emeryville district. His father, Theodore, had come from Greece to help rebuild San Francisco after the 1906 earthquake and fire and later became a carpenter at the Santa Fe rail yards in nearby Richmond.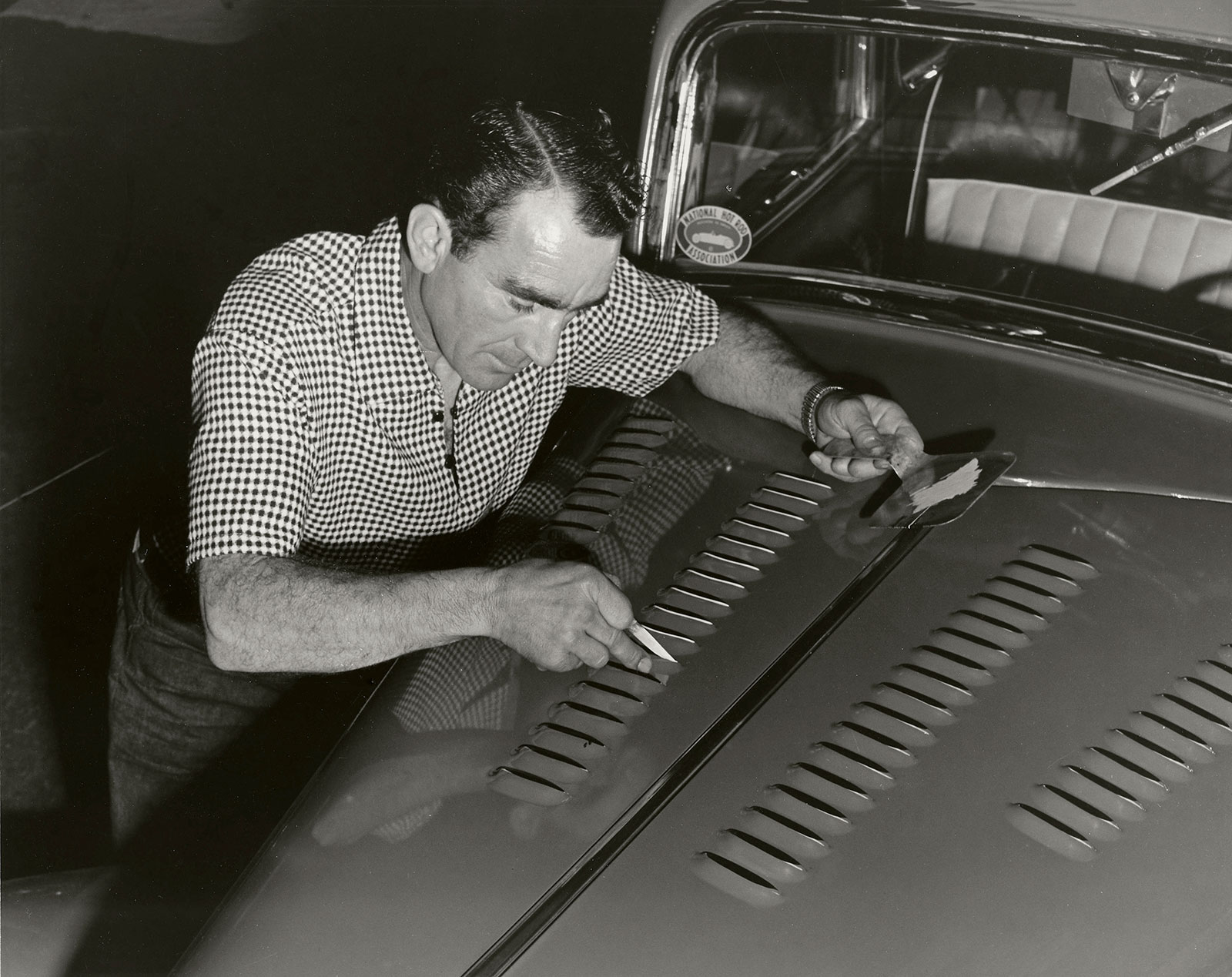 Tommy's life and work would be inexorably tied to Oakland and the East Bay. Terminus of the Southern Pacific railway by the 1870s, Oakland became a powerhouse center of manufacturing, trade, and shipping. By 1930, the Oakland Chamber of Commerce tagged the city as "Detroit of the West." Durant began Chevrolet operations in 1916, Ford assembly in Richmond in the 1920s. Dodge cars, Fageol buses, Peterbilt, Atlas Imperial Diesel Engines, White Motor Steam Car, and Hall-Scott motors were all part of a booming regional industry.
Read More: Parting Shot: Dave Bell & His Iconic Artwork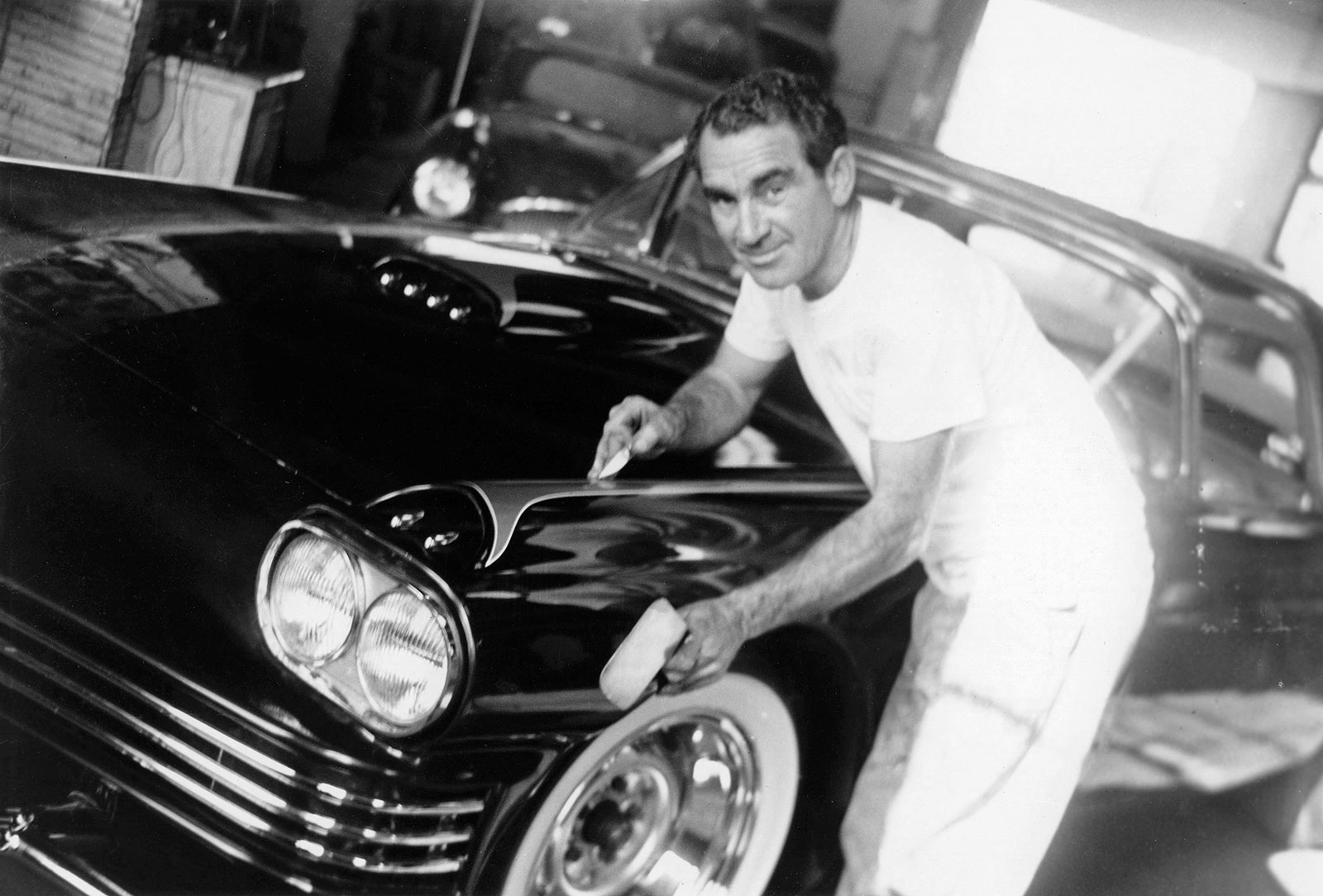 There was plenty of work in the motor trades. Oakland's hot rod and custom car culture flourished as the GIs came home. From the Hubbard Cams shop on Grove Street out to Hayward's Vic Hubbard Speed and Marine (no relations) there were dozens of speed equipment suppliers. Oakland had been a center of competitive motor racing (open Sprint Cars, Roaring Roadsters, and BCRA hardtops) at circuits like Oakland Speedway and Oakland Stadium. The spotlight ramped up with incandescence in an almost-afterthought showing of contemporary hot rods and customs in the first Oakland Roadster Show, a sidebar display at the January 1950 Imported Car Show at Oakland's Exhibition Center. Promoters Al and Mary Slonaker knew then that there really was a "There" in Oakland.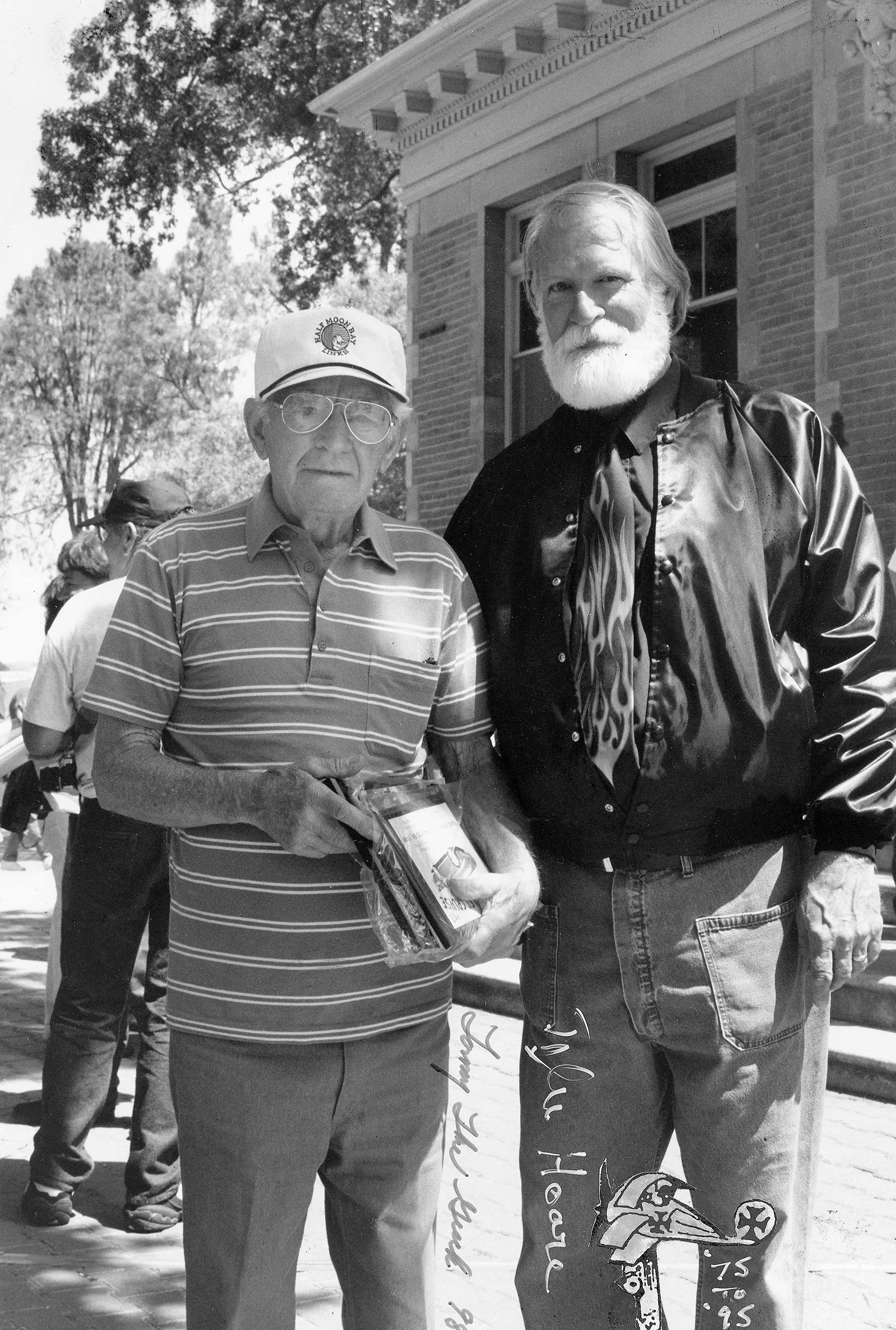 The Impact on the Hot Rodding Community
Tommy was There. His sleek, black '36 Ford Phaeton was a showstopper—no running boards, no handles, seamless fenders, Duvall windshield. During the war years, Tommy built another landmark car: a '40 Merc convertible featuring a chopped Carson top, sunken tail lights, recessed rear plate, Appleton spots, and moon disc spinners. Painter and custom stylist Joe Bailon, with whom Tommy would have a long and productive relationship, said "I was totally wiped out. That was the greatest car I'd ever seen!"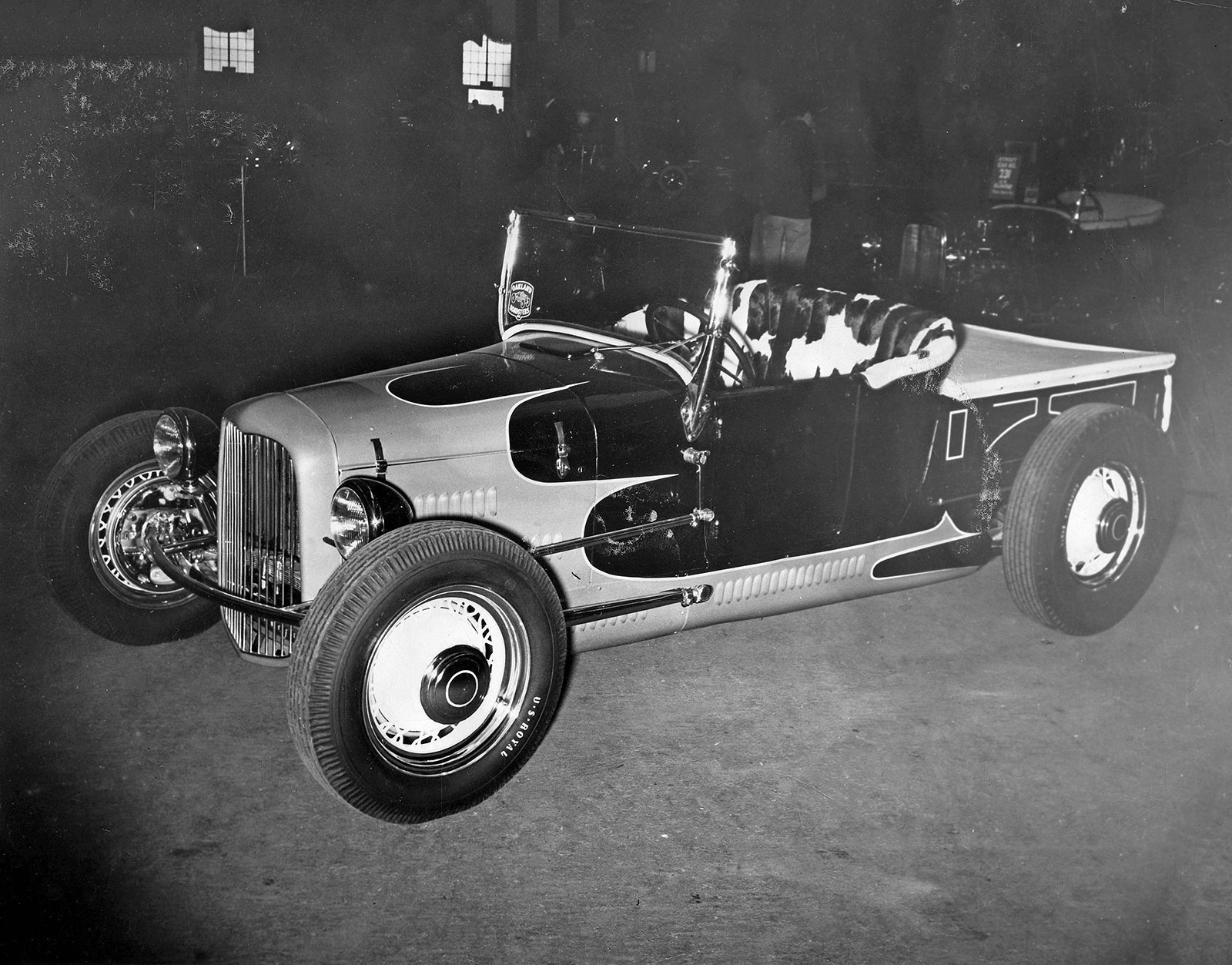 Tommy became a featured star at Oakland. In 1958, as Romeo Palamides tore down and rebuilt Ken Fuhrman's A roadster, Tommy did the body 'striping and hood louvers. There was the brush, the car, and the lacquer—all props in the Tommy show.
And it was always quite a show.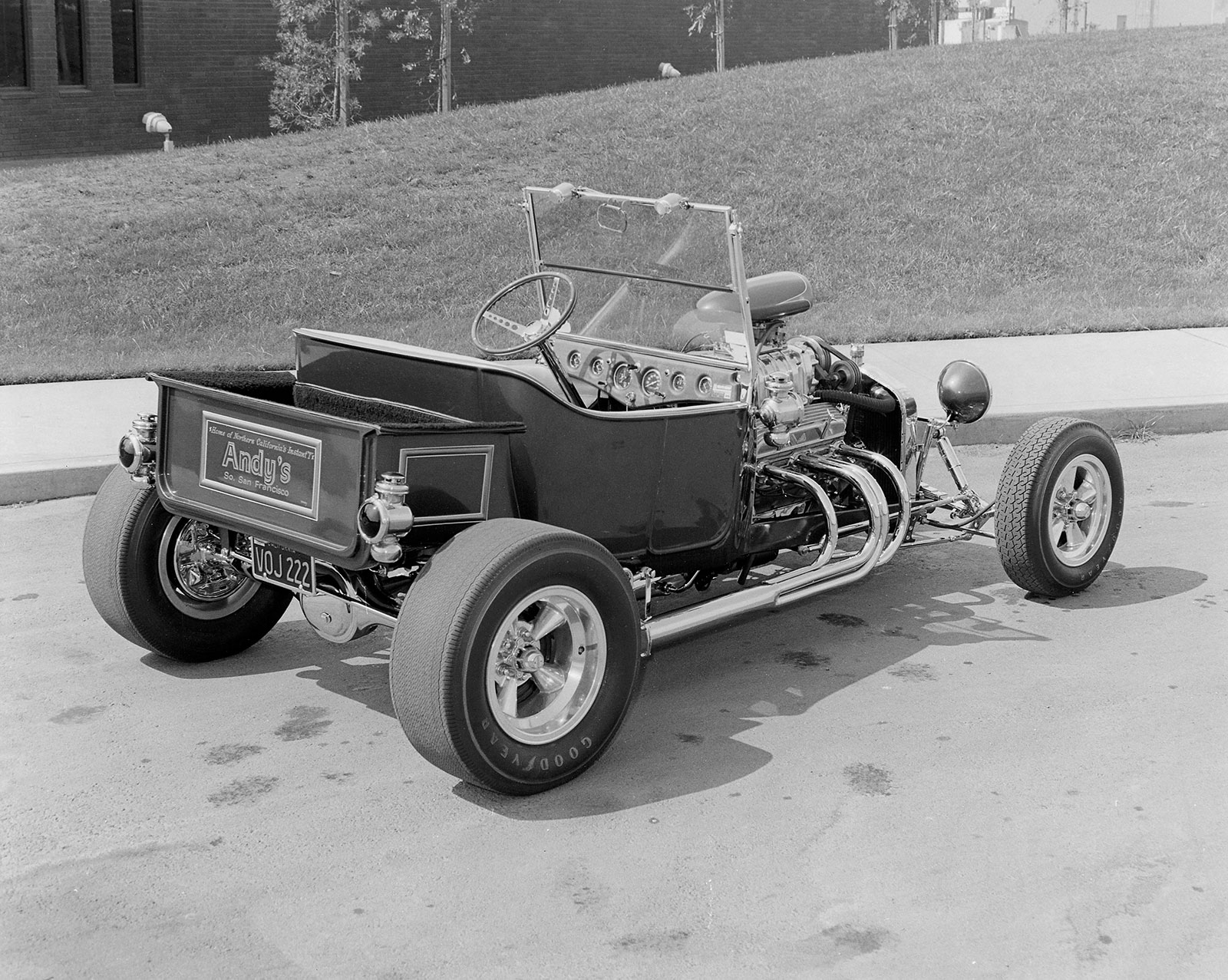 Herb "The Line Doctor" Martinez of Livermore, California, remembers the theatrical flourish in Tommy's studios. "If it wasn't for Tommy allowing me to hang around his shop (originally at 55th and Foothill in Oakland) I'd never have continued my career. He was the master—and fast. Wham bam! He'd open a can of Veco lacquer with an ice pick, fire the pick into the wall—ping!—set up like a rocket, and 'stripe the car with the straightest lines I'd ever seen, all the while baiting and needling the customer."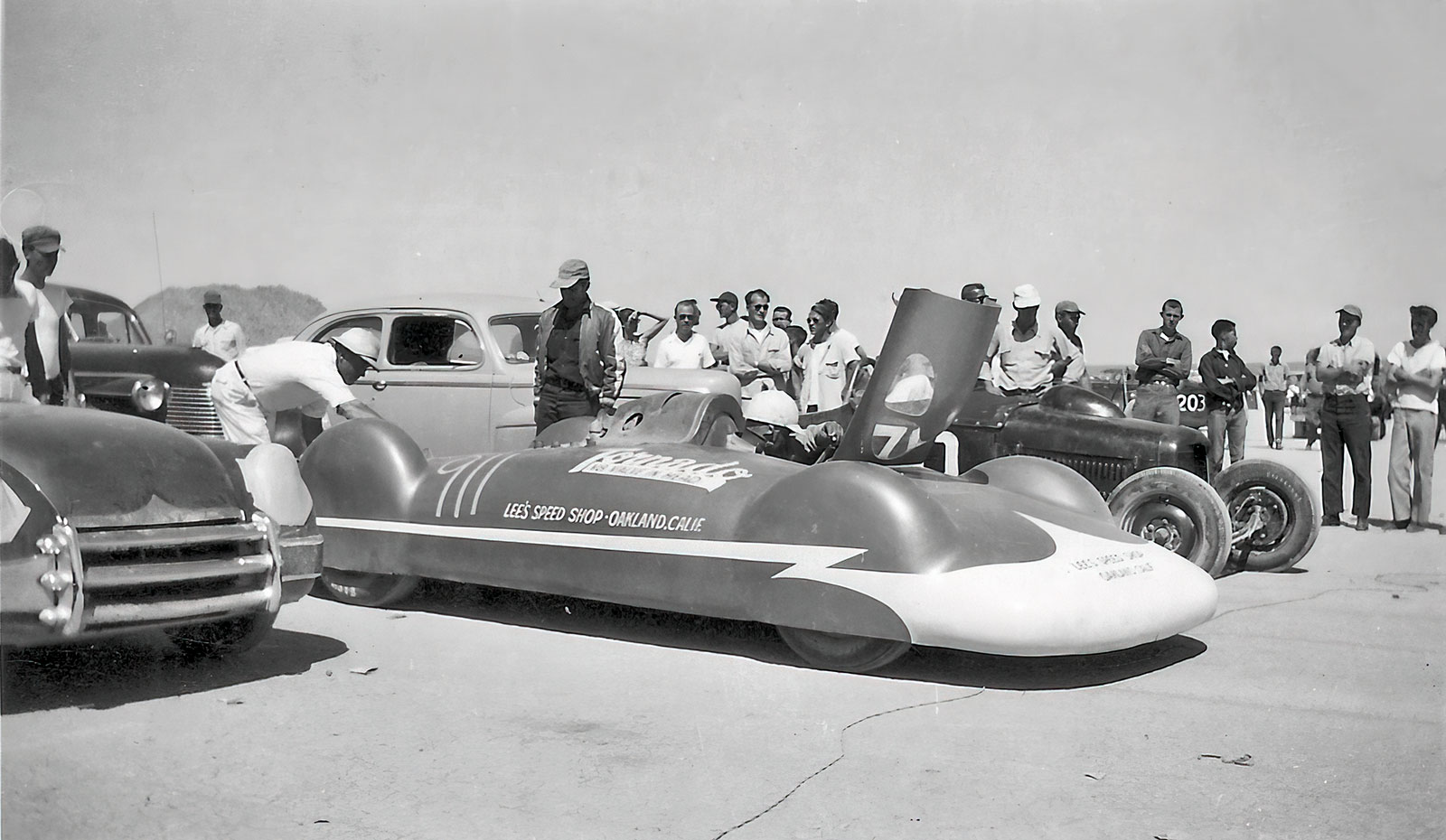 December 1994. Tommy is closing his shop in East Oakland. There's one last car being masked for final spray. "Oh, hell, he can wait," Tommy growls. His office is bare, with an unvarnished desk and a filing cabinet. He pulls out the desk drawer, spreading out dozens of snapshots—all young, very attractive women in '40s-style Betty Grable swimsuits.
Read More: 1st NSRA Street Rod Nationals Peoria Winner & Speedway Motors Cars and Coffee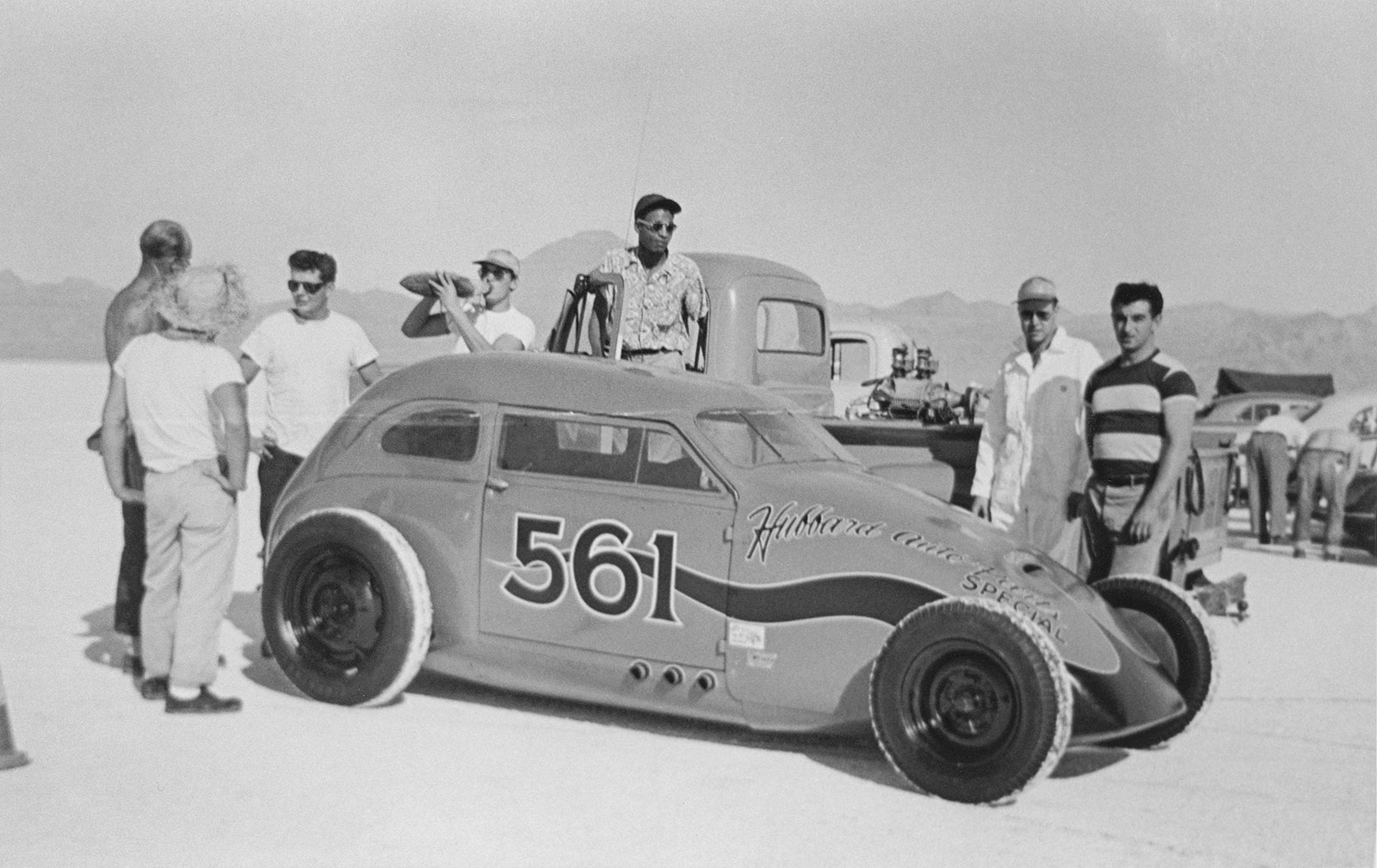 Wistfully, he sighs. "Yeah, we had a good time in those days. Go down to Forest Pool in the Santa Cruz mountains."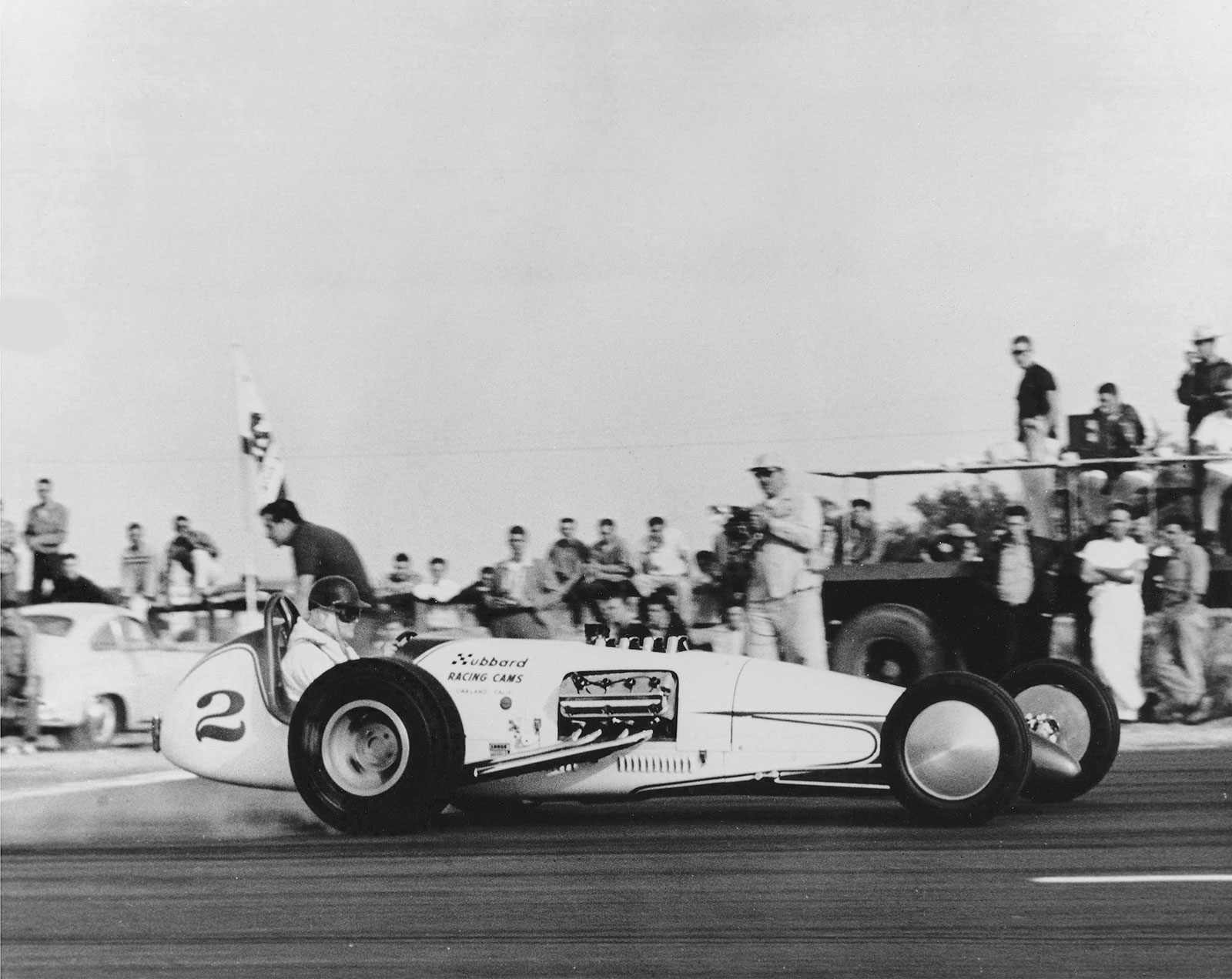 Unique Approach to Art and Life
The presence of an attractive woman would often put Tommy into motion. In an earlier interview, 'striper Greenwood recalled, "We were up at another shop. Tommy was there with his Triumph and this older man came in with a stunningly beautiful young woman. Tommy jumped right up: 'Don't go away. I'll be right back!' He tore out down the hill to the nearest flower stand, roared back to the garage, entered at high speed, lay the bike over, slid right up to the young lady, dismounted, and handed her the bouquet."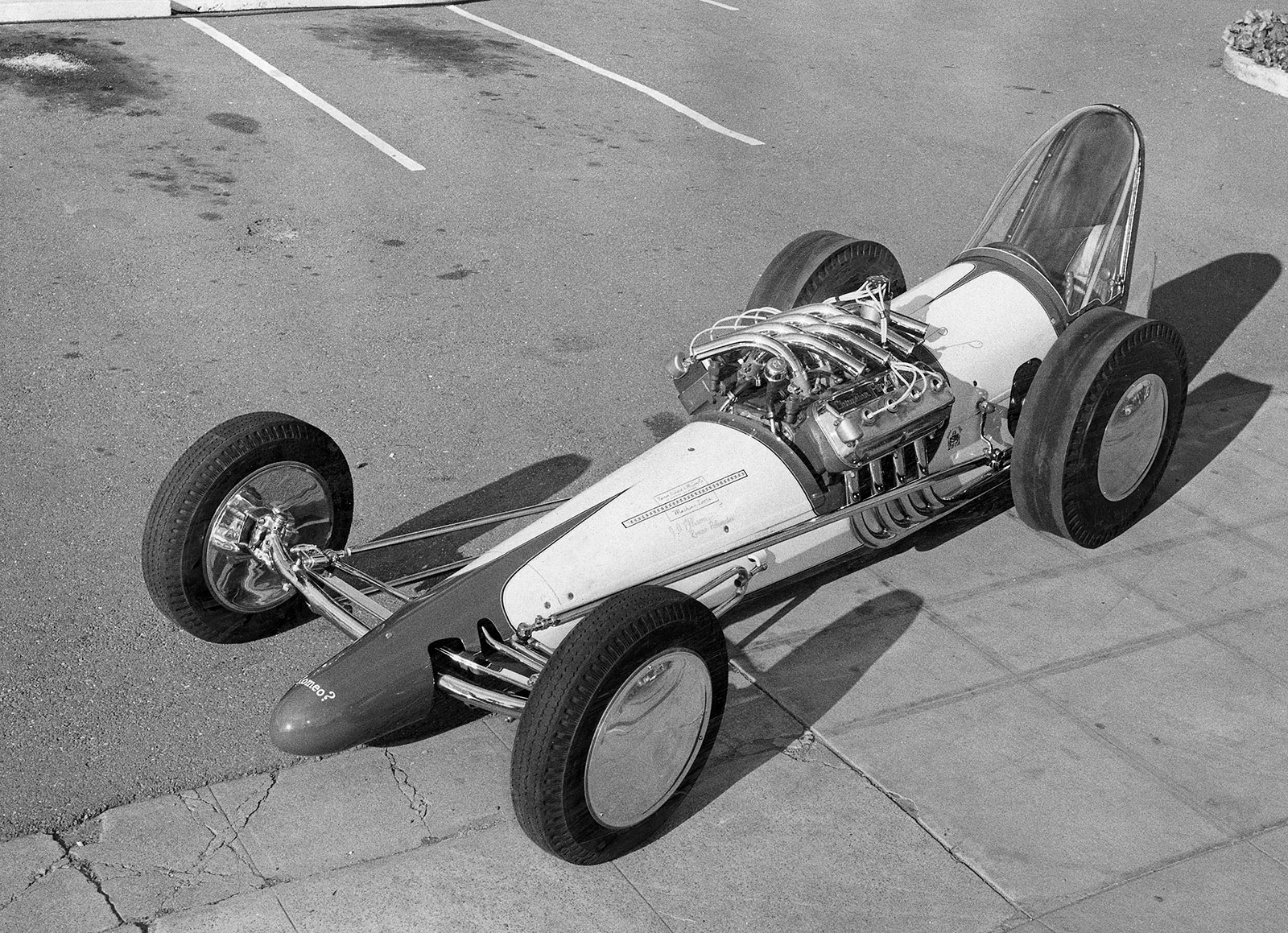 In the '60s, his reputation could've taken him other places, but he chose to work in Oakland where he collaborated with custom car builders like Joe Bailon and a clique of innovative fabricators like Jack Hageman ("He's the best," Tommy said in an early interview).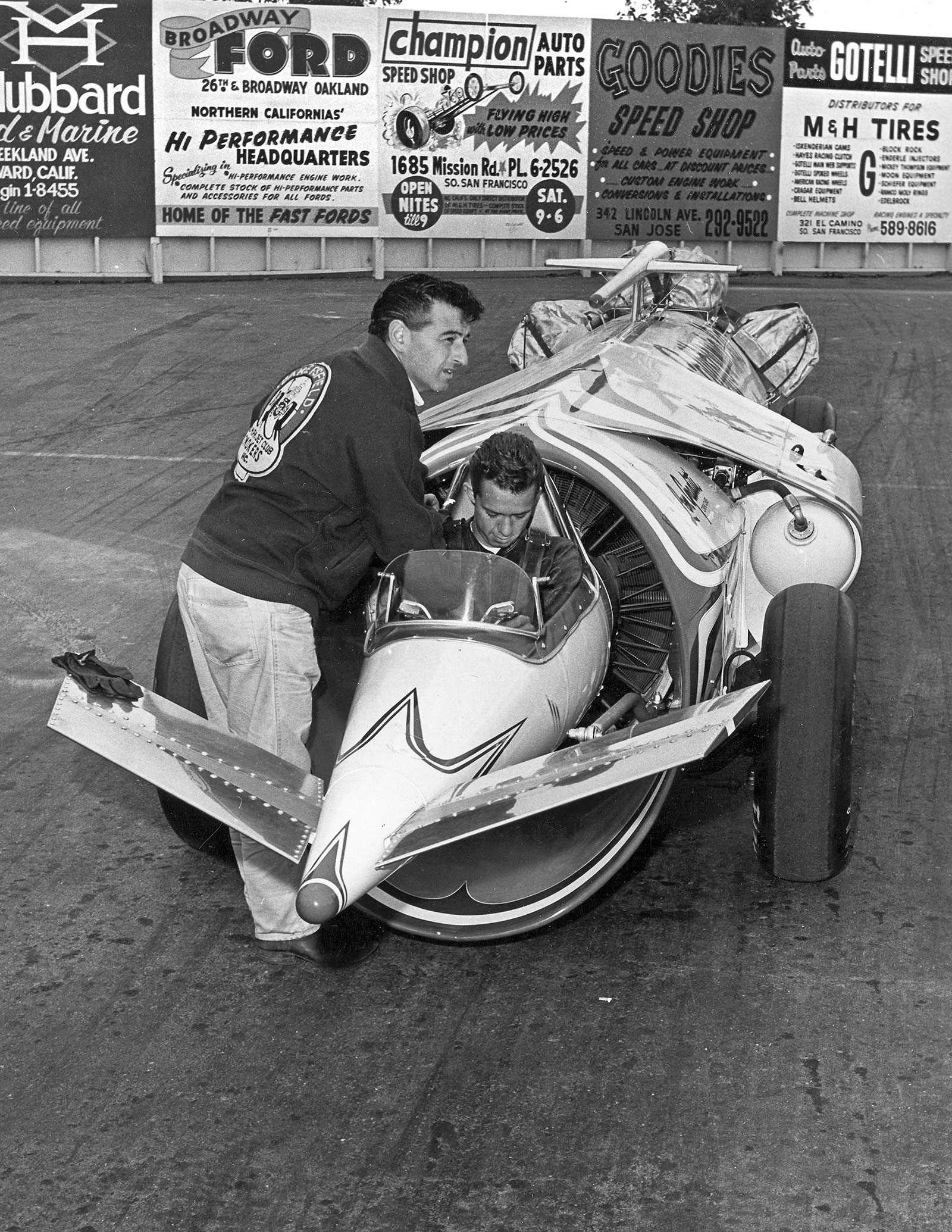 "I did all of Dago's jet jobs," he said. "Dago" being Romeo Palamides, a flamboyant Oakland racer/showman who campaigned his "Untouchable" jet dragsters at California strips in the '60s. "Red, white, and blue, and purple and white. I also sold him a lime yellow '41 Caddy. I made an Indycar for Jim Hurtubise, purple and silver.  I was makin' good money—$50-$60 a car."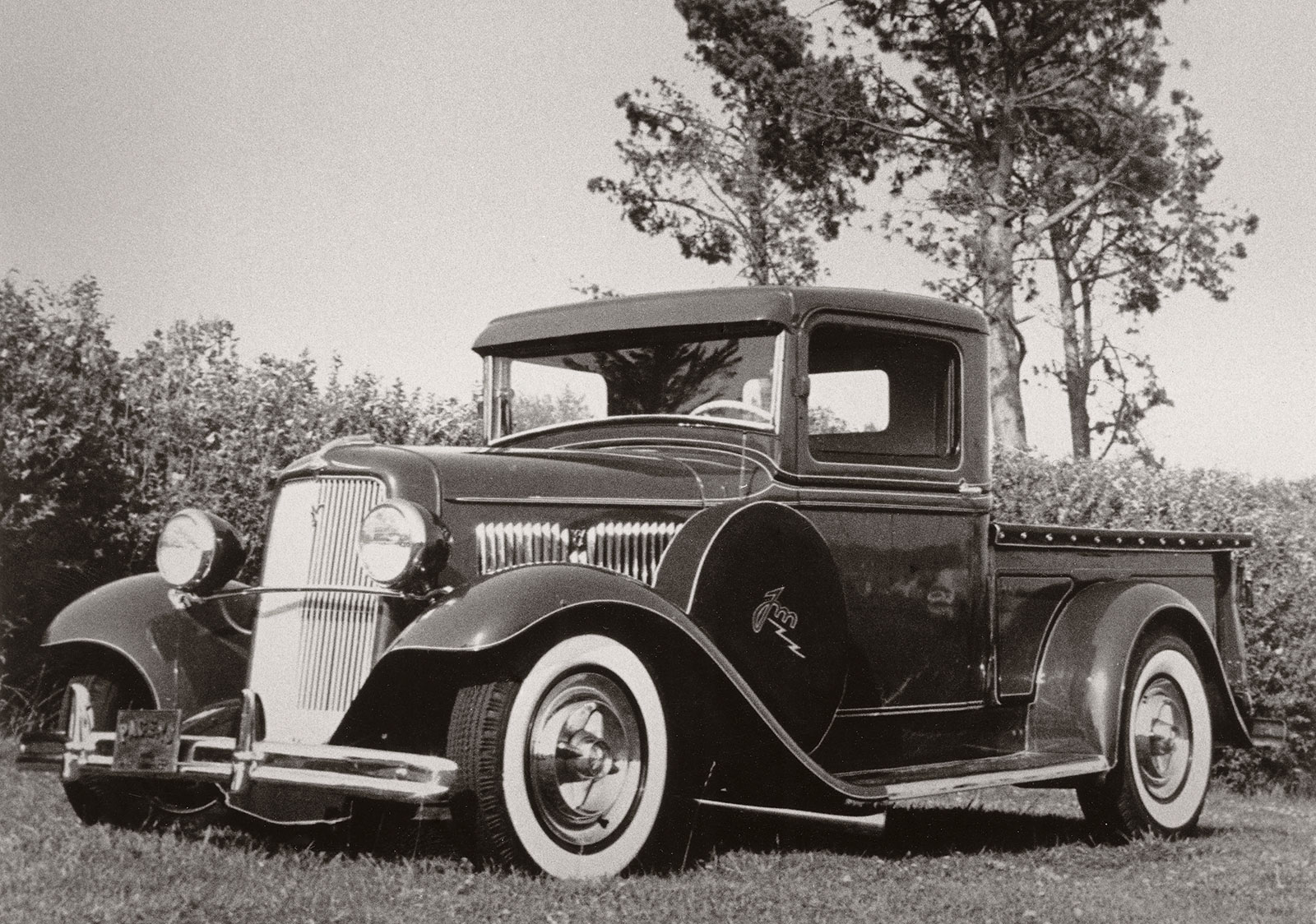 There was plenty of work for other talented Oakland painters. Red Lee was a 'striper who was a paint judge in early Oakland Roadster Shows. Leroy Suprenaut was a mainline painter for the Strehle Body Shop in Oakland but was also a 'striper with a rare skill in the application of intricate gold leaf. (His work embellishes the Victorian pumper fire engine in the History Gallery of the Oakland Museum). St. John Morton not only 'striped and painted but promoted the art of accent and embellishment.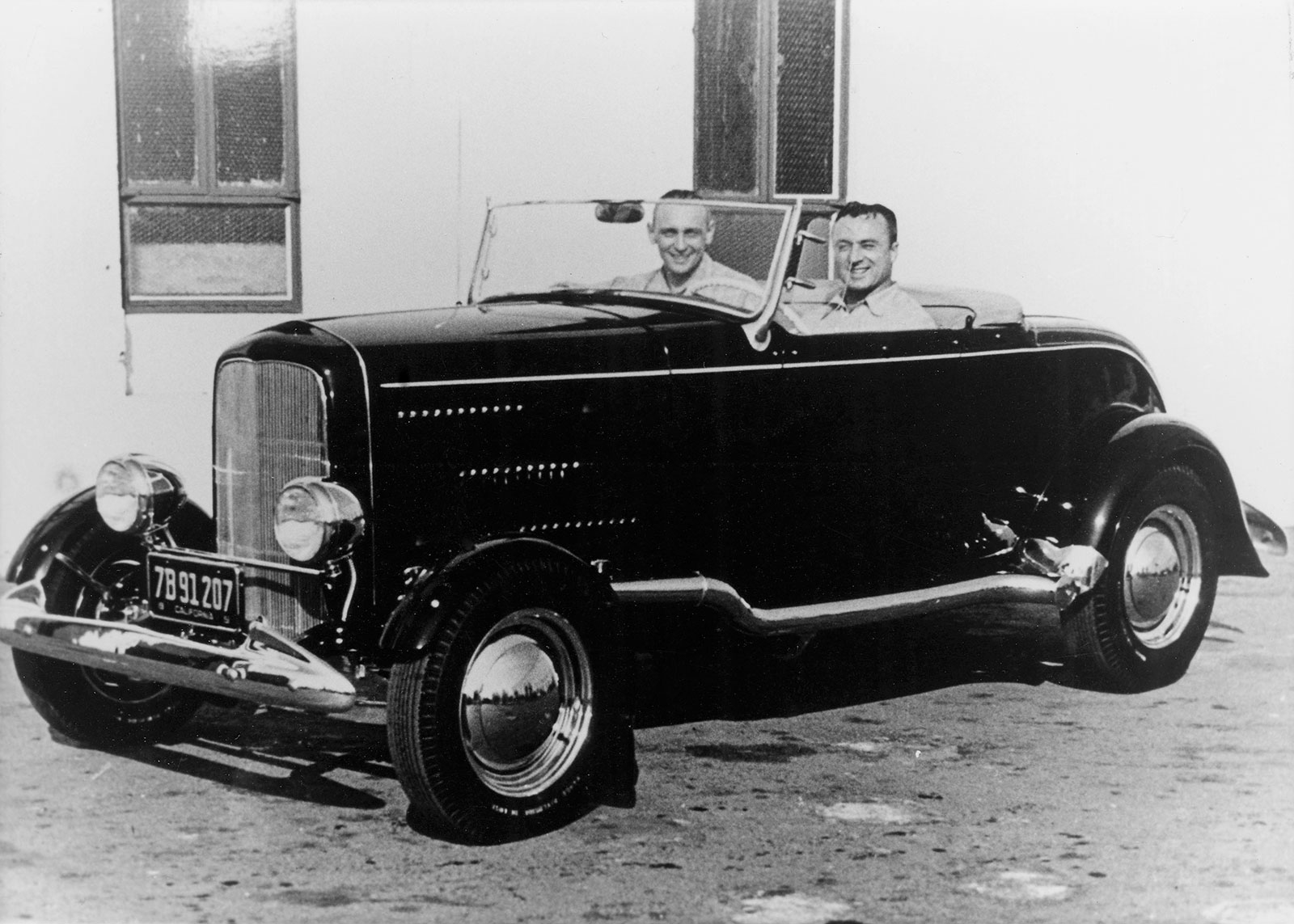 Influence on Emerging Artists
Tommy could put ascending young artists through the wringer. Great painter Art Himsl of Concord, California, was doing a 'striping demonstration at an early Oakland Roadster Show. It wasn't going well.
Read More: Traditional & Timeless '32 Ford Roadster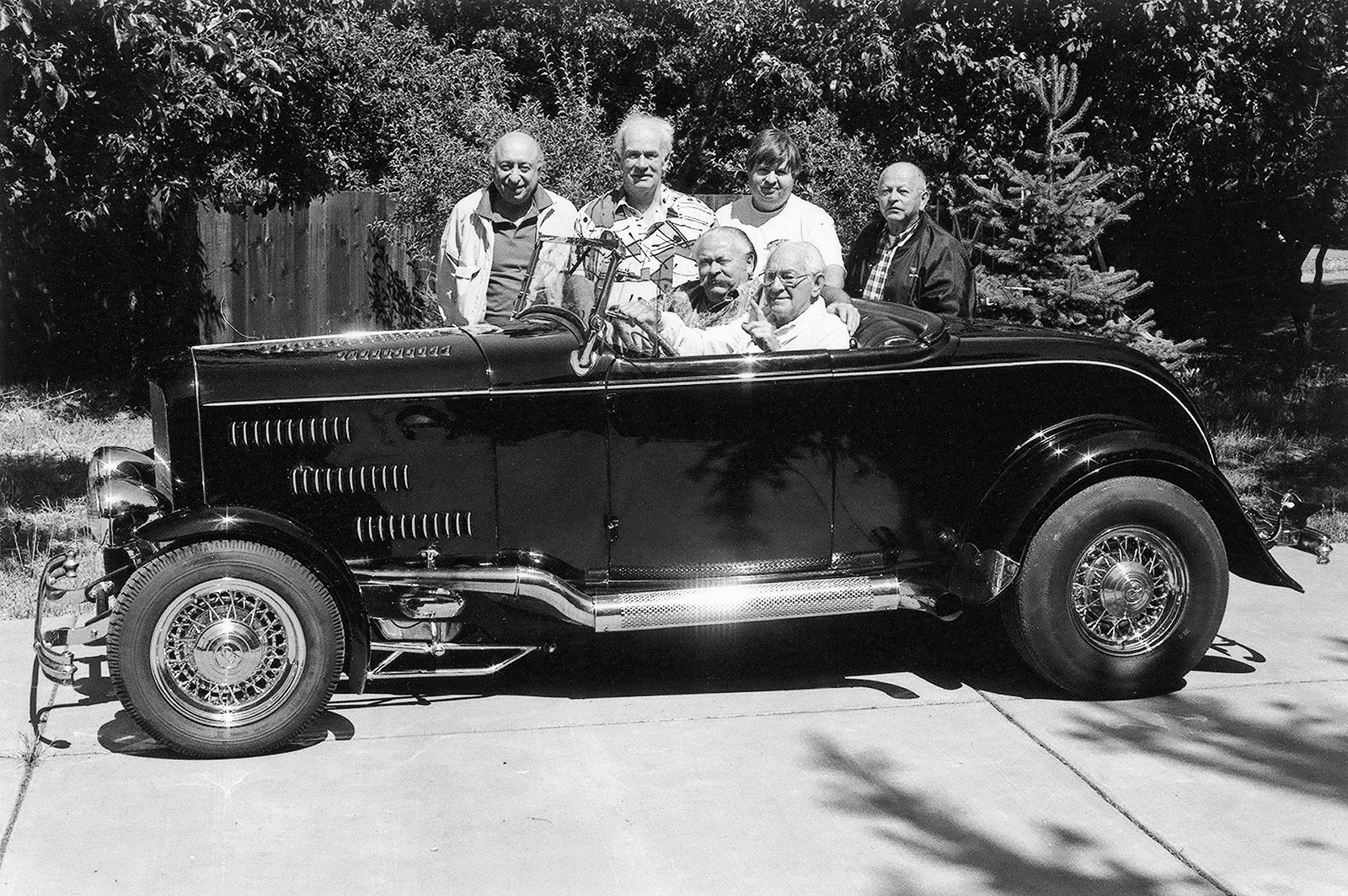 "Man, I was having trouble laying a straight line; it was running late and I was nervous. There was a crowd but in back a booming voice, 'Hey, kid, havin' a hard time? Can't hold at straight line?' I'd had enough, and turned to the agitator, 'Here, you do it!' and handed him the brush. It was The Greek. Zip. Zip. The job was done. He turns and says, 'Here's my card kid.'"
Playful Nature and Love for Pranks
Tommy was a sharp observer of human nature and took satisfaction in pranking customers. If someone dare suggest how he do his work, the colors, the lines, he'd do just half the car or kick the customer out. Long ago, the late Jim McLennan, part owner of San Francisco's legendary Champion Speed Shop—and a leader of the San Francisco hot rodding movement in the '50s—called in a hurry. Champion's cherished '34 Ford pickup was headed to the Oakland Roadster Show the next day. He needed a quick 'stripe job. Tommy showed up and started working; it was late and he feigned fatigue, dribbling a line down the side of the truck's door. "Oh, oh, I'll have to do this tomorrow." McLennan went ballistic: "This (expletive) is supposed to be the greatest and he can't even do a straight line." Tommy let it stew; a master of drying time, he finally stepped up, wiped off the offending curve and laid in the line. McLennan and Tommy were friends forever.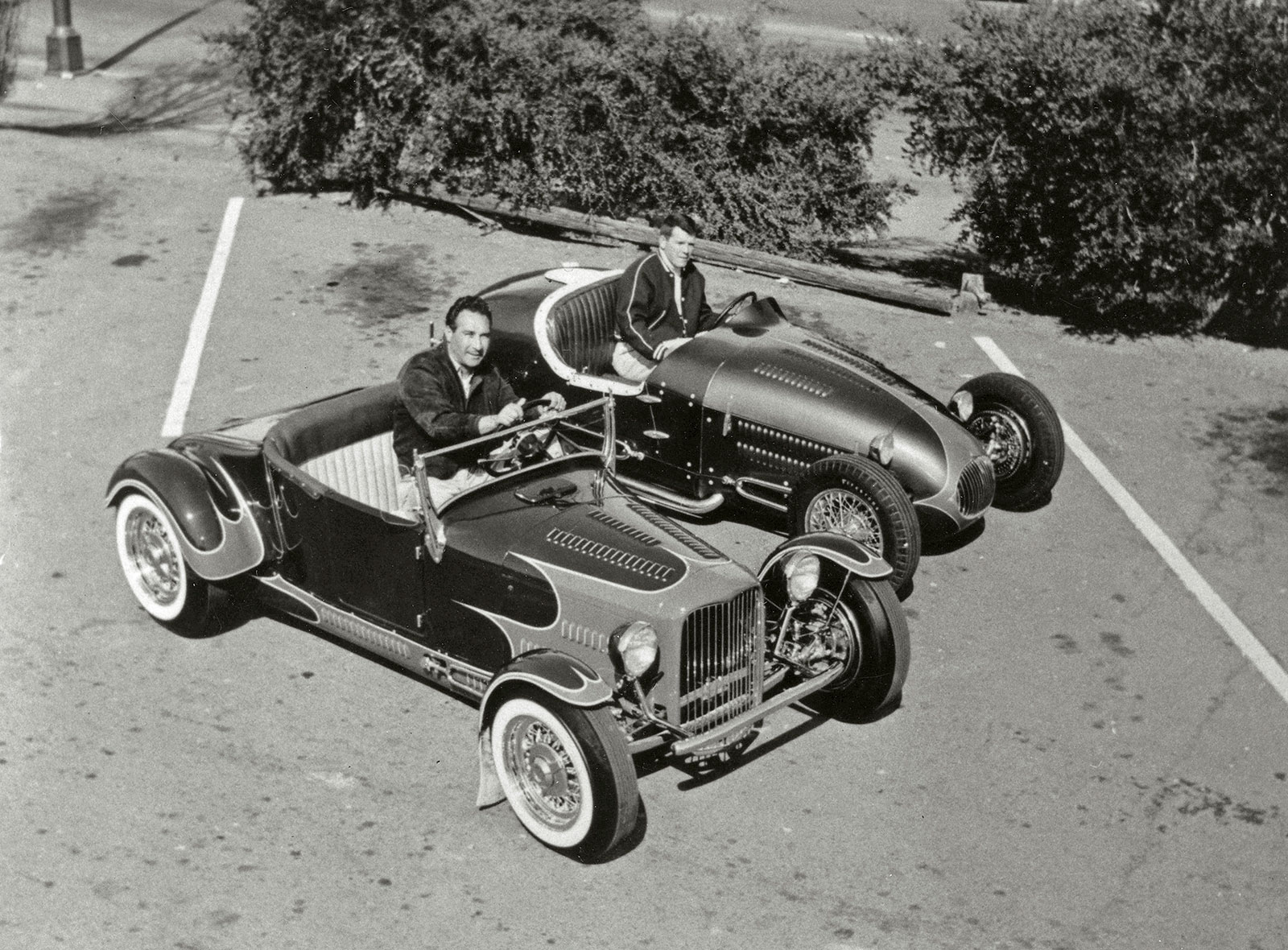 Retirement and Contributions to Art
In retirement Tommy played a lot of golf, savored a soft ride in one of his many Caddy sedans, and always took time to feed the stray dogs, cats, and pigeons near his Oakland shops. Tommy's work was art—and it set him apart.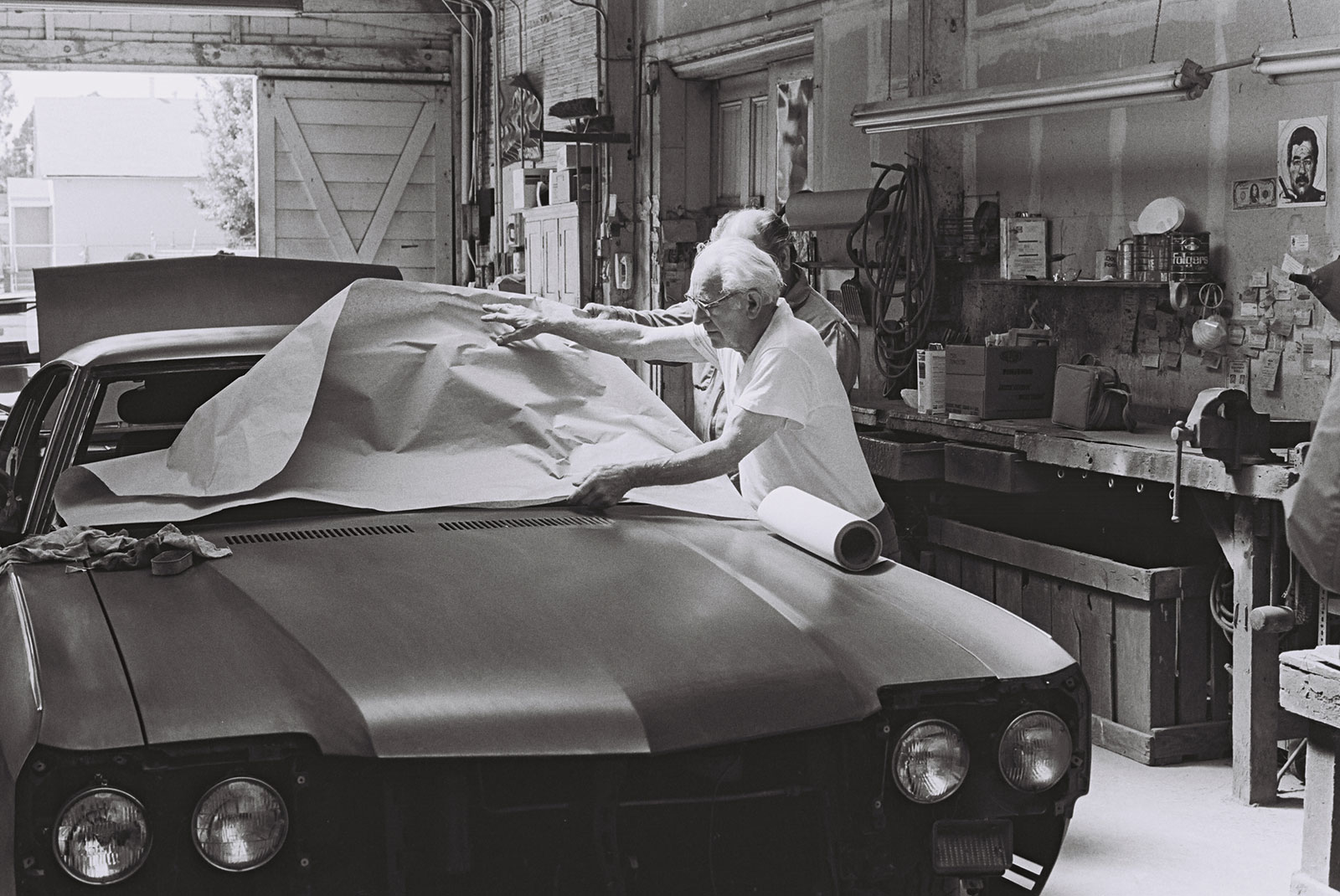 "Tommy's art has always been in a classical vein: clean, a disciplined line, spare decoration, clear, and well-defined areas of activity and void. Think of the work of the Dutch artist Mondrian," Phil Linhares says, retired chief curator of art at the Oakland Museum of California and co-curator of the museum's 1998 exhibition Hot Rods and Customs.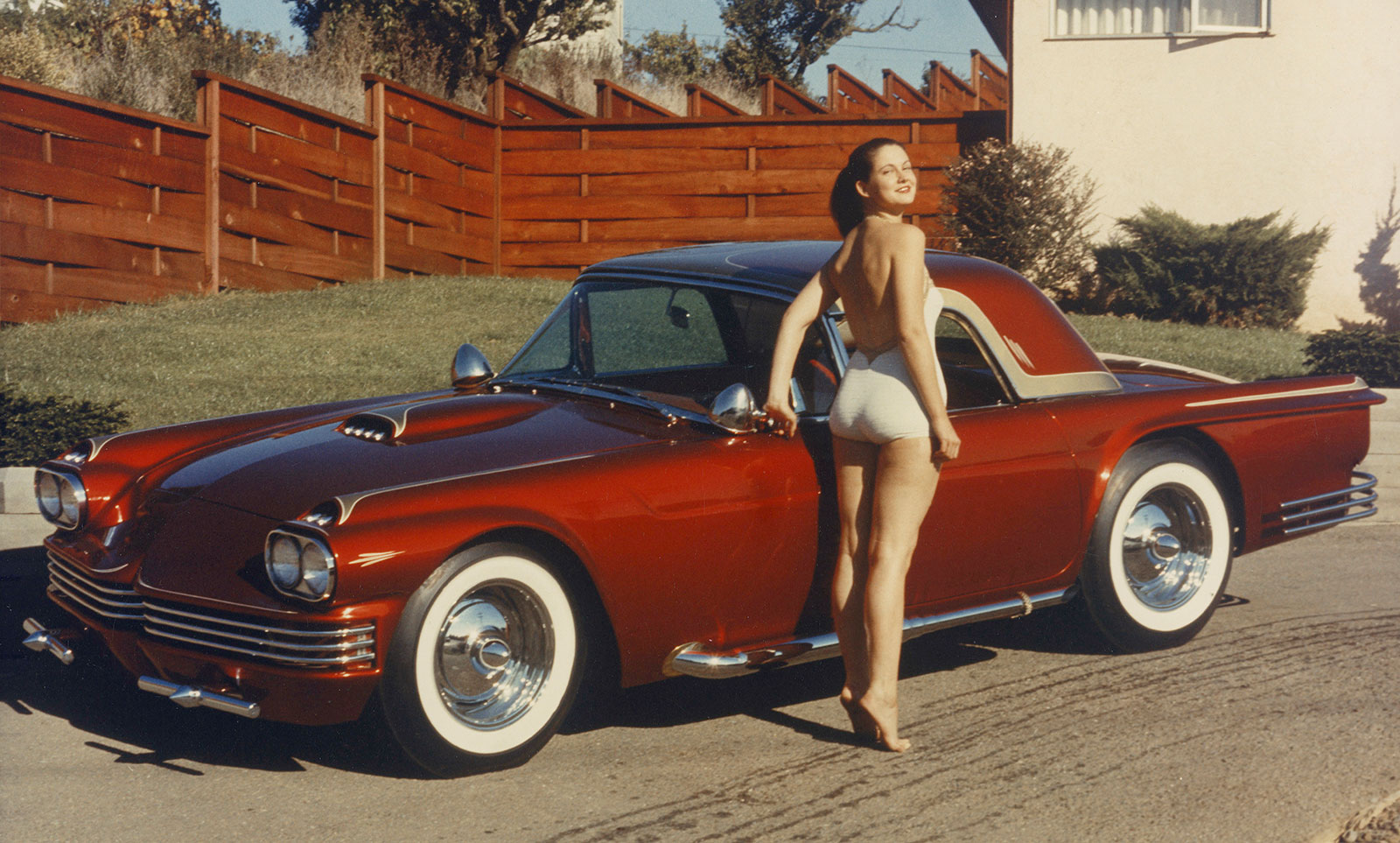 In contrast is the art of rival Von Dutch—the Jackson Pollock of 'stripers! Tommy's work expressed the hot rod and custom design language of Northern California. Think Gene Winfield and the Bay Area Roadster guys. In vivid contrast think George Barris and Ed "Big Daddy" Roth; excess was only the beginning.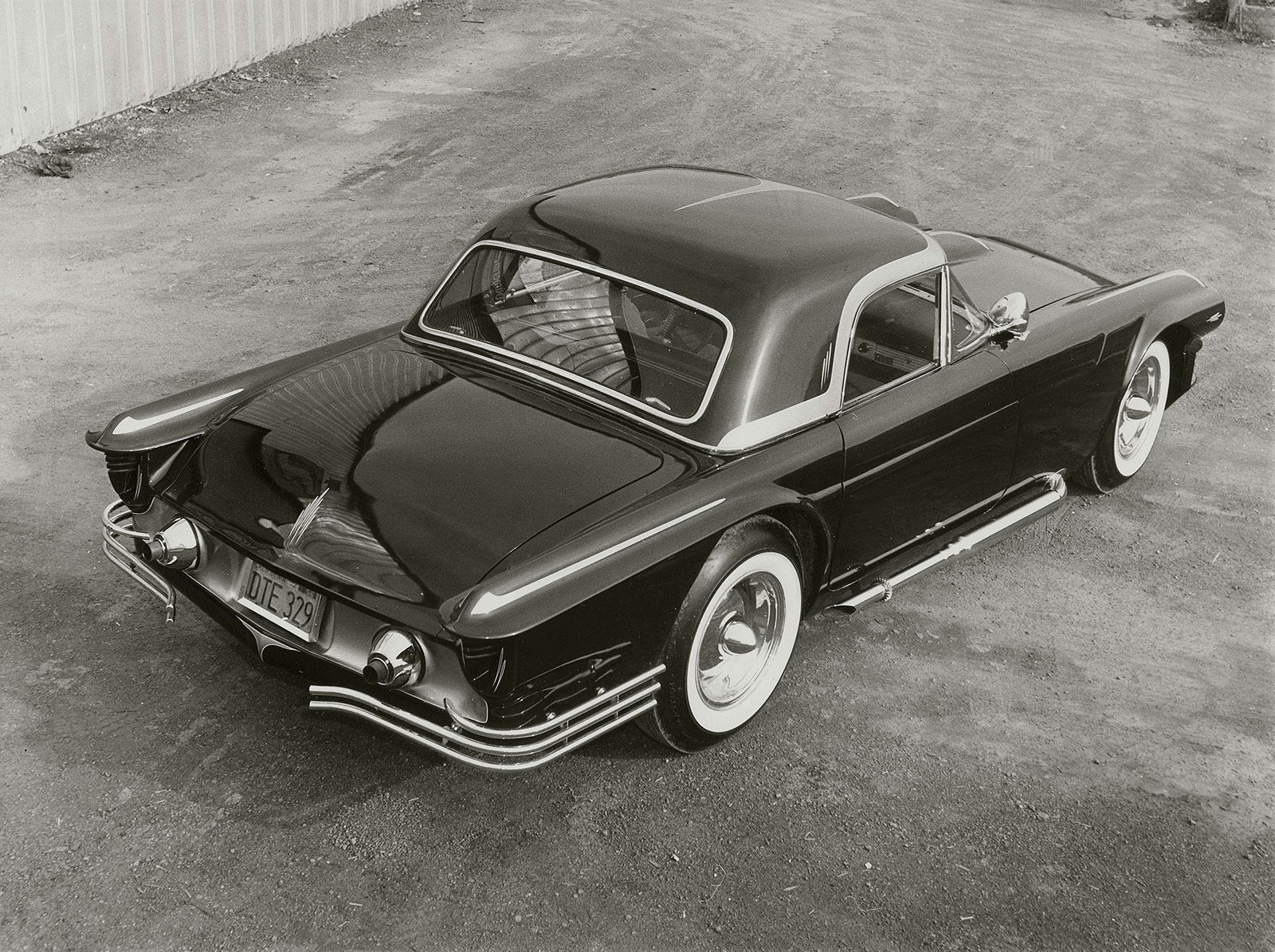 The Undying Legacy in Custom Cars and Hot Rods
It would be fitting that Tommy's final act—his January 2002 funeral—would be laden with irony and uproar. His coffin was lavishly 'striped and he was buried with a brush in hand. There were more than 200 loyal East Bay hot rodders and custom car colleagues on hand. Most had known Tommy for decades. The priest recited his incantations and began his eulogy, "Dearly beloved, we are here to honor the life of Jimmy the Greek . . ." Pandemonium. Shouts. Curses. Disruption in the pews. The priest of course corrected his mistake, but the grumbling and mumbling went on.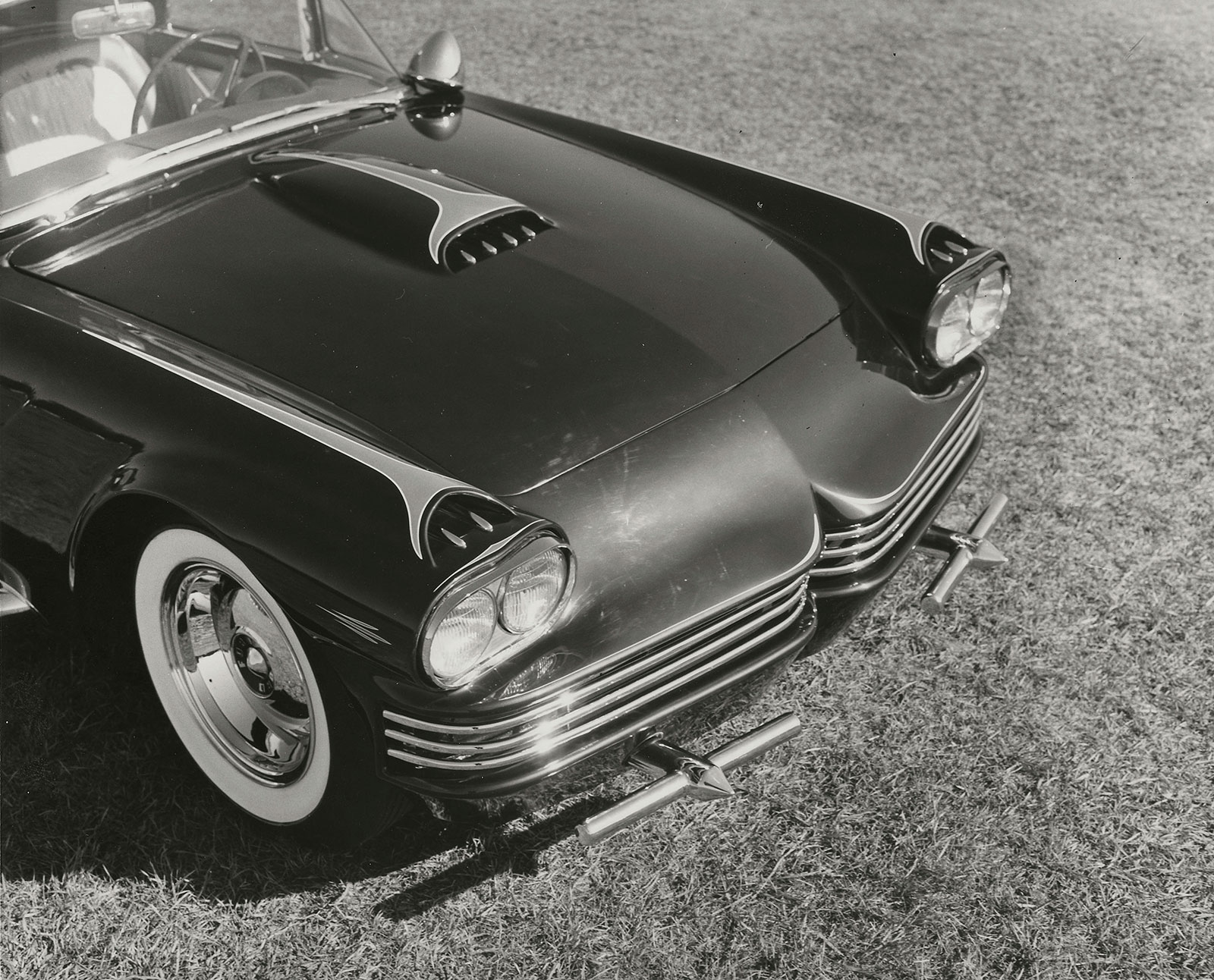 There was and will forever be only one Tommy the Greek Hrones, master of accent and forever flowing lines that bring the final embellishment to the custom cars and hot rods of our time. MR
Click on this issue's cover to see the enhanced digital version of Tommy the Greek's Lasting Legacy.