Gasboy Customs' 1962 Chevy Truck, Inspired By Dino Battilana's 1963 C10 Dualie
By Fuelish Media   –   Photography by the Author
When Trevor Williams of Gasboy Customs in Nanaimo, British Columbia, Canada, bought this old '62 Chevy truck, he was actually looking forward to the long, grueling nights repairing its many issues. It took him three years to overcome decades of damage that plagued damn near the entirety of it. So why did Trevor take on this project to begin with? First off, the old truck belonged to a good friend who was looking to offload it cheap. Secondly, he isn't afraid of a challenge—obviously. Last, and more importantly, Trevor was surfing a recent surge of C10 inspiration that was just too overwhelming to fight off. Sometimes you just have to take what you can get and see how far you can go with it.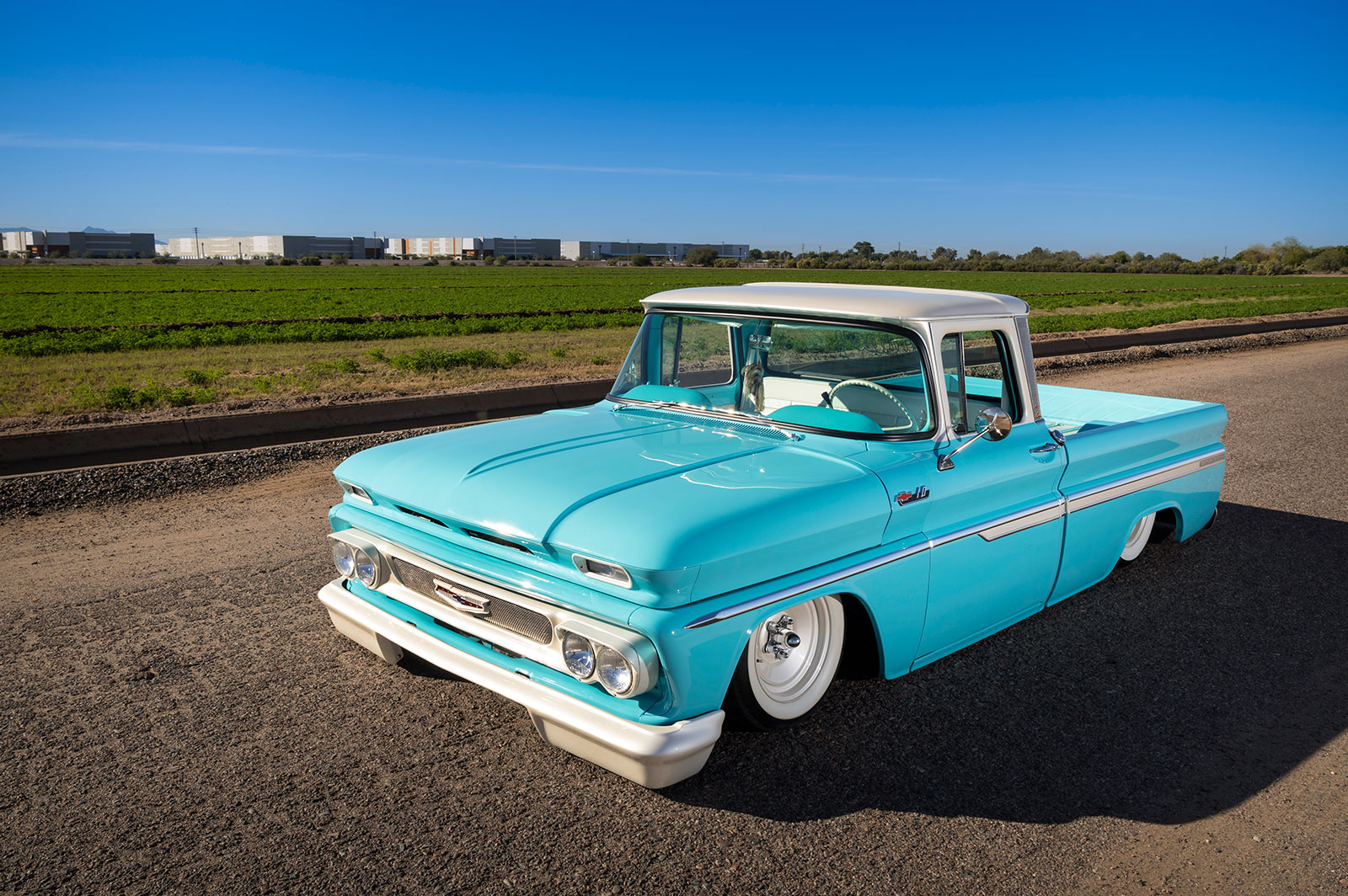 "The truck last belonged to my motocross mechanic, Dave Mackay," Trevor says. "He brought it up from Seattle in the mid '80s, intending to fix it up but never did. It sat outside in the tall, wet grass of Vancouver Island and had almost completely rusted away from floor to roof. The truck sat rotting away until 2017 when Dave was finally ready to sell. This was also about the same time when I had seen something online that had me itching to start looking for one of these trucks anyway."
Read More: Dream Machine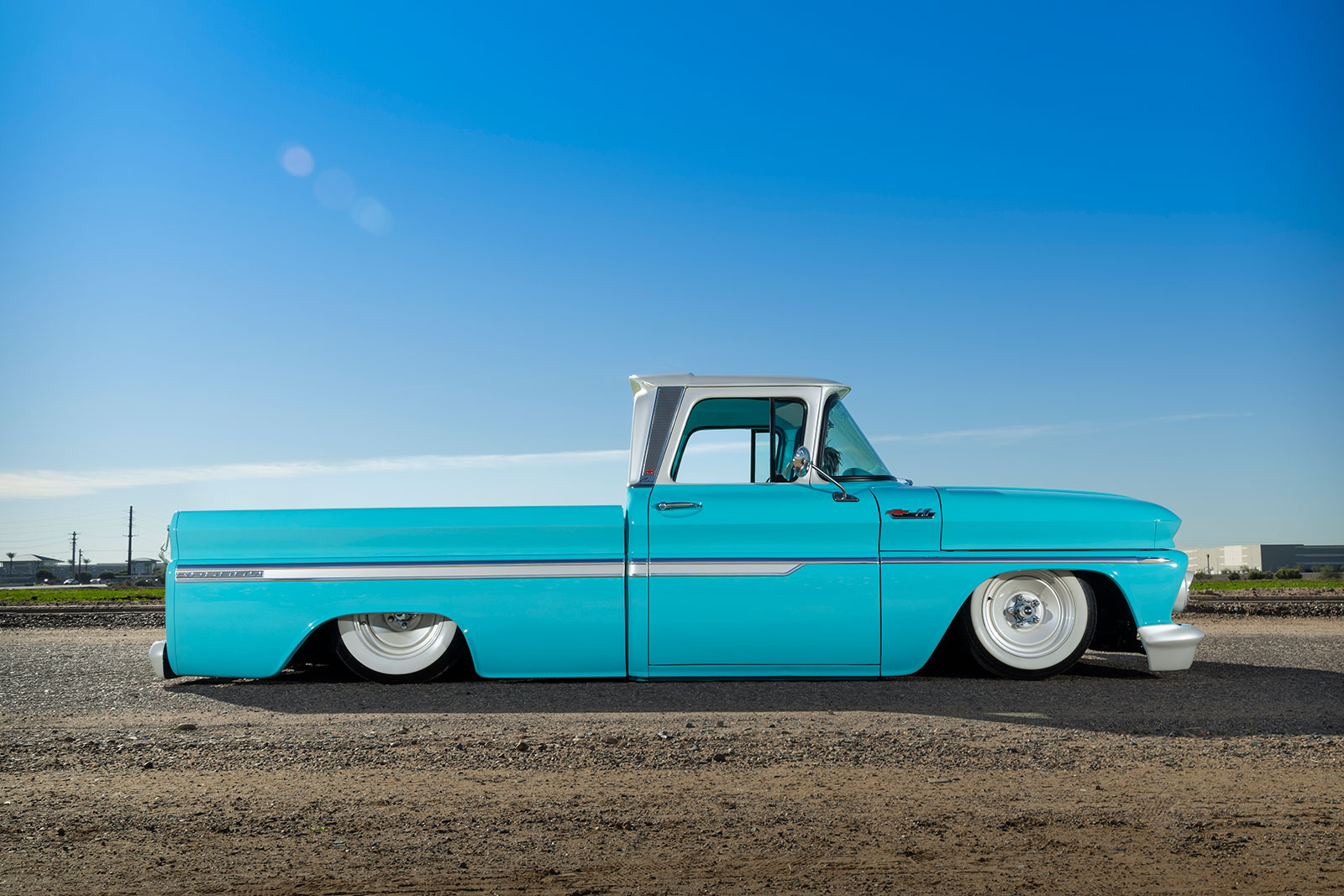 The vision that Trevor saw presented itself in a YouTube video. It was Dino Battilana's '63 C10 Dualie. The truck was long, low, and, obviously, fully customized—what's not to like? The stars had seemed to align for Trevor when Mackay's '62 C10 literally fell onto his lap. Even though there were no plans to replicate what Battilana did with his truck, Trevor had his very own classic Chevy pickup to do whatever he wanted with. Even though most builders might have looked right past the seemingly decayed-beyond-repair carcass, Trevor saw its last remaining glimmer of potential and jumped on the opportunity to buy it.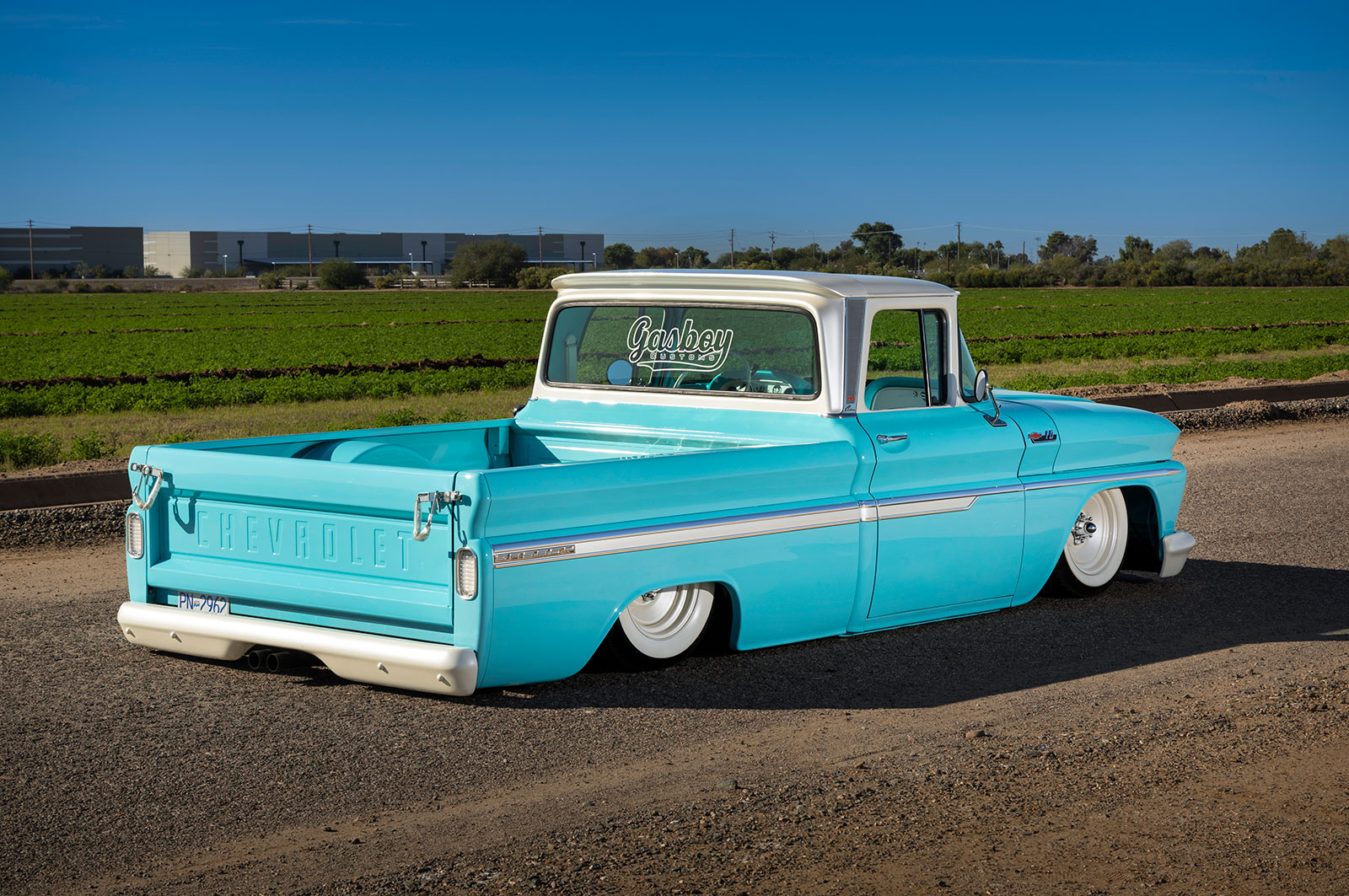 Luckily for Trevor he's no slouch with a wide assortment of tools in his hands. He operates his trucking company by day and focuses on Gasboy Customs, his passion project, at night. With the cab well rusted through, he figured it would be wise to start the search for another original cab—one in much better condition and equipped with a big rear window. It didn't take long to track down exactly that, located roughly 2,000 km south (1,200 miles) in Bakersfield, California. Just like that, Trevor's project was feeling promising enough to begin planning some custom cab mods that would get the truck looking like the vision that had been floating around in his daydreams for so long.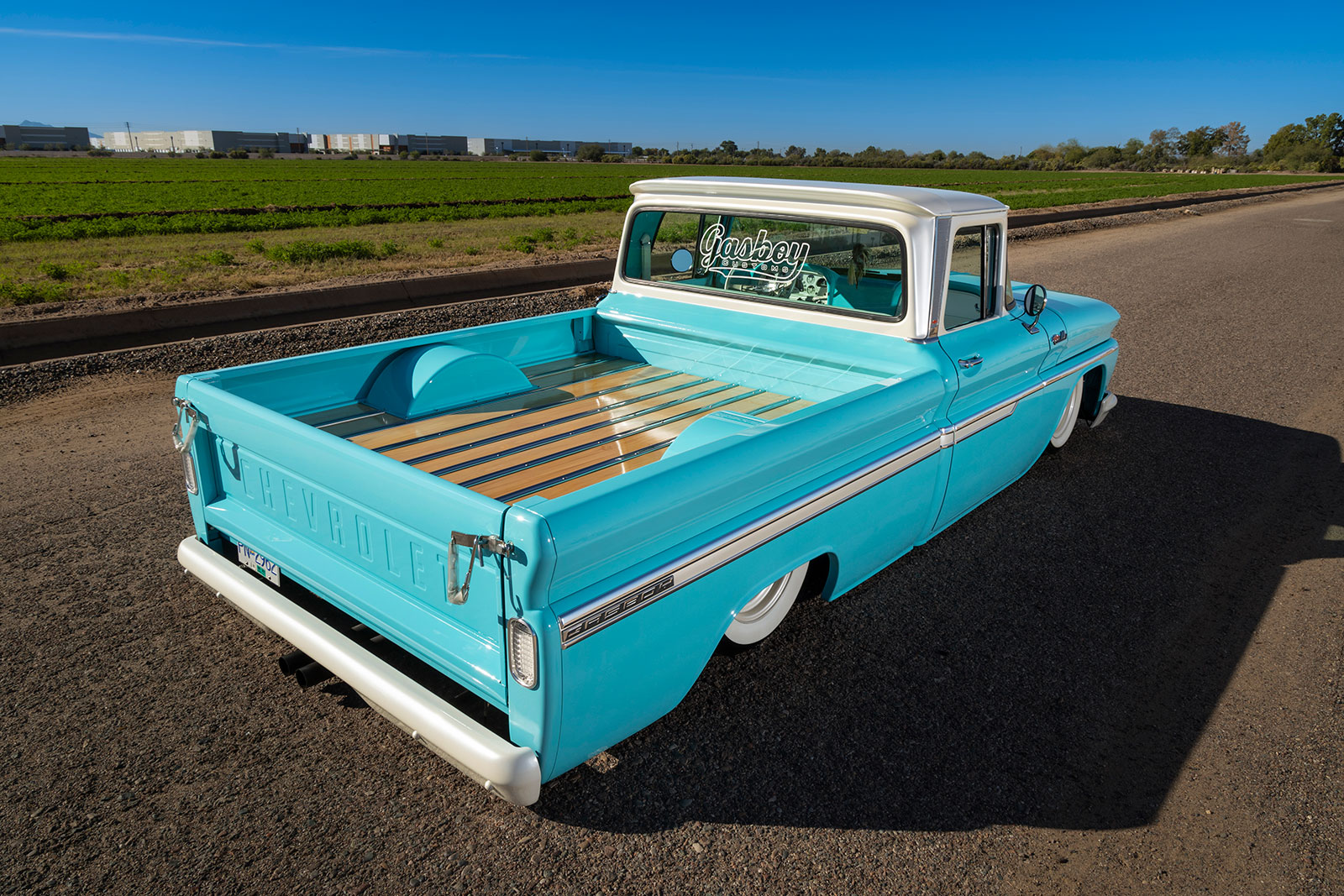 With a solid cab now in his grasp, a custom frontend idea finally came to fruition in the form of a customized, three-piece '62 Impala bumper that had to be stretched 3 inches and shortened 2 inches on both sides to work. The grille is from a '61 C10 that has been altered with stainless steel mesh and a '55-57 Chevy car trunk lid emblem in the center. The rear bumper is stock but has been flipped in order to accommodate the upcoming dual exhaust exit that Trevor had in mind. These finessed changeups to the front and rear end go a long way in creating two unique and interesting points of view.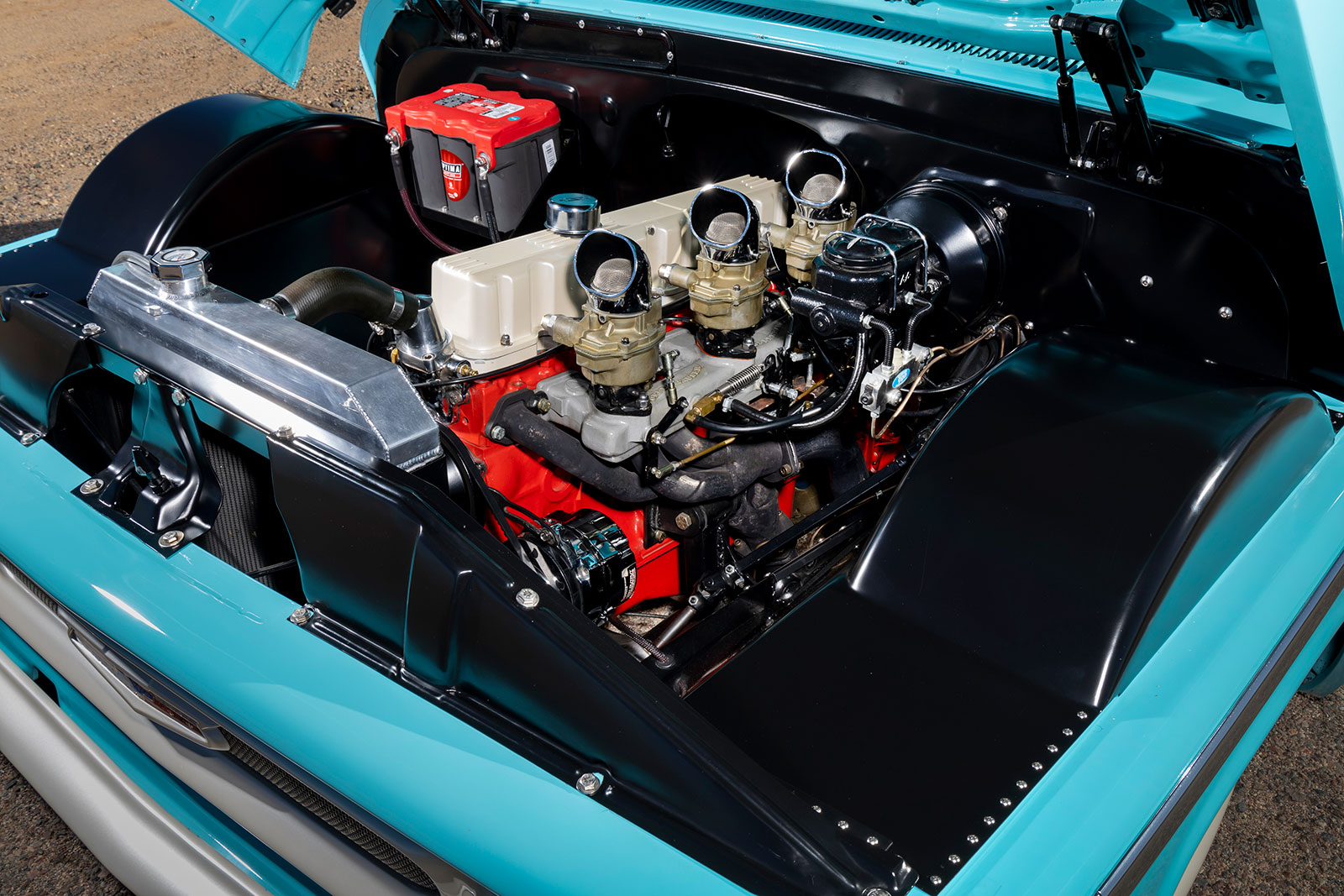 Once Trevor was done with all the bodywork required to give the truck the much-needed exterior overhaul, he began playing with color combos that would finish his handiwork just right. A Valspar hue that is now affectionately referred to as Gasboy Blue made the final cut. This familiar turquoise color along with a shimmery Cadillac pearl white paint peppered throughout the exterior landscape makes for a timeless combination that stands as the epitome of clean, classy, and cool. To break up the color in the bed, Trevor devised a custom poplar plank floor plan complete with a center panel that lifts to reveal stashed away air-ride components and access to the chassis below.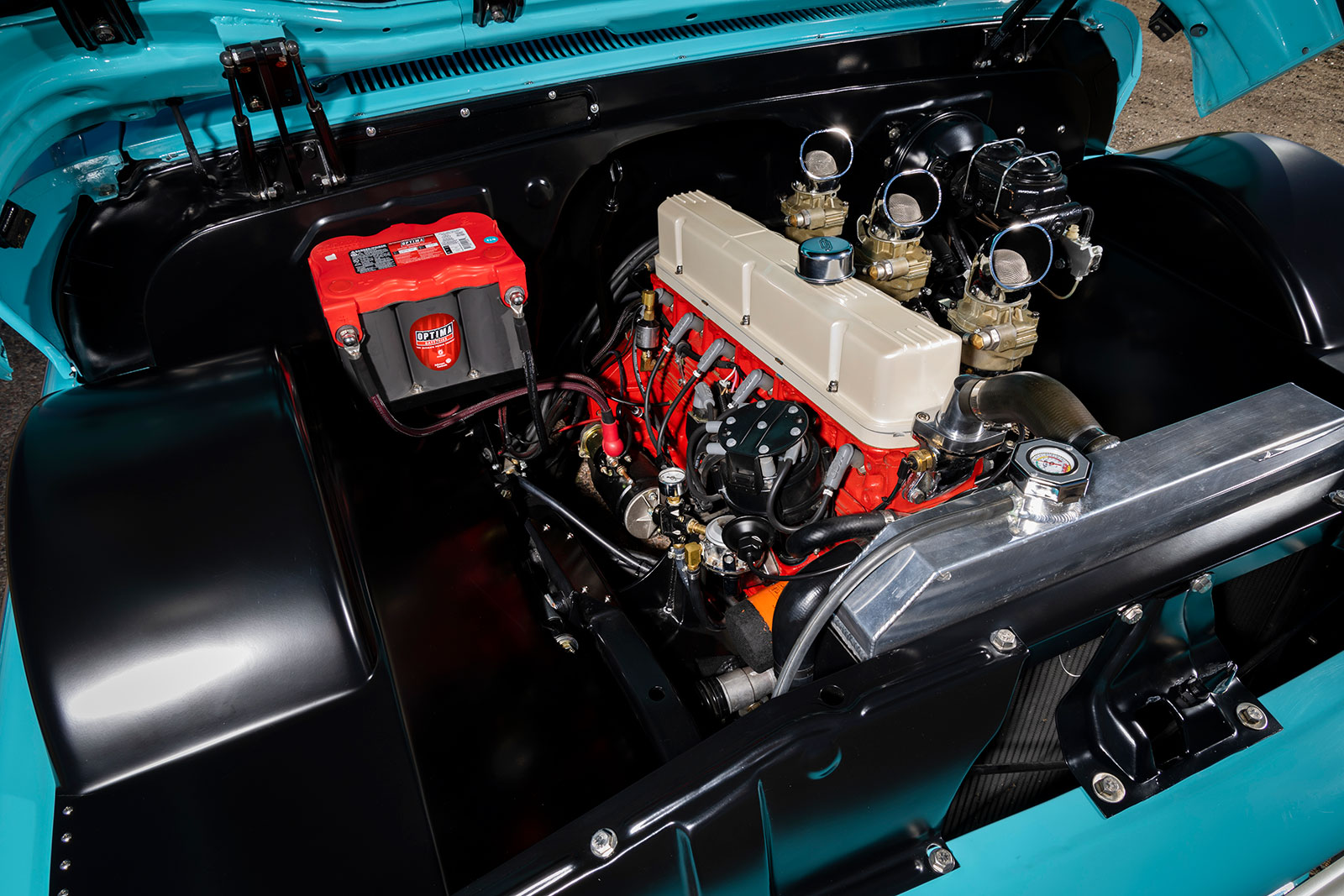 Read More: 24th Annual Brothers Truck Show Presented by Holley Performance
While the C10's original cab wasn't at all usable, the frame wasn't in too bad of shape, actually. Trevor wanted the truck to sit low, so he 'bagged a '68 front clip that had also been outfitted with Classic Performance Products spindles, stock GM disc brakes, and rack-and-pinion steering. He then notched the rear of the frame and 'bagged the back as well. While all this was a means to an end in drastically lowering the truck, Trevor admits to now wishing he would've taken the time to build a full frame instead of "simply" modifying the factory chassis. While there may be a full custom frame fabricated for the truck in the future, we'd be willing to bet that Trevor will stick with the 15×7 Rat Rod Series 68 US Wheels and Coker BF Goodrich Silvertown Radial that are on the truck now as they suit the C10's style all too perfectly.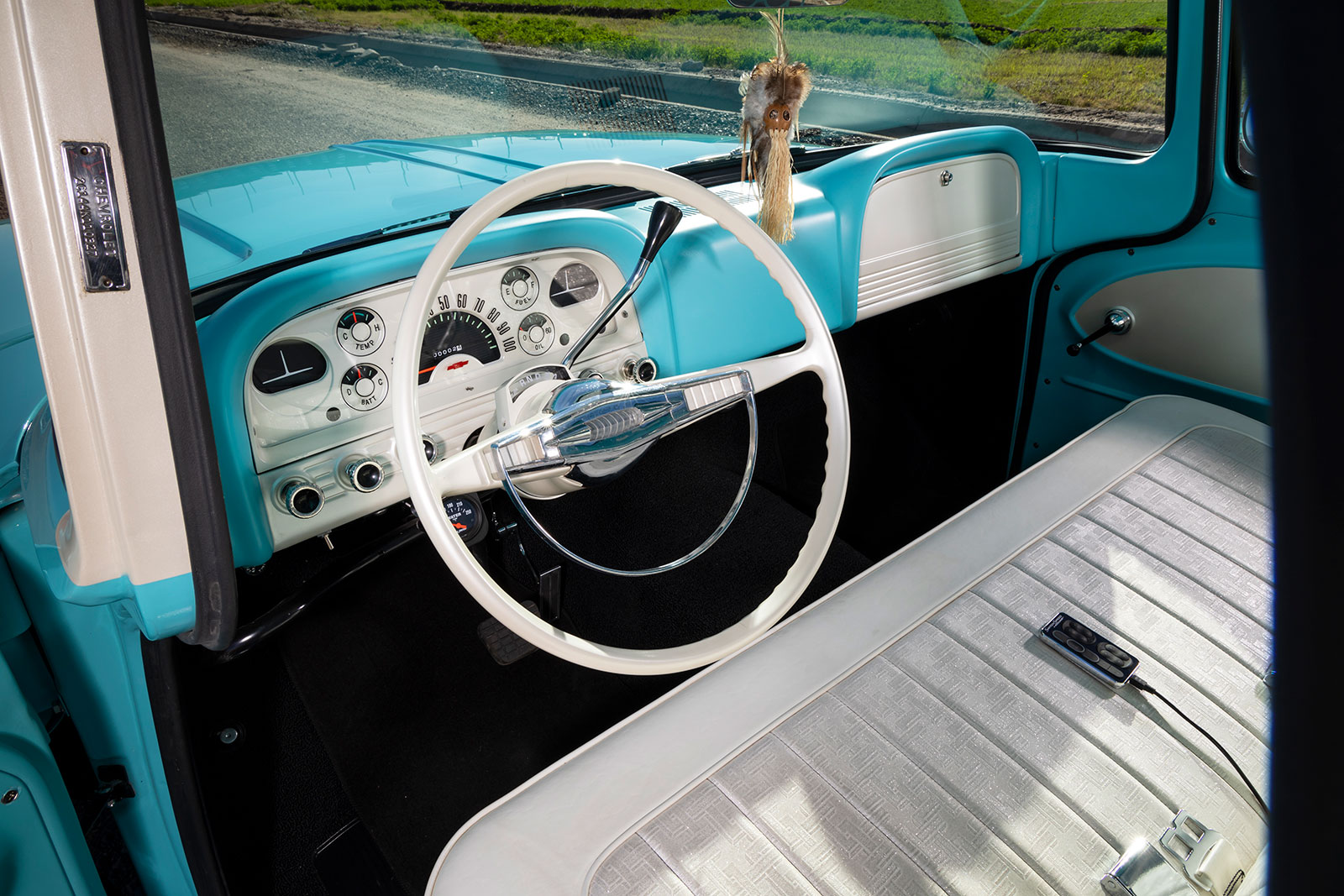 With LS swaps aplenty out there, Trevor ended sticking with the inline six-cylinder 250 that came with the project truck but was initially sourced from a Nova. It may not have been his first mill of choice, but Trevor is a man of recognizing and following certain signs along the way of life. "A friend of mine found an Offenhauser Tri-power intake that fit the inline-six, so I figured I had to stick with this engine," he admits. "I also thought it would be pretty cool and different to rehab and dress up an era-specific engine."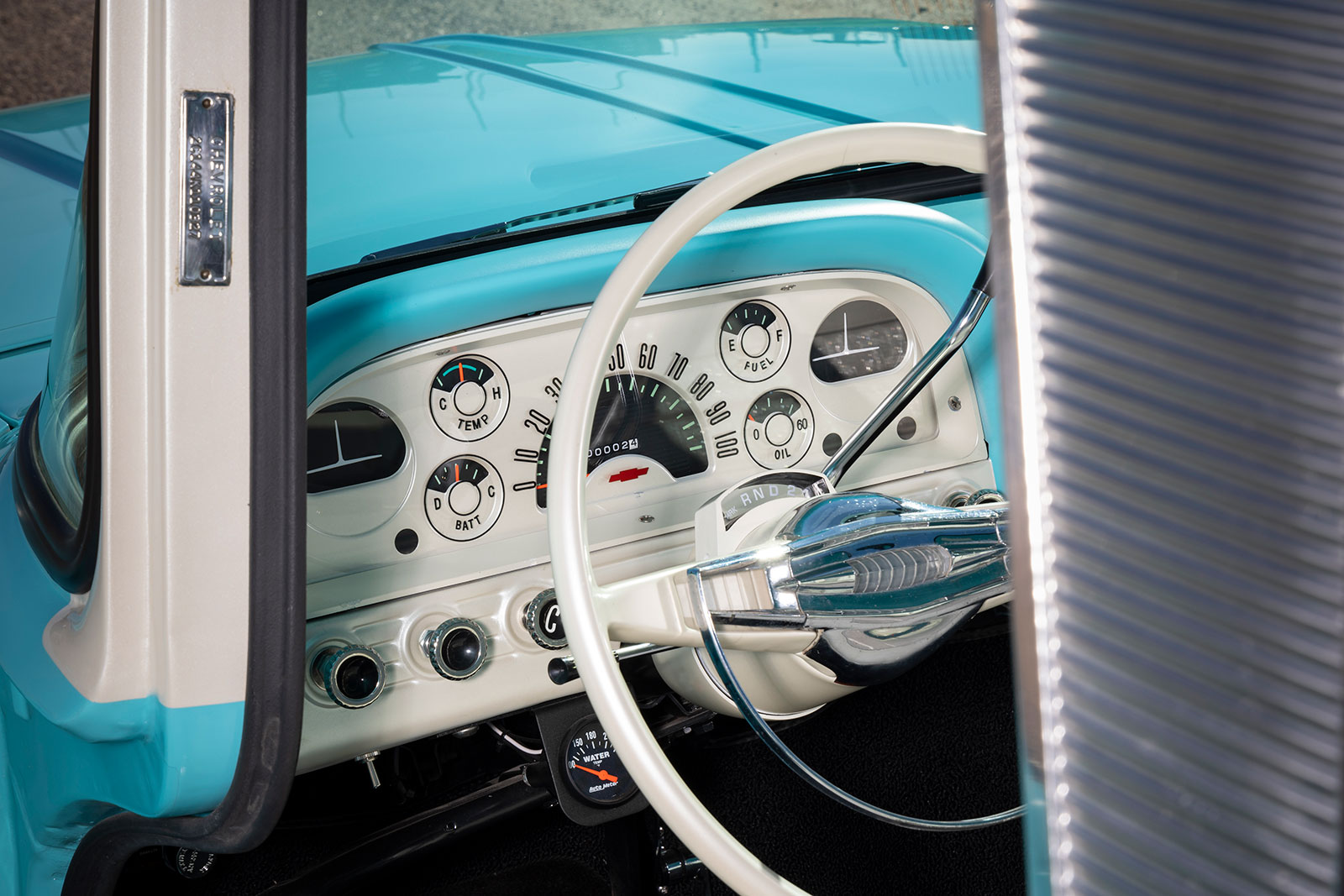 Island D. Automotive Machine, also located in Nanaimo, was recruited to handle the engine rebuild, which also consisted of upgrading the power plant with flat-top forged pistons, an Isky Racing Camshaft, Crane roller rockers, a chrome radiator and water pump, a B-series Rochester Carburetor, frogmouth screens for the intake, HEI ignition, Clifford headers, and a 2½-inch steel exhaust system with dual Super 44 Flowmaster mufflers. A tried-and-true GM Turbo 350 transmission courtesy of Alberni Automatic Transmissions was then mated to the 250 engine for ease of compatibility and ultra reliability.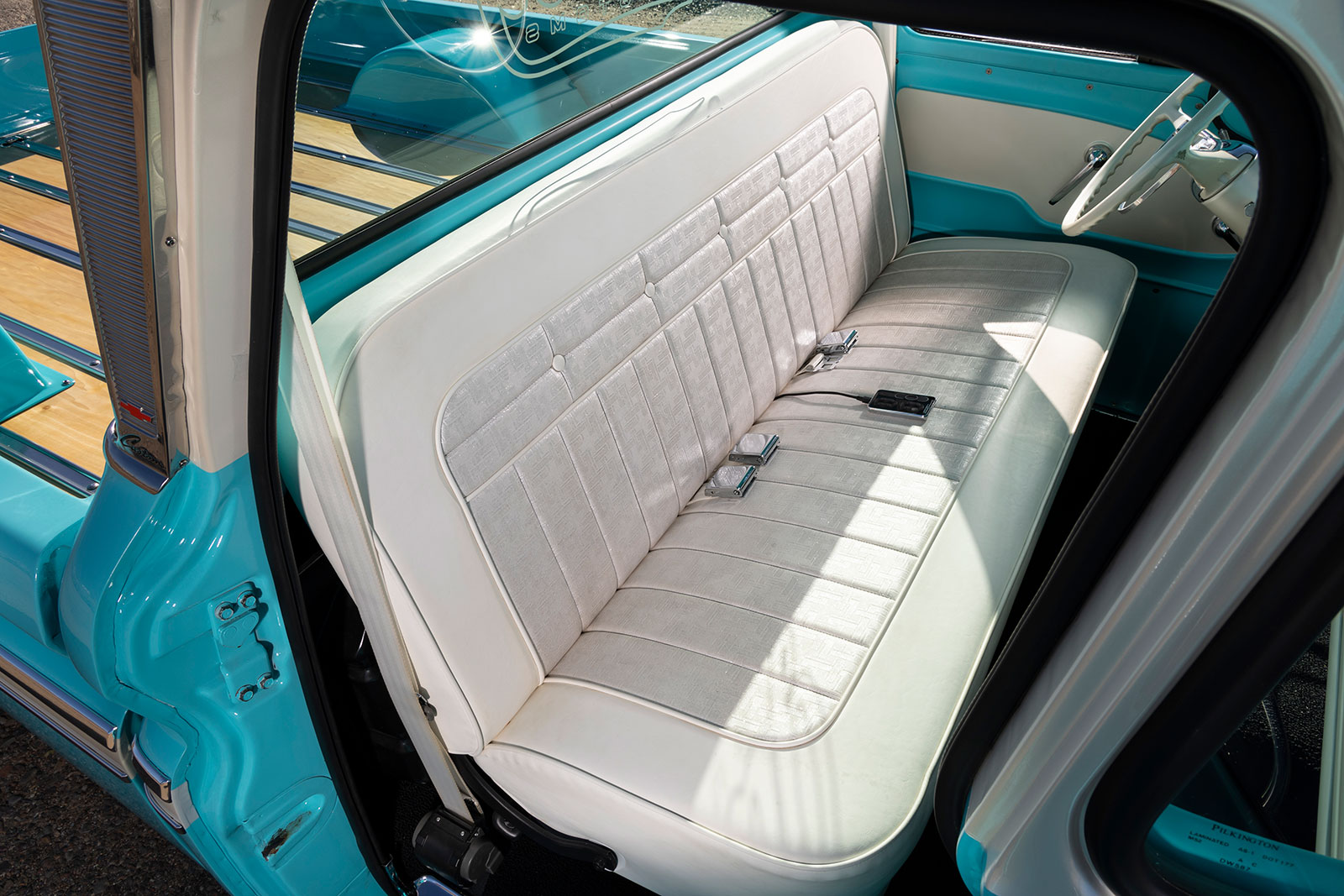 Read more: 1967 Chevy C10 With Bare Metal Beauty
To finish off the project, Trevor moved inside of the cab and created a pair of one-piece custom  door panels, painted the dash, reconditioned the gauges and steering wheel, planted some new carpet down, and had Stitch This Upholstery whip up a custom vinyl-wrapped bench seat. The approach for the interior was simple yet very effective.
To celebrate the completion of this very important build, Trevor loaded it up onto his trailer and hit the road for Phoenix to show it off at Dino's Git Down, naturally. Although the truck had previously been unveiled at the local Langley Good Times Cruise-In show (where it received Jimmy Shine's award of excellence—a personal highlight for Trevor), he figured it fitting to take his C10 out to Dino's event since it played a major role in fueling the fire underneath this rather extensive yet rewarding affair.