Lloyd Originals Brings this LS Swapped 1967 Chevy C10 to the Next Level
By Chuck Vranas   –   Photography by the Author
It's a rare moment in time when a factory-fresh hauler straight from the production line possesses a near-perfect form as in the coveted Chevy C10. Held in highest esteem with other gems, including the '32 Ford, Gen 1 Camaro, or even the early Buick Rivieras where you'd be hard-pressed to improve on the designer's original concepts. It takes a keen eye with a nod to tradition when taking on a challenge to refine the lines of such revered models. Fortunately in hot rodding there are numerous talents embracing the world of custom fabrication, from mild to wild and everything in-between when it comes to adding a personal touch.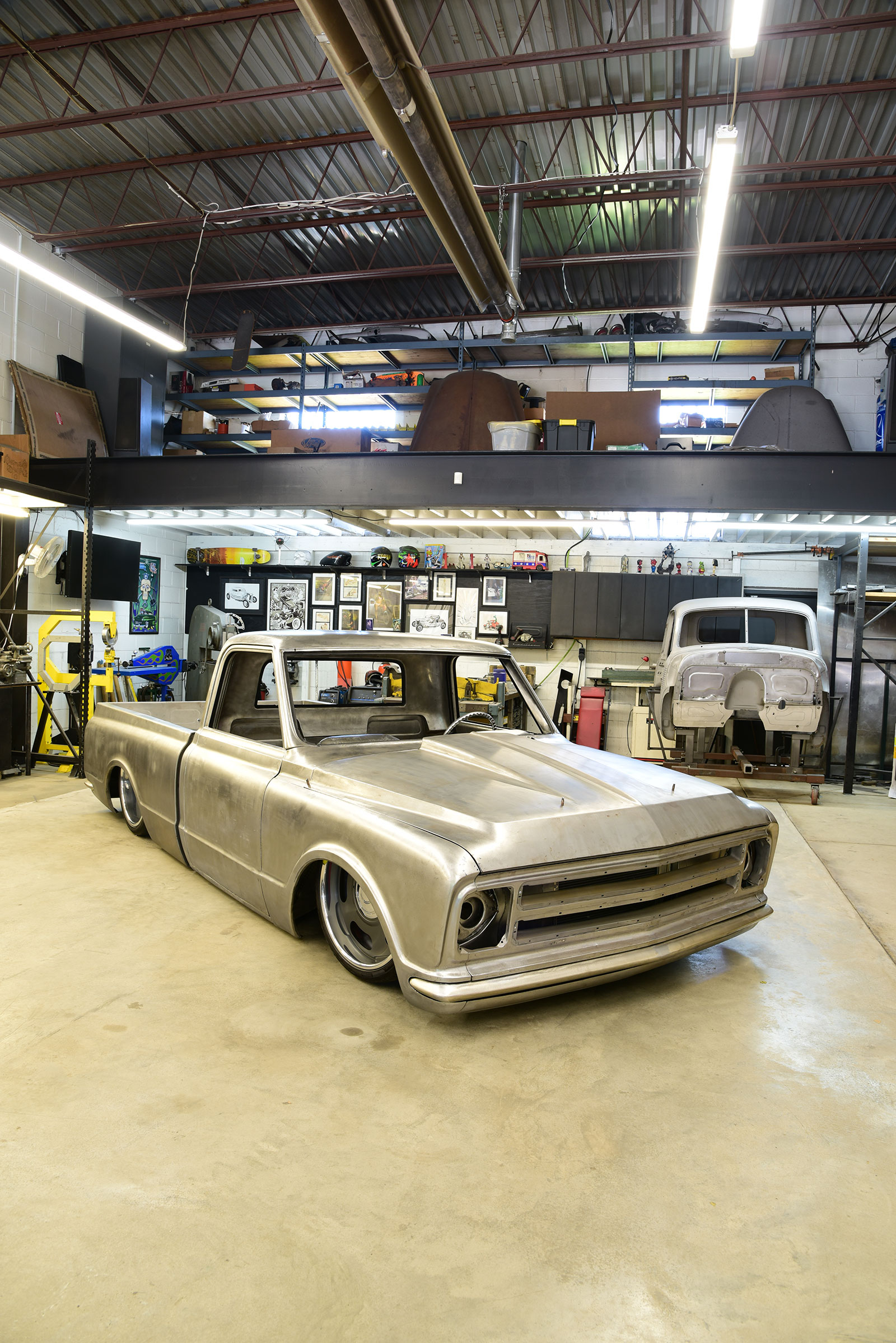 Read More: Goldilocks, Mid-'60s Custom C10
Butch Lloyd, owner of Lloyd Originals in Wilmington, Delaware, has been a custom metal fabricator and builder for the last decade. He's seen plenty of creative project trucks roll through the shop as well as being involved in the fabrication of two prior Detroit Autorama Great 8 Ridler contenders. When Pedro Perez wanted to bring his dad's old '67 Chevy C10 to the next level he met with Lloyd to collaborate on ideas to give it a fresh new look with a balance of subtle details and a dash of allure in just the right places. It takes plenty of hours to achieve the results so let's take a deeper look into what makes this truck so bitchin.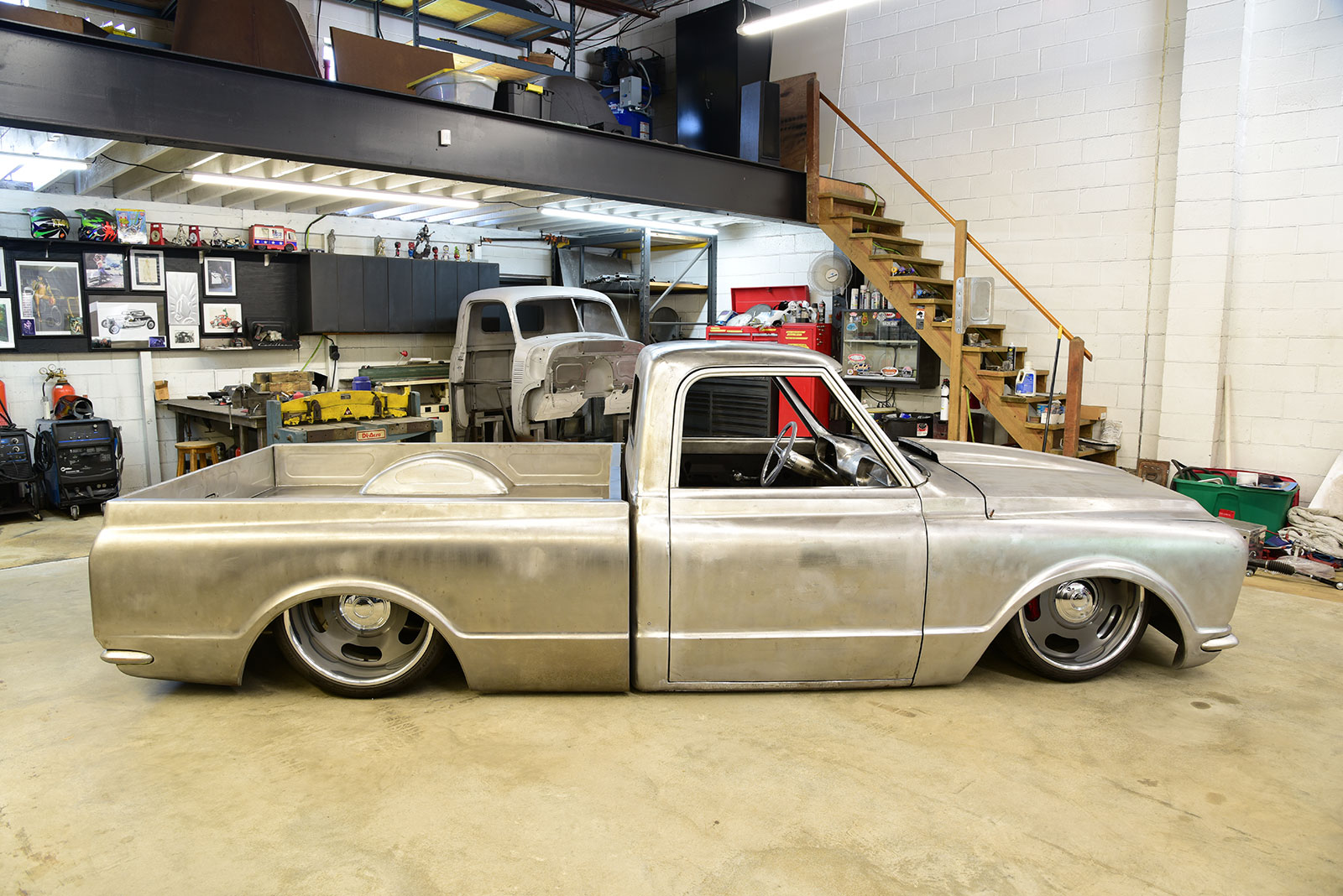 Starting from the ground up, once the stock frame was blasted clean it was determined to be clean and straight to act as a solid base. With Pep wanting to lay the frame when parked, a call was made to Porterbuilt Fabrication (PB Fab) to get everything dialed in. Out back, a Moser Engineering 9 inch Ford rear end 3.73 gears spinning matching 31-spline axles. It's suspended in place by a PB Fab Dropmember Level 3 modular suspension showcasing their bolt-in bridge assembly, including tubular rear frame crossmember with trailing arms, Watts linkage, Firestone 'bags, and Excel-G KYB shocks. Lloyd then upped the ante with custom-fabricated mounting points, smoothing the frame, adding a modified PB Fab trans crossmember, and removable custom boxing plates to hide all lines and wiring. To complement the back, a PB Fab Dropmember Level 3 modular Independent Front Suspension gets it done, starting with their exclusive front crossmember and inner truss support system. It features their tubular upper and lower control arms, Classic Performance Product (CPP) Modular 2-inch drop spindles, Dominator D2600 Airlift suspension, Excel-G KYB shocks, CPP sway bar, and matching rack-and-pinion. For plenty of stopping power, a Speedway Motors universal underdash dual power master moves fluid through stainless lines to Forged Narrow Superlite Wilwood Brakes 13-inch drilled-and-vented discs at each corner wearing six-piston calipers front and four-piston versions rear. Stance and style link it to the streets with a set of Big Slot Forged US Mags wheels, sized 22×9 front and 22×12 rear, wearing Pirelli P Zero Nero GT rubber, sized P255/30R22 and P305/30R22, respectively.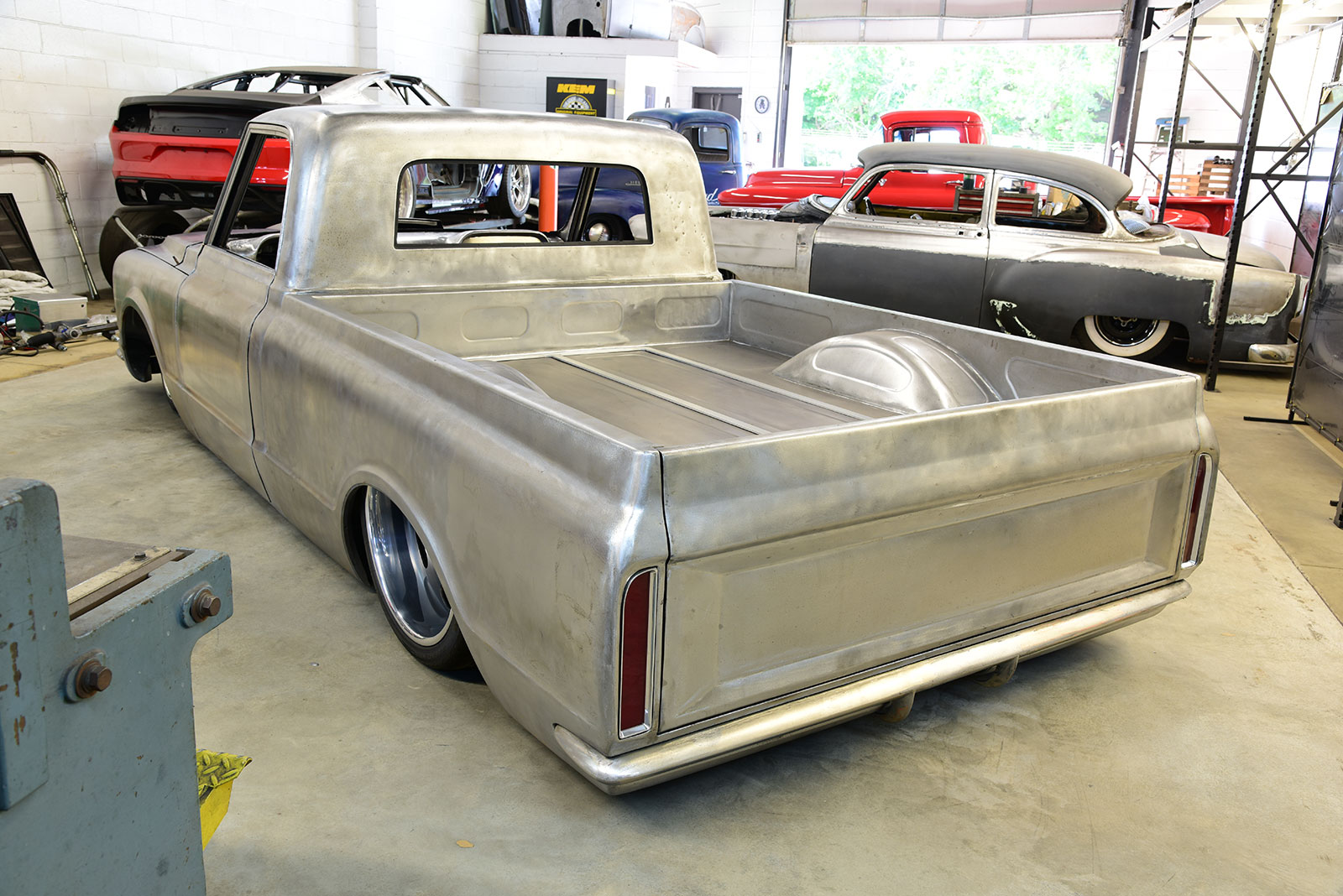 Read More: How To Upgrade A Base Model Interior With Aftermarket Parts
For plenty of impressive power, a Chevrolet Performance LS3 crate engine adds plenty of modern-day performance with 430 hp straight out of the box, linked to a GM 4L60E transmission. Cool bits adding dazzle include a fabricated & polished aluminum Jegs intake manifold, finned aluminum valley plate, and matching valve covers from Speedway Motors. Lloyd prepped its accommodations by crafting a unique bead-rolled firewall with matching inner fenders sculpted perfectly to a removable one-piece front filler panel with hidden reservoirs and custom radiator support. Added treats include custom engine mounts, frame covers, inner hood structure, hard lines, and cold air intake.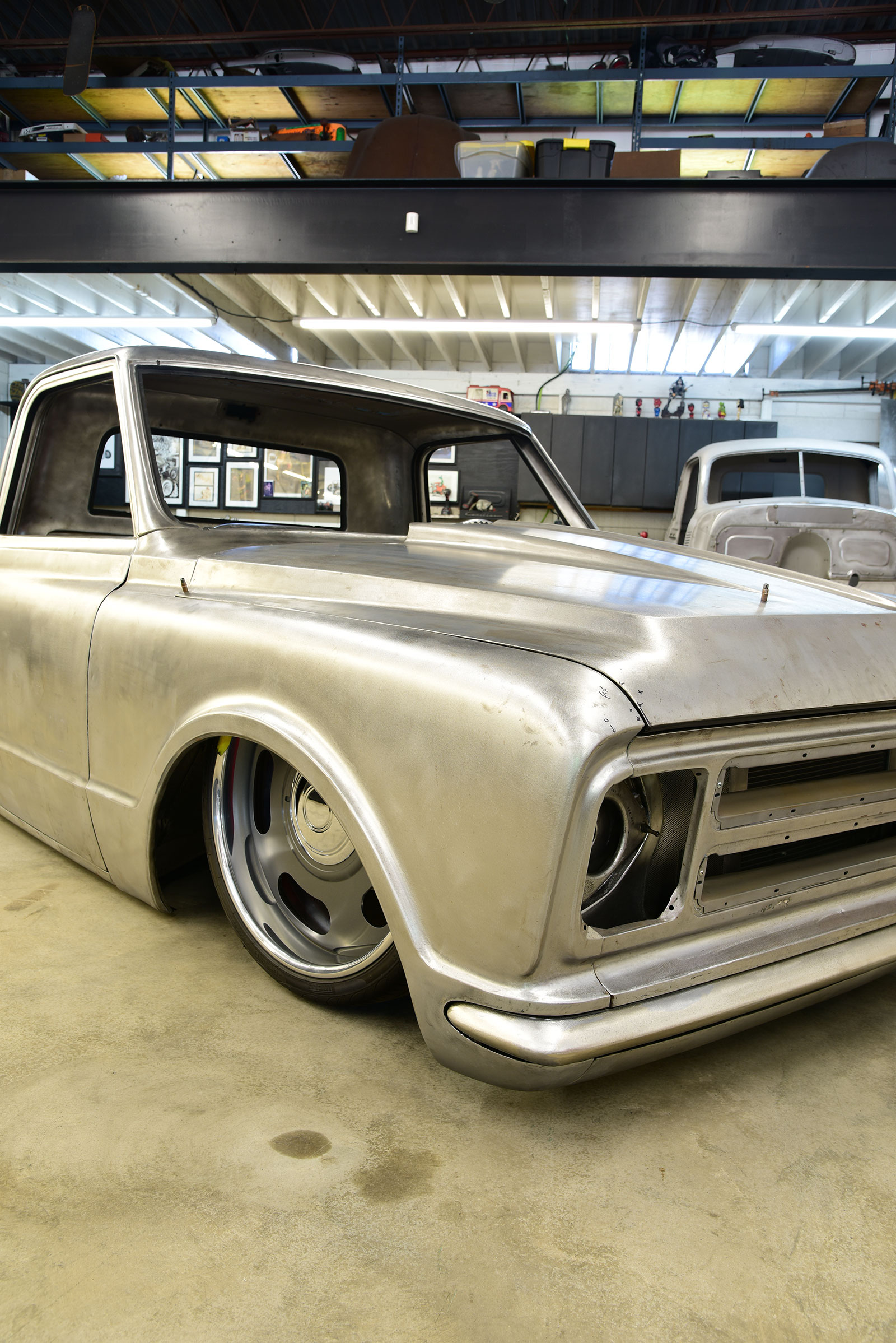 When it came to addressing the sheetmetal, Lloyd had plenty of magic ready to add a level of brilliance to the exterior. Starting at the front, a Gen 1 Camaro bumper was tucked, shaved, and frenched in place, sculpted to a custom lower pan while the turn signals were ditched from the factory grille. A Goodmark cowl induction hood was massaged while all emblems, locks, mirrors, and handles were shaved front to rear. A fresh cab roof skin was added with the rear peak removed while also deleting the drip rails and finessing the gaps. The bed packs a punch, starting with contouring it to the cab, filling the stake holes, crafting a fresh roll pan with a tucked, shaved, and frenched Gen 1 Camaro rear bumper in place along with a custom tailgate recess to match the proportions of the taillights. Inside the bed is a work of art with bead-rolled custom panels and matching inner wheel tubs, raised, and opening bed floor to show off endless details, and a number of custom access areas in the dropdown fascia.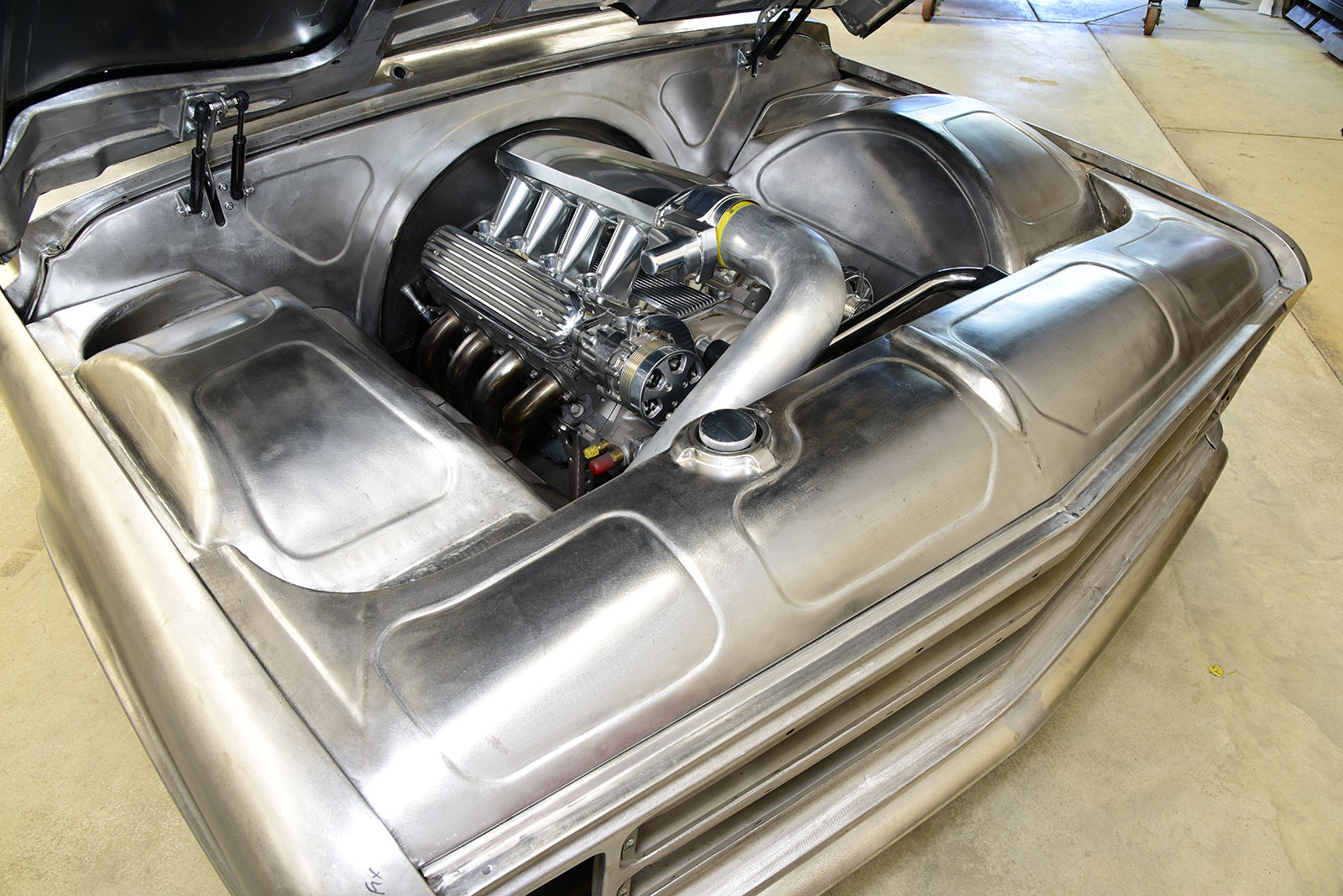 Read More: Untamed Beast: A Twin Turbo Dodge D150
Inside the cab you'll find even more details, starting with a highly modified '61 Corvair dash fitted with special ribbed stainless inserts flowing into a waterfall console frenched into the dash along with '63 C10 Dakota Digital VHX instruments and Vintage Air accommodations. A bead-rolled transmission tunnel and floors keep the theme while a set of Lexus SC400 bucket seats will be recessed into the back of the cab. This is a rare, bare metal look into one C10 that's turning up the heat and we can hardly wait to see it completed!