Jay Breitmaier's 1971 Camaro Proves That Pro Street is Alive and Well
By Tommy Lee Byrd   –   Photography by the Author
Pro Street got its start with the idea of implementing features from a Pro Stock drag car into a vehicle that could be driven on the street. After about 20 years of evolution and innovation, the Pro Street movement lost a lot of its popularity, largely because of the lack of actual performance associated with these fat-tired freaks of nature. However, a dedicated following has kept Pro Street alive and, if anything, its gone back to its radical roots with excessive horsepower and tire-torching capabilities. This incredibly brutal '71 Camaro Z28 is a fine example of modern Pro Street goodness, as it boasts giant rear tires and four-digit horsepower to match the aggressive drag car appearance.
Jay Breitmaier owns the Camaro; he bought it from a friend a few years ago. It was a turnkey car but Jay had several ideas to take it to the next level. Jay is based out of Somersworth, New Hampshire, and said that his Camaro was originally built by MVA Customs in Long Island, New York. The Northeast is known for its over-the-top Pro Street builds and this one is no different, as it really jumps out and grabs your attention with the giant BDS Dominator scoop and brilliant candy paint. The sounds generated by the 10-71 supercharger, giant roller camshaft, and 4-inch exhaust certainly turns heads as well.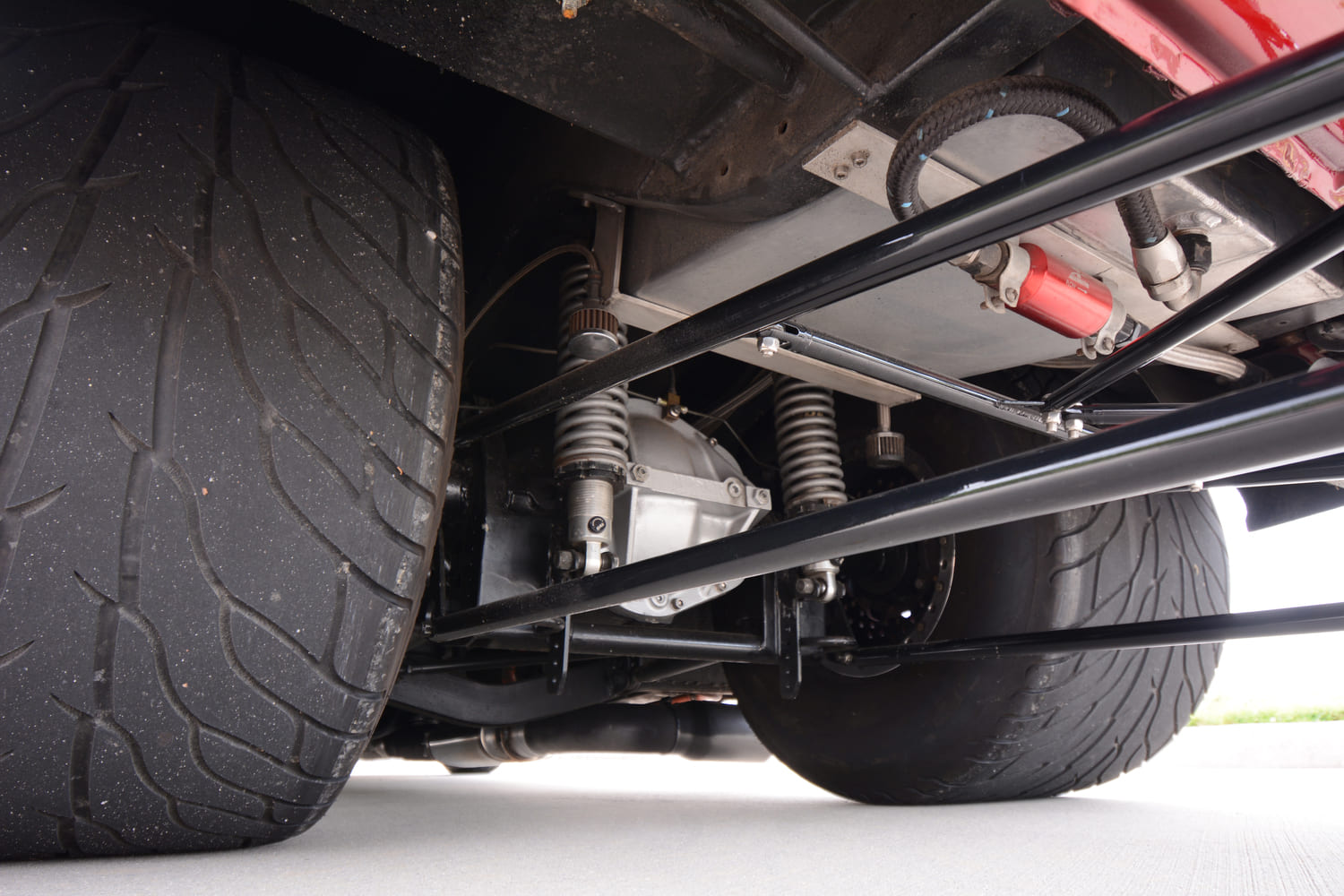 Underneath, the car still has a lot of Camaro elements, including the original front subframe, but it has been upgraded with tubular control arms and coilovers. Out back is where it gets really interesting, as the rear section of the floor and frame were completely tossed aside in favor of new framerails and wheeltubs that provide clearance for the widest street tires that Mickey Thompson offers. Fitting the 33×22.5 tires also required stretching the wheel openings to keep the proportions right. The narrowed Dana 60 is indestructible and transfers power from a stout 565ci big-block.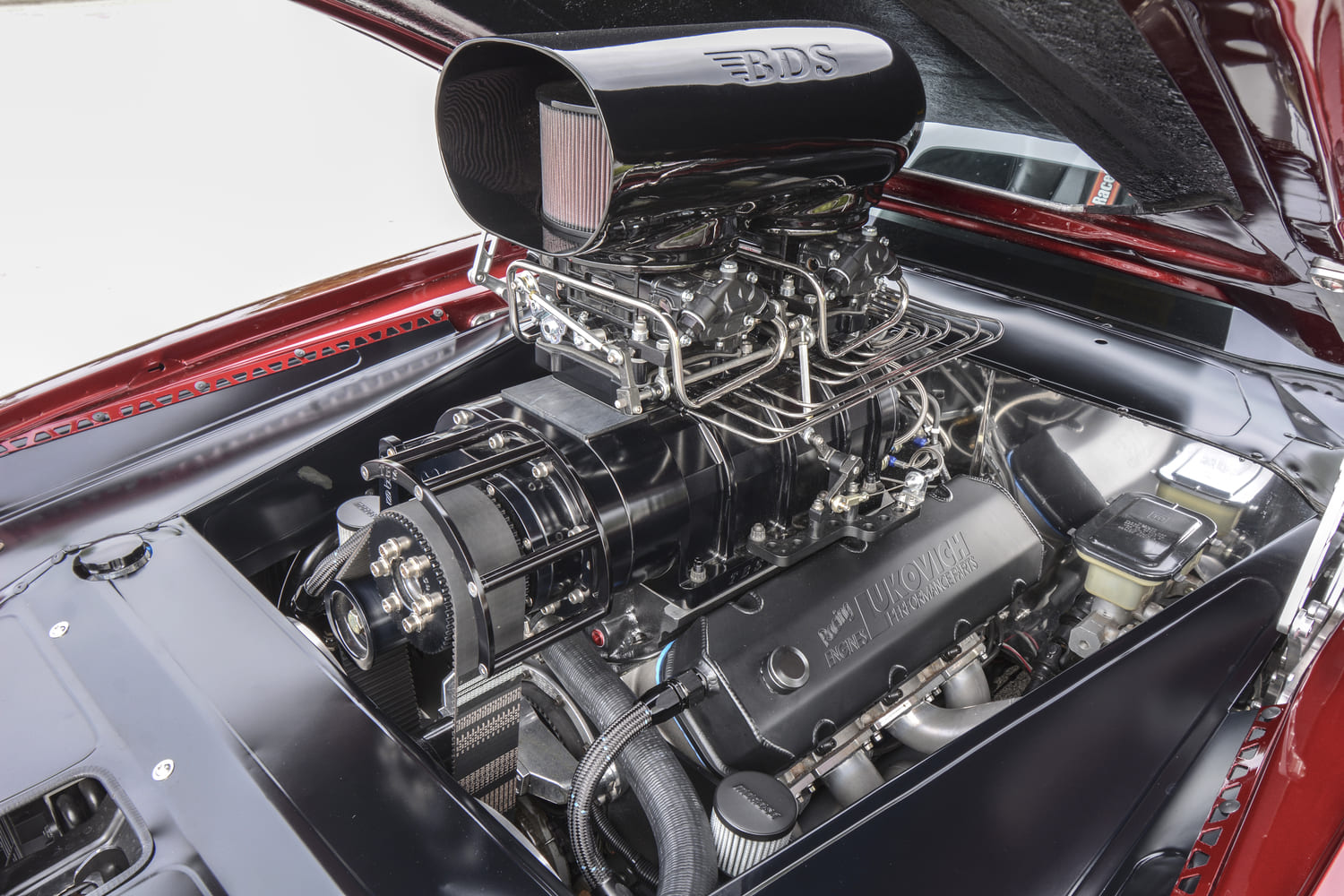 Another Built Camaro: One-of-a-Kind Missile, Piranha Green 1968 Camaro
Lukovich Racing Engines is responsible for the big-inch rat that utilizes a Dart Big M block, forged internals, and Dart 335cc cylinder heads. All of this is combined with a Comp custom-grind camshaft, designed specifically to work with copious amounts of boost. In typical Pro Street fashion, part of the "wow" factor comes from a roots-style supercharger topped with dual Holley carburetors. The engine was bolted to the dyno at Lukovich Racing Engines where it cranked out 1,017 hp in its original configuration. After upgrading the blower to a 10-71, Jay strapped the car to the chassis dyno at Performance Dyno in Loudon, New Hampshire. With 93-octane pump gas in the tank, the Camaro laid down 938 hp and 810 lb-ft of torque to the rear wheels. A nitrous system with dual color-matched bottles takes this combination over the edge in the best possible way. As for aesthetics, the engine bay features custom close-out panels for a smooth look and lots of satin black paint and powdercoating for the perfect sinister attitude. Behind the big-block is a Rossler TH400 automatic transmission, which features a billet valvebody with a trans brake, and a Coan torque converter that stalls to 3,800 rpm.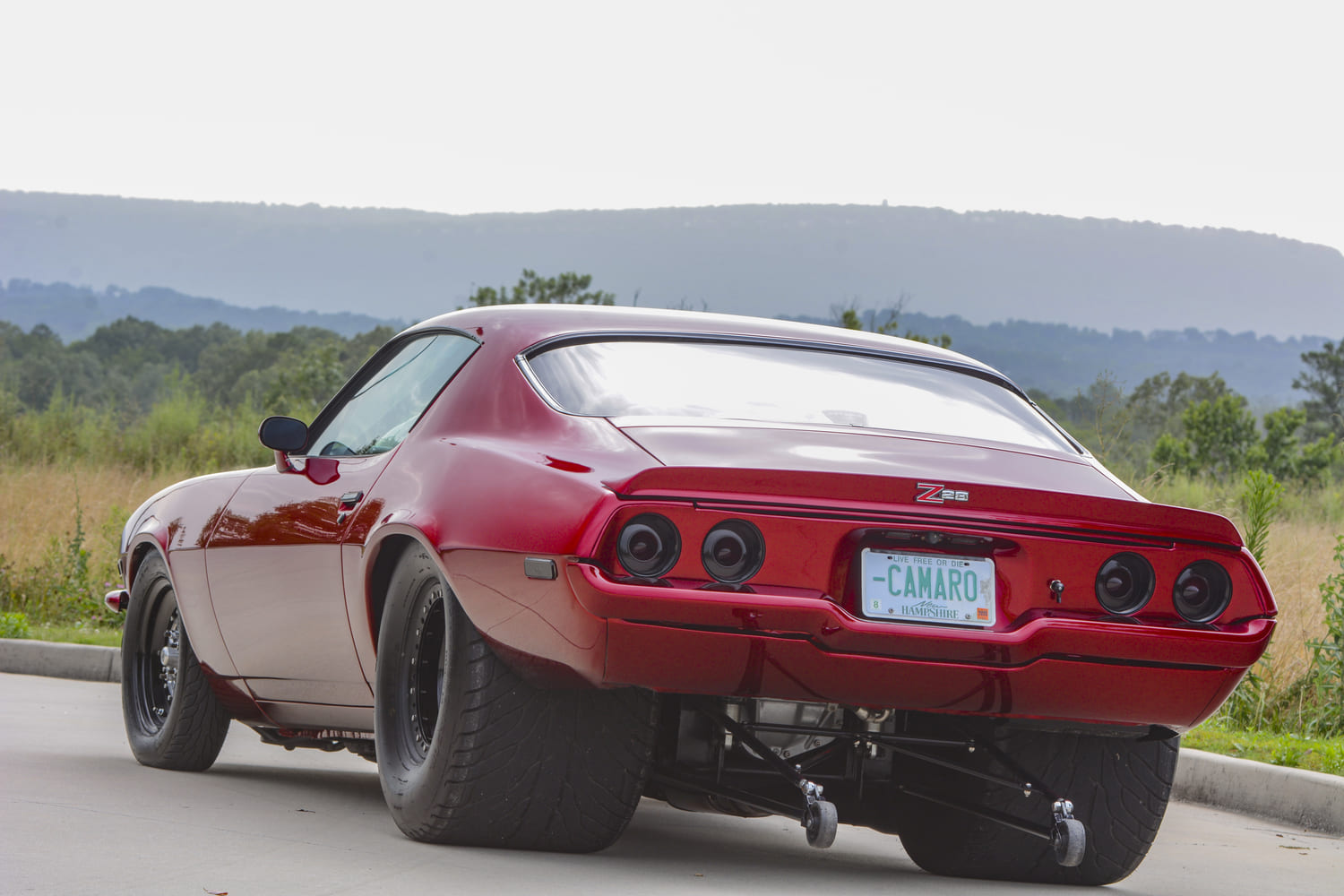 Although the giant engine commands most of the attention, it's the Candy Brandy paint that really makes this car pop. All the trim has been treated to satin black paint, which works nicely with the dark-tinted windows and black wheels. An open door reveals a custom black interior with a mixture of leather and suede materials. A 10-point rollcage is a little difficult to navigate, but it keeps the chassis stiff and protects Jay if things get a little hairy. Once he's in the driver seat, visibility is marginal, due to the 7-inch cowl hood and protruding scoop, but that's part of the Pro Street game. Custom bucket seats and a custom console provide a little splash of comfort in this radical second-generation Camaro, but it's obvious that comfort and convenience are not at the top of Jay's priority list.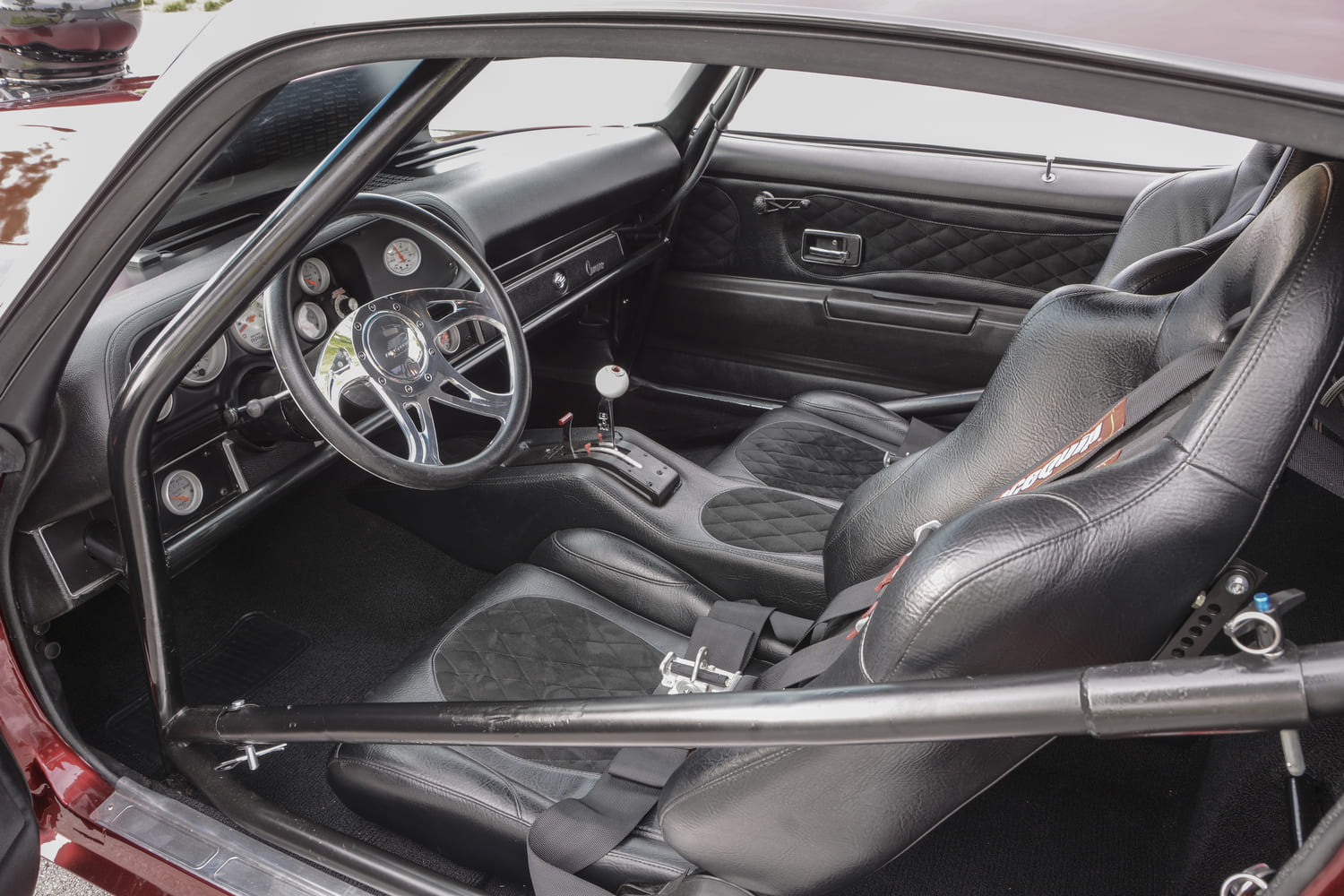 We ran across Jay's Z28 at an event that was geared toward Pro Street cars, and it was a true standout, even in a sea of big tires and blowers. The attention to detail and the overall look grabbed our attention, but it was the fact that he entered the burnout contest that really sold us on Jay's commitment to using the horsepower for all the right reasons. Splattering rubber onto the quarter-panels didn't seem to bother Jay in the least, and it certainly pleased the crowd. Jay's '71 Camaro has all the qualities of a show car with all the horsepower of a drag car, and it can cruise the boulevard, boil the hides, and put a smile on hot rodders' faces everywhere it goes.
Camaro News: Camaro Nationals is Moving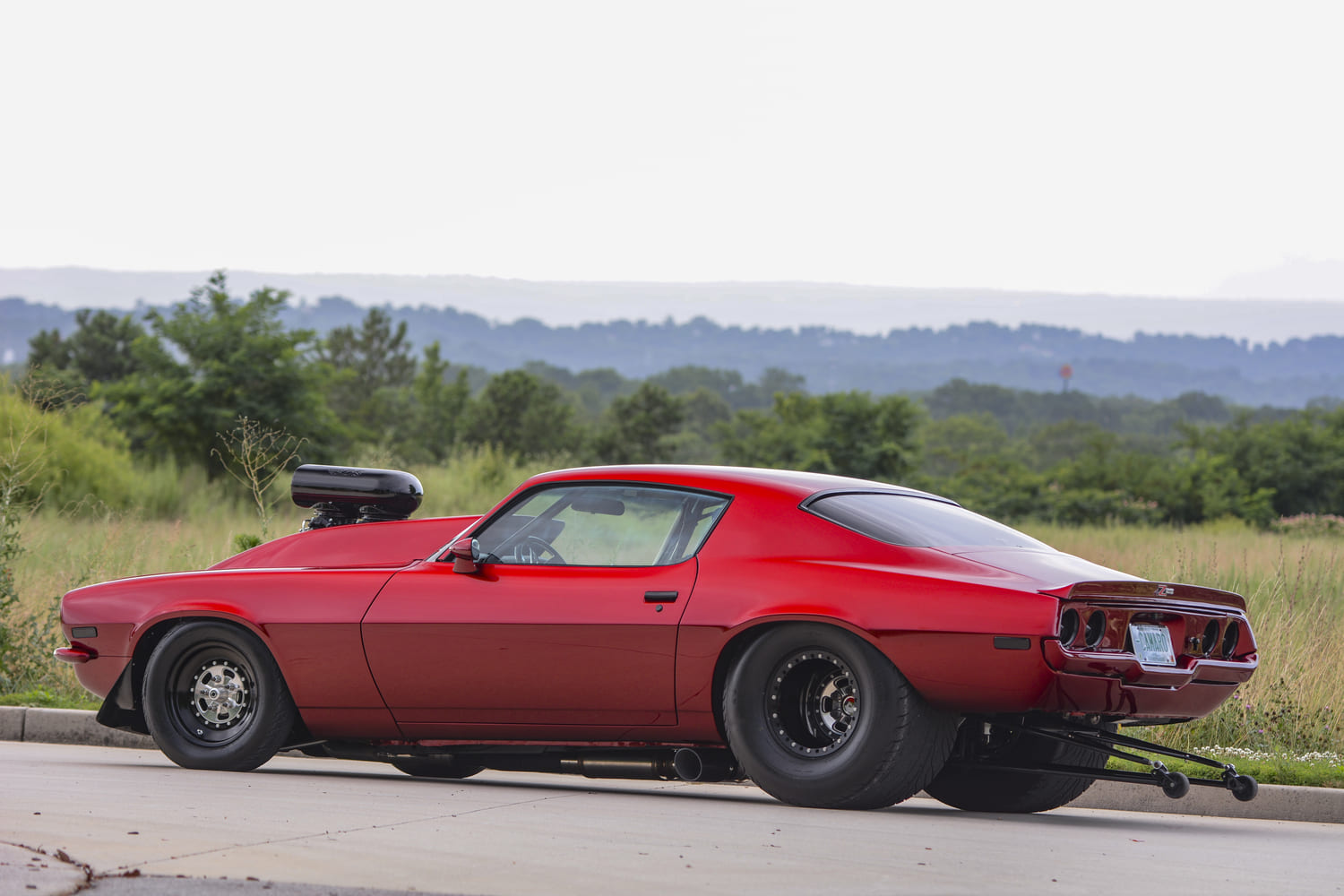 TECH CHECK
Owner: Jay Breitmaier   –   Vehicle: '71 Camaro Z28
Engine
Type: Big-block Chevy
Displacement: 565 ci
Compression Ratio: 9.4:1
Bore: 4.600 inches
Stroke: 4.25 inches
Cylinder Heads: Dart Pro1 335cc by Lukovich
Rotating Assembly: Forged with Wiseco gas-ported pistons
Valvetrain: T&D shaft rocker arms
Camshaft: Custom grind Comp Cams roller with 0.808/0.775-inch lift
Induction: Blower Shop 10-71 Supercharger with dual Holley 1050 carbs
Ignition: MSD Pro-Billet with MSD 7AL-2 box
Exhaust: Lemons headers with MagnaFlow mufflers, 4-inch pipes
Ancillaries: Electric water pump, custom-plumbed nitrous system
Output (at rear wheels): 938 hp and 810 lb-ft of torque
Drivetrain
Transmission: TH400 by Coan Engineering, billet valvebody with trans brake, 3,800 stall
Rear Axle: Narrowed Dana 60 with spool, Moser 31-spline axles, 4.11:1 gears
Chassis
Front Suspension: QA1 coilovers, tubular control arms, manual rack-and-pinion steering
Rear Suspension: Custom four-link with QA1 coilovers
Brakes: Wilwood discs
Wheels & Tires
Wheels: Sanders 15×4 and 15×15 with beadlocks
Tires: Mickey Thompson Sportsman Radial, 26.0×6.00R15 front and 33×22.5R15 rear
Interior
Upholstery: Custom with diamond inserts
Material: Suede/leather
Seats: Custom bucket seats
Steering: Billet Specialties
Shifter: B&M
Dash: Original
Instrumentation: Auto Meter
Audio: N/A
HVAC: N/A
Exterior
Bodywork: MVA Customs (Long Island, NY)
Paint By: MVA Customs
Paint: Custom mixed Candy Brandy
Hood: Glastek 7-inch cowl, stretched
Grille: Painted
Bumpers: Color matched
Jay Breitmaier's 1971 Camaro Proves That Pro Street is Alive and Well