Art Fortin's 1931 DeLuxe Tudor Phaeton with Vintage Engine V8 and Chevy Tri-Power
By Brian Brennan   –   Photography & Videography by Michael Christensen
It's been a while since the phaeton has been seen much on the hot rodding scene. Over the past few months, we've shown you how Art Fortin of NorCal put together his 1931 Ford two-door highboy phaeton over the past 10 years. Gerry Burger brought us the two build articles that show us how the Deuce chassis was fabricated and outfitted with many traditional hot rodding fair (Modern Rodding Apr. '22 "Part 1: This Rare Model A Tudor Phaeton was Built the Old-Fashioned Way … at Home" and May '22 "Part 2: Bringing Vintage Tin Back to Life"). He wanted the traditional build to mimic something that would have been around in 1959 or 1960. From there it was onto the body- and paintwork on the original steel 1931 Ford DeLuxe Tudor phaeton. Our build coverage is wrapped up so now onto the results.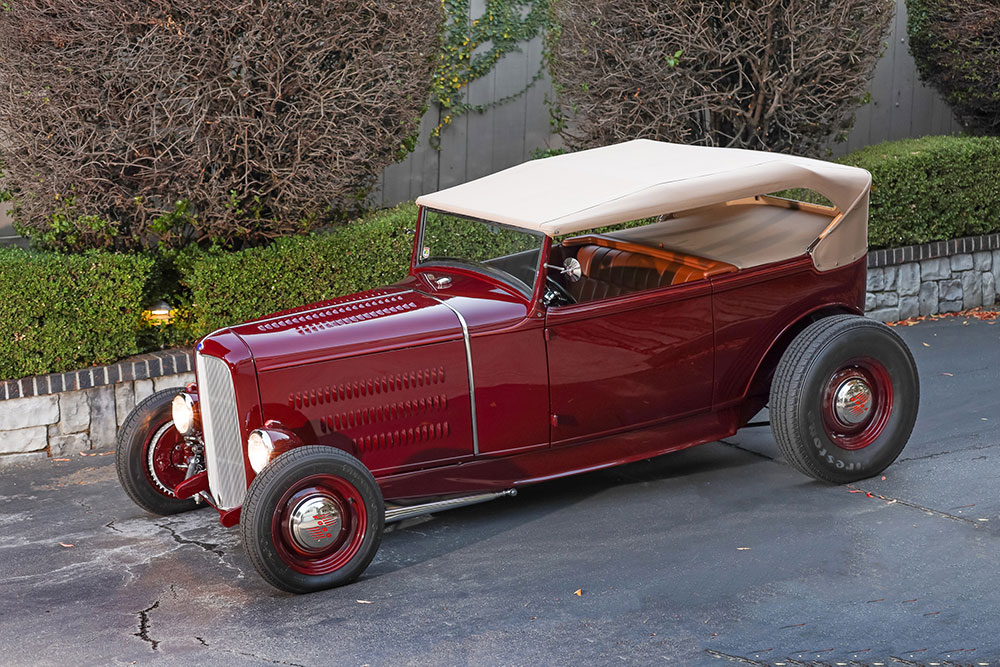 If Art's name sounds familiar it should, especially to those hot rodders around the Bay Area. He's no stranger to hot rods of all makes, years, and styles. He is especially well known for his ' that made the Rod & Custom 100 Best list back in 1999, as well as numerous Goodguys awards for the same ride.
For those of us who have been around cars of all makes and years, when it comes time to square things away you can count on rust repair. In Art's case there was the usual assortment of rust repair but then there were some holes that needed filling and to this the addition of 1946 Ford taillights and the frenching of the rear license plate. Next up was the addition of square tubing for body bracing and then a complete floor was added. And as the previous build articles attest to, Art did the work in his garage. To the final bodywork Art added a steel Rootlieb three-piece louvered hood. From the bodywork, accomplished by Art, it was then onto the application of a PPG basecoat/clearcoat in Maroon applied by local hot rodding friend Henry Rossi and Art himself. From here you find some nifty pinstriping applied to the beltline and around the frenched rear license and taillights by Real Ralph.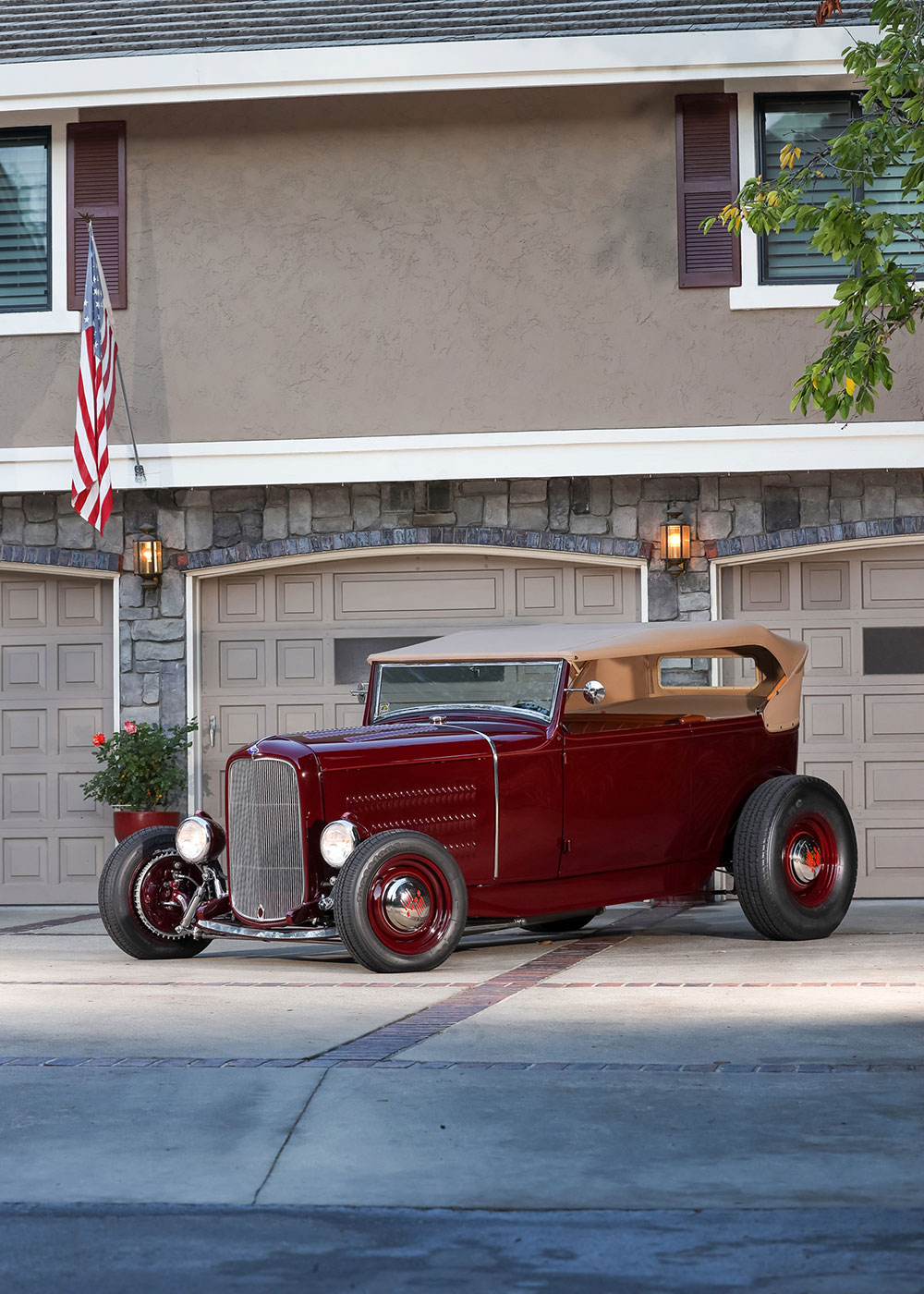 The body was owned by a Texas hot rodder but was in the possession of a fellow New York rodder. As happenstance would have it, Art ran into another rodder here in California who knew the Texas rodder. From this point Art contacted the owner, purchased the body, and decided to pick up the body at Hersey. Art enlisted the help of Bill Perry of All Ford who rented a box van to get the body back to the West Coast along with parts gathered by other Bay Area rodders in attendance. Oh, Art and his friend Bill Perry then drove the van back to the West Coast. (Sounds like a typical hot rod deal!)
Additionally, the 1932 Ford grille shell and insert were mint and a must use along with the Guide headlights. To this Art added a handful of custom one-off pieces, such as the rear tube bumper, the steering column drop, the fan shroud, and the front shock and headlight mounts. The windshield is a chopped 1932 with two freshly fabricated windshield posts.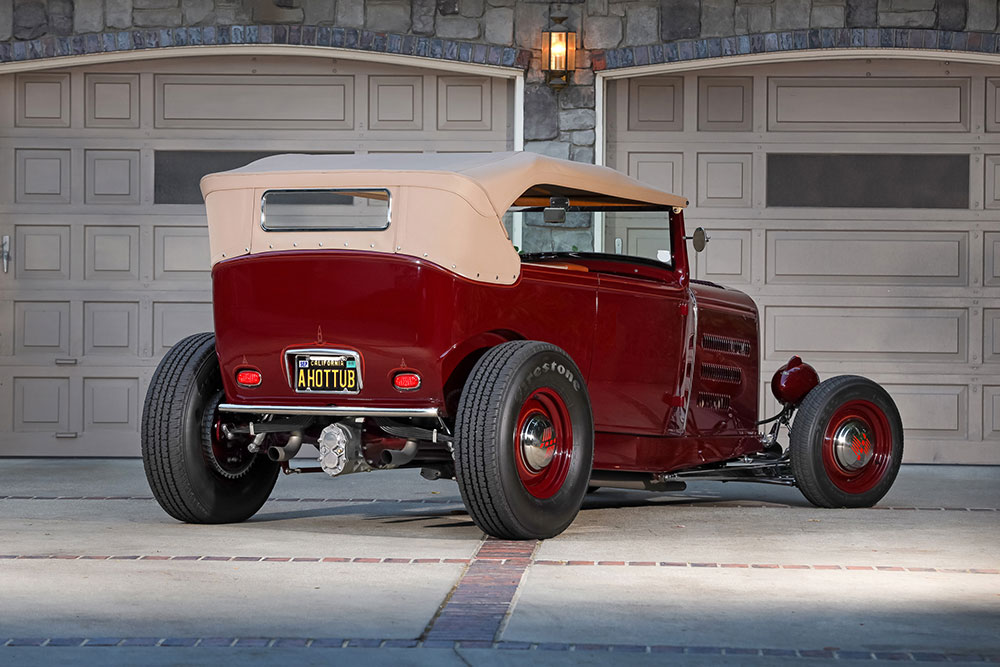 Although many of us would think of the small block Chevy as a "vintage" touch, the fact remains it is still extremely popular today. To truly honor this classic motor the use of a 283-inch small-block was used. It was punched out 0.030 inch with lots of machine work by CSD Engines. The "eye candy" is highly visible in the desirable Rochester Tri-power (200-cfm bookend two-barrels and a 220-cfm middle carb), which rests on an as-cast aluminum Edelbrock intake. Other vintage hot rod accessories include a pair of polished aluminum 7-fin Corvette valve covers and modified ram horn–style Sanderson headers are immediately visible. Art built the custom exhaust system by initially modifying the Sanderson headers then fabricating 2-1/2-inch exhaust tubing that runs through a pair of Summit Racing mufflers, all coated.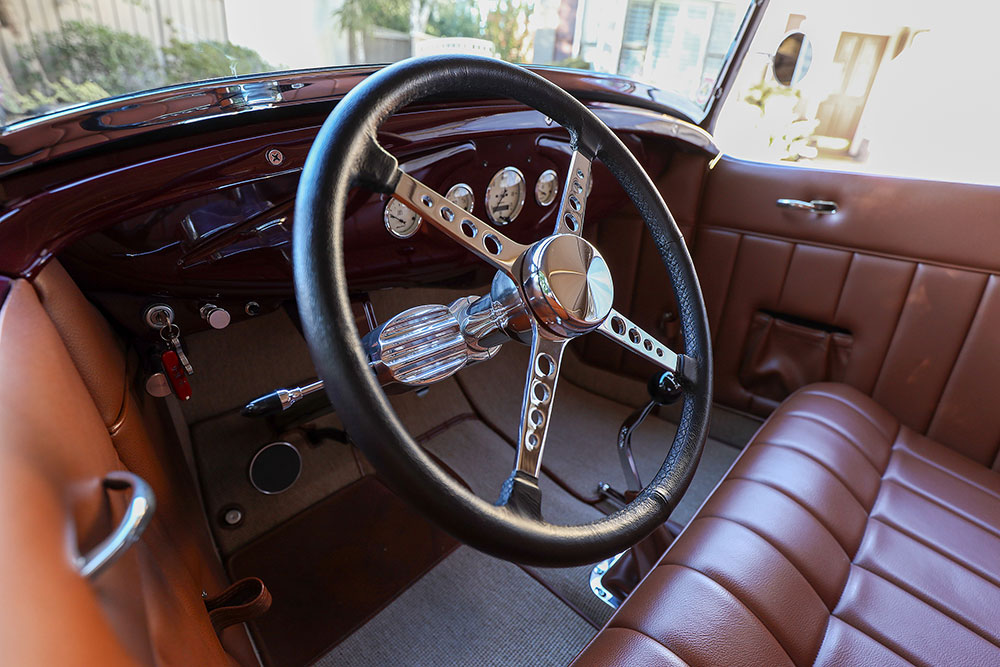 Read More: The Metalwork Behind The GNRS 2022 Al Slonaker Award Winning Highboy Coupe
More performance goodies include the use of a Comp Thumpr cam (modern performance with the vintage solid lifter cam sound). Throw into the mix a traditional-looking black cap PerTronix distributor with a black coil canister, Taylor spark plug wires, a single V-belt, a "large" harmonic balancer, a Powermaster alternator, and an Optima battery. To position the five-blade mechanical fan in a more desirable location behind the radiator the use of a Zips water pump riser (six-cylinder) is utilized. Immediately inline behind the highly visible Tri-power is the use of the "camel hump" cylinder heads outfitted with 1.94-inch intake valves. The use of these heads from back in the day signified "big-valve" heads and performance. (There is also the 2.02-inch intake for the high winding dragstrip motor that could use the additional airflow.) To this day the camel hump cylinder heads along with the other components signify the glory days of carbureted performance.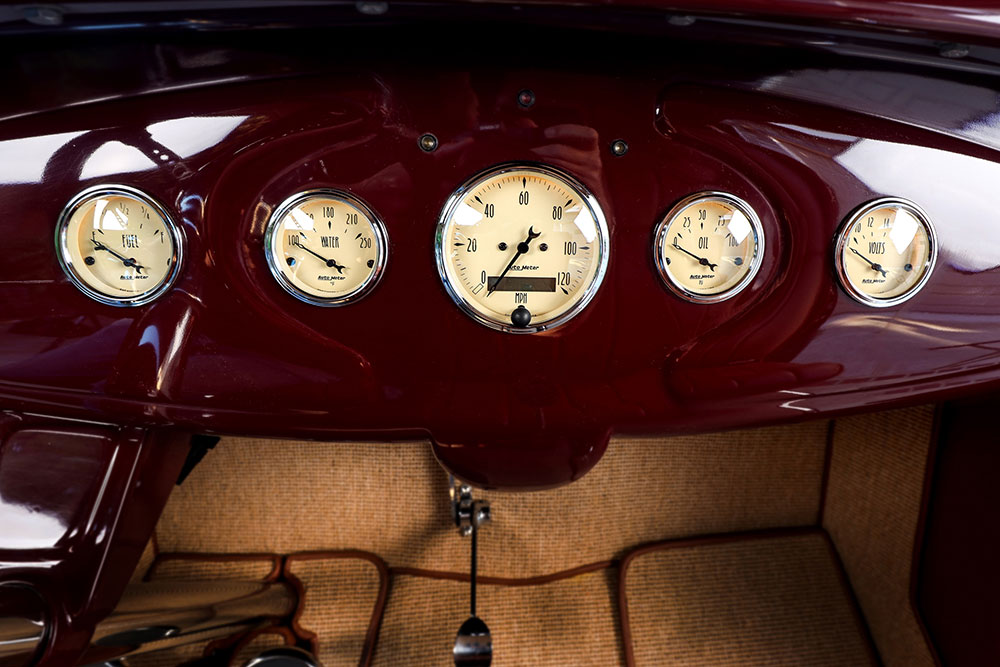 The old-timey V8 moves its horsepower and torque through a Chevy T5 transmission utilizing a 10-1/2-inch diaphragm clutch and Hurst Competition/Plus shifter for smooth operation. In back you will also note a significant nod to hot rodding lore in the Halibrand Quick-Change rear-end. It's outfitted with a 3.78 ring-and-pinion gear (21-tooth upper gear and 26-tooth lower gear) set up for a 3.05 final ratio (4.68 low range). Hot Rod Works built the quick-change rear-end and included the 28-spline axles. (Fun fact: You might not be able to tell in the photos, but the quick-change housing is cast with the Halibrand Torrance, California, name but the end plate has the old-timey Culver City designation.)
All this vintage hardware is "housed" in an original 1932 Ford frame with a 3-inch extended wheelbase, now 109 inches, all fabricated by Art. (Side note: Art had purchased the frame years ago when a California Highway Patrol friend of his ran the VIN (stamped in the left rail) and found the title to be clean. Next step, he proceeded to obtain a non-op title for a 1932 Ford.) The 'rails are fully boxed, kicked up 4 inches in the rear, and "stepped" inward 2 inches on each side by the rear wheel wells. The popular Model A flat front crossmember is used. It lowers the front end approximately 1 inch over the stock Deuce front crossmember. There is also a tubular rear crossmember now in service. If you were looking closely, you should have noticed that the front frame horns are also shortened.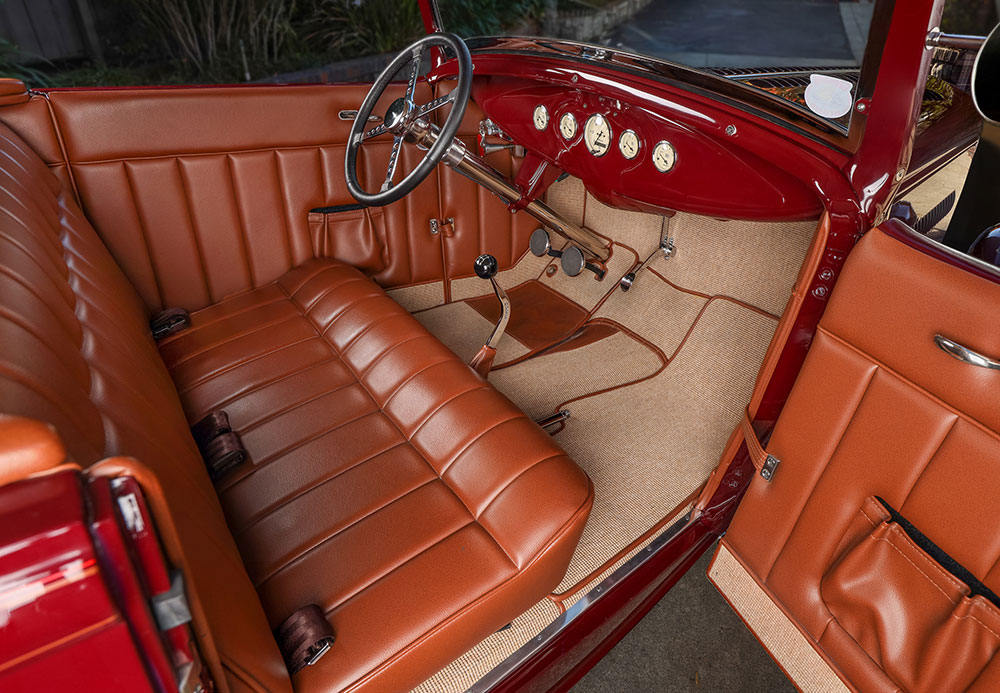 Read More: Above & Beyond a Simple Restoration: 1931 Ford Sedan
The front suspension is based on an original drop axle that was reforged and utilizes a reversed eye leaf spring and split 1932 Ford wishbones. From here Pete and Jake's chrome shocks with upper and lower mounts are employed. The 1940 Ford spindles are used in conjunction with the early Ford brakes that implement 12-inch Buick finned brake drums. The early Ford brakes with finned Buick drums are pressed into service via a non-power Corvette-style master cylinder. Steering is handled through a Vega-style Flaming River steering box and Pitman arm. From here a Speedway Motors stainless steel column is topped with a LimeWorks drilled four-spoke wheel. Note the vintage turn signal indicator adapted to the column. In back the Halibrand quick-change rear-end is positioned, again, by Pete and Jake chrome shocks and early Model T transverse leaf spring with tapered ends. At the corners you will find a set of body-colored Gary McClean steelies with Ford caps that measure 15×4.5 and 16×6 with Firestone/Coker rubber 5.60/15 (also identified as 145R/15) in front and LT235/85R16 with their rear side walls smooth over, leaving only the Firestone brand name visible.
A phaeton is really a roadster with lots more legroom resulting from the back seat. However, in Art's case the rear seat area is covered with a tonneau that hides the Tanks 14-gallon gas tank, the Optima battery in its own case, and ample storage for those long rides. The modified Wise Guys front bench seat comes with a heater for those cold drives and is stitched in brown vinyl by Kirby Kendell. The tan carpeting is stitched up in a square German weave that's popular on so many hot rods. Next up was the top that proved to be a challenge. Art used tubing and the front and rear Oak headers from a Ford Deuce roadster. From here it worked out well, yielding the necessary look.
The factory dash is now filled with an Auto Meter five-pack of gauges. There is a sub-panel located on the driver side just beneath the dash to the left of the steering column that houses the ignition key and headlight switch. All the required wiring is handled by an American Autowire harness that was aptly linked by Ben Barnhart and Art himself.
A few good hot rod buddies helped Art along on this project: Barnhart, Rossi, Bob Tomey, and Gary Mattei. The car was finished in January 2019, just in time to enter it in the Grand National Roadster Show in the Suede Palace. It's good to see the once-omnipresent Ford Phaeton back on the scene. Time to look for some more. MR
1931 Ford Model A Deluxe Tudor Phaeton With '60s Vibes