Sonny Freeman Takes Home Top Honors for His Three-Window '32 Ford Coupe
By Brian Brennan   –   Photography By John Jackson
Artwork By Eric Brockmeyer Design
 Owning a hot rod of this caliber is no small feat. Knowing this, should you find yourself speaking with Sonny Freeman from Lafayette, Louisiana, about his three-window '32 Ford coupe you might find out he has a simple philosophy about owning a topflight hot rod. According to Sonny it's not a difficult decision.
"My view on awards is very simple. Pick a car you like and would like to own. Pick a builder who is good at what they do and communicates well with you. Then, how do you lose?" Sonny will tell you that once you have the car of your dreams, "Love the car first, awards become added appreciation." Good advice.
Read More: Arctic White LS Swapped 1972 Oldsmobile Vista Cruiser
Sonny worked with Talbert Goldman (Mike's son) of Mike Goldman Customs (MGC) out of Meridian, Mississippi, to build Sonny's dream three-window '32 Ford coupe. An agreement between Sonny and Talbert early on led to the car being built the way Talbert saw fit once understanding Sonny's criteria. And, yes, Sonny didn't see the Deuce coupe until it was completed. Faith rewarded! The three-window '32 Ford coupe often goes by the name "Blind Date." Seems fitting.
We are going to surmise that Sonny and Talbert got along and communicated just fine as the results speak for themselves. This award-winning Deuce coupe was a finalist for the Slonaker Award at last year's Grand National Roadster Show and a Goodguys Meguiar's Street Rod d'Elegance finalist as well. All of this before striking "gold" or, in the case of the Triple Crown of Rodding awarded at the last Shades of the Past Hot Rod Roundup, beautifully designed and handmade chrome and polished metals.
While it is apparent this three-window '32 Ford coupe has plenty of looks there can be no denying that it has plenty of thunder to boot. Tucked between the stretched 'rails and beneath the four-piece Rootlieb hood with '33-style louvers is a 427–IR Roush crate engine. What exactly is a 427-IR Roush crate engine? By the numbers it is a 427-inch iron block topped with aluminum heads and intake, all attached with plenty of ARP bolts. From here it is then crowned with a Borla eight-stack electronic fuel injection system. This high-winding Ford small block V8 engine is also filled with a hydraulic roller cam, forged aluminum pistons, steel H-beam rods, and can pump out on premium gasoline 560 hp and 540 lb-ft of torque. Now that's a Roush Ford small block.
Other engine appointments include Roush special-edition valve covers, Aeromotive fuel pump, FAST CPU plus ignition and coil, and Roush 9mm spark plug wires all receiving their "juice" from a Powermaster starter and alternator supplied by the Deka Intimidator AGM battery that resides in the trunk. The serpentine belt system is handled by a Billet Specialties Tru Trac while the cooling chores fall to the C&R radiator, a GC Cooling electric fan, and a Derale oil cooler.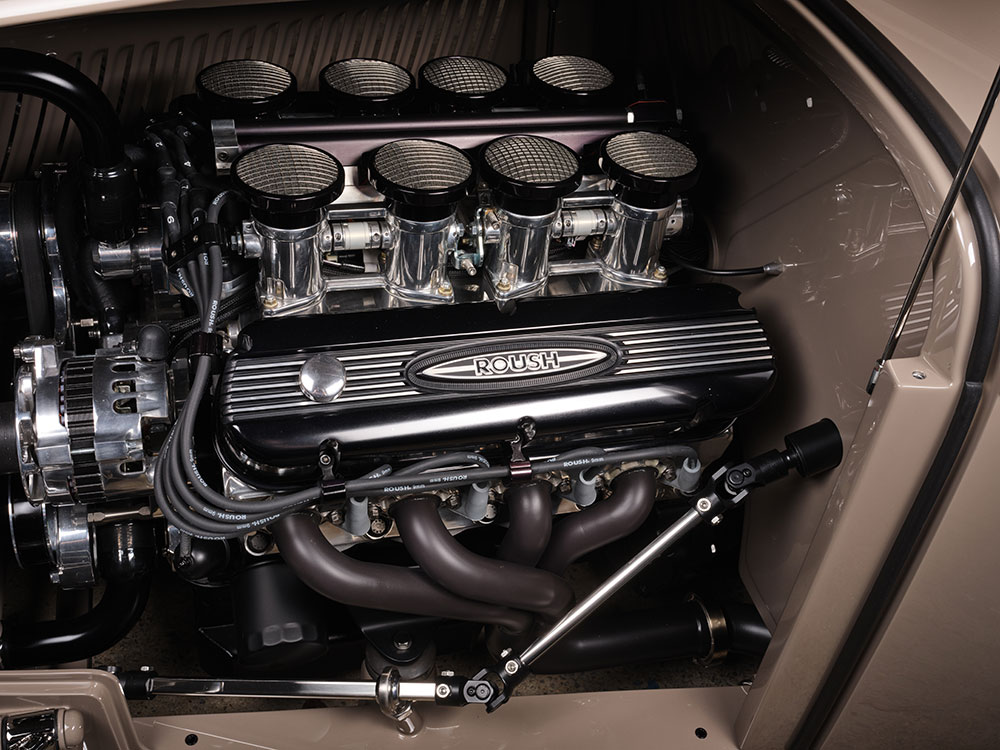 Exiting the now-used fuel, brought up from the stainless steel gas tank from Rick's Tanks, and air mixture are 1-5/8-inch stainless steel headers from Ultimate Headers. They are blended via a 2-1/2-inch stainless steel exhaust system built by Goldman incorporating a pair of stainless steel MagnaFlow mufflers.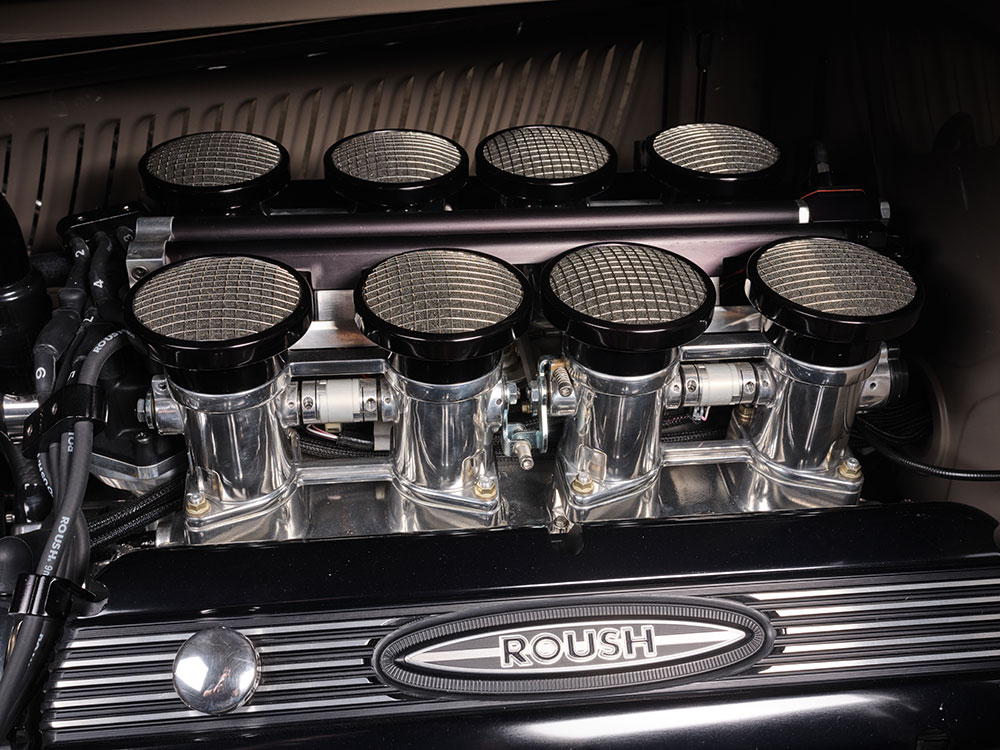 Working in unison with the -8 to get the power rearward is a Bowler Performance 4L80E transmission fitted with an adapter to bolt to a Ford. The automatic features a Hole Shot 4l60E torque converter 3000 stall, along with a Bowler Performance shift kit and valve body, while placed into the appropriate gear via a Lokar shifter.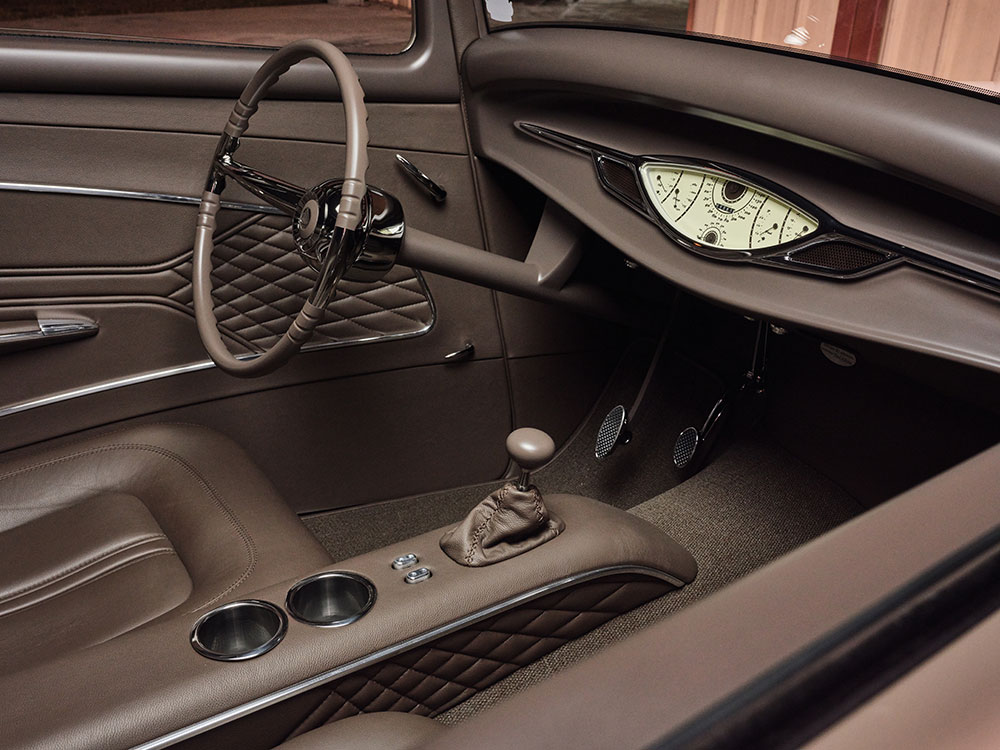 We mentioned moving the power rearward. In back the rear suspension is housed around a Kugel Komponents fully chromed and polished Independent Rear Suspension featuring a Winter's Champ 500 center section filled with 4.10 gears. The inboard brakes are polished Wilwood Dynalite calipers working in conjunction with 13-inch drilled-and-slotted rotors. Additional rear suspension components consist of a Kugel sway bar along with QA1 coilovers.
Read More: War Surplus On Wheels Show 2022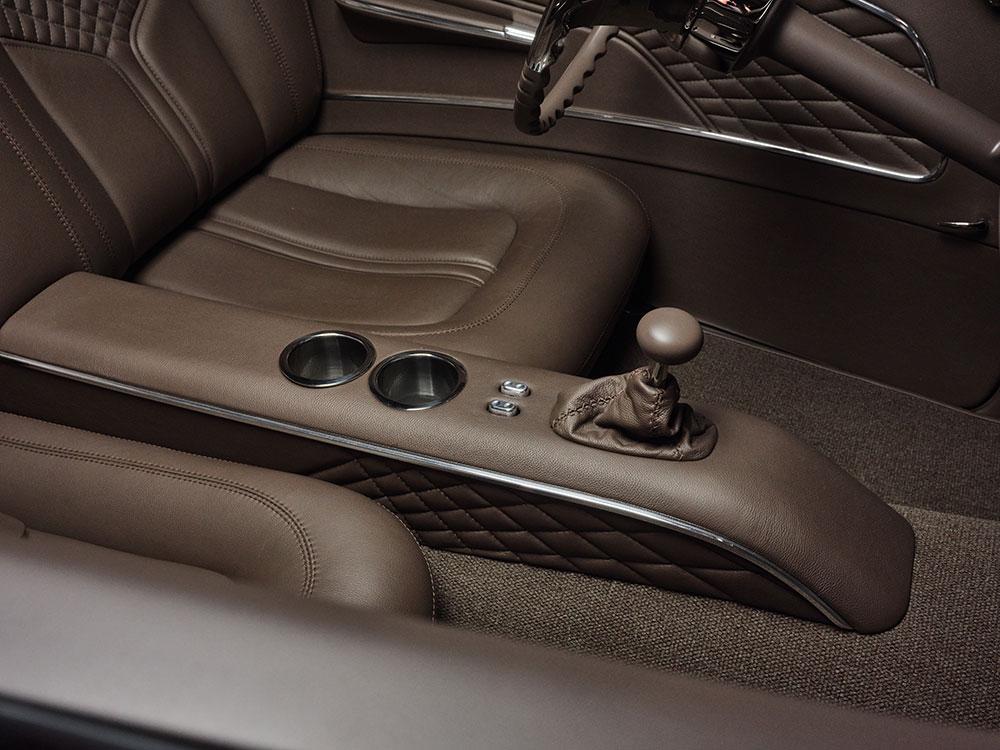 The front suspension is based on a fully chromed and polished Heidts Independent Front Suspension (control arms, spindles, sway bar) with Ridetech coilover and, once more, Wilwood 13-inch drilled-and-slotted rotors and Dynalite calipers. The brake system is pressed into service by the Kugel Komponents under cowl pedal assembly that utilizes a Wilwood master cylinder. The rack-and-pinion steering comes from Sweet Manufacturing and is twisted into service by the Ididit steering column.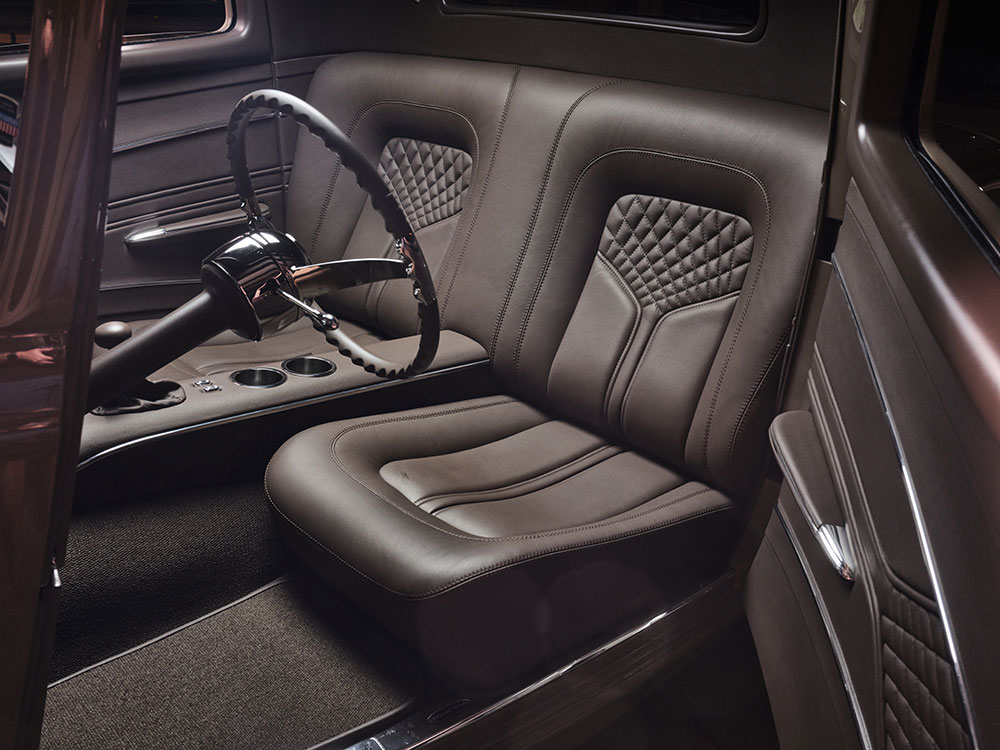 Located at the corners are a combination of Curtis Speed Equipment custom wheels shod in Pirelli tires. The wheels measure out to 18×7 in front and 22×10 in the rear all wrapped with Pirelli rubber, 225/40R18 and 285/40R22. The rolling stock surrounds the MGC custom-fabricated frame that also includes all newly fabricated crossmembers, front, center, and rear.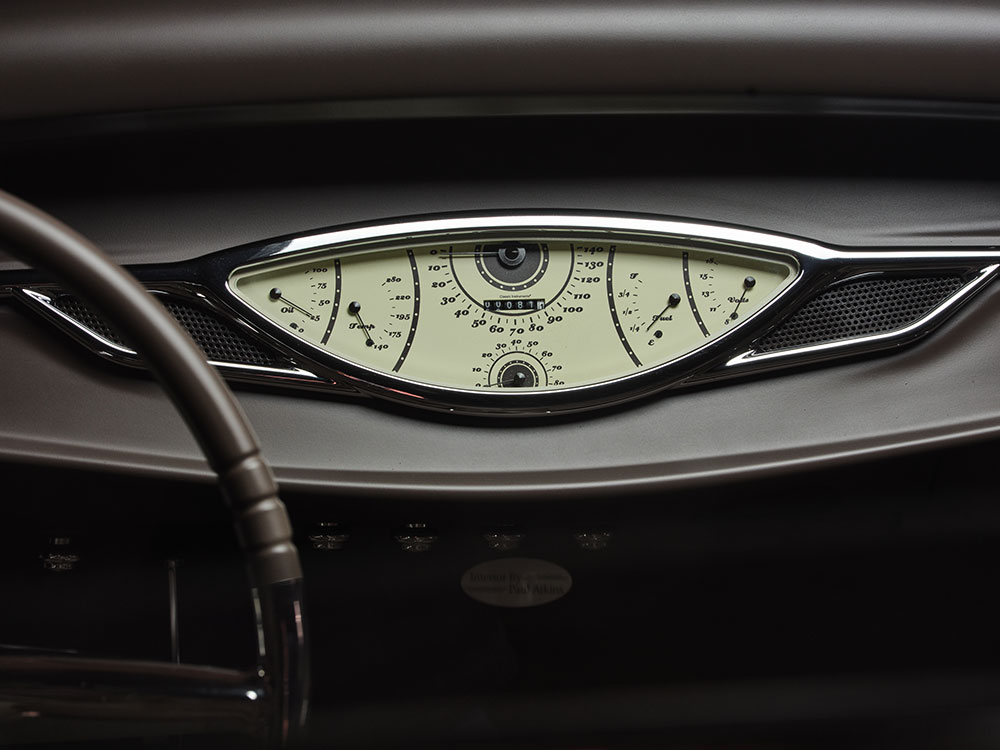 What started out as a very nice '32 Ford three-window coupe body underwent the sheet metal worker's torch and saw while under Talbert's watchful eye. The top was chopped 3-1/2 inches with the grille shell chopped 3/4 inch while the frame and hood were lengthened 4 inches. The grille insert was handled by Dan Baker. From here the rear wheel well area was raised 2-1/2 inches and the tubs themselves were widened 6 inches, giving the perfect radius to the huge rear rubber. The body was then channeled over the custom frame 2 inches. Look closely and you will see that the A-pillar was laid back, necessitating custom glass, custom roof insert, and a roll pan. The lighting is a combination of '34 Ford commercial headlights with more Baker handiwork via machining new endcaps and fresh lenses to what began as '39 Chevy tail lights. As mentioned earlier the 4-inch lengthened four-piece hood with '33 Ford-style curved louvers comes by way of Rootlieb. All the body- and paintwork was expertly handled by the crew at MGC. Don Brackin of MGC applied the paint while using a matte color from the color palette of Axalta Chroma Premier paint. Note the wheels are also colored to match.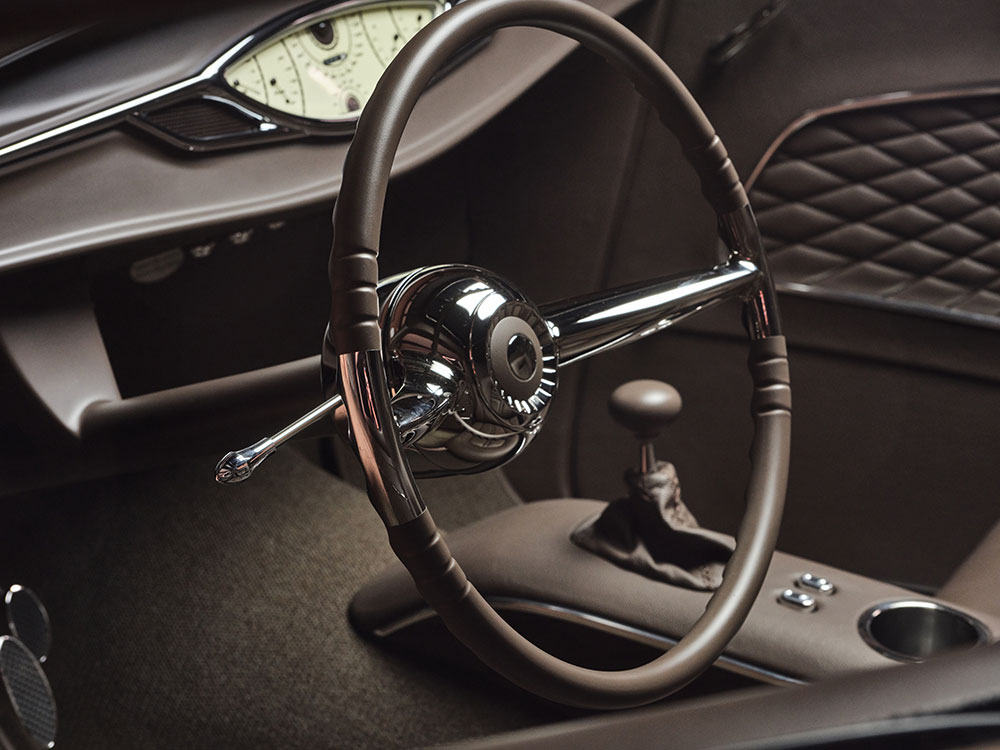 Inside lies a copious amount of brown leather expertly stitched into place by Paul Atkins of Paul Atkins Interiors. He also received the nod to make the custom pair of buckets that sandwich the center console that houses the Lokar shifter, the toggle switches that control the windows, and a pair of cup holders. The pedals are by way of Lokar while the ididit steering column is topped with more of Mike Curtis' handiwork with the custom steering wheel. The '32 Ford dashboard is fitted with a custom gauge panel, another MGC piece that now captures the one-off gauges brought to life by Classic Instruments' custom shop where if you can imagine it, they can make it. Vintage Air supplies the AC while all the wiring to bring this hot rod and the interior to life is based on an EZ Wiring harness while both Goldmans (Talbert and Mike) jumped in and made the connections.
Read More: 2023 Barrett-Jackson Cup Awarded to a 1969 Pontiac Firebird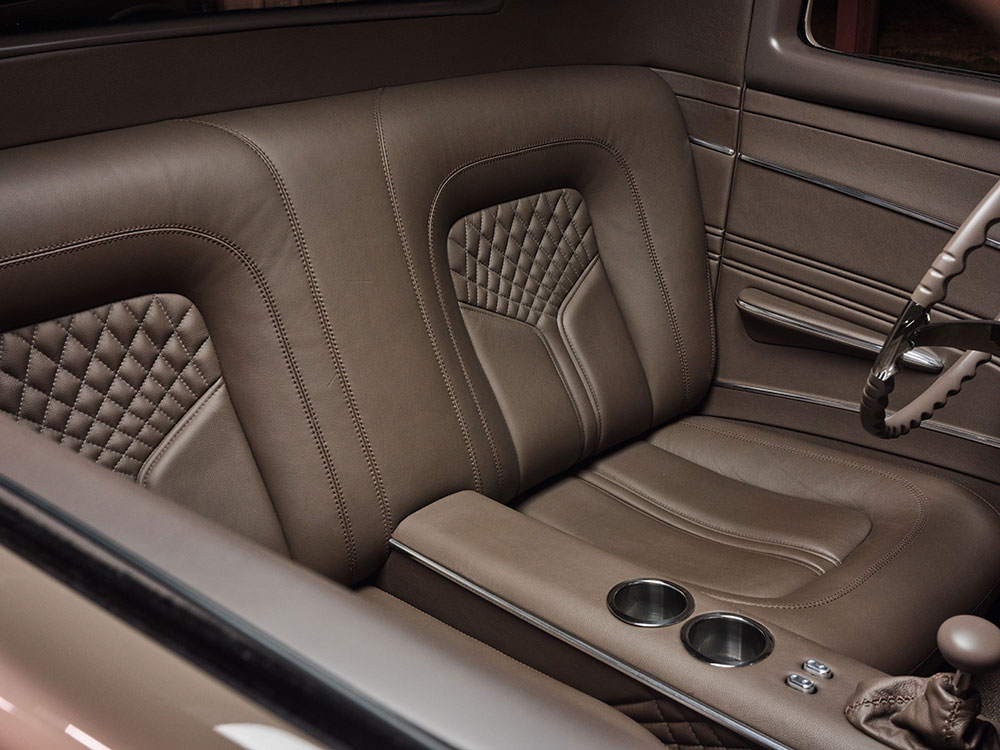 The Triple Crown of Rodding 2022 Best Street Rod is properly bestowed on Sonny's '32 Ford three-window coupe beautifully built under Talbert's watchful eye at MGC. Should you find yourself at the Barrett-Jackson Auction come the end of January you will see this amazing coupe competing for the Barrett-Jackson Cup and all that it entails. MR
Be sure to attend this year's Triple Crown of Rodding event (September 8-9, 2023) at the Nashville Superspeedway (triplecrownofrodding.com).