How Tom Thomas Built This Daily Driven Vista Cruiser Wagon One Step At A Time
By John Machaqueiro   –   Photographer By the Author
Before the SUV and the minivan there was the station wagon. One can arguably state that when it comes to the station wagon America has done it bigger and better than anyone else. Originally conceived as a doorless people and cargo mover on a truck platform in the early 1900s, by the middle of the 1920s Ford had added some civility to it with the introduction of the Woodie. That refinement continued after World War II as wooden bodies gave way to steel panels and a foundation based on passenger car chassis. By virtue of their passenger car underpinnings, by the mid '60s many of these wagons shared the front clips with the muscle car offerings of that era. If you're into muscle cars and have a soft spot for station wagons then you're in the same ballpark as Pennsylvanian Tom Thomas. As a fan of GM's A-body offerings, that specific interest initially blossomed with a 1966 Chevelle convertible that he built during his high school years.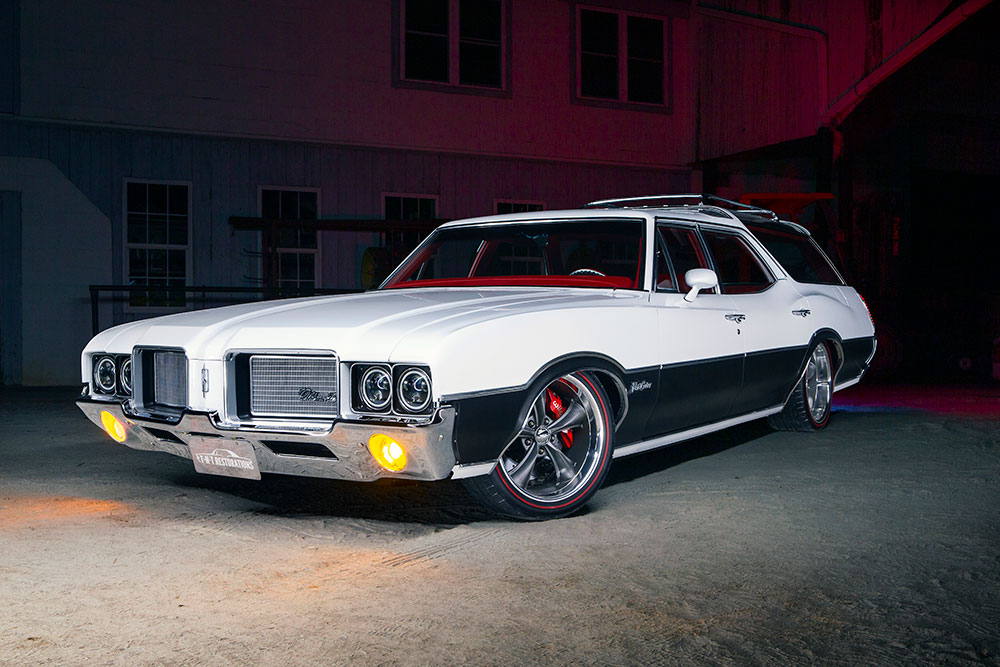 Tom's teenage dive into the convertible helped him develop his bodywork skills at that early age, along with the help of his father, Harold, while welding skills were honed because of shop class. After high school he embarked on his first station wagon project, a 1966 four-door Chevelle wagon that he started to convert into a two-door hardtop. Part of that build relied heavily on a wrecked 1998 Camaro for its drivetrain and braking. Tom managed to get as far as completing one side of the conversion when the 1972 Oldsmobile Vista Cruiser Wagon popped up on his horizon in 2014. "My brother Anthony found the wagon on Craigslist," he explains. "He said it was cool and I should go and look at it and buy it because it was cheap." It turned out that it was a local listing and it didn't take him long to cut a deal on it—as a bonus many spare parts and a well-worn 1972 Oldsmobile Cutlass Holiday Coupe were included.
Read More: The Studillac; a Studebaker Commander with Supercharged Cadillac Power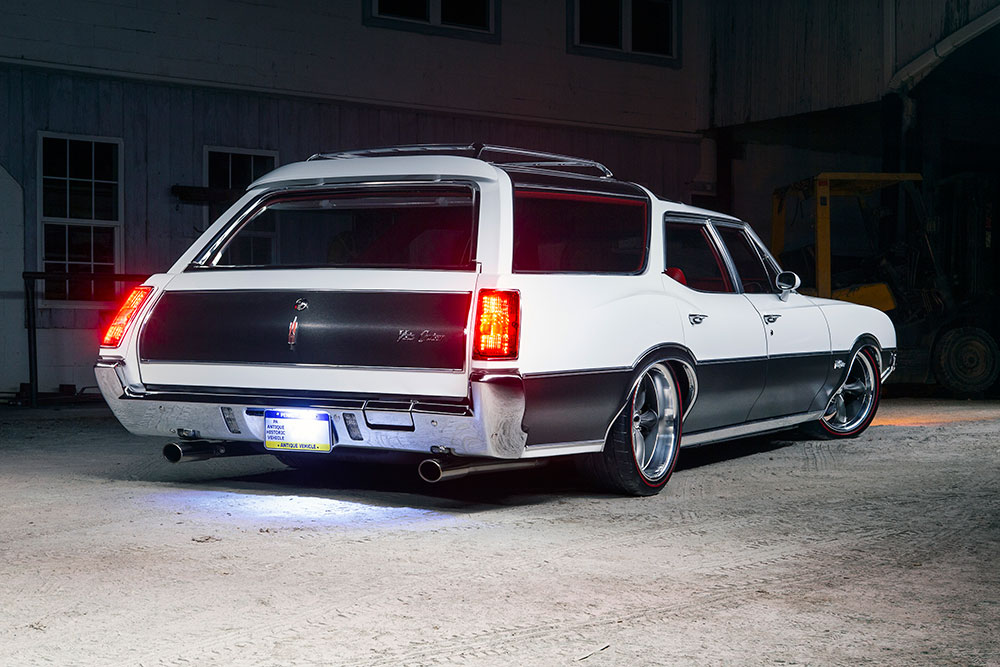 Originally sold new in Washington, at some point it migrated to Oregon, which is where the previous owner purchased it from back in 2009. Tom explains, "He found it online, so he flew out there and drove it back to Pennsylvania." Years later, his decision to sell it came down to a lack of space and time to work on it." He further explains, "The overall condition of the Vista was pretty good. He had taken out the carpets and the headliner to paint the floors with a rust preventative. It still had the original seats and door panels, and he had the rear doors, hood, roof, and the upper sections of the rear quarters repainted. The rest of the car still had its original Baroque Gold paint. The woodgrain was still original but it did have some rust along the bottom of the rear quarters." The two-barrel  Chevy 350 V8 engine mated to a TH375 transmission was equally original and fully roadworthy. Overall, it was in decent shape given its age.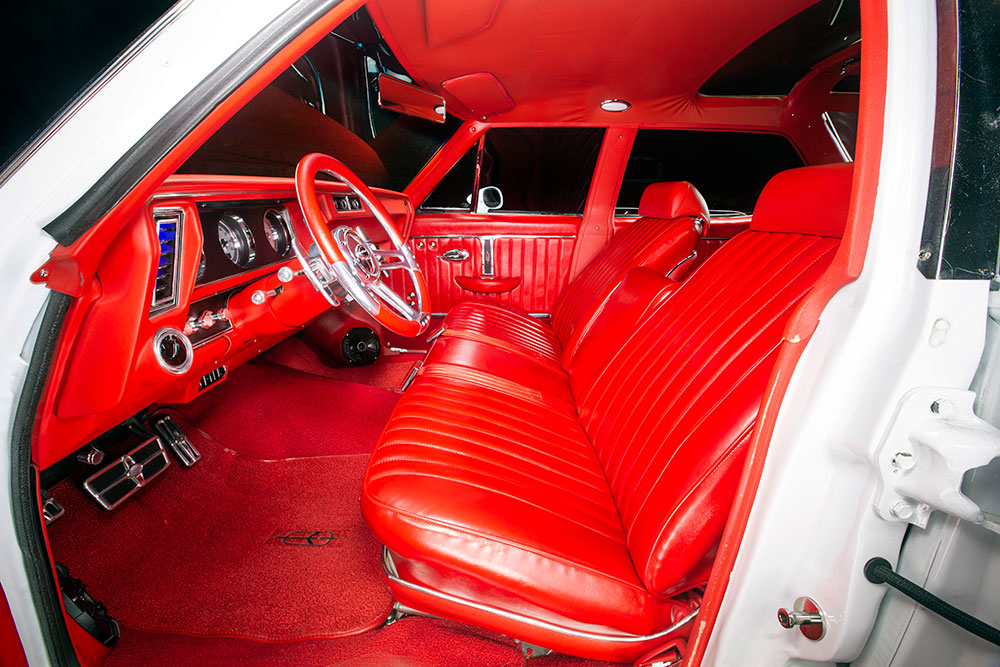 As he rolled into 2014, the Vista Cruiser wagon became his daily driver–probably not what most would expect with such a vehicle. That didn't mean that it would be left as-is. His first mission was to swap out the stock suspension and improve the braking. Making this easier came down to having a pile of parts that he amassed for the Chevelle wagon project. By the beginning of 2015 he had the stock frame bagged. Up front he installed single-adjustable Shockwave Ridetech air shocks and upper and lower tubular control arms mounted on stock spindles, along with a 1-1/4-inch UMI sway bar. At the rear a UMI tubular four-link was added and their 1-inch sway bar, along with single-adjustable QA1 shocks and Slam Specialties airbags. At that point the 'bags were being activated by a pair of Air Lift ViAir 480C dual compressors. Toward the end of 2015 he spent a week swapping out the original brakes with the disc brake assemblies from the donor Camaro. The stock Olds discs were swapped up front, and at the back Tom replaced the original rear with a 10-bolt donor from a Chevelle that then received the rest of the Camaro disc brake hardware. At that point it went back on the road for some more daily driver duties.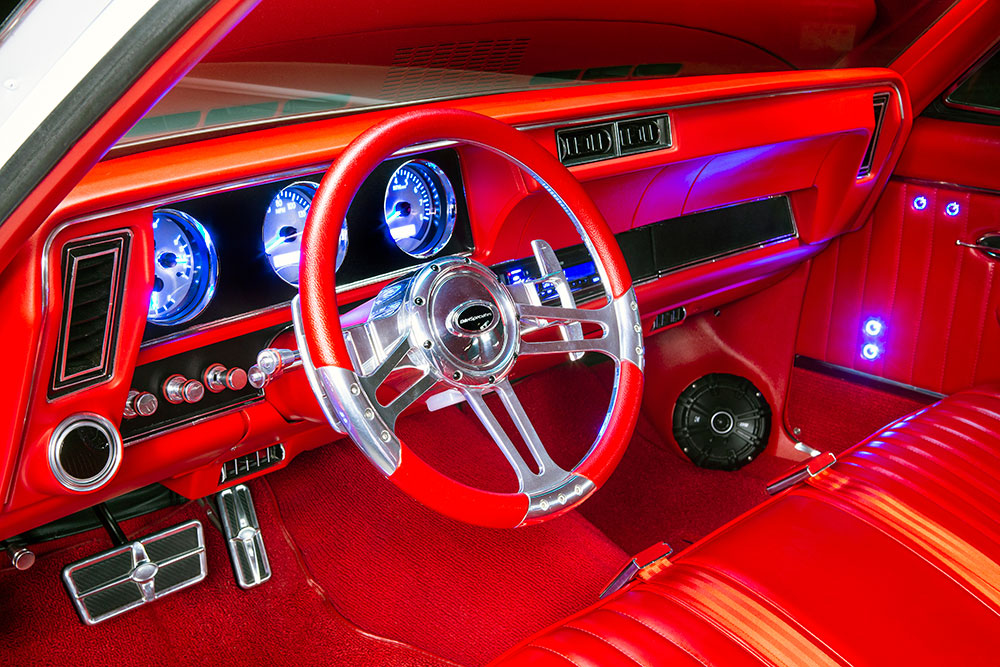 It wasn't until the middle of 2017 that the next chapter started to come together. On the agenda was an engine swap with the LS1 engine out of the F-body Camaro, along with a refurbish and repaint of the frame, smoothing of the firewall, and an interior makeover. After the frame was separated from the body, the LS engine was given a complete refresh. The bottom end was left stock, while the top end received a set of fresh LS2 heads and a Comp Cams 54-000-11 custom ground camshaft, all capped off with a Sharp Customs 102mm black LS1/LS2 sheetmetal intake. Other components from the parts pile included a Texas Speed and Performance billet serpentine assembly, Derale 4000 fan, and a frame-mounted Walbro 255 fuel pump. Ensuring this combination worked in its new home meant that an ECM manipulation was needed, so Tom reached out to the folks at Ron Francis Wiring for an LS ECM reprogram. The 4L60E transmission from the Camaro also made the migration over, while the exhaust was fresh with a set of Speed Engineering stainless long tube headers mated to 2-1/2-inch stainless pipes running back to a pair of MagnaFlow mufflers. The Camaro discs and rotors were also swapped with a new Wilwood brake kit. At the front he installed their six-piston calipers and 14-inch rotors, and at the rear four-piston calipers and 13-inch rotors. As all that unfolded, the interior slowly came together. Red was the final choice, and the entire process spanned a number of months and was done piecemeal–literally. As each component was finished, Tom would go and pick it up at Mel's Auto Upholstery in Manheim, Pennsylvania.
Read More: 1961 Chevy Brookwood Wagon Hot Rod Family Hauler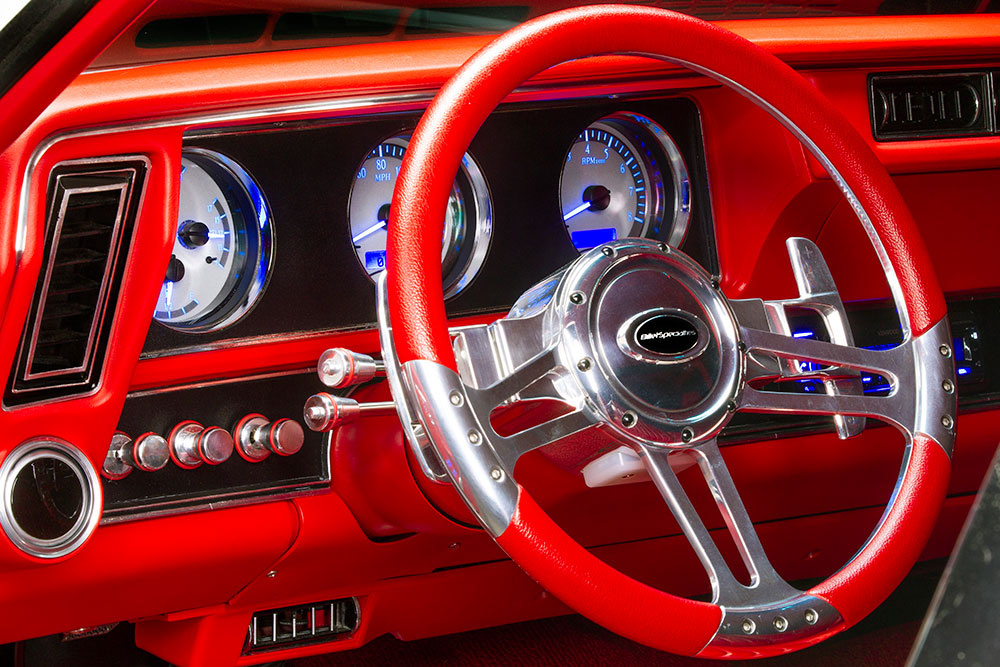 At that point the Vista Cruiser Wagon project was sidetracked. He purchased a partially restored 1968 Oldsmobile Toronado that consumed all his time. The wagon was running by that point but didn't have any fenders, interior, and bumpers, so it was parked. It wasn't until the fall of 2019 that he was able to get it back on the road to test everything. As he started wrenching on it again, he swapped out the existing compressors and installed a 5-gallon four-corner Accuair CVT tank as the backbone for the air-ride system.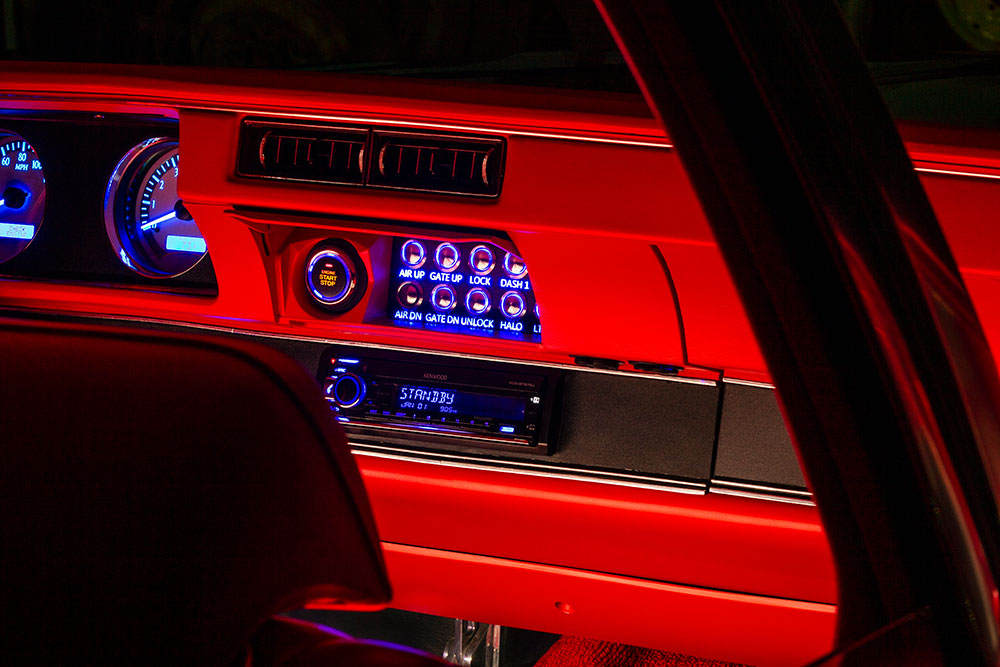 A few months after it was debugged, he decided to take it to the next step. He notes, "I wanted to keep the exterior untouched but with a nice interior. The wood grain had a nice patina but they cut into it when they sprayed the rear quarters and I realized that they weren't savable." At that point he decided to move ahead with the bodywork. Also, in full stride by that time was the COVID-19 pandemic, and as a schoolteacher with newly imposed lockdowns some extra time was made available to get the body done.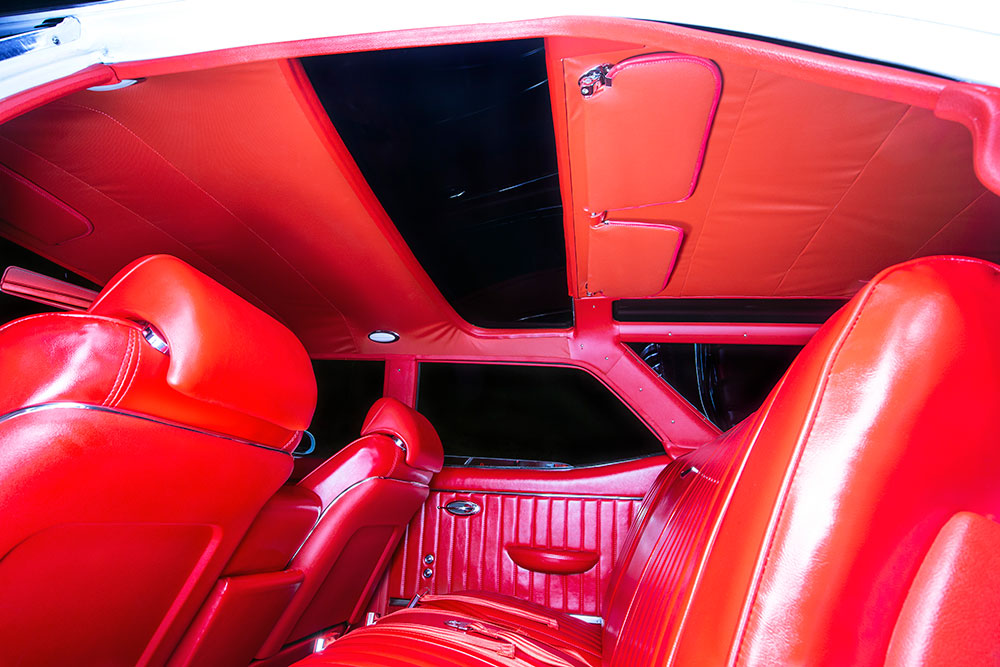 As he embarked on the final step, the body and frame were once again split. "The car wasn't in too bad of shape because I had already done some of the metalwork, so it took me about four months to get it primered and wet sanded," he explains. At that point it was sent off to his brother Anthony's garage to lay down the 2019 PPG Corvette Arctic White basecoat/clearcoat. Once that was buttoned up, still left hanging was a viable replacement for the wood grain panels. That solution came in the form of a wrap. Tom decided to ditch the woodgrain in place of a Black Metallic brushed metal vinyl wrap. With the interior partially done, he sent the wagon to Full Throttle Wraps in Oxford, Pennsylvania, to get it applied. The rest of the interior was the last hurdle, and in all that sea of red were some 21st century accoutrements like Dakota Digital VHX gauges, push button start with passive keyless entry, power windows, cruise control, four-way electric power mirrors, Vintage Air Gen IV, three-spoke Billet Specialties steering wheel with Twist Machine D9 paddle shifters. Those paddle shifters work with a modified 2013 Land Rover in-dash rotary shifter and Powertrain Control Solutions GSM push button shifter. As with the interior, the rolling stock was also upgraded with modern hardware in the form of Boss Motorsports Boss 338 wheels wrapped in Nitto tires. The front wheels measure 18×8 and the tires 245/40ZR18W, at the rear they measure 18×9.5 with 275/35ZR18W tires. The final detail was the addition of vulcanized redline sidewalls from the folks at Diamond Back Classic radials.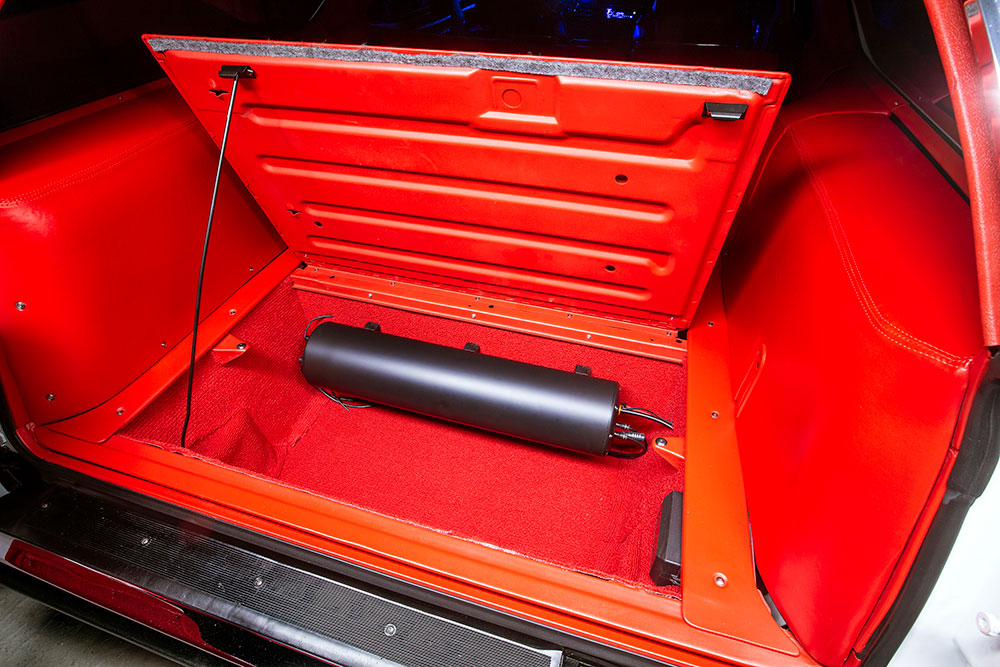 Read More: A Single Steering Wheel Began This Ford Ranch Wagon Build
While this was a project that spanned a number of years, the last push to get the Vista Cruiser wagon done can easily be called a pandemic build. Overall Tom is quite satisfied with the outcome. The wagon made it out in the spring of 2021 to its first show and was very well received. When asked if there is anything that he would consider doing differently, he states, "I would have liked to put an LSA supercharger on it at some point, but now I'm leaning toward an eight-stack. There are some decent looking ones being made, so maybe within the next year." MR