How The Aftermath Of WWII Influenced The Hot Rod Culture
By Eric Geisert   –   Photography By the Author
It's a very rare occurrence when such a unique group of hot rods get together like they recently did at the Lyon Air Museum in Santa Ana, California. For hot rodders who understand their history, the name "Santa Ana" should mean something, as the inland Orange County town is where the historic '50s-era Santa Ana Dragstrip was located—the first organized dragstrip in the country.
The land the dragstrip occupied sat on the southern section of Orange County Airport, renamed John Wayne Airport (SNA) in 1979. Currently, on the west side of the facility is the Lyon Air Museum, named for its founder Major General Michael Lyon, and its contents includes a special collection of World War II airplanes and war machinery. So, it is perhaps fitting that a once-in-a-lifetime gathering of war-era dry lakes and Bonneville Salt Flats belly tank racers would be held on the grounds.
Read More: Period Correct Style For An Overlooked Classic Coupe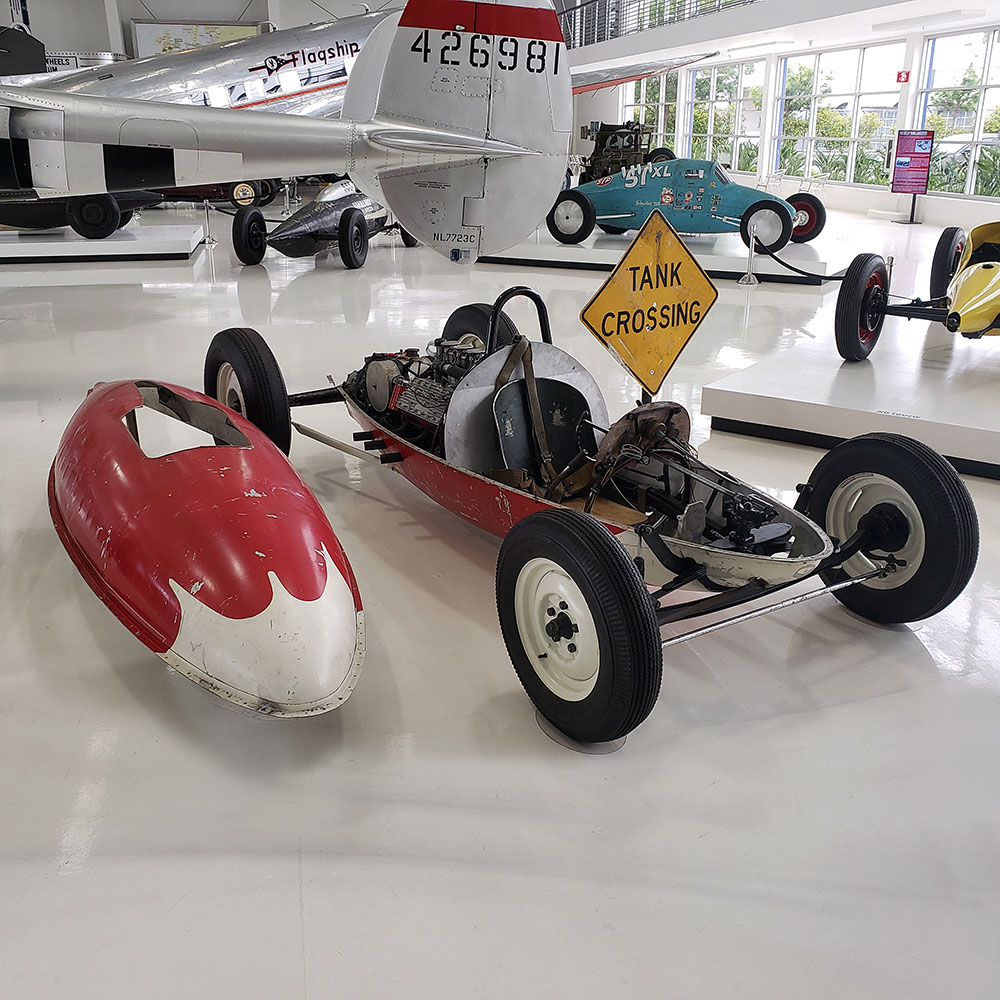 This display of historic belly tanks (made from the empty external fuel tanks that would drop away from the World War II bomber's wings or fuselage they had been attached to) was curated by Old Crow Speed Shop and its 50-year-old owner Bobby Green. Green's passion for the '40s and '50s exemplifies itself in many ways, from his restoration of vintage bars, bowling alleys, and eateries in the Los Angeles area to his eclectic collection of cars, motorcycles, and race cars—some of which are patina'd survivors while others were recently built to look that way. Plus, he's co-owner of T.R.O.G. (The Race Of Gentlemen) that has produced vintage hot rod racing events on the beaches of New Jersey and California in the past few years. Clearly, he has found his niche.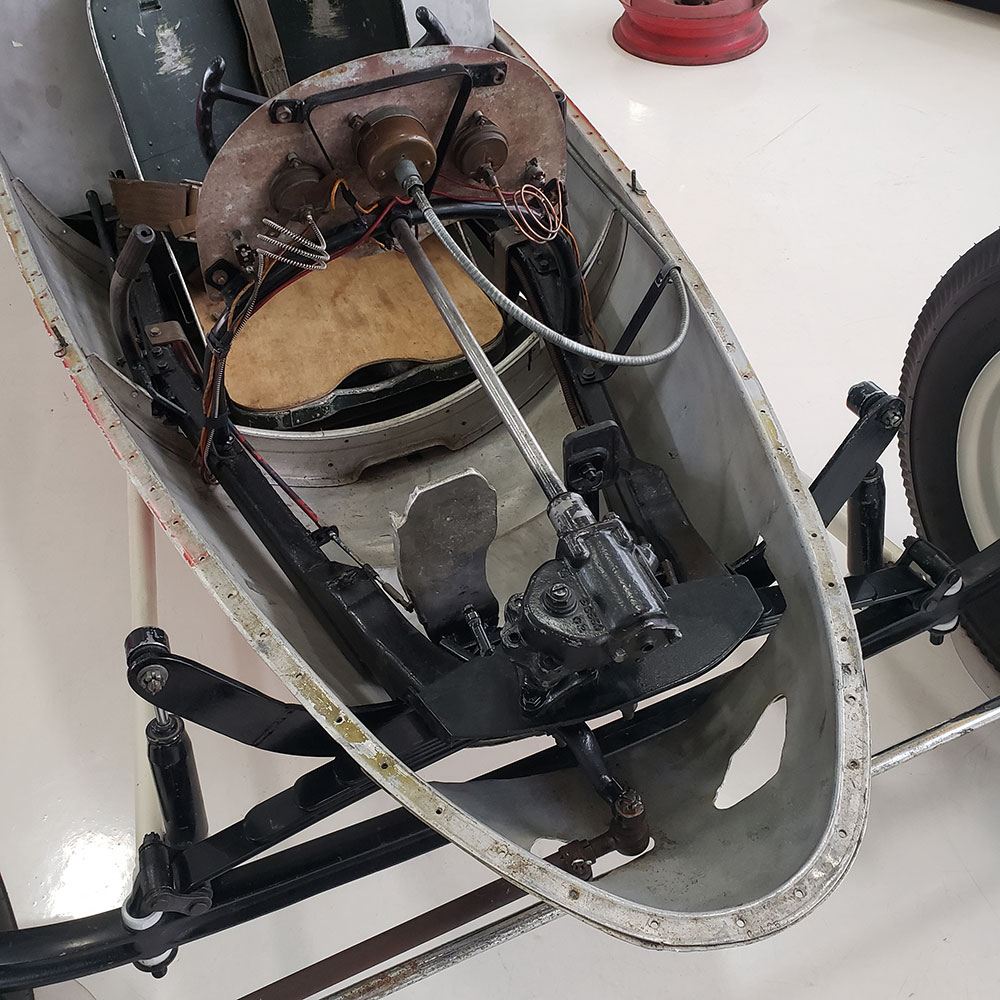 Green got the idea for the War Surplus on Wheels Show after a phone call from Mark Foster, the president of Lyon Air Museum. Foster presents themed car shows (Cobras, Porsches, and so on) in the summer for the museum and wanted to know if Green would consider doing a hot rod show at the facility. Green thought about it and, considering the museum's trove of World War II warplanes on display, why not tie in the influence war surplus parts had on hot rodding? Furthermore, what exemplifies that connection better than a belly tank race car display coupled with a one-day celebration of war-era hot rods? The mold set, both got together to plan the event.
With many war equipment manufacturers having once been located in Southern California there was an untold amount of post-war surplus material that could be had for pennies on the dollar after the war. Add to that the fact when a handful of servicemen came back to SoCal they used their knowledge and familiarity with certain parts and pieces to develop some of the earliest speed equipment components.
Stuart Hilborn used his experience in the service to develop his mechanical fuel injection for race cars of all sorts. A component inspector at Northrop Aircraft named Phil Remington also enlisted but, after the war, teamed with Carroll Shelby to create a racing and automotive dynasty. Lake's racer Ray Brown's use of military seatbelts in his cars led the way for him to create his Impact Auto Saf-Tee Belt—a precursor of today's automotive seat belts.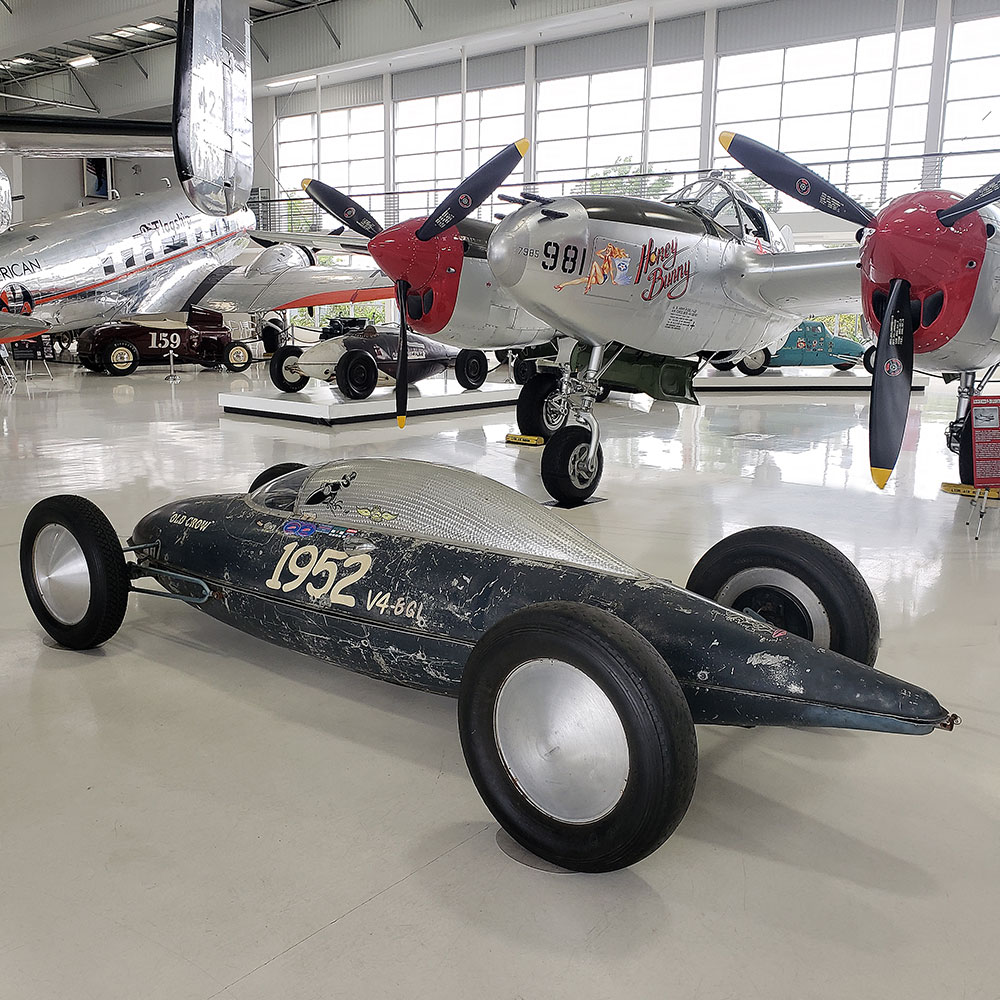 Read More: Why This 1927 Ford Roadster Was Ahead Of Its Time
But the DNA of all belly tanks can be traced back to Bill Burke's #23 yellow racer. Built in 1946, it was the first belly tank racer built and the only one where Burke used the engine up front in the chassis, necessitating a bicycle seat be welded to the rear axle housing for the driver. The original is gone, but a faithful reproduction (built under Bill Burke's guidance before he died in 2015) greets patrons when they first walk into the museum.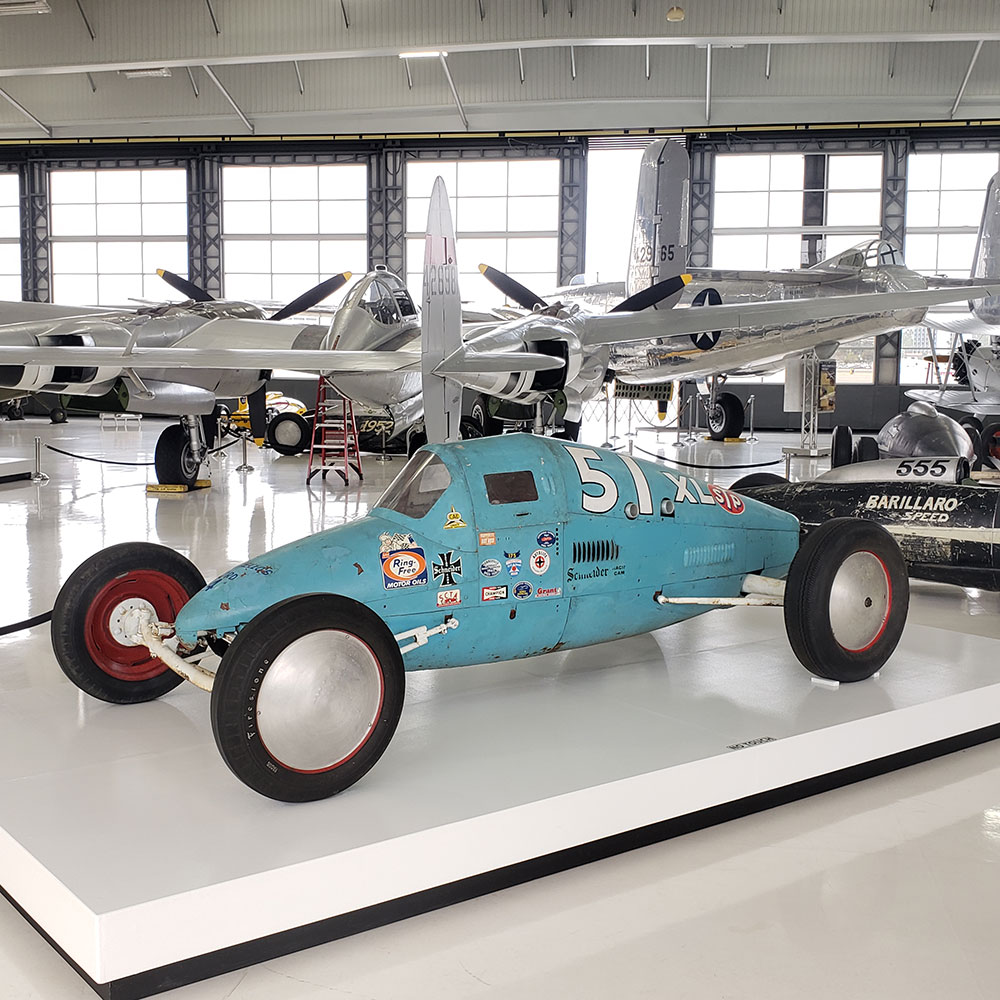 In the late '40s SO CAL Speed Shop founder Alex Xydias was so inspired by Bill Burke's success with the tank shape Xydias had Burke build the chassis for what could arguably be the most famous belly tank of all time: the SO CAL Speed Shop lakester, which was featured on the cover of Hot Rod magazine in January 1949. Xydias recently commented the belly tank's benefit was they were a ready-made body and came with an Air Force design that you couldn't improve upon. (The restored SO CAL Speed Shop tank is now owned by Bruce Meyer.)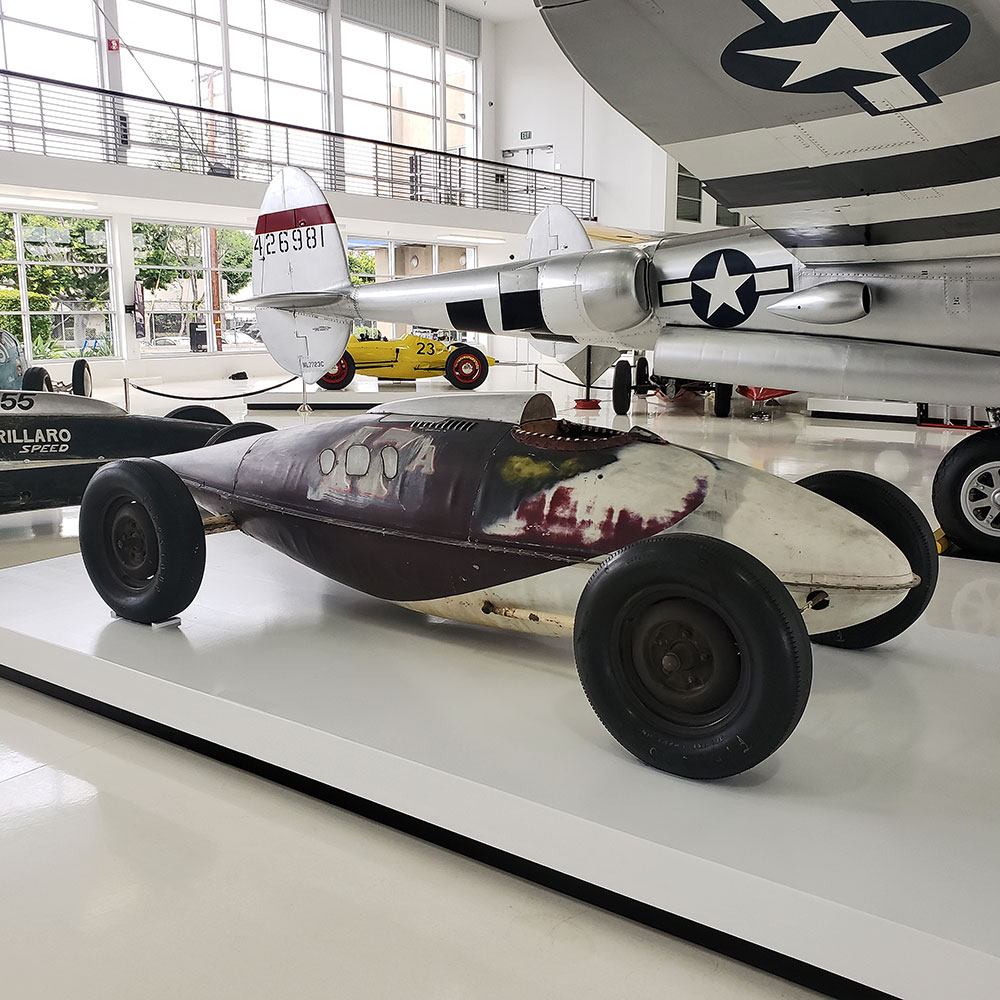 Read More: Parting Shot: Tribute To Tommy Ivo's Iconic T-Bucket
Some of the other belly tanks displayed between the warplanes include the 280-mph Markley/Varni/Barnett lakester, another of Burke's 13 tank builds: the Burple P-38 from the Aug. '49 cover of Hot Rod, and the King & Hansen streamliner (last raced in 1950 and untouched since), plus others. Augmenting the special exhibition inside the museum organizers set up a one-day car show that allowed participants to drive their traditional-inspired vehicles onto the tarmac of the airport and park amongst the museum's warbirds. About 120 invited hot rods did just that and, judging by the crowd and the enthusiasm seen on everyone's faces, this event was an unequivocal success. MR