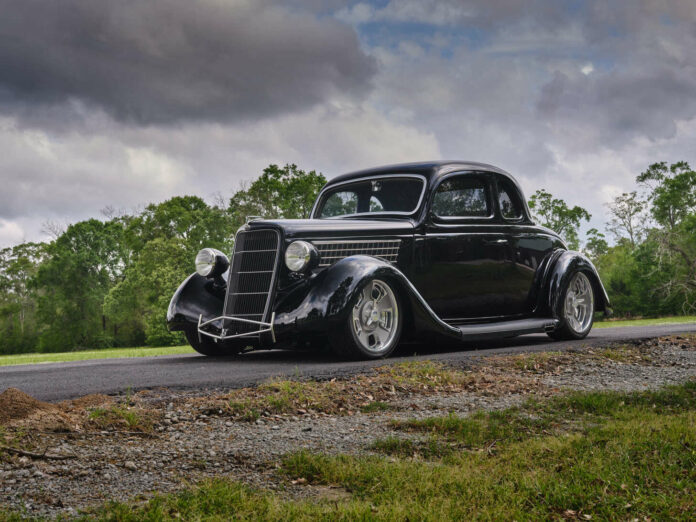 It was 1935 & Ford Became the Sales Leader … Once Again
By Brian Brennan – Photography By John Jackson
The Model 48 was a harbinger of things to come and in 1935 Ford would once again outsell Chevrolet with 820,000 units. No wonder, as the 1935 Ford 5-window coupe was a thorough redo from earlier years and Ford's reputation for value, sensibleness, and appearance turned out to be a winning combination. The 1935 Ford 5-window coupe, and other models that year, was offered in a standard and DeLuxe trim. The grille featured a "forward-appearing" look while the fenders became more cohesive with the body, causing them to "stick out" less. This design reflected the design influences of the day.
Rusty Guilbeau's (Sunset, Louisiana) all-steel 1935 Ford 5-window coupe is a great example of all-steel original tin that retained the best of then while incorporating the best of now. Rusty admits to always liking the prewar (that would be World War II) body styles. He spotted this classic coupe and for the next five years continually spoke with the original owner trying to coerce him into selling it. Rusty's persistence and patience were finally rewarded as he became the proud owner of this 1935 Ford 5-window coupe. Construction began in late 2018 when Rusty and Cody Stoute from Popeye's Rod Shop (Carencro, Louisiana) collaborated and mapped out a plan that would retain the already-great looks while adding plenty of today's rodding fare.
Read More: Classic Car Restoration: 1931 Model A Ford
Originally, the 1935 Ford 5-window coupe came with a 221-inch Ford Flathead V8 (only available motor of the day) but in today's trim, there's much more resting under the hood. The always-popular LS engine has taken up residence between the forward 'rails. It's a 6.2 LS3 coming in at 376 ci, topped with a pair of Billet Specialties valve covers, a Vintage Air Front Runner serpentine belt system, and Speedway Motors Tru-Ram chrome exhaust manifolds (dumping into a 2-1/2-inch stainless steel exhaust pipe run back to a pair of mufflers that then exit beneath the rear of the running boards). But the real "eye candy" is the impressive Inglese 8-Stack EFI system resting on top of the LS V8 pushing this motor into the 500-plus horsepower range. Bringing this potent engine to life is a Performance Systems Integration (PSI) controller kit connected through an American Autowire Highway 22 Plus wiring system. The initial "spark" is provided by the trunk-mounted Optima battery while all of this is ready to respond through the Lokar drive-by-wire throttle system. Speaking of the throttle, the gas is brought forth from a replacement stainless steel fuel tank through a Walbro electric fuel pump.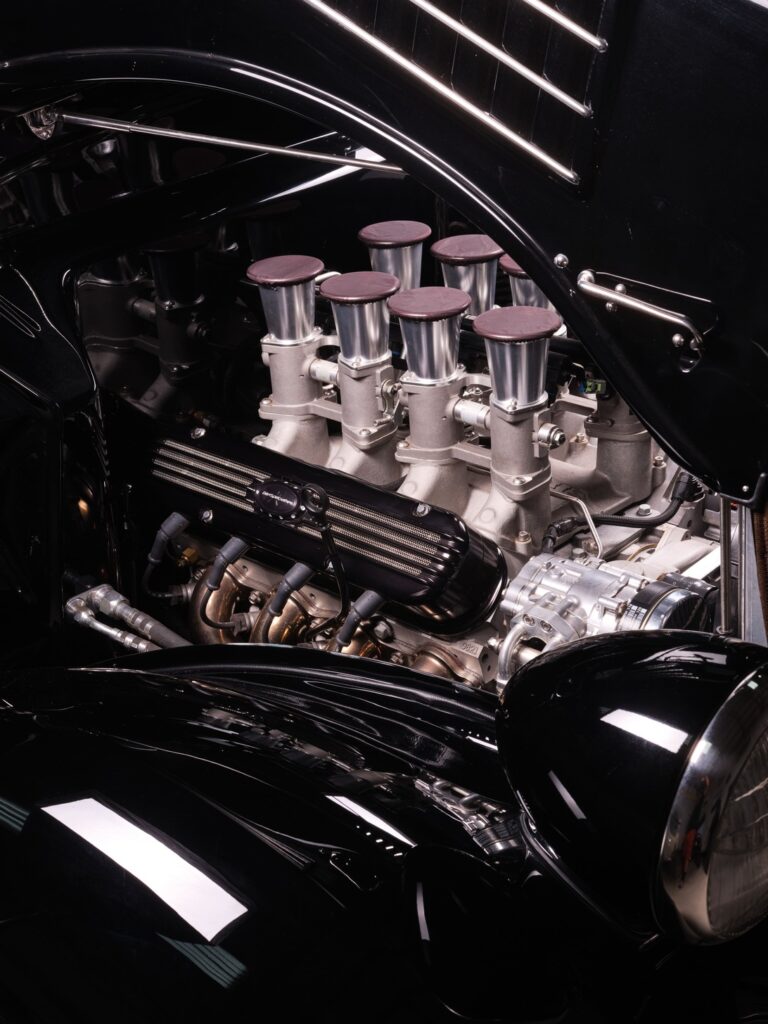 The LS is backed up to an A-Abal Transmission & Differential Repair–prepped 4L80E transmission that's operated by a Lokar shifter. From here the power is run through a USA Driveline driveshaft linked to a Speedway Motors–prepped Ford 9-inch rear end packed with Moser Truetrac 3.70 gears that spin a pair of Moser axles. Once the power is outboard it rotates the rear-mounted 20×9 Billet Specialties Legacy 2 wheels that are wrapped with OHTSU (derivative of Falken) rubber measuring 245/40ZR20. The front wheel-and-tire combination is more Billet Specialties Legacy 2 wheels measuring 18×7 and OHRSU tires at 225/40ZR18s. (Each wheel features a spinner cap that's an easy snap-in installation via an O-ring retention system.)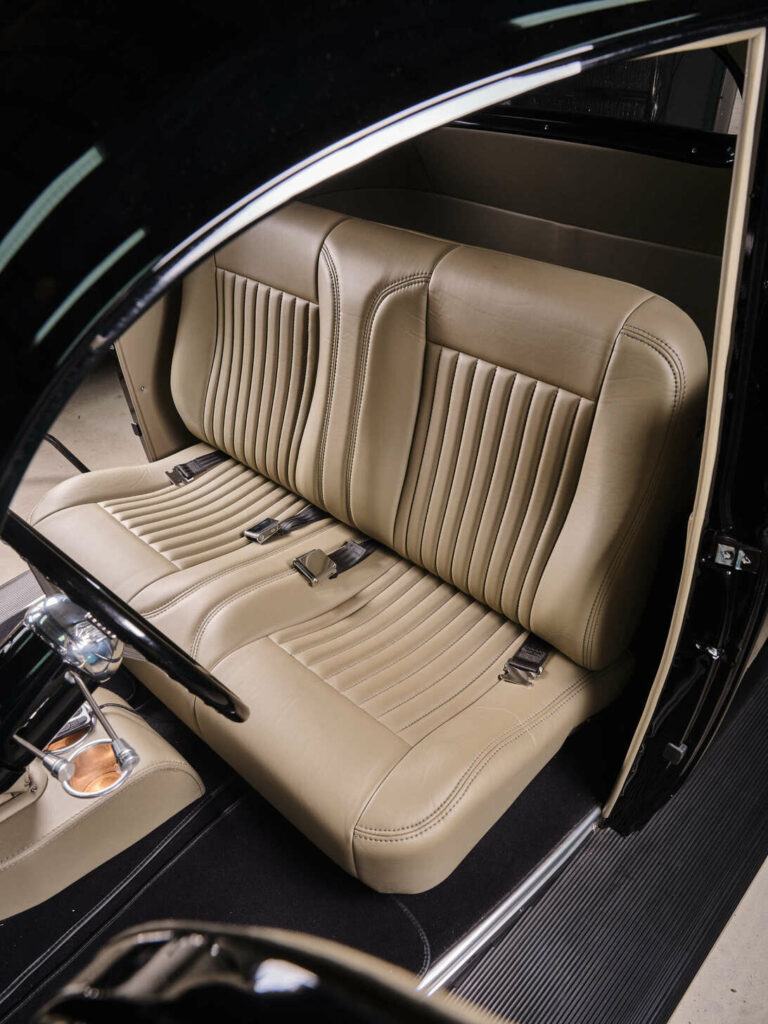 Beneath the factory sheet metal is a fully boxed 1935 Ford frame massaged by Stoute and the rest of the staff at Popeye's Rod Shop utilizing a Speedway Motors Mustang II front crossmember and Independent Front Suspension along with their 2-inch drop spindles. To complete the Independent Front Suspension there are RideTech ShockWaves along with a rack-and-pinion steering and an ididit steering column attached and topped with a Juliano's banjo-steel wheel. In back we've already mentioned the use of a Speedway Motors 9-inch rear end that's held in position by their triangulated four-link, more ShockWaves, and Speedway Motors disc brake kits front and rear.
Neighbor to Popeye's is Shawn Broussard of Shawn's Paint and Body who handled the body- and paintwork. Once the meticulous metalwork was conducted, the PPG DBC black paint was applied. It doesn't take much to have the brightwork pop against a flawlessly prepped black hot rod. With the stainless trim and chrome applied, the nod was given to McMillan Rod & Custom for the front and rear nerf (or chin) bars that were positioned by Popeye's.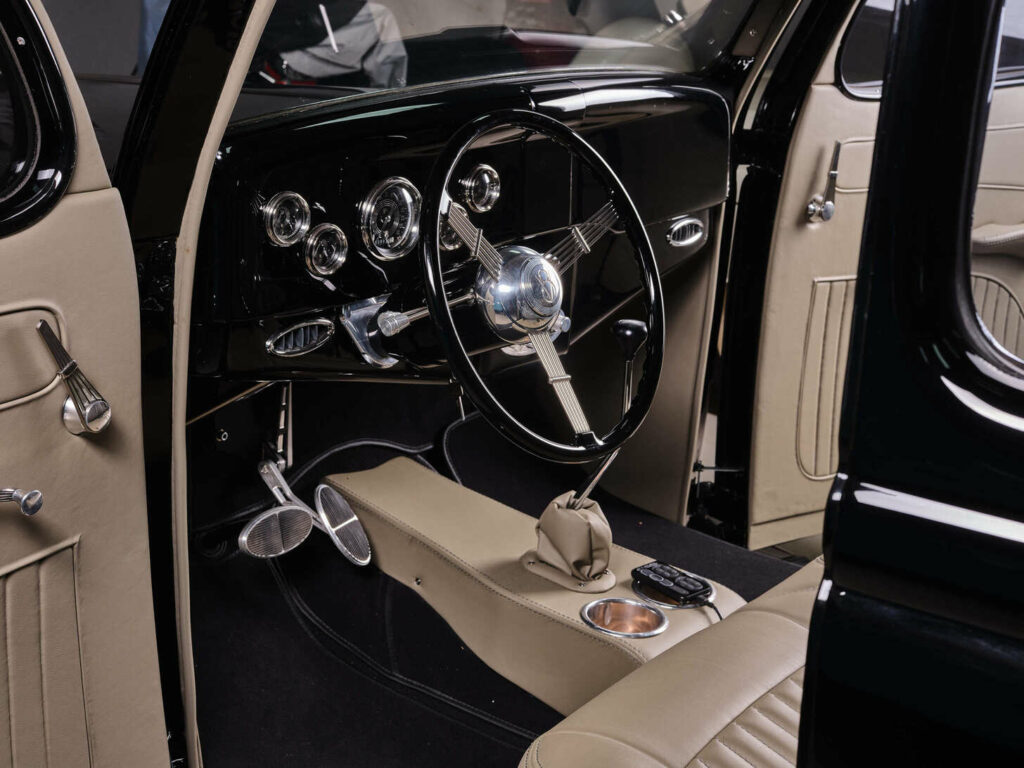 Read More: Fabricating a Custom Dash for a 1934 Ford 5-Window Coupe
Inside the upper portion of the factory dashboard was retained while a new lower panel was added. The stock dash embraces a full set of Classic Instruments gauges while the supplementary panel serves as a mounting point for the Vintage Air AC controls and air registers and a handful of smaller items, such as the ignition and headlight pull switch. All of the required wirings are handled by the American Autowire Highway 22 Plus carefully routed by Popeye's. Seating comes by way of a custom bench that's stitched in tan Ultraleather by LB Upholstery. They, too, also used the same materials to finish the trunk. You can also see some more of their handiwork in the form of the door panels, headliner, and a center console that houses the Lokar shifter as well as provides space for several cup holders. Also visible are the Lokar pedals and an ididit tilt steering column matched to a Juliano's banjo wheel.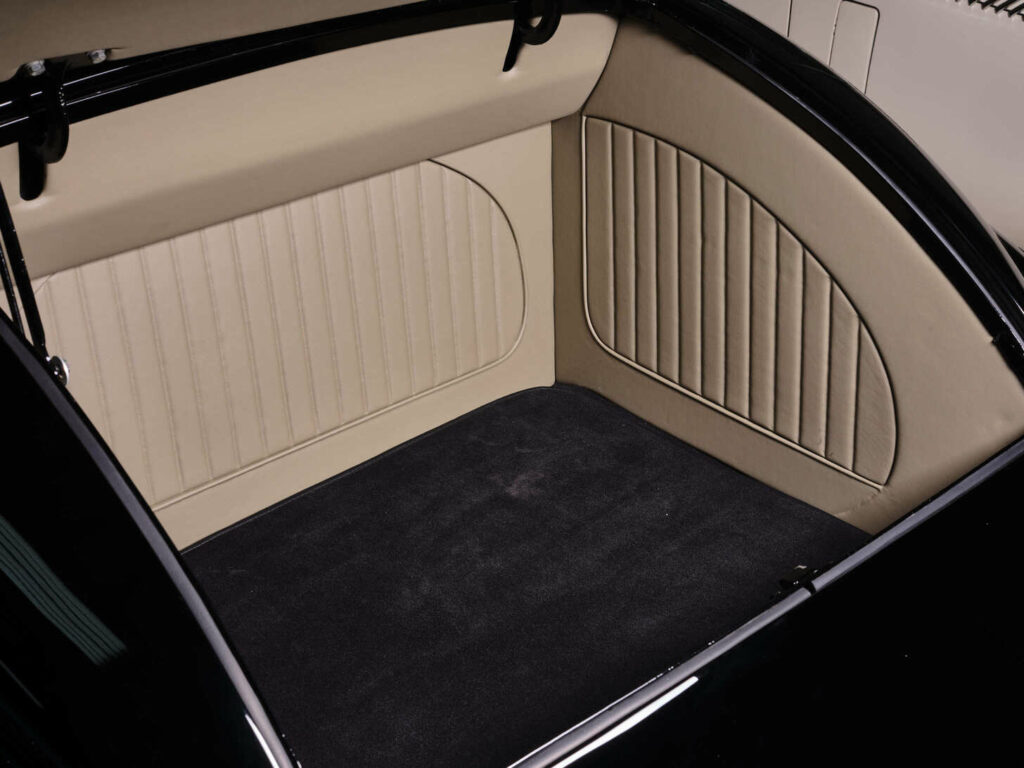 It's taken some time for the 1935 and 1936 Ford to be revered as thoroughly as the 1933 and 1934 or the 1937-1940. Times have changed, and the 1935 Ford shown here is as good-looking as any when it comes to street rod material. MR