By Gerry Burger
We have been following along with the construction of the Bill Sather 1934 Ford 5-Window Coupe at BBT Fabrications for the past year. With the exterior of the car flawlessly metal-finished it was time to take a look inside. With a traditional hot rod profile on the exterior, the interior consists of current-day metal shaping while maintaining the hot rod flavor. Actually, that has been the theme throughout the build, forming a traditional hot rod but with the fit and finish of a show-worthy, modern hot rod. Even the powerplant is a blend of both worlds, with a big GMC 6-71 blower pumping wind into a modern LS engine that lies below.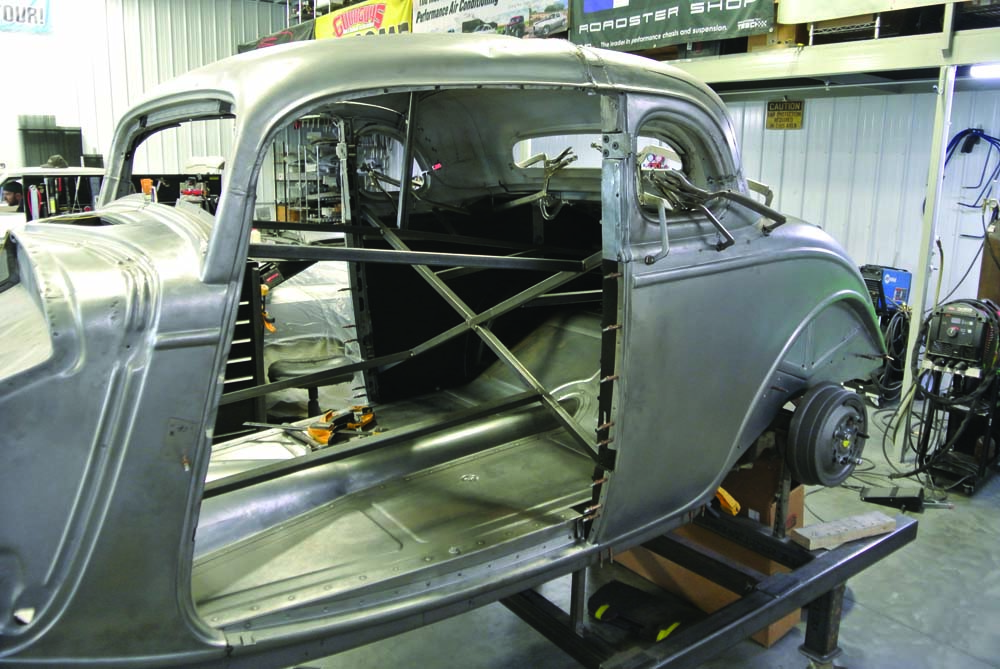 Read More about this Project: Fabricating a Custom Three-Piece Hot Rod Hood
The interior design draws heavily on the original 1934 Ford 5-Window Coupe shapes but it's also cleaner, better fitting, and will make for a very sanitary interior. The "bellypan" under the dashboard is an example of that concept. This removable panel will hide everything from the Vintage Air Parts to the wiring while providing a panel to mount the AC ducts. The hood release mechanism also protrudes through the panel for more of that sanitized look.
Read More: Hot Rod Model T: 1926 Ford Tudor Sedan
The headliner, door panels, and all interior are hand-formed aluminum, the craftsmanship is so nice one may be tempted to leave the interior in bare metal. The final plan is to cover them in leather, and so, like many things on a good hot rod, much of this work will be covered. The same goes for the floorpan. The beautiful metalwork will be covered with sound-deadening material, but all is not lost as the metalwork is easily seen when viewing the underside of the car.
Space and time prevent us from showing you the step-by-step fabricating of this amazing interior. Instead, we decided a good pictorial of the interior in bare metal would give you ample ideas for your own street rod. While you may not have the tools or the talent to do everything you see on these pages, you should be able to garner some great ideas and inspiration for your own effort. Let's take a look inside Bill Sather's 1934 Ford 5-Window Coupe. MR
SOURCES
BBT Fabrications
(217) 586-5699
bbtfabrications.com
Dakota Digital
(800) 852-3228
dakotadigital.com
Optima Batteries
optimabatteries.com
Vintage Air
(800) 727-7094
vintageair.com