This 1936 Chevy Truck Was Once Old But Now New
By Eric Geisert – Photography By the Author
Most every time a vehicle gets a new owner (unless you've bought a restored historic car that really shouldn't be modified), that person will change at least a few things to make the hot rod their own, and sometimes they change everything. Such is the case with Ben and Gail Levacy's' 36 Chevy truck.
One point of view in the hot rod hobby is we're all just custodians for these classic cars we have in our garage by the simple fact that no one has figured out how to take your beloved ride with you into the afterlife. It also seems true there exists a tweaked version of reincarnation that happens with all these cars as they get handed down through family members, or even by a number of complete strangers living on opposite sides of the country.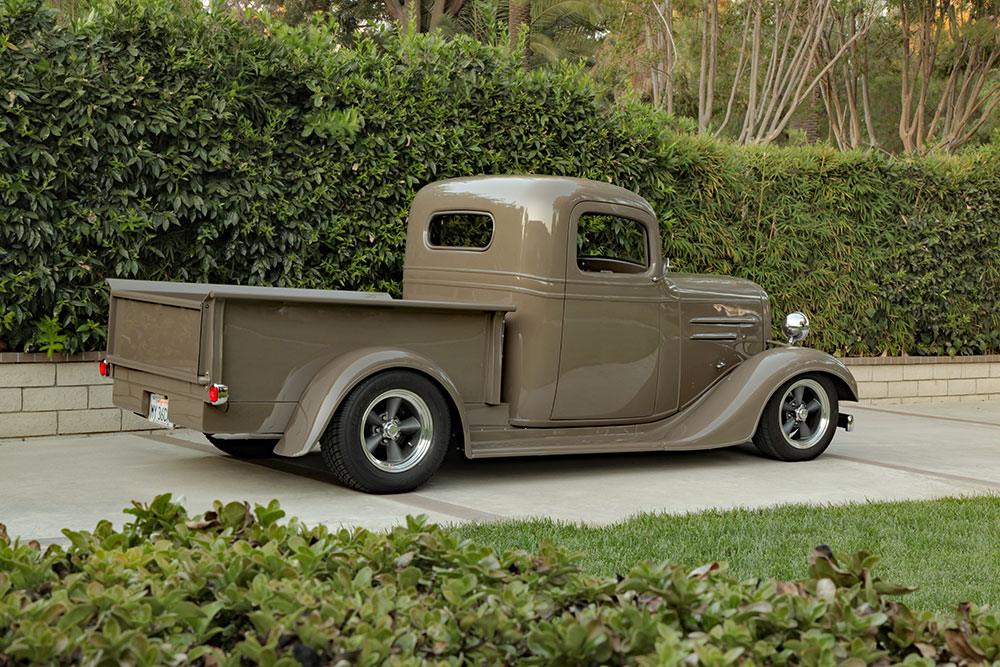 Read More: Built From The Ground Up: Bill's '34 Ford Highboy Coupe
Ben's a bit of a Chevy guy (his garage is full of them) and Gail feels the same way. A few years back she had been looking around for a '56 Chevy truck to build, but eventually felt that everyone had one and she wanted something different to drive. While at a show in Colorado she was really impressed after spying a tangerine '36 Chevy truck at the event, and the pair thought that might be the way to go.
Being they are avid hot rodders in the Southern California scene, they had run across a '36 Chevy truck owned by Debbie Baker (the organizer of the annual Cruisin' For A Cure Car Show in Orange County, California). The old truck started its hot rod life in Pennsylvania had found its way out west, but wasn't in that great of shape. In fact, after Ben and Gail bought it, it "gave up the ghost" and was pulled over to the curb a couple of times on its way to its new home in the Levacy's garage in Upland, California.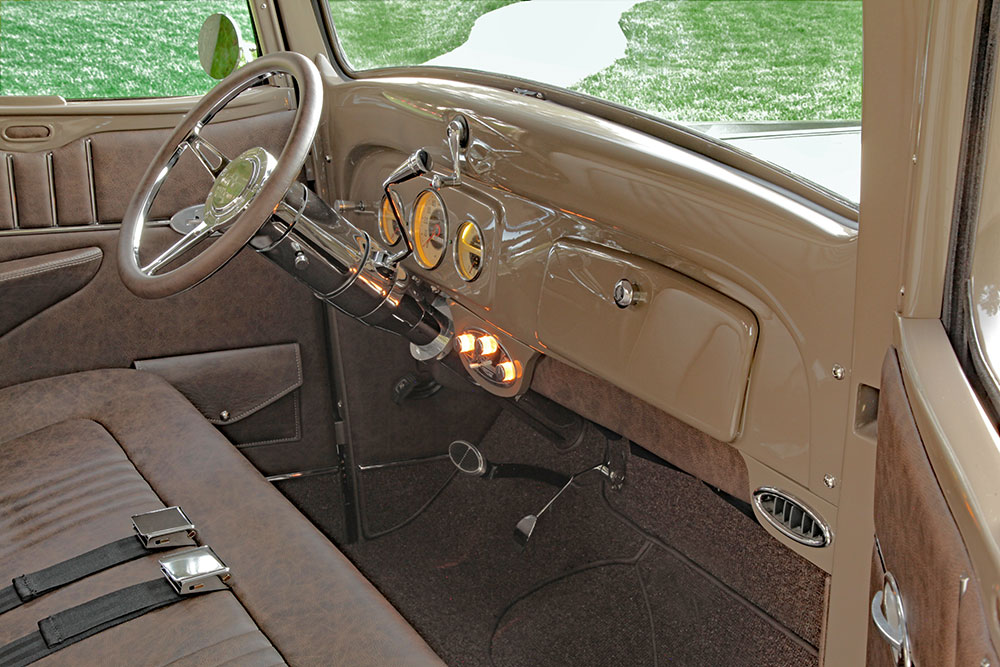 The Gumby Green paint was the first thing they wanted to change, so they contacted Jesse Nevarez at California Custom Paint and Body in nearby Ontario who soon started the construction and fab'ing phase of the build. A Progressive Automotive kit to box the frame was used along with their tubular X-members and a C-notch added out back to help get the stance correct. Progressive Automotive also supplied the Mustang II–type tubular Independent Front Suspension system while the rear used a ShockWave Triangulated 4-bar Rear Suspension setup on a Ford 9 inch rear end housing.
Ridetech coilovers went on each corner and the brakes (GM discs up front, Ford drums out back) are controlled by a Lokar master cylinder. Ben also wanted ET Classic V wheels for the ride (15x6s and 15x7s) that are wrapped in 215/60-15 and 255/60-15 rubber.
More custom bodywork was needed out back with the bed so it was shortened 6 inches. Ben had acquired a pair of '32 Ford roadster rear fenders he wanted to use—though 6 inches had to be removed from the front of the fender (where it meets the running boards) and reshaped to make them fit and look right. The rear bumper was also permanently removed and a custom rear roll pan added, plus bear claw latches for the doors along with a set of hidden hinges. Despite all the work that had gone on, the biggest change was when  Nevarez painted the truck its custom taupe-like color, which transformed the look of the old pickup.
Unfortunately,  Nevarez had to close his shop in 2013, so Ben brought the truck home where it sat for a few years. In 2017 he was diagnosed with throat cancer, which sidelined most every project he had going. Luckily Ben got better and, in 2018, he went to see Fred Ingle at Fred's Custom Wiring & Auto in Ontario, California. Ingle's team not only knows their way around a wiring loom but his shop has turned out some pretty amazing turnkey cars, too (including a Marcel/Foose project just a few years earlier).
Read More: Farm Fresh Chevy 3100
Many times, when a project gets moved to a new shop, nothing nice is said about the previous shop's work, but  Ingle complimented  Nevarez's original work on the truck. Ben had  Ingle go over the truck again and tune up a few things he wanted, such as moving the stake bed pockets, staining the oak planks for the bed, and adding a Vintage Air AC system. Ingle's also performed one of their custom wiring jobs and was able to color-match the paint, so a respray completed that part of the build.
The pickup's drivetrain is pretty standard (but reliable), with a 355 V8 engine backed up to a 700-R4 transmission. Edelbrock supplied the air cleaner, carburetor, and fuel pump, while ACCEL spark plug wires, MSD coil, and Odyssey battery. Flowmaster mufflers can be found at the end of the 2.25-inch exhaust/header system; a Powermaster alternator supplies the truck its juice.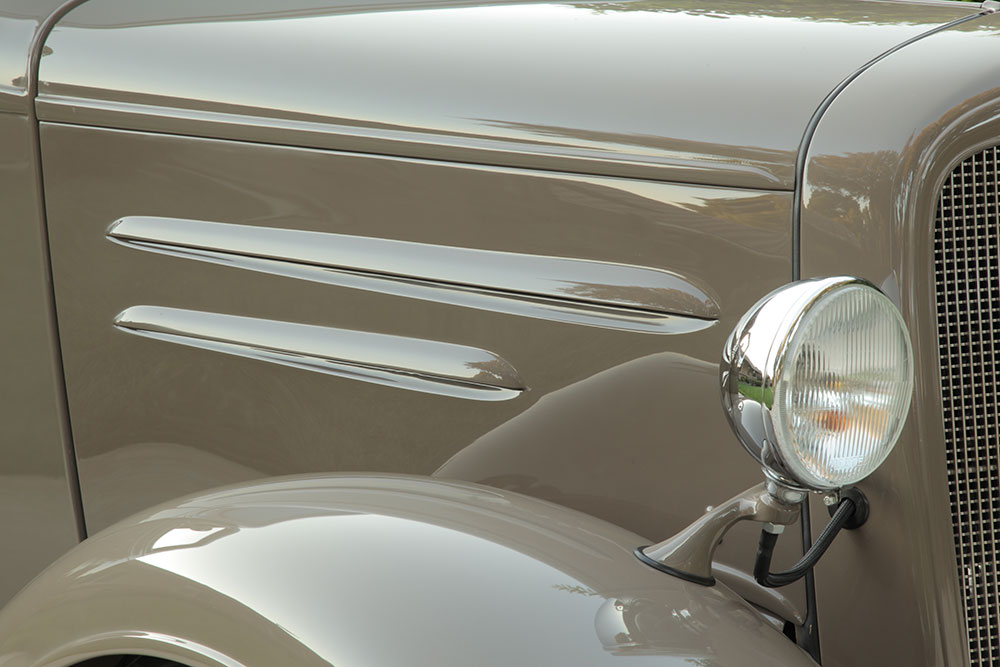 From  Ingle's the truck rolled over to Mark Lopez's Elegance Interiors in Upland—a shop well known in the Southern California hot rod community for its stylish interiors. Not wanting anything too "showy," both Ben and Gail were very happy with the understated approach Lopez took with their ride.
Read More: Ridler Winning '31 Chevy at Detroit Autorama
A patterned brown leather was used over the Glide Engineering bench seat, and the same tone was used on the square-weave carpet (the same material stitched into the bottom of the door panels), but the rest of the door panels and the cloth used for the upper section of the cab's interior was all done in a complementary light tan cloth. Finishing off the interior are three-point safety belts, a Lecarra steering wheel mounted to a polished ididit steering column, and refurbished '36 Chevy gauges, which look right at home in the old truck.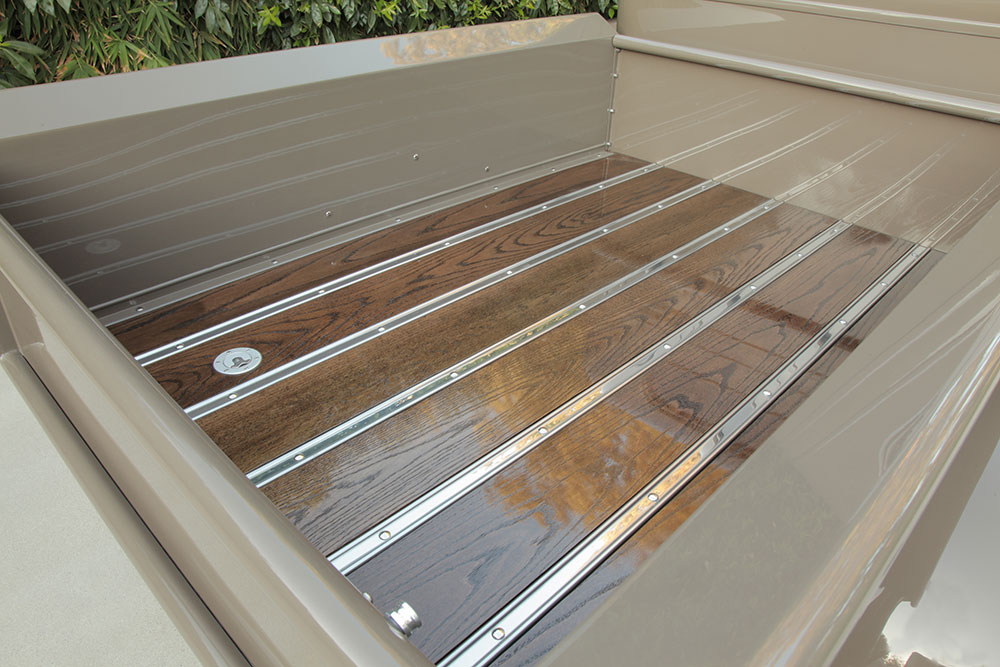 The truck was finished in 2020 and is a far cry from what Ben and Gail started with nearly 11 years ago but, as the saying goes, what is old is now new again, and the Levacys couldn't be happier with the transformation of their Chevy pickup truck. MR