Bill Sather's '34 Ford Highboy Five-Window Coupe Was Once a Work in Progress
By Brian Brennan – Photography by John Jackson
After you catch your breath, odds are Bill Sather's, of Texas, '34 Ford highboy coupe is going to look more and more familiar. And it should. Working with Troy Gudgel of BBT Fabrications in Mahomet, Illinois, it was freelancer supreme Gerry Burger who wrote six previous tech stories on the build for Modern Rodding. While we won't go over all of the modifications, as there are many, check out the links and print stories listed on page xx.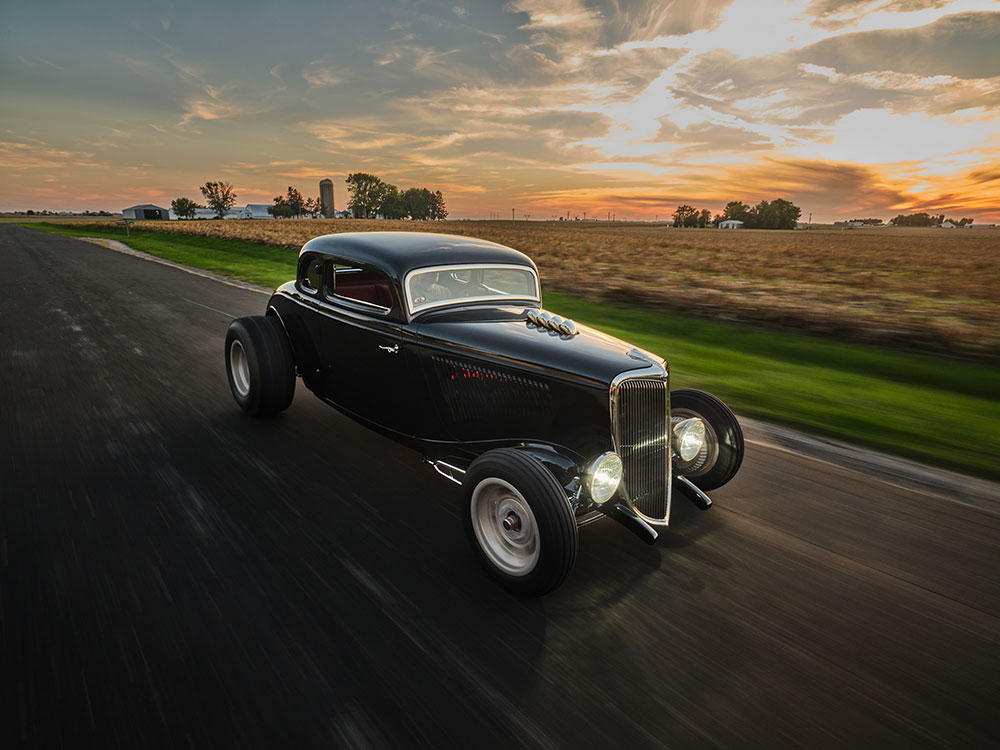 Let's go over this four-year project to see where we are today. If you remember the earliest of the build stories this Ford coupe was once chopped but not finished. Fortunately, while the top chop wasn't complete it was moving in the right direction. To complete and correct any former hiccups a new top was rounded up and its sheet metal was used by  Gudgel and the work was begun at BBT Fabrications, which included filling in the roof. In the end we are looking at approximately a 3-1/2-inch top chop. Such items as the hood sides and splash aprons were lengthened almost 2 inches to fit the newly positioned radiator. (The grille shell is an old timey piece that Bill has had for some time, having rounded it up from a friend many years earlier.) The Rick's Tanks 12-gallon container is hidden within the trunk and is filled via an outdoor racing-style flip-top gas cap located on the top of the body behind the driver side quarter window. Given there was a great deal of custom metalwork handled by BBT Fabrications there follows a great deal of bodywork before paint. Body and paint was handled by Relic Restomods and in the end they painted it with black PPG DBC paint (a Deltron basecoat) and cleared over with Global 8152.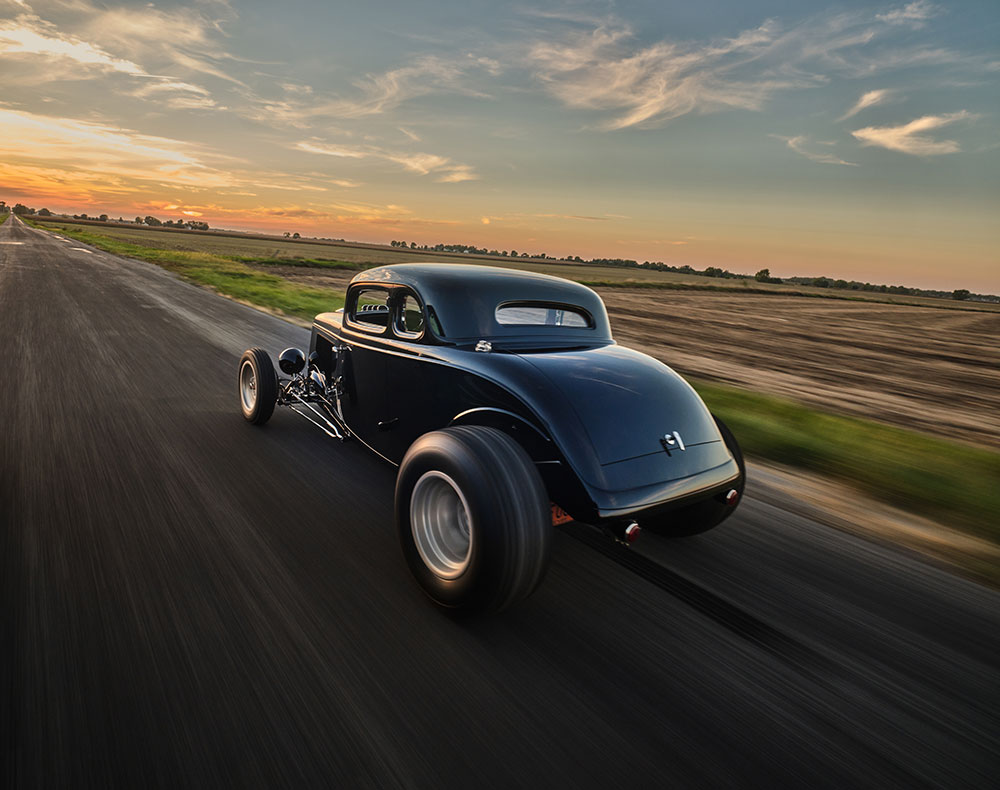 Read More: '33 Ford Vicky Packing a 454 Big Block
The chassis comes by way of Walden Speed Shop based on a "pinched" set of 'rails (traditional modification for use with a highboy to tuck in the front brake/wheel/tire combination). The front suspension is based on a SO CAL Speed Shop 3-inch nickel-plated drop I-beam axle teamed with painted SO CAL Speed Shop shocks. The forward focal point is the Walden Speed Shop Kinmont-style brake covers (drum and backing plate) for the Wilwood rotors and Dynalite calipers hidden within. There's also a plated, reversed-eye buggy spring, Walden hairpin radius rods, and a Vega steering box that are all from SO-CAL. Further inspection reveals a great deal of brightwork throughout the build. The rear end is the revered quick-change, this time a Winters Champ Adapter model, with Winters quick change rear end and a straight finned gear cover that's fully detailed via chrome and paint. Hiding within is a 3.55 ratio based on a 10-inch ring gear that utilizes ARP ring bolts and external hardware kit along with 31-spline Moser axles. Holding it in its position is another pair of Walden plated hairpins, transverse leaf spring, and painted air shocks. Also, in the back is more Walden Kinmont-style braking with its drum and backing plates neatly concealing the Wilwood brake kit. More Wilwood brake items include the master cylinder and Lokar pedal assembly.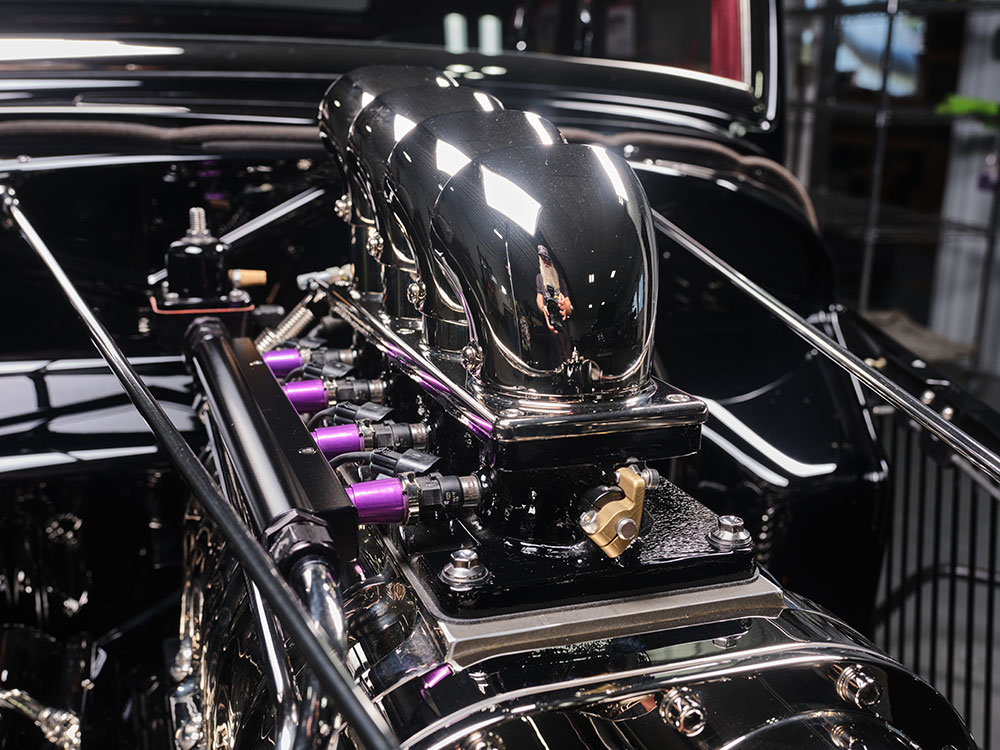 Part of the reason for the outstanding stance of this hot rod is derived from the wheel and tire combination. Four original magnesium Halibrand wheels are used; 15-inch in the front and 16-inch in the back. Firestone by Coker dirt track tires is carried along, measuring 500-15 ribbed fronts and 1100-16 grooved rears.
As we have stated many times it's what's under the hood that gives any hot rod its true character. Before you get to looking under the hood you can see what appears to be four, 2-barrel carburetors peeking through. Careful, this is only a sampling and not to be confused with what's actually happening.
Read More: Dylan's Sinister 1940 Ford Dream Build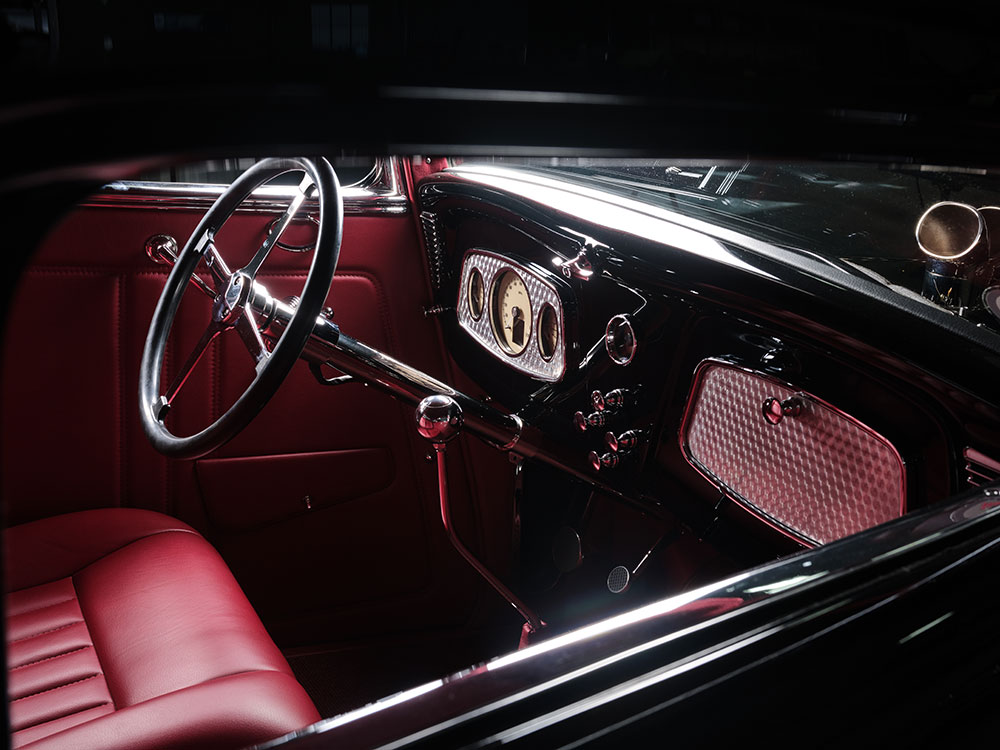 Texas Speed and Performance handled the machine and assembly of the LS-based 427 engine that's based on a new GM Gen IV aluminum block that's equipped with Darton dry sleeves. Inside you will also find Wiseco 0.020-over pistons, a Texas Speed custom grind cam, and an ARP stud kit. Outside more aluminum can be seen in the cylinder heads, intake and the fully polished BDS 6-71 blower that is topped with Hilborn EFI dressed with reverse scoop air pickups. The engine is dressed with Billet Specialties–adapted, traditional-style, small block Chevy valve covers. (We told you to be careful as to what is "real" and what is "not-so real.") No small block Chevy here, this is loads of modern LS power. Powermaster stepped up with the starter and alternator while MSD spark plug wires add to the ignition hardware but the juice is stored in an Interstate AGM battery located behind the panels in the trunk. The exhaust system is more BBT fabrication work based on Ultimate tube-style headers and a pair of Borla ProXS mufflers.
Paired to the 427 engine is a Gearstar Performance 4L75E transmission overdrive with a Yank Performance PAS Series 9-1/2-inch billet converter specifically designed for hot rods running a power adder (NOS, small turbo, or a supercharger).
The BBT Fabrications heavily modified factory dash is fitted with Dakota Digital RTX-33F instruments that artfully retain the looks of "way back when" nestled in an engine-turned aluminum insert. While stock in appearance, there's the DD noted LED backlighting in your chosen color scheme. Linking the gauges, Vintage Air AC, and all other wire connections throughout the interior and exterior fell to the staff at BBT Fabrications using a Coach Controls wiring system. What appears to be a bench seat is a custom-made, fully split custom work by Phil Cato of Cato's Custom Upholstery stitched in a red leather. A four-spoke, quick release Sprint Car steering wheel is attached to an ididit steering column that's accessorized with a turn signal indicator box. While there's plenty of brightwork on the interior it won't take you long to "add up" what it must have taken to pay for all of the chromework throughout the chassis, engine, and all points in between. Tip of the cap to Advanced Plating for stepping up and once again producing striking chrome and nickel plating.
Read More: Building a Traditional '33 Ford Five-Window Coupe in 1960s Style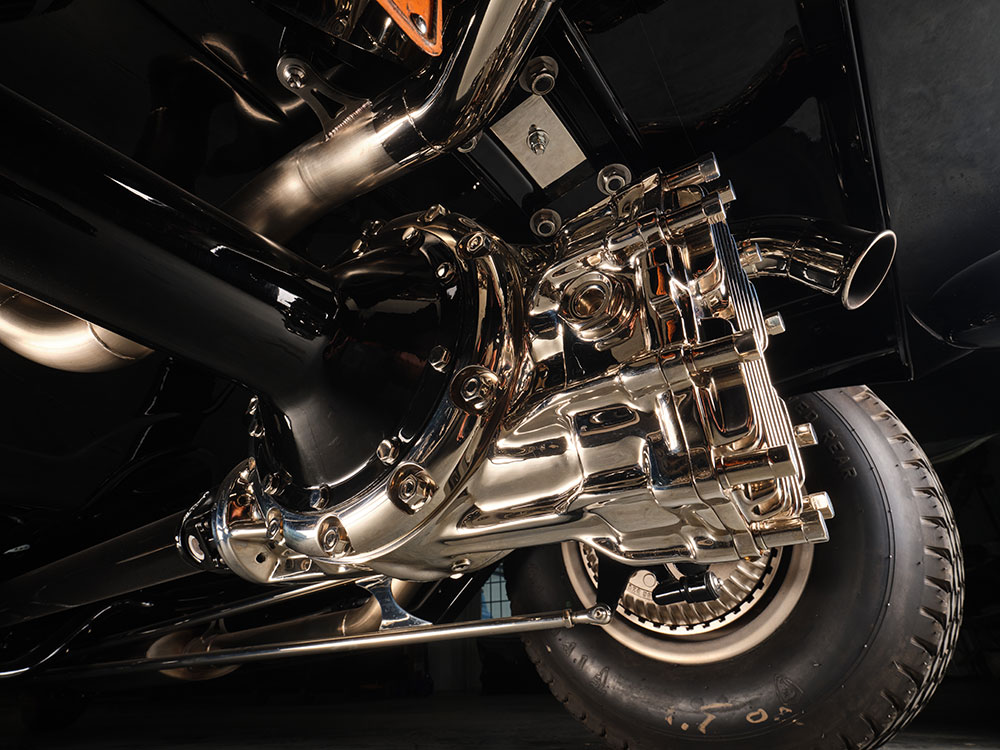 For those who have made the rounds at various events this past rodding season you will remember this coupe taking home Top 10 honors at SEMA's Battle of Builders Hot Rod class. Earlier in the year it was awarded a Top 5 finalist award in the Goodguys Street Rod of the Year competition. While all of that is pretty cool, we like the fact this is one badass chopped coupe that goes down the road "quickly." MR