No Really, This '37 Chevy Business Coupe is From Killer Hot Rods
By Brian Brennan – Photography by John Jackson
When the name of your shop is Killer Hot Rods & Customs (KHR&C), in Arlington, Texas, there can be little doubt that you will be building some outrageous hot rods. Distinctive appearance, loads of expertise, and an abundant amount of horsepower. Such is the case for the '37 Chevy business coupe you see that's owned by Rich Schwartz of New Jersey.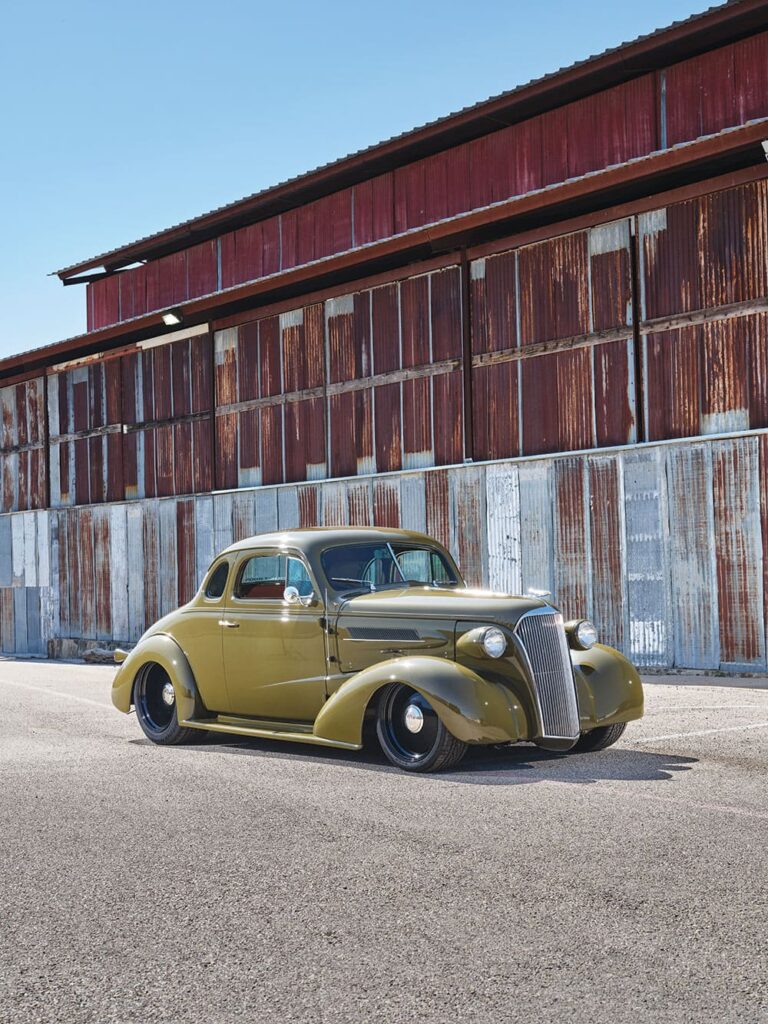 Read More: Second Time is the Charm: 1955 Chevy Bel Air
Rich found the '37 Chevy business coupe on eBay and it wasn't long before he and his wife were the proud owners of a 572-inch, 700hp Bowtie. He purchased the Chevy from customer Nick Ryan and Kevin Penhaker of KHR&C with the car subsequently finding its way back to New Jersey. (KHR&C in its nearly eight years of business has produced a number of great-looking builds.) The original monster V8 engine was carbureted but once it was outfitted with electronic fuel injection tuning problems arose; after a bit, it was back to Texas where the staff at KHR&C performed the LS swap. The body-colored V8 is a Don Hardy LS3 sporting 625 hp and 560 lb-ft of torque neatly nestled between the frame rails. The 416-inch LS3 features a Concept One Victory serpentine belt system, Hooker exhaust manifolds that run through custom ceramic-coated 3-inch stainless steel pipes to a pair of MagnaFlow mufflers.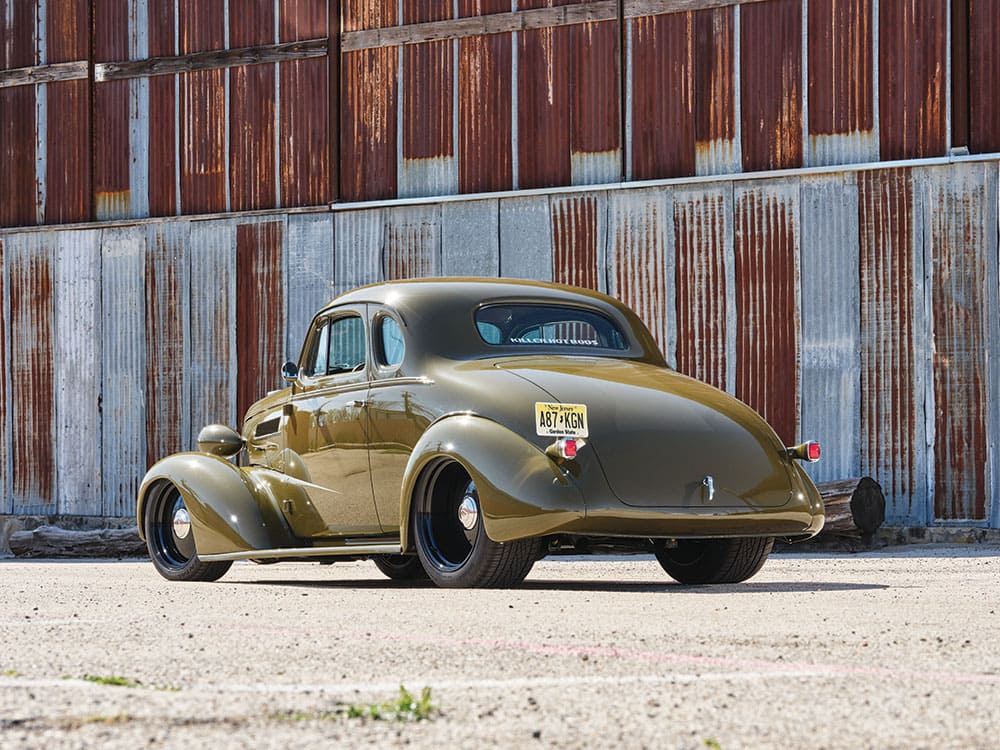 A favorite trick when dressing out an LS is to use vintage Chevy valve covers with the popular Chevrolet script painted to match the body. The satin air cleaner is also vintage appearing and flows air to the Holley Terminator throttle body that makes up part of the fuel delivery and engine management system. The fuel system also uses body-colored Holley fuel rails fit with black Russell Performance -6AN fuel fittings and hose, all fed via a custom stainless steel fuel tank. Connecting the ECU to the remainder of Chevy's electrical system is accomplished through the use of the trunk-mounted Optima RedTop battery (charged by a Powermaster alternator) that flows its power through an American Autowire harness positioned by the staff at KHR&C. Keeping this much power cool for running around town falls to a custom aluminum Walker radiator with an electric SPAL fan and an Edelbrock water pump. The modern-day Chevy V8 is both good-looking and "strong" and now easily manages both city and highway driving, making it an ideal cruiser.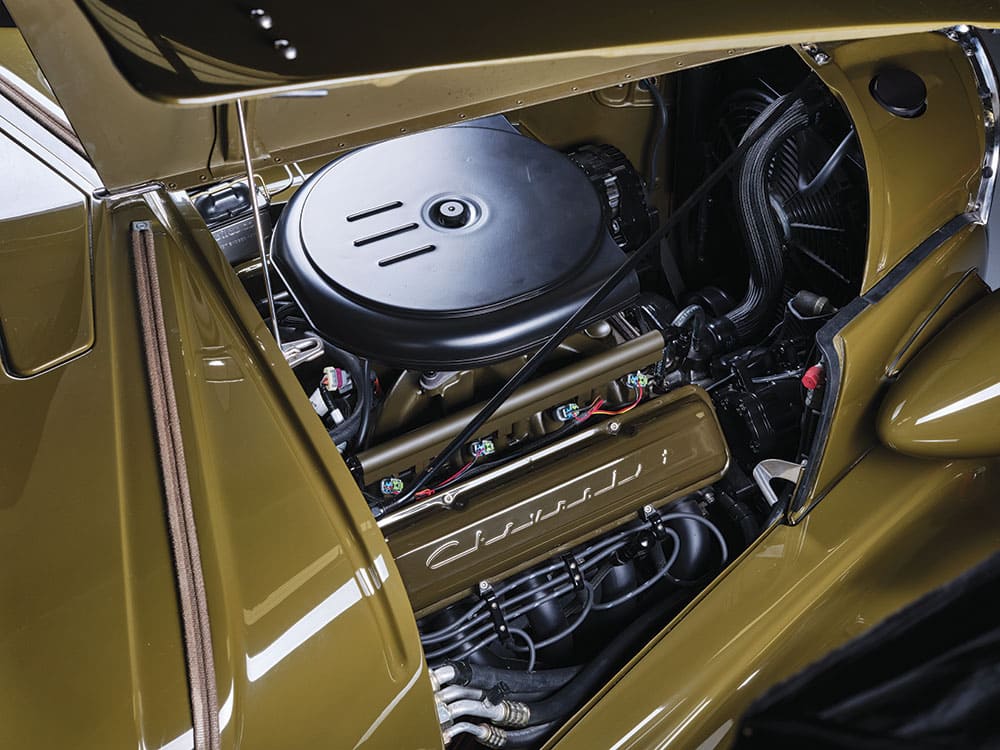 The LS3 is matched to a TREMEC T56 6-speed manual transmission that utilizes a hydraulic McLeod RST Stage 2 twin-clutch setup, a Wilwood reservoir, and a vintage-looking shifter. The brake and clutch pedal pads are Lokar, as is the throttle. The organic-lined clutch discs provide smooth engagement, making it an ideal clutch for upwards of 800 hp for any street-driven hot rod. From here the power is transferred via a 3-1/2-inch-diameter driveshaft back to the Ford 9-inch rear end that spins 3.73 gears and a pair of 31-spline axles. All of this rests between the satin black powdercoated framerails from Street Rod Garage. Their chassis also includes an Independent Front Suspension, power rack-and-pinion steering, and a Wilwood Dynalite big brake kit rounded out with their twin master cylinder and pedal assembly. Stainless steel brake lines connect the front and rear braking. Also found at the corners are Strange Engineering coilover shocks. All of this rests on a set of Circle Racing billet wheels, measuring 18×8 and 20×12 and wrapped with 225/45ZR18 and 295/45ZR20 Continental rubber.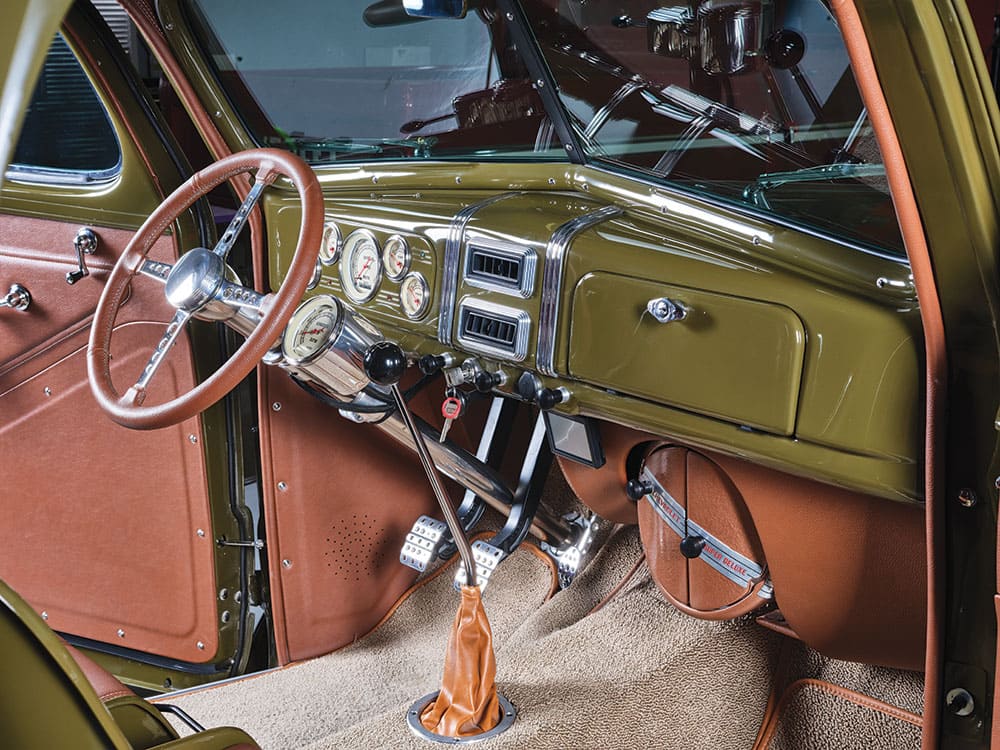 Inside this '37 Chevy Coupe, you can see the "wide" hot rod influence to the otherwise late-'30s business coupe. The factory steel dash was modified by KHR&C and from here fitted with Classic Instruments gauges, an Old Air Hurricane air conditioning system with hidden controls, Speedway Motors Hot Rod polished stainless steering column that's topped with a Banjo steering wheel, and Retrosound Bluetooth stereo with Infinity front and rear speakers, which are all nice touches. The interior seating is very "business-like." With custom individual racing bucket seats upholstered by Delgado's Upholstery & Trim Shop, they also received the nod for the remainder of the interior and trunk. Take a closer look at the seat risers–individual adjustable seat sliders were fabricated by KHR&C. The aircraft-style bucket seats grab your attention and they really do set off the business-like nature of the interior.
Read More: Purpose Built Sport Truck: 1958 Chevy Cameo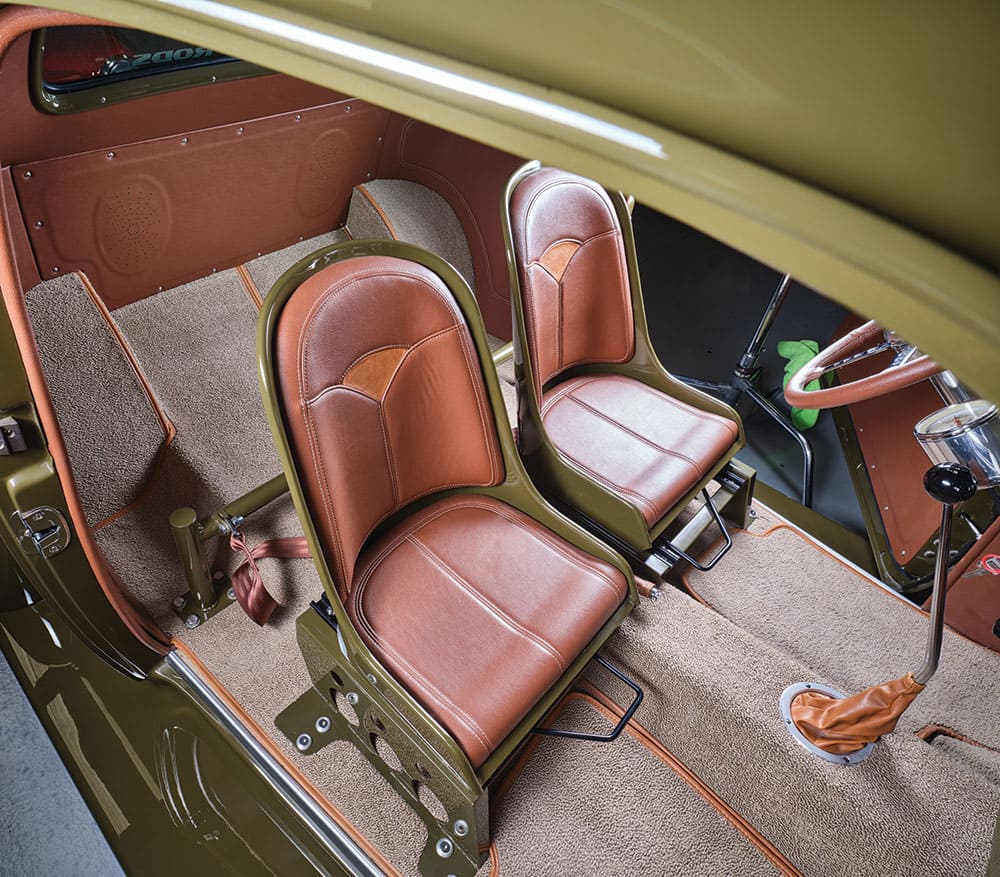 There's no mistaking the aggressive outward appearance of this 1937 Chevy business coupe. Nonetheless, it's the painstakingly meticulous effort put into the body and paintwork (based on a custom-mix PPG color), the fit and finish, and the overall care given to the hot rod's outward look and stance that really sets it apart. For the most part, the sheetmetal is all vintage Chevy sans bumpers with the newly restored chrome, polished grille, and trim that really accents this hot rod. It should be noted that it's always about how a hot rod is reassembled that gives it its lasting appearance. We have to stand back and agree that KHR&C, under the watchful eye of Ryan and Penhaker, "nailed it." MR