This Tri-Five Chevy Just Keeps Getting Better & Better
By Brian Brennan – Photography By John Jackson
There are a lot of ways to end up with the hot rod of your dreams. And, over the course of time, most of us will try many, if not all, of these routes. Doug and Mistie Scott of Texas have always enjoyed Tri-Fives, especially the 1955 Chevy Bel Air post model. Having always wanted one and having one, as we all know, are two completely different subjects that come about in two totally different ways. For the Scotts, they were able to get what they wanted in nearly one fell swoop.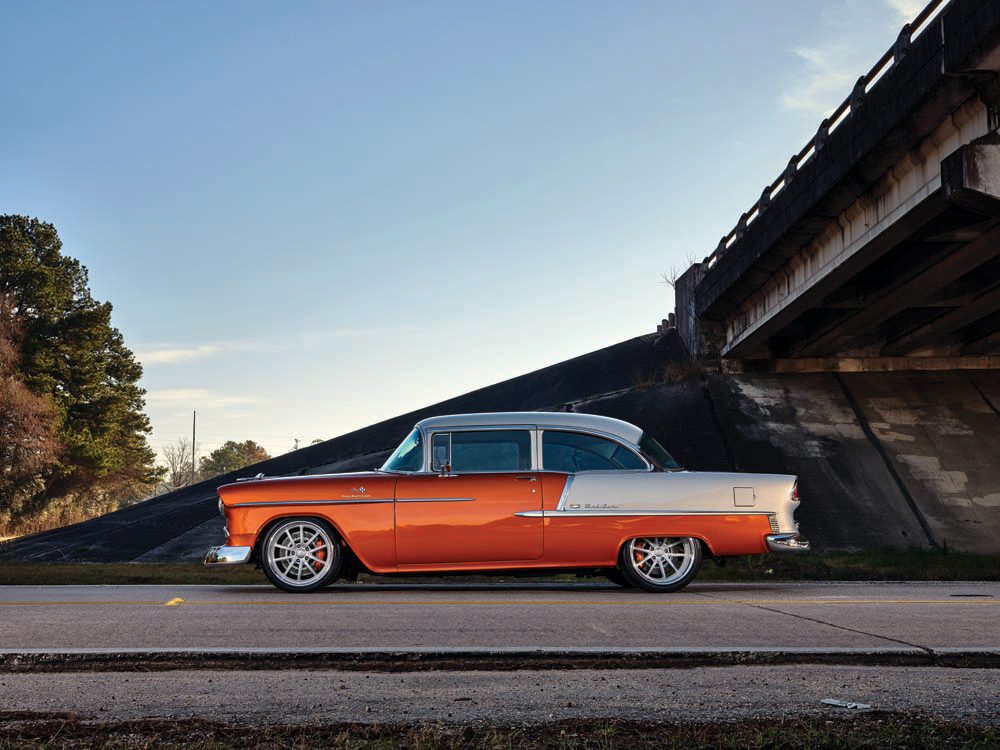 In looking for a project, Doug and Mistie happened upon this Tri-Five Chevy and it checked all the boxes for them—classy, all the while having modern-day performance and style. As with any hot rod any of us would purchase, there's a lot there that we like but there's always room to do a little more to make it "our own." Originally purchased in Arizona about four years ago, the 1955 Chevy Bel Air made its way back to Texas by way of Oklahoma through Mississippi.
Reading More: Corner Carving Chevy 3100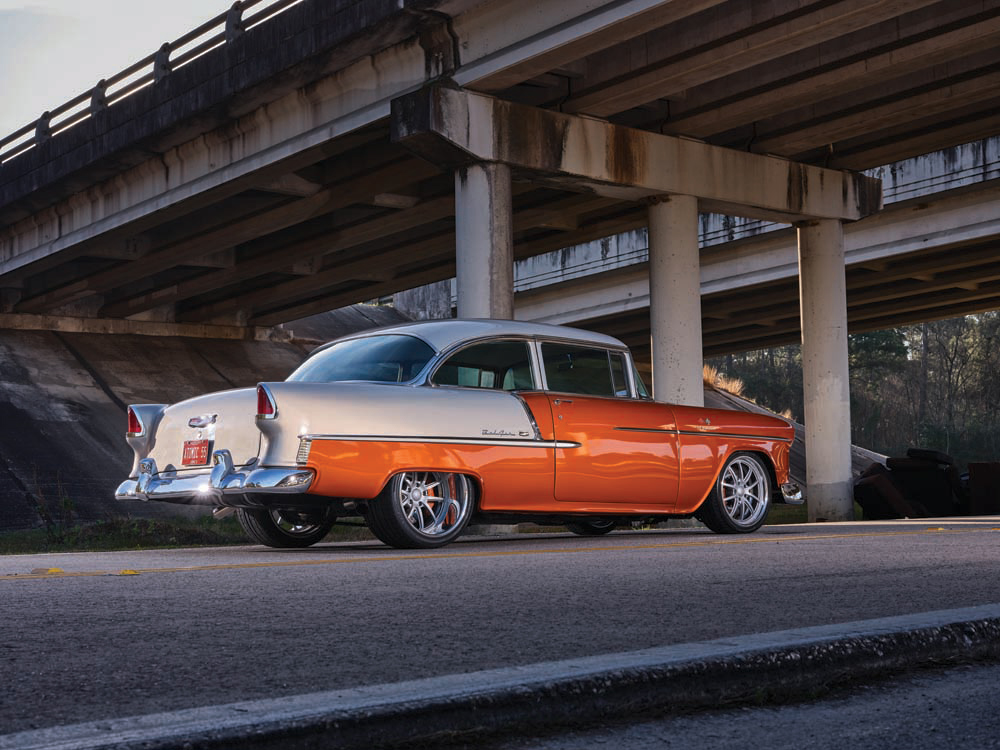 The Bowtie was a driver, so items such as the body- and paintwork, wiring, and so on were already accomplished by the previous owner. Doug enlisted the help of Mike Goldman of Mike Goldman Customs (MGC) and Chuck Rowland of CAR Upholstery to join in on the project and provide this 1955 Chevy Bel Air distinctive changes, making it Doug and Mistie's Tri-Five.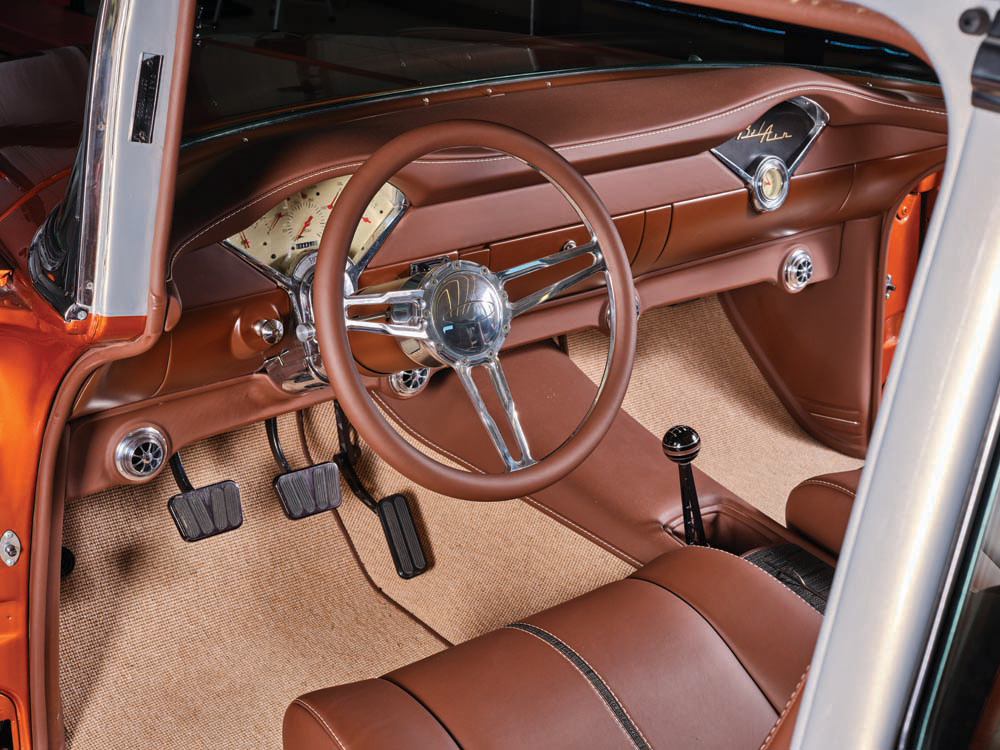 Underhood you'll find an LS2 engine, found in Corvettes and other GM performance cars and trucks used during the production years of 2005-2009. The 6.0L LS2 engine displaces 364 ci and is classified as the starting point for the newer Gen IV small-block family. The LS2 engine was an improvement over the LS1 offering increases in both cubic inches and horsepower. The upgraded LS2 engine debuted with 400 hp and 400 lb-ft of torque.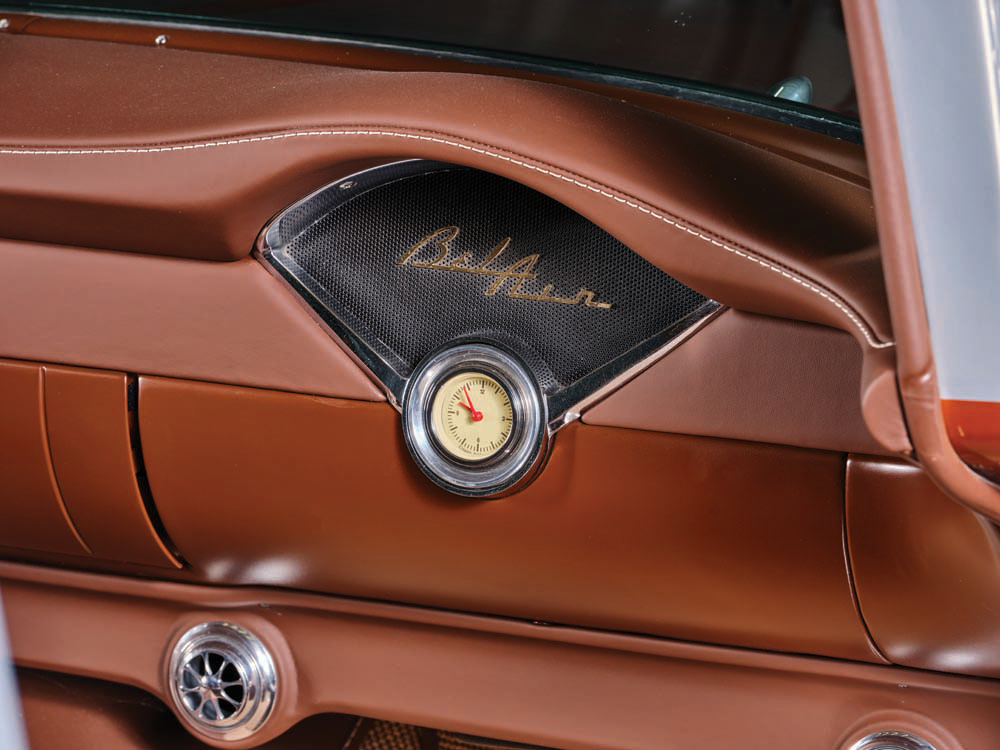 The LS2 you see under this Tri-Five's hood comes with ARP bolts, including the ones needed to hold the Billet Specialties valve covers in place. Between the covers you will see an engine cover that was fabricated at Mike Goldman Customs while Aeromotive supplied the fuel pump; K&N was the air filter of choice. The GM ignition is accented with Taylor spark plug wires. The aluminum-coated Hooker headers feature 1-3/4-inch primary tubes with 2-1/2-inch exhaust pipes (also coated) that run back to a pair of MagnaFlow mufflers. Keeping all things cool falls to a Hot Rods by Dean radiator and core support system that linked a SPAL electric fan. Speaking of keeping the electrics in check, there's a Powermaster starter and alternator along with a trunk-mounted Optima battery to keep everything charged and "good to go," all installed at Mike Goldman Customs. Hooked up to the LS2 is a Tremec 6-speed that utilizes a Bowler Transmissions shifter, which in turn a McLeod hydraulic clutch package (flywheel, pressure plate, and clutch) that then transfers the power through a Jackson Powertrain driveshaft eventually ending up at a Ford 9-inch rear end. Making sure there's plenty of fuel to keep this hot rod moving is a Rick's stainless steel fuel tank.
Read More: Classic Instruments' Latest Bel Era III Gauges Will Set Your 1955 and 1956 Tri-Five Apart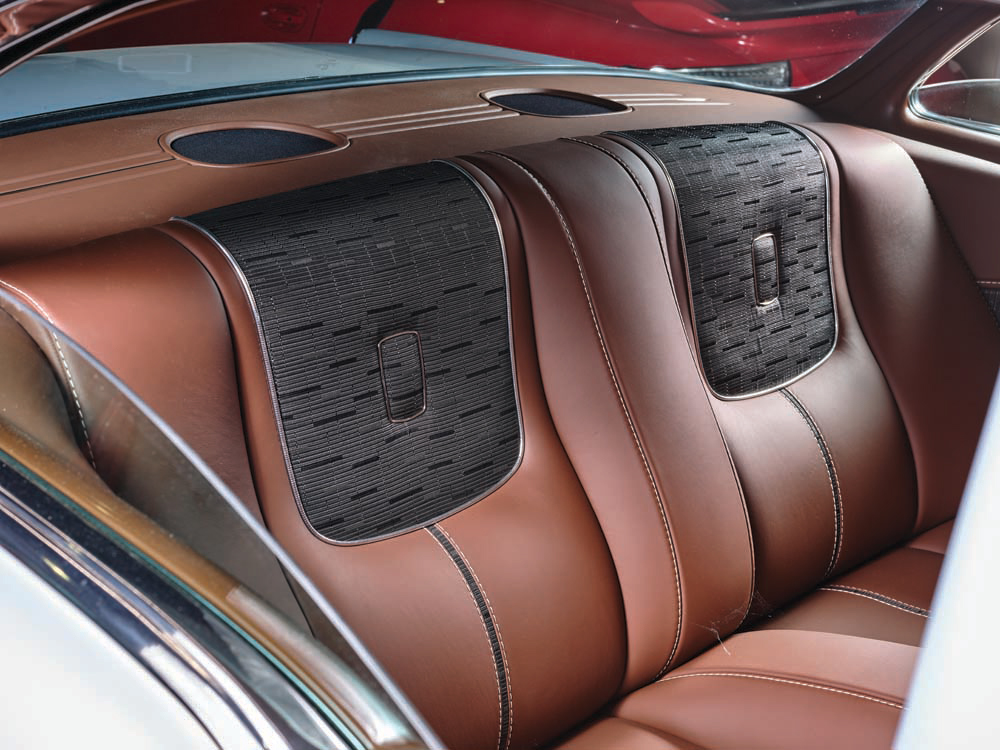 Corralling all of this power as the Tri-Five goes down the road is a reworked factory frame that now features RideTech StrongArm (upper and lower) Tubular control arms, Heidts front shocks, and RideTech coilovers in the back, all positioned by Mike Goldman Customs. There's also the use of a RideTech triangulated four-bar setup to work with the Ford 9-inch rear end that's outfitted with 4.11 gears and Strange axles. Other suspension upgrades include the use of a Classic Performance Products Delphi 600 power steering box, an ididit steering column, and RideTech sway bars, 1-1/2 inch in front and 1 inch in the back. Providing ample "whoa" to go along with the plenty of "go" is a Baer brake system. It's made up of 15-inch rotors and 6-piston calipers in front with similar rotors in the back but this time with 4-piston calipers. There's also a Baer master cylinder and factory pedal assembly. To truly keep this 1955 Chevy Bel Air post rolling down the highway there's a set of Hot Rods by Boyd wheels, measuring 19×8 in front and 19×12 in back, all mounted to Hankook radial rubber, measuring 245/35R19 in front and 325/30R19 in back.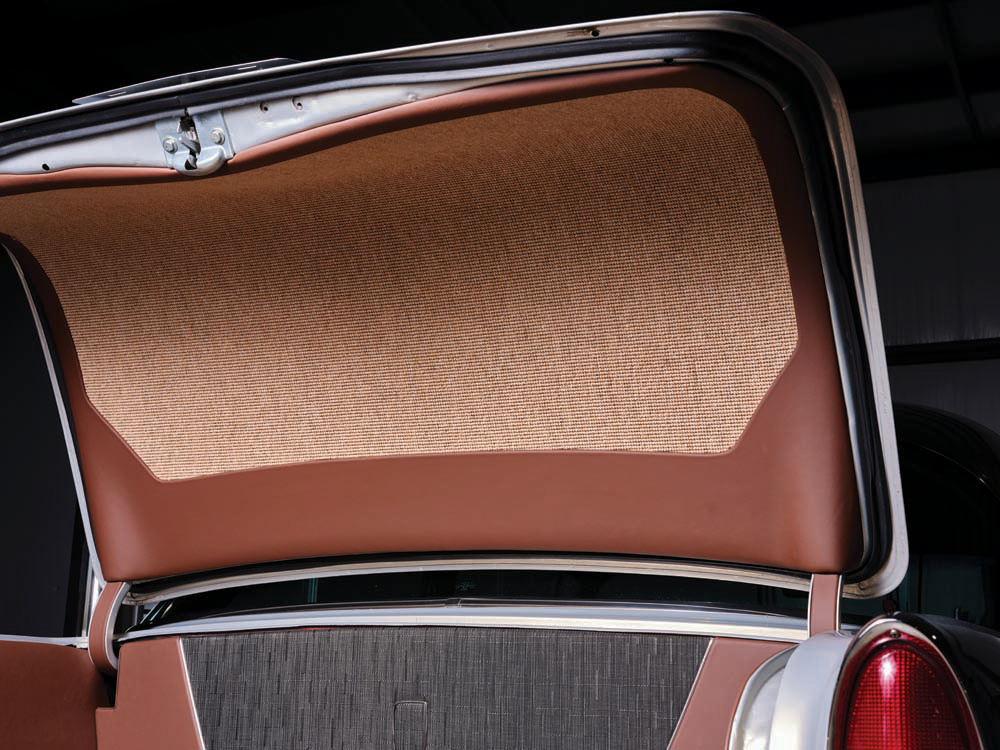 The body is a steel original two-door 1955 Chevy sedan that has all of the panels "slicked" and the gaps fit oh-so "right" and the bumpers are also neatly fit to the body. There was one specific body modification and that was the addition of 2-inch rear wheel tubs added to accommodate the monster rubber. Doug and Mistie were fortunate in that they really like the colors and didn't want to touch them, so what would normally be an expensive and time-consuming aspect of any build was "dodged," this time! The original owner made sure to get all of the bodywork done and then have applied a PPG Atomic Orange (2008 Z06 Corvette) color that's accented by a champagne color mix that flows over the roof and onto the decklid and upper rear quarter-panel areas.
Read More: This '72 Chevy C10 Gets A Second Chance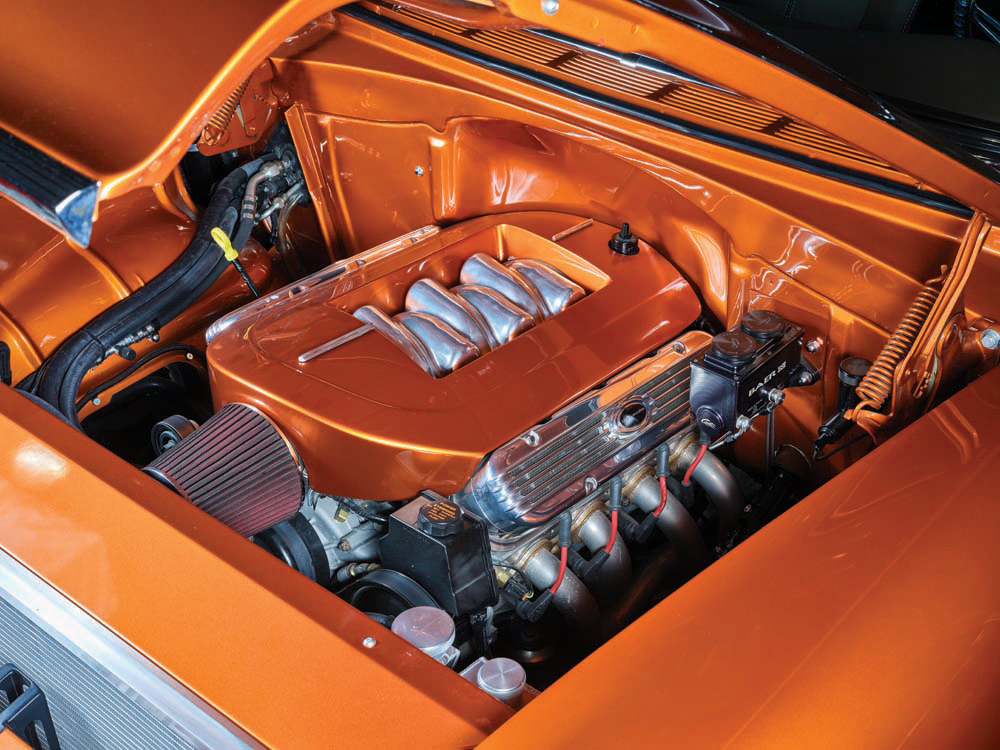 The interior is another "eye grabber" all based on the handiwork of Rowland who neatly masked and stitched in leather the metal dash that surrounds the gauge cluster now filled with Classic Instruments Bel Era gauges. There's also an accessory "underdash panel" that houses the Vintage Air registers and surrounds the ididit steering column, topped with a Hot Rods by Boyd spoked wheel. And just beneath it you will see a complement of Lokar pedals (clutch, brake, and throttle). An American Autowire harness system is used to link all of the accessories requiring electrics, such as the Vintage Air AC and the Bel Era instruments. Rowland used a combination of leather and cloth to cover the custom-built bucket seats in front and the bench-appearing rear seat. There's also a leather-wrapped center console that houses the 6-speed shifter accentuated with a Lokar shifter. The trunk area is another impeccably detailed focal point that also skillfully features Rowland's craftsmanship. Interior and trunk carpeting are both done in the tan-colored square weave.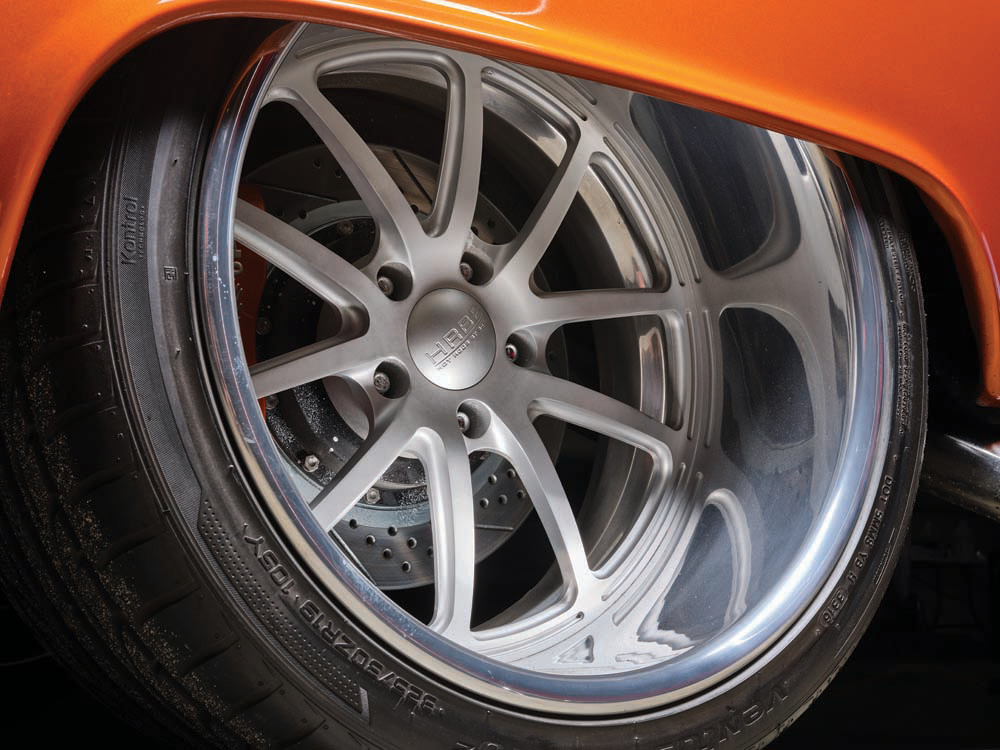 Well, as for this 1955 Chevy Bel Air post, it's about as nice as they come. It's no wonder why all Tri-Fives are so popular and will remain so for a long time to come. MR