Kennedy Waite's Green and Cream 1958 Chevy Cameo The Original Sport Truck?
By Rob Fortier – Photography by John Jackson
It has been written, on more than one occasion, that well before the Lightnings or the SS454s, General Motors developed the very first "sport truck" (though at the time they were dubbed "luxury trucks") when they unveiled the Cameo Carrier in mid 1955 to coincide with the launch of the all-new Task Force series.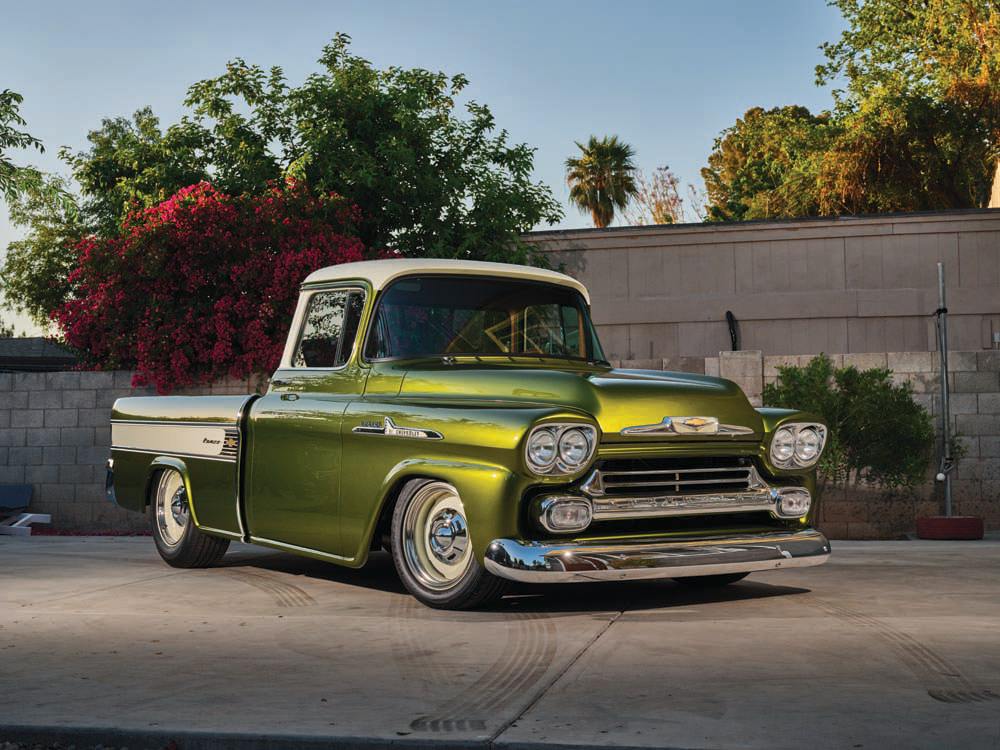 In stark contrast to the familiar stepside pickup trucks everyone had become so used to at the time, this vast stylistic design departure (spearheaded by GM Designer Chuck Jordan, though this accomplishment is not as highly touted as the 1959 Cadillac) featured the industry's first slab-sided (Fleetside) bed and several passenger-car traits such as Bel Air tail lights and rear bumper treatments. It was very well received by the public in its first year, but by 1958, with the competitors having caught on with the stepside bed treatment alternative and luxury-like accents, the fad had worn off. From that point on till the end of the Task Force production era, GM transitioned to the steel-bed Apache Fleetside. (Oddly enough, in 1989 Chevrolet offered a "Cameo" package option on the popular S10 pickup—we prefer the fullsize original, thank you!)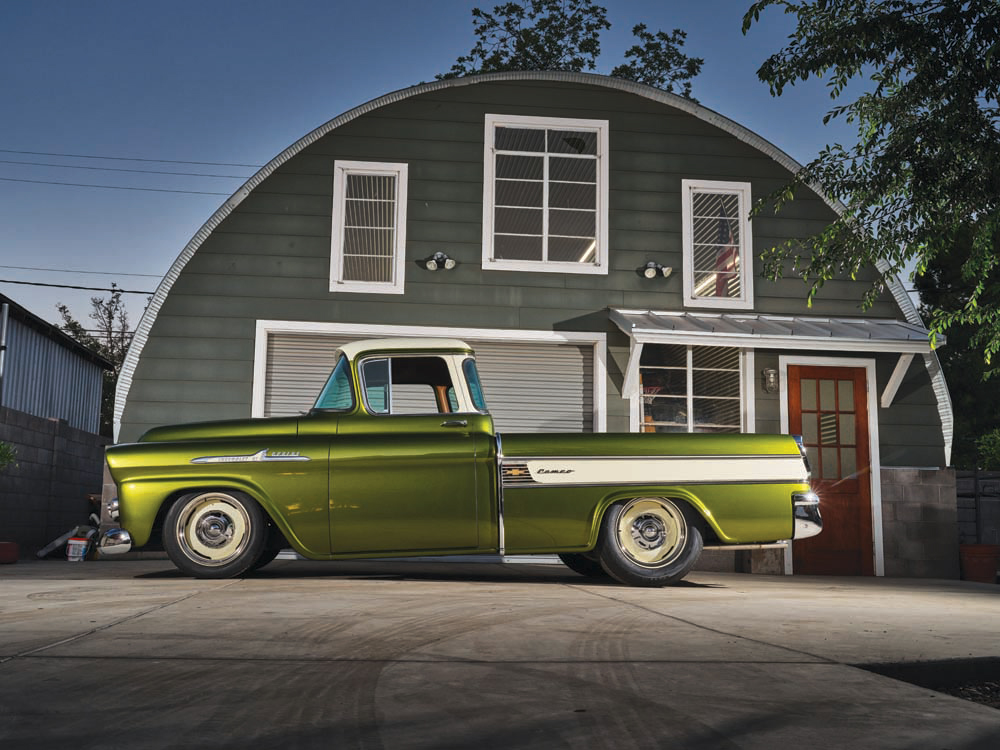 Read More: Big Block Bruiser: Firecracker Red 1969 Camaro
To this day, the Chevy Cameo (and its rare sister, the GMC Suburban Carrier) is a highly sought-after piece of automotive Americana, both by purists and, well, us non-purists alike! Kennedy Waite and his Mesa, Arizona–based family wholeheartedly agreed with that sentiment—in the latter "non-stock" perspective—and in 2015, enlisted the talents of Doug Jerger and his crew at Squeeg's Kustoms in Chandler, Arizona, to help finish what we'd consider the ultimate Chevy Cameo Carrier!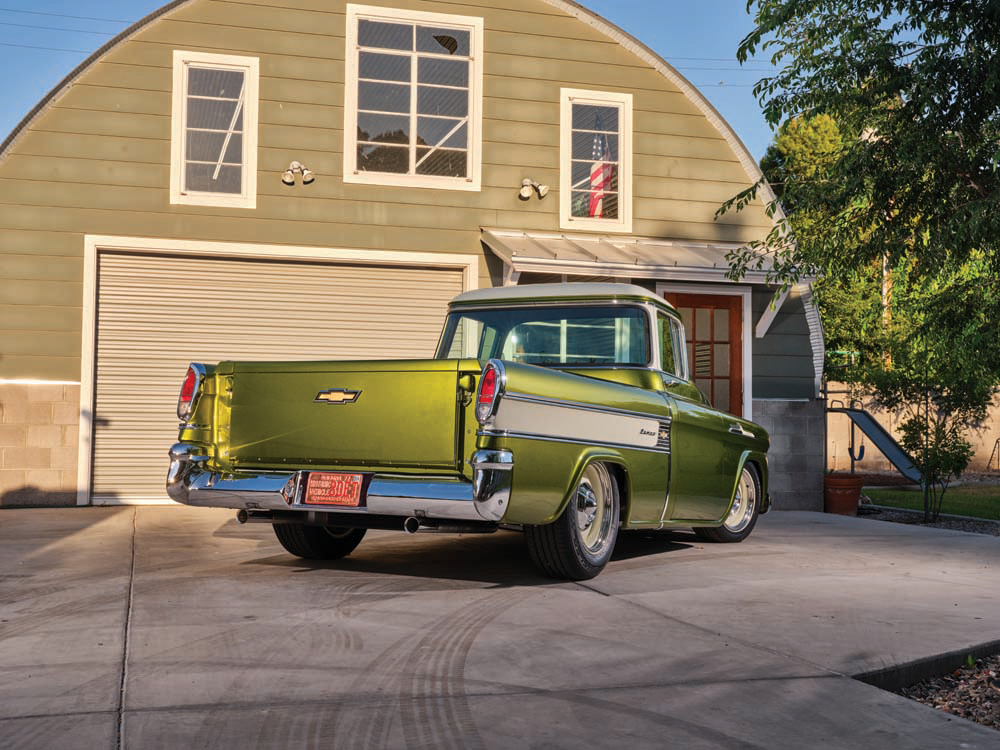 Prior to linking up with Squeeg's, Kennedy's love affair with the 1955-1958 Chevy Cameo had begun decades earlier. According to him, "… I fell in love with the Chevy Cameo body style in my teenage years. The dream was to own a completely refurbished 1955 … however, I was young and poor and it was not until 1988 that I would find one that maybe I could afford.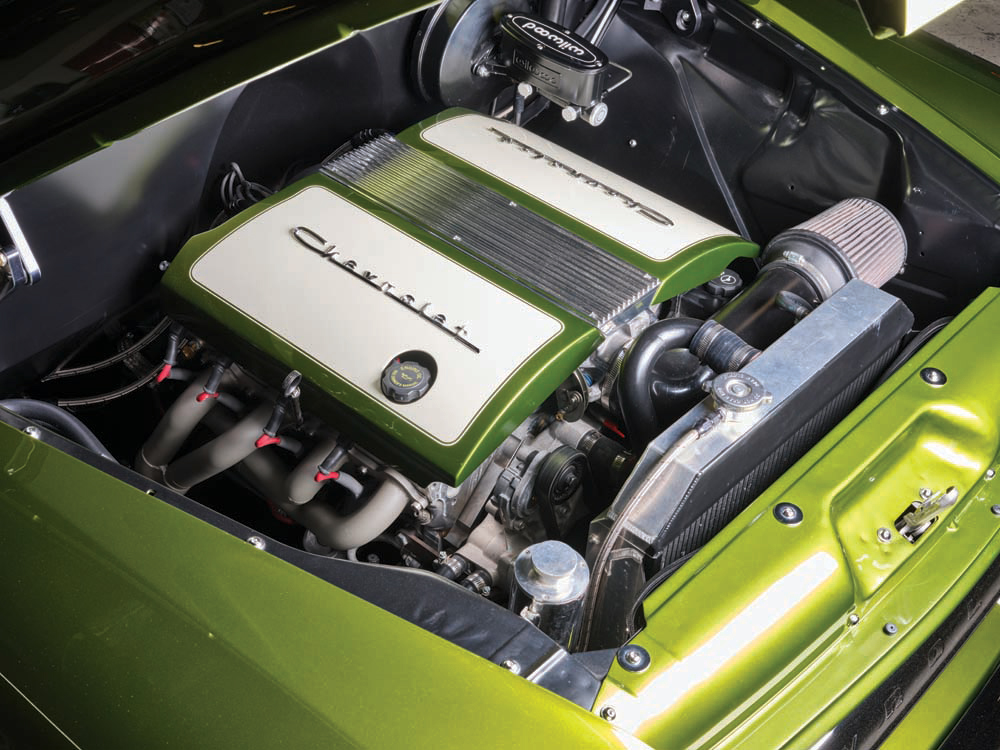 "I was driving home from work when I just happened to look into the parking lot alongside the road and could barely see the taillight of what I thought was a Chevy Cameo… I turned around, went back, and—sure enough—it was a 1958 Chevy Cameo! I went inside the store and began to ask around to see if I could find the owner, which I finally did. He was an older man … second owner … and I asked the obvious question: 'Do you want to sell it?' He said no, but that if I would call him in January the following year he might consider selling. So, I took his name and number and in January of 1988 became the proud third owner!"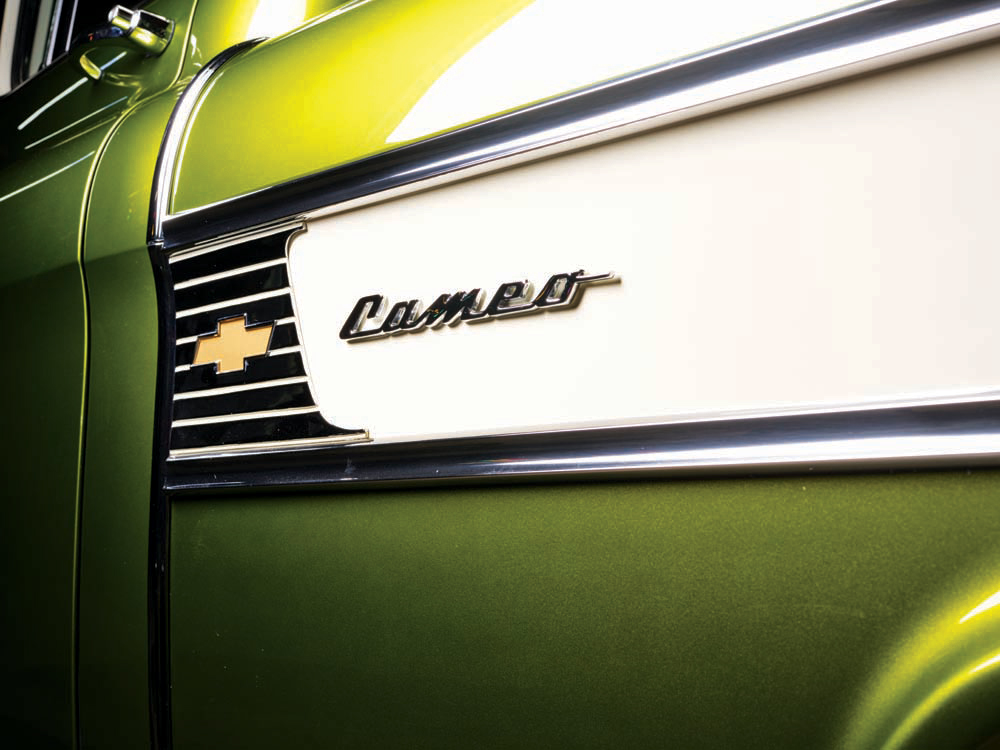 For the next decade or so, Kennedy tooled around with the Cameo Carrier, but before long the drivetrain and suspension became somewhat problematic. This is where the project truck took a serious turn (for the better), but more importantly the point where it became a family affair.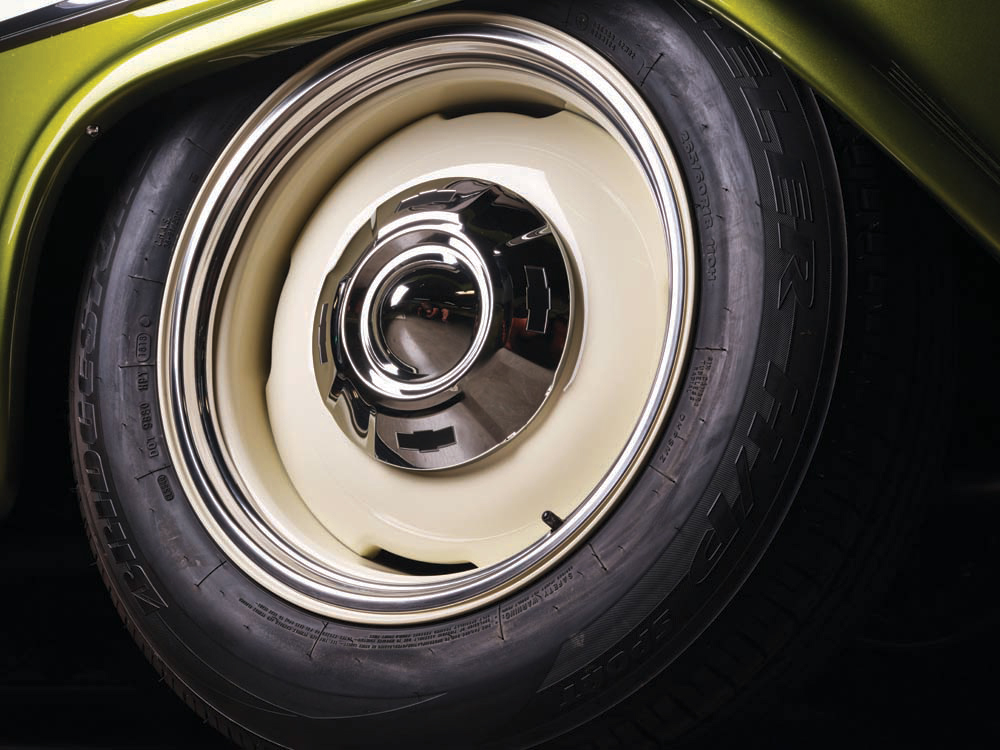 "The truck rode like a tank, so I had the crazy idea of replacing the undercarriage with four-wheel independent suspension. Around 2010, a client of mine had a 1984 Corvette for sale, which I purchased for $1,500. From that point the project was on! I ordered a Newman Car Creations frame to accept the C4 Corvette suspension along with the Cameo Carrier body. My son Bryce and his son Bradley began to help out. We purchased a 450hp LS1 engine with a TREMEC 6-speed and approximately five years later I was once again driving the truck." (Along with that CBM Motorsports LS1—shrouded by a Karas Kustoms finned induction cover—and T56 Magnum 6-speed transmission feeding the Vette Independent Rear Suspension, accent color matched Wheelsmith 17- and 18-inch Billet Smoothie wheels conceal the Vette four wheel disc brake conversion yet fill the wheel wells perfectly and the Bridgestone 235/45 and 265/60 Potenza radials they wear.)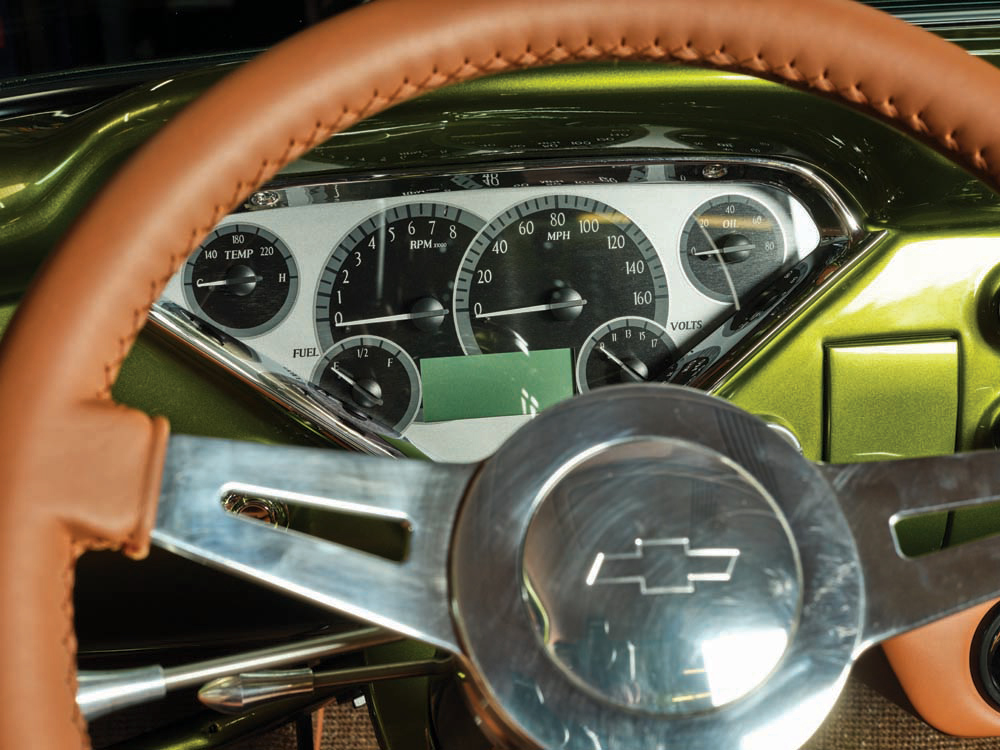 Most notably, however, along with that just-right hot rod stance, it's the Chevy Cameo's particular colors (atop the immaculate bodywork) by Squeeg's Kustoms that really give the truck its personality. Simply listed as "custom-mixed green and cream," the PPG two-tone metallic main body color shimmers like no other, with the accent color adding the perfect neutral complement. Graphics by Bugs Auto Art and brilliant chrome by Royal Plating also play a huge part in the exterior's ambiance, as does the satin-finished Bedwood and Parts bed floor with polished-aluminum SpeedBump strips.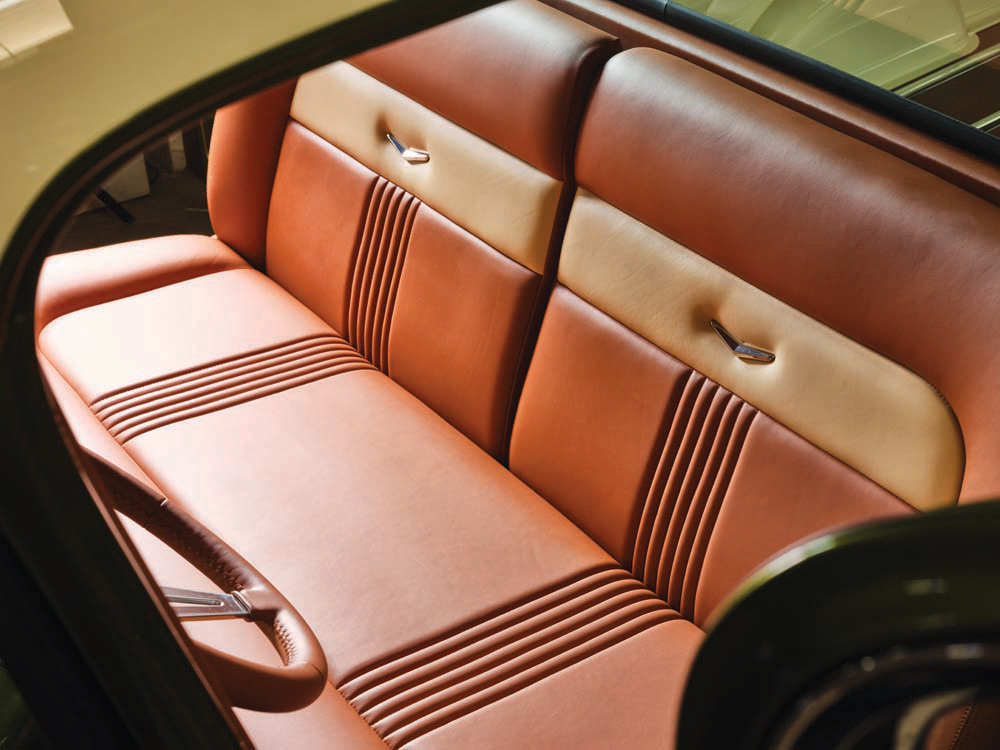 Read More: This '72 Chevy C10 Gets A Second Chance
Wrapping up the Waites' six-year build (no pun intended), the Chevy Cameo was sent out to California to Gabe's Custom Interiors for a full leather trim job in caramel with cream-colored accents. Finishing off the inner cab, Squeeg's utilized retrofit Dakota Digital instrument cluster and Vintage Air AC (both wired via an American Autowire harness) and replaced the stock steering components with a Lecarra steering wheel atop an Ididit steering column.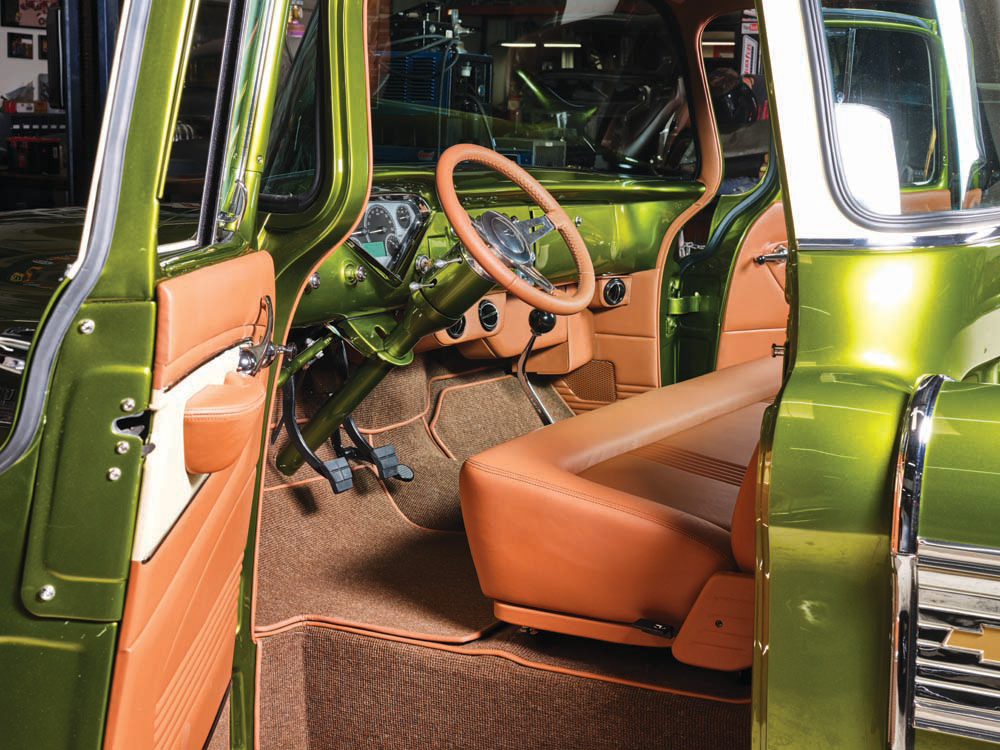 No matter what angle or perspective you admire the Waites' 1958 Chevy from, it's got that unmistakable Cameo allure to it—with that unmistakable hot rod touch, of course!