Bringing a Young Ford Truck Enthusiast's Dreams to Life
By Chuck Vranas – Photography by the Author
At a time when most young automotive enthusiasts today are drawn into the world of performance tuners, Dylan McDowell, of Stouffville, Ontario, Canada, had already cemented a path to Koolsville thanks to his parents and the Lead Kings Car Club, of which his dad Jamie is a member. Growing up in the family garage surrounded by hop-ups, including a '51 Chevy Custom and a '66 Chevelle, his earliest memories revolve around the frame-off restoration of an early Corvette that was bigger than life. Before long, he was given plenty of assignments to understand the importance of all the fine details needed to bring the car back to life. He also learned of the camaraderie brought by his dad's good friends in the Lead Kings who were always available at a moment's notice to lend a hand in the shop whenever needed.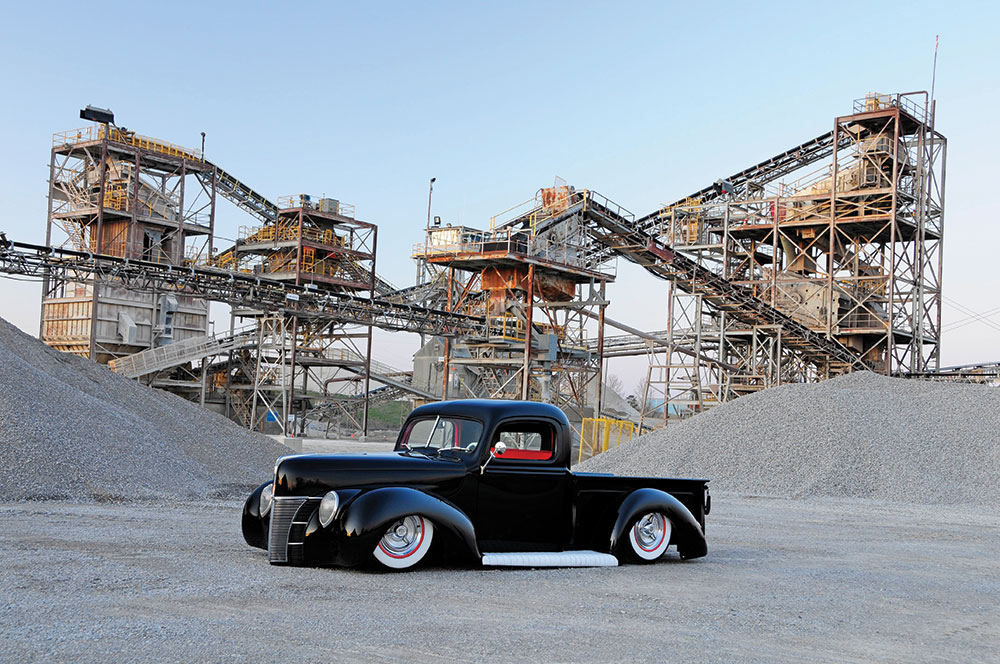 Read More: Alluring Sterling Silver 1956 Ford F100
If you're lucky your passions get recognized, enabling you to move onto the next level, which is especially important at a young age. For Dylan, it was his grandmother, Alice Turner, who saw his infatuation with one particular '40 Ford truck. Regardless of whether the old truck was a basketcase, she saw that it lit a fire deep within his soul. She made the decision to buy it for him when he was 12 years old, knowing he would focus all of his attention and creativity on it. He eventually started the build when he was 14, having gained plenty of appreciation for traditional custom hot rods from both his dad and the club members, to fuse the perfect balance of style into the truck displayed across our pages. Sadly, during this time, his grandmother died, however her final wishes included a small inheritance for Dylan to dedicate to finishing the build.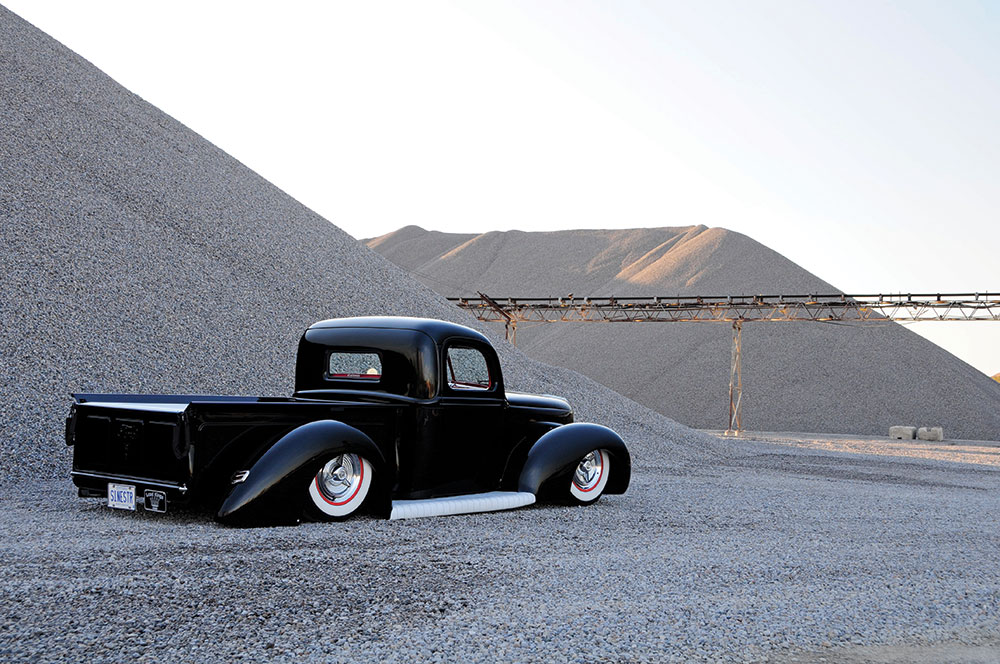 Having learned plenty about restyling over the years, it was finally his turn to create something unique, with the goal being to build an affordable custom truck while also working shoulder to shoulder with his dad and mentors in the Lead Kings. Seeing that the truck was in a pile, the first step was to locate a solid frame to act as a suitable base to support the build. A clean S10 Chevy truck frame was sourced and treated to custom crossmembers and a rear C-notch. Out back a Chevy 10 bolt rear end spins 3.55 gears and is suspended in place by a Welder Series 4-link suspension kit with matching Panhard bar combined with Firestone 'bags to slam it to the pavement. To set the stance, the original S10 Independent Front Suspension was updated with Belltech 2-inch drop spindles and Firestone 'bags. When it's time to stop, an early Camaro dual master cylinder moves fluid through steel lines to factory drums out back and discs in front. Linking it to the street are classic 15-inch Chevy steelies shod with Coker Classic wide whites wearing '56 Oldsmobile caps.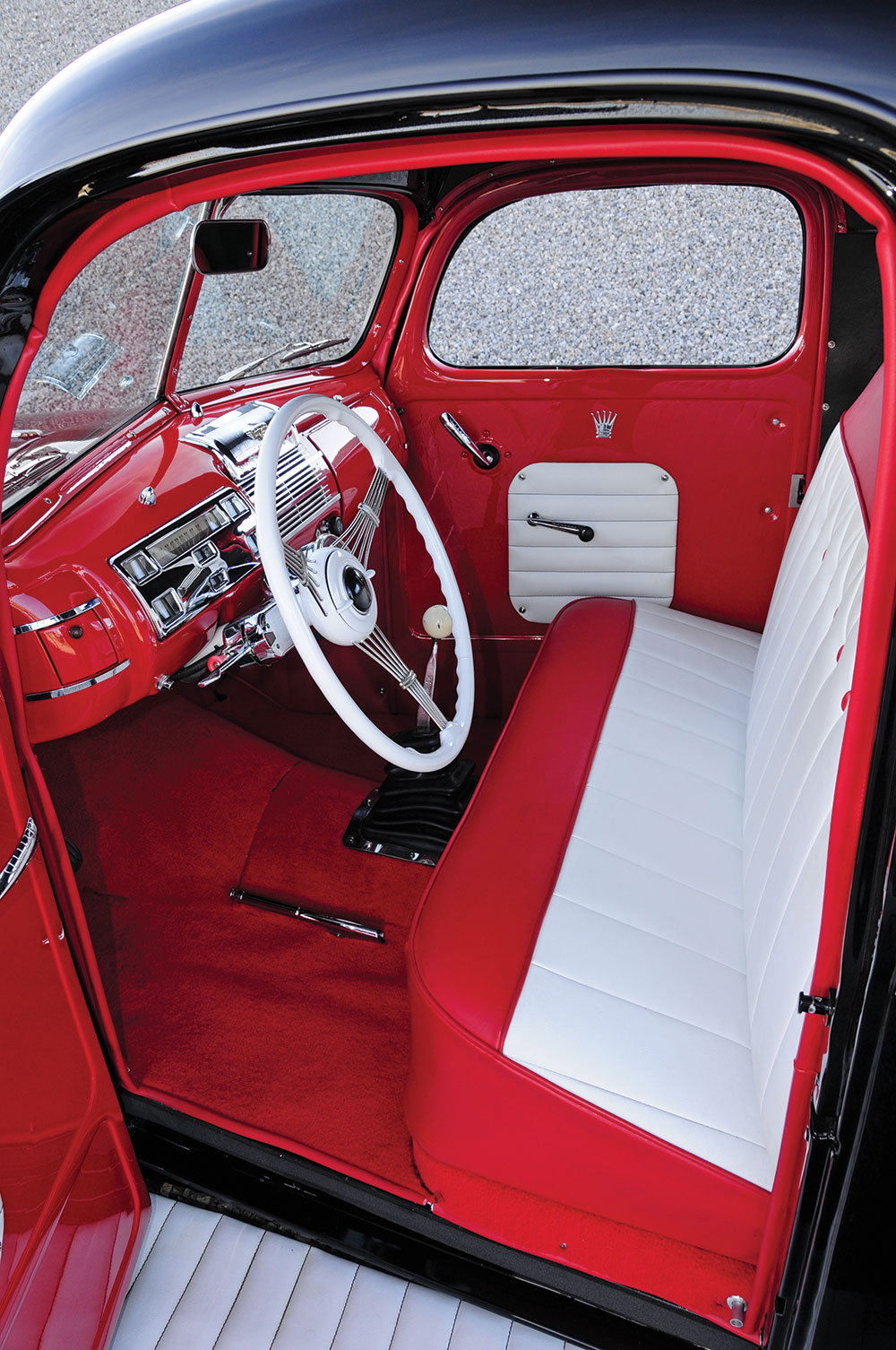 Read More: Bumpside Ford Evolution
When it came time to decide on power, Dylan wanted to keep a Ford in a Ford, with the only caveat being that he would have to stick to his budget. Before long he sourced a '70 Ford Mustang 302 engine mill right in his own neighborhood, talk about being resourceful! He and his pal Chris Carter even got it home on a four-wheel cart. Being that the engine was a pull-out from the original car, it was in decent running condition with a lumpy cam in need of a bath and a fresh coating of paint. To up the ante even further it was equipped with a Ford three-deuce intake wearing Holley carburetor, custom air cleaner, and finned aluminum valve covers for SBF. The throaty V8 fires to life though an Accel ignition with hot gasses moving through no-name headers to a 2-1/2-inch custom stainless steel exhaust with Flowmaster mufflers. Power moves through a tweaked Ford Top-Loader 4-speed transmission linked to a custom driveshaft.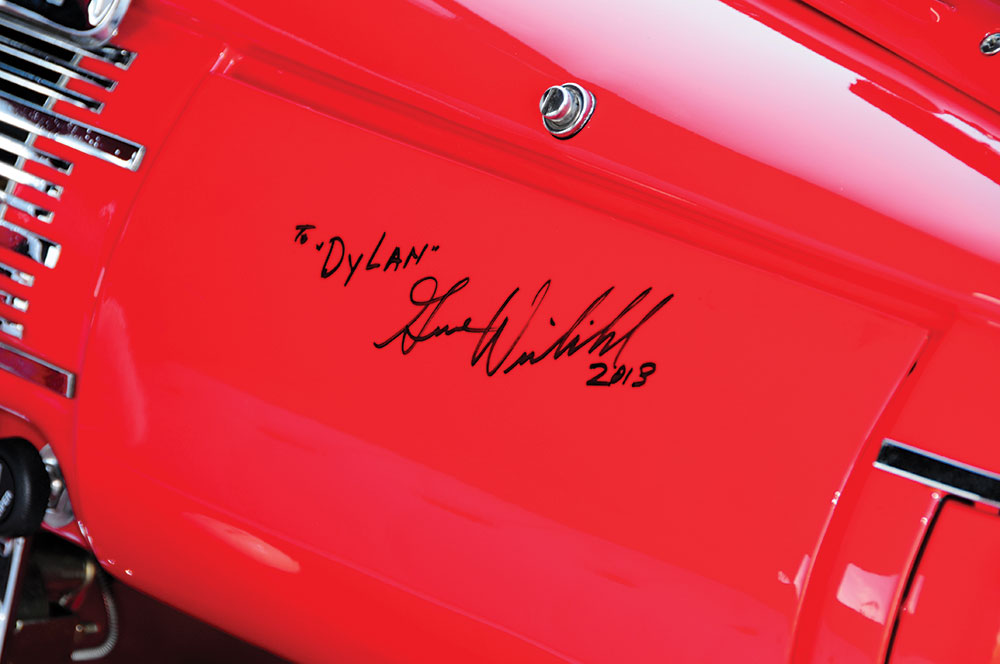 With that done, Dylan focused on bringing the factory sheetmetal back to life, not a job for the faint at heart since the old truck had seen plenty of abuse over its lifetime. Working with Jamie and good friends Aaron Roberts and Lorne Brand, they wasted no time in getting busy. To get started they chopped the cab 2 inches followed by a 4-inch sectioning and 4-inch channel to add attitude. From there they fabricated a new floor and transmission tunnel and shaved the door handles. Up front a '40 Ford DeLuxe car hood and grille were added, accented by a pair of '38 Ford DeLuxe car fenders while out back the bed was shortened 8 inches, moved up 5 inches, and treated to a oak custom truck bed Wayne Scales of Port Perry followed, metal-finishing everything to perfection, setting the gaps, and prepping it for paint. To bring it all to life, Jeff Arbour of Bradford loaded his spray gun with plenty of PPG gloss black and laid down the vibe.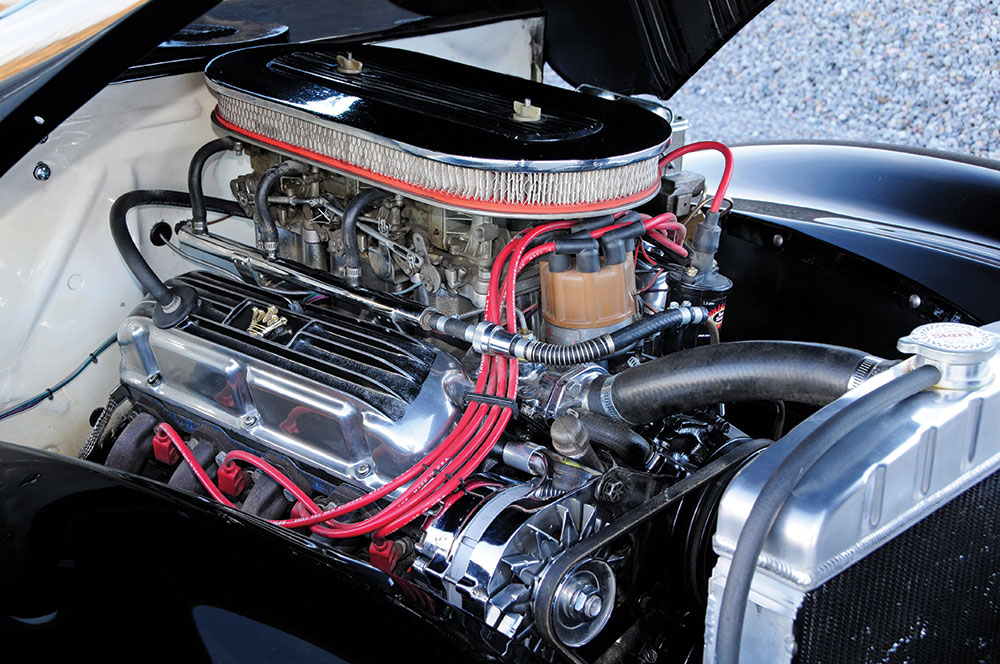 Read More: Rediscovered Passion: 5.0 Coyote Powered 1961 Ford F-100
Inside a '40 Ford car dash was filled with restored factory gauges combined with a Classic Instruments column-mounted Rocket Tach along with under dash dials to monitor more vitals. A '37 Ford banjo steering wheel mounted to the stock column carves a course while shifts hit through a Hurst shifter. To bring plenty of punch to the interior, vibrant red gloss was laid down by Arbour across all of the sheetmetal. Dylan and Jamie followed by installing a Speedway Motors universal wiring harness and plush red carpet. To wrap it up with plenty of style, the original bench was covered with red and white pleated vinyl by Curtwood Custom Upholstery of Huntsville who also covered the running boards with matching pleats. This is one cool custom truck built in a home garage with family and friends fueled by the dreams of a young hot rodder who now cruises the boulevard in style!