Don & Peg Butler's Family Farm Truck Turned Show-Stopper
By Chuck Vranas – Photography by the Author
Locating a classic truck to begin your next hot rod project can be like spinning the wheel of fate, depending on what your individual expectations are for a starting point. Regardless of whether you're looking for a bone-stock original still wearing its faded factory paint, a well-sorted driver, or a high level custom, they all have a unique story to tell. Many times, past experiences serve as a catalyst to lure you into a new build. For Don and Peg Butler of Cozad, Nebraska, working as farmers in their quaint community, they have always utilized their commercial vehicles for the purposes they were designed for to get the job done. Their alluring '56 Ford F100 displayed across our pages brought them on a dedicated journey to bring it back to life.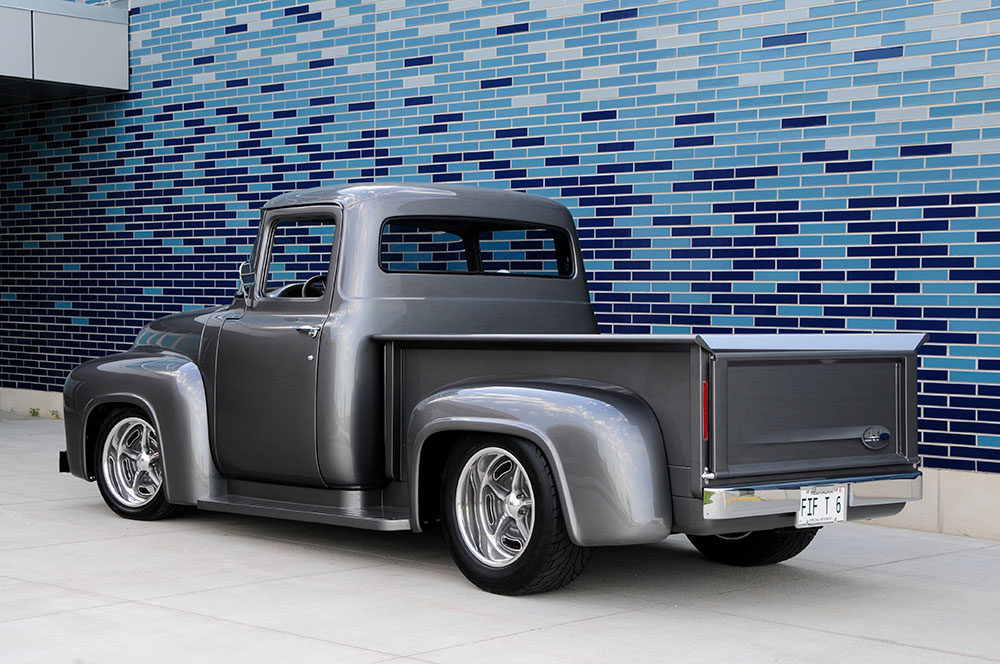 While growing up on the family farm, many of Don's earliest memories revolve around when he was first able to drive his dad's '51 Ford F100. It was a defining moment when he was able to finally reach the pedals to learn how to master a manual transmission. As the years passed into the late '60s the sounds of hopped-up muscle cars filled the landscape, easily capturing his full attention. This led to becoming fully immersed in the scene and eventually scoring a '69 Mercury Cyclone with a fire-breathing 428ci V8 to take on any challengers in town.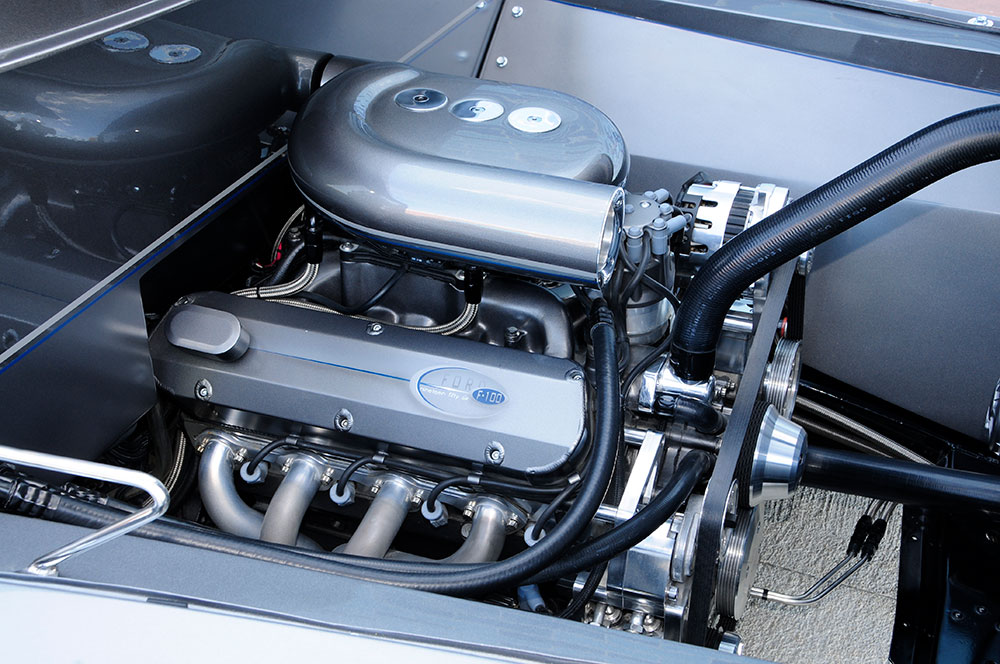 Read More: Rediscovered Passion: 5.0 Coyote Powered 1961 Ford F-100
It was now the early '90s and having always been inspired by the classic lines of the '56 Ford F100, Don made the decision to start the search for a suitable base to take on his own custom build. After scouring local ads he finally turned up a good lead to a truck located in Omaha, which was roughly four hours away. You never know the actual state of an advertised vehicle until you arrive to check it out in person and this was one of those times. It was obvious the old Ford truck had lived a tough life over the decades of being abused regularly within an inch of its life, leaving it in a non-running state. Despite all the flaws, Don still found potential in it and made a deal, swapping cash for keys. Once home, he worked on it for a while, eventually pushing it into one of his buildings where it sat for the next 20 years untouched.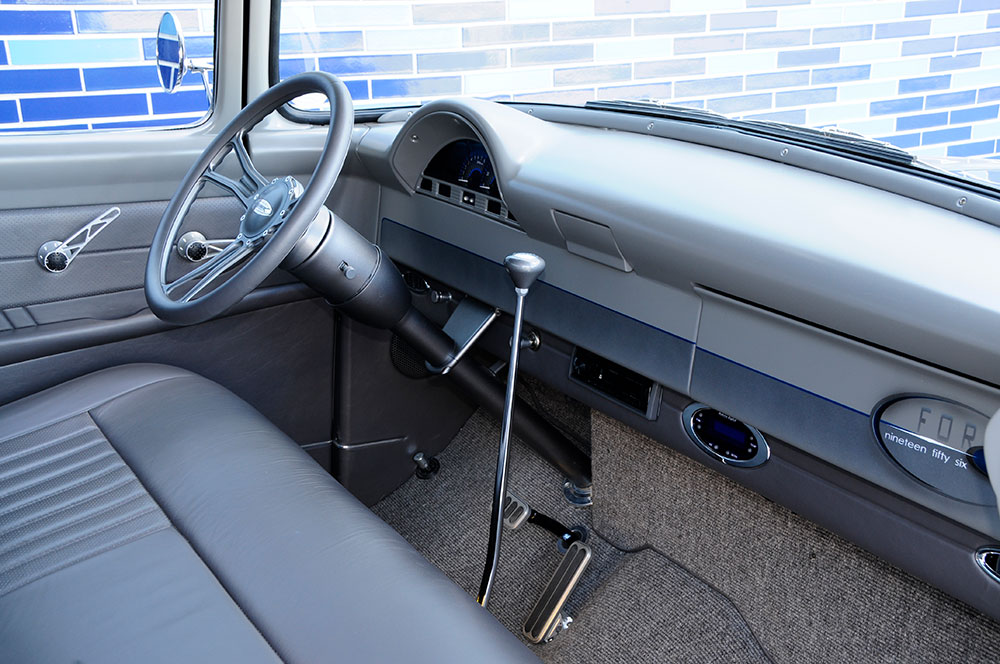 With the truck in hibernation Don still knew that someday it would get its chance for a new life. While attending a number of local car shows he began to notice a number of perfectly balanced '50s-era Ford F100s all having been built by the team at Dynamic Rides in Kearney. Soon after, he contacted shop owner Randy Lofquist to discuss his project. The pair shared many of the same ideas of what it would take to bring it to the next level by fusing just the right amount of style and performance to make it a standout. A deal was made and the F100 was hauled to Dynamic Rides where it was torn down for evaluation.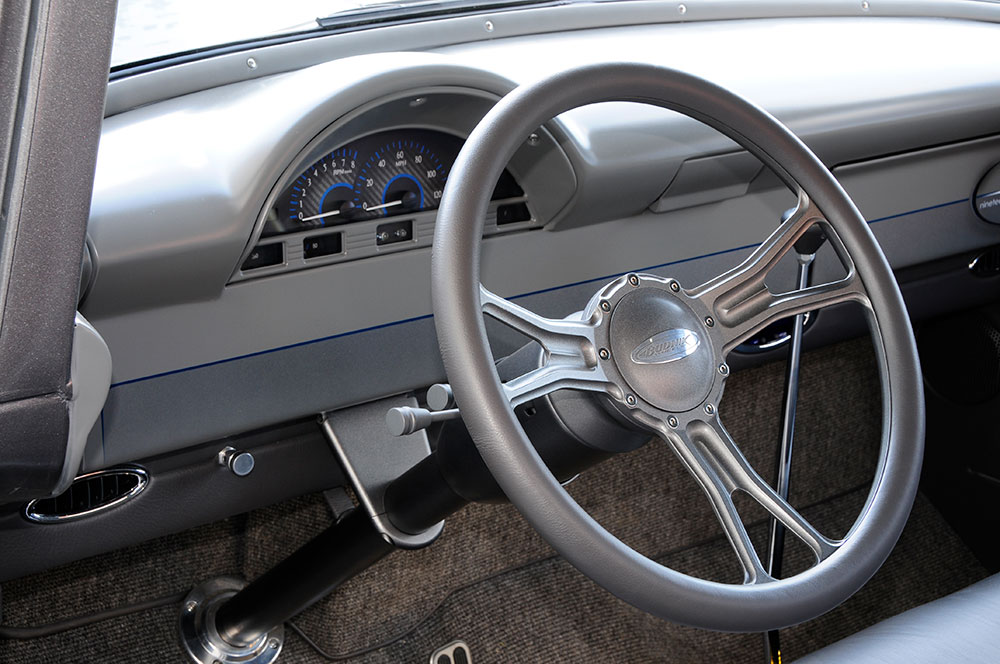 Read More: Bumpside Ford Evolution
Since the original spine was solid it was blasted clean, boxed for strength, and smoothed. From there the team added custom crossmembers while also stretching the wheelbase forward by 4 inches. To lay down the goods, a Ford 9-inch rear end packs 3.55 gears spinning Moser Engineering 31-spline axles and is suspended in place by a custom triangulated four-link matched to billet Ridetech coilovers. For razor-sharp handling, a No Limit Engineering Wide Ride Independent Front Suspension features custom tubular upper and lower control arms matched to their 2-inch dropped Z.G. spindles and sway bar along with billet Ridetech coilovers. When it's time to drop anchor, a dual power Wilwood master cylinder pushes juice through steel lines to matching 12.19-inch drilled-and-vented rotors with four piston brake calipers in back combined with 11.75-inch drilled-and-vented rotors with four piston brake calipers in front. Linking it all to the street are a set of Budnik Muroc III 17-inch front and 18-inch rear wheels topped with BFGoodrich and Mickey Thompson rubber, respectively.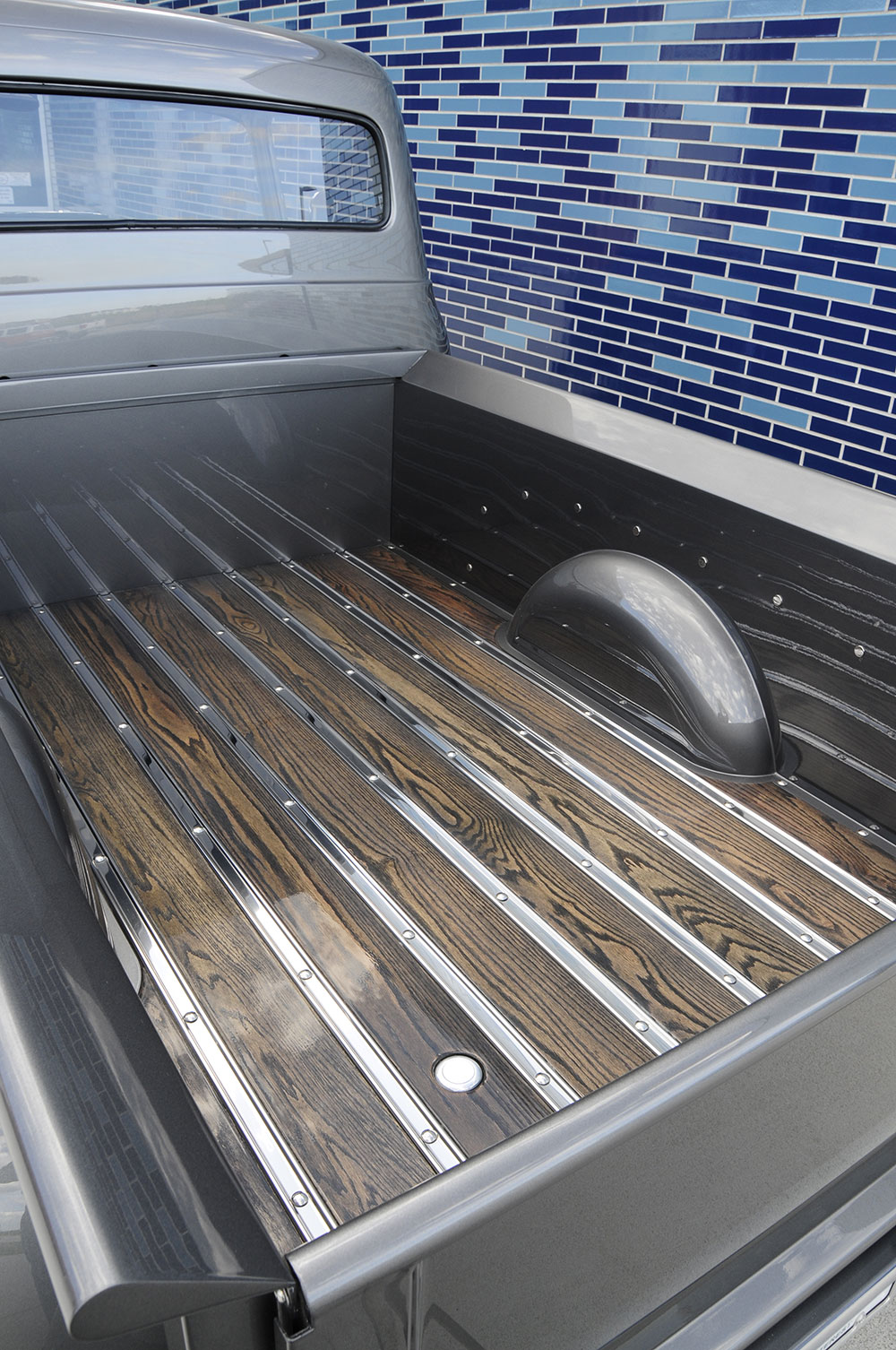 Nothing makes a better statement than keeping Ford power in a Ford. To handle the task, Don contacted BluePrint Engines in Kearney for one of their stroked 347ci small block Ford V8s. A seasoned block was packed with a speed shop full of go-fast goods, starting with a new BluePrint cast steel crank linked to forged I-beam rods capped with hypereutectic pistons with just enough thump from a hydraulic roller cam. Up top a set of BluePrint aluminum heads makes plenty of power, especially when matched to an Edelbrock Performer intake sucking down the goods through a FAST EZ-EFI 2.0 fuel injection system. A MSD pro billet distributor lights the fire with spent gases roaring through a set of Patriot headers to a 2 1/2-inch steel custom exhaust with MagnaFlow mufflers by Dynamic Rides. Plenty of neat underhood details include a Powermaster alternator, Concept One pulley system, and custom-fabricated valve covers and air cleaner by Lofquist. A Ford AODE transmission from Monster Transmission of Brooksville, Florida, moves the goods to a custom steel driveshaft from Denny's Driveshafts. The Dynamic Rides team, including Lofquist, Dustin Maxson, Aaron Pullman, and Joe Rayford, also moved the driveline back 5 inches for better weight distribution and a lower center of gravity. They completed it with a 2 1/2-inch recessed firewall, custom inner wheelwells, and a reverse-opening hood.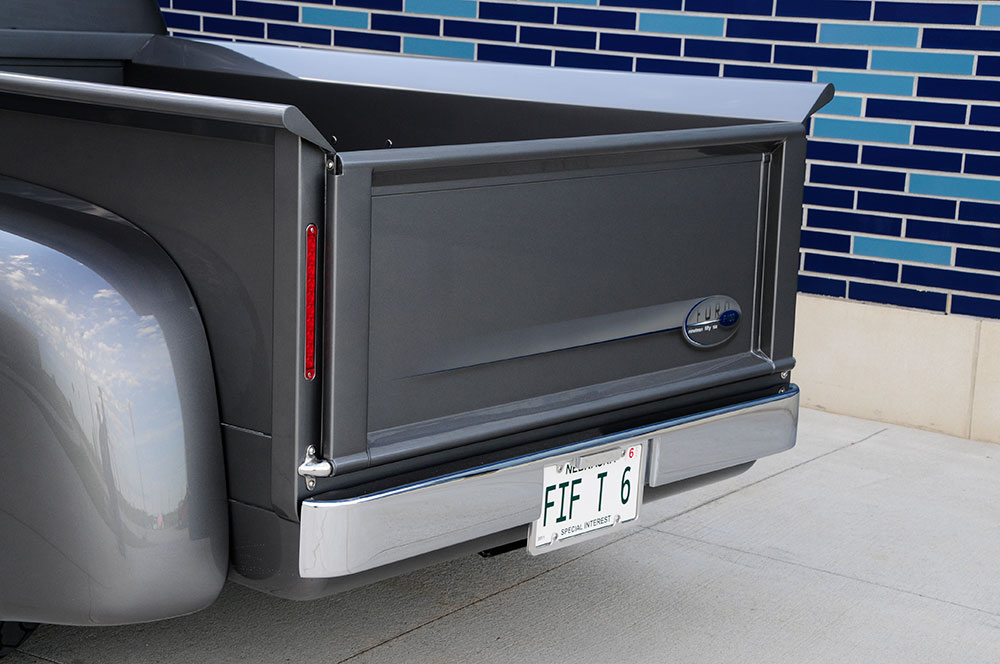 Read More: WOLF IN SHEEP'S CLOTHING: 1956 FORD F-100
Since the old truck suffered decades of abuse the team addressed the repairs to the original sheetmetal first by replacing the floors, rockers, door bottoms, and cab corners. For added personality, custom updates include tucking the front bumper, stretching the front fender openings to accommodate the new wheelbase, rear wheeltubs, roll pan, narrowed rear bumper with license plate recess and mild shave to the body. Everything was then gapped and metal finished. Since the original bed and tailgate were history, a fresh unit from Mar-K was added accented by a red oak floor to complete the look. To bring it all to life, Lofquist laid down a lustrous coating of PPG Envirobase Sterling Silver accented by plenty of decadent chrome from Advanced Plating.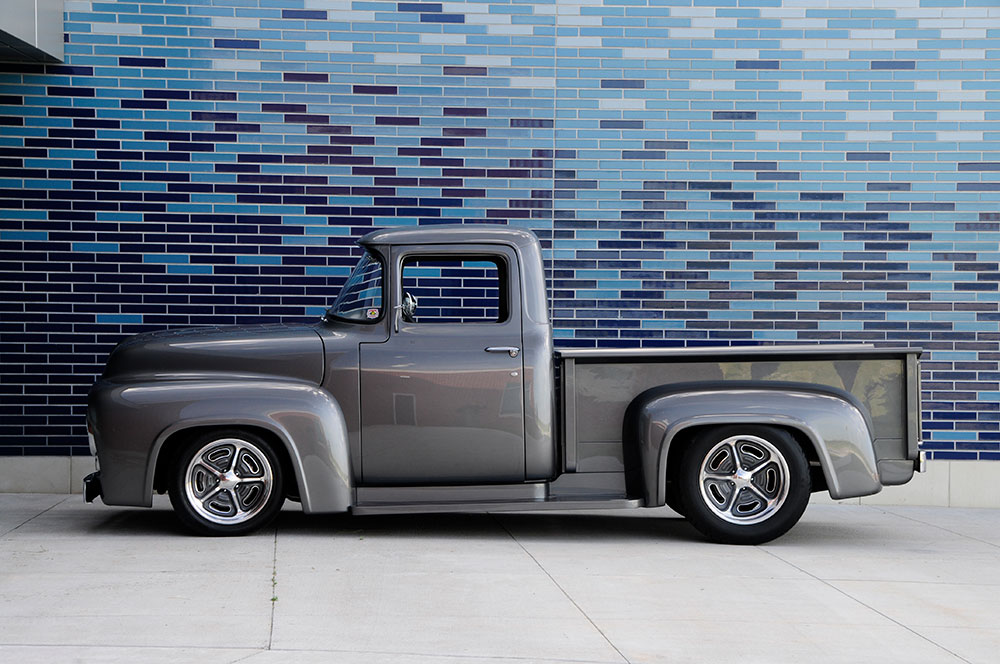 To bring an equal amount of allure to the interior, the stock dash was smoothed and filled with Dakota Digital VHX gauges to monitor the vitals while a Budnik G10 wheel linked to a Classic Performance Products tilt column carves a path with a Lokar shifter pulling gears. Vintage Air keeps the cabin cool while tunes flow from Kenwood and JBL. For plenty of style and comfort, Recovery Room Hot Rod Interiors of Plattsmouth, Nebraska, added a contemporary vibe by covering a Glide Engineering bench in gray leather complemented by custom door and kick panels and headliner along with gray square-weave carpeting. An American Autowire Highway 22 wiring harness brings it all together completing the build. The team at Dynamic Rides nailed the look with this F100 and we're sure Don and Peg will enjoy every mile!