Ricardo Benavidez's 1961 Ford F-100
By Rob Fortier & Ricardo Benavidez – Photography by Tim Sutton
Ricardo Benavidez's Ford affliction came the old-fashioned way. He told us, "I'm San Jose, California, born and raised. From fifth grade through college (2000) I worked for my next-door neighbor who was a backyard mechanic. This launched my love for cars, especially classic cars. I restored my first 1965 Mustang in high school (1992-1996). Through the muscle car restoration process I learned that '60s Mustangs and other Fords were built in San Jose. This created an affinity for Mustangs and F-100s, especially those built in San Jose.
Read More: WOLF IN SHEEP'S CLOTHING: 1956 FORD F-100
"During college I had to sell my 1965 Mustang for a commuter vehicle and for nearly 20 years I was without a classic car or truck. It wasn't until five years ago that I had my own home garage and it was time to get back into getting my hands dirty and rediscovering my passion for classic cars and fixing things. In the last five years I've purchased, fixed, and sold three trucks: a 1965 Ford F-100, 1967 Dodge D100, and now a 1961 Ford F-100. I love the thrill of the hunt, fixing and upgrading, networking and community with other car & truck lovers, and passing my vehicles to others to enjoy and improve on. I believe we need more people interested in old vehicles for preservation purposes (history on wheels). The more people who like classic cars, the more classics we'll be able to save. The more people who will learn about the craft of fixing cars, fabrication, and metalwork, modernizing drivetrains, and so on, we're preserving the hands-on mechanical, bodywork skills that are disappearing. More importantly, we'll inspire the next generation of designers, builders, and so on. (My wife only allows for one classic truck/car at a time … otherwise I would have a collection of trucks to fix and restore, donor vehicles, and so on!)
"The previous owner worked 20-plus years for Ford Motor Company in Southern California. He discovered this 1961 Ford F-100 original-paint truck in the desert a few years ago. Through his network of friends, the truck was built in his garage—he believed in being hands-on and wasn't afraid of working long nights and weekends. Unfortunately, he was in a major motorcycle accident and the truck wasn't comfortable and/or compatible for his injuries, so he sold it to me."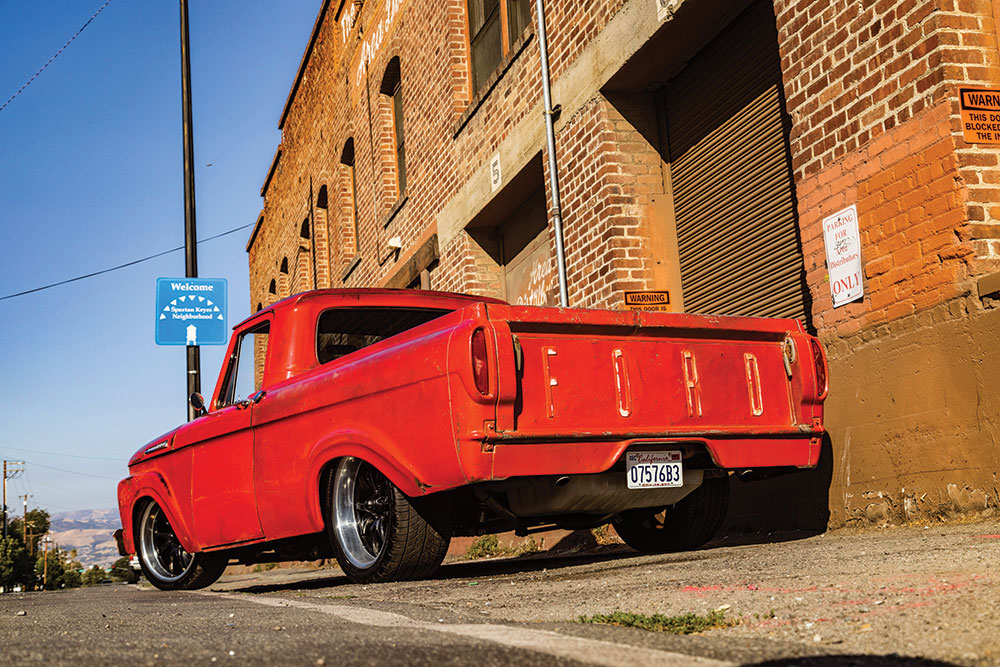 Read More: Bumpside Ford Evolution
As the Unibody sits now (substantially lower courtesy of a coilover Independent Front Suspension and triangulated four-link), it wears its original suit of red, albeit well patina'd (which Ricardo washed with Comet, buffed, and treated with linseed oil!), complemented by 20-inch Polished-lip Ridler 650s concealing four-piston Wilwood brakes. Long gone is the old Ford Y block and granny-geared transmission —in their place, a Lund Racing–tuned, Power By The Hour controlled Ford Gen 2 Coyote Engine backed by a six-speed 6R80 automatic transmission overdrive do a much better job of powering the old Effie! Ricardo handled the upholstery himself, acquiring a set of buckets "off Craigslist from a rat rod owner," as he put it, adding Dakota Digital instrumentation, Flaming River Steering column, and wiring up with an American Autowire harness before putting some well-deserved miles on his 1961 F-100!