From Inception to Completion, This is One F-100 Whose Story is Still Unfolding
By Rob Fortier & Grant Peterson – Photography by Tim Sutton
Fifteen years ago, I not only had the pleasure of running Classic Trucks magazine, I had the additional pleasure of having Grant Peterson as my editorial sidekick for the duration of my time "behind the wheel," as it were. Back in 2006, the classic truck scene as we know it today was just starting to take shape, and the two of us rode that wave with our toes on the nose, so to speak, helping progress an old man's hobby into an "every man's" hobby. Between the two of us, we managed to spearhead a few rather noteworthy project builds, but the one that stands out the most in my mind was Grant's progressive-for-the-period 1967 Ford F-100.
Read More: How To Install a Vintage Air SureFit In-Dash Kit in an F-100
After pulling off yet another successful Born Free Motorcycle Show this past August, I had a chance to sit down with my old sidekick and reminisce about the good old days and his Bumpside that almost wasn't meant to be … completely finished, that is. Here's how Grant recalls the project truck after all these years: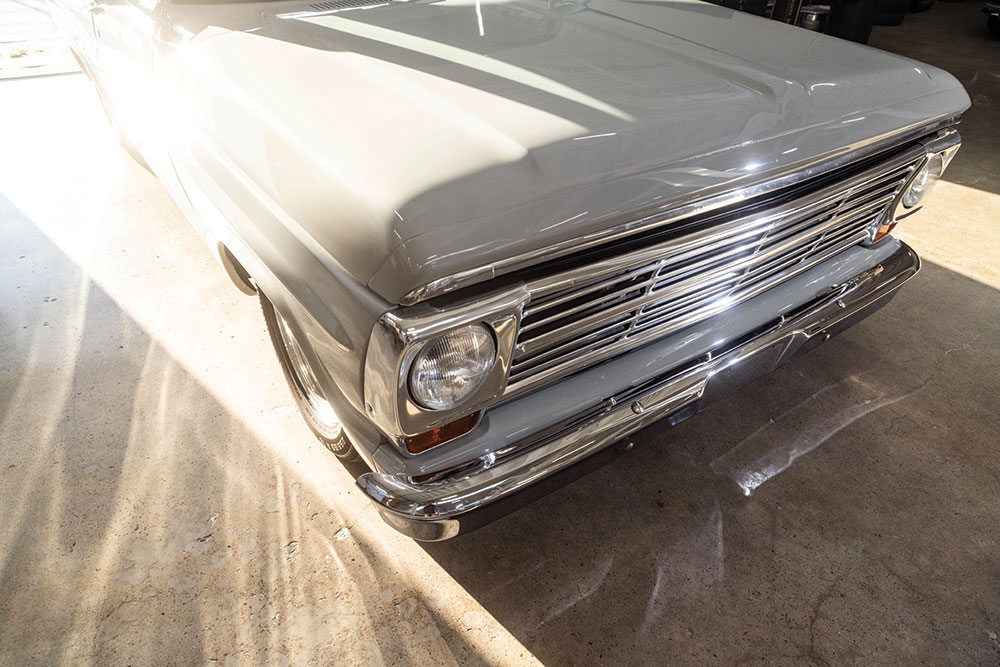 "It feels like a couple lifetimes have passed since I started the 'Bumpside Build-Off' as a friendly competition with then-rival [Custom Classic Trucks] magazine editor John Gilbert. In fact, I had to fire up the Googles and try and figure out when that was … January of 2007 was possibly the first of my installments, which means the work started in the fall of 2006 after buying a pretty clean $600 base truck that was nice but had a rod knock to beat the band. Back then there was fresh blood at Ford Racing and they had piles of their 4.6L three-valve V8s and wanted to know if one would be a good powerplant for a new take on keeping Ford in a Ford.
"The engine management would prove to be a huge hiccup in the build due to Ford Motor Company's variable valve timing. The few folks who had dared to use the three-valve 'simply' locked out the VVT—or so I was told—but that defeated the purpose in my eyes. The work elsewhere had to continue while the engineers at Ford Racing got busy splicing wires; in fact, the first version of the "harness" was full of masking tape notes on a modified Mustang rat's nest and ECU.
"I had some specific goals for the truck, not many, but they were important in my eyes. The first was to be able to drive the truck anywhere! What's the point of a modern fuel-injected, bulletproof drivetrain if you can't use it? Next was to have it sit just right but ride properly to coincide with the goal number one. Personally, I opt for static suspension for that lifetime of reliability but built custom rear coilover mounts that could be changed for helper bags (it is a truck after all). That was a minor footnote in what became a ton of custom chassis work, but in the end was ecstatic with the way it turned out. I was concerned at the time that it was far more fabrication work than most would get into, but in the time since, the trends seem to have lots of people chopping up frames. I just wanted to show a different take on how to install the parts that people have been using for years and on a truck that used to be overlooked; again, not the case anymore!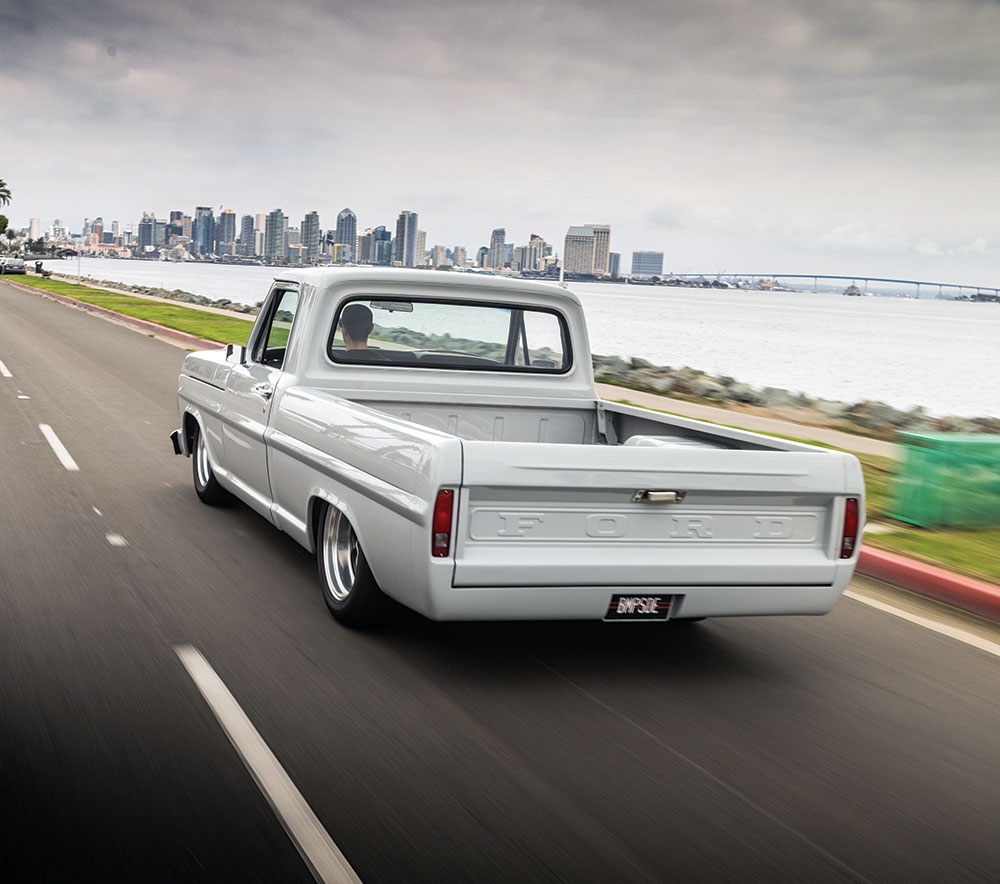 Read More: Purpose Built Sport Truck: 1958 Chevy Cameo
"The bad part was life got in the way and as a one-man show juggling all the fabrication and mechanical work, plus running the camera and writing duties on a national magazine run by Rob Fortier and myself, meant that I just couldn't get the truck finished. I also transferred within the company to run the shop for Hot Rod and Car Craft at the time and reluctantly sold the truck prior to paint and finish work. As the years passed I always expected to see the truck get finished and pop up on the Internet somewhere, but it wasn't until recently that I kept getting tagged in a few things on Instagram, and lo and behold there it was! I jumped at the chance to talk to the new owner and was left with the warm and fuzzies knowing he was doing what I had intended … driving the hell out of it!"
Along with the aforementioned modular Ford engine and Tremec TKO 5-speed transmission (which was later replaced with a 4R70W automatic), Grant front- and back-halved the F-100 with Fatman Fabrication's finest in coilover-equipped Independent Front Suspension and four-link upgrades … and threw on a set of wheels that would definitely set the performance tone for the build: 18-inch American Racing AR 500–style billets with ContiSport Z-rated radials. The interior was fashioned similarly, receiving a Mustang-inspired upholstery with TMI-sourced materials, MOMO race wheel, and Speedhut gauges. When all was said and done, the '67 was finished off in a Ford Raptor Avalanche Gray with a dark oak BedWood kit.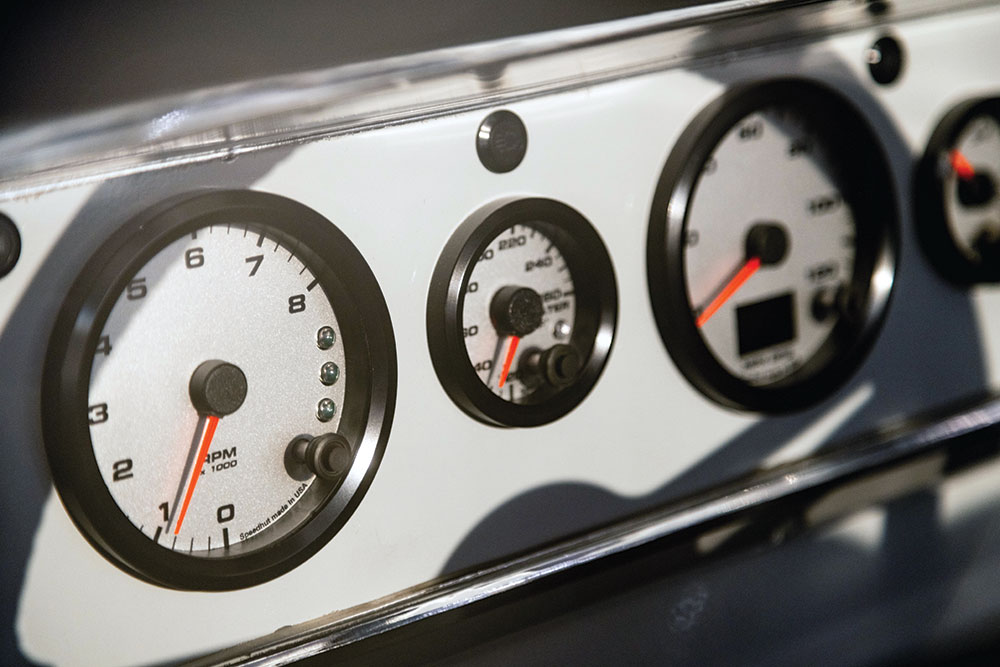 Although San Diegan (pronounced "de-ah-gan" according to Ron Burgundy) Doug Robbin is the second owner since the project truck was originally conceived, he'd been following Grant's build from the very beginning and, suffice it to say, was more than obliged to not only take it over when the opportunity arose, but see it through to the completed state you see pictured here.
"I purchased the truck after it sat for 10 years before having the interior and body finished," Doug says. "It now operates as a great cruiser that doesn't mind taking a beating every once in a while. It turns heads everywhere it goes. The longest trip I have taken with the truck was the trip home from buying it. I flew to Scottsdale, Arizona, to meet the [previous] owner after purchasing the truck off BringATrailer.com. I spent a day with the truck in Scottsdale before driving it back to San Diego. That was a very eventful 365-mile road trip in an untested, recently semi-finished build."
Read More: WOLF IN SHEEP'S CLOTHING: 1956 FORD F-100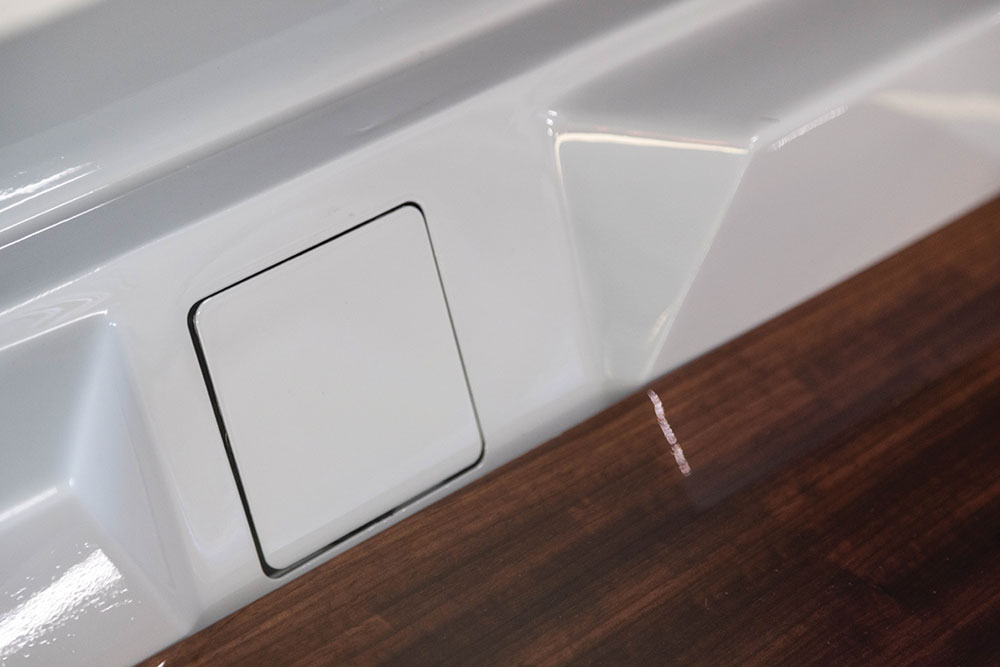 But this is not the end of the Bumpside's story, rather, just the beginning … of its next chapter, that is. It is great to finally see it finished, on the road, and "turning heads everywhere it goes"—just as Grant had intended from the get-go.