From Drag Strip to Long Hauling, this 1949 Chevy Truck Does it All
By Chuck Vranas – Photography by the Author
Where did the idea to take a 1949 Chevy 3-window truck, and build a dragstrip hero that can still handle the long haul? Like the story for many hot rod truck builds, the idea spawned long ago.
Growing up, there was always that one driveway in your neighborhood where all the cool hot rods could be found regardless of whether they were being wrenched on, tuned to perfection, or detailed to get them ready for the weekend. The only way this could get better is if you lived within earshot of your local dragstrip.
Well, for Clay Stevens of Cordova, Maryland, the experience led him down a performance path starting in his teens. The 1949 Chevy Advance Design pickup truck laid out in the pictures here is a stellar example of what can be accomplished when melding traditional good looks with a ferocious driveline, thus making this competitive on the quarter-mile.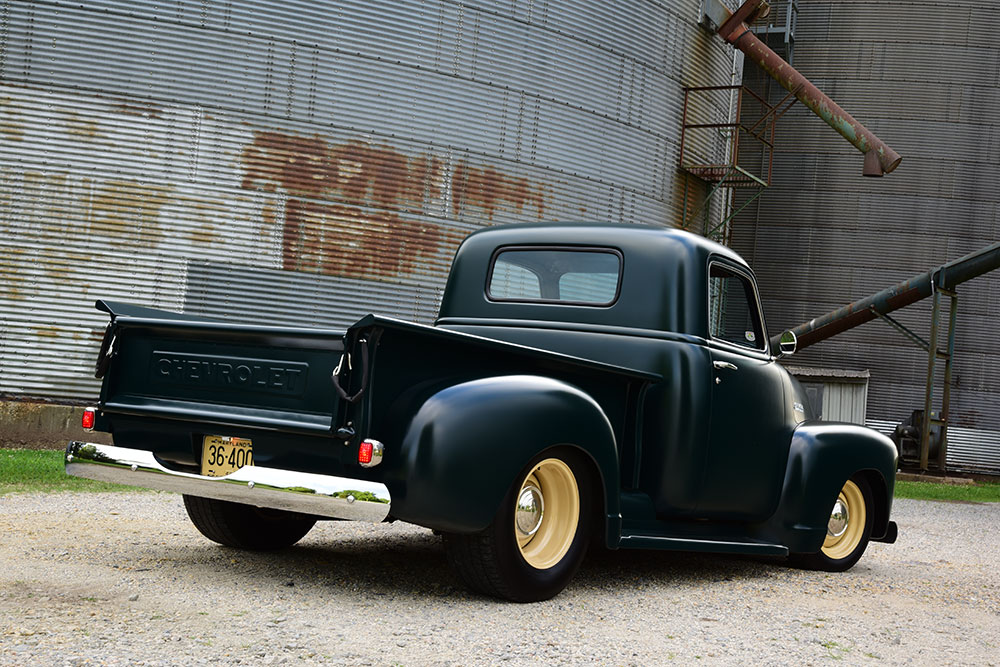 Framing his early teens, Clay spent plenty of time at neighbor Donnie Gertz's garage watching while he spun wrenches on a '69 Nova that was a regular competitor at Capitol Raceway in nearby Crofton every Saturday night. This, combined with the heavy scent of race fuel and burnt rubber of watching everything from Gassers to Dragsters and Funny Cars vie for total domination at the track, raised his adrenalin levels into the stratosphere.
Read More: 1930 Ford Highboy Coupe Hot Rod Dream Build
He eventually purchased his first ride, a '66 Chevelle, which he built into a competitive 11-second street/strip car by the time he was 16 years old. Right around the same time he was also cruising cross country to rodding events with cousin-in-law Ray Bartlett, a devout traditional hot rod owner and builder. This easily influenced him to a total appreciation for hopped-up V8s, three pedals, and the fine whine of a quick-change rear end.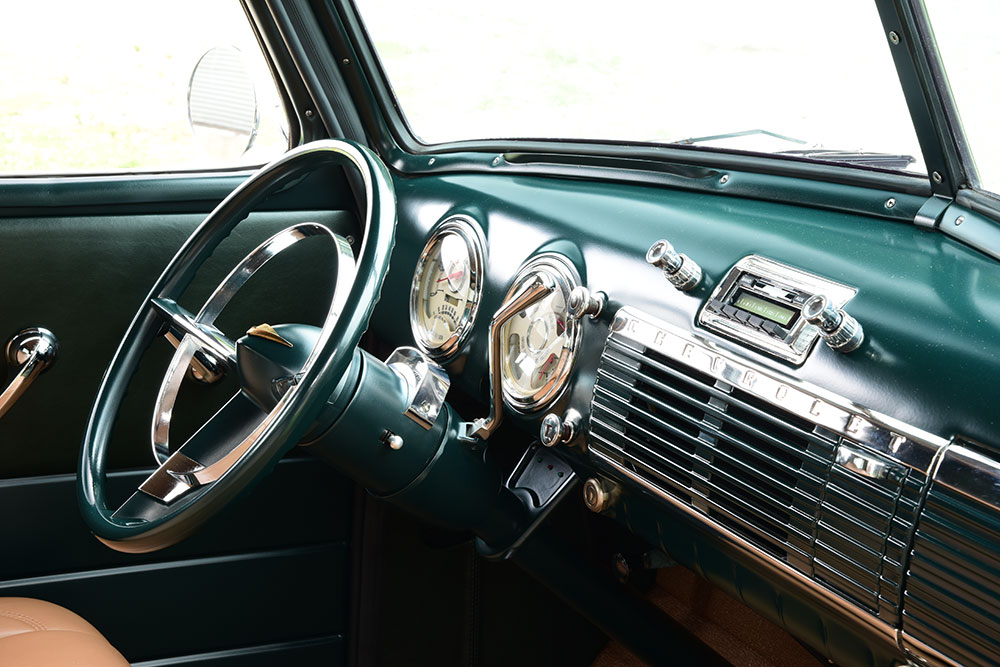 As time marched on, a number of Chevelles followed, with each one spending plenty of time at the 'strip while also fielding Jr. Dragsters for his two young daughters along with his lovely wife, Donna. One thing had an obvious influence on him: the well over 30 years of drive time spent with Bartlett attending rod runs from coast to coast.
This led him to the design of his latest build since Bartlett, owner of East Coast Hot Rod Garage (ECHRG) in Denton, Maryland, just so happened to have a nice, clean 1949 3-window Chevy truck that could act as a perfect base.
The pair worked to fuse rock-solid dependability with that of a nailed stance and traditional good looks combined with the capabilities of taking on the quarter-mile. It was a perfect balance that immediately led to a deal being made and the build commencing.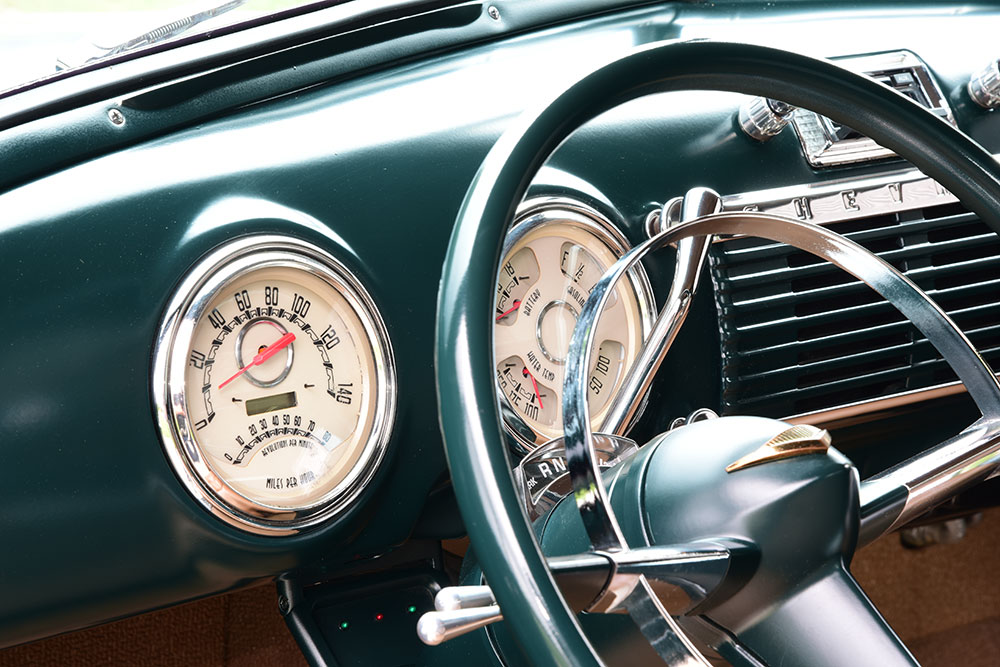 Since the original 1949 Chevy's frame was perfect, it was blasted clean, boxed for added strength, and filled with custom crossmembers. Knowing the old truck was going to run much wider rubber out back, the 'rails were moved inboard 3 inches per side.
A spins 4.10 gears linked to 31-spline axles all hung in place by a combination of Chassis Engineering leaf springs, gas tube shocks, and anti-roll bar matched to Calvert Racing CalTracs traction bars.
Setting the stance up front, a Speedway Motors Mustang II Independent Front Suspension showcases their exclusive tubular control arms, 2-inch drop spindles, coil springs, and gas tube shocks combined with a Chassis Engineering anti roll bar and power rack-and-pinion steering.
For plenty of stopping power, a Corvette dual master moves fluid through steel lines to 11-inch Ford rear drums and 11-inch GM vented disc brakes in front. Bringing it all to the pavement for this 1949 Chevy truck you'll find a set of 16-inch Wheel Vintiques Series 14 steelies shod with rubber from Mirada and BFGoodrich.
Read More: Gritty 1968 Dodge Power Wagon with Hellcat Hemi Power!
When it came time to build a bulletproof 1949 Chevy truck engine capable of unlimited long-haul miles as well as the demands put on a mill for the drags you'd better be on the honor roll. To create the beast, Clay contacted Performance Unlimited of Freehold, New Jersey, to assemble a potent 383ci Chevy small-block.
The massaged block was filled with an Eagle cast steel crank linked to matching H-beam rods topped with Keith Black forged aluminum pistons getting bumped by a Comp Cams hydraulic roller cam.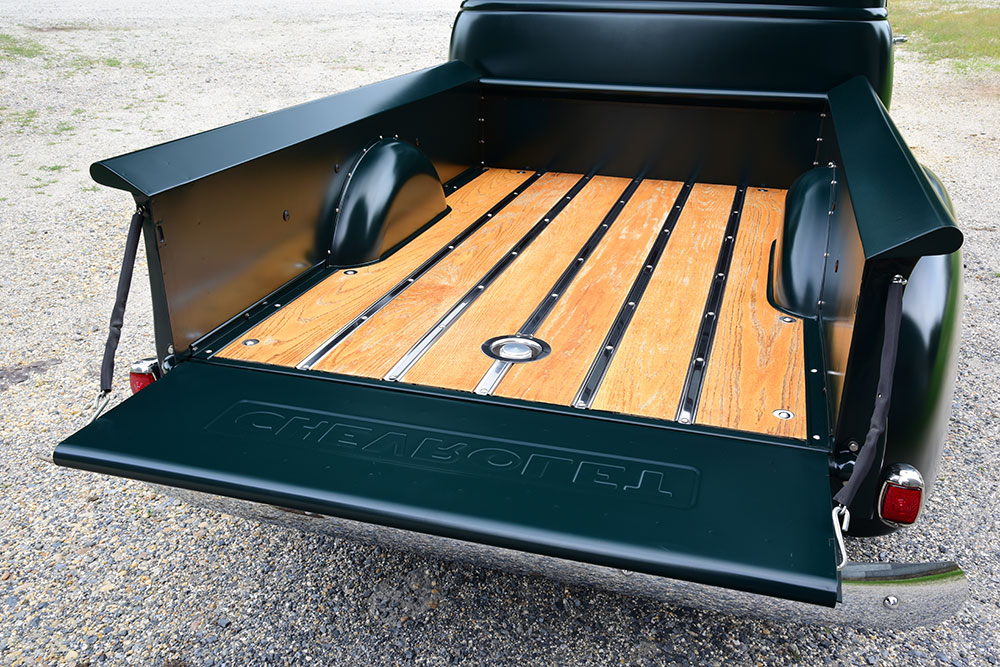 Solid power comes from a pair of Edelbrock Performer RPM aluminum heads and matching intake crowned by a Holley Ultra XP 750-cfm carb. An MSD ignition lights it all off while Sanderson headers move hot exhaust through a custom 2 1/2-inch stainless steel exhaust pipe with Flowmaster Series 40 mufflers by Dale Rhodes.
Other neat parts of this '49 Chevy truck include a Vintage Air Front Runner system perfectly matched to finned aluminum valve covers and air cleaner. A Chevy 700R4 transmission by Monster Transmission pushes the power to a custom driveshaft from A1 Driveshaft. The combination makes a wicked 505 hp at 5,600 rpm on the dyno.
Once the original Chevy 4×4 truck's factory sheet metal was blasted clean it revealed a mint base to work with. The ECHRG team immediately got busy, finessing the cab and related panels to perfection while also setting the gaps, smoothing out the firewall, and adding a new bed from Mar-K.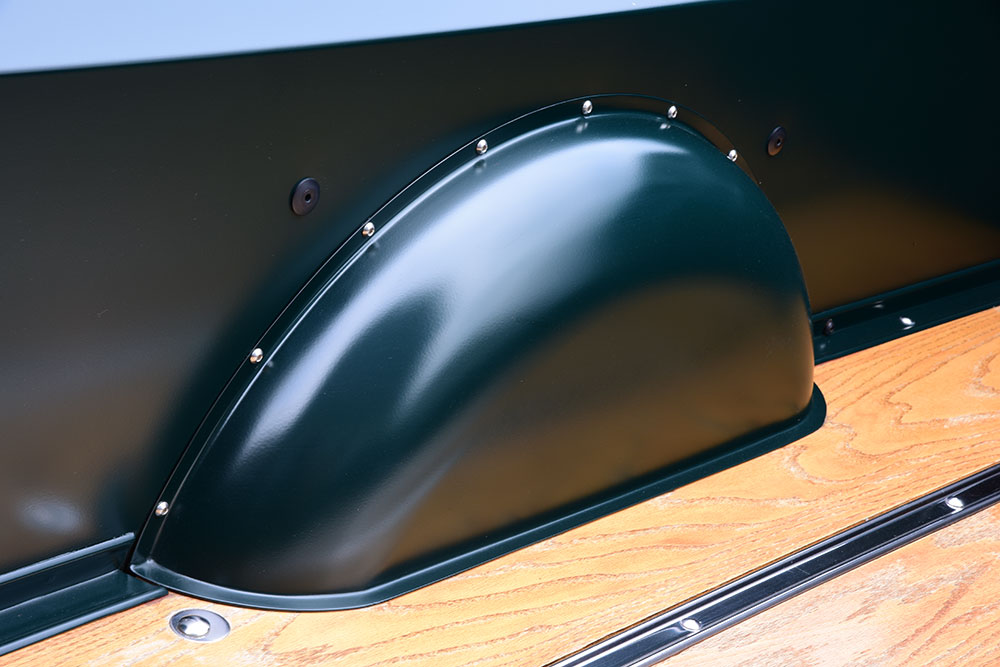 To lay down the vibe, team member Jason Lester loaded his spray gun with Moss Green satin. Hot Rod Flatz from TCP Global complemented by warm ivory wheels to add the right touch.  The interior complements the exterior perfectly, starting with the restored factory dash showcasing gauges from New Vintage USA.
A 1955 Chevy steering wheel mounted to a Flaming River steering column handles the navigation while a column shift pulls gears. Vintage Air handles the climate with music compliments of Custom Autosound and Sony.
Read More: The Perfect C10 Combo!
To be sure the office would be plenty comfy for the long hauls, ECHRG team member Dean Alexander modified an '88 Chevy truck seat, covering it with soft tan leather while also crafting custom door and kick panels as well as a headliner.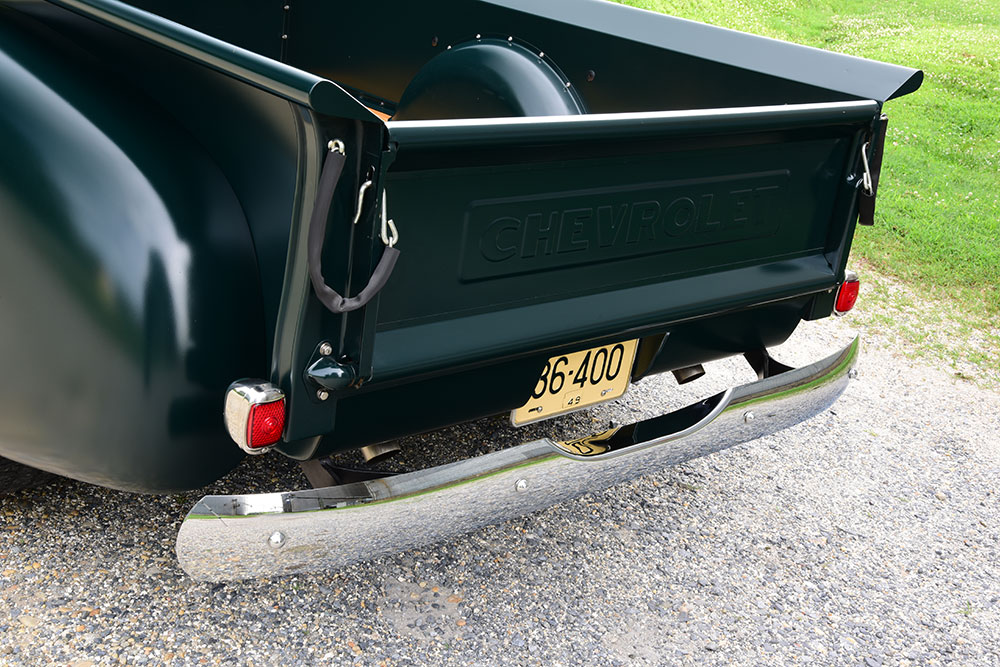 Clay has put down thousands of worry-free miles on this custom 1949 Chevy as well as running at Cecil County Dragway on the quarter-mile on slicks in the low 12s at 114 mph on a regular basis, and to us that's bitchin!