A Hellcat-Powered '68 Dodge W100 Power Wagon That's Better Than Brand New
By Fuelish Media – Photography by the Author
What do you do when you're torn between buying a brand-new truck for its reliability or going with an old truck for its classic, timeless appeal? Well, if you're anything like Jon Blumenthal, a general contractor from Encinitas, California, you get the best of both in one single pickup package. Roadster Shop kept the vintage look, engineered a fully modern 4×4 chassis, and dropped in a supercharged 6.2-liter Mopar Hellcat engine for the perfect blend of old and new.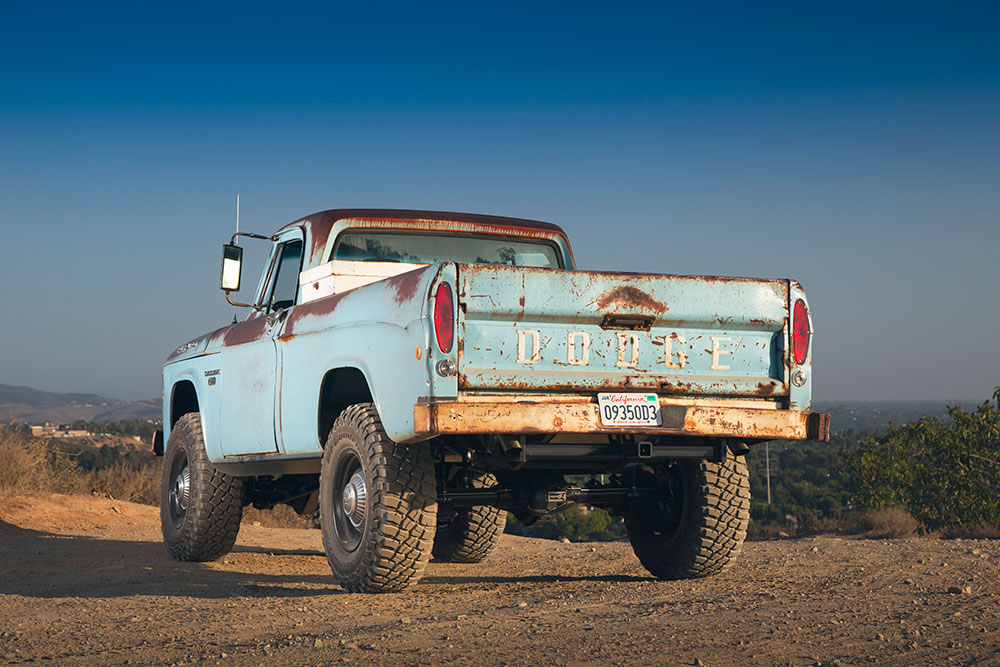 During one of his regular eBay browsing sessions, Jon ran into this 4×4 '68 Dodge W100 Power Wagon for sale in Texas and it literally stopped him mid-scroll. He admits that he wasn't specifically looking for a Dodge pickup truck, but once he saw the amount of original patina it had and that the truck was actually in decent enough shape physically and not a rusted through scrap heap, he threw a bid on it—and won.
Read More: Duramax Powered 1981 Chevy K2500 Pickup
That's not to say the Dodge wasn't without its issues when it landed at Jon's house, as he was sure to fill us in on. "The truck was a total death trap when it first arrived," he admits. "There was a big hole in the floor where the transfer case was, it had drum brakes all around and no power steering to turn the 36-inch tires it had on it. I just didn't feel comfortable driving it more than 40 mph due to all the violent rattling and shaking going on."
After a few months of putting around town in the Dodge Power Wagon in that condition, Jon was finally dead set on working on the second phase he had planned for the truck—to make it drive and feel like a new vehicle. Now, this is no small task for a truck this old, but Jon knew the perfect group of guys who could make the 53-year-old truck operate like a modern pickup. "Roadster Shop had worked on my last project, and I knew they were beginning to work on 4×4 chassis, so I naturally thought this truck would be an ideal platform to send to them," he says. "The engineering they do is phenomenal; if anyone could pull off what I wanted it would be them."
Read More: The Dodge Difference: Alan Hickman's 1964 D-100 Utiline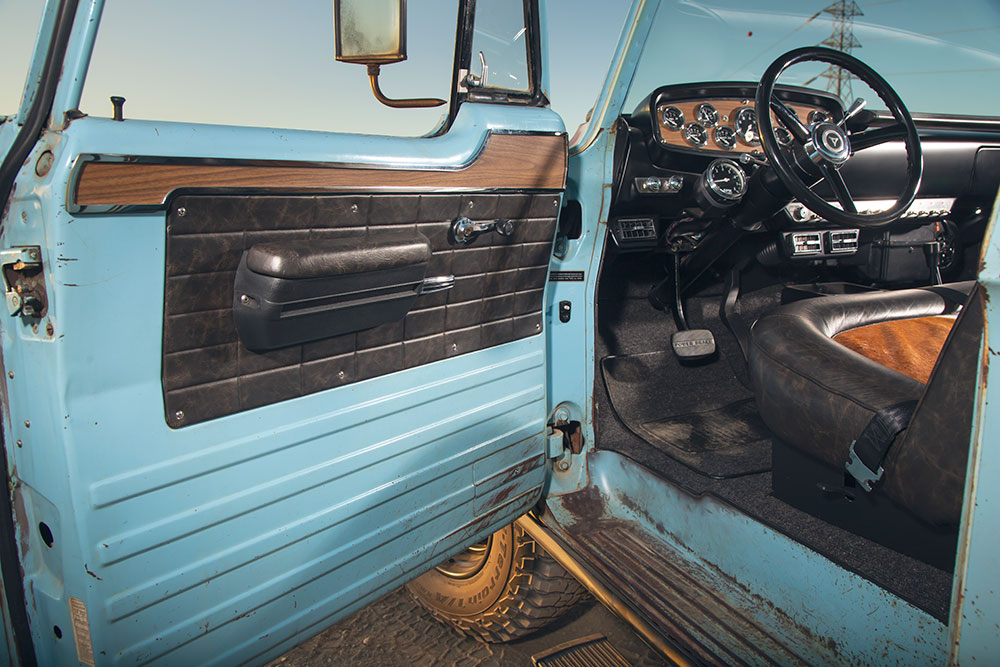 In order to design a new chassis and suspension system underneath the Dodge 4×4, Roadster Shop would have to 3-D scan the truck to create a digital blueprint first. Now, this process wasn't exactly quick, especially with this being a Dodge W100 4×4—a model they don't see too often, if at all, before Jon shipped his over. "The scanning process took roughly six to eight months to build a profile of the truck and build it on the computer first before doing any of the actual fabrication work.
What Roadster Shop cooked up was a complete custom chassis equipped with a front three-link and rear triangulated four-link with massive arms and bars, two Currie Enterprises built Dana 60 axles, and Fox Shox dual-spring rate coilovers, all around to allow the truck to handle great during daily driving duties and excel while out on the trails. To finish off the fresh suspension package, the guys went with a set of 18-inch Forgeline Wheels by Roadster Shop OE1 rims for their perfectly updated vintage aesthetic and 37-inch BFGoodrich Mud Terrain T/A KM3 tires for their obvious rough and rugged appearance and off-road abilities. "There's really nothing this truck can't do now," Jon says. "It's set up to climb rocks, handle dunes, and just about any stretch of off-road trail imaginable. I can't wait to go out and beat on it a bit since it has been designed to handle so many types of extreme conditions."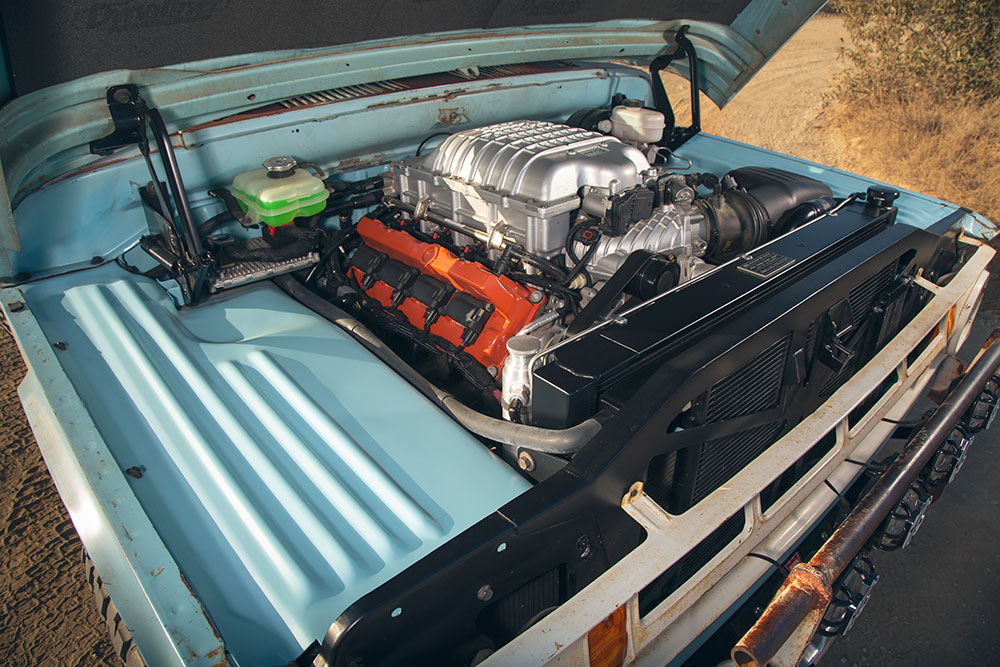 Read More: 1956 Dodge pickup is Packed with Modern Day Hemi V-8
To help Jon's Dodge Power Wagon power through whatever stretch of terrain it may come across, the Roadster Shop guys talked him into running with a Hellcat crate engine. The engine is pretty much factory still, but this thing boasts 707 hp to the crank (500 hp to the rear wheels) with 650 lb-ft of torque right out of the box. That, along with the GM 4L80E transmission from Automatic Transmission Design, makes for more than enough muscle to get Jon where he needs to go and back again without worry—save for having enough gas to make the round trip. "The 5:13 rear gears were added to the mix so I can get the 37s spinning with only a halfway stomp on the gas pedal. The setup on this truck is insane."
There wasn't much Jon wanted to do to the exterior of his old truck since it is already perfectly weathered, so he turned his focus inside the cab for a full but thoughtful overhaul. Everything inside is pretty much brand new, from the carpet, door panels, power windows and locks, Auto Meter gauges, JL Audio and Kicker audio components, and Vintage Air A/C system. The only portion of the interior space that maintains any of the truck's original as-found gear is the bench seat. The bench was decked out in a cowhide cover when it was delivered to Jon, which really was one of his favorite character features. To keep that vibe alive, a panel of that same cow skin cover was cut and inserted into the fresh leather upholstery—the perfect nod to the Dodge's old-school flavor.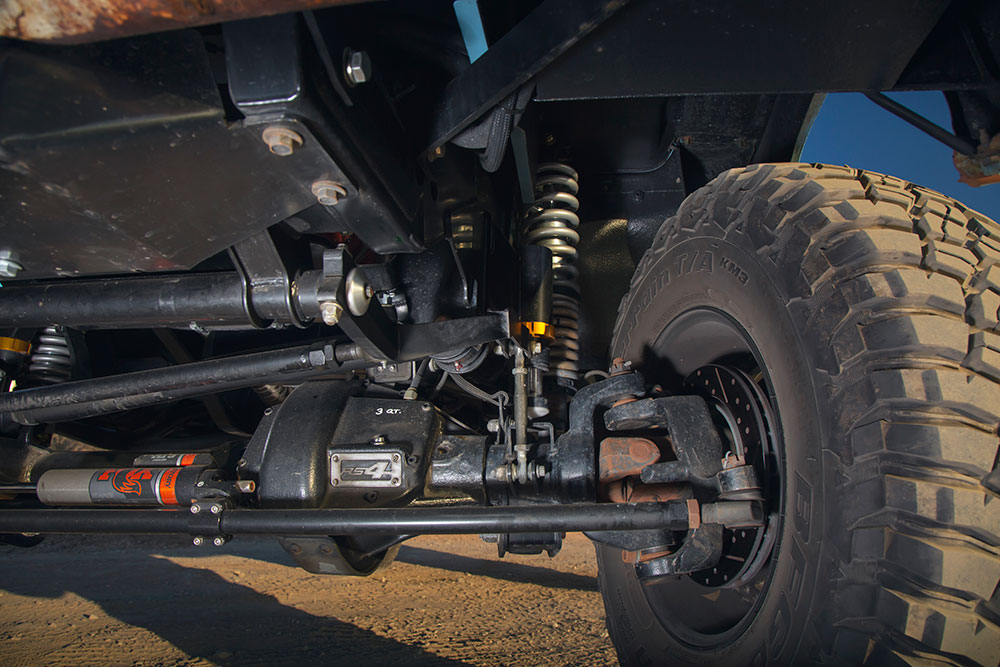 After the two-year build period, Jon was finally introduced to his finished '68 Dodge W100, still looking very much like the old pickup truck that it is, but with a fresh suspension, engine, and interior space that allows for it to drive and feel brand new—which is exactly what he wanted. This Dodge Power Wagon really is two different trucks rolled up into one and is proof that the gap between classic looks and modern function can be successfully bridged.