Pro-Touring Inspired C10 Served Up With Some Extra Horsepower on the Side
By Scotty Lachenauer – Photography by the Author
Some things just go naturally together. Peanut butter and jelly; Starsky & Hutch; gin and tonic; hammer and nails; bacon and … well, everything! But here in the classic truck hobby there are two historic GM innovations that just needed to come together and join forces in a seemingly holy matrimony of Chevy truck drivin' goodness: a totally rad '68 C10 and its bitchin and blown ZL1 power plant. 
Two Great Tastes
Over the years, we have witnessed the Chevy C10 become the stalwart of the classic truck scene. Many would say that this GM model is the cornerstone of the modern pro-touring truck movement, as we see a copious assortment of fresh builds stuffed into magazines and social media sites on a daily basis. With an abundance of project rides for sale, a healthy aftermarket for parts, and just plain ol' good looks, the C10 has achieved the lofty status as the go-to truck for building your dream "bedded" hot rod from.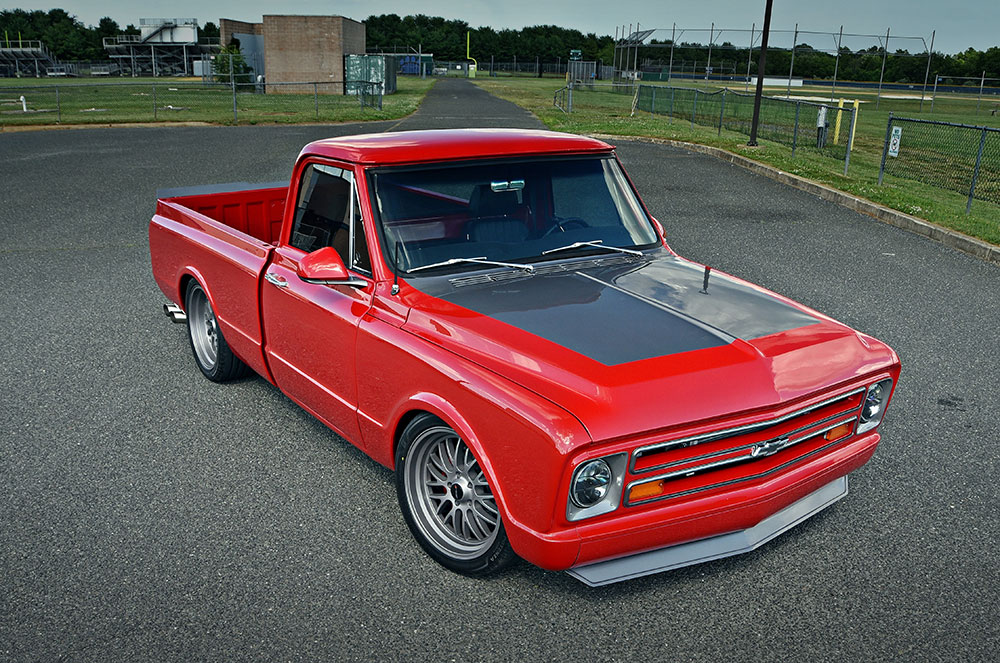 And let's not forget about the motorvation here, the track-proven 6.2L LSA  supercharged engine. Produced solely for GM's high-performance vehicles (like the ZL1 Camaro and the Cadillac CTS-V), this nasty aluminum small-block pumps out a healthy 580 ponies when stuck between the rails of your favorite hot rod. But rest assured the LSA engine is blessed with enough "headroom" for a little massaging where it counts. Just like the classic ZL1 427 Chevy big block, this power plant was built for both optimum crunch and a power curve that the competition just can't ignore.
This particular pro-touring C10 has an interesting story to tell. We jump into its history 50 years into its life … 
Read More: Corner Carving Chevy 3100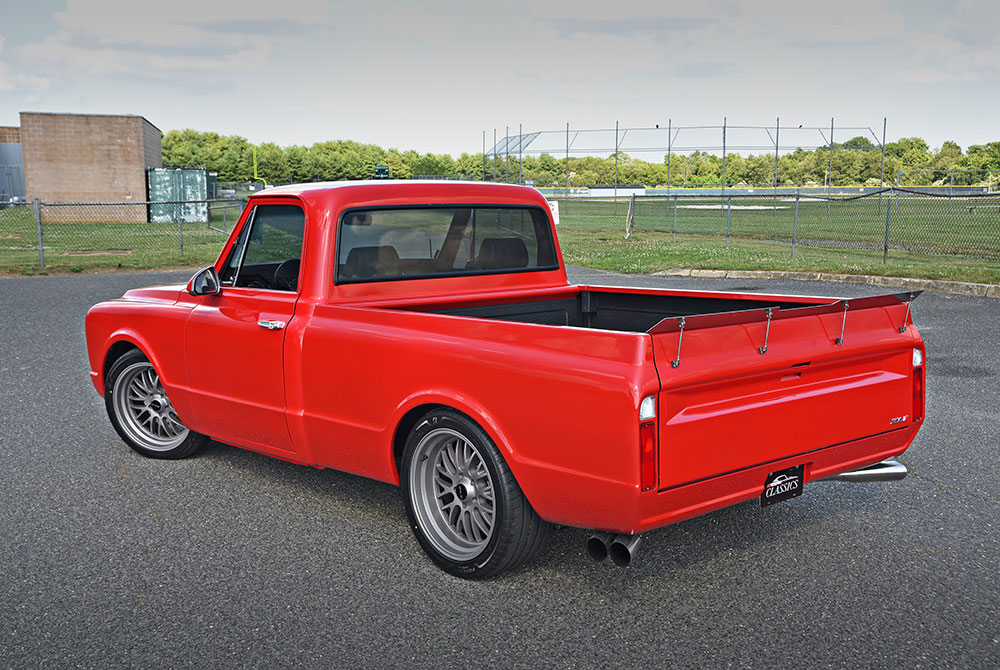 No Reservations
Joe Hanna of Colts Neck, New Jersey, is no newbie when it comes to performance vehicles. While still attending high school he scored his first premium hopped-up muscle ride; a 454 engine motivated '72 Chevelle SS. That Chevy A-body would soon become his daily driver and thus continually stoke his love for muscle cars for years to come. Joe's been bitten by the horsepower bug ever since that day so it was only natural to turn his love for performance cars and trucks into a dream occupation that any of us would envy.
Today, along with good friend Chris Mazzarella, Joe operates No Reserve Classics, a web-based portal that deals exclusively in high-end vintage rides. The goal here is simple: bring in custom classics with good bones, give them a makeover where needed, and then offer them to the buying public. Along with co-worker John Mascarinas, this well-oiled team has a steady clientele, selling their top-notch inventory to clients all over the U.S., Canada, and overseas.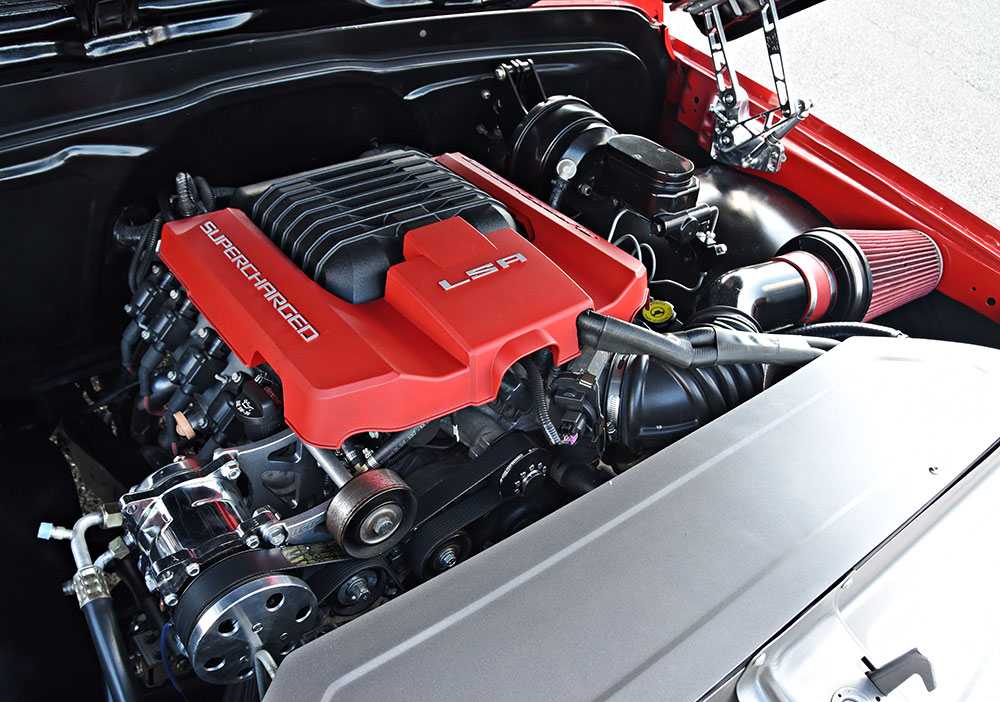 Ordered Up
While searching the Web for their next project, it just so happened that this well-built but needy C10 popped up for sale online. "The truck was in good condition but used shape when it was posted. The selling point here was the fact that it was built up with an arsenal of top-notch parts that were professionally installed. The overall package had a huge upside however there were areas where it could be improved. So, we took a chance and bought the truck knowing we could make it even better," Chris states.
Built well is certainly an understatement. This particular '68 C10 was set up the way any power junkie would have laid it out. From the bones to the paint this ride was just a few steps away from being a showstopper at every level. Of course, the truck had copious clouts where it really counts—underhood. At that point, the team grabbed up the Chevy and brought it back to their shop in New Jersey.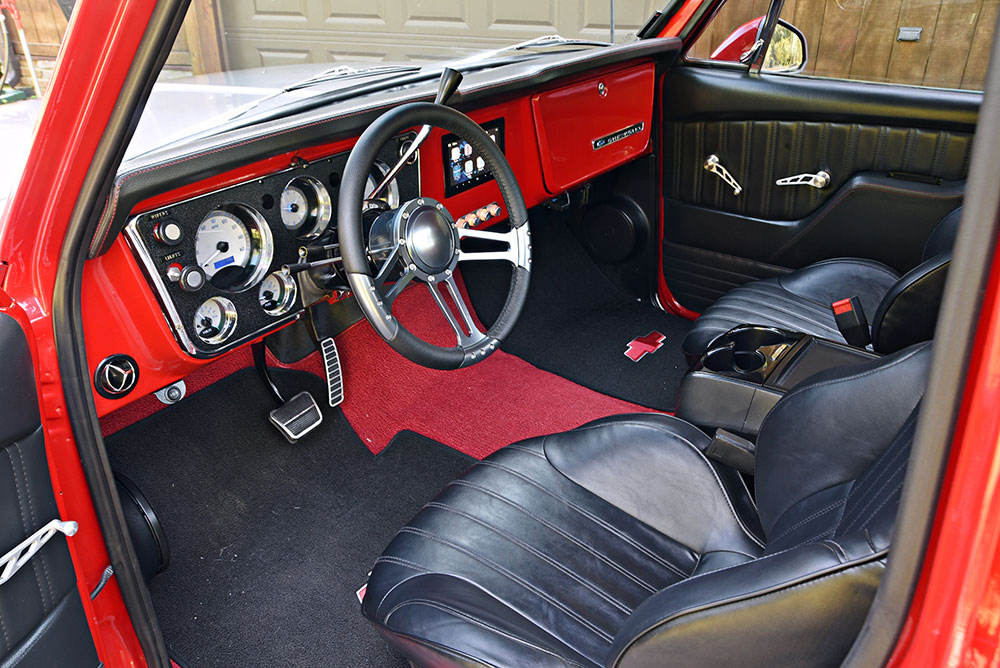 First Class
Once in their possession the guys gave the truck a major lookover. The chassis is built up in true pro-touring style using the best of the best for dialing in a modern ride and feel in a 50-year-old truck. QA1 supplied the suspension here, and the truck boasts some choice add-ons. These include upper and lower tubular control arms, coilovers on all four corners, thicker front and rear sway bars and bushings, and a set of upper and lower trailing arms. Out back a QA1 four-link suspension handles the duties while a Chevy 12 bolt rear end gets the power to the pavement.
The exterior was certainly well planned from the start. The truck had been upgraded at almost every turn. Though the racing red paint had seen better days, it was certainly workable in its present state and had been laid out over a laser straight body. Modern touches like billet door handles and '15 Mustang rear view mirrors add a modern touch, along with a full complement of LED lights, fore and aft. Custom flush front and rear bumpers clean up the look and streamline this pro-touring styled C10.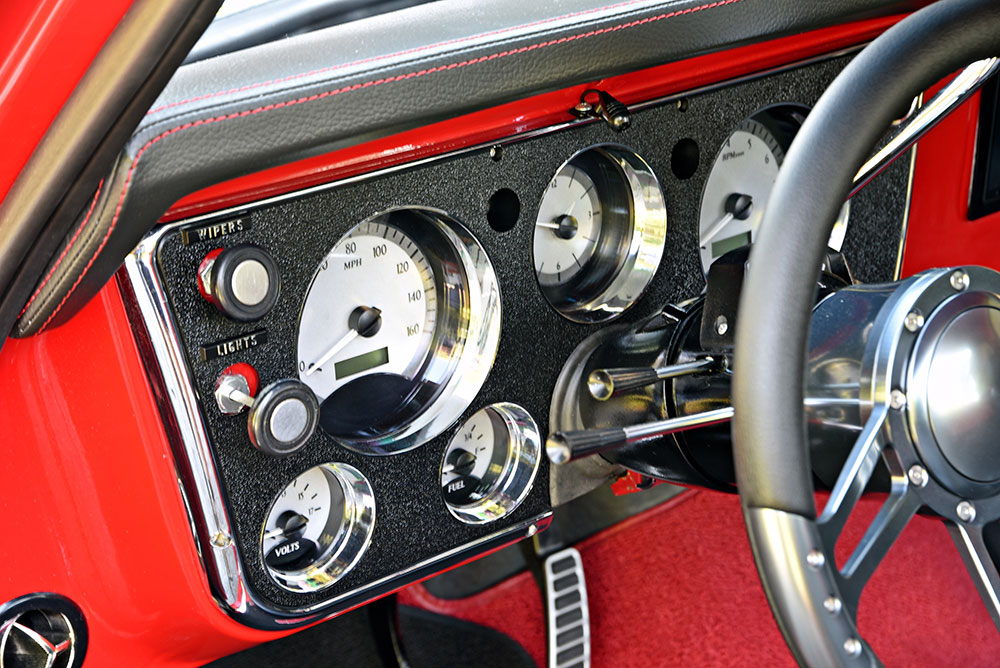 Underhood this ride was infused with one killer power plant by its previous owner. The LSA engine was built for optimal performance and certainly doesn't disappoint between the rails of this C10. Rated at a conservative 580 hp, this mill is certainly at home in this bedded hot rod. Backing the LSA engine is a built 6L90E 6-speed automatic transmission, feeding a Chevy 12-bolt Posi rear end. The stainless steel exhaust was fabbed-up with a pair of resonant Flowmaster mufflers to help give this C10 a throaty tone … signaling to onlookers that there's something pretty nasty under the hood of this low-slung Chevy truck.
Read More: 1967 C10 With Hot Rod Heritage
The interior was built up like a true performance truck, with an eye for comfort as well. A pair of Procar by Scat rally seats with three-point seatbelts firmly wrap the passengers and set off a full-custom interior. Modern conveniences, such as power door locks, power windows, rear camera, and push-start engine button make this ride stand out from the pack. Dakota Digital VHX gauges were installed in the custom dash and help keep track of the vitals on this C10. TMI Interior door panels and dash pad with red stitching add a clean look to the truck. Vintage Air supplies the HVAC to help with the Chevy's climate control.
To say that the crew at No Reserve Classics were quite impressed with their new C10 would be an understatement. However, they knew that with a little extra work, the guys at No Reserve Classics could bring this truck up to premier status. So a game plan was devised to improve the overall look and performance of the Chevy. 
Fresh Start
Some things were obvious when the truck rolled in. "We felt the wheels it was riding on did nothing for the overall pro-touring truck look. We definitely wanted to see the brakes through the wheels. So we tossed them aside and ordered up a set of 607 Ridler wheels and wrapped them in Bridgestone Potenza S007A rubber," John says. Next, they looked at the suspension. "It was in good shape but it had seen some road time. We powder coated and painted parts where needed and made sure everything was in working order. Overall, the chassis was done right from the start and needed little work to bring it up to the show quality level we need in our cars and trucks," he continues.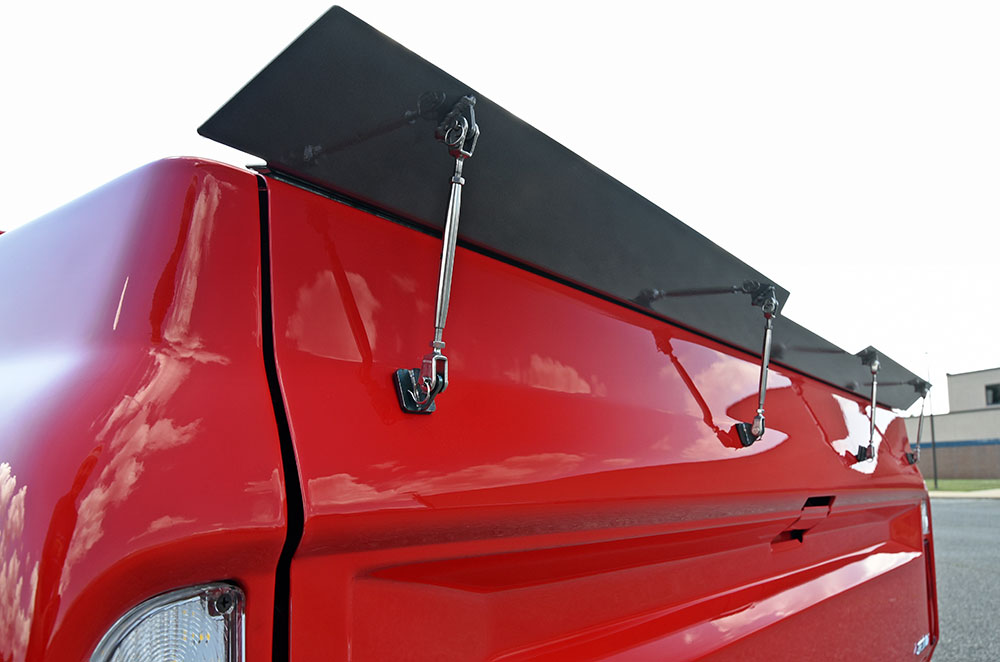 The exterior of the truck showed some wear but overall the paint just needed to be "woken up," so to speak. The entire truck was then wet-sanded, color-blocked, and buffed to perfection. Next the C10 was undercoated to help preserve it for years to come. The crew also added a few key elements to help with the aero qualities of the truck. A Vannatta Fabrication front lip and adjustable rear wing spoiler were installed fore and aft, which helps give the C10 not only a wind cutting advantage but also a cool, race truck look and feel.
The interior also got some love. "The console the truck came with was outdated by today's standards. It really did nothing for the look of the truck. We brought in a brand-new console to complement the rest of the cockpit," John states. Other changes include a fresh Billet Specialties steering wheel painted gray and a modern stereo featuring a touch-screen Alpine Head unit. It comes complete with smartphone connectivity, Apple CarPlay, a microphone, and a rear camera display. All the wattage here flows to a four-way Alpine sound system.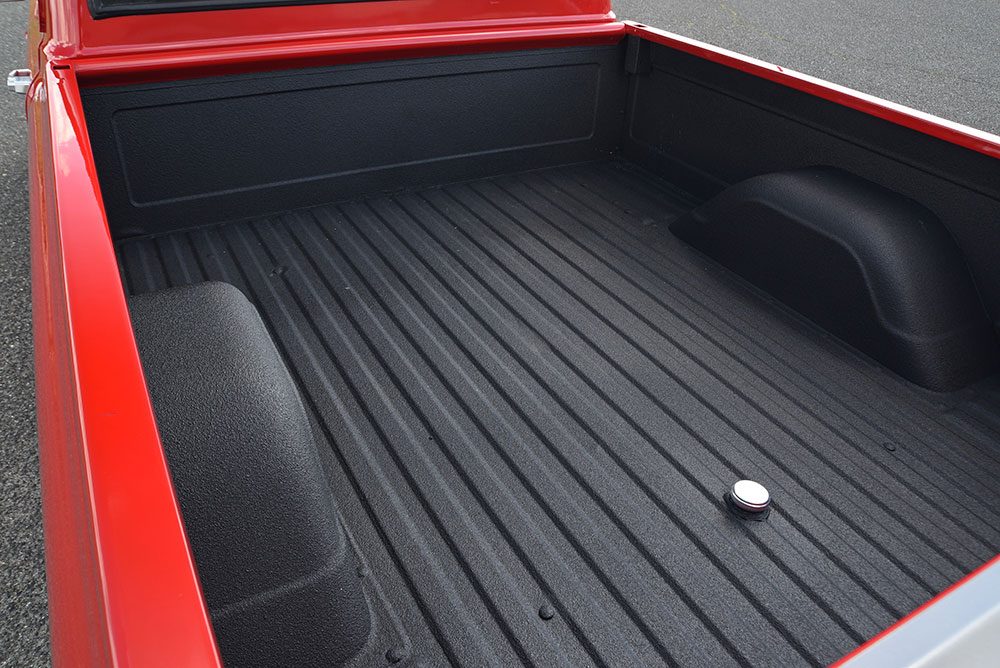 Now onto what makes this C10 tick, the LSA engine. "The engine had no issues but of course we wanted to squeeze a few more horsepower out of it," Chris says. The truck was brought to East Coast Supercharging in Cream Ridge, New Jersey, for a quick overhaul of the stock blower. There the guys installed a Kong LSA 2.55 Griptec Pulley, along with a ZPE Hub on the C10's mill. After a final tuning, this LSA now pushed out a stellar 650 hp along with 630 lb-ft of torque on the company dyno. 
Dished Out
"Once we got ahold of this truck we went about changing the things that needed improving. The aesthetics have really come a long way. It's got an aggressive look to it with the exterior add-ons and now the paint really pops. Of course, like any vehicle, the choices at the four corners can make or break a build. The wheel/tire combo really accents the sporty look of the truck," Chris states.
Read More: Purpose Built Sport Truck: 1958 Chevy Cameo
The changes became even more apparent once the guys got behind the wheel of this LSA-powered brute. "The LSA really came alive with the modifications done by East Coast Supercharging and the badass tune the C10 received. Nothing like cruising the highways here and downshifting at 40 mph and lighting up the tires.  ECS really made the power palpable, not to mention this thing handles like it's on steel rails," he continues.
Lucky for all of you powered-up truck fanatics this C10 is up for grabs. Check out this and other high-powered rides at No Reserve Classics. Driving a juiced, low-slung classic like this C10 is something everyone should experience at least once in a lifetime.