Natalie Bolea's Four-Year Dream is Now Rolling Down the Road
By Brian Brennan – Photography by John Jackson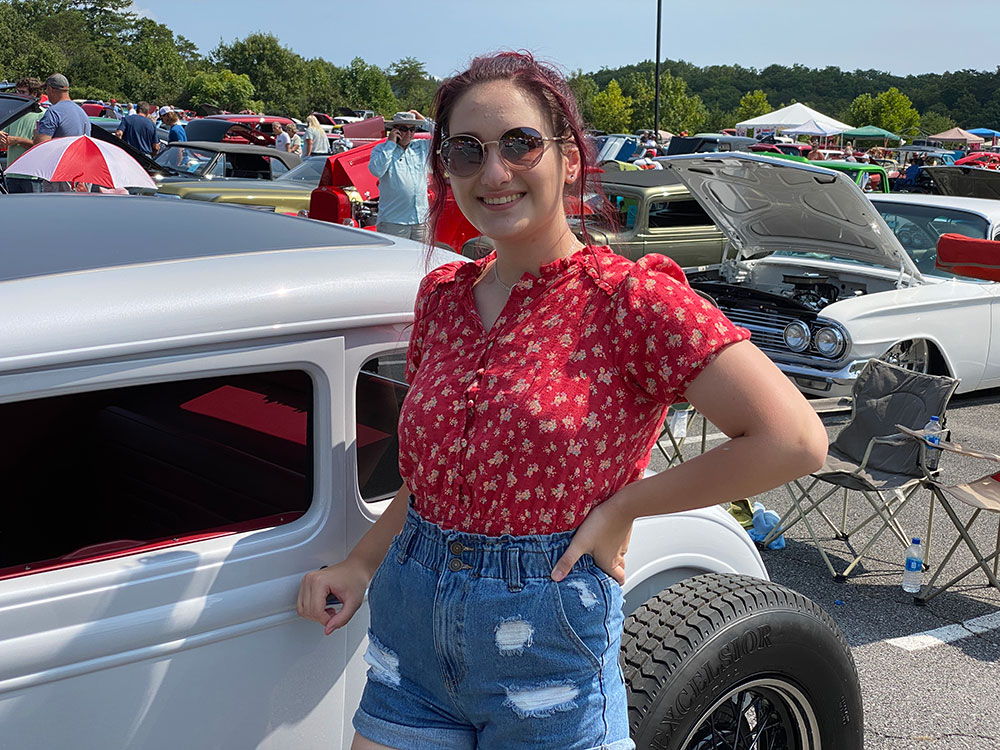 All of us visualize about our "dream" hot rod. However, most of us don't realize our dream until much later in life. For Natalie Bolea, of Pennsylvania, having a dad, Rick, who is an active builder and having been "rolled" around herself at car shows from the time she was in a stroller accelerated her desires.
Now 20, her dream has come true in the likes of this 1930 Ford highboy coupe that you see before you. The custom Model A build represents the ideas she gathered over the course of four years, with the build time taking the last three.
She really got the "bug" to own her own hot rod after watching her father finish his 1933 Ford coupe. For her the Model A was always a "look" that she was drawn to and as such the 1930 Ford highboy coupe suited her wishes.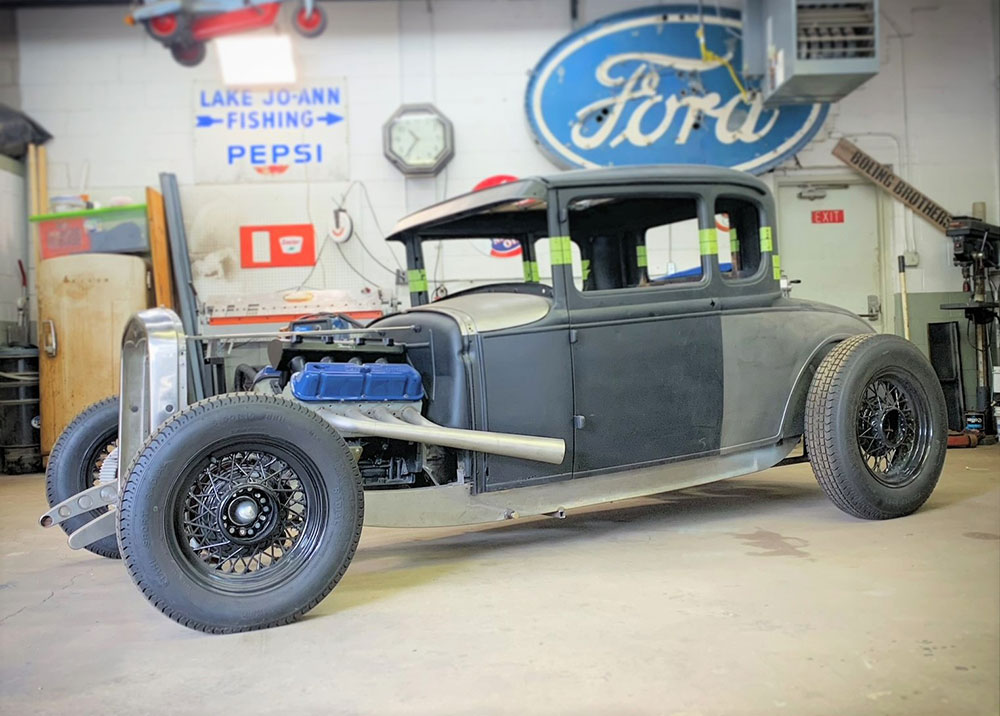 To "see" all her ideas on paper she turned to Tavis Highlander of Highlander Concept Rendering to see what it might look like when completed. Well, it was exactly what she had in mind.
As is often the case in our hobby, the body started out as a rusty relic in need of lots of care. During the refurbishing process there would be plenty of body mods to make this 1930 Ford Model A coupe a sharp-looking hot rod. In the meantime, the rusty hulk would come to rest on a Roadster Shop chassis.
Read More: Out Of This World 1963 Ford Galaxie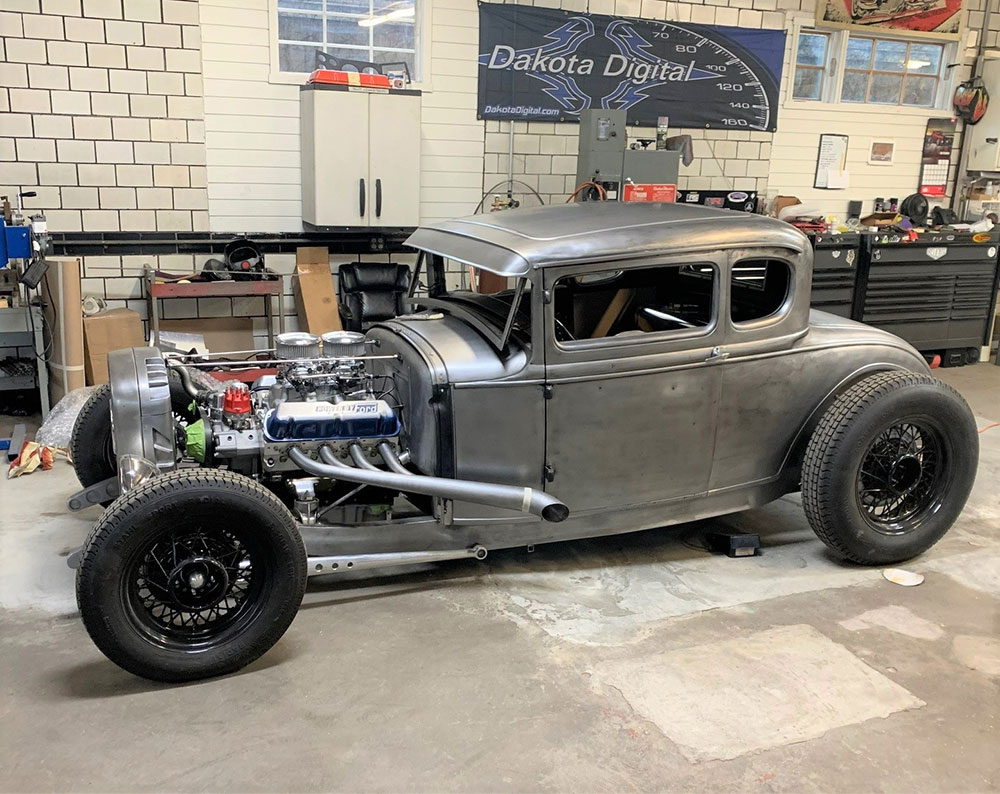 The original Model A body was skillfully massaged by E.J. Talik of Craftworks Fabrication of Coraopolis, Pennsylvania who handled the build and all the fabrication. So, what has Henry's Lady undergone? It should be obvious there's a true "hot rod" chop–a popular 4 inches.
The original roof insert was swapped out for a newly fabricated metal roof insert, although from the inside the original wooden structure that supported the insert was freshly carved. Major sheetmetal changes from the workbench of Talik include the new rear quarter-panels that bring the bodyline up by some 3 inches. This led to Talik shaping the bottom of the body to follow the contour of the Roadster Shop 1932 Ford frame.
From here an additional fabricated rear panel was built to house the license plate and the 1937 Ford tail lights with fabricated mounting pedestals. Another subtle but in plain sight detail is the cast Finned Racer fuel cap by Crafty B Nostalgic Speed on the modified decklid.
An additional aftermarket touch on the 1930 Model A Ford coupe are the Hagan Street Rod Necessities Fatties mirrors that are attached to both doors to enlist better reward vision from within the deeply chopped coupe.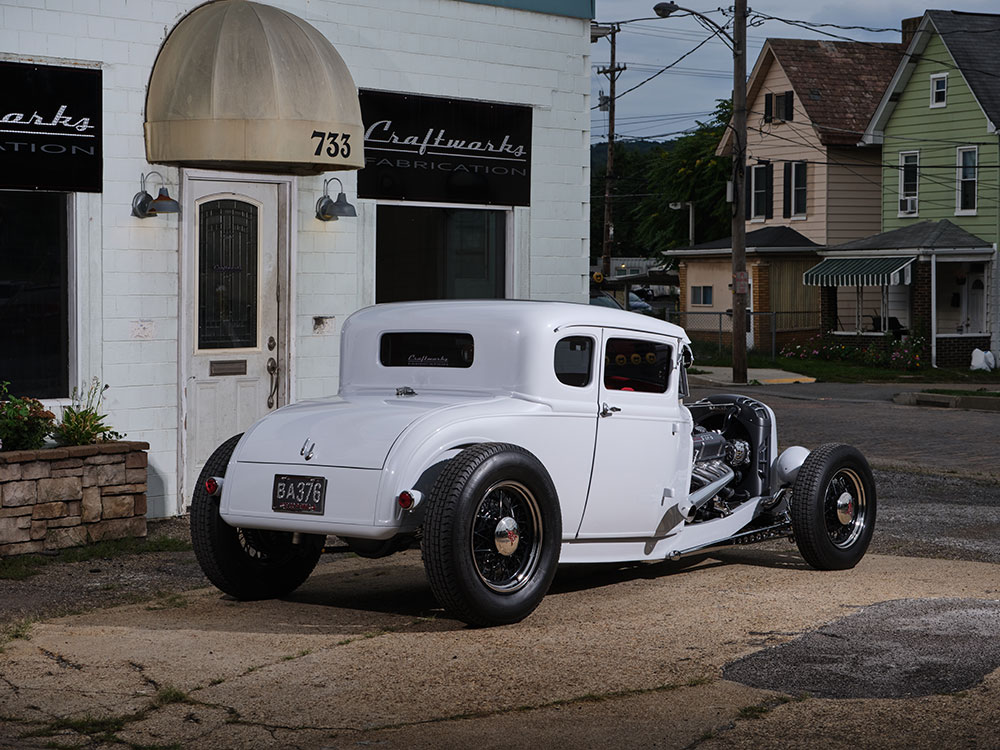 Lots of sheet metal smoothing followed on the cowl and the firewall. Supplementary fabricated sheet metal handiwork took place inside with the completely new flooring, transmission tunnel, and the custom dash and center drop console (ala early Corvette).
Outside there's a handmade fan shroud that houses the single 16-inch SPAL electric fan. All this creation is from the workbench of Talik. We mentioned the fan shroud and it should be noted that it rests behind the smoothed-over 1931 Model A grille shell with an aluminum insert by Dan Baker of Alumicraft Street Rod Grilles.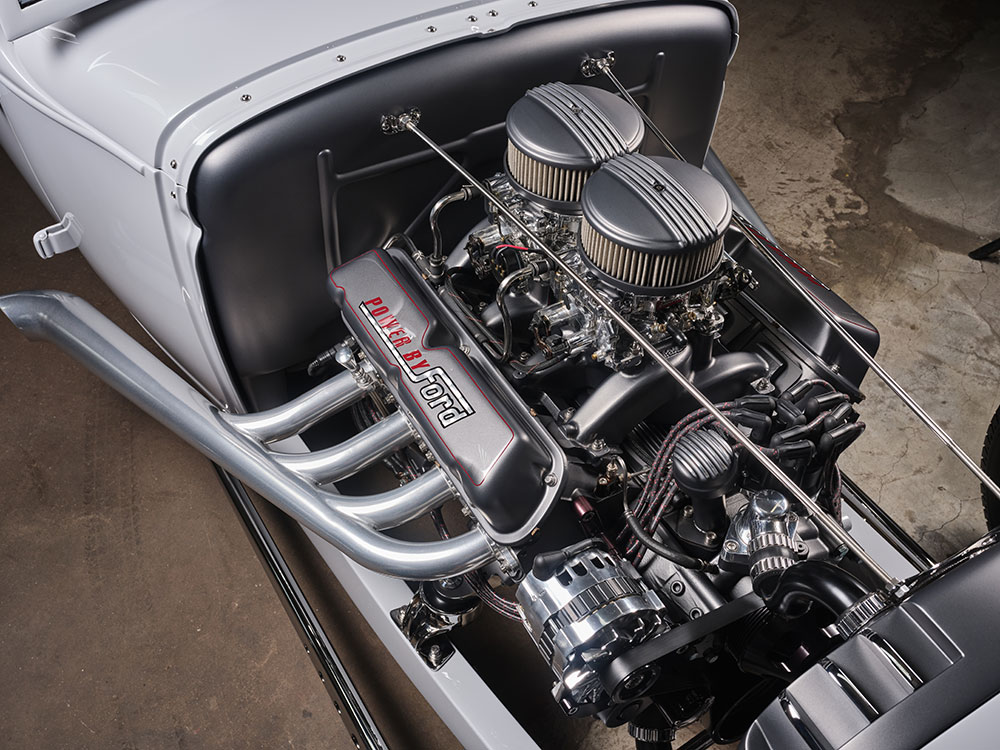 It should be noted that all the body- and paintwork was handled by Phil Palmer of Phil Palmer Enterprises. The body is colored in PPG Ceramic Matrix Gray, a newer Corvette color, while the accent dark gray used throughout is a PPG Honda color called Pepper Gray.
There's always lots of detail work with any build and this 1930 Ford highboy hot rod coupe is no exception. Look closely and you will find Craftworks Fabrication handmade steel motor mounts.
The license plate and valve covers were painted by Jeremy Seanor of Luckystrike Designs. He also painted all the accompanying engine and tranny parts. The powdercoat was handled by Pittsburgh Powder Coat while the chrome plating was conducted by Jon Wright's Custom Chrome Plating.
The Ford highboy coupe's chassis consists of a Roadster Shop custom frame that was stepped, stretched, and features contoured 1932 Ford-style frame rails. It was also then boxed, capped, and had hole punch flared front frame horns.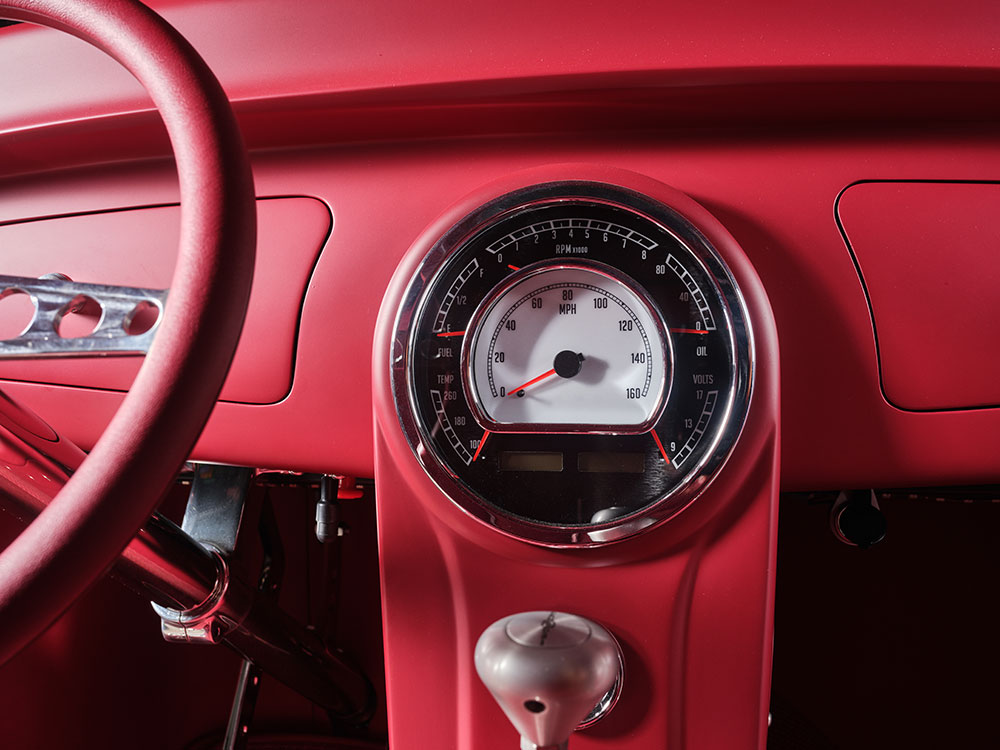 From here the frame is outfitted with a Super Bell 4-inch drop, drilled, and plated I-beam axle, low-profile mono leaf spring, with Ridetech shocks paired to custom-made drilled billet radius rods from Johnson's Hot Rod Shop.
Read More: Wheeler's '69 Camaro, the Perfect Pony Car Build?
Steering falls to the Flaming River rack and pinion and a LimeWorks Hot Rod column topped with a four-spoke Billet Specialties Sprint Car–style leather-wrapped wheel. In back there's a Currie 9-inch rear end outfitted with 3.70 gears, 31-spline axles, QA1 coilovers, a Pete & Jakes Panhard bar, and a parallel four-link setup. Braking is a combination of disc/drum front to rear. The forward braking dark gray–painted Wilwood Dynalite calipers are neatly hidden behind the Pete & Jakes finned backing plates.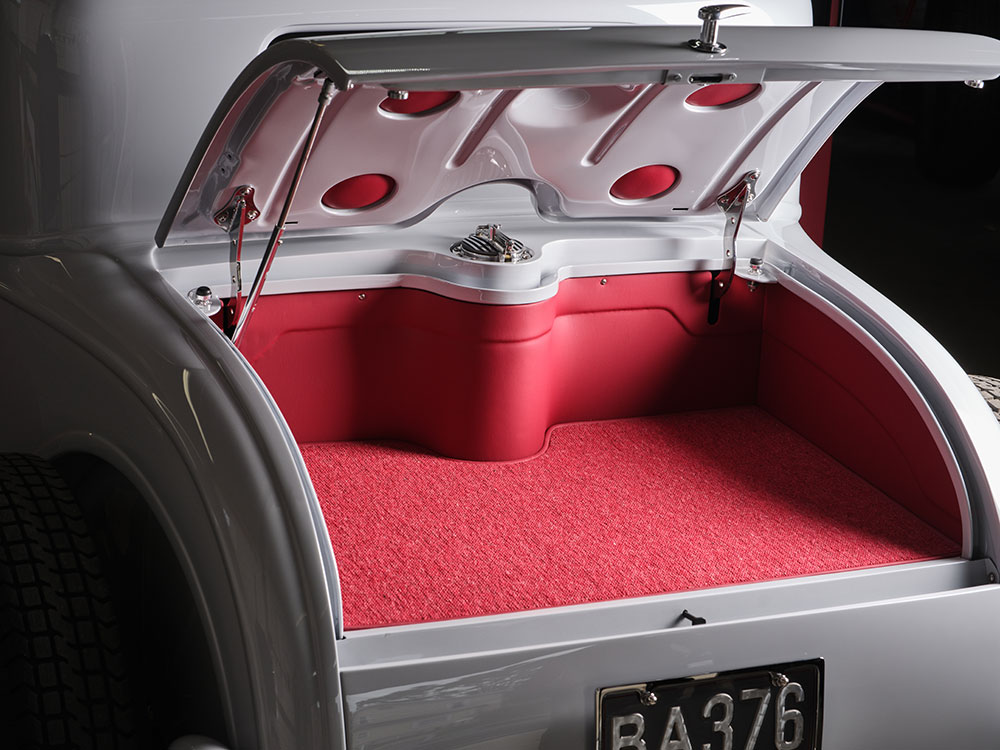 While in back the 9-inch is outfitted with 11-inch brakes, this time hidden beneath the SO-CAL Speed Shop finned drums all the while the custom chassis rides on a full set of 16-inch Dayton wire wheels wrapped with Coker/Excelsior rubber measuring 5.50R16 in front and 7.00R18 in the back.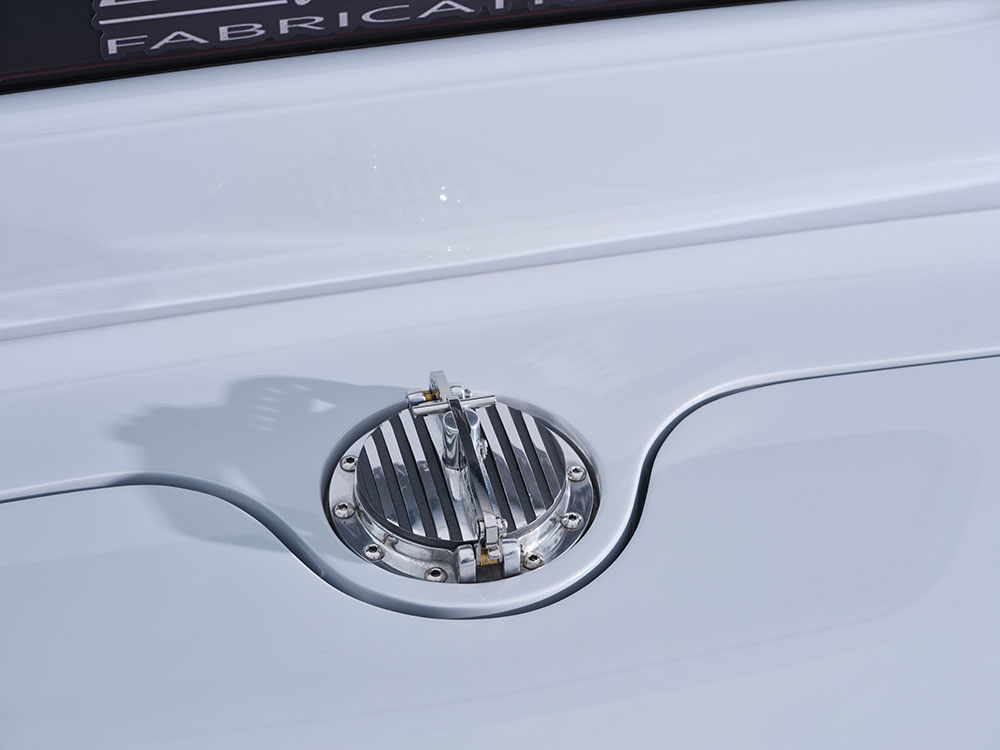 All hot rods have something fun settled between the 'rails and beneath the hood (well if they have a hood). In the case of our 1930 Ford Model A Coupe it sure appears to be a vintage Ford Y block but after more than a cursory look we begin to see the telltale signs that there's something more.
Indeed, while it may look like a Ford it truly is a 376-inch LSX block, with aluminum heads and ARP studs, plus adapter-equipped small-block Ford (Windsor) valve covers all from Don Hardy Race Cars and then assembled by Talik and Marc Mullin.
The intake is an Edelbrock LS dual quad with a pair of Thunder AVS EnduraShine carbs dressed in OTB air cleaners. Delivering the gas from the Tanks stainless reservoir is an Earl's Performance billet fuel pump.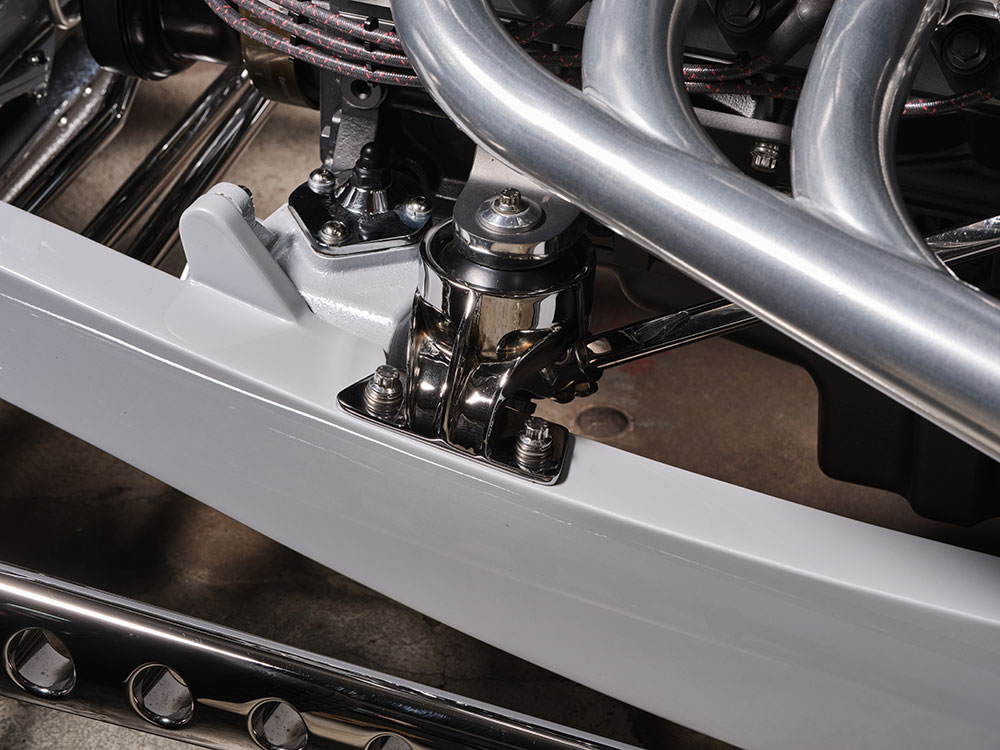 More of the custom Model A's engine accessories include an MSD 6AL box to go along with the Ford small-block MSD billet distributor that functions through a timing cover adapter from Chevrolet Performance all the while using an MSD coil and Lokar vintage spark plug wires.
Powermaster also supplied the alternator and starter, the battery is a XS Power AGM, and a Wegner Motorsports water pump is used as well as a Wegner front accessory drive unit. This 500-plus hp V8 utilizes custom headers made at Craftworks Fabrication based on Ultimate Headers LS header flanges.
The pseudo-Ford small-block is backed up to a TCI StreetFighter 700R4 transmission with a 2,800-stall speed converter operated by a Lokar shifter. The transmission cooler comes by way of Derale Performance and moves the power through a 3-inch-diameter custom driveshaft.
The story doesn't end as one must look inside. There are loads of modifications and metalwork aptly handled by Talik, such as the custom floorboards and the dash with Dakota Digital 7-1/4-inch gauge that features the speedometer in the center and then the water temp, fuel, tach, oil pressure, and volt gauge readings positioned around the perimeter of the parent speedometer gauge. The 1930 Ford Model A's cluster itself was customized from the Dakota Digital VHX-1021 as Talik wanted different face colors and pointer color.
The wiring that handles the gauges and all the other electrics comes by way of American Autowire and was positioned by Mike Hamilton. The bench seat was fabricated while at Craftworks Fabrication and then covered in red marine vinyl by Nathan Stewart of Stewart Upholstery as they also handled the interior panels, headliner, and the square weave carpeting.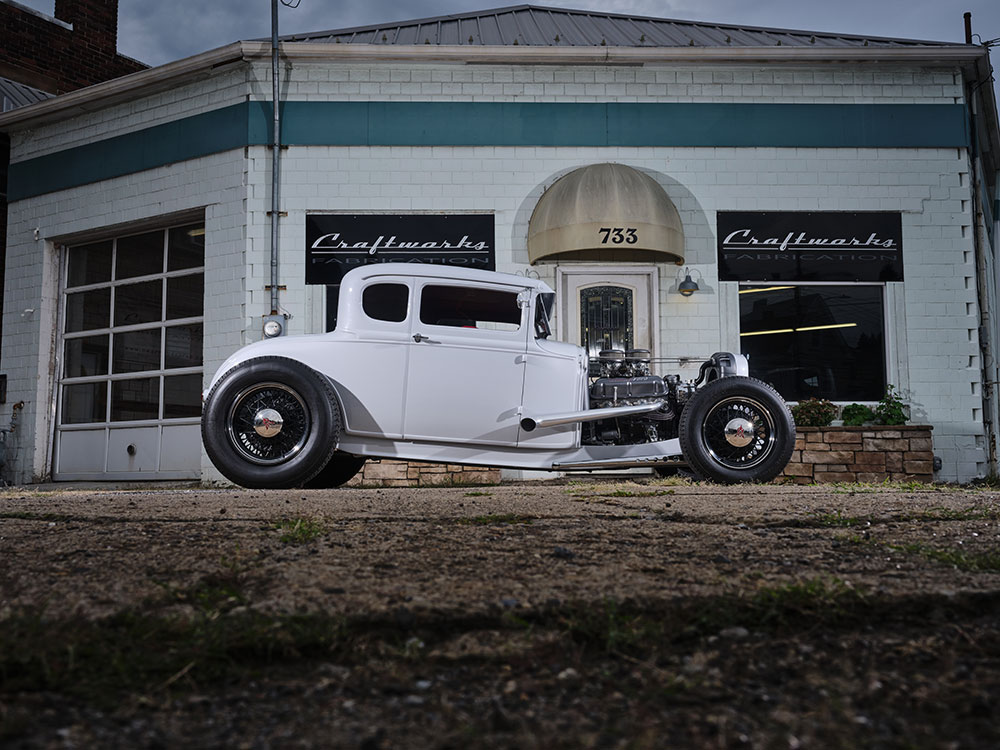 Read More: How to Make Custom AC Lines With Vintage Air's Universal AC Hose Kit
The 1930 Ford highboy coupe has ventured to several major events this past year, including Shades of the Past Hot Rod Roundup and received honors at Goodguys Nashville and Columbus, taking home a Builder's Choice and a Top 5 in the Hot Rod Of The Year competition. MR