Kevin's Candy Cobalt Blue 1950 Mercury Custom Has a Long and Storied Past
By Brian Brennan   –   Photography By John Jackson
Customs have long been a part of hot rodding. As much as any other build style they are a focal point. While we have seen any number of body styles customized it seems like we always come back to the '49-51 Merc as a standard. Such is the case for Kevin and Meridith Anderson's 1950 Merc custom. It looks great by today's standards, but it should be known that this '50 Merc custom has been around for a long time.
The '50 Merc custom you see before you has its roots in its initial build dating back to the late '50s. It's been in Kevin's care for the past 30 years and has undergone a complete makeover, as well as continuous upgrades since the five-year makeover. This '50 Merc has the "traditional" looks one might expect in a '49-51 Merc custom. To listen to Kevin, he will tell you there are 100-plus modifications to the two-door coupe.
Read More: The 2023 Al Slonaker Memorial Award Winner is a '60 Buick Invicta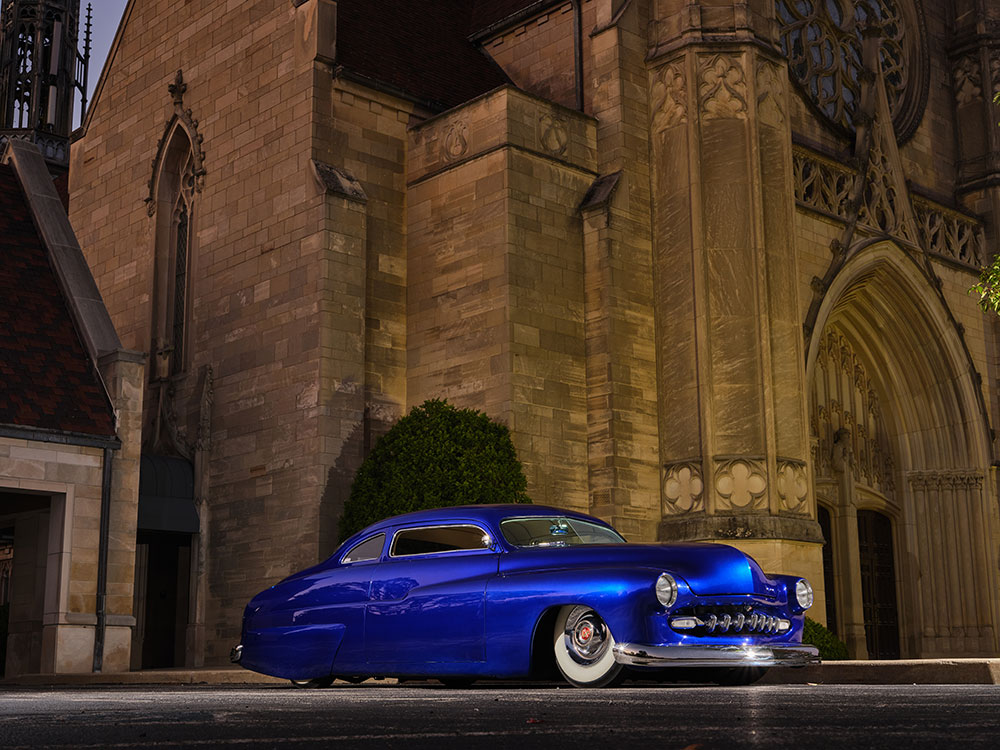 Kevin's search for the original owner led him on a thoroughly interesting journey that ended in Savannah, Georgia. Kevin found himself speaking with the widow of George Hanson, the man who had chopped the Merc back in 1959. From this point the car made its way to the Midwest and was painted yellow and named "The Yellow Rose." Later on in its life it would be painted in a bright candy orange with scallops with rear glass etching. At this point it was known as "The Small-Town Flirt."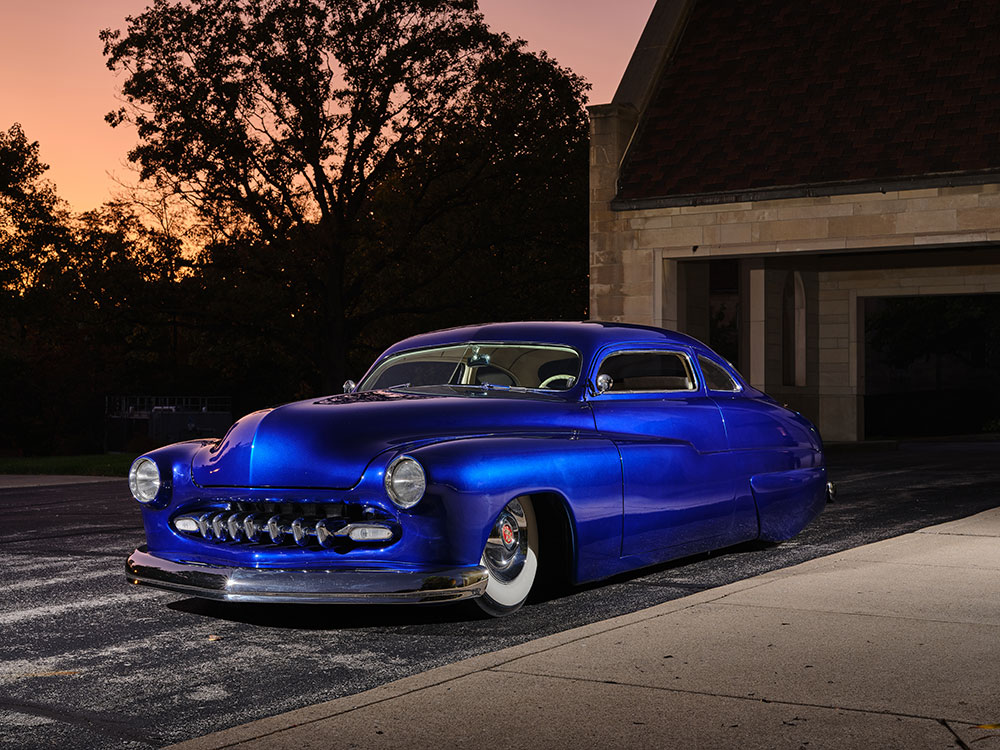 We aren't going to try and document the 100-plus changes but the following is a highlight of just what was done to this '50 Merc to turn it into the custom that it is. Originally Hanson chopped the roof 4 inches in front and 4-1/2 inches in the rear, remember this was back in 1959. Note the rear window had to be lowered and reshaped.
Johnny Williams also received the nod for many other sheet metal mods that include the front rounded edges on the stock hood as well as more to be noted. Underhood a custom firewall and inner fender panels with louvers and hood hinge pocket was fabricated at Brown's Metal Mods.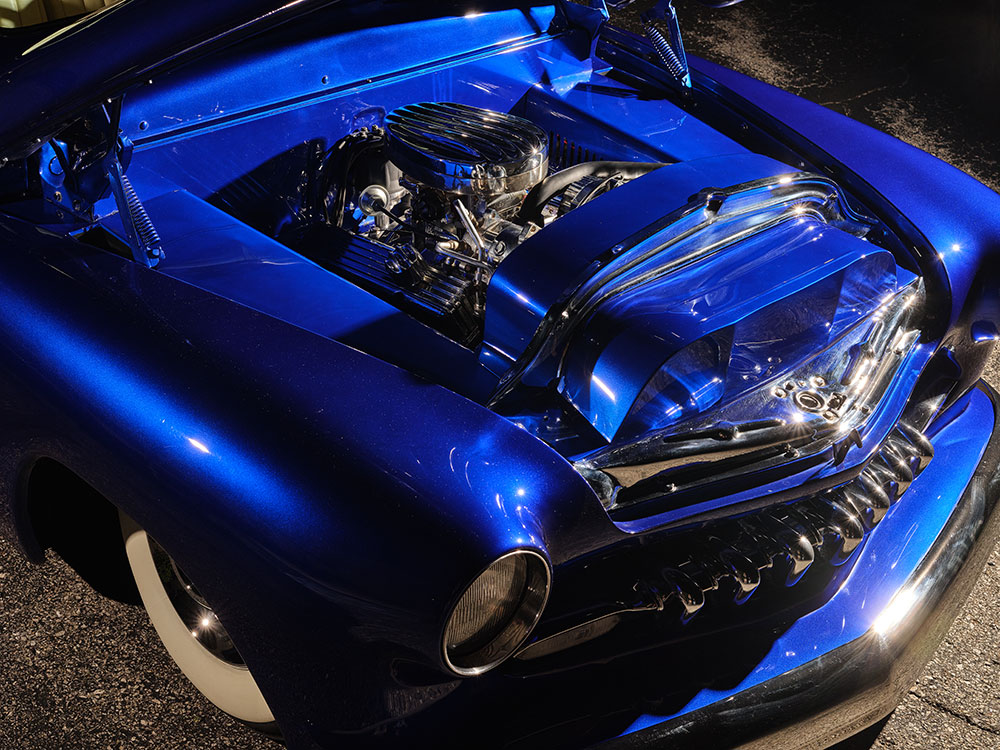 Williams also applied the House of Kolor Pearlescent Candy Cobalt Blue. From here a handful, OK a large handful, of changes were made that one would expect on a custom of this build. The door handles, door and decklid keyholes, hood, and decklid badges were all removed and holes filled. From here the front hood corners were rounded and body seams were leaded as was the grille shell. Remote keyless entry is now used. Here a second grille shell was trimmed and from here it was flipped and molded into the front bottom pan. You can also see the use of a "floating" '55 DeSoto grille that was sectioned and mounted with hidden brackets. The front bumper, lowered 1-3/4 inches, had its license plate guard removed. The bumper mounting bolts had their heads ground off and were welded into the bumper. A second bumper was used to graft a smooth section where the license plate was once mounted on the original bumper. Regarding license plates, the rear license plate guard was removed and, in its place, a '56 Pontiac guard that was sectioned 1-3/4 inches is now positioned.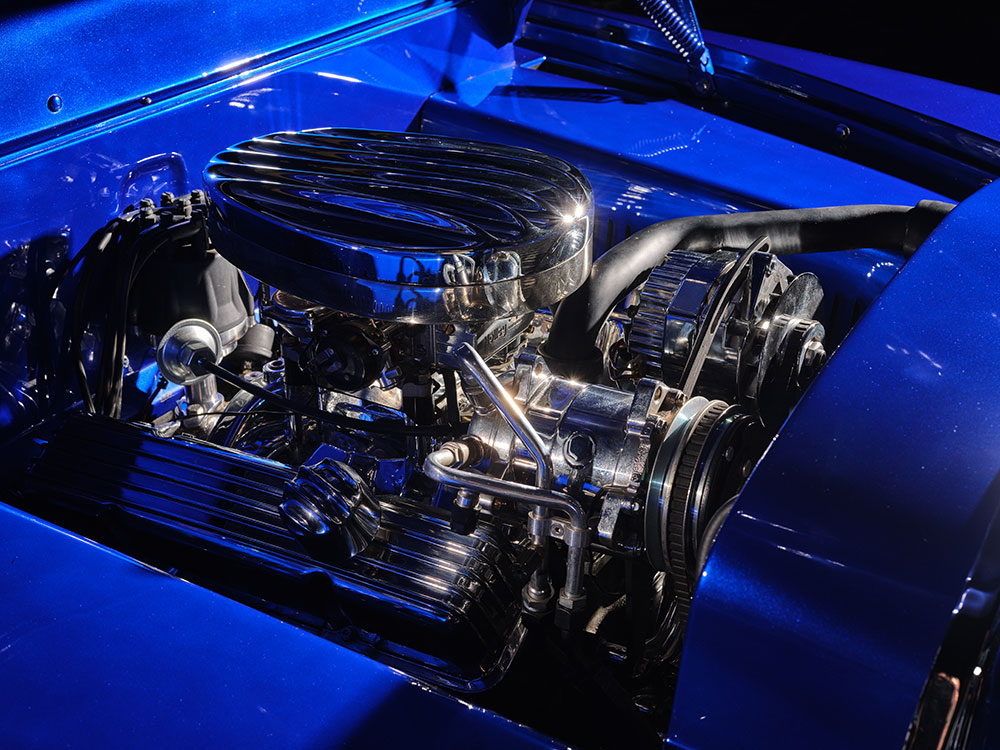 Adjacent to the grille work the headlights and bezels were removed and then replaced with '54 Mercury headlight rims and stainless steel trim rings. Note the headlights are Frenched in their installation. The original tail lights were lowered while the original bezels were removed.
Read More: 2023 America's Most Beautiful Roadster… '32 Ford Highboy Roadster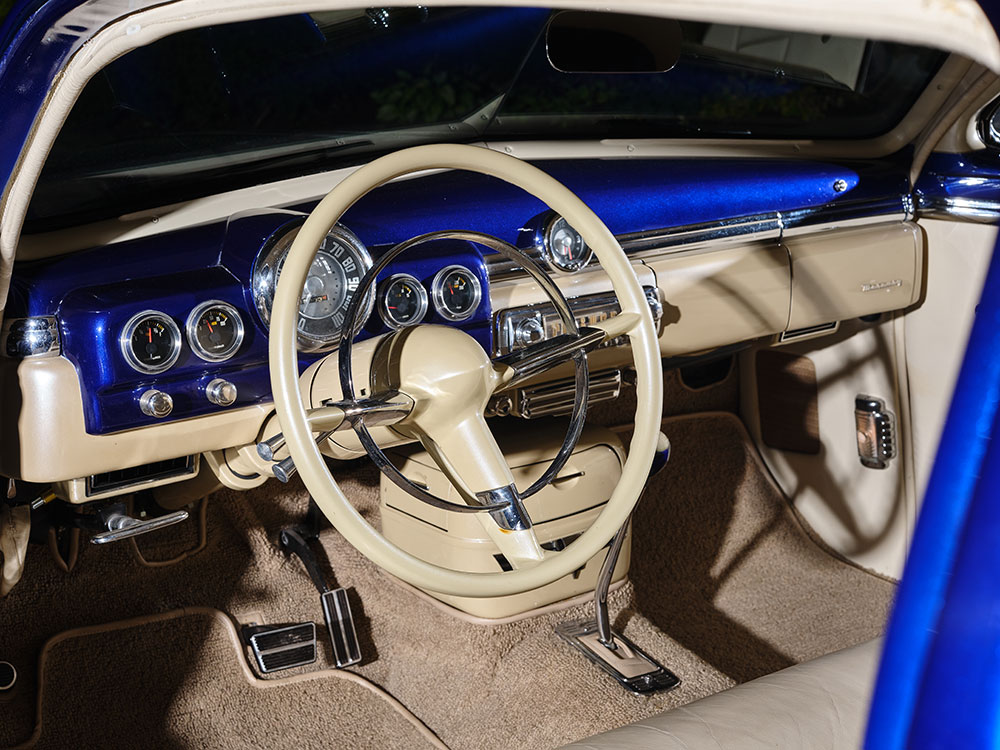 Other sheetmetal changes include the reworking of the rain gutter to allow it to follow the new rear quarter windows. Regarding glass note that the windshield had the center post removed and new glass V-butted and installed. More glass mods include the removal of the door vent windows with now one-piece custom door glass.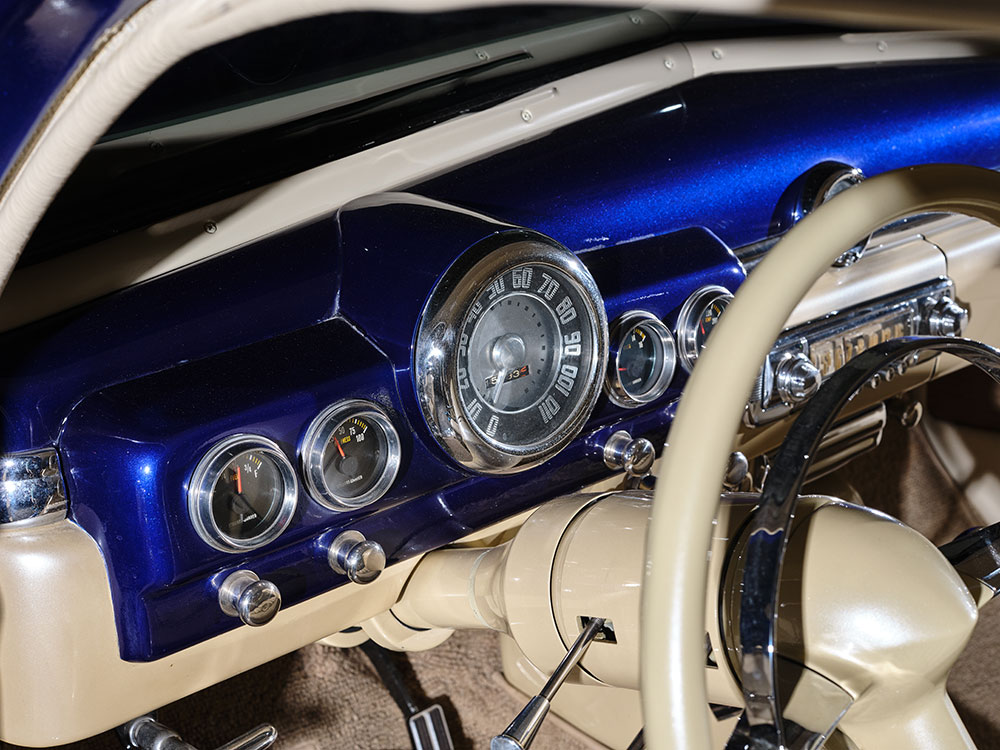 Inside the '50 Merc custom it is chock full of more custom touches. Let's begin by stating that the once-installed '49 Merc dash resides with the speaker grille eliminated. There is also a Vintage Air AC, '49 Lincoln Cosmopolitan radio, a hidden ignition switch, and Lokar brake, throttle, and dimmer switch pedals all in service. From here Stewart Warner gauges are used and all the electrics are tied together with a Painless Performance wiring loom expertly run by Jerry Moon and Jim German. Remember, a Billet Specialties steering column is used topped with a cut-down '55-56 Chevy steering wheel, 18 to 15 inches. There is also a complement of one-off aluminum interior door trim, chrome plated stainless steel dash trim, chrome-plated door latches and strikers, and chrome-plated handmade door sill plates.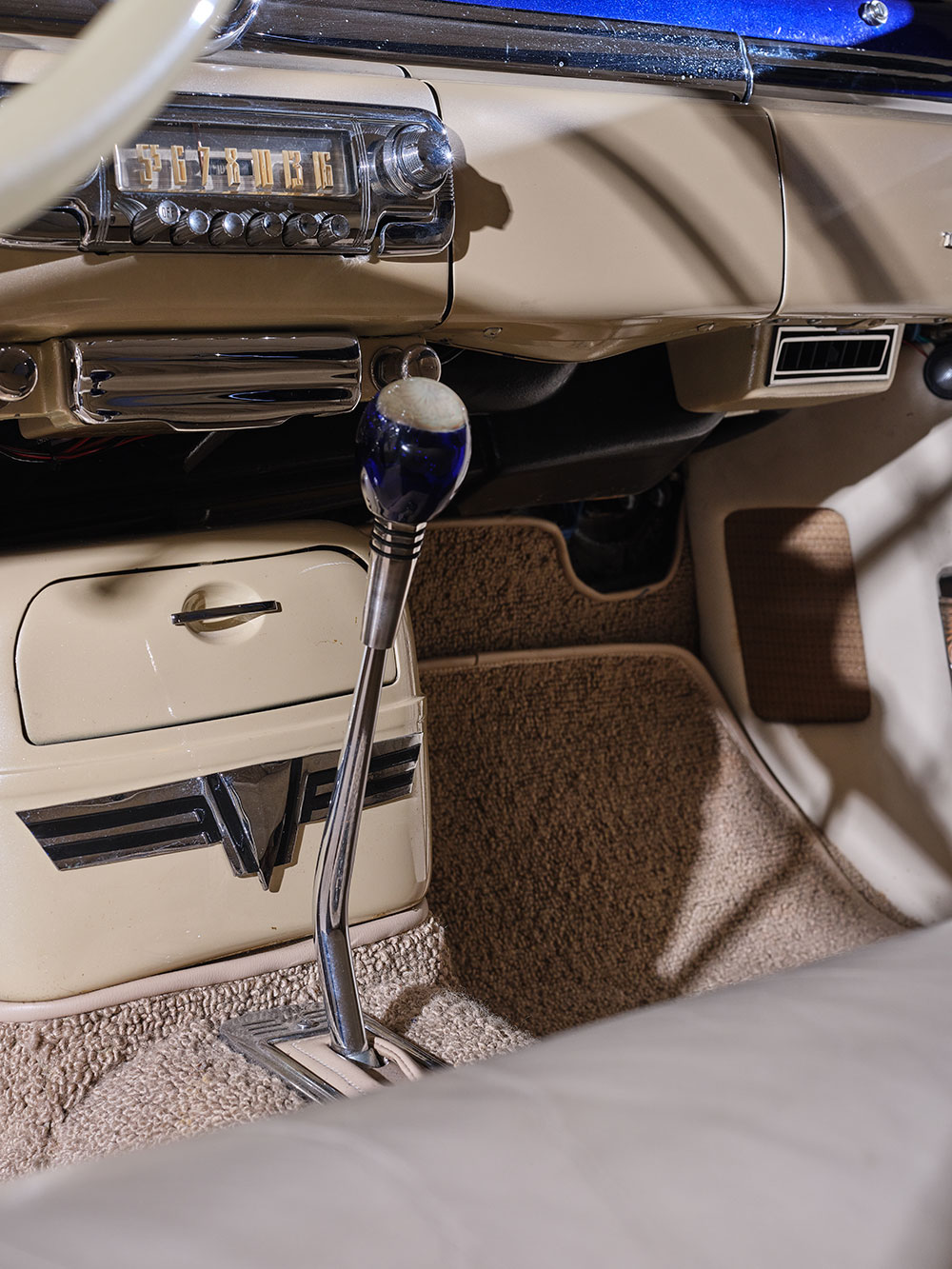 Stitches Upholstery handled the needlework, utilizing aged leather in a Doeskin Cream color for the seating, door panels (with chromed '46 Ford driving lights used as courtesy lights), and headliner. Rear seating is stock while the front consists of an early '50s Lincoln bench. The carpeting was done in a Mercedes-style Desert Tan over a complete covering of LizardSkin and then Dynamat sound/heat insulation. You can also see resting beneath the dash and on the center trans hump a late-'30s Dodge aftermarket heater that has been converted to additional storage space–an extra "glovebox."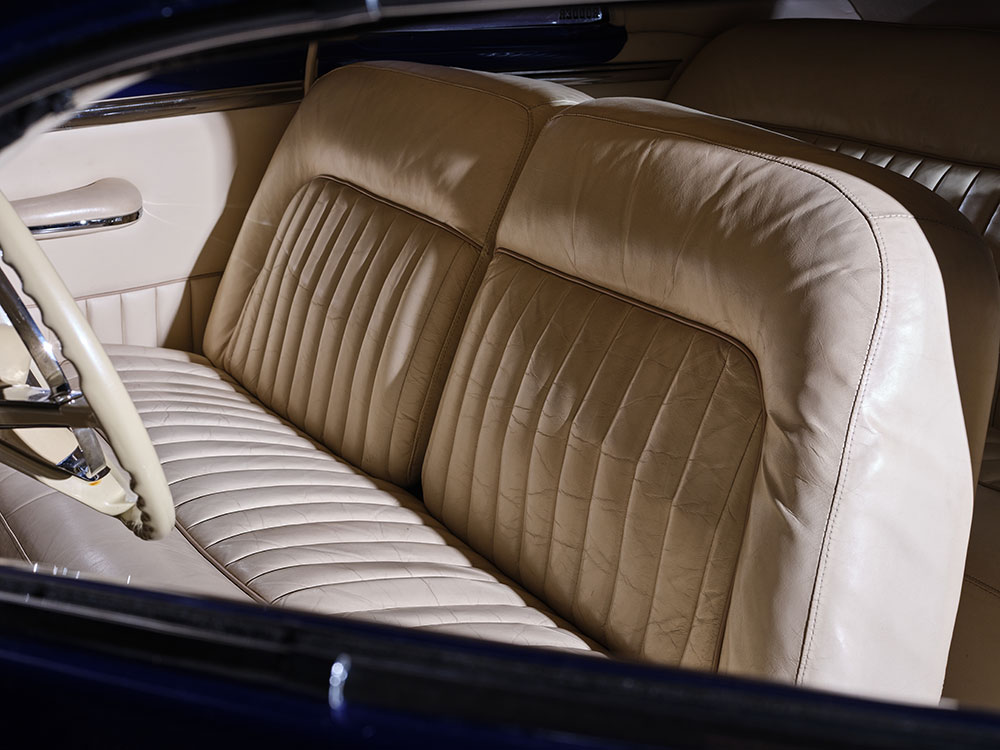 The chassis underneath this '50 Merc is based on a stock frame that uses Classic Performance Products control arms, spindles, disc brake conversion, front sway bar, and coilovers. From here a Ford F150 power steering box is used along with a Billet Specialties steering column and Air Lift rear suspension. Outback is a Ford 9 inch rear end with drum brakes while the entire braking system uses a dual reservoir Speedway Motors master cylinder and a modified pedal assembly. The wheel and tire combos are based on steelies that feature Cadillac sombrero-plated wheel covers wrapped with BFGoodrich/Coker bias rubber, featuring the obligatory 4-inch-wide whitewalls.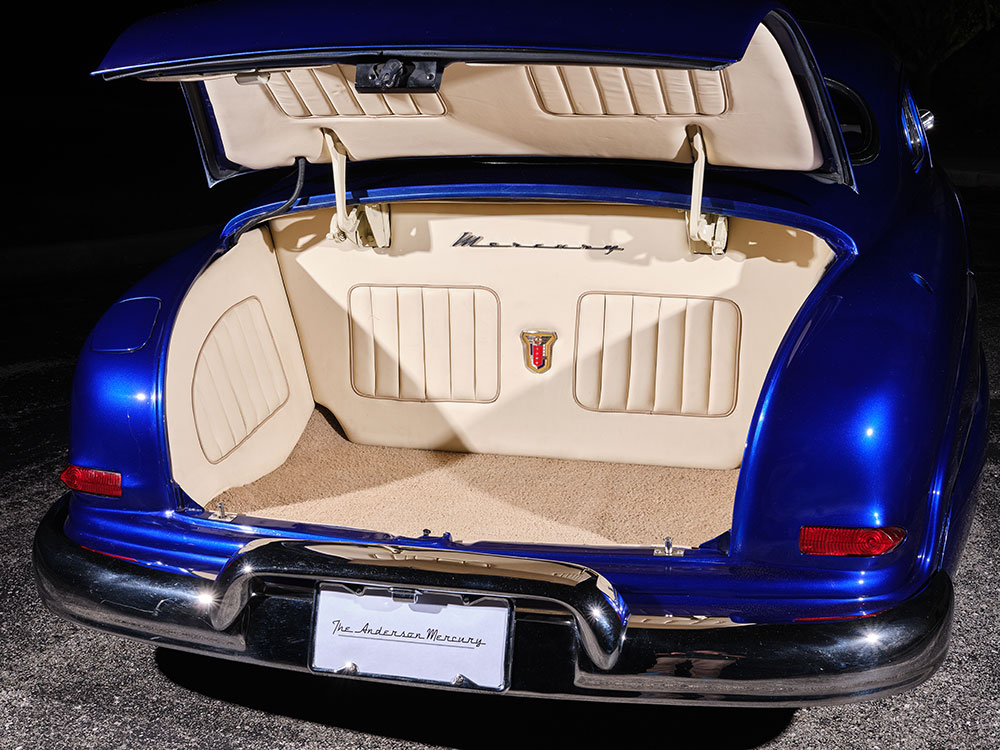 The power that moves this lead sled is a small block Chevy crate engine that features a great deal of accessorized trim. Jon Wright's CustomChrome Plating received the nod for the brightwork on the sbc finned valve covers, Edelbrock intake manifold, water pump, alternator case, pulleys, and O'Brien Truckers finned air cleaner. Hiding under the plated air cleaner is a 670-cfm Holley carburetor. The power is transferred back to the Ford rear end via a 700R4 transmission using a Lokar shifter topped with a handmade blown glass shifter knob.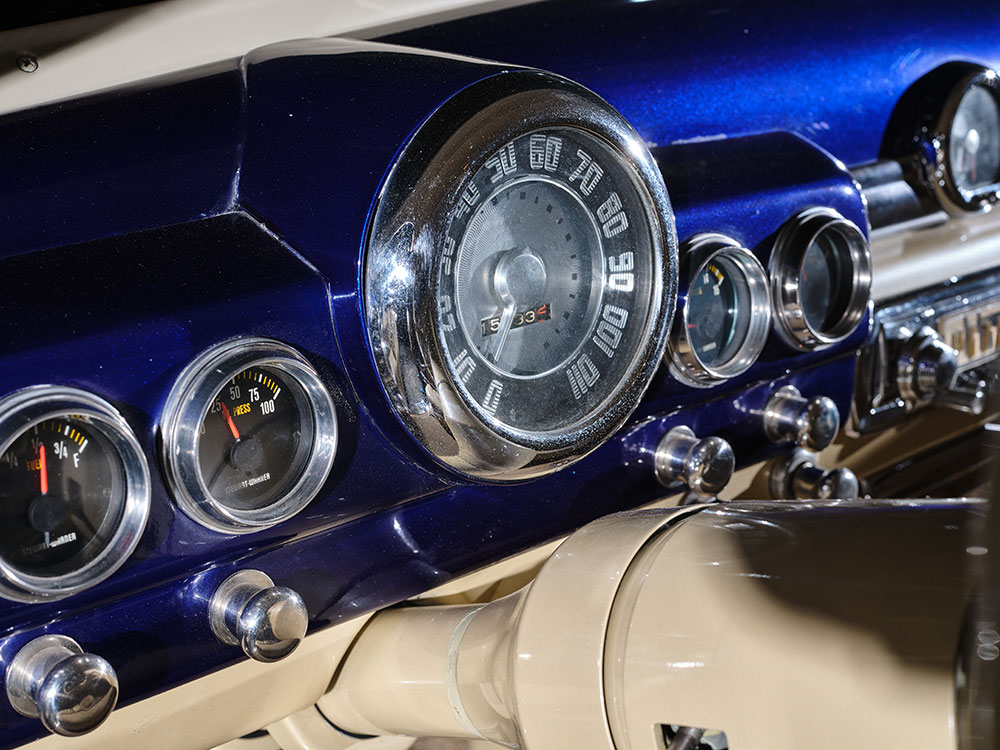 Read More: 2023 Barrett-Jackson Cup Awarded to a 1969 Pontiac Firebird
Kevin is no stranger to owning chop top customs, having chauffeured a '47 Cad and a '63 Buick Riviera. He still has his '36 Ford five-window coupe and a '51 Merc resting in his garage. The Merc is a multi-award-winning custom, having taken home the "iron" from Goodguys events, ISCA, and numerous other events. Some highly touted custom car awards, such as the "Candy Apple" Joe Bailon Pick, Sonax (car care products) Best Custom, along with Best Finish and Best of Show during its most recent lifespan. It should also be noted that Kevin is the promoter/rodeo clown at Custom Car Revival. This event has an 11-year history devoted exclusively to "traditional customs." Oh, did we mention that it, too, is a driver. When it comes to the "car culture" this custom has seen and done it all. MR