This Year's Grand National Roadster Show Keeps Hot Rodding Moving
By Brian Brennan   –   Photography By Author
This year's America's Most Beautiful Roadster winner is the '32 Ford highboy roadster belonging to Jack Chisenhall (owner, designer, and fabricator) and built with help from Roy Brizio of Brizio Street Rods (finish details and final assembly), Darryl Hollenbeck of Vintage Color Studio (body- and paintwork), and Sid Chavers of Sid Chavers Fine Auto Upholstery (interior).
Read More: 2023 Grand National Roadster Show Move-In
With its new "time" as the first week in February, the Grand National Roadster Show didn't skip a beat and has continued its tremendous success. Lots for everyone to see, and in the world of recognition, the winner of America's Most Beautiful Roadster 9-1/2-foot perpetual trophy still reigns supreme in our hobby.
Although the nearly 10-foot trophy is awarded, there is a scaled-down version that the winner takes home as well as a "full-size" check for $12,500 all made possible through Rod Shows and the efforts of ARP Fasteners.
This year's winner, the '32 Ford highboy roadster, took a "team" that included George Hagy as the principal fabricator, Gary Gates, Mark Grohman, and Donnie Anderson, the engine builder.
Also Check Out: It's All Grand … National Roadster Show Early Move-In
The incredible detail and quality of this year's AMBR-winning roadster will be explored in great detail in future pages of Modern Rodding. Expect a series of build stories and the final feature on this truly inspired hot rod.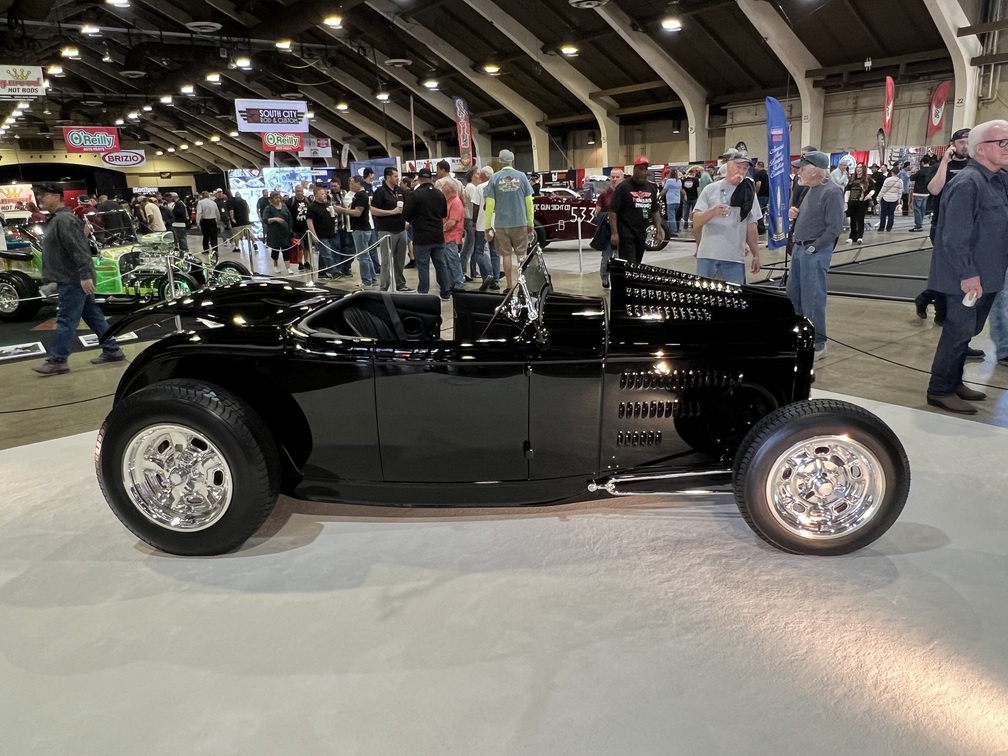 The 2023 AMBR Competitors
The center of the 2023 Grand National Roadster Show is building four, and no doubt the AMBR-award does take center stage. The massive perpetual AMBR trophy is surrounded by last year's winner (see the feature on the 2022 AMBR winner here) and each of this year's nine competitors flank the iconic award.
This year's AMBR competitors were the nine best-looking roadsters you could find at any rodding event, whether indoors or outdoors.
This year's winner was taken from the competitors listed:
Sandy Chadd 1932 Ford highboy roadster
JF Launier 1929 Ford highboy roadster
Jack Chisenhall 1932 Ford highboy roadster
Ken Sapper 1932 Ford highboy roadster
Jon Hall 1927 Ford Lakes-style roadster
Steve Schmidt 1932 Ford Roadster
Danny Hyde 1936 Ford roadster
Scott Williams 1932 Ford highboy roadster
Joe Kugel 1932 Ford roadster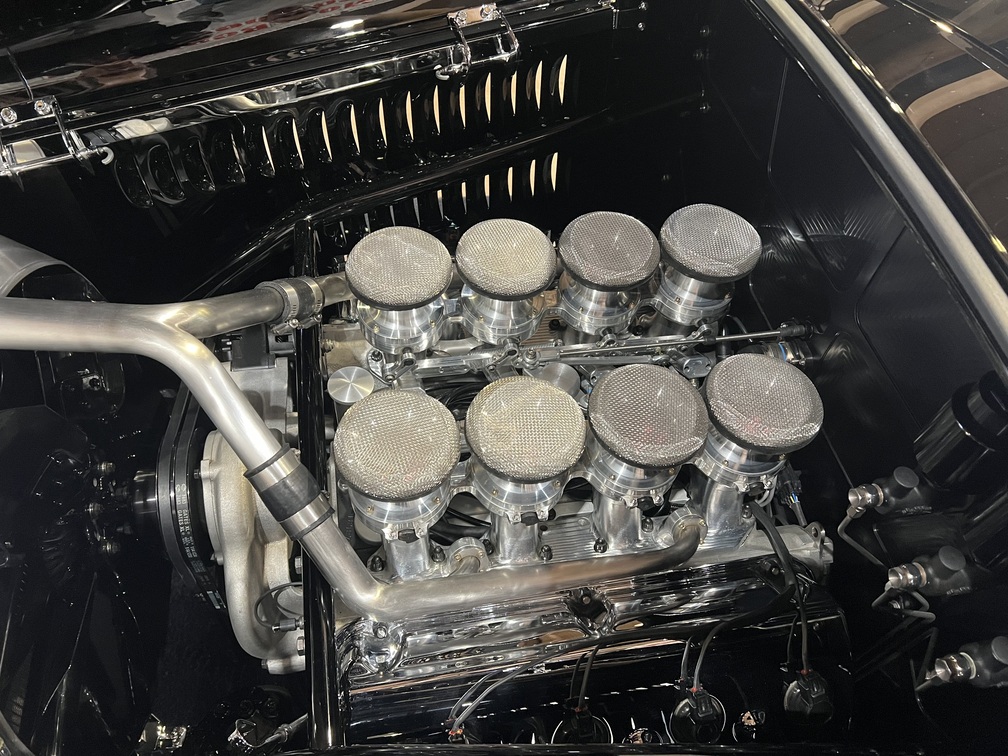 2023 GNRS AMBR Award Winner Details
… is the 1932 Ford highboy roadster belonging to Jack Chisenhall.
This year's America's Most Beautiful Roadster winner was a longtime coming. Literally. Jack Chisenhall was inspired back in his youth by the Tony Capanna's Dodge powered Indy car back in '55. While the Capanna Indy roadster never made the "show" it did leave a memorable impression on young Jack's mind. Over time Jack kept thinking and gathering parts and then making numerous components to make his dream come together.
In was back in 2000 that Thom Taylor provided Jack with a drawing of what his Indy-inspired roadster could look like. Well, not being one to rush into anything some 23 years later we see Jack's vision. Along the way Jack picked up inspiration and sage advice from accomplished hot rodder and race car magician Jackie Howerton. And that's when the more defined inspiration for the Champ Deuce came into being.
Read More: Barrett-Jackson Cup 2023 Top 5 From 2023 Scottsdale
One of the truly unique details about this roadster is the powerplant. It is based on a '56 Dodge Hemi (325 inches), the "baby Hemi" as it is often referred to. But that is the starting point. Jack had to cast his own cylinder heads and water pump. From here Cody Chapman, a machinist at Vintage Air Jack's former company, was an accomplished builder of throttle bodies for Pro Mod cars. With this type of background Jack taped into this ability and had Chapman make a set for the lil' Dodge Hemi. In the end the 355-inch Hemi produced 390 lb-ft of torque and 420 hp.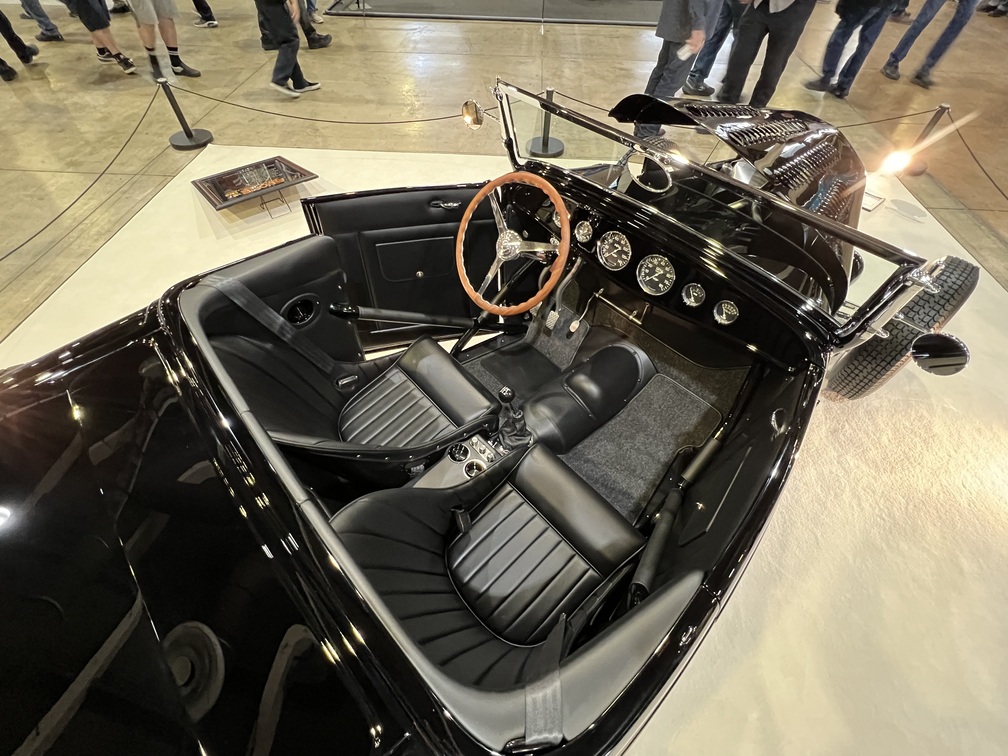 The original '32 ford frame was affixed to a build table back in 2017 and then the original Deuce sheetmetal was then fitted and the build began in earnest. A '37 Ford axle is used along with a longitudinal torsion bar suspension. The front shocks are adjustable Carrera race shocks, Wilwood disc brakes (also used in back), '33 Ford spindles, and new old stock original Halibrand 16-inch Indy magnesium wheels in front and 18's in back.
The rubber is a set of Excelsior Competition tires measuring 5.50×16 Sport Racing radial tires with Englebert Competition 7.00×18-inch Sport Racing radial tires in back. The rear suspension is based on a Winters Champ quick-change with 4.36 gearing and Winters axles. The five-speed TREMEC was prepped by Bowler Performance Transmissions, includes a Mcleod Racing twin disc clutch package, and is shifted through the gears via a modified Hurst stick.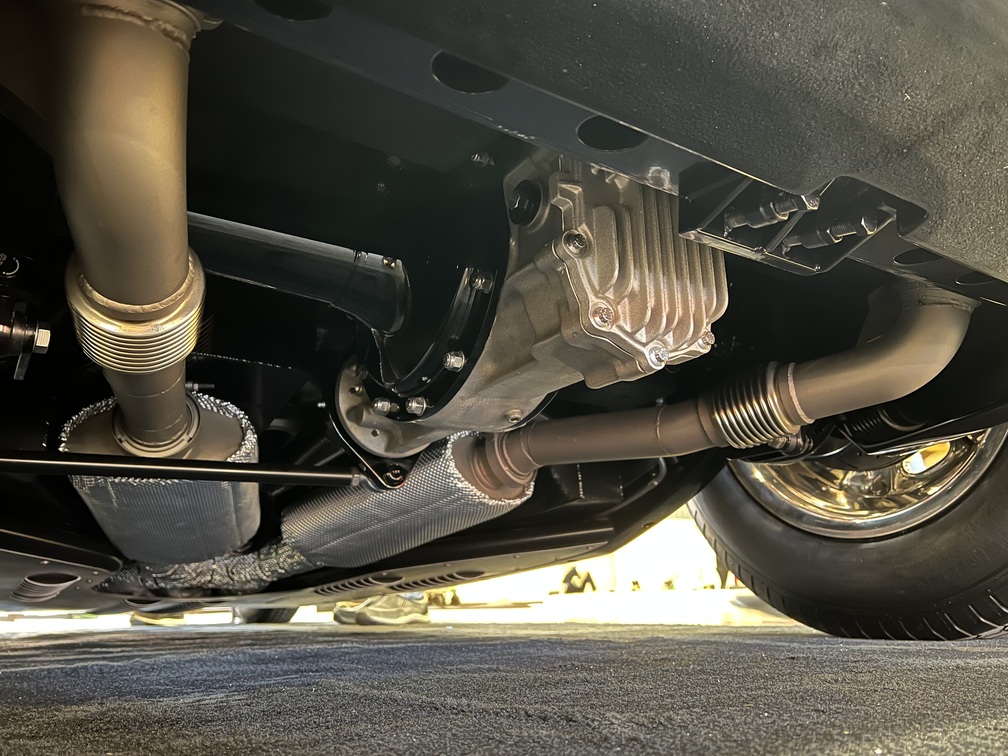 The body is an original '32 Ford that does feature a filled cowl vents, reworked rear quarter panels, a roll pan by Damon Detmer, and a full belly pan. Note the recessed license plate and '39 Ford "teardrop" taillights. The initial bodywork was aptly handled by Craig Naff and George Hagy. The finish body- and paintwork was handled by Vintage Color Studio where Hollenbeck used PPG toner black.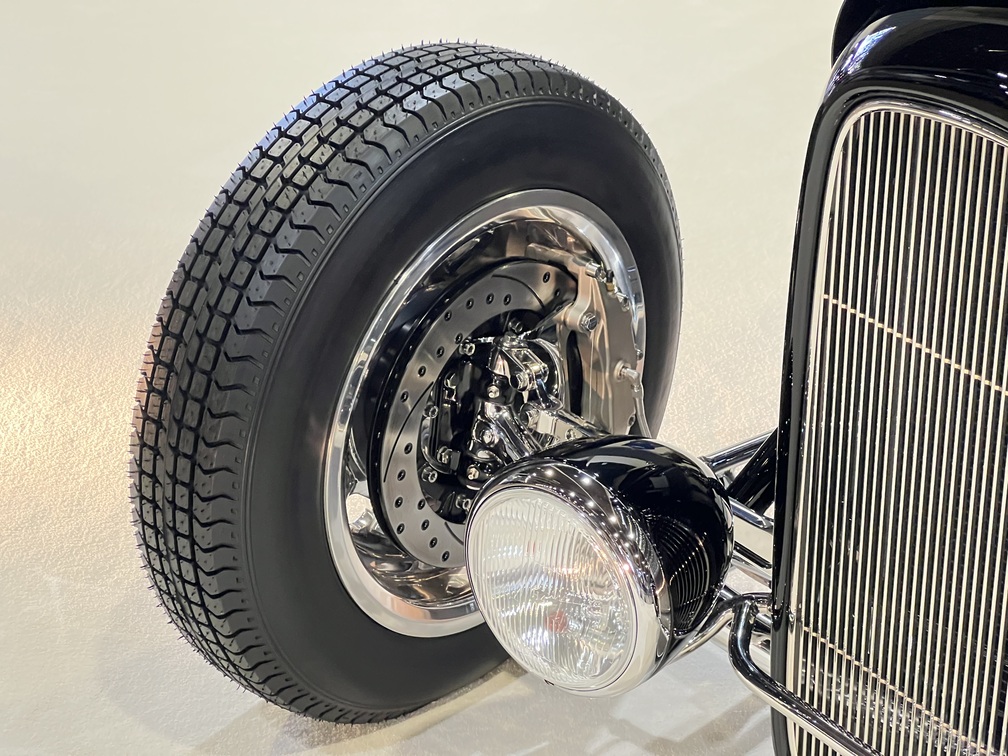 Inside this roadster does have air conditioning. Really, what would you expect from the founder and original owner of Vintage Air! The custom vintage appearing instrumentation is by way of Classic Instruments while Ron Francis received the nod for the wiring system while the wiring itself was done at Roy Brizio Street Rods. The seating is a pair of bucket seats from Steve Moal Coachworks with final fitment by Detmer. As mentioned, the upholstery was handled in black leather by Chavers. The top, not seen, was also made while at Chavers.
Every year the roadsters that compete for America's Most Beautiful Roadster become, well more and more beautiful, coupled with imagination, design, styling, and craftsmanship that continues to amaze. Look for the "rest of the story" on the pages of Modern Rodding. MR