Jason Odell's 1949 Chevy 3100
By Rob Fortier & Jason Odell – Photography by Tim Sutton
As much as I love writing about other people and the trucks they build/own and drive, I also love when people have a great story to tell themselves. Not only does it make my job easier, it prevents me from messing anything up. More importantly, it relays the personal perspective just as it was intended. This is Jason Odell's second 1949 Chevy 3100, and as he's about to describe, it might just be his last!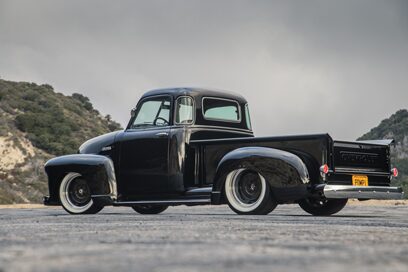 "I built my 1949 Chevy after owning another one for about six years, selling it, trying to buy it back (unsuccessfully), and giving in to build my dream restomod idea of a perfect pickup. I drove my first truck a lot—in fact, the first drive was from Florida straight to Los Angeles, and it was also the first time my wife had ever been on a cross-country trip. Needless to say, we both got hooked taking road trips in a classic Chevy.
Read More: 1950 Ford F-1: Iconic Style With 4BT Diesel Power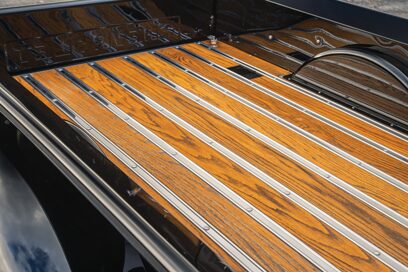 "When considering this build, I knew what I didn't like about my first Chevy: an A/C that didn't work, the stock chassis with a Mustang II front end, the very uncomfortable bench seat, and the handling. Art Morrison had just released their GT Sport chassis when I was building this truck. After calling (stalking) them and trying to find out every detail I could about how it would drive, I pulled the trigger and ordered it through Hot Rods & Custom Stuff (HRCS) in Escondido [California] (I got number 19) to do a body swap from my second truck, which was on a stock chassis with a Mustang II front end.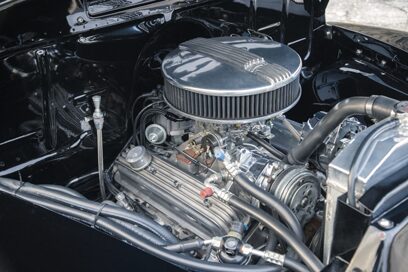 "When I bought my truck (from eBay) it was finished with a single-stage black paint, so HRCS carefully moved the painted truck onto the new chassis and we upgraded everything under the sheet metal. I drove the old truck like this for about five years/20,000 miles, but the big hood gaps aHond crappy paint started to get on my nerves. So, mid 2020 I sent it down to get some touch ups from Andy Meeh at HRCS—which then turned into a 'Hell with it, let's fix the hood gaps and just repaint the entire truck!'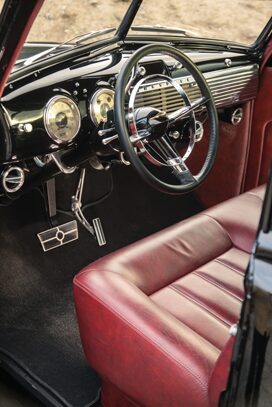 "The drive on this truck is amazing; I can take it into the canyons and make Porsches wonder what the hell is going on with a 1949 Chevy flat cornering … cruise on the highway at 85 mph all day (I mean 65!) … and I love that it's reliable and classic. I decided to go with a carbureted Chevrolet ZZ4 crate motor paired up to a Bowtie Overdrives 700-R4 transmission. I love the smell of carbed engines and also the classic look of a proper air cleaner on top. Creature comforts include power steering, Wilwood brakes, and the biggest A/C from Vintage Air squeezed to fit under the dash with custom-made vents and control mounts that look period correct. Also, the iPod touch just so happens to fit perfectly in the stock radio dash cutout and blends in with the gloss black paint. The wheels are custom-made 18-inch billet aluminum artilleries with Diamond Back/Nitto 555 series wide whitewalls (from Circle Racing). Ron Mangus did the interior in Oxblood leather with black carpet and a repop 1955 Chevy 15-inch steering wheel wrapped in black leather. Dynamat under everything, including the headliner, and a custom Bluetooth stereo with a subwoofer hidden under the Glide Engineering hot rod seats. We added shoulder straps to the seatbelts because driving in Los Angeles is crazy and I take my kids with me a lot!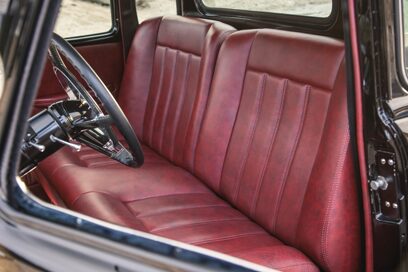 Read More: Danny's LS3 Powered Sonic Gray Pearl Tri-Five Chevy
"I love to drive this truck. My favorite drive was up Highway 1 to Big Sur with my wife … it rained the entire way but was still so worth it. Taking a road trip in a classic truck is another level of connection to the people around you and the environment. I love when people ask me if it's on bags and I say, 'Nope, this is how high I drive it—with the floorboards 5 inches off the ground!' I recently had the truck corner-balanced and it achieved a 50/50 weight ratio at 3,600 pounds!"