Nothin' but Corn 'n' Flakes, Help This First-Gen Chevy C10 Stand Out
By Scotty Lachenauer – Photography by the Author
When you live out in the country and drive an old pickup truck, well, it's tough to stand out in a crowd and get noticed on the streets, especially when every other vehicle you pass on your local country road is of the bedded variety—that is unless you are Byron Loucks of Glenville, Pennsylvania.
Byron ain't like the other truckers out there in the farmlands of Central Pennsylvania. When he designed his future hot rod truck, he knew from the start he wanted something a little bit different than the typical rides he saw at his local cruise night. What he desired was something built with old school hot rod style blended with some modern underpinnings and basted with a flakey golden hue. Well, he got that and even more with this stunning shortbed 1963 C10.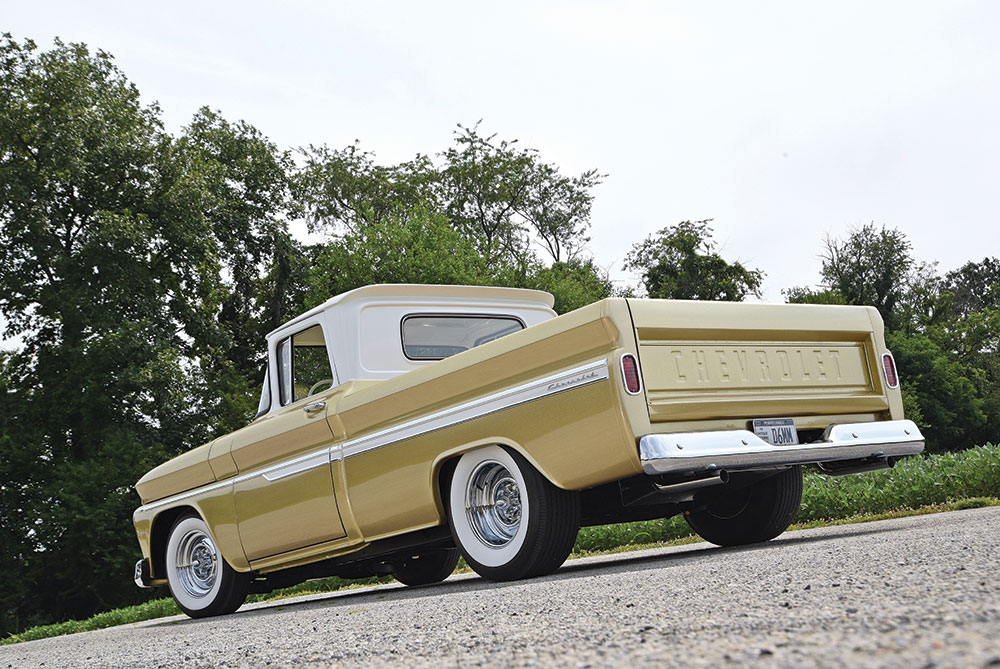 Lend an Ear
The tale of this truck starts way back in 1991. After a succession of cool muscle rides, like a 1956 Chevy, 1965 GTO, and a 1967 Firebird 400 drop-top, Byron decided he needed a hot rod truck in his life. "A lot of people preferred the second-generation (1967-1972) C10s. What I really liked was the first-generation trucks (1960-1966). I just like the smoother lines and classic styling better than the Squarebodies," Byron states.
Read More: Corner Carving Chevy 3100
The search was on to find a good, dependable C10; one that he could use as a daily driver, while slowly fixing it up along the way. "A guy in a nearby town had a 1963 for sale. It was your typical Pennsylvania truck. It was an old hot rod and had some rust issues that weren't too bad. It also had the complete drivetrain from a Chevy Laguna installed in it. It ran well, and that was an important buying point for sure," Byron says.
Without a second thought Byron ponied-up and brought the old C10 home. It served as his basic transportation and daily driver for a few years until one day he wanted to get some work done it. "I brought it to a guy to do some restoration on it. Well, what I thought would be a few weeks turned into a few too many years. I even had to go out and get another C10 just to drive around. Finally, I just went over there and grabbed the truck and all the parts he took off and brought it home," Byron says.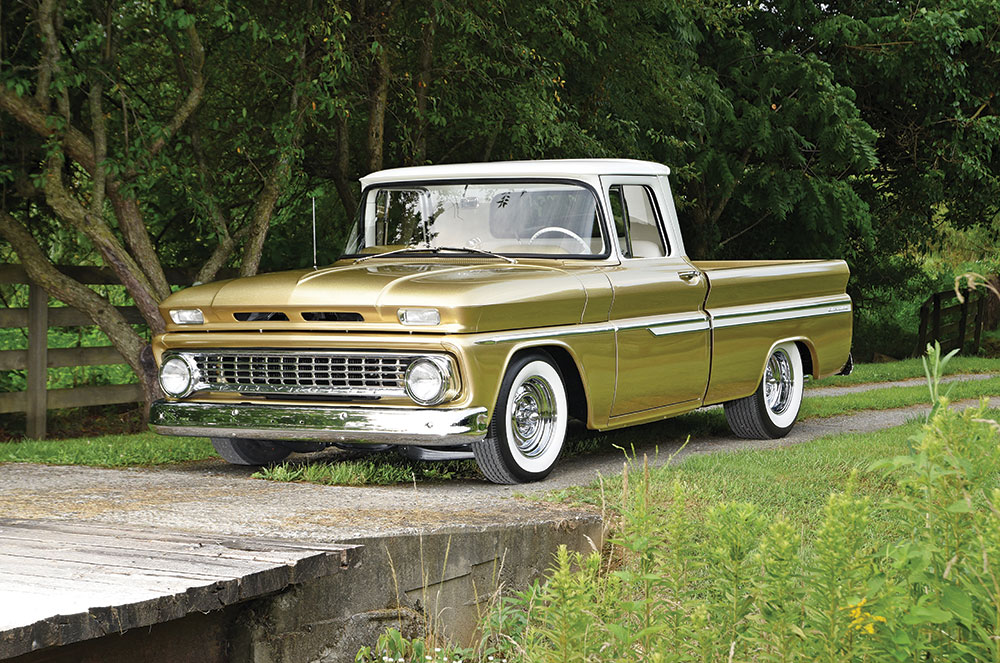 Tom's Place
From there the truck just sat … and sat. Finally, in 2019, he decided that something had to be done with his pile of parts. "I thought about it hard and decided to send the truck to my good friend Tom Bortner of Bortner Auto Painting and Restoration, based in nearby Spring Grove, Pennsylvania. [Bortner] is an old-school guy with a wealth of fabrication and paint knowledge underneath his hat. I had a vision in my head of what I really wanted, and I knew [Bortner] was the guy to see it to fruition," Byron states.
Byron grabbed his trailer and loaded up the disassembled C10 to bring over to Bortner's shop. "When Byron brought it over, it was just the cab on the frame. The doors, fenders, and bed were all off the truck. There were parts in boxes. It was a mess," Bortner says. But the good news was that Bortner already had a game plan to get this truck back on the street. After assessing the situation, Bortner got down to brass tacks and got this C10 project rollin'.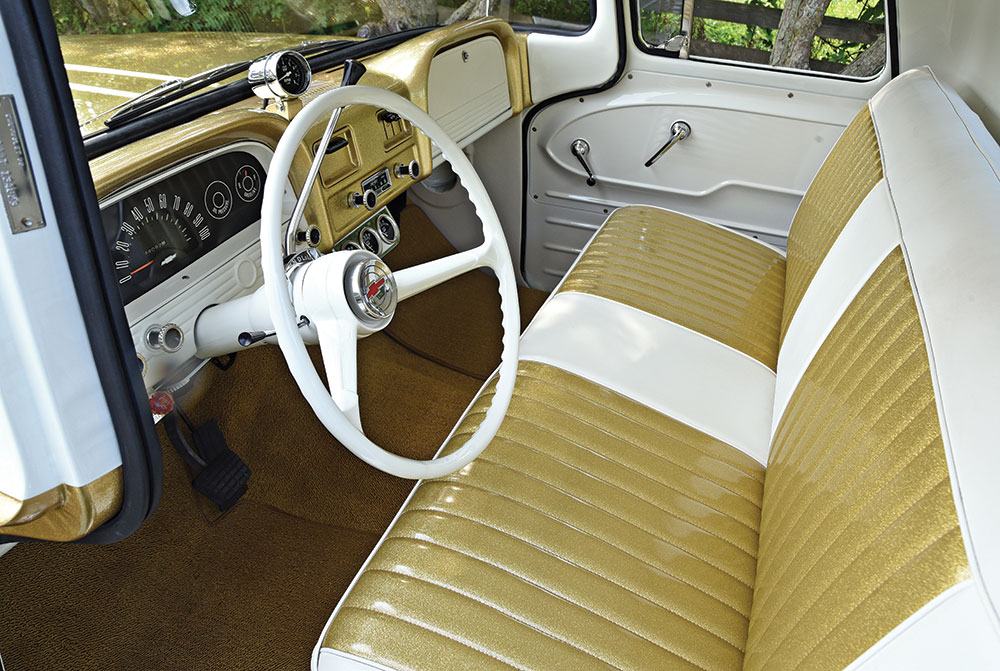 First, Bortner took on the frame, installing a Classic Performance Products (CPP) C-notch frame kit out back. Byron jumped in and helped blast and wire wheel the 'rails for painting. Once that was accomplished, a fresh coat of epoxy chassis paint finished off the frame. Front suspension upgrades include Western Chassis 2-inch drop spindles along with a set of 2-inch Belltech lowering springs; the latter have an additional half-coil out to get the C10 to sit exactly where Byron wanted.
Out back Bortner enhanced the truck's stock suspension by installing Belltech 5-inch lowering springs, along with a CPP adjustable track bar. To help get this C10 to come to a halt, a disc brake kit from Golden State Parts was added to the mix. Master Power Brakes supplied a power brake upgrade for more push at the corners.
Once the chassis was taken care of, Bortner reassembled the major body components so he could fit the moldings that this truck never came with. "It's a base model C10, but I wanted all the higher-end trim. Mar-K supplied the moldings I wanted. I think it sets the truck off," Byron says. Once assembled, Bortner tore it all down and commenced the bodywork, doing some subtle mods along the way. "I eliminated the chains out back and smoothed up the tailgate and rear bedside area. I then added spring-loaded barrel-style latches in the rear bedside stake pockets. Lastly, I bridged the driprails on the cab and made them one cohesive piece," Bortner says.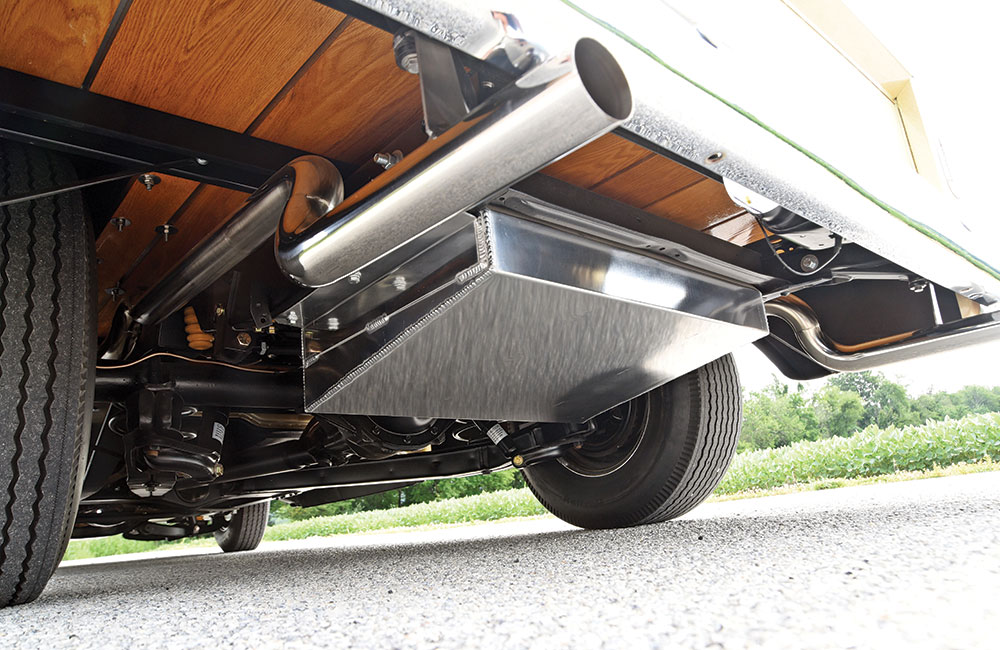 Flakey Crust
When it came to the paint, Byron wanted something that was old school but could grab your eyeballs. Bortner was all in for that. "We thought a lot about the color scheme. Byron brought a few extra 1963 fenders in the shop and I sprayed out several shades of flake on the fenders to compare. We chose TCP Global Custom Shop MSF Brilliant Gold in medium 0.008 hex flake. A creamy white was chosen for the accent color. It's a classic look with some punch," Bortner says.
Read More: Purpose Built Sport Truck: 1958 Chevy Cameo
Then Bortner got to work getting the Fleetside body laser straight. After he was satisfied with the contours, he laid down a skin of PPG Cameo White basecoat over the top of the cab. Next, he carefully masked off the roof line and readied the body for its first of three coats of PPG Light Wheat Poly for the gold base. From there, three coats of flake were sprayed over the gold, mixed in with PPG clear to spray it on evenly. Then Bortner finished the truck off with several more coats of clear to help get those flakes dazzlin' in the sunlight.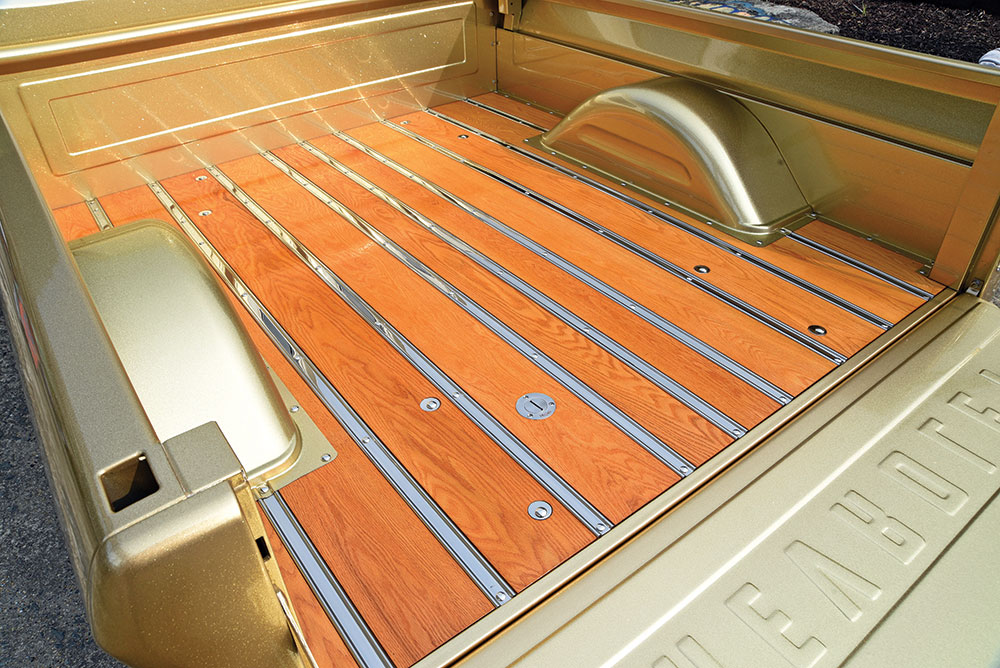 When it came to the interior, Byron knew he had to keep it simple while giving off that mid-'60s vibe. The dash was skinned with the same flakey paint job as the body received. Next, Bortner restored the original gauge panel as well as the original steering column and wheel, which were both painted the Cameo White. Moon gauges and tach were added to keep track of the vitals. The seat upholstery mimics the paint scheme and was done using the original seat frame. John Sterner, from Statler's Auto Upholstery in Gettysburg, Pennsylvania, handled the task, skinning the bench in white vinyl with gold metal flake pleats. "When the sun hits the interior, it pops just like the body does," Byron states.
Out back, Bortner worked on the bed. Bruce Horkey's Wood and Parts, out of Windom, Minnesota, supplied the oak bed planks and the stainless strips that hold it all together. The wood is finished in Old Master's spar varnish. "It's natural, no stain," Byron says. Another custom touch is the gas filler. "We countersunk the filler tab into one of the bed boards so it actually sits flush with the wood for a cleaner look. The filler feeds a 19-gallon aluminum tank we relocated under the bed," Bortner states. The final piece to this C10 build was the addition of "Chevrolet" script callouts into the stainless trim on the bedsides.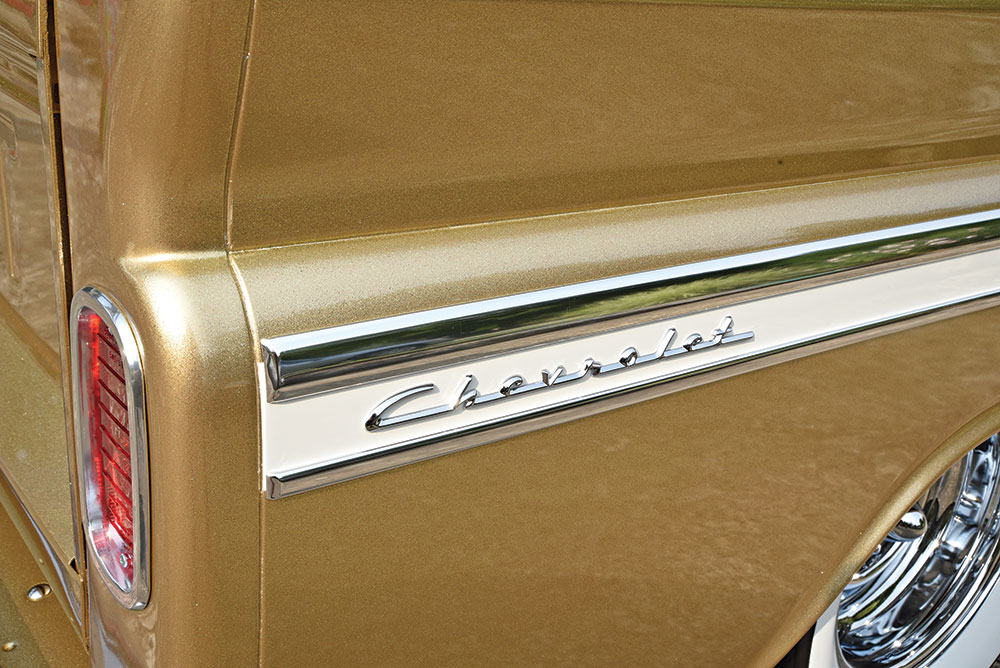 Mill House
As the truck came together, the guy's minds turned toward the motor-vation for the C10. The truck came with a drivetrain, which had been pulled from a mid '70s Chevy Laguna S-3. The 400ci small block chevy had been rebuilt with some mild performance upgrades by the previous owner and still ran well, so Bortner went ahead and prepped the block for a fresh skin of Oldsmobile Gold. An Edelbrock Performer intake and 600-cfm carb were added up top to supply the air/fuel mixture to the mill. A FlowKooler high-flow water pump was installed to keep the temps down, even on those hot summer days. "I finished it off with matching, period-correct SBC finned valve covers and oval air cleaner for a classic look," Bortner states.
Read More: The Matador Red 1959 Chevy Apache Pickup
A TH350 transmission, rebuilt and upgraded by Dr. Trans of Hanover, Pennsylvania, handles the shifting duties and feeds a stock Chevy 10-bolt rear end stuffed with 3.73 gears. Other add-ons include the shorty headers that the truck came with. They were blasted and repainted black to go along with the look Byron was after. These pipes feed a 2¼ polished stainless steel custom exhaust built by Jon Schuchart at Jon Schuchart Customs in York, Pennsylvania. Generic glass pack mufflers that were polished to perfection add to the throaty rumble that emanates from this classic street truck.
Other period-perfect add-ons include the Wheelsmith 15-inch chrome OEM-style wheels sporting Spider caps. They are shod with classic Diamond Back "bias-ply look" whitewall radial tires; 7.10R15 fronts and 10.00R15 out back. The whitewalls are 3-inch up front and 3.25-inch wide out back. Having some meaty tires on those classy wheels helps when running around on those sketchy rural farm roads in Byron's local. There was one finishing touch that added a little bling to the build. Since Byron's truck was a base model, the grille, headlight rings, and bumpers all came from the factory painted white. "For the look, I was after, I really wanted all these pieces to be chromed. So we stripped all the parts and had them re-chromed at Librandi's Plating in Middletown, Pennsylvania. It adds a serious amount of pop to the exterior of the truck," Byron says.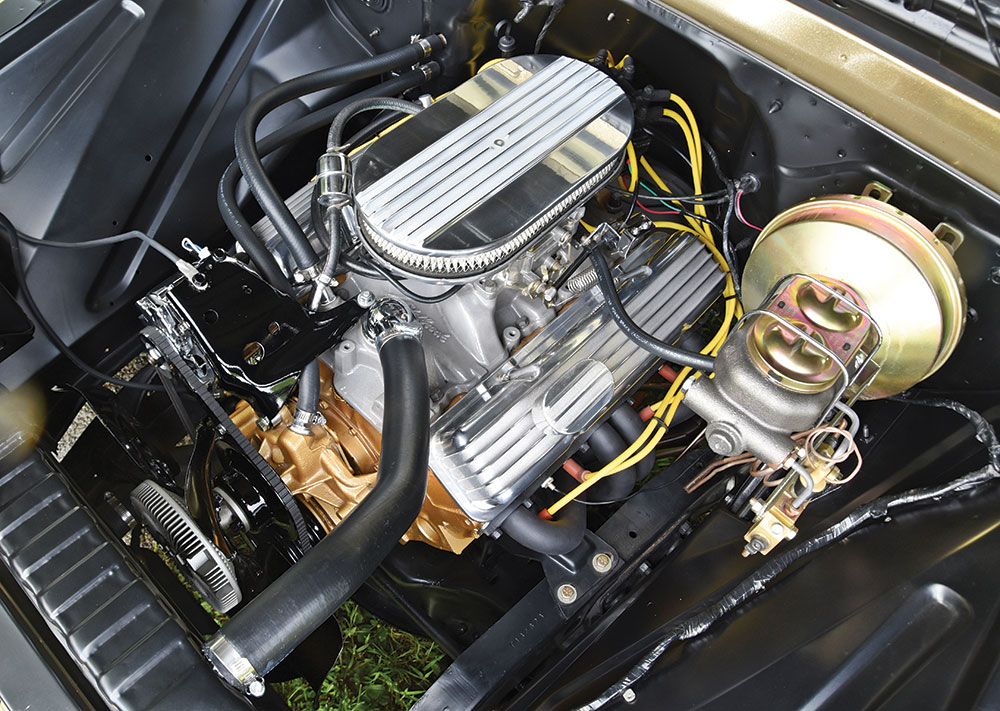 Corn-clusion
"Toward the end of the build, I went to the shop one night and Bortner had moved the truck into the front bay. It was basically all finished, and man I really got excited. I told [Bortner] that I thought it was awesome and I was totally stoked. [Bortner] thought it was awesome as well … in his calm, collected way," Byron laughs.
Once the truck hit the road it didn't take Byron long to get his stunning C10 out in the spotlight. "Our goal was to finish it on time and take it to the Nats East in York. We made that deadline by a couple of days. At the show, we could hardly get away from the truck. We were swamped by spectators gloating over the pickup and its stellar paint job. I think it caught [Bortner] by surprise. He's just a really humble guy," Byron says.
"Now I'd like to thank a few people. First off, I'd like to thank [Bortner] and his family for building this awesome C10 for me. I couldn't have dreamed up a better ride. A shout-out goes to Jeff Doster at Autos Unlimited in Glenville, Pennsylvania, for the use of his facilities. Of course, a special shout-out goes to my wife, Janet, for her support during the build. I could not have done it without her," he says. Bortner gives thanks to Byron for letting him work on this special C10 project.
One last note. There was a deeper drive for Byron to get this truck done. "I tried to keep the truck build a secret … I really wanted to surprise my dad since he was such a big car guy. He put the addiction in my blood. Unfortunately, my dad [died] in January and never got to see it finished. So, I dedicate this build to him."