Pro Touring Suspension & Supercharged LS Performance
By Brian Brennan   –   Photography Chadly Johnson
Artwork By Highlander Concept Rendering
It was up to MetalWorks Speed Shop to find a solid-bodied 1955 Chevy–and they did, allowing John Wise of Indiana to build his high school vision and have his dream hot rod. His vision was to have a Pro Touring build with all the modern handling and performance but maintain the early looks of the 1955 Chevy.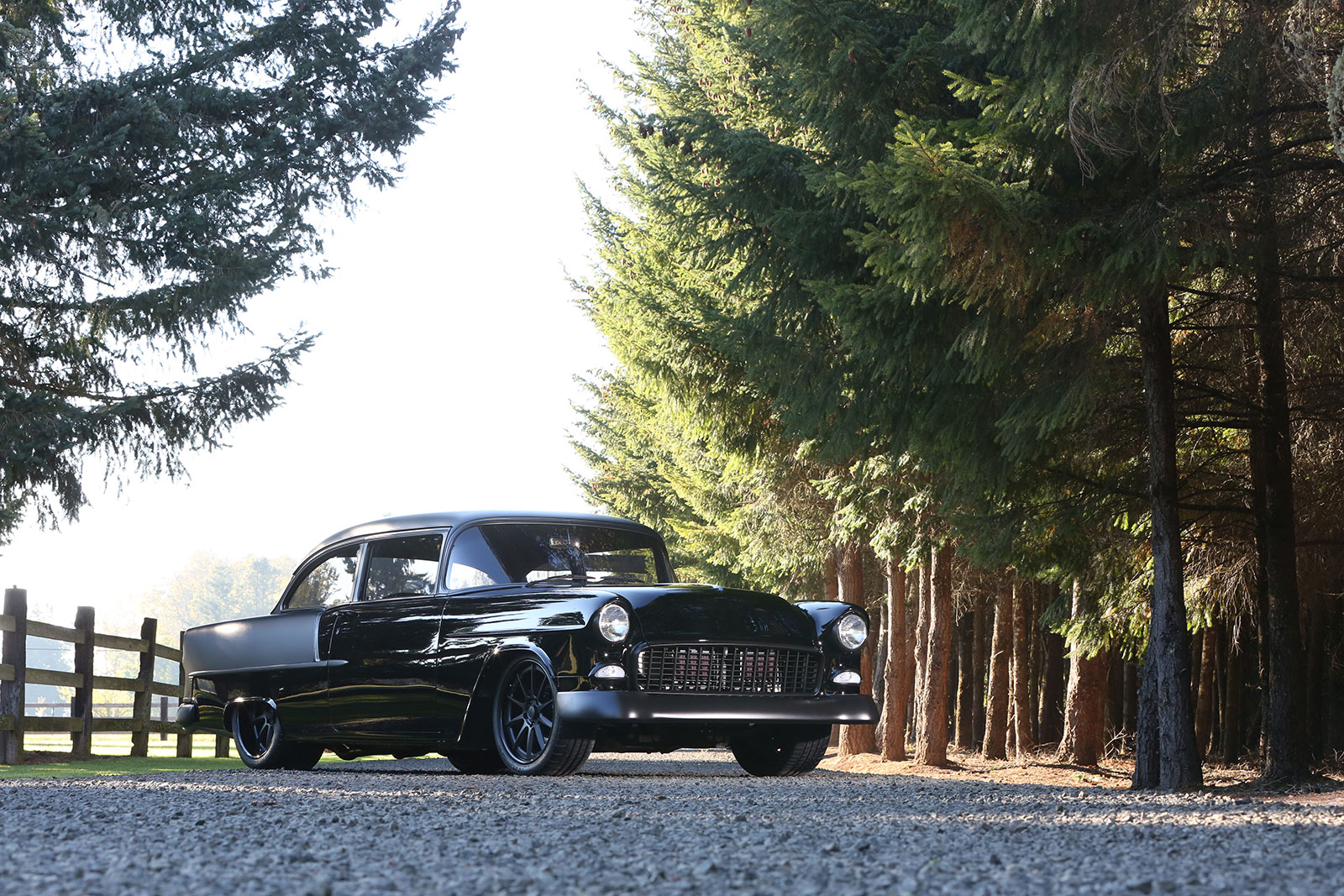 The 1955 Chevy does have a distinctive look, with its two-tone "darked-out" appearance. The look comes from the satin black and satin gray back tones effectively drawn up by Tavis Highlander and then executed by MetalWorks. Oh, did we mention that John is also fond of horsepower, hence the supercharged LS3 engine for power effectively controlled through the GT Sport Art Morrison chassis with full independent suspension?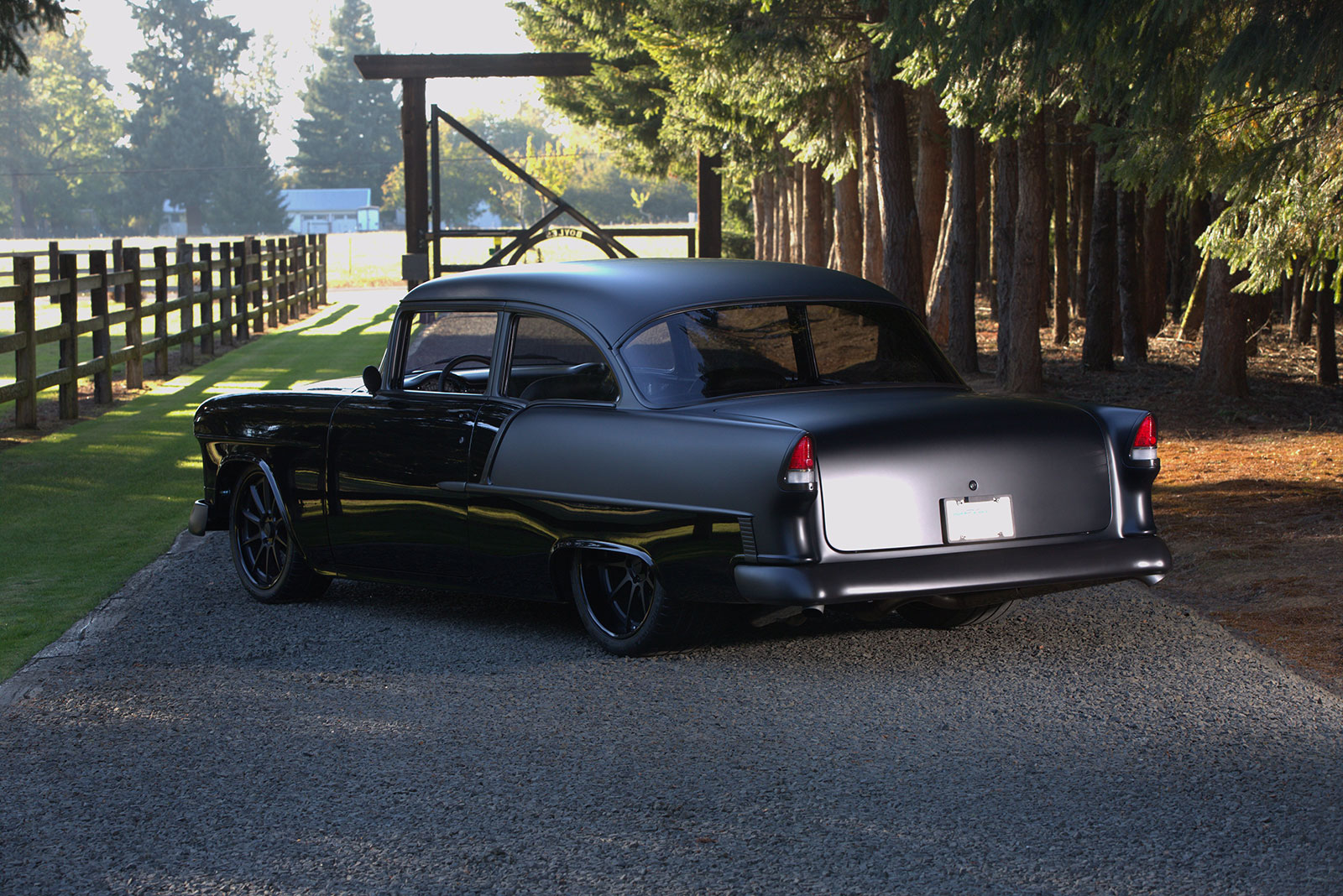 Read More: Tri-Five of the Year: Lange's 1956 Chevy 210
MetalWorks handled the build and, as is often the case, their customers purchase the Art Morrison chassis directly from MetalWorks. Why? They are the largest Art Morrison dealer and as such should you find yourself wanting an Art Morrison chassis odds are they have already asked and have the answers for all the right questions. The chassis on this Tri-Five is an Art Morrison GT Sport chassis with its Multi-Link Independent Rear Suspension to accompany the supplied Independent Front Suspension. The Independent Rear Suspension is based on a Strange Engineering Dana 60 rear axle with Positraction 3.73 gears and an Inland Empire Driveline aluminum 3-inch tube driveshaft. Also found in the rear are Strange Engineering Ultra Series monotube coilover shocks.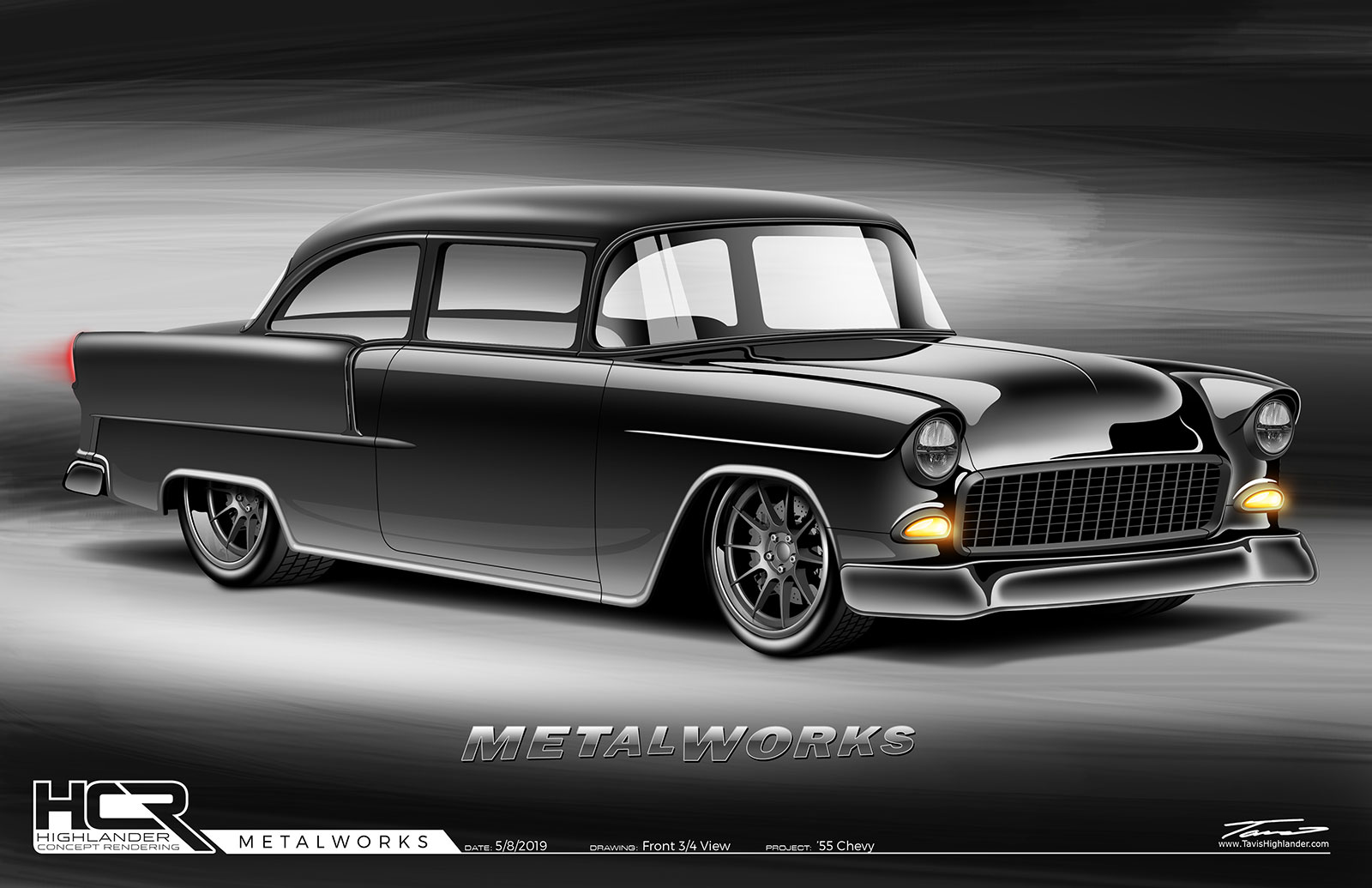 Wheel and tire grouping is made up of RB3C Forgeline wheels 19s in front and 20s in back. From here the rubber comes by way of Michelin Pilot Super Sport with 245/40ZR19 in front and 335/30ZR20 in the back. Additional corner appointments are made up of a Wilwood brake system that includes 14-inch drilled-and-slotted rotors and accompanying calipers. Operating the brakes is a Wilwood master cylinder and a Lokar pedal assembly.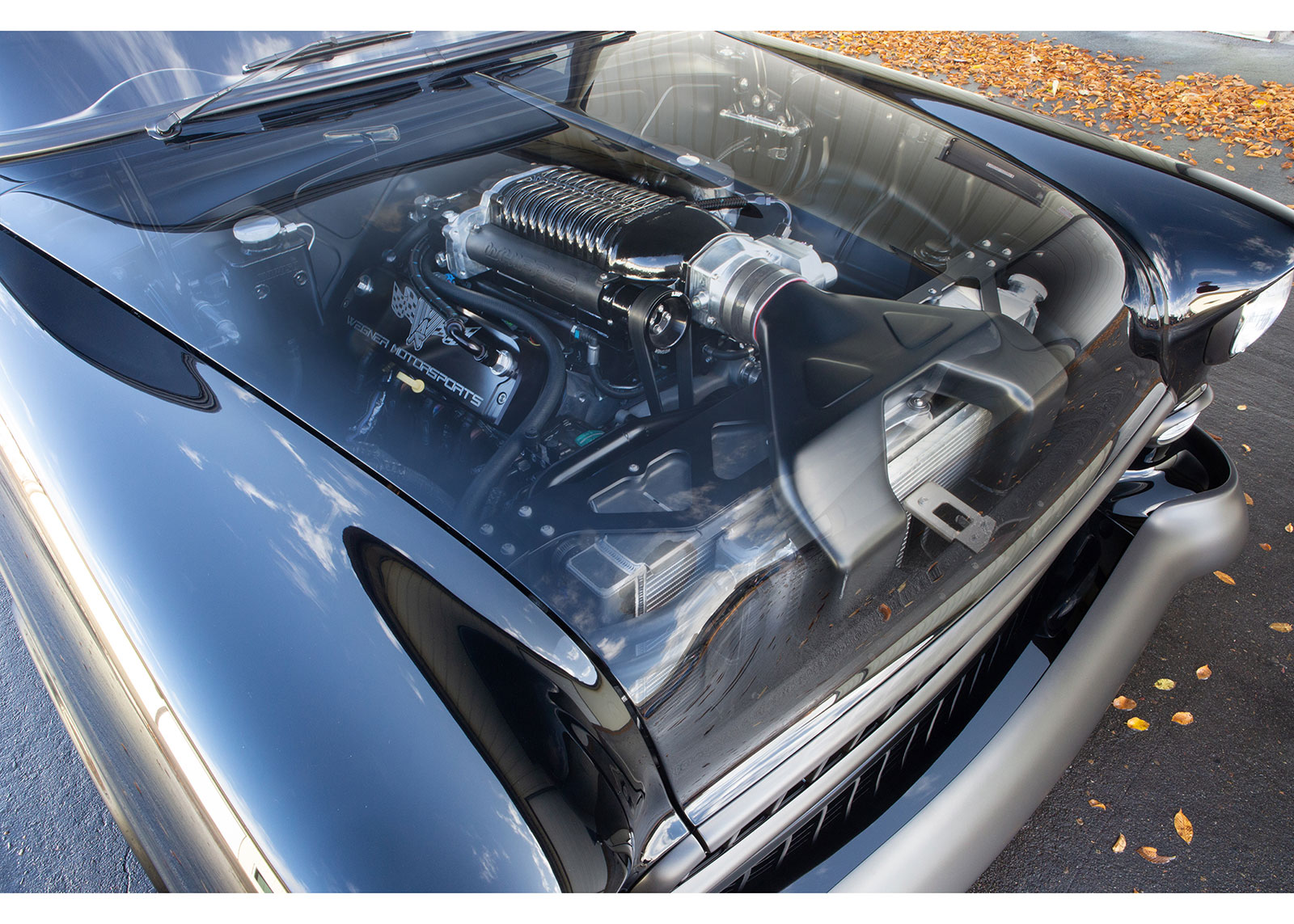 Moving up front the Art Morrison Independent Front Suspension consists of Wilwood drop spindles, Strange Engineering Ultra Series coilover shocks, an Art Morrison sway bar, and a Detroit Speed rack-and-pinion power steering operated by a Flaming River steering column.
Read More: Drive-By-Wire Solution For Your Classic Car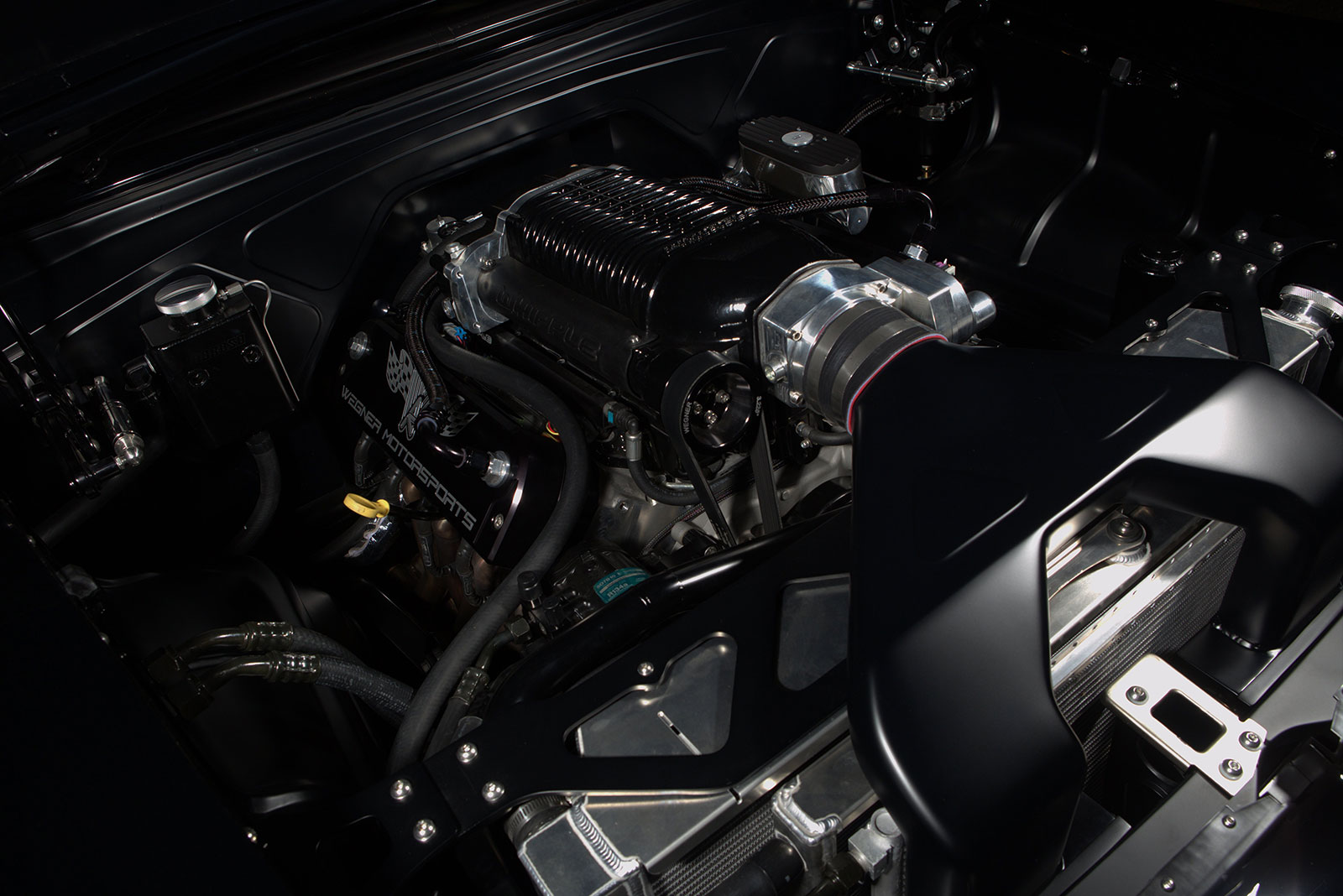 Dropped between the 'rails is an LS-based Chevy V8 engine from Wegner Automotive. The upgraded LS3 engine package now runs 427 inches with a 2.9l Whipple Supercharger. It's a custom handbuilt LS that's based on an iron DART SHP Pro block that can push 1,000 hp and 900 lb-ft of torque. (More on the SHP Pro block: It features upgraded mains, cam and lifters, and is ideal for high-winding V8s, and ARP bolts.) Part of the package includes a Holley Dominator ECU, Wegner Automotive custom valve covers, and a WAK040 front accessory drive. Other components are Mahle forged pistons (9.6:1), forged I-beam rods, and a Callies Crankshaft 4-inch stroker. You will also find the liberal use of ARP bolts throughout and a pair of ZL1 fuel pumps. The air cleaner is more handicraft by MetalWorks. A brushless electric SPAL fan assists with cooling. From here the exhaust is based on Ultimate headers with 1-7/8-inch primary tubes that then dump into a 3-inch collector linked to stainless steel 3-inch exhaust tubes working with a pair of 50-series Flowmaster mufflers. All this power is ushered rearward by a custom-built GM 4L80E transmission with a 2,800-rpm stall converter all provided by Automatic Transmission Design.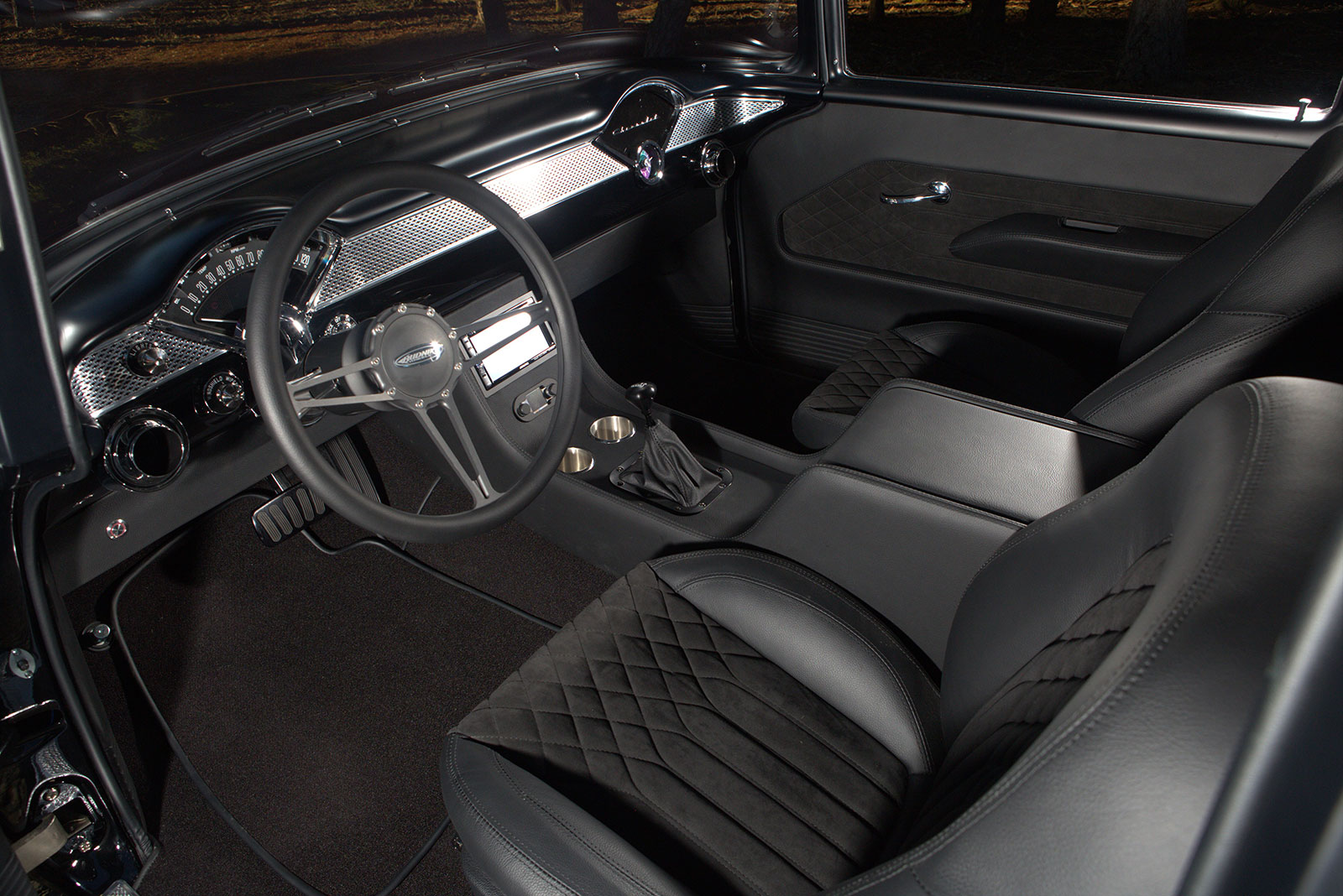 The interior is based in its simplicity and comfort. You will immediately recognize the stock '55 dash with a smooth-over glove box door. From here you will see the RTX Dakota Digital dash package resting above the Flaming River steering column with a Budnik steering wheel. The wiring is handled by an American Autowire Highway 15 kit installed by MetalWorks that controls the Dakota Digital gauges, the Vintage Air Gen IV SureFit AC system, and all the other electrics. Jon Lind Interiors managed the upholstery and based the seating in a combination of black leather and Alcantara. (More on Alcantara: It is a suede-like material that is a synthetic textile made from a blend of polyester and polyurethane. It is durable and feels like suede with a microfiber pile and is known for its unrivalled durability.) The six-way power TMI bucket seats are upholstered in a combination of BMW Black Dakota grain (leather) and Alcantara centers. The rear bench seat is hand built and upholstered to match the front buckets. The headliner is Alcantara while the door panels and kick panels are a combination of the same BMW Black Dakota grain and Alcantara centers. The carpeting is the ubiquitous Daytona weave in black with matching mats.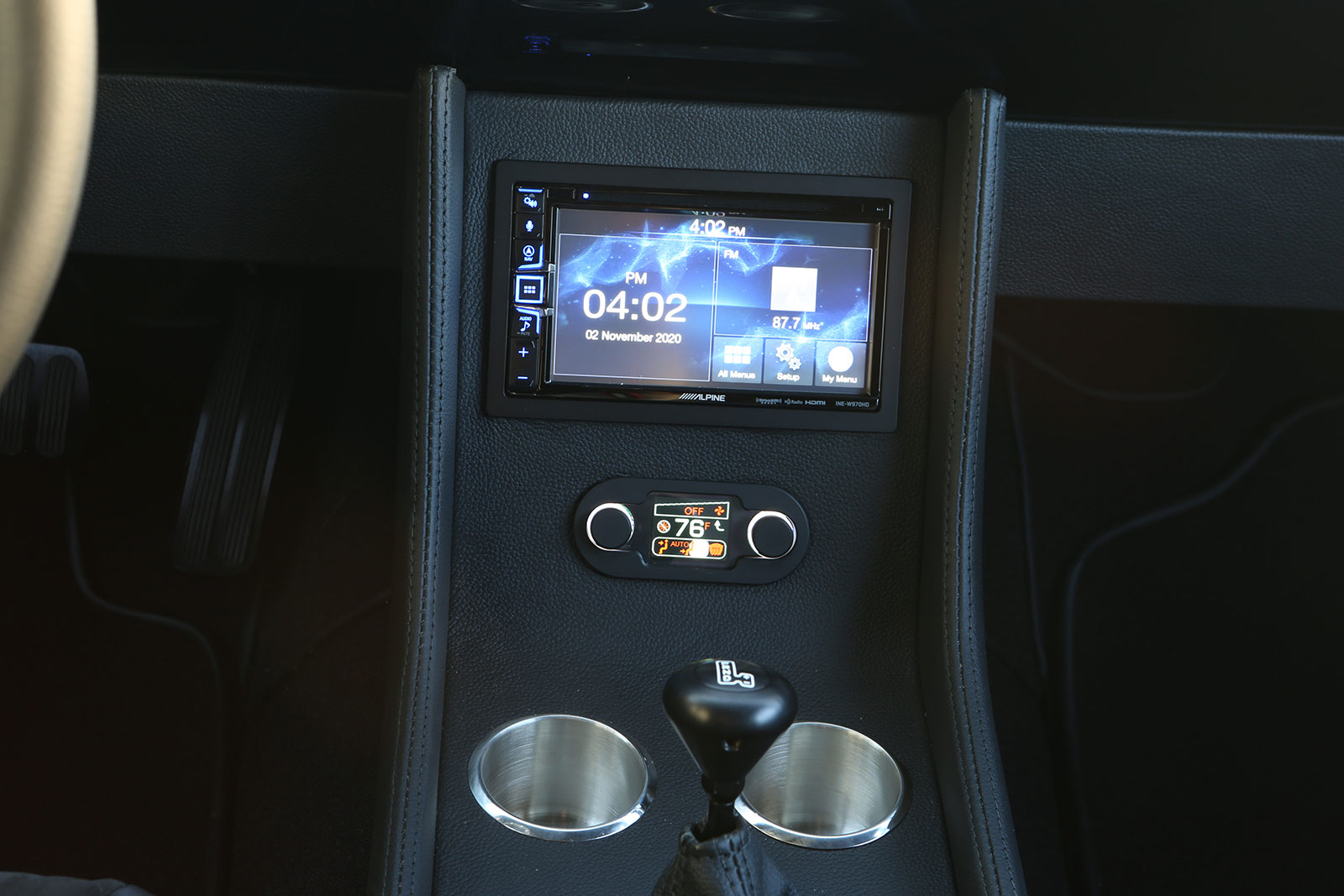 Read More: Deep Blue Bel Air With Big Block Performance
The sheetmetal of this '55 Chevy retains all the desired good looks with a few touches to make it even more desirable. Before the final build the sheetmetal underwent an acid dip to get off decades of accumulated road grime and prep it for the final body- and paintwork. For instance, the external fuel fill door and filler were moved and modified to look and function like a '56 Chevy. Now an electronic taillight gas door provides access to the gas filler tube. The Danchuk 3-inch-wide rear wheel tubs were added by MetalWorks to accommodate the oversized rear wheel and tire combo. Bumpers, grille, headlight trim rings, wheel centers are all Cerakote performed by Johnson Customs, LLC. As mentioned earlier, all the body- and paintwork was performed at MetalWorks.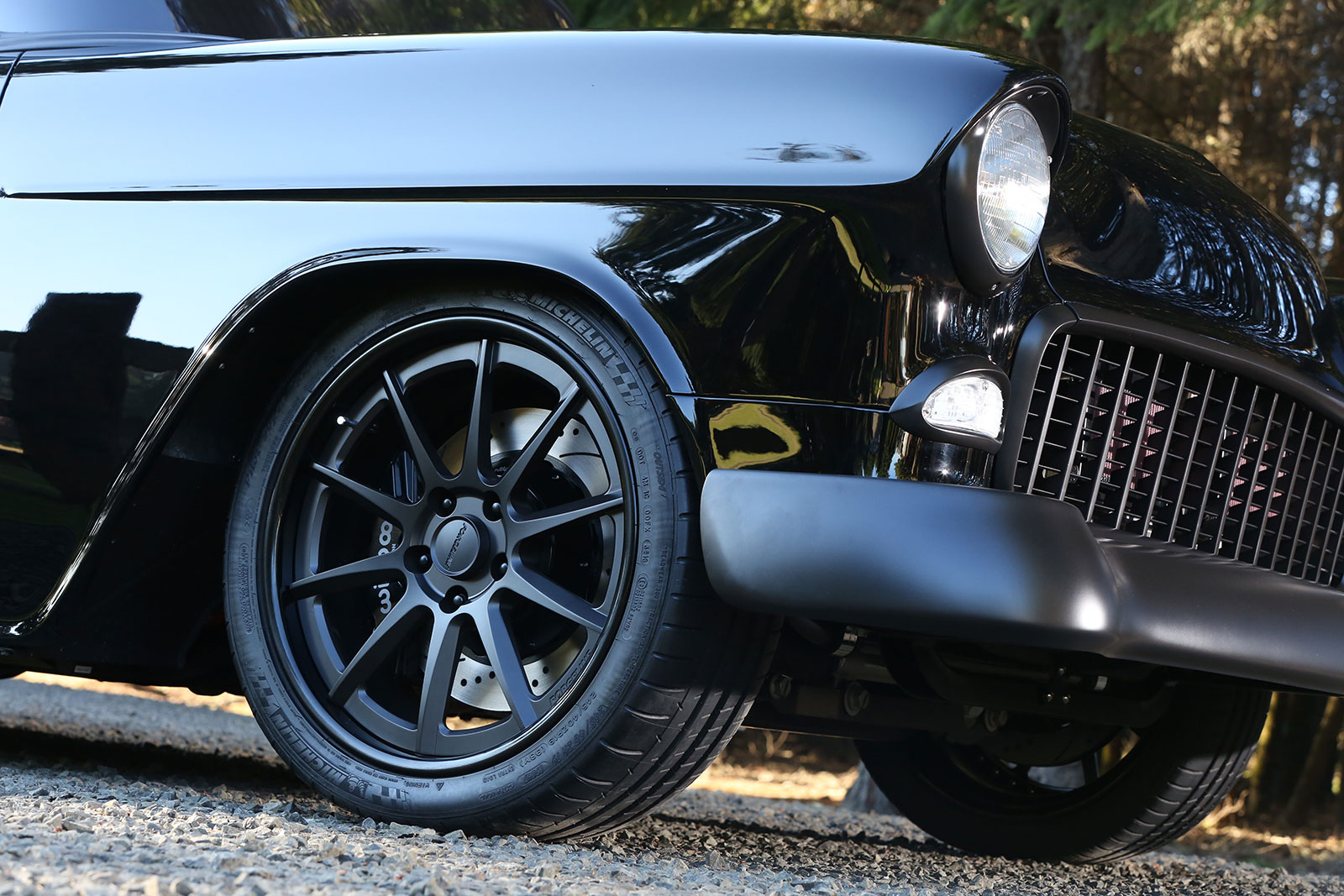 This 1955 Chevy two-door post has all the "right" look for a modern-day hot rod coupled with the latest in today's V8 performance, ride, and handling. MR