Paul White's1955 Chrysler 300 Seamlessly Blends Mopar Past & Present
By Chuck Vranas   –   Photography & Videography by the Author
When it comes time to fusing elegance and performance together in a well-planned package nothing gets you to the head of the class faster than imagining the union of a classic '50s-era cruiser with all the technological benefits of a new-generation muscle car. The alluring '55 Chrysler C300 showcased across our pages belonging to Paul White Sr. of Portland, Maine, stays true to its marque with the blending of an '18 Dodge Challenger Hellcat to its vintage heritage. Far more involved than your standard platform change, it required the build team to up the ante with reengineering the Hellcat engine to mate to the C300 as well as integrate all its driveline, electronics, and interior components into the car.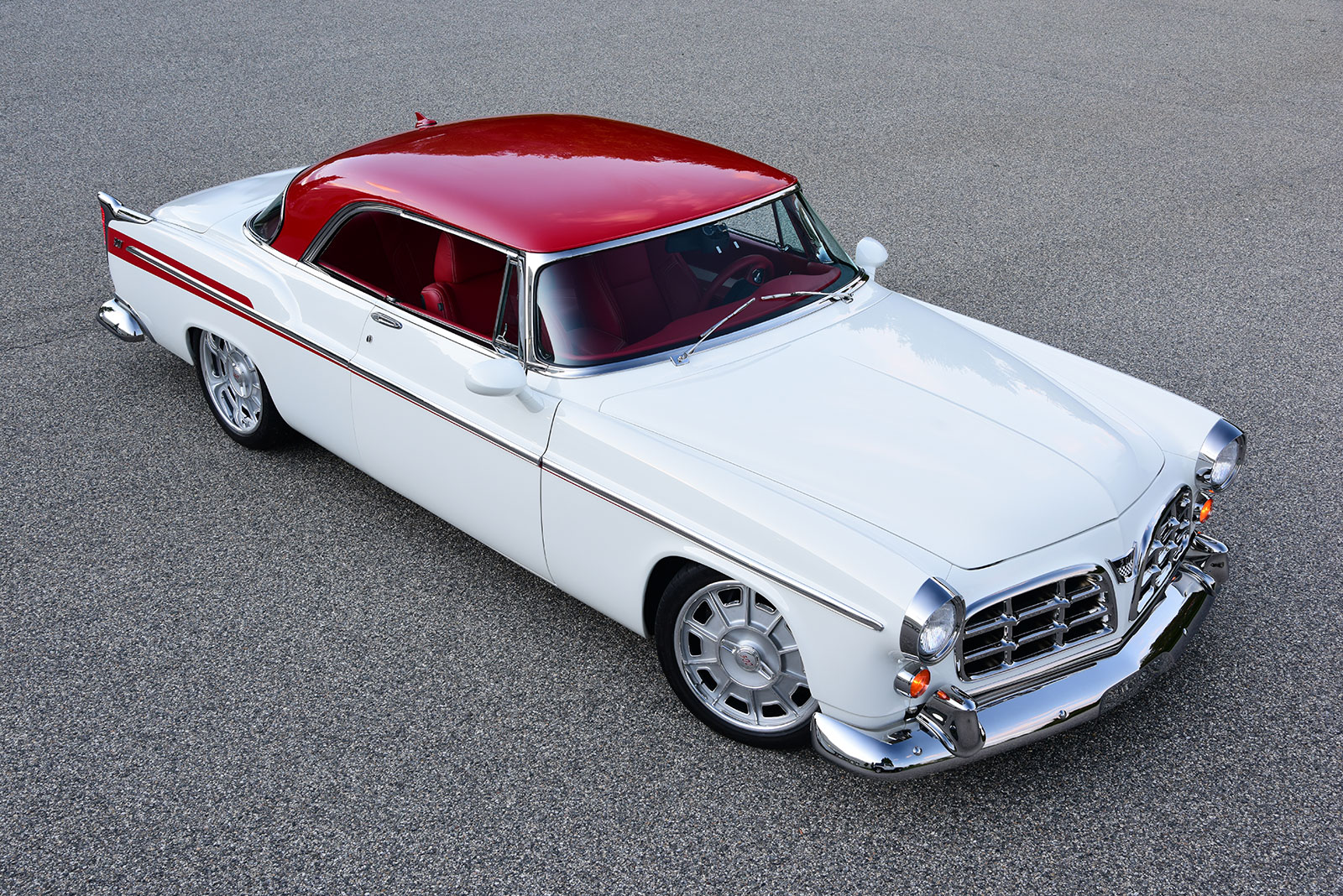 Looking back, designer Virgil Exner was given the reins to refresh the '55 Chrysler lineup with his exclusive longer, lower, and leaner designs, coined by Chrysler as the "Forward Look" and advertised as "The $100 Million Look" when the models debuted. These elements, along with the new Chrysler FirePower Hemi V8 were the ultimate combination to generate excitement on the street and success at the racetrack. Having been involved in the hot rod and custom car scene since the '60s, Paul has built and owned enough Detroit steel to fill a warehouse. Over the last two decades, he's followed a passion for matching modern unibody platforms with classic elegance, evidenced by many builds, including a '55 Chevy Nomad, '57 Bel Air, and a '56 Chrysler Imperial. It's a formula that's worked extremely well for him and while all the prior combinations were perfectly balanced, he wanted to bring something new to the table while focusing on one of his favorite designs.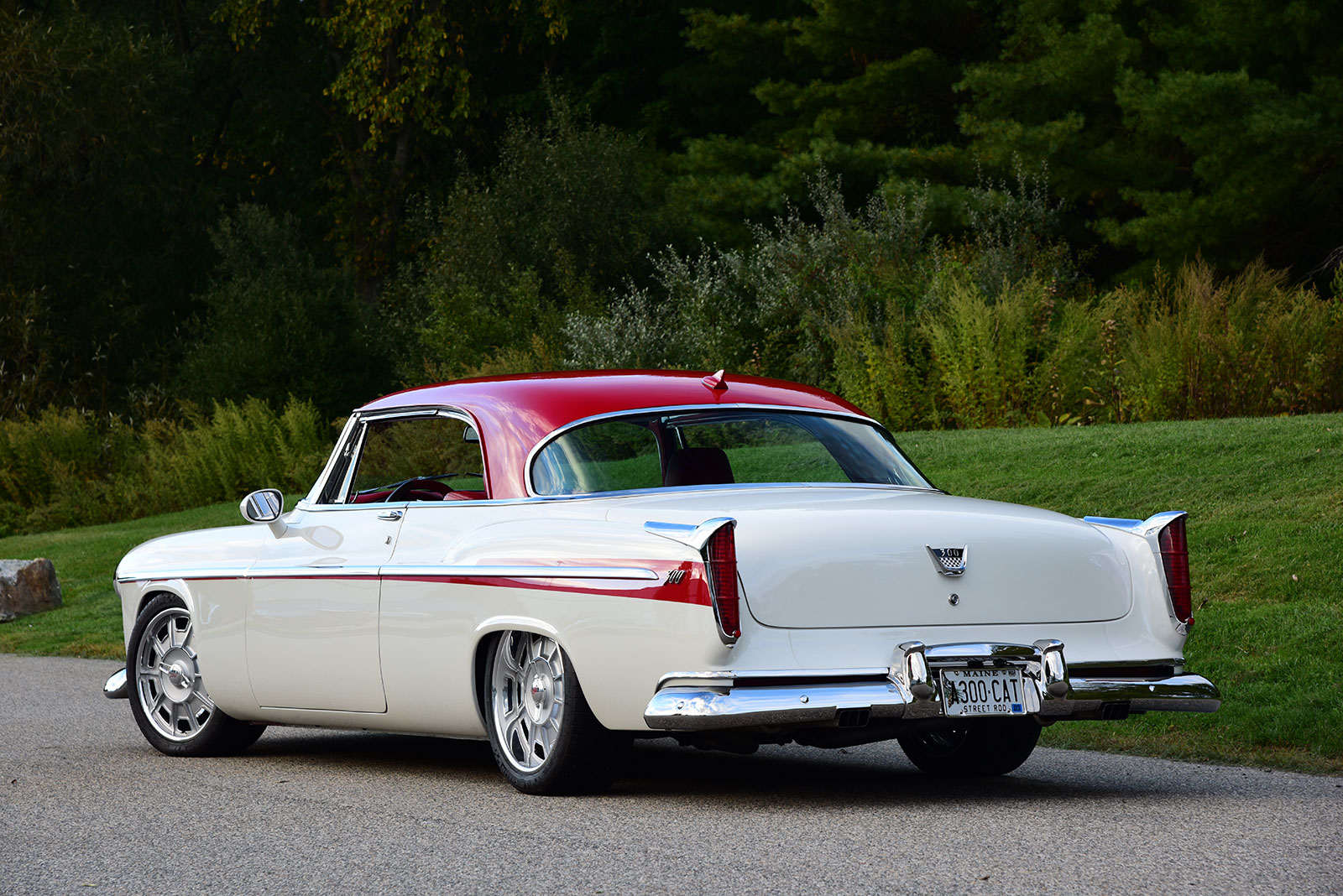 Read More: Gritty 1968 Dodge Power Wagon with Hellcat Hemi Power
Since the '55 Chrysler C300 was heralded as the very first muscle car thanks to its dual-quad, 331ci FirePower Hemi V8 boasting 300 hp with a top speed of 130 mph, Paul felt it only proper to bring it to the next level after seeing specs for the '18 Challenger Hellcat with its tire-melting 707hp 6.2 supercharged Hemi and a top speed close to 200 mph. Locating a donor car for the build proved no small feat, especially since there were only a limited number (1,725 to be exact) of C300 cars built. He was able to finally source an older restoration in solid shape to act as the base for the new build and wasted no time swapping cash for keys. The car was then delivered to Back Bay Customs where he and shop manager Adam Clayman, both co-owners, laid out the plans for the swap. Long known for their intricate custom fabrication skills, the team began preparations for the undertaking.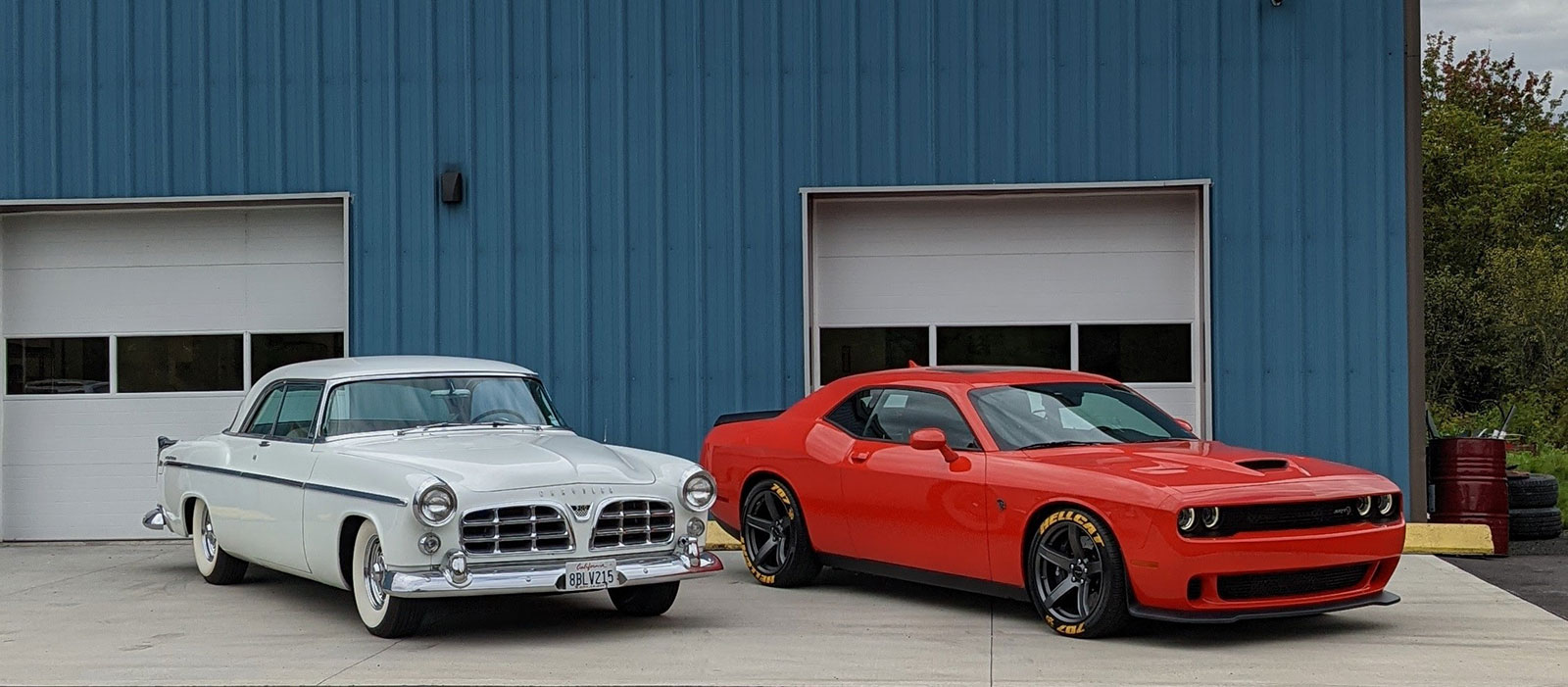 The exact fitment of the Hellcat chassis to the C300 was the most crucial element in melding the two cars together. With the C300 having a wheelbase of 126 inches compared to the Hellcat at 116.2 inches, plenty of reengineering and fabrication would be needed. Once both bodies were separated from their respective platforms the team got busy, beginning with the unibody stretch of the Hellcat. Starting with crafting extended structural 'rails and forming sheet metal panels between the Hellcat unibody and the C300 body shell, they followed by extending the floor behind the front seats 9.9 inches to accommodate the new wheelbase and driving position. The front wheel arch locations were then modified to accommodate the Hellcat wheel position as well as extending the Hellcat trunk floor to meet that of the C300. Under the hood, the team fabricated a custom radiator support to cradle the Hellcat heat exchangers as well as create mounting points for the front fenders and hood latch mounting plates as well as fabricating a panel fusing the Hellcat firewall to the cowl of the C300.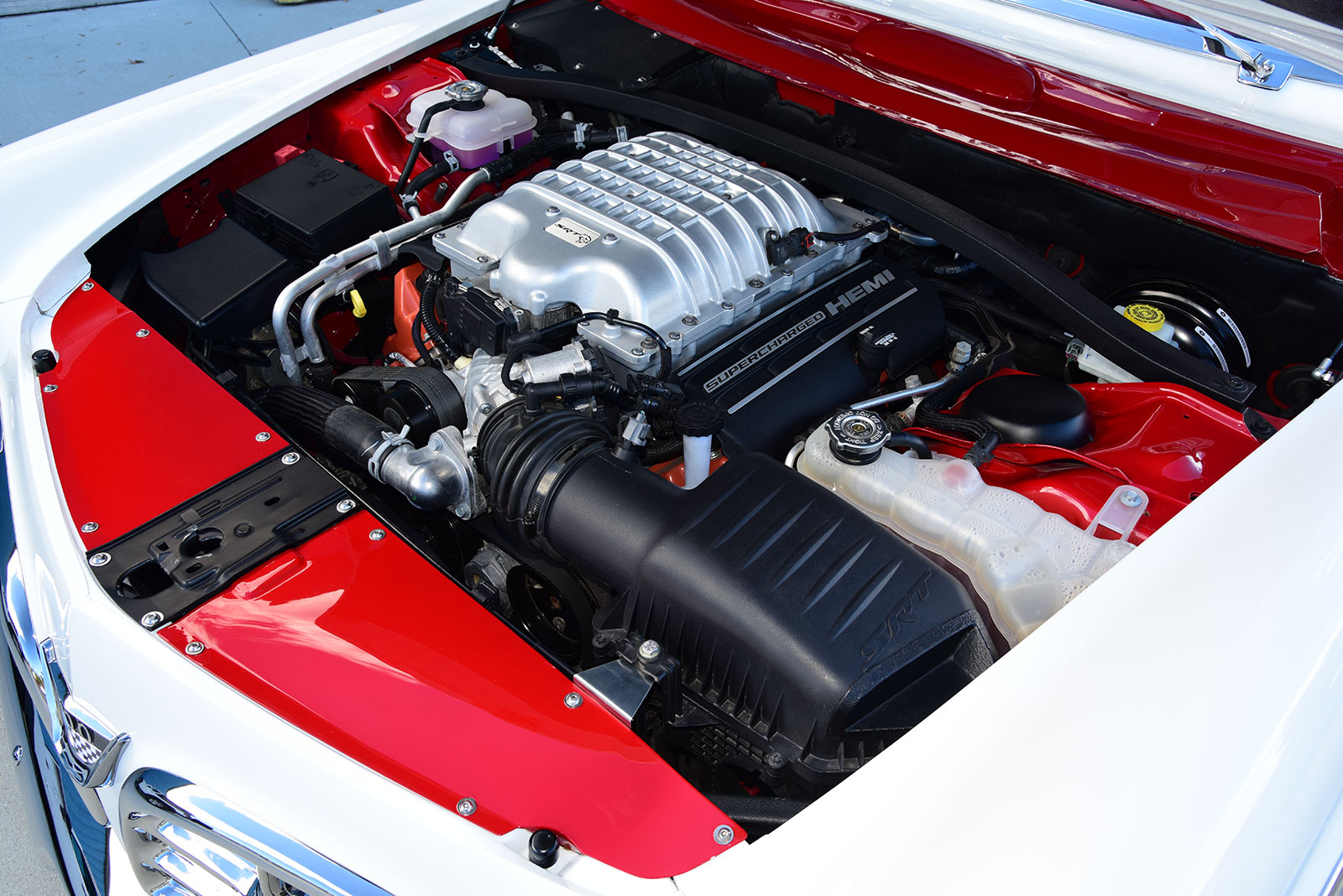 With the platform installation completed, the new cutting-edge suspension starts out back with a differential packing 2.62 gears with asymmetric limited slip suspended in place by a five-link Independent Rear Suspension with coil springs, link-type 22mm solid stabilizer bar, and gas-charged Bilstein shocks with SRT-tuned (three-mode for street, sport, and track) adaptive dampening suspension (ADS), all wrapped in an isolated suspension cradle. Up front, a short-long arm (SLA) Independent Front Suspension with high upper A-arms features coil springs over gas-charged Bilstein shocks with SRT-tuned (three-mode for street, sport, and track) adaptive damping suspension (ADS) along with a 34mm solid stabilizer bar with lateral and diagonal lower links. It all meets an electric power steering (EPS) system with multi-mode assist and rack-and-pinion steering with hydraulic power-assist. If you're pushing serious horsepower you'd better have the brakes to back it up. The high-performance SRT Brembo brakes features massive front 15.4-inch front slotted-and-vented two-piece rotors with six-piston Brembo calipers with matching 13.8-inch two-piece rotors and four-piston calipers out back combined with four-wheel antilock brakes (ABS) and four-mode electronic stability control (ESC) for traction control. For plenty of timeless style, a set of C10 model Schott wheels, sized 20×9 at each corner, wear Michelin Pilot Super Sport tires, sized P255/40ZR20 for maximum grip.
Read More: A 1965 Dodge Dart with Modern Mopar Performance
Underhood you'll find plenty of fire and brimstone thanks to the Hellcat's Gen III 6.2 supercharged Hemi V8 engine. Starting with a deep-skirt, cast-iron block with four-bolt, cross-bolted, main caps, it's filled with a forged steel crank linked to forged 4340 H-beam rods topped with forged aluminum pistons getting bumped by a hydraulic nodular iron cam. Up top, a set of T356 aluminum, twin-plug, Hemispherical chamber heads make endless power, especially when matched to an IHI twin-screw 2.4L supercharger with a 92mm throttle body and sequential multi-port injection delivering the knockout punch. The factory, free-flowing, stainless exhaust was extended by the team to meet the C300 specs while also adding a pair of MagnaFlow mufflers for a wicked tone. Matched to a eight-speed 8HP90 torqueflite transmission pushing the goods through a custom driveshaft, it's all good for a searing 707 hp to the rear wheels.
As with any older restoration, it was obvious the body would need to be blasted clean to reveal any attention needed to the vintage steel panels. After evaluating the playing field, the team fabricated all needed replacement panels, including lower quarters, rockers, and fenders. They followed by completely metal finishing the body while also setting all the gaps, preparing it for a custom coating of Spies Hecker brilliant white and red vibe. Outside, the rear bumper was notched to accommodate the custom-fabricated exhaust tips to add a bit of flair. Finally, nothing adds allure like plenty of fresh shiny bits, thanks to Paul's Chrome Plating and Stan Stevens, who repaired and polished all the stainless trim.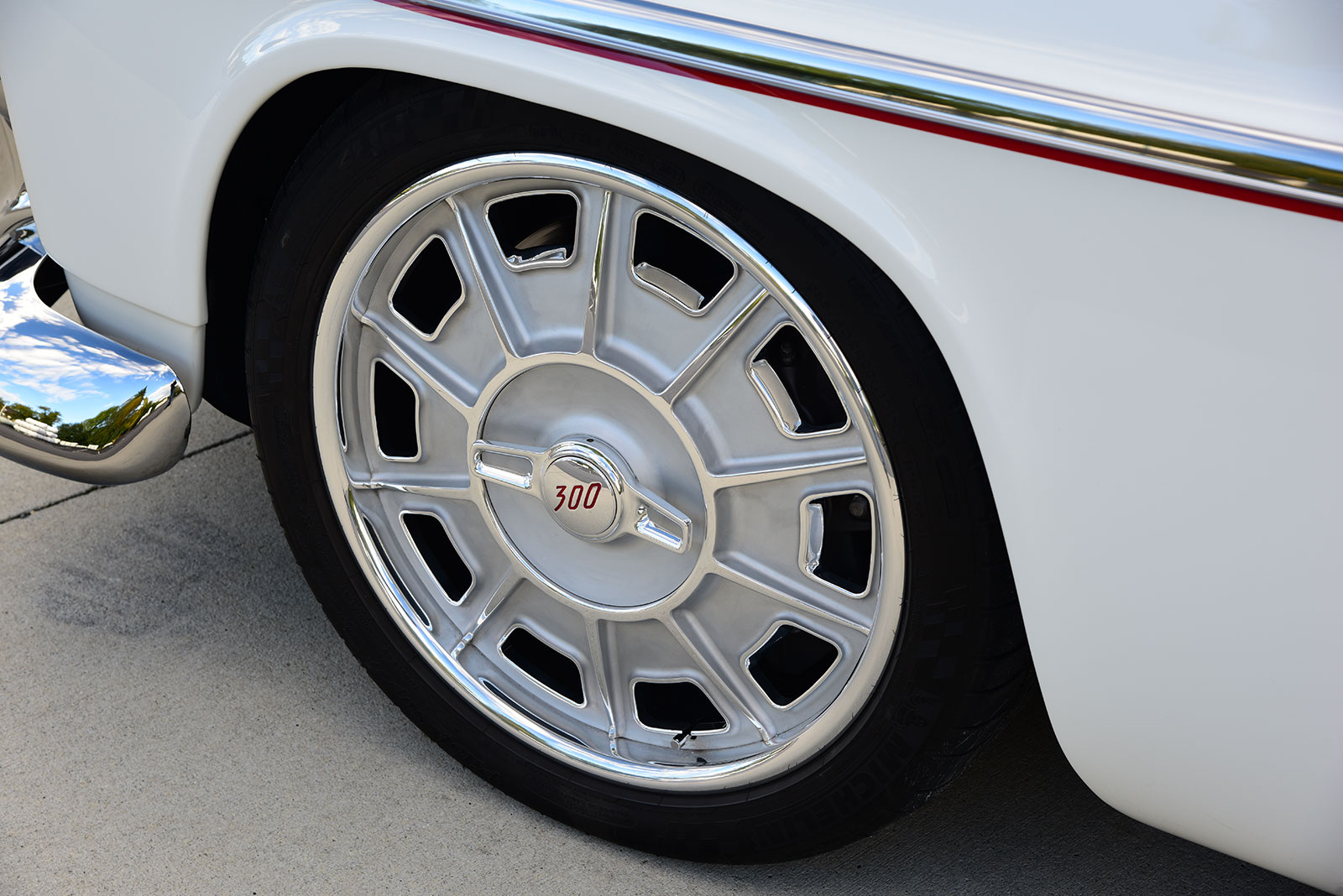 Bringing the Hellcat's business office to the party was no small feat, especially when retrofitting it to the large cabin of the C300. The team started with the factory dash, which was cut, modified, and re-formed to fit while also creating a custom dash top molded from polyurethane foam and wrapped to match for maintaining the look. Factory instruments monitor the vitals, including the in-dash tach and 200-mph speedometer while a tilt/telescopic column mounts the leather-wrapped SRT steering wheel complete with speed control and paddle shifters. The full-length center console along with the floor shift and factory accessories was then fitted to perfection. From there plenty of interior magic followed with the team from Gangon Upholstery installing the factory six-way power, heated and ventilated red leather buckets, complemented by the matching rear seating along with custom-wrapped side panels, headliner, and plush black carpeting. Finally, the body control module re-flashed by Stephen White to dial it all into the reworked factory wiring harness by Back Bay Customs.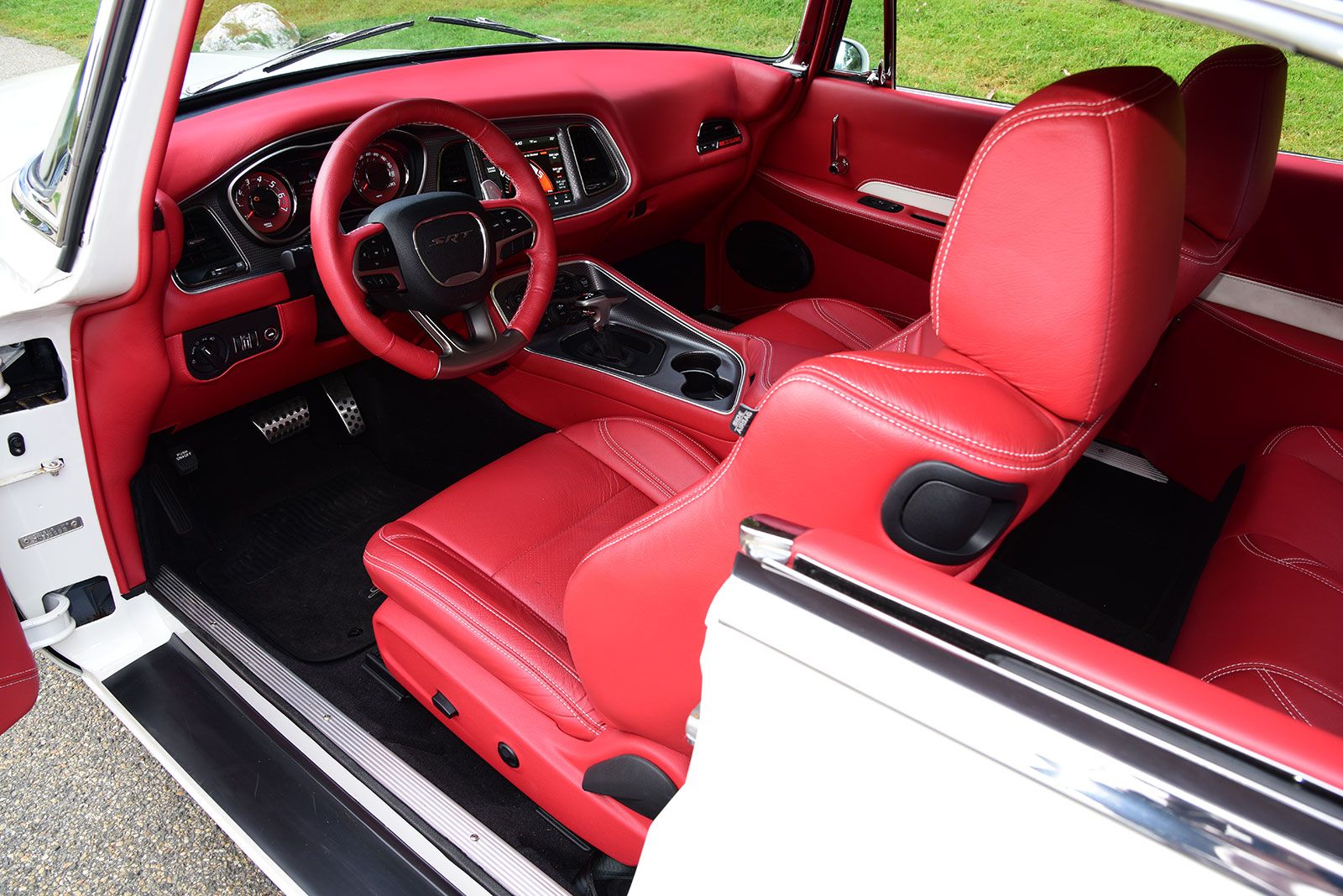 Read More: Hellcat Swapped 1970 Plymouth Sport Satellite From The Duford
Getting the Hellcat 300 to the street was truly a group effort by the team at Back Bay Customs, including Adam Clayman, Jon Chase, Dylan Pelletier, Dylan Lee, Matt Harmon, Coti Sanders, and Sean Hamlin. All we can say is this original muscle car is revitalized with cutting-edge performance, making it a standout by fusing the best of both generations. MR