A Dodge Dart with 5.7 Hemi engine reliability, built to pay homage to 1960s Dodge engineers
By Tommy Lee Byrd   –   Photography By the Author
The idea of stuffing a big engine into a small car isn't a new concept, but it has certainly been refined through the years. Dodge experimented with a 1968 Hemi Dart but those freakish Mopars were never produced with street driving in mind. Although Mark and Donna Stewart didn't intend on building a drag racing tribute with their 1965 Dodge Dart, the general idea of a Hemi Dart pays homage to those crafty engineers who threw caution to the wind back in the day. This Hemi-Dart features a 5.7 Hemi, it's a modern-day approach in a well-sorted machine that combines distinct styling, reliable horsepower, and creature comforts, a far cry from the origins of Dodge's economic two-door sedan.
Read More: Hellcat Swapped 1970 Plymouth Sport Satellite From The Dufords
Mark's journey with this car started in 2016 when he found the clean California survivor and shipped it home to Morristown, Tennessee. The Dart was bought new at Glendale Dodge and spent its entire life in the dry California climate, which saved the body but damaged a lot of the interior components. Mark loved the Third Generation Dodge Dart body style and immediately knew that he could make something cool out of it, so he put together a build plan and started gathering parts. The build started in 2017 and it was a two-year process to reach the finished product.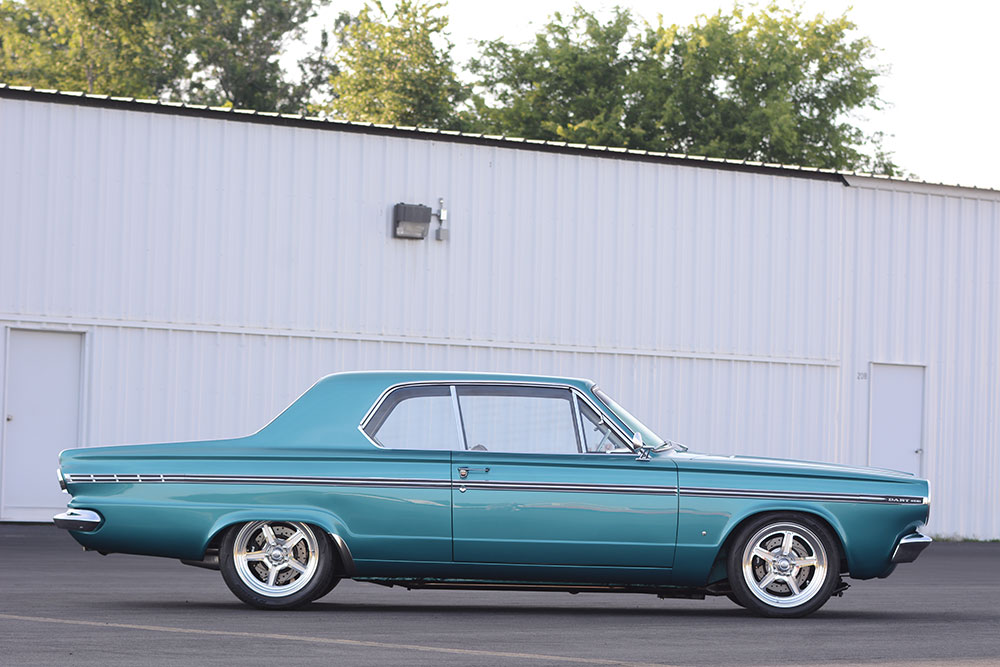 Still rolling on its original 13-inch steel wheels, the 1965 Dart had a Slant Six six-cylinder engine under the hood when it entered Mark's garage. He understands that these engines are bulletproof, but the Slant Six didn't exactly align with his build plan, so Mark sourced a Gen-III 5.7 Hemi from M&E Engine in Shelby, North Carolina.
Building the Gen-III Hemi
The 5.7 Hemi was bored 0.030 inch to bump the original displacement of 345 ci up to 350 ci. The rest of the engine internals are stock, including the camshaft and valvetrain. The late-model Hemi engine is topped with an OC Performance four-barrel carburetor intake manifold for Gen-III Hemi and a Holley Sniper EFI unit. Feeding the EFI system is a Walbro electric fuel pump, which rides inside the Tanks Inc. 1964-66 Dodge Dart / Plymouth Barracuda Gas Tank, and spark is provided by an MSD Hemi 6–Ignition system.
How to Fit a 5.7L Hemi into a Dart
While you could get a factory-installed V8 engine in a 1965 Dodge Dart, squeezing a modern Hemi crate engine into the engine bay required a few handbuilt components, including stainless steel custom headers. The headers lead into 2-1/2-inch stainless steel piping, complete with MagnaFlow mufflers. This custom exhaust system was fabricated by Atomic Speed Shop, in Oak Ridge, Tennessee.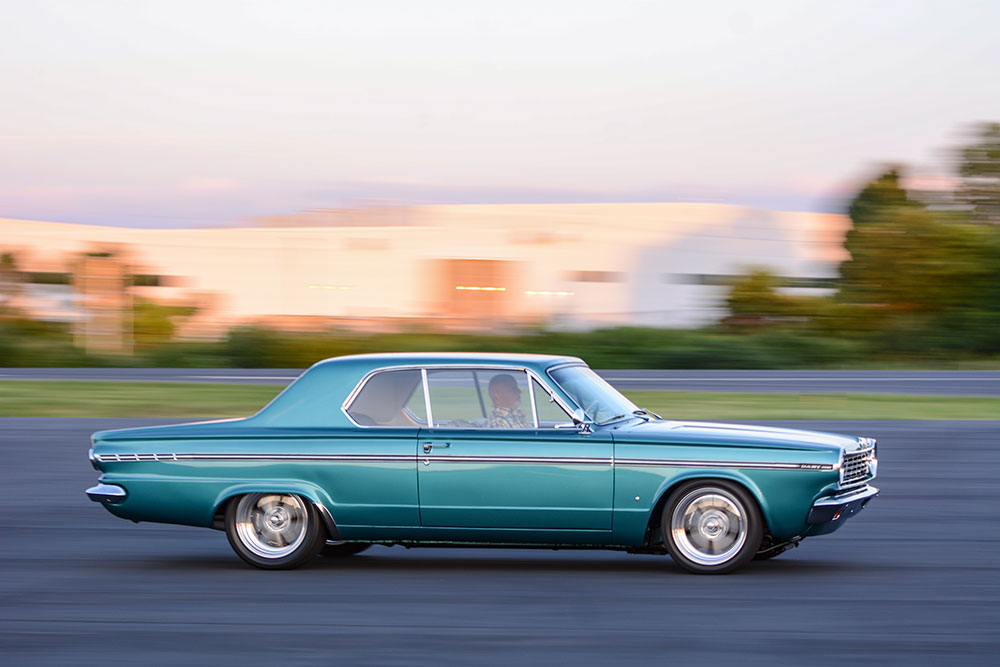 The cooling system got a major upgrade, thanks to the Griffin aluminum radiator and electric fan. Aesthetically, the engine has a great mixture of textures and finishes, including the cast gray paint on the engine, polished two-four-style air cleaner, and bright finishes on the accessories that complete the March serpentine pulley system for 5.7L/6.1L.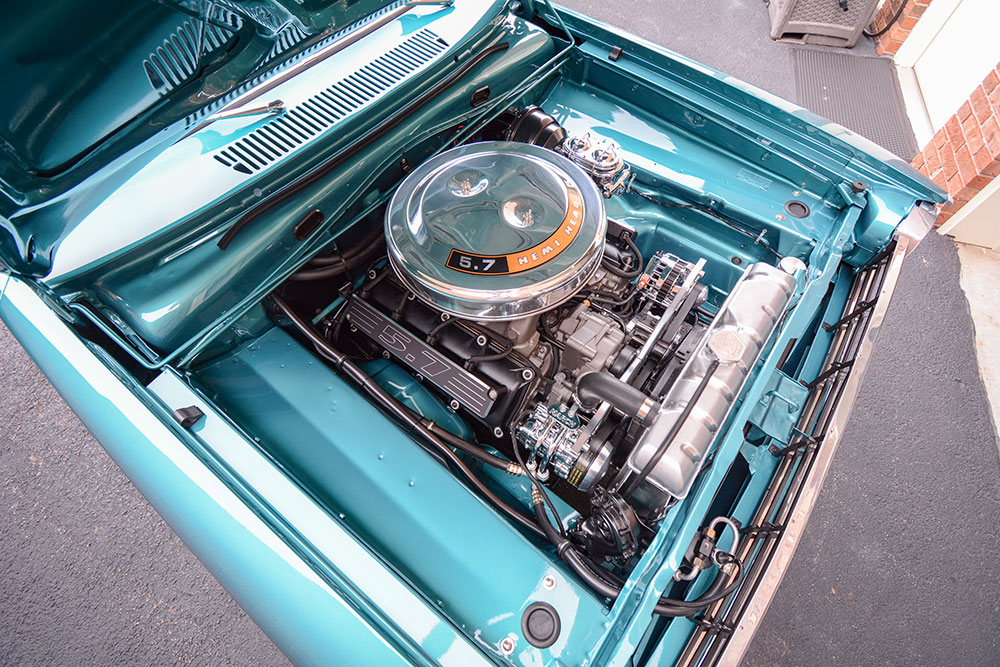 Atomic Speed Shop was also responsible for tuning the Holley Sniper EFI and working out the bugs in the driveline. Power transfer is handled by a Street Performer 727 Transmission by A&A Transmission. The three-speed automatic features a 2,500-rpm stall converter and is operated with the original column shifter. Moving further back is a Moser 9 inch rear end, packed with a Richmond ring-and-pinion with a 3.00:1 gear ratio.
To dial in the stance and handling capabilities of the Dart, Mark relied on the folks at Reilly Motorsports (RMS) in Gaffney, South Carolina, to fabricate a complete suspension system. The front consists of tubular control arms—the uppers mount to the original tabs on the frame rails while the lower attach to a custom K-member. Additionally, the original torsion bars were tossed in favor of Ridetech coilovers and a large sway bar was added for even more cornering capability.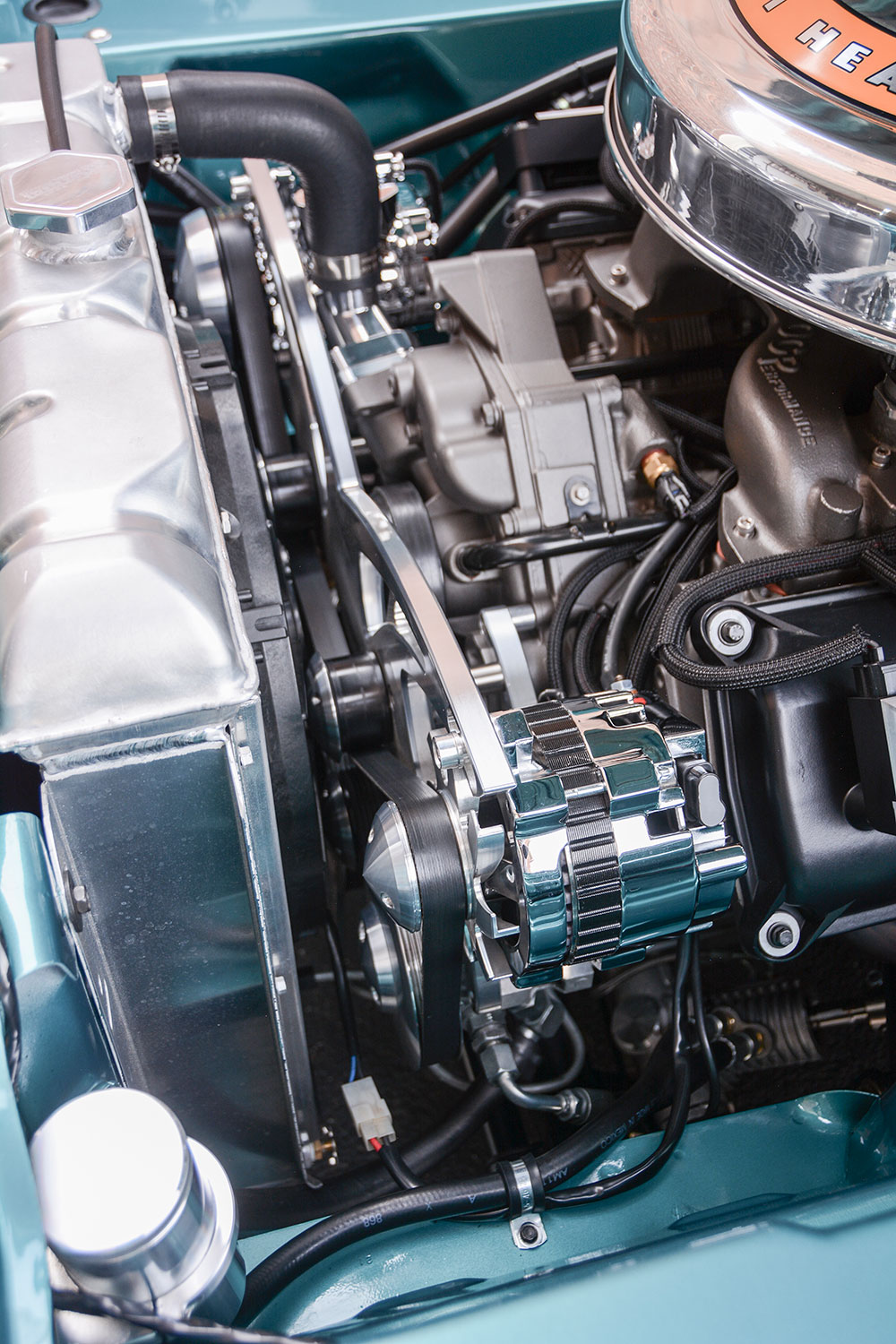 Read More: The Scott's LS Swapped 1969 Chevy Camaro
The RMS Mopar front suspension also features a rack-and-pinion setup. Rear suspension consists of more RMS components, this time with a triangulated four-link setup, utilizing another pair of Ridetech coilovers.
Dodge Dart Wheels, Tires, and Brakes
Braking power comes from Wilwood discs on all four corners, with 12-inch drilled-and-slotted rotors and four-piston calipers. Finishing off the high-performance combination is a set of Billet Specialties Street Lite wheels, which measure 17×8 inches up front and 17×10 inches out back, wrapped in Nitto tires, sized 225/45ZR17 and 285/40ZR17, respectively.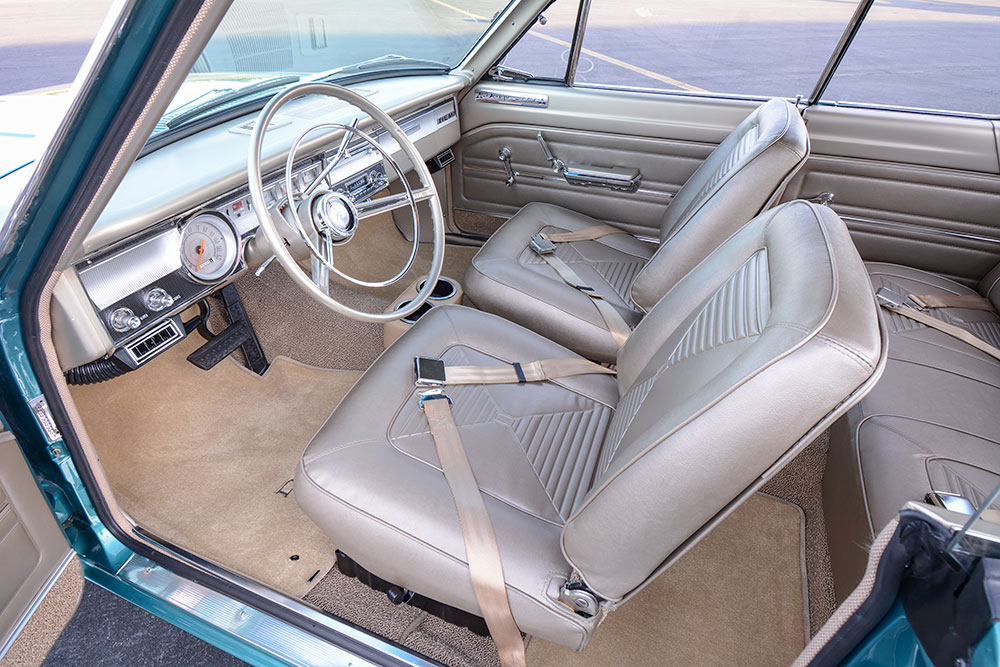 Dodge Dart Body, Paint, and Interior
When it came time to refurbish the body and exterior components, Mark put his trust in the team at Hodge Restorations, who specialize in Mopar restorations. The South Carolina–based shop focuses primarily on Mopar muscle car restorations and welcomed this project with open arms. The car had very little rust damage but did need some metal fabrication to widen the rear wheel tubs.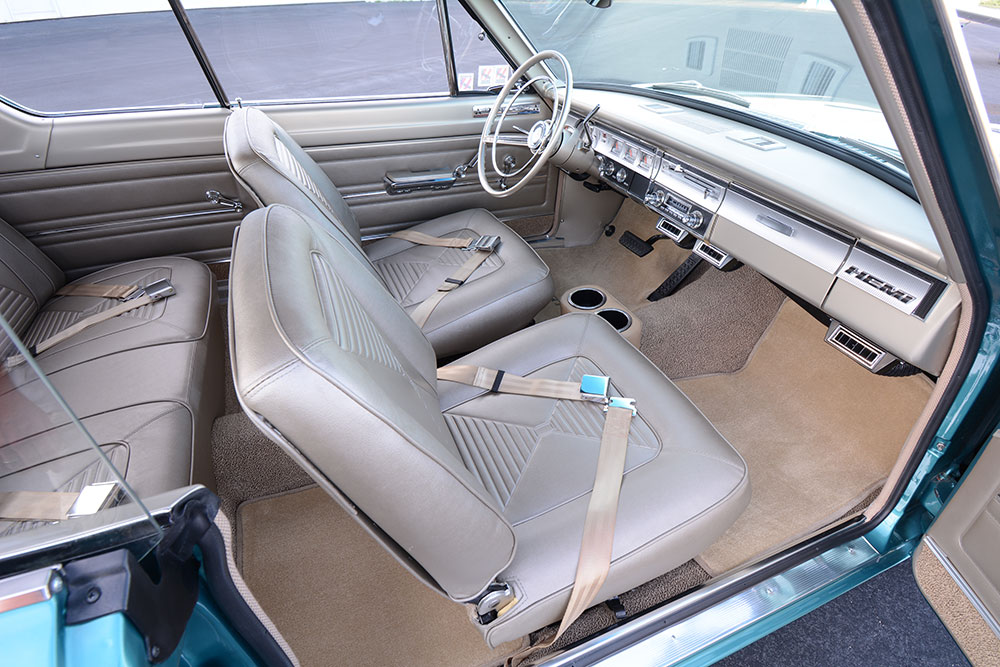 From there, it was a matter of straightening the original panels and preparing them for the Sikkens basecoat, mixed in Seafoam Turquoise. A generous application of clearcoat buried the beautiful metallic hue; the crew at Hodge Restorations spent countless hours perfecting the fresh finish.
Inside, Hodge Restorations installed the Legendary Auto Interior upholstery, which is Metallic Fawn in color. Nearly everything inside the Dart is in its original configuration. All trim, emblems, and trinkets are either New Old Stock. or restored originals, with the only addition being the Retro Manufacturering Radio, Classic Auto Air AC system, and a pair of cupholders between the original bucket seats.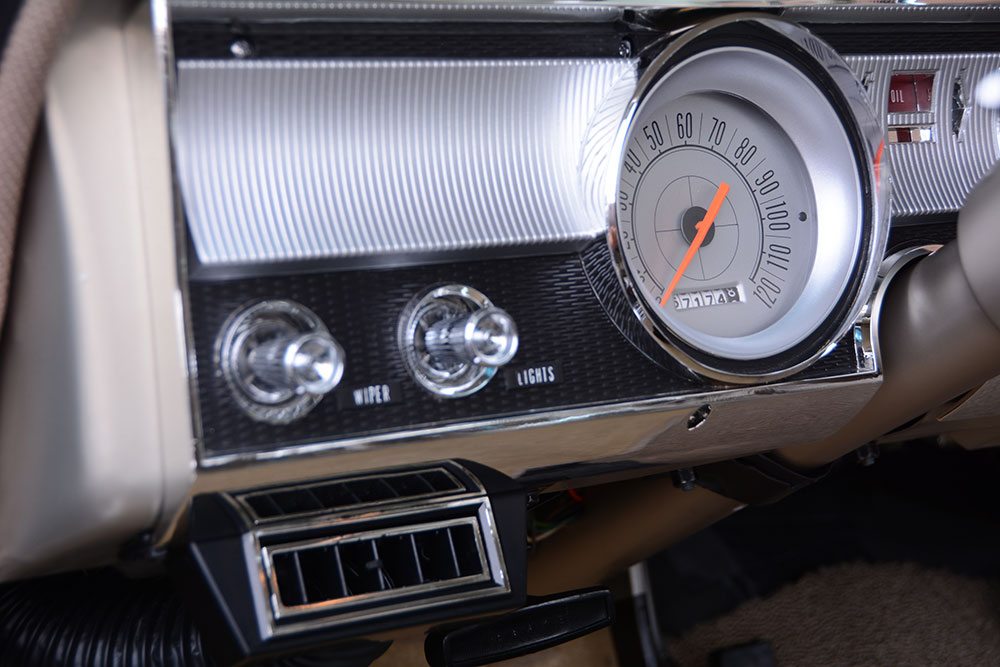 In addition to the intricate interior components, Mark was a stickler for details throughout the build. Nearly all the car's trim and emblems are original or New Old Stock. components that were in excellent condition. The result is a car that looks better than those factory workers could've ever imagined back when this car was assembled in 1964.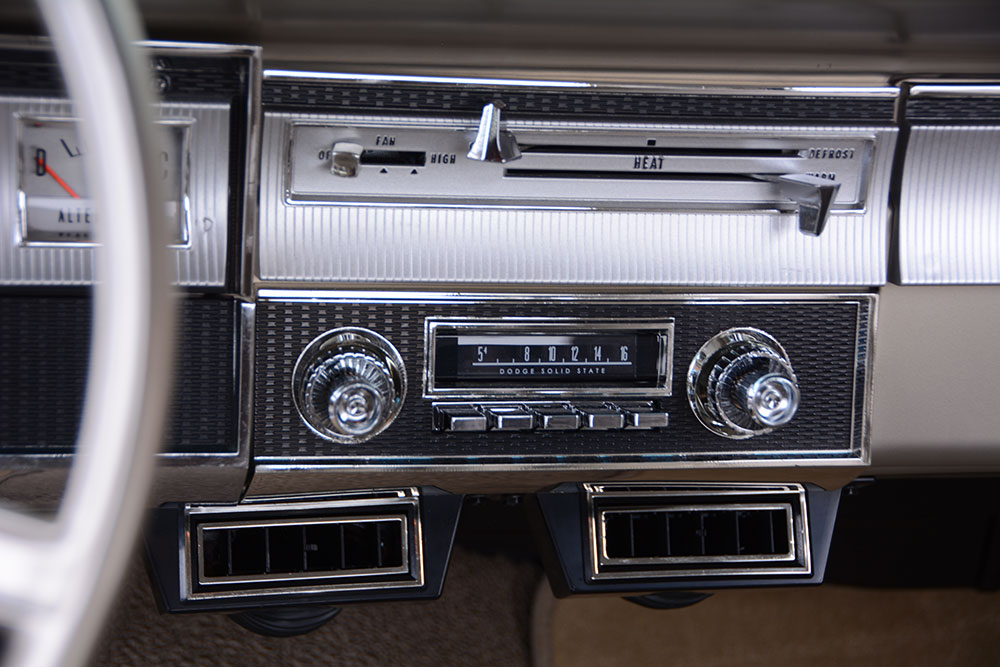 Read More: Hellcrate Redeye Hemi Powered 1970 Cuda
Mark's creation has been on the road for a few years, and it still looks fresh and performs as expected. With a unique body style, hunkered-down stance, and Gen-III 5.7 Hemi horsepower, this 1965 Dodge Dart has a lot to offer to Mopar purists and hot rodders in general. Mark and Donna plan to continue driving this car and enjoying the thrills that it provides every time they hit the road. MR