Blending traditional looks with a modern-day Hemi 5.7L V-8 provides the best in looks and performance.
The '60s and '70s were a time when performance was king and all you needed to do was sit on your front porch to see some of the latest factory offerings rumble down your streets. For a young Vince Cunsolo, growing up in Italy certainly had its perks since it was the land where supercars were born. With the likes of Lamborghini, Maserati, and Ferrari all vying for the ultimate recognition with regard to styling, horsepower, and handling. It was an assault on your senses every day. You just knew there would be a modern Hemi V-8 power for a future 1956 Dodge pickup.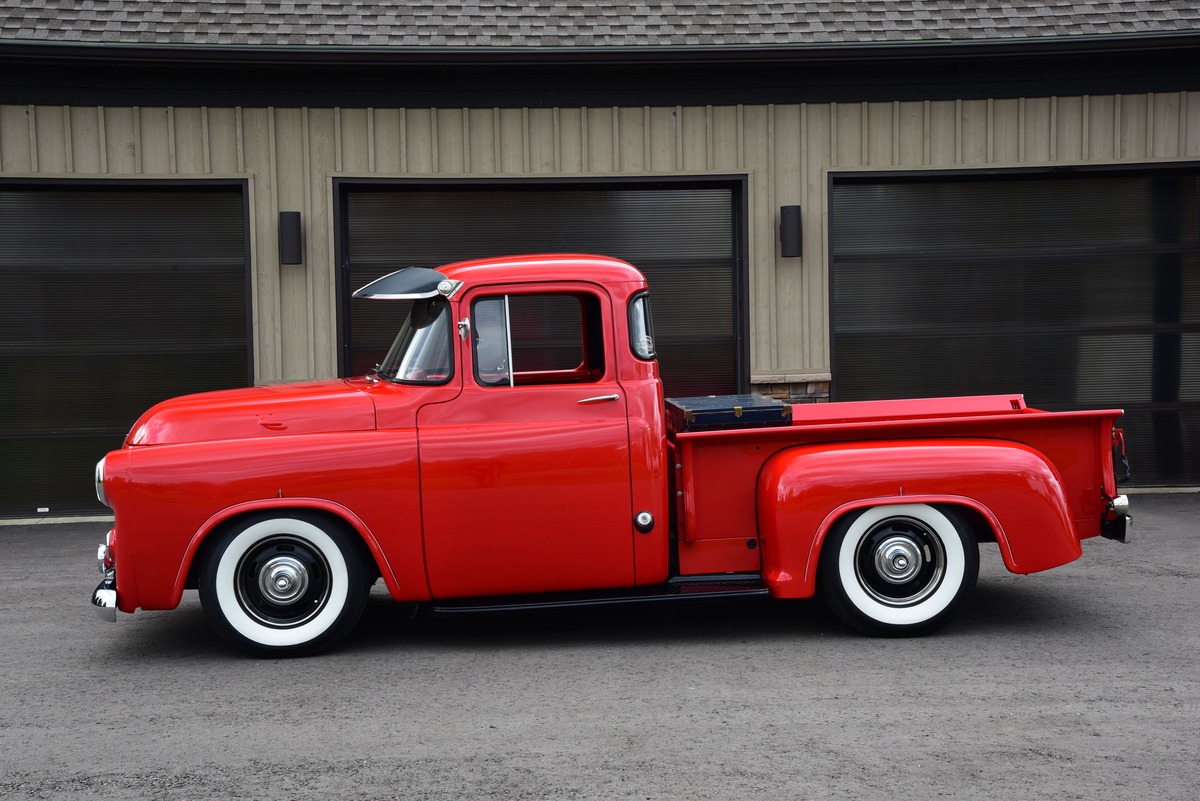 When he made the decision to move to Canada in 1970, he was immediately consumed by the sounds of American V-8's which brought his obsession for performance to a whole new level. Without wasting any time, he instantly got involved by frequenting local burger joints in Toronto where some of the hottest street racers would hang out while waiting to run the lights. This led to a long-term affair with Ford Mustangs in the years to come where he would hop-up a number of them including a pair of Pro-Street fastback late '60s-models and a pair of '80's-era drag cars.
It wasn't until 2010 when his son, Stefano, took on the build of a '49 Ford coupe that he fell under the trance of traditionally-styled hot rods and customs. By becoming involved in the build he gained a new appreciation for the styling of '50s-era cars and trucks. Working alongside his son while also completing his latest build, a '68 Mustang coupe, he made the decision to start looking for a new project. The stipulation was that it would need to be from the '50s while also being something completely different from the norm. One night while scanning through online ads he found an offering for a 1956 Dodge pickup that was located in a nearby town. He made an appointment to stop by and check it out and in conversation the owner advised he was selling it as he was looking for a muscle car to be able to accommodate his family for long drives. When the seller saw the freshly restored '68 Mustang it was a perfect match so the pair exchanged titles with the Dodge making its way to Vince's home garage.
One of the coolest things was that the Dodge was originally from California and absolutely straight and rust free. The truck had been treated to a traditional red gloss and packed with a 270ci Super Red Ram Hemi topped with three deuces while rolling on chrome reverse rims with blackwall tires. Vince drove the truck for a while as it was however it wasn't long till he dreamed of more horsepower and better handling. It was definitely time to tear the truck down for a number of upgrades. Let's take a look at what makes this truck so darn cool.
Once disassembled, the first project was to strip the chassis to a bare frame to start the upgrades. With the spine blasted clean it was brought to Le Chassis Engineering in Vaughn, Ontario where it was first boxed for extra strength and Z'd. Out back a refreshed '69 Pontiac 10-bolt rear packed with 3.23 gears was secured in place using a Fatman Fabrications four-link with Panhard bar combined with RideTech coilover shocks. To give the truck razor-sharp handling a Fatman Fabrications IFS was installed complete with 2-inch dropped spindles and RideTech coilover shocks. When it's time to drop anchor, a power dual master pushes fluid through steel lines to GM drums out back with 11-inch ECI discs with GM calipers in front. For a nostalgic look, a set of 15-inch Camaro steelies wear a set of big 'n' little Coker American Classic wide whites accented by Shannon cones and trim rings from Summit Racing.
When it came time to adding plenty of punch to the mix, Vince wanted to up the ante with a late-model Hemi V-8. He purchased a 5.7L Hemi from a 2009 Dodge Charger R/T and brought it to good friend Enzo Fedele at Tre Colori Motori in Woodbridge, Ontario, to work his magic on the install, which included custom engine and transmission mounts. The cool thing is that the 368hp V-8 was packed with all the right goods from the factory starting with an iron block filled with a nodular iron crank linked to powdered metal rods wearing cast aluminum pistons with thump from a nodular iron stick. Up top a set of aluminum Hemi heads breathe deep especially when matched to the factory fuel injection set-up. A factory ignition lights the fire while spent gasses dump through a custom 3-inch steel exhaust mated to Flowmaster 40-Series mufflers. To move the goods, Enzo adapted the Hemi to a Ford C4 trans and also fabricated a driveshaft to complete the combination.
Thankfully, the cab and bed were in mint condition when the truck was purchased. The original builder had stripped the original sheetmetal, massaged it to perfection and set all the gaps prior to laying down a mile-deep coating of Axalta Sonoma Red vibe. Christian Melchior then added the fine lines to complete the look. Additional cool details include an accessory visor, 1956 Ford F100 rear bumper, neat Ford Model A taillights and peep mirrors, both from Mooneyes. Stepping inside, the original dash was filled with a custom insert by Vince and filled with Old Tyme-series dials from AutoMeter to monitor the vitals. A '40 Ford steering wheel mounted to a Flaming River tilt column carves the course while shifts move through a unit from Lokar and a custom wiring harness by Enzo and Vince brings it all to life. For comfort the original factory bench seat was recovered with a classic pleat-style in black and red vinyl with complimenting door panels by Maple Crest Auto Trim and Glass in Toronto. Finally, the bed was finished in a rich oak complete with a vintage shipping trunk to carry the goods. It's easy to see that this Dodge stands out in a crowd and to us that's extremely cool! CTP
1956 Dodge pickup is Packed with Modern Day Hemi V-8