The Myers' LS Swapped Ford Ranchero has Performance & Practicality
By Brian Brennan   –   Photography By Michael Christensen
When you see Ross and Beth Myers' 1957 Ford Ranchero coming down the road toward you the initial response is, "What a good-looking Ford." And it is, but also at first glance the Ranchero may look like any other 1957 Ford car—but it isn't. The Ford Ranchero and the Chevy El Camino spark an immediate difference of opinion among hot rodders. "Is it a truck or a car?" And, apparently, the car crowd doesn't think of it as a car nor does the truck crowd think of it as a truck. But in the world of hot rods there is no denying this 1957 Ford Ranchero is good looking no matter what you may think it is. We've often said the years from 1955 to 1957 were the "golden years" for automotive design. No denying that all the major manufacturers truly made some great looking cars (and trucks) during this era.
Read More: Coyote Swapped 1957 Ford Fairlane 500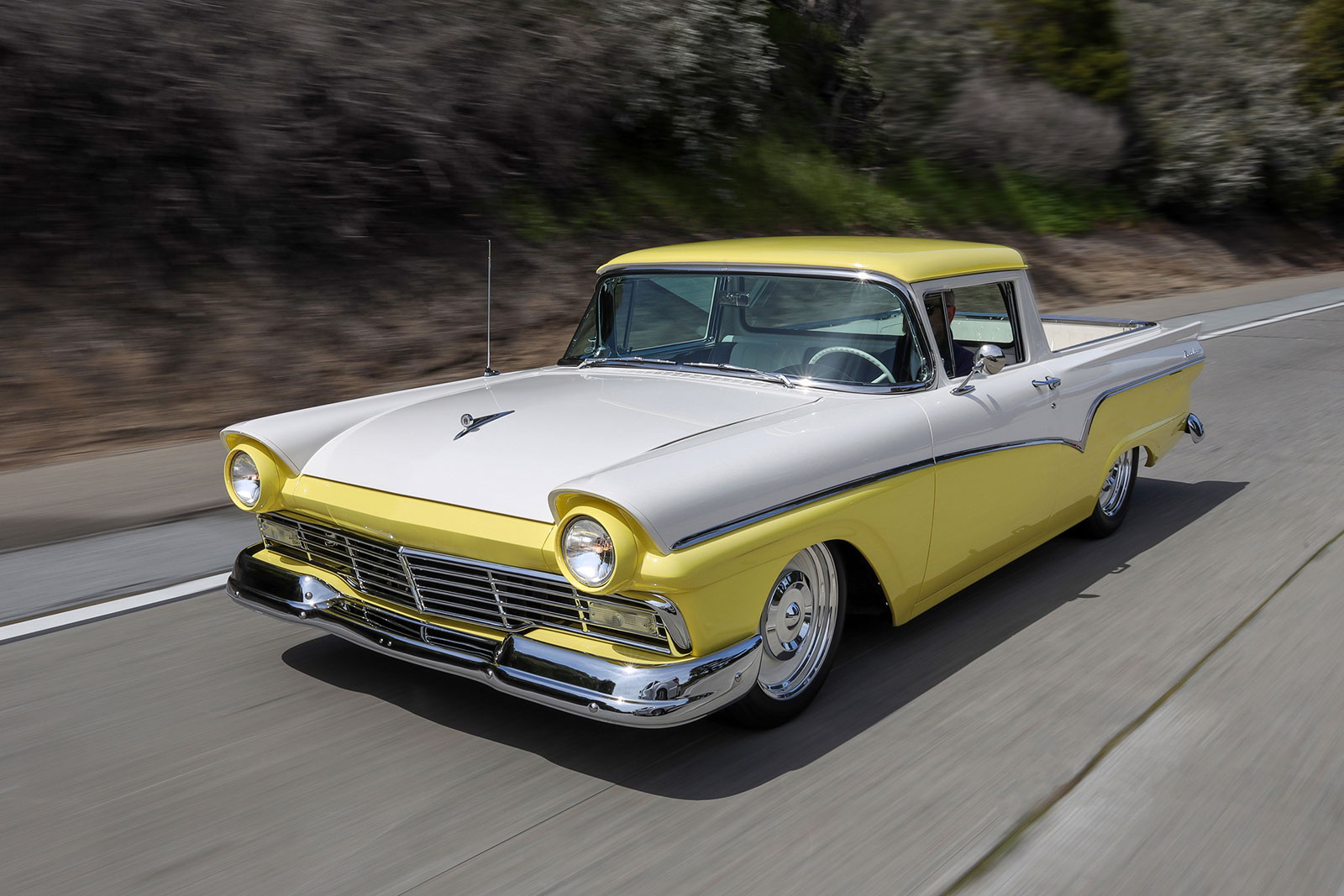 In today's world we hear the word "hybrid" thrown around a lot, but would you believe that the 1957 Ford Ranchero was called, "American's first modern car-pickup hybrid." Introduced in December of 1956 the Ranchero had a sales tagline that read, "More than a car! More than a truck!" The Ranchero was based on the Ranch Wagon 116-inch wheelbase and could carry more payload than an F150 pickup (of the day). In fact, the original Ranchero used the Ford F100/F150 frame (older versions). It's reported that the suspension parts from the trucks will bolt onto your Ranchero's stock frame. In the early days the Ranchero was offered in two trim levels: a basic "farmers" truck, and a more upscale version (as seen on a Fairlane) that looked good and had the creature comforts of a full size Ford passenger car. It was built on the auto assembly line, but it was sold as a truck.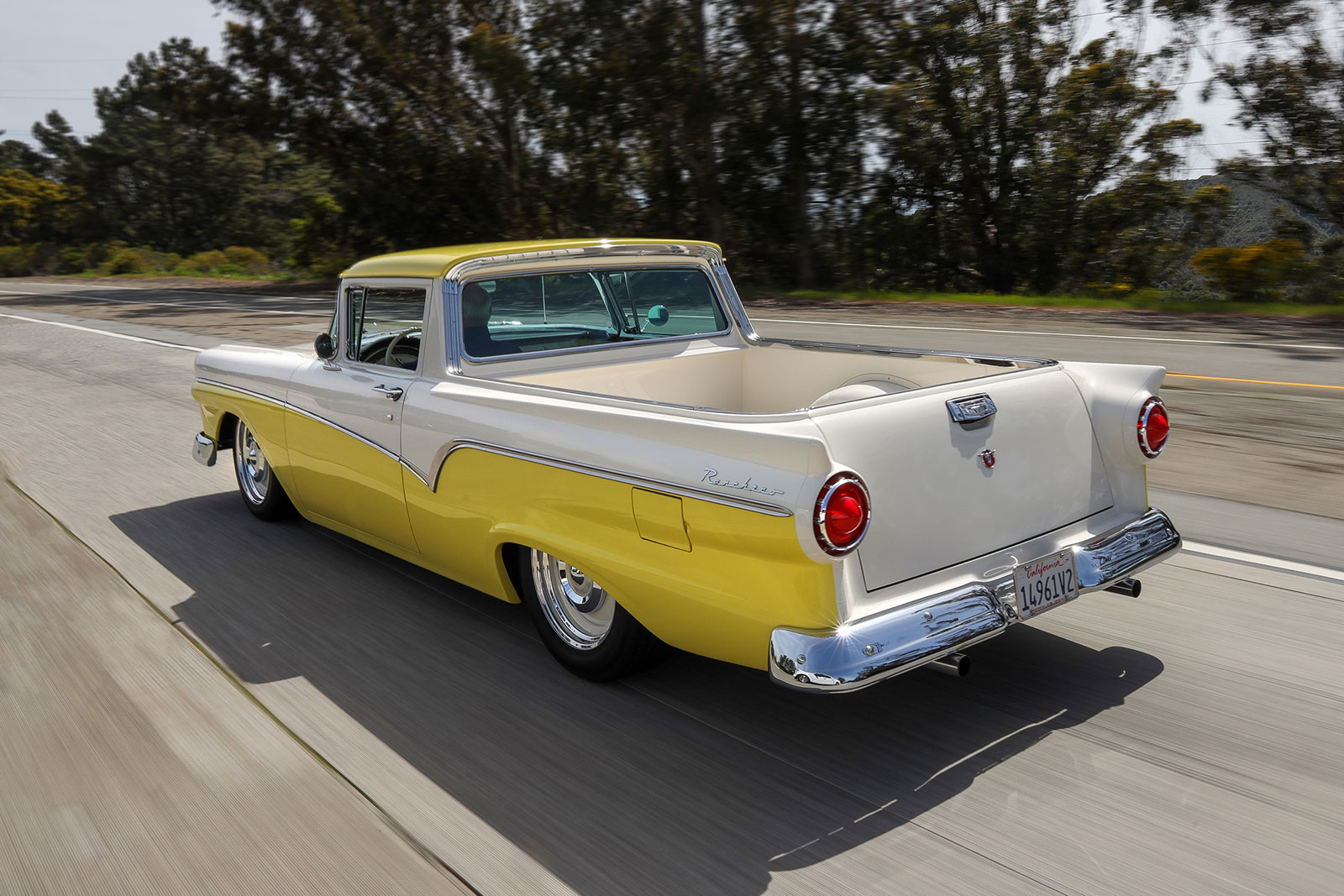 The 1957 Ford Ranchero has always appealed to Ross as his father had one back in the day. When it came time for him to have his own vision, he contacted Roy Brizio of Roy Brizio Street Rods and the building journey began. To begin, Brizio reached out to Roadster Shop and shipped the original 1957 Ford Ranchero to them. In turn, Roadster Shop 3D scanned it so that a Fast Track custom chassis with an Independent Rear Suspension could be built. Other aspects of the chassis included the Fast Track Independent Front Suspension with C7 Corvette spindles, a power rack-and-pinion steering unit, a splined sway bar, and single-adjustable Fox coilovers. Additionally, the Fast Track Independent Rear Suspension uses a Strange Engineering Ford 9 inch rear end along with a Truetrac differential spinning 3.70 gears. At the corners there are Corvette C7 rotors and calipers all pressed into service by a stock pedal through a Wilwood master cylinder. Billet Specialties is also responsible for the stock appearing yet 18-inch billet wheels with Ford caps and faux-trim rings. BFGoodrich received the nod for tires at the corners with 215s and 245s with the same 55R/18s.
Read More: 1957 Ford Ranch Wagon Gets A Modern Chassis & Powertrain From Ironworks Speed and Kustom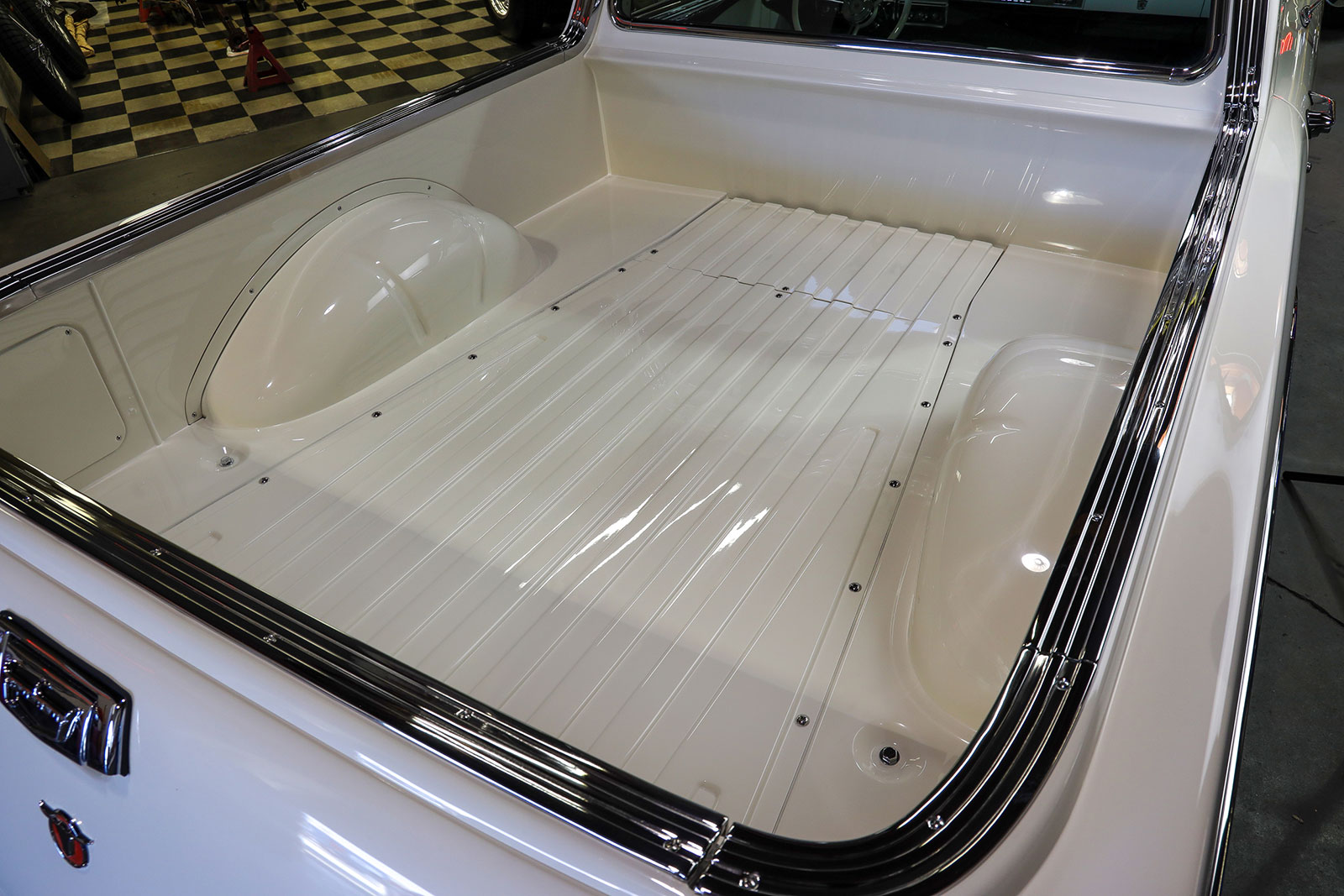 The chassis was then combined with a powertrain made up of a Chevy LS3 engine (6.2L) that features an aluminum block and heads with a Don Hardy camshaft. As is the rage nowadays, the modern-day V8 engine is made to look dated. In this case, the LS3 engine is now given a face-lift to make it appear as a vintage Ford V8 engine with machined-to-fit Thunderbird 312-inch valve covers. While the Holley intake looks like it's for carburetion it accepts the Holley EFI throttle body used along with a Holley Dominator ECU, an Aeromotive fuel pump, and Don Hardy plug wires. The serpentine belt system is by way of Billet Specialties from its LS Tru Trac line using a Powermaster 170-amp alternator and starter, a Sanden AC compressor, an Edelbrock water pump, and dual-electric SPAL fans. The coated exhaust is based on a set of Sanderson headers with 1-5/8-inch primary tubes and 2-1/4-inch custom-fabricated exhaust pipes running back to a pair of Hushpower Pro Series Flowmaster mufflers. To pull the custom exhaust system together Jack Stratton of Brizio's managed the torch work. Coupled to the V8 engine is a TREMEC 5 speed manual transmission with a Modern Driveline hydraulic clutch along with an Modern Driveline clutch kit and flywheel.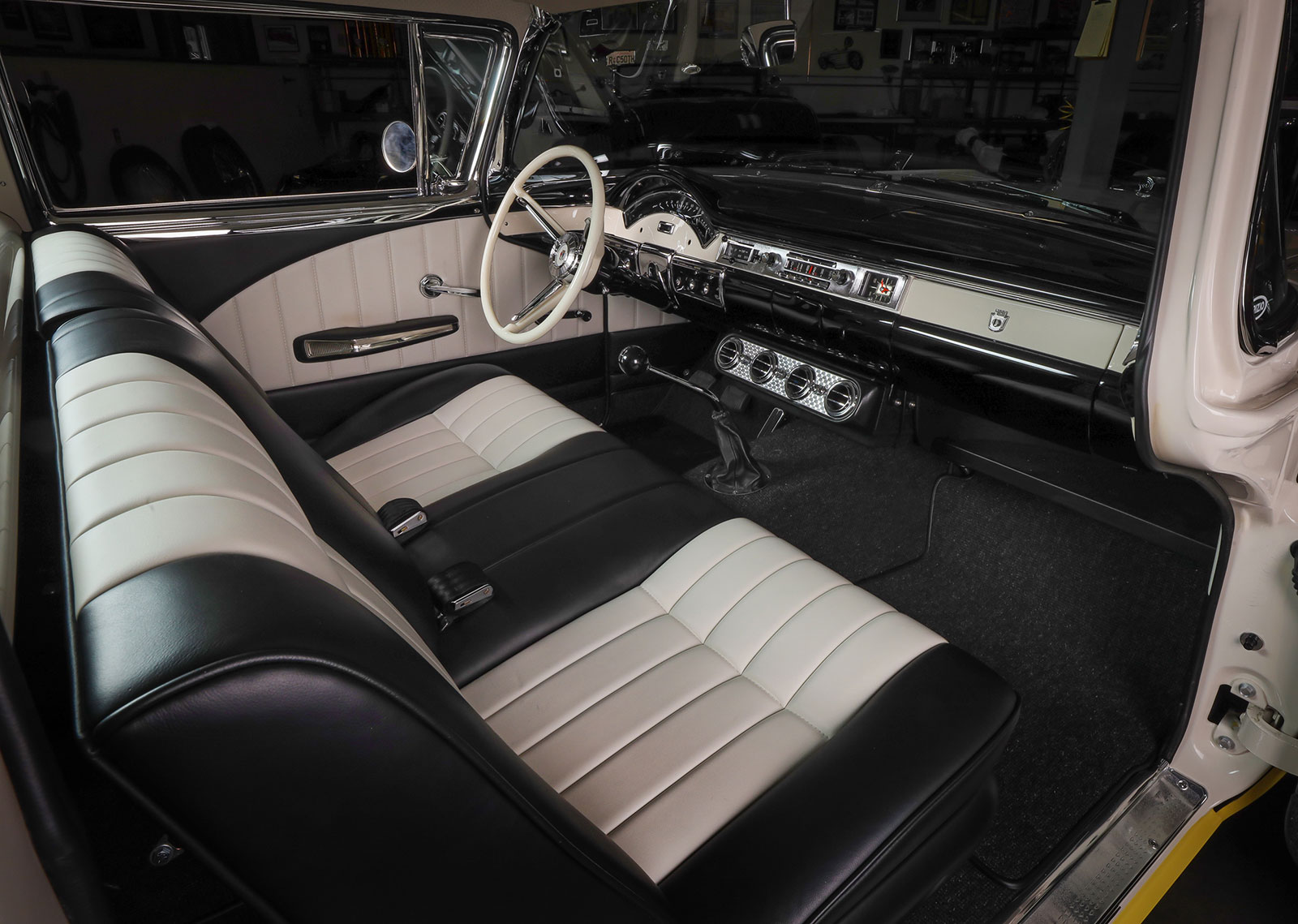 Inside, the interior shows off the stock dashboard now outfitted with Dakota Digital instruments, a Vintage Air Heritage underdash-mounted, cool-only AC system with an engine turned panel. Mounted to the dash is an ididit steering column with an original wheel cutdown by Dennis Crooks Steering Wheel Restoration. Bringing the "hybrid" to life is the custom wiring by Jim Vickery of Brizio's. The original bench seat was slightly modified and from here it is now covered in black and white (original style) Naugahyde by Sid Chavers Fine Auto Upholstery. Chavers also handled the white headliner, door and kick panels, as well as the black carpeting.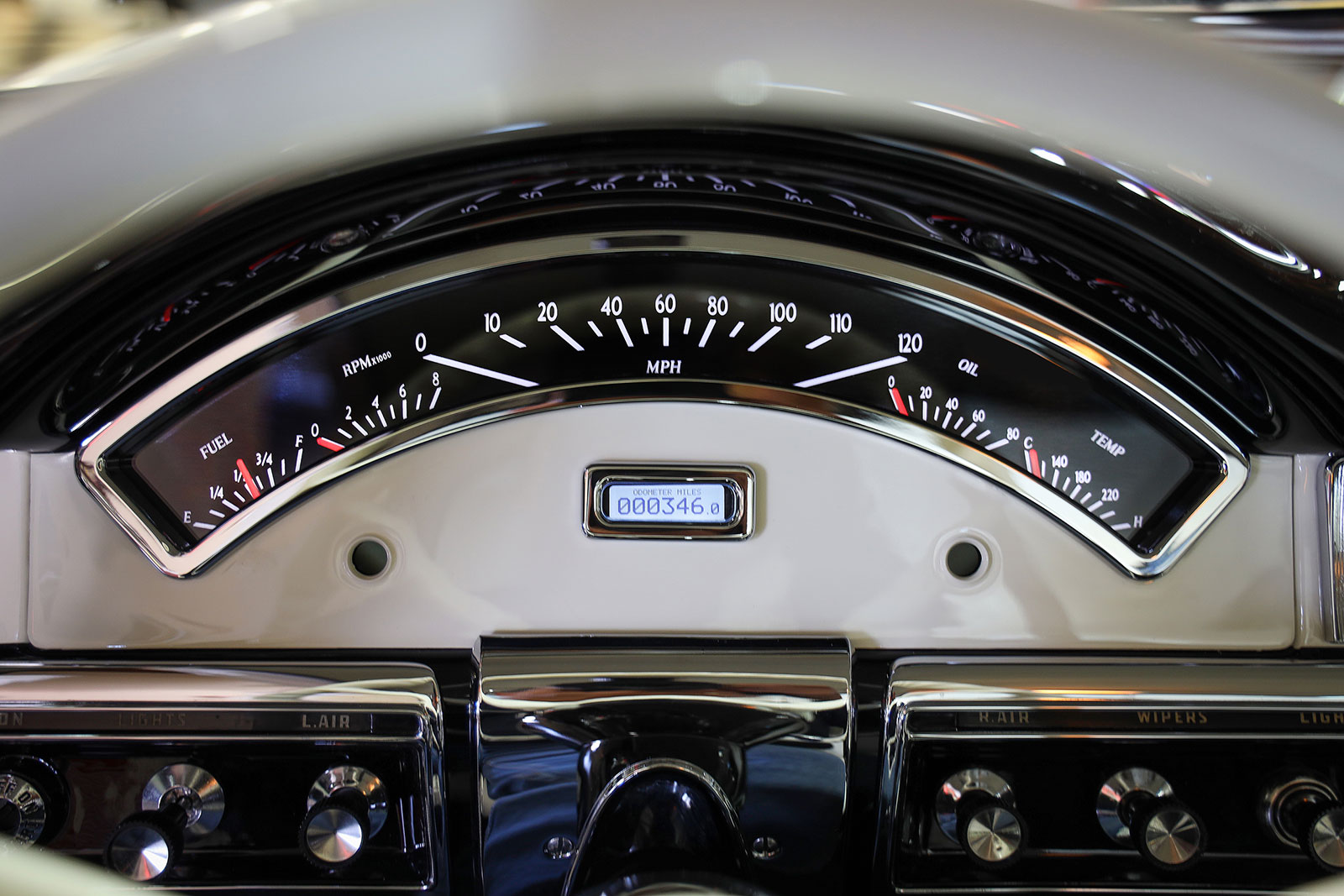 The vintage sheet metal needed very little to work with all the modern appointments while its styling remains timeless. Brizio kept the 1957 Ford Ranchero in stock form honoring the Myers wishes except for slightly reworked rear fender wells to accommodate the oversized wheel and tire combination. The bed while stock in appearance also received flawless body- and paintwork accented with chrome hardware. The engine compartment has been smoothed over and finished with the same bodywork effort and cream color as the body itself. Brizio then leaned on Joe Compani of Compani Color for the requisite bodywork and the application of the yellow and cream coloring.
Read More: 1936 Ford Coupe Turned AMBR Contender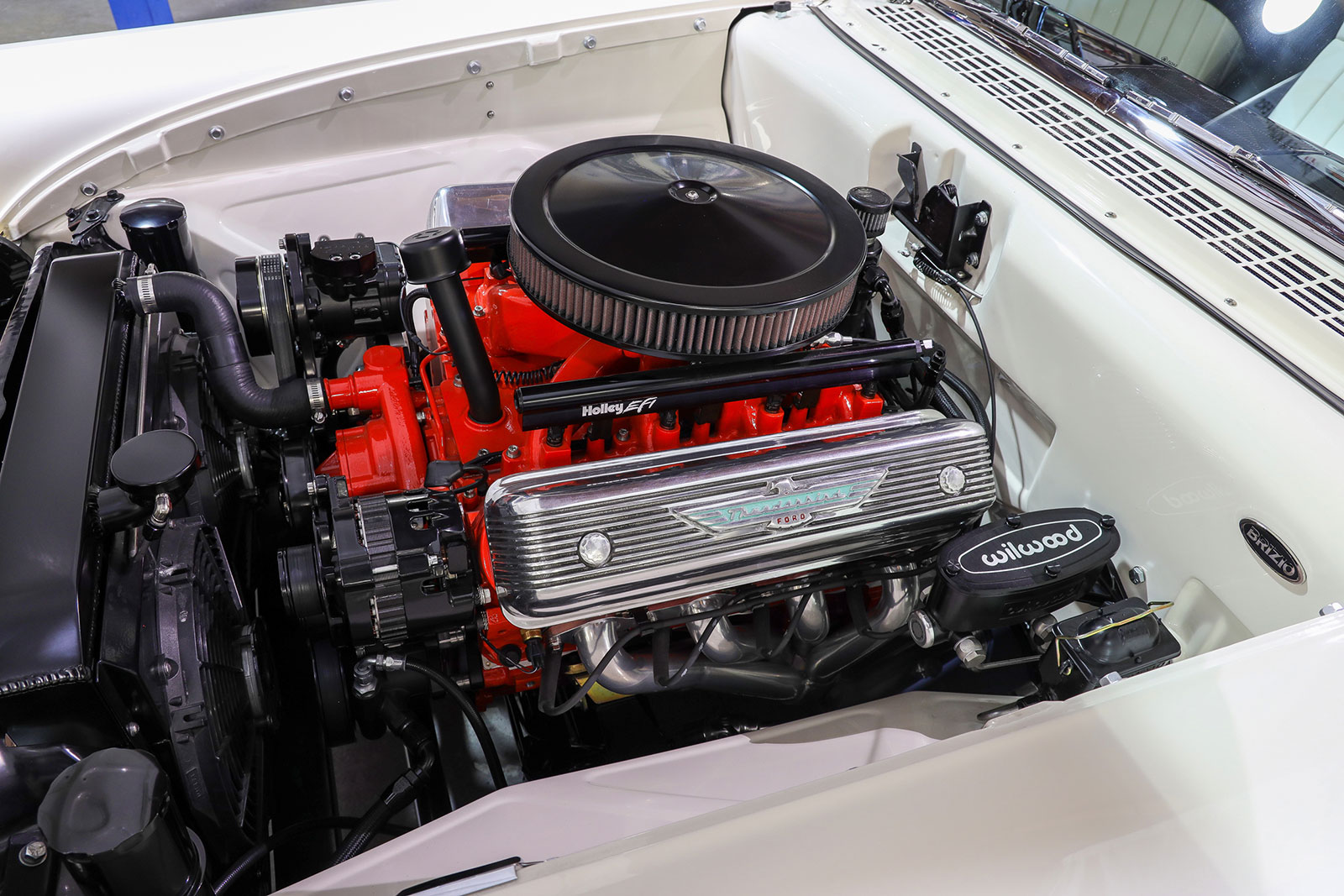 We are confident that Ross enjoys driving around in his modernized 1957 Ford Ranchero. We can also testify that the Ranchero looks amazing in person as it was awarded First Place in class honors at the 2023 Grand National Roadster Show at its first outing. The best in the car and truck world? Well, we will let hot rodders debate this point, but we can say that it most assuredly is all hot rod. MR
Click on this issue's cover to see the enhanced digital version of '57 Ford Ranchero Dual-Purpose Hot Rod.