Danielle Korek's Award-Winning Buick Hot Rod
By Brian Brennan   –   Photography By John Jackson   –   Illustration By Eric Brockmeyer
All too often we see car builds that go "just a bit outside" of where they should have stopped. We can't say that about Danielle Korek, of Winfield, Pennsylvania, and her 1960 Buick LeSabre. From what we can see all the "right pieces" were kept and the look is "right on." Danielle tells us that being the wife of a car builder has its positives, but it can also have some hiccups.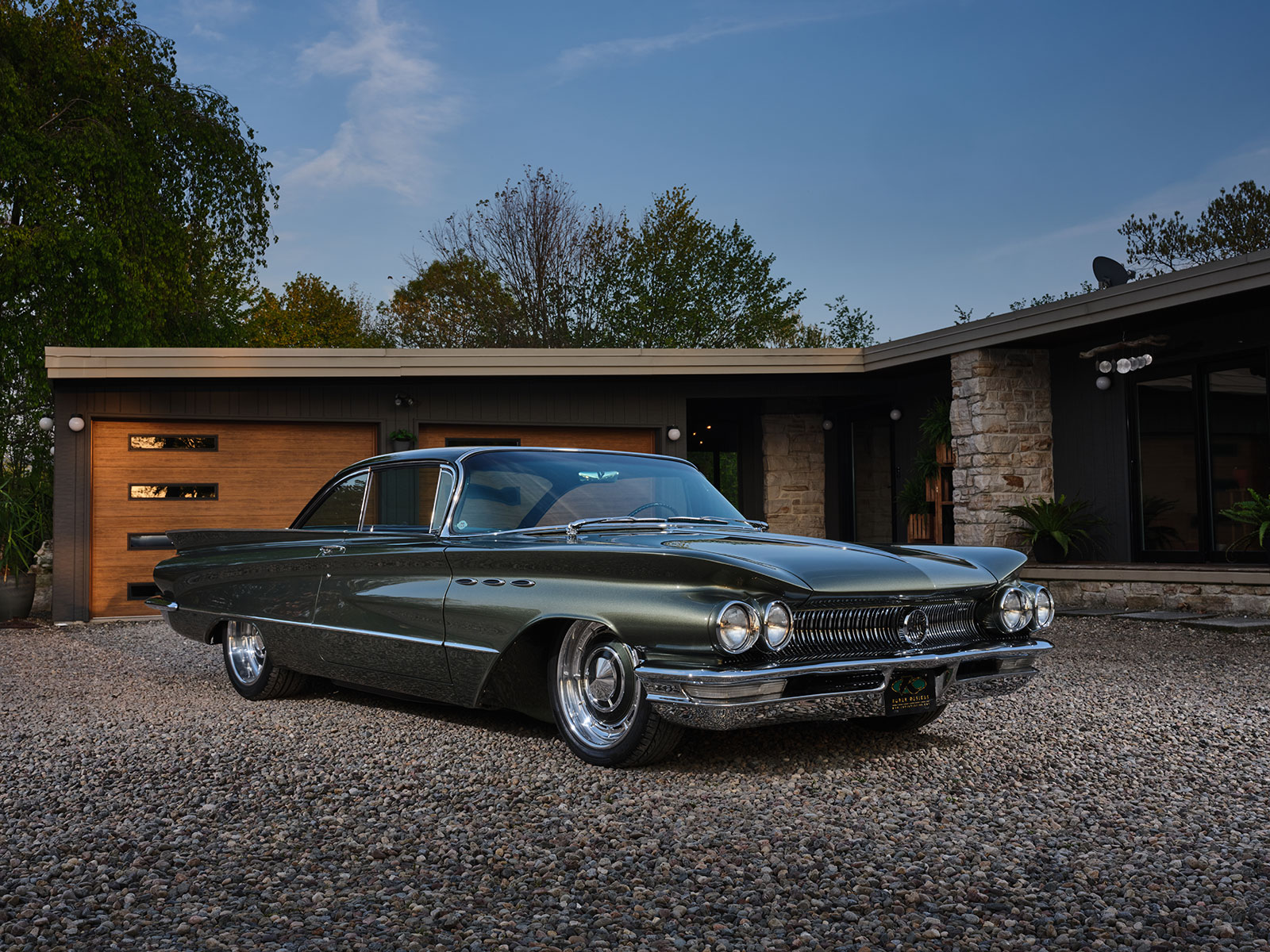 To listen to Danielle tell her story of her love of hot rods comes from a childhood of being around and absorbing the best that stock car and drag races had to offer. But her favorites were car shows. Her love of hot rods was enforced at home and through the remainder of the family, including uncles who fostered this appreciation. There were always lots of Corvette engines being worked on as well as the cars themselves. She did have a special liking for Buicks, so something like this 1960 Buick LeSabre was on the horizon. We've all heard the story of the shoemaker's wife who goes without shoes …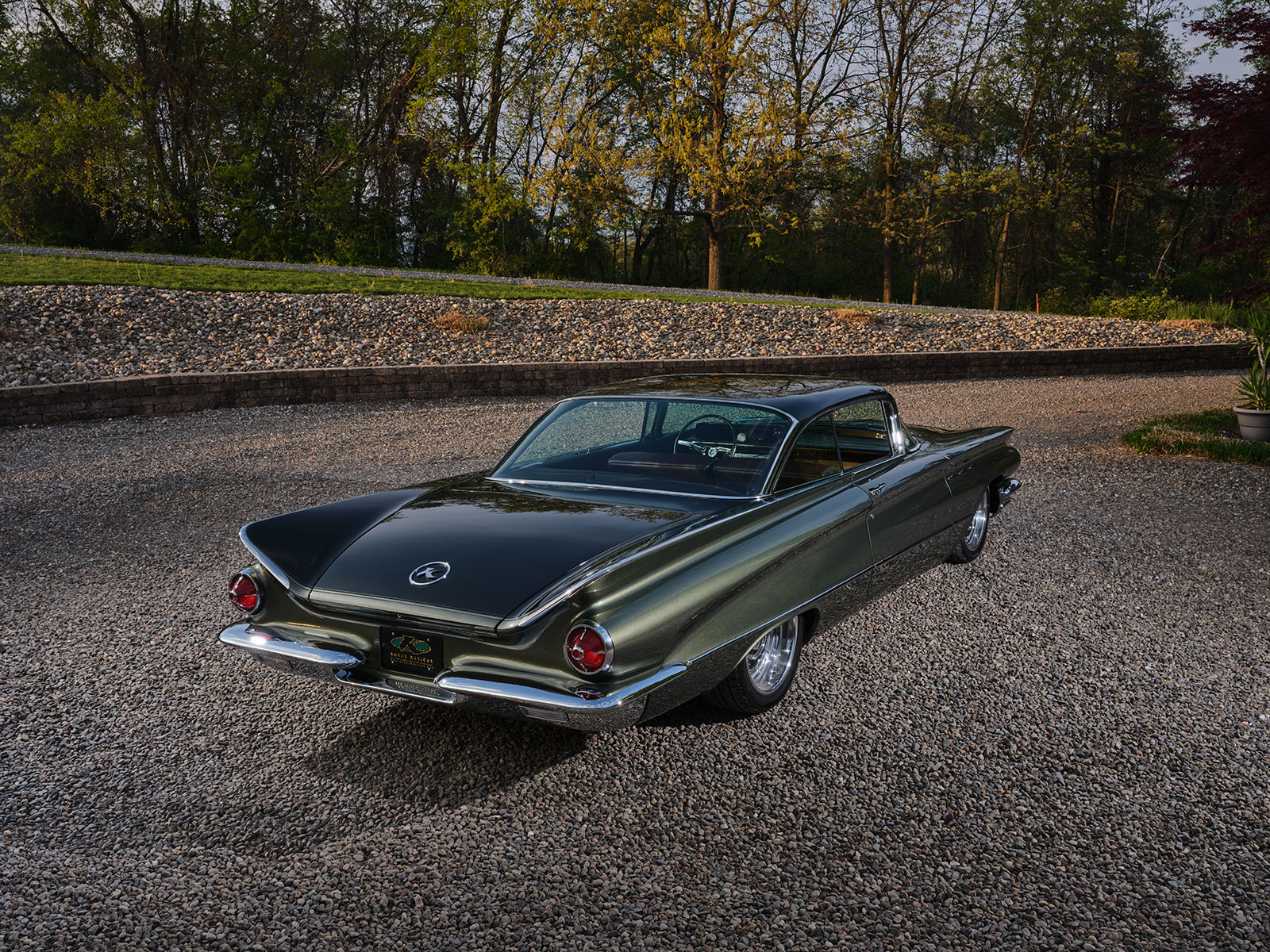 It figures that Danielle would marry a car guy and one who happens to be a builder to boot. Ryan too came from a car family with his dad, Steve, running G&K Customs in Jersey City, New Jersey. The two now run and operate Korek Designs in New Berlin, Pennsylvania. About 15 years ago Danielle and Ryan purchased a 1957 Buick Special, one of Detroit's great designs with its triple rear window. But that wasn't to be as life, as we all know, just kept getting in the way. The 1957 never happened but then came the 2020 NSRA Nationals in Louisville and, wouldn't you know it, on Ryan's birthday they found the 1960 Buick LeSabre that would go home with them and end up the hot rod you see before you.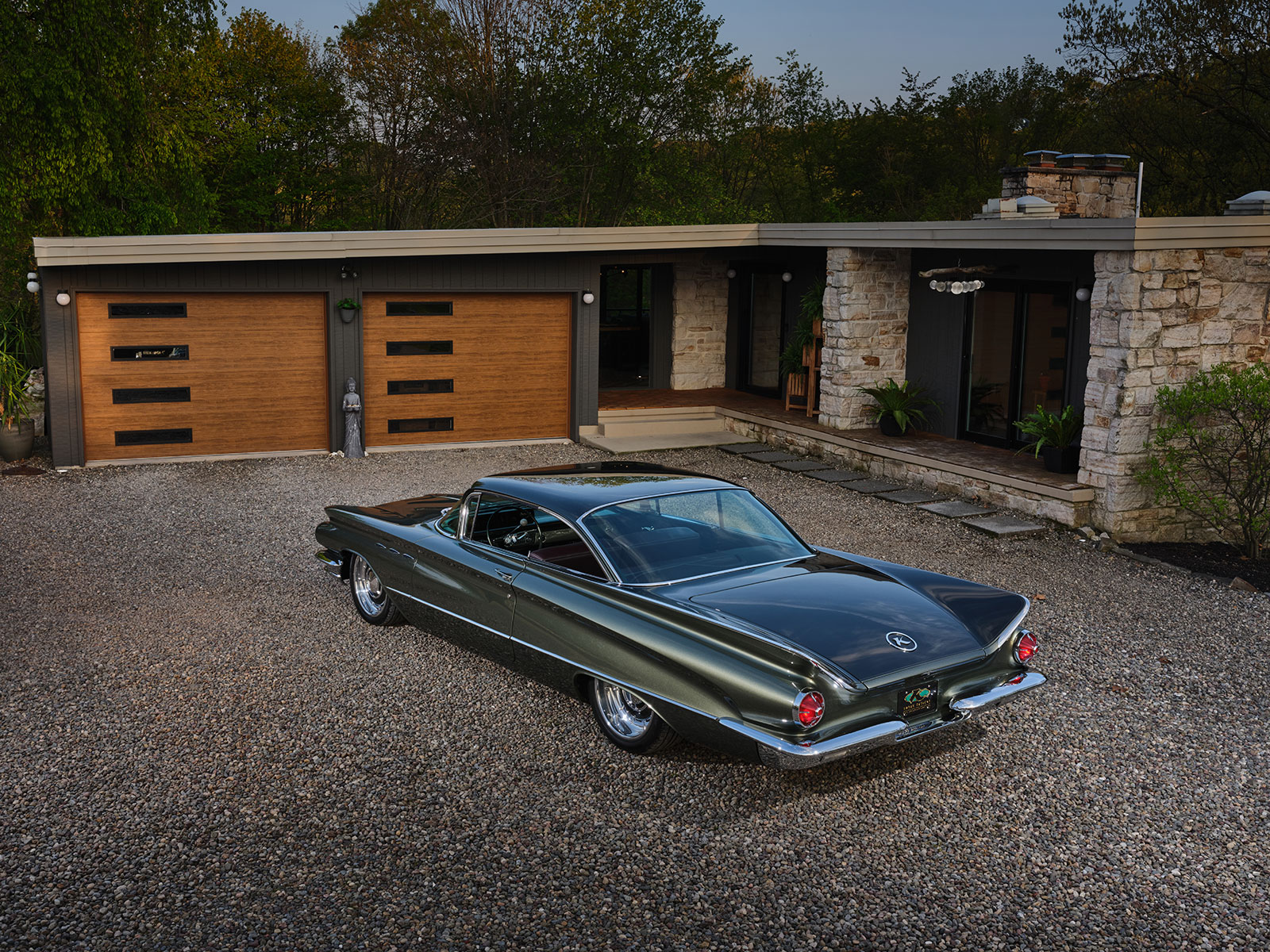 Read More: 2023 Triple Crown of Rodding at Nashville Superspeedway
Danielle points out the "fun" was about to begin. She and Ryan had their own ideas on how the 1960 Buick LeSabre should be built. We asked Danielle to tell us in her own words just how it came about.
"Coming from the housing industry I often hear that it is challenging for a couple to build a new home together. Let me tell you that it is just as tricky designing a car together as a couple. Ryan's first thought was to keep the whitewall tires and paint the car coral. Powderpuff was not my vision. I wanted to find a way we could marry edgy and elegant together. Eric Brockmeyer Designs created a rendering assuring me we were headed in the right direction with the car. The custom paint colors Ryan created, the craftsmanship of the Merlot leather interior from Rich at R.P. Interiors, down to the hubcap-inspired one-off wheels by Curtis Speed has turned my 1960 Buick LeSabre into a vehicle that one can only dream about."
Read More: Now there's a hot rod owner who is happy with their ride.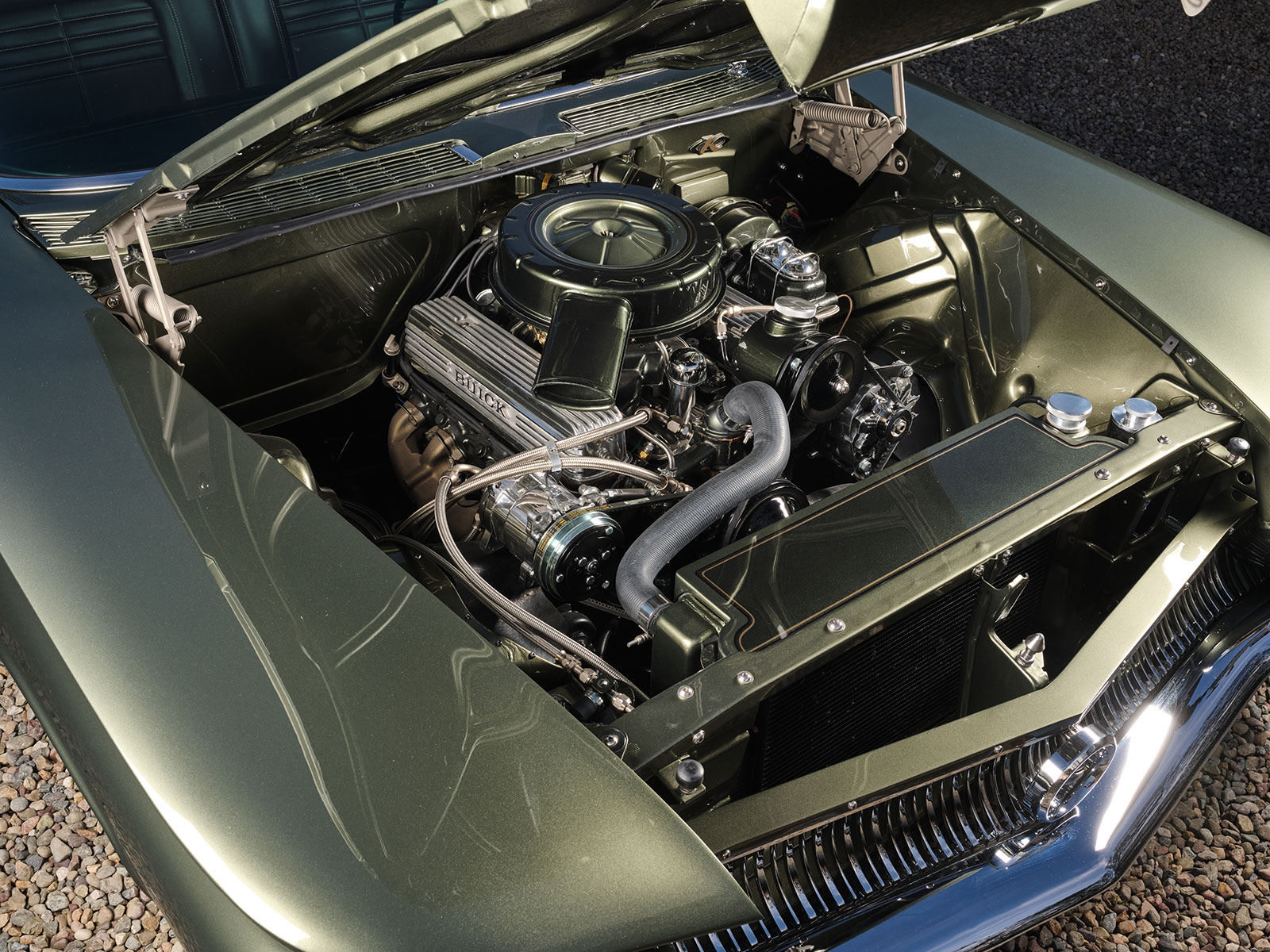 Between the frame rails is an original 364-inch V8 engine, often referred to as a Nailhead engine by hot rodders, complete with a four-barrel, a Powermaster alternator, Vintage Air compressor, and custom-inspired Buick valve covers. (This V8 would serve as the basis for the future and popular 401 Buick.) While the exhaust manifolds are stock, they do feed the spent gasses into a custom exhaust that leads to a pair of MagnaFlow mufflers. The stock V8 engine highlights lots of detail and brightwork to make it come "alive."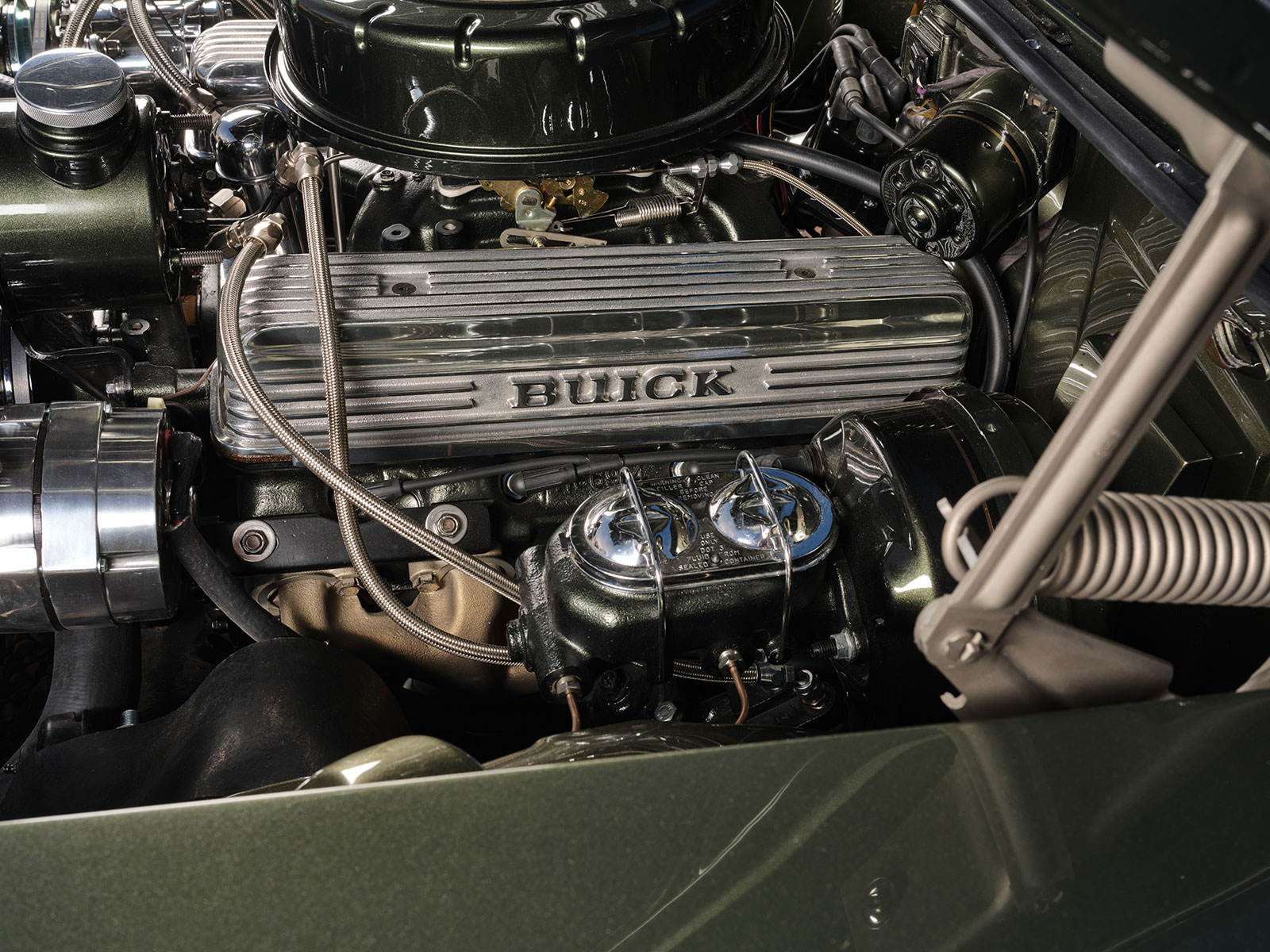 More stock powertrain components are the use of the factory two-speed Dynaflow automatic transmission (note, Buick changed the name to "Turbine Drive" to overcome the poor reputation the Dynaflow had.) A note on the shift pattern: "Park" was to the far left of the detent while "Reverse" was to the far right. Noticeably different from today's pattern. The rear end is a torque tube with semi-floating positraction rear axle, 3.58 gears, and Koni shocks. The rear is still suspended by reworked original coil springs now offering to allow the Buick to sit some 3 inches lower.
Read More: How To Cut and Buff Like a Professional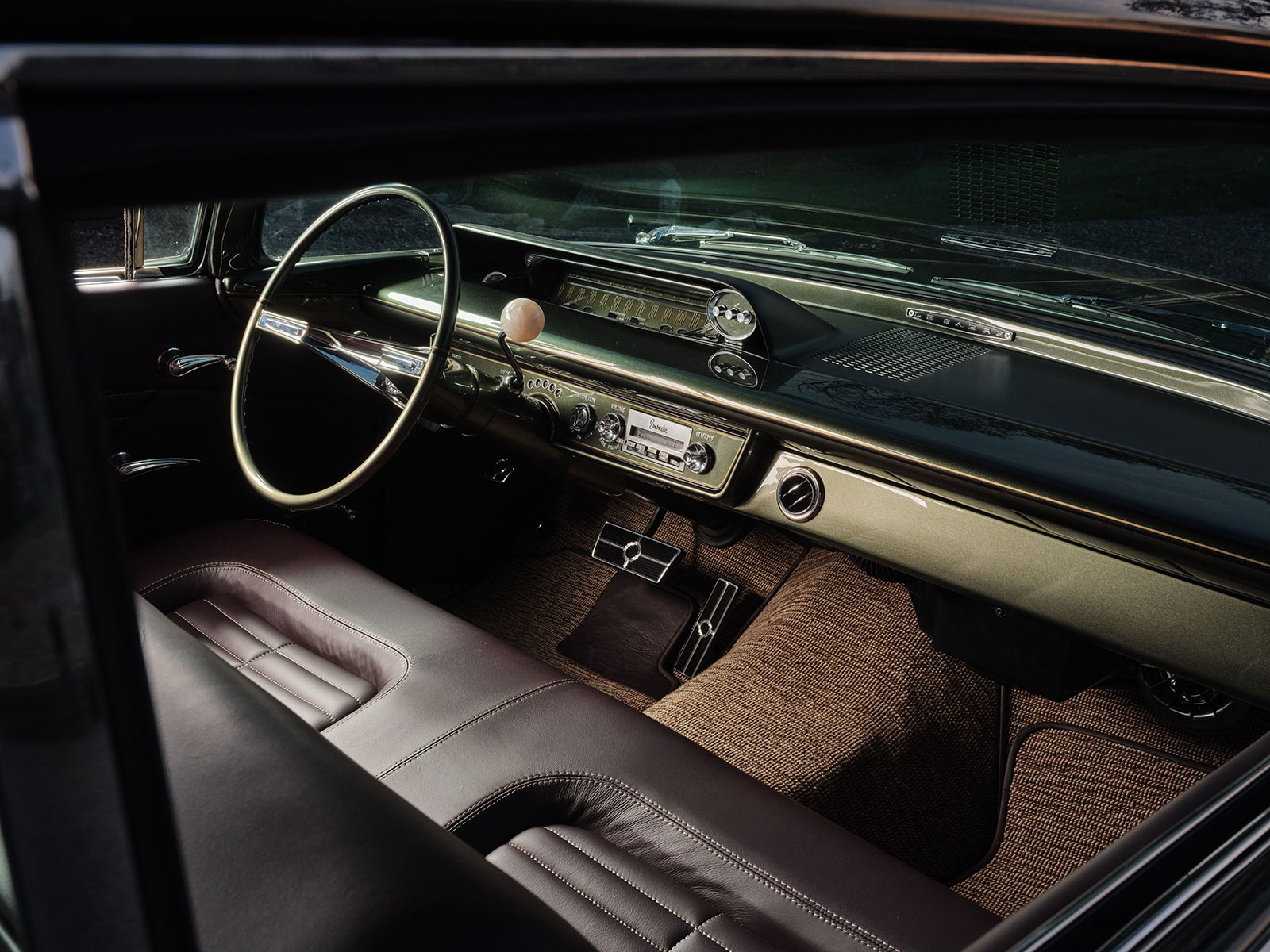 The front suspension is based on factory components but with the use of a pair of Fat Man Fabrications 3-inch drop spindles, Koni shocks, and lowered springs. The steering was upgraded to a quick-ratio Borgeson steering box, the brakes are the factory finned aluminum drums, while the master cylinder was upgraded to a modern dual reservoir with a power booster. More on the brakes. The drum brakes on this 1960 Buick LeSabre are based on finned aluminum drums and were called Air-flo back in the day. According to Buick engineers the finned aluminum drum would drop lining temperatures from 500 degrees to 200 degrees during the same time interval standard drums would drop approximately 50 degrees. A significant improvement in braking could be realized with the Air-flo finned aluminum drums along with ventilated wheels.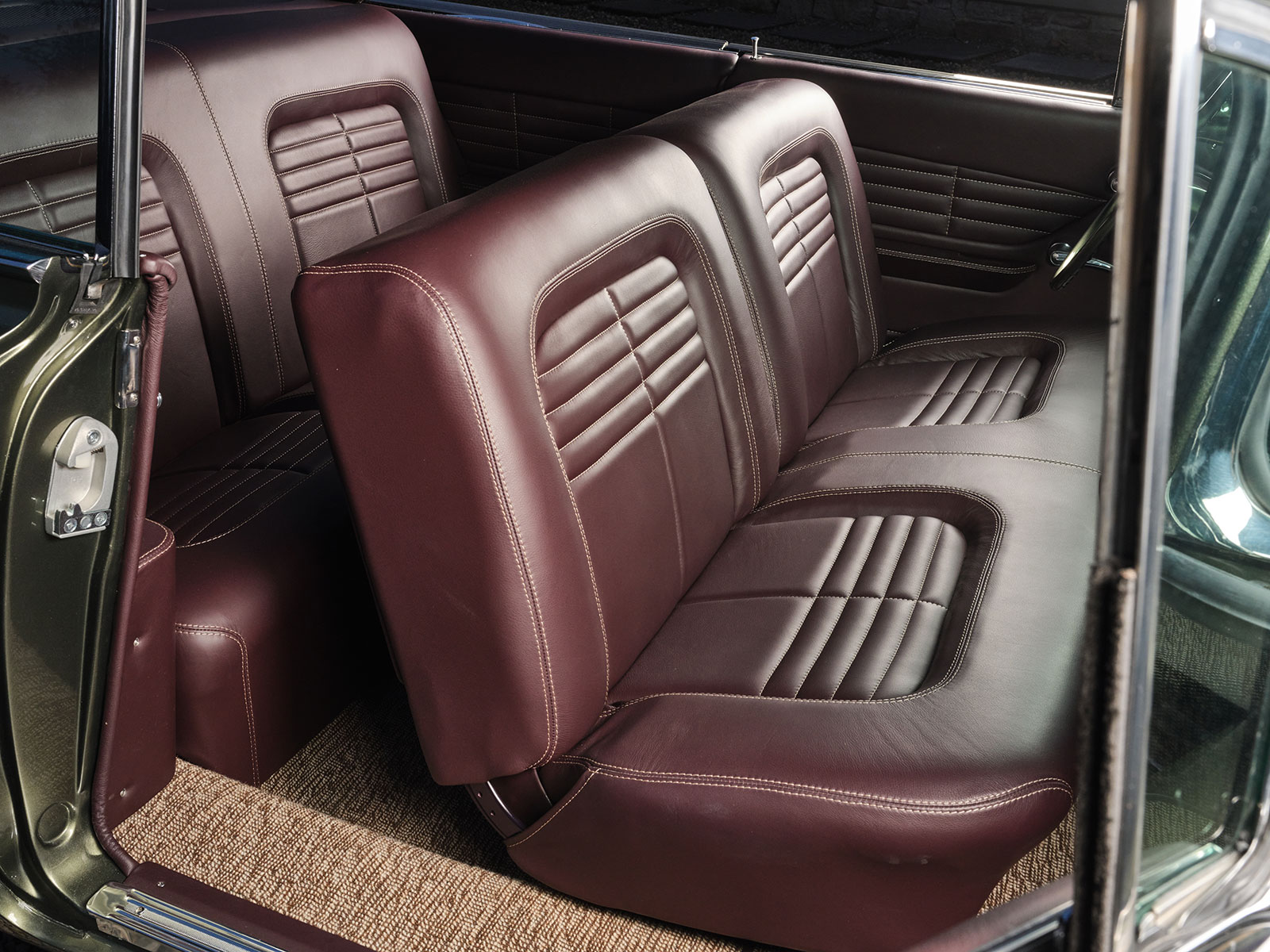 Speaking of wheels, Danielle's LeSabre came with the optional Super-Deluxe Wheel covers that were a heavy die-cast construction with a chrome finish. Here she asked Mike Curtis of Curtis Speed Equipment to whittle out a one-off set of wheels that replicate the appearance of the factory originals but are now billet. They measure 19×8 in front and 20×9 in back all wrapped in Hankook tires. A far cry from the factory 15-inch wheels with wide whitewall 7.60×15 rubber.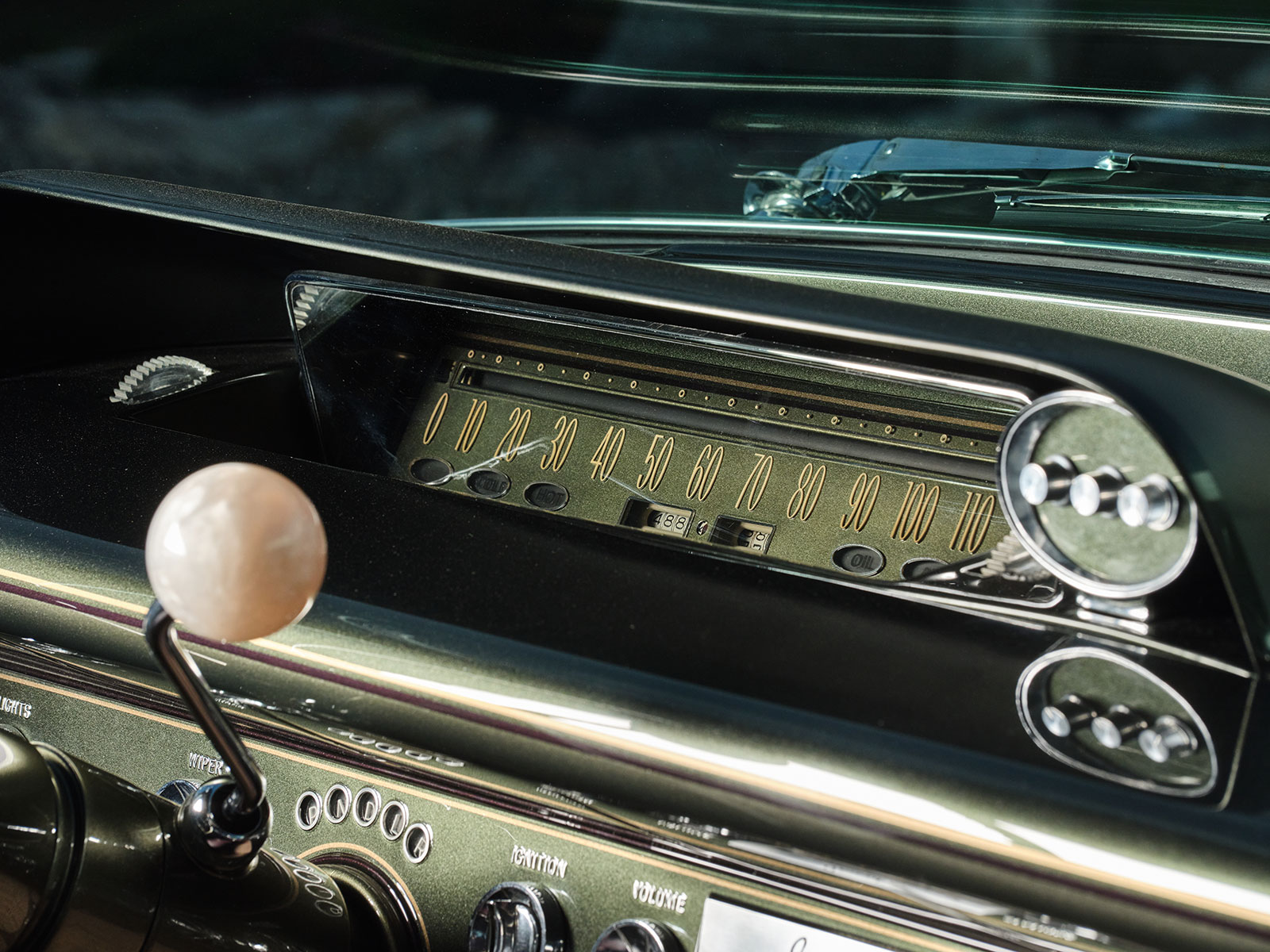 As for the body, well, we will let Danielle tell us what she thinks (and we agree).
"No body modifications, just a badass stance and killer colors."
After months—and we do mean months—of bodywork followed by the subsequent paintwork, it was all performed at Korek Designs under the watchful eye of both Ryan and Steve. The factory sheet metal was treated to a custom mix of PPG Cashmere Green and a darker Jet Fuel color both complementing each other. Look at all the brightwork on that ol' LeSabre. Can you imagine what the chrome bill must have been? Well, whatever it was it was worth it as the paint and brightwork complement each other and give the LeSabre a great look. There is some subtle pinstriping to further enhance the paintwork.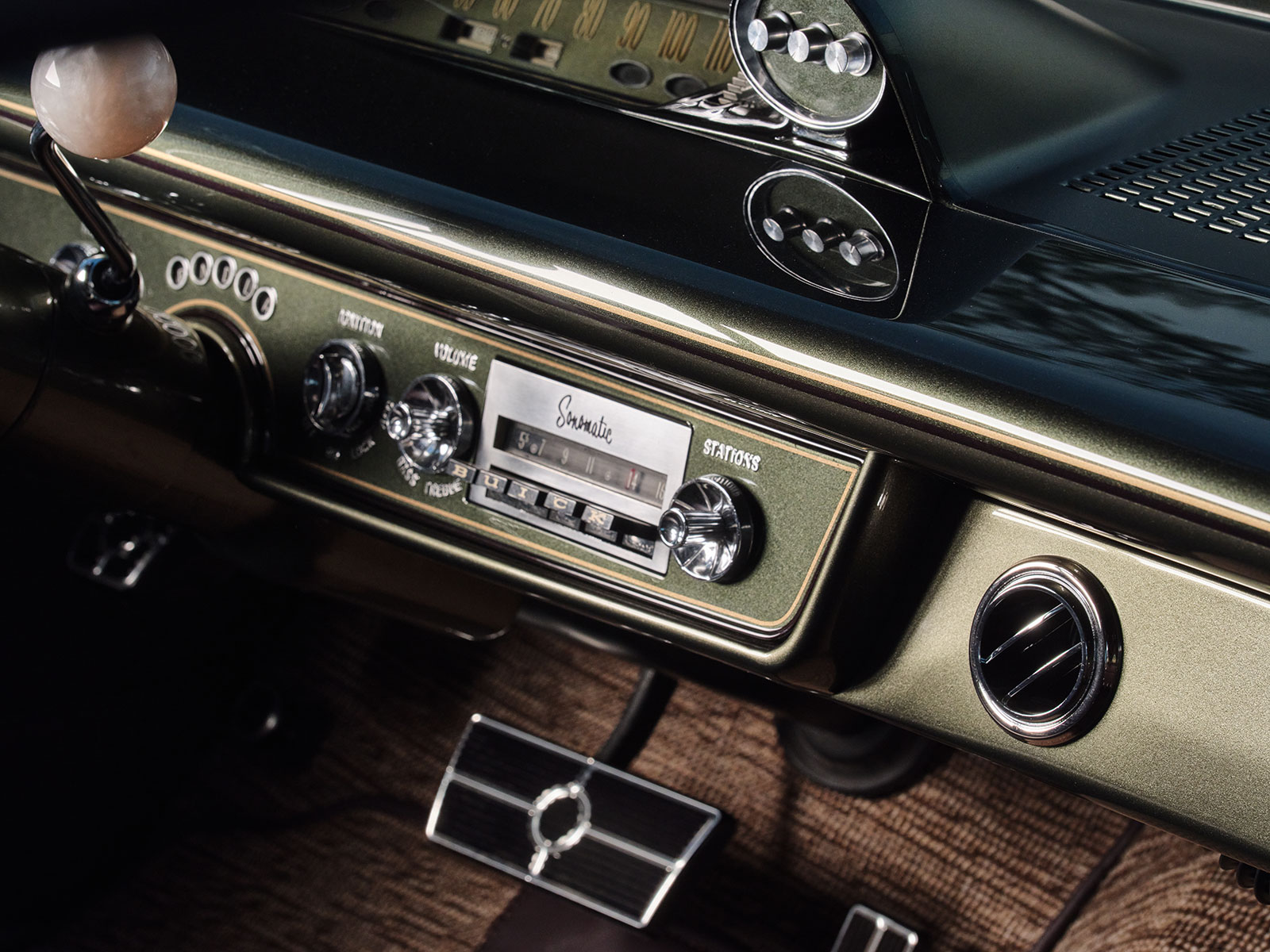 Inside much is stock but there are some understated alterations that add to the overall look. The factory dash (remember in those days dashboards were all metal) was smoothed over and painted in body-matching green. Items such as the ashtray and glovebox were removed and while the car did feature an optional clock this area is now relegated to the location of the Vintage Air AC controls. An American Autowire wiring system was used to bring the rather large '60s-era car to life with this work also done at Korek Designs.
We should tell you a little something about the refinished factory instrumentation that was retained. Back in the day it was referred to as a "Mirror Magic" panel that featured glare-free instrumentation. You are looking at the speedometer and engine function lights ("idiot" lights) through an adjustable-tilted mirror. You could adjust the viewing mirror to compensate for your height (seated position), thereby removing unwanted glare. There was a factory-applied finish to the mirror that maximized the softer, natural light helping to reduce eyestrain.
Read More: '60 Impala With Impeccable Style & Performance
The steering column is stock with the factory-optional DeLuxe Steering wheel having undergone a two-tone paint scheme. The factory bench seating in front and back was retained but now wrapped in Moore & Giles Carlyle Merlot hue leather and Peppercorn color Relicate square-weave carpeting. All the meticulous stitchwork was handled by R.P. Interiors.
A couple of interesting side notes: If you think the 1960 Buick LeSabre is a big car try these numbers on … overall length of 217.9 inches, a wheelbase of 123 inches, a total glass area of 5,112.9 square inches, and you really could get four adults (or more) seated inside. Others also think of this as a great ride as it has recently taken home a Goodguys Top 10, Builders Choice, a PPG Best Use of Color, and a Top 3 at the Frankenmuth Auto Fest. MR
(Editor's note: You could also get three skinny-butt teenagers into the trunk and sneak into the drive-in movies … or so I am told. —B.B.)