This Chevy Station Wagon is the perfect hot rod for the whole family!
By Brian Brennan   –   Photography by Grant Cox
One of the realities of hot rodding is once you are married a family is not too far behind. J.D. Terry, of Oklahoma, could see the handwriting on the wall. He purchased his '61 Chevrolet Brookwood station wagon as a stocker and all original. His intentions were to build a cross-country driver that could haul himself, his wife, Carissa, and their two daughters, Layla and G.G.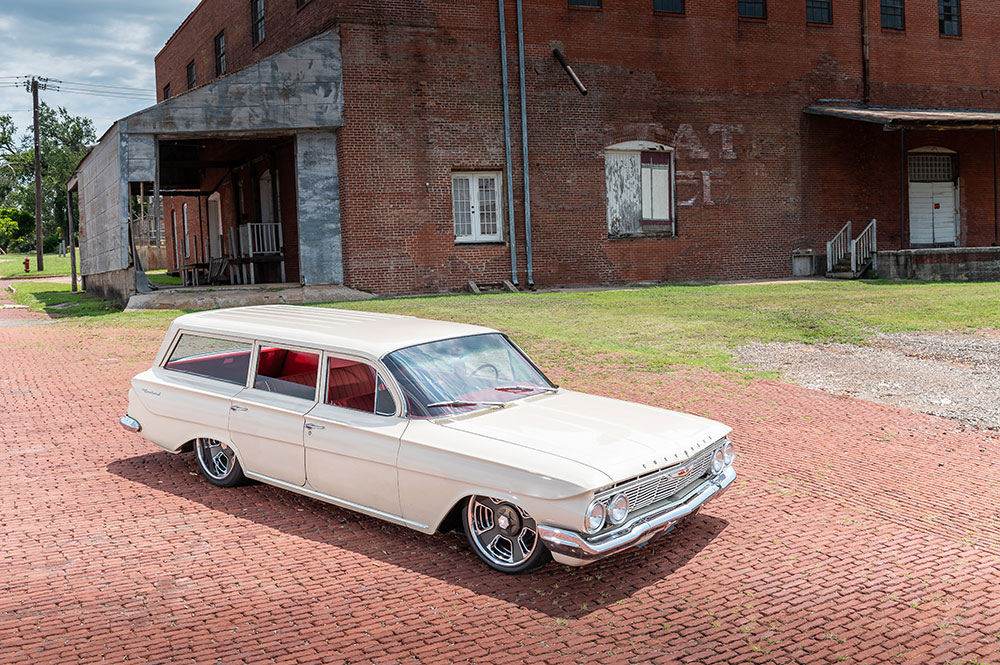 Once J.D. had the Brookwood home he got with his longtime friend Seth Curry of Curry Custom Fab and disassembled the car, returning the chassis and body parts to J.D. From here J.D. went to work. Eric Banks of B T Powder Coating helped with the complete frame, inner fenders, core support, and numerous other odds and ends that needed to be powder-coated.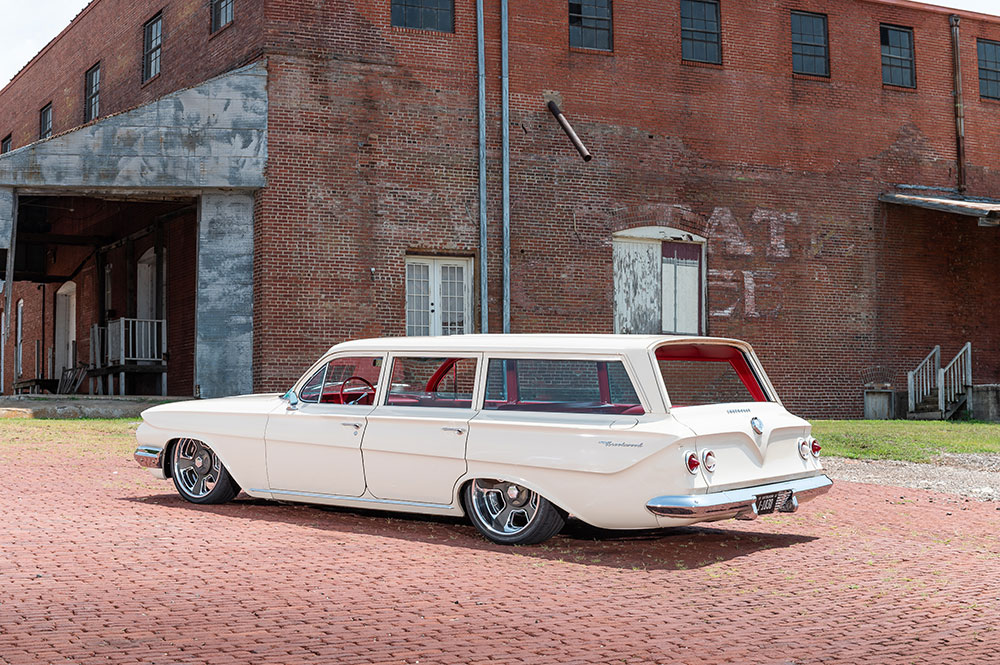 Supplying the power is the always-popular big block Chevy, this time running a 496 Chevy engine (bored and stroked). The machine work was handled by Gerald Brand of Brand Racing Engines. The final assembly and tune came by way of Bob Bales of Bales Performance. The BBC now pushes 600 hp and 700-plus lb-ft of torque. The internals is based on a Bales Performance custom grind hydraulic roller camshaft, Wiseco 10.1 pistons, and factory iron heads that are ported and polished and feature larger valves. Of course, there are a lot of ARP hardware holding matters together.
Read More: Building the Biggest and Baddest, Chevrolet's 632 Big Block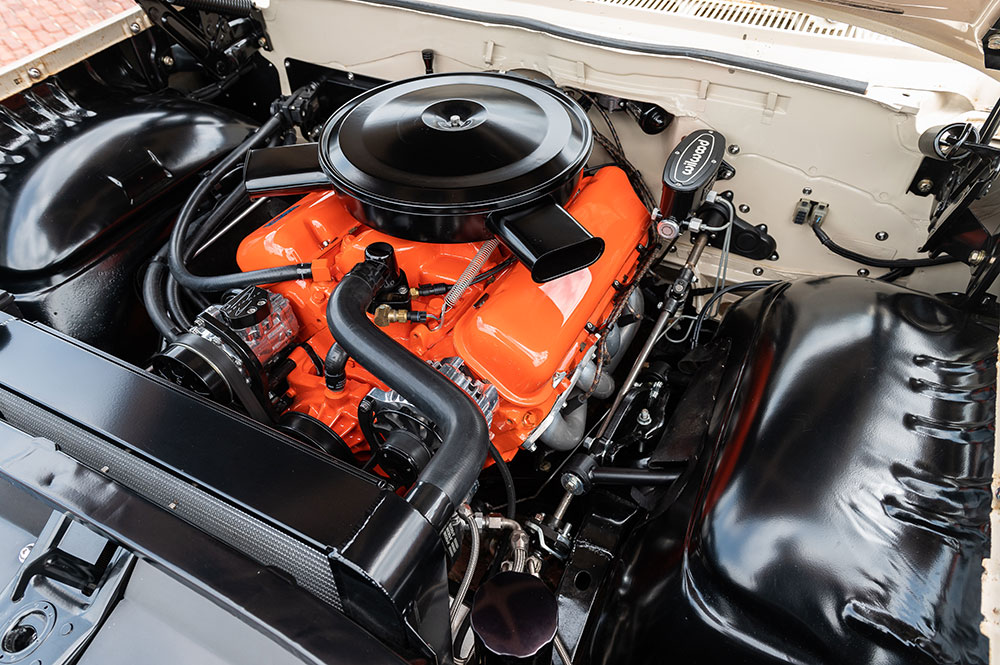 Outside, an aluminum Edelbrock Performer intake is used, topped with a Holley Sniper EFI and a Holley electric fuel pump. The Holley HyperSpark Ignition System is also used. The factory-style air cleaner and plug wires come by way of Delmo's Speed & Kustom. Exiting the used fuel load are a pair of Sanderson 1-7/8-inch headers linked to 3-inch custom exhaust pipes run through a pair of Flowmaster 50 Series mufflers, all fabricated by Curry Custom Fabrication. The cooling chores fall to PRC Performance Rod & Custom for one of their electric fan and radiator systems while the water pump comes by way of Edelbrock. The Billet Specialties Tru Trac serpentine belt system works the power steering, alternator, and air conditioning hardware. Backed up to the Big Block Chevy is a 700R4 transmission outfitted by Monster Transmissions that utilizes a B&M 3,000 stall converter, a modified TCI Automotive valve body, and a shift kit.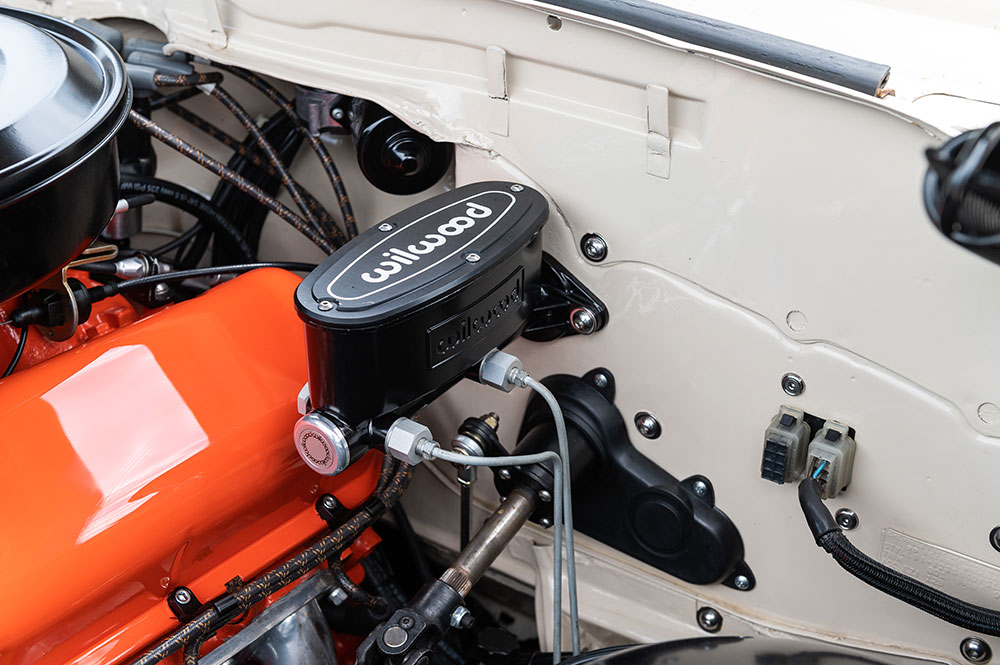 The big block rests between the stock frame rails that feature Ridetech control arms with air-ride suspension and Classic Performance Products (CPP) dropped front spindles. Wilwood disc brakes received the nod for the 13-inch drilled rotors, four-piston calipers, and master cylinder operated by a factory pedal. In the rear, a 3-inch narrowed Ford-style 9-inch rear end is used that was built by Quick Performance and filled with 3.73 gears.
Read More: 1957 Chevrolet 210 Wagon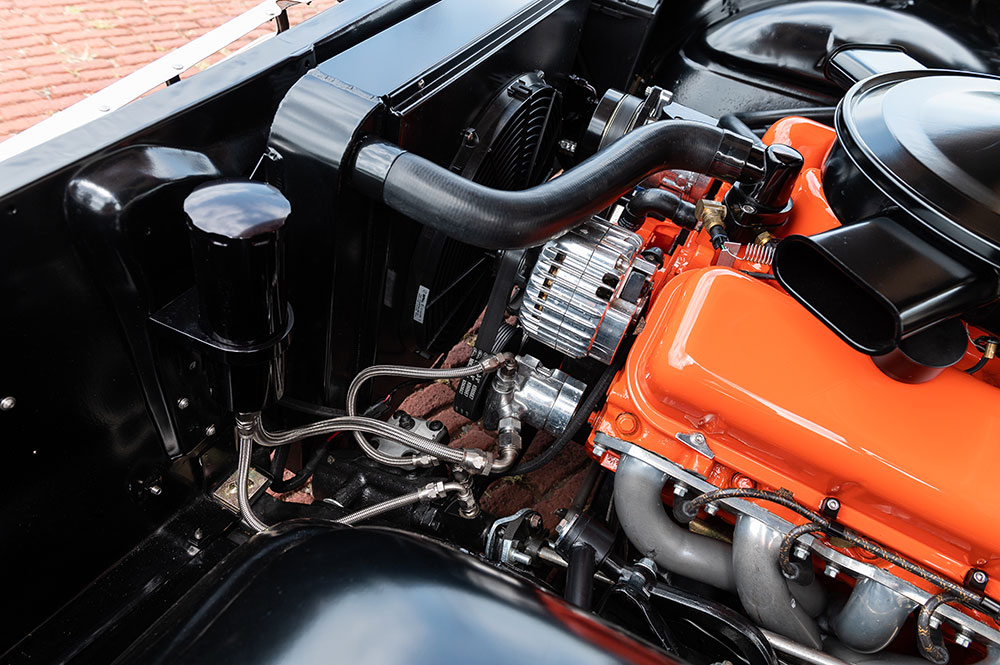 Rolling stock is made up of Billet Specialties Legacy 2 wheels, measuring 20×8.5 in front and 20×10 in back. The rubber comes by way of Firestone Firehawk measuring 255/30R20 in front and 275/35R20 in back.
The body is a stock '61 Chevy Brookwood station wagon that still runs its original Almond Beige paint, however, the interior (red matte), engine compartment (body color), and underside of the body were freshly prepped and painted by Charles Degand at CD Designs using Glasurit materials.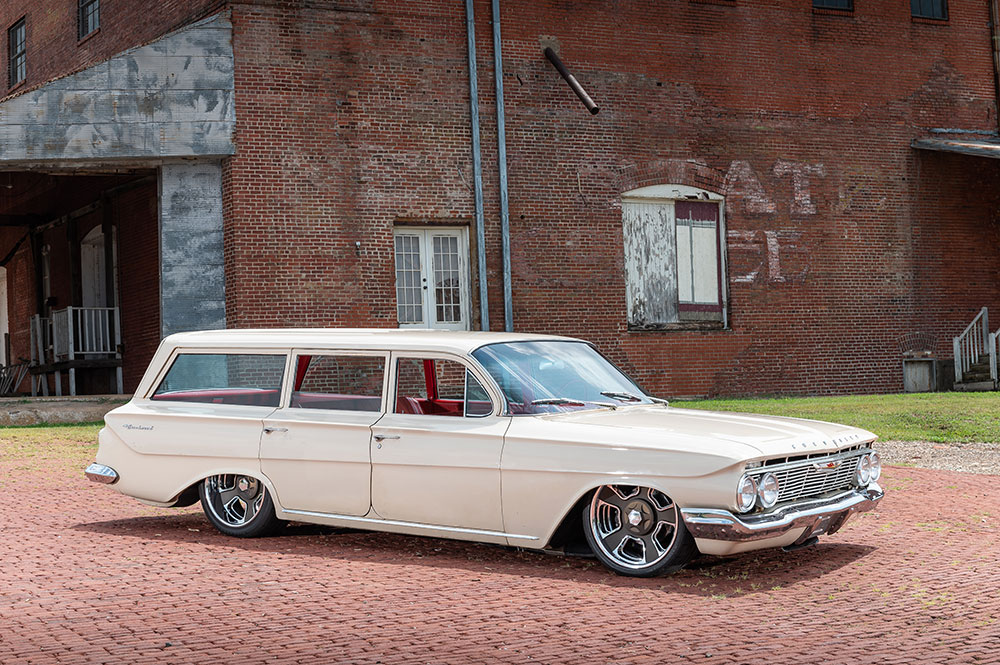 It should be noted that before the interior upgrades began J.D. and his dad, Dave, made sure to install several layers of Vibro Solutions sound vibration dampening material. Inside, the stock interior was refurbished utilizing Ciadella Interiors' direct factory replacement covers matching the factory colors, designs, and patterns. The headliner is the Impala Star pattern in red also by Ciadella. Upon closer inspection, you will see that the Dakota Digital RTX gauge panel and a triple play of water temp, tach, and fuel round gauges are also used. Note the steering wheel is factory resting on top of the ididit steering column. While all the factory switches and controls are retained it should be noted that the AC controls, while the factory in appearance, are updated to run the Vintage Air system. There is also a stout stereo system that was installed by Tim Smith of Kicker Audio. He also custom-built the kick panels that house the QS-series components and a custom subwoofer enclosure (see in the rear of the interior) that encloses two 8-inch Solo-Baric L7S series subwoofers. The stereo system
Read More: 1961 Chevy Impala Looks Good with Better Performance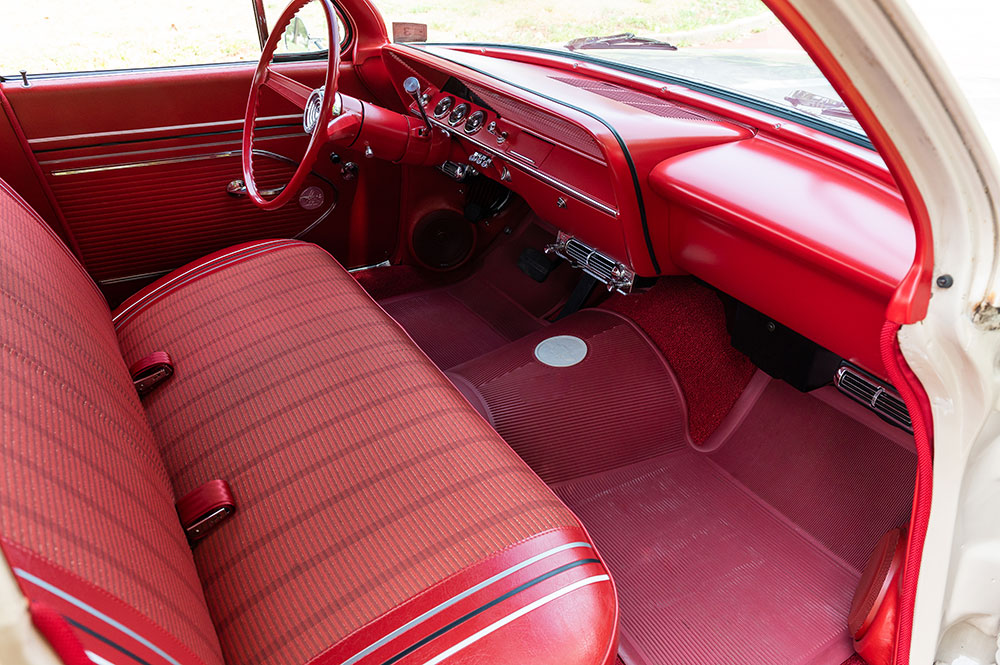 Withstanding the maze of fresh wiring required to handle the overall update was handled by Curry at Curry Custom Fab. Jeremy English was also involved in the installation of all the glass and exterior molding.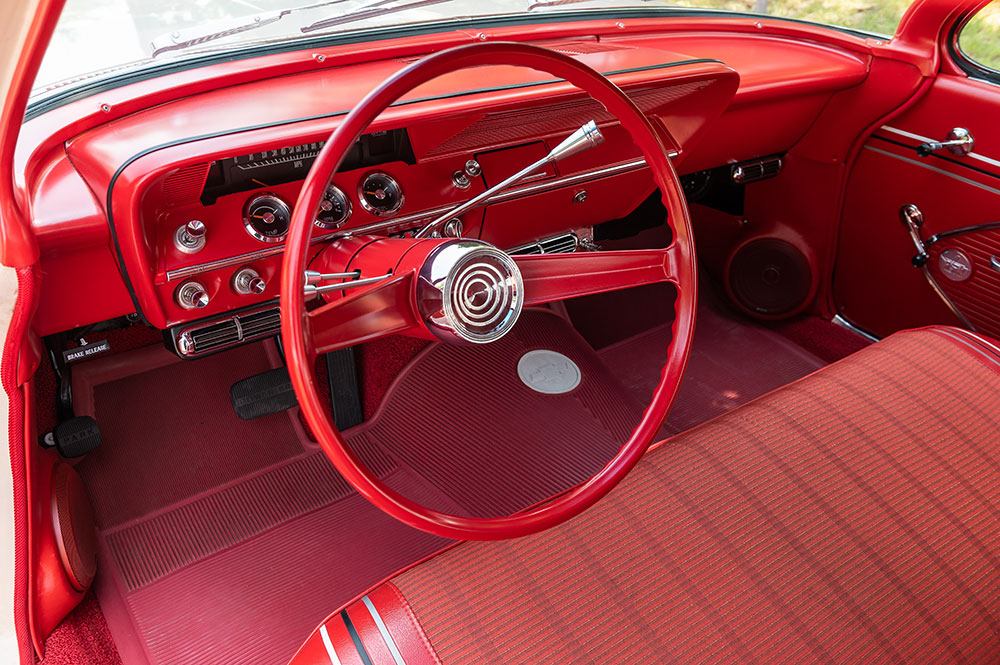 Once finished, J.D., Dave, Curry, English, and others got together and made the roundtrip from Oklahoma City to Phoenix for Dino's Git Down. Left the house with 50 miles and came home with 2,000-plus on the odometer. Currently, the car has 10,000-plus miles of totally enjoyable driving. And that's what a hot rod does best–it's driven, a lot. MR