Canada's Nova, a 1965 Pontiac Acadian Canso Sport Deluxe
By Fuelish Media   –   Photography by the Author
Have you ever seen an Acadian Canso Sport Deluxe before? If you answered "no" don't feel too bad, as most folks cannot attest to knowing much about it either, especially anywhere outside of Canada. The Acadian was essentially the Northern version of the Chevy Nova, and back in 1965 when this Acadian model was manufactured, it was only one of just under 400 other Canso Sport Deluxe badged cars to be made that year. That's a limited number to start with, which is why you may not have heard too much about these cars now that they're 56 years old and scarcer than ever.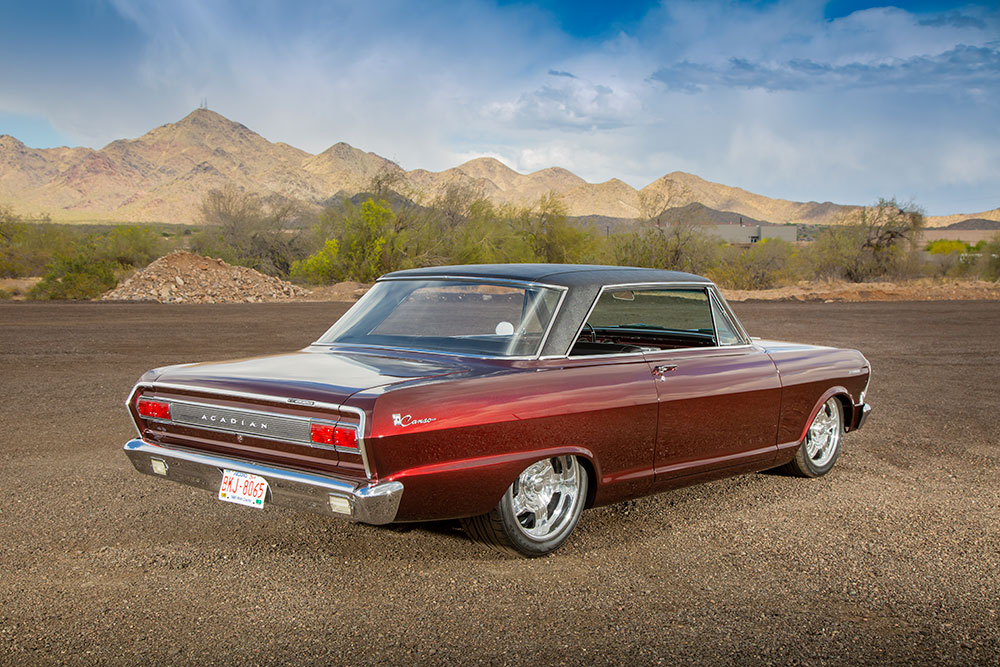 Well, it takes a fanatic to track an Acadian down, but it helps if you just happen to be Canadian citizens like Richard and Penny Hammer who hail from Viking, Alberta. They already have an Acadian—a '66 wagon that they drive every so often but they were also able to track down a top-tier '65 Canso Sport Deluxe Acadian model, which is basically the equivalent of Chevrolet's Super Sport pedigree, right in their own province. Even though the wagon is fun to put around in, the Hammers planned to soup up their new project car and deck it out to live up to their wildest street dreams.
Read More: The Scott's LS Swapped 1969 Chevy Camaro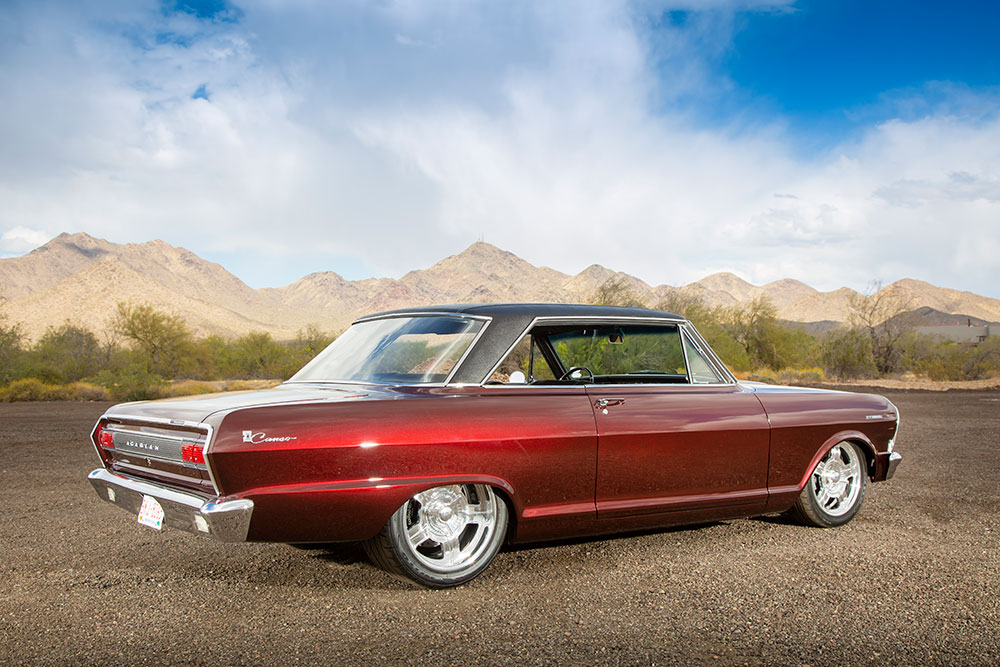 This '65 Pontiac Acadian started life on Canada's West Coast then later moved out to the east but is now back on the western side again with Richard and Penny. They are now the car's fourth owners, and even though this Acadian has been restored once before, it was nothing like what the Hammers had in mind for it. To help them blast their new project into the upper echelon, they looked to a man nearly 1,700 miles away (that's roughly 2,735 km for those keeping track) to take the reins and do what he is known to do best.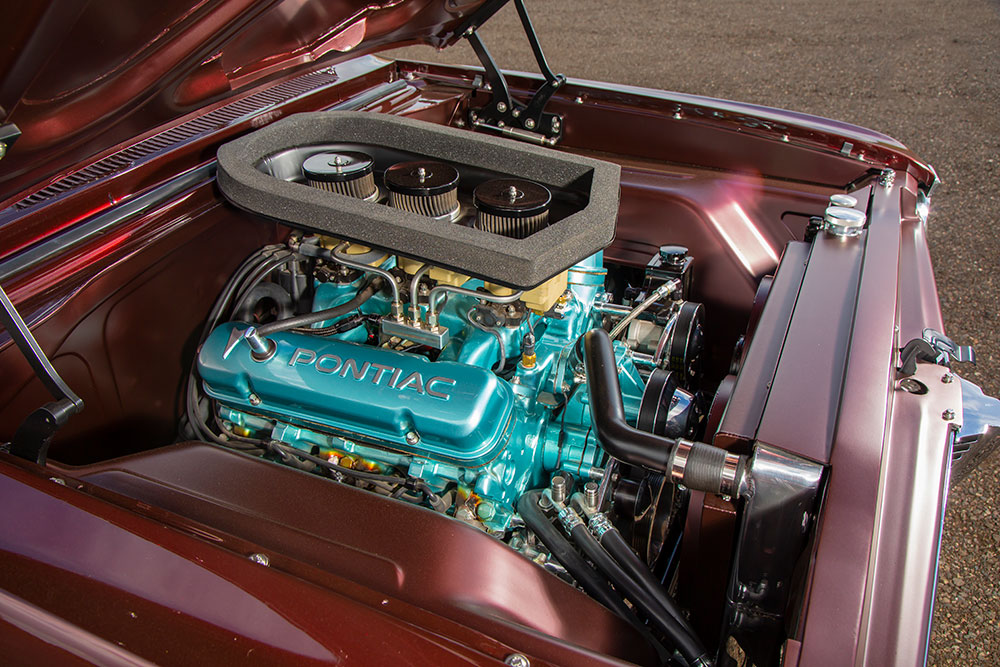 Dean Livermore, president and CEO of Hot Rods By Dean in Phoenix, has built quite the reputation of pumping out the highest quality hot rods, muscle cars, and customs of all kinds for folks all over. Hot Rods By Dean's impressive 12,000-square-foot facility is packed full of old-school and modern tools and machinery, which allows his team of talented fabricators and technicians to do most jobs in-house—a definite bonus for the sake of quality control.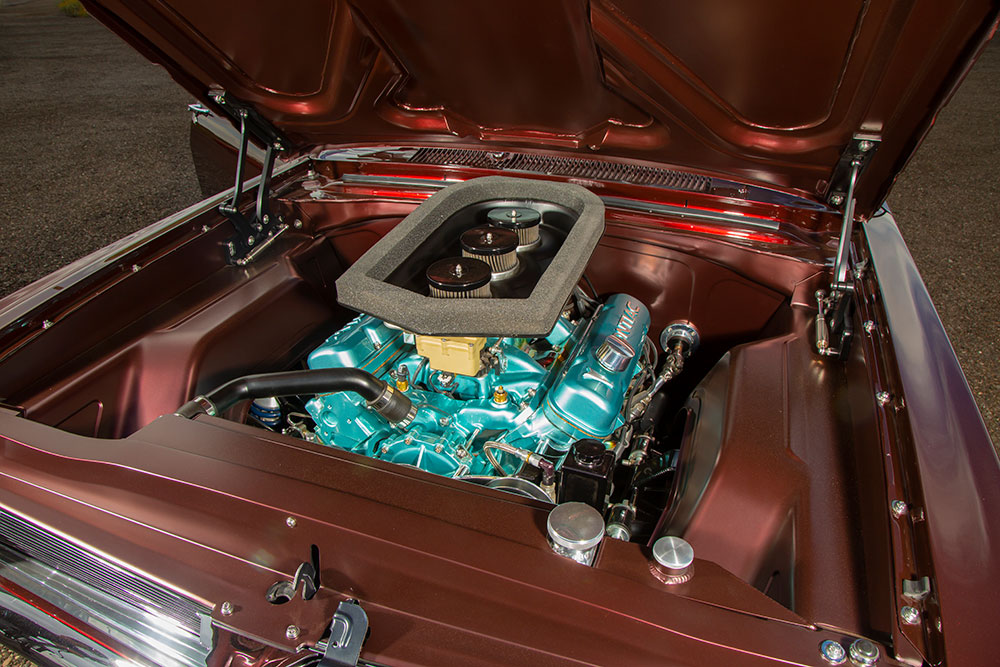 The first order of business for the Hot Rods By Dean crew was to address the Acadian's existing chassis system. They planned on scrapping the entire thing in exchange for a complete Roadster Shop chassis that came loaded with features, such as an Independent Front Suspension setup with C6 Corvette spindles, RS Penske coilovers, power rack-and-pinion, and a rear four-link and Ford 9 inch rear end that would all equate to an unbelievable ride quality at just the right ride height. The job was as in-depth as it sounds, but all the hard work, planning, and cash invested was worth the results.
Read More: The Studillac; a Studebaker Commander with Supercharged Cadillac Power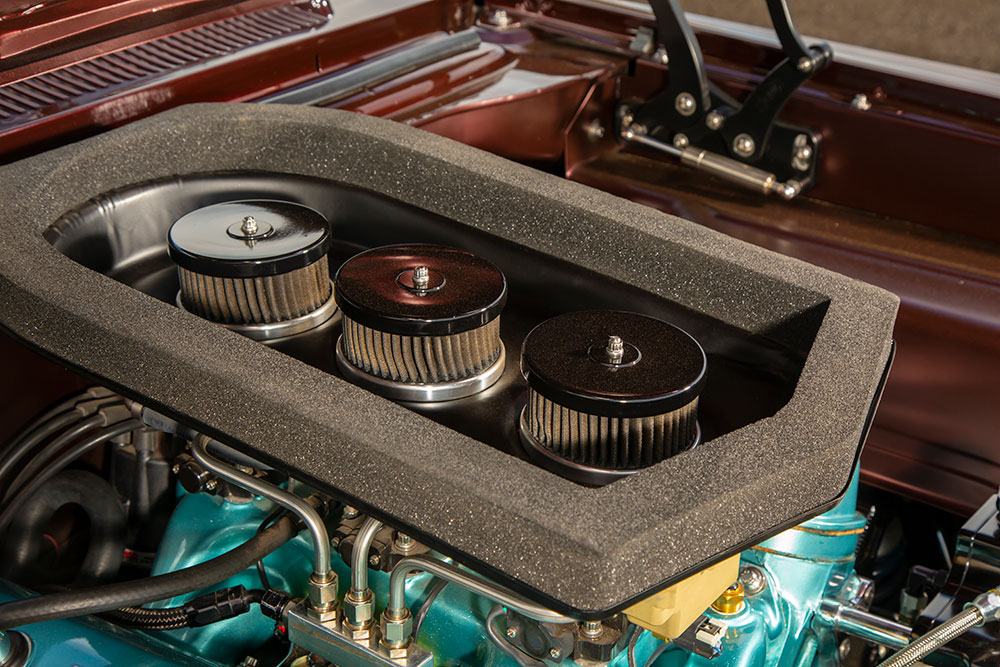 To finish off the updated chassis system, a staggered set of 17×8 and 18×10 Scoundrel Raceline wheels paired with 225/45ZR17 and 285/40ZR18 Nitto tires, were lined up and bolted on. Behind the wheels sit a Wilwood Brake kit including, 13-inch rotors and four-piston calipers for the stopping power this car would need as soon as its new engine transplant arrived.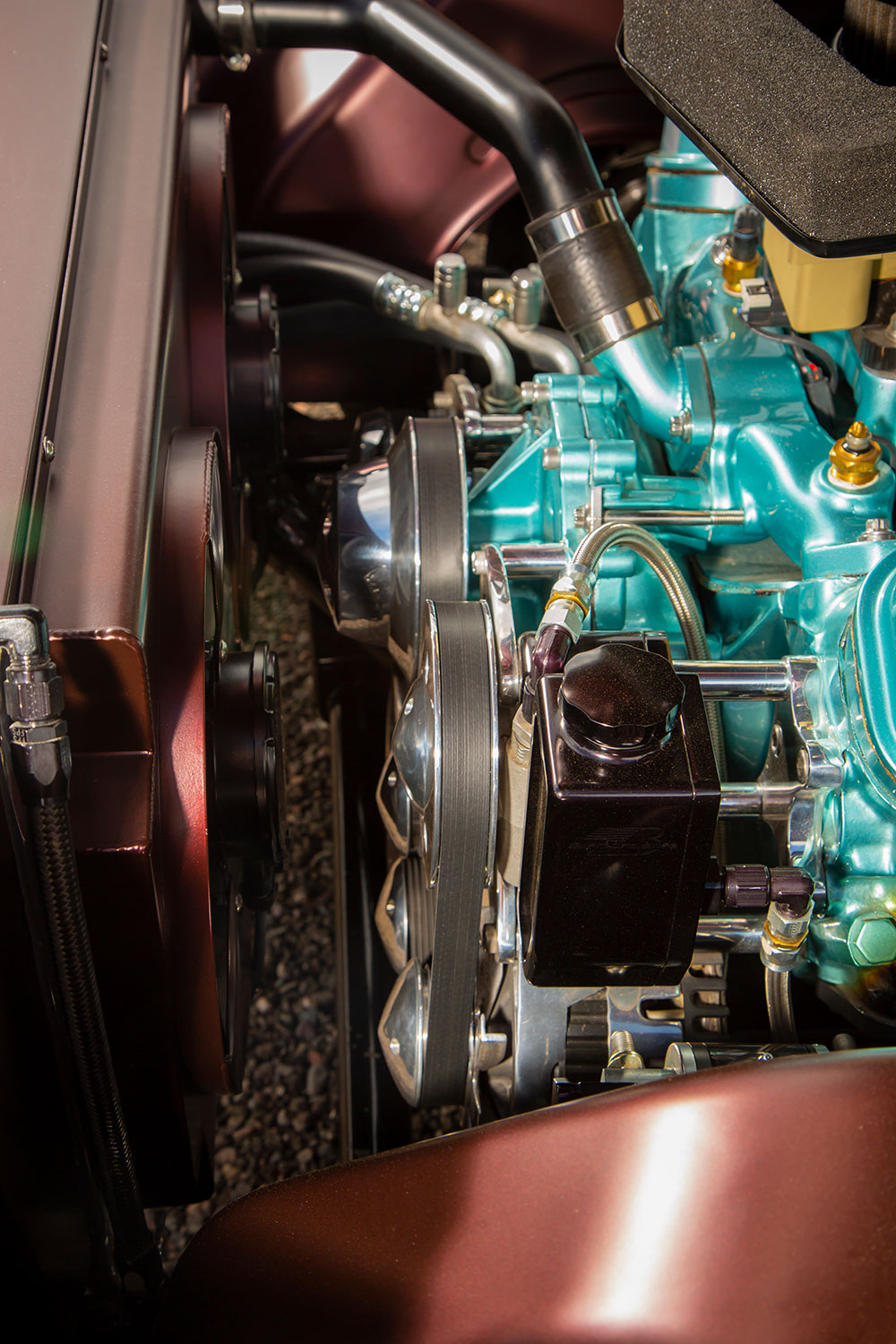 To help propel the Acadian as fast as the Hammers want it to go, Chuck's Speed & RV Center, a performance shop in Phoenix, was called up to deliver a '70 Pontiac 400 ci engine mill to replace the standard GM engine that these Canadian cars were factory equipped with back in the day. While at the Hot Rods By Dean compound, the engine was set into position and the guys whipped up a set of custom headers, exhaust system with a Borla mufflers, as well as a one-off serpentine belt system before putting a 700R4 transmission into place to really put the car in motion.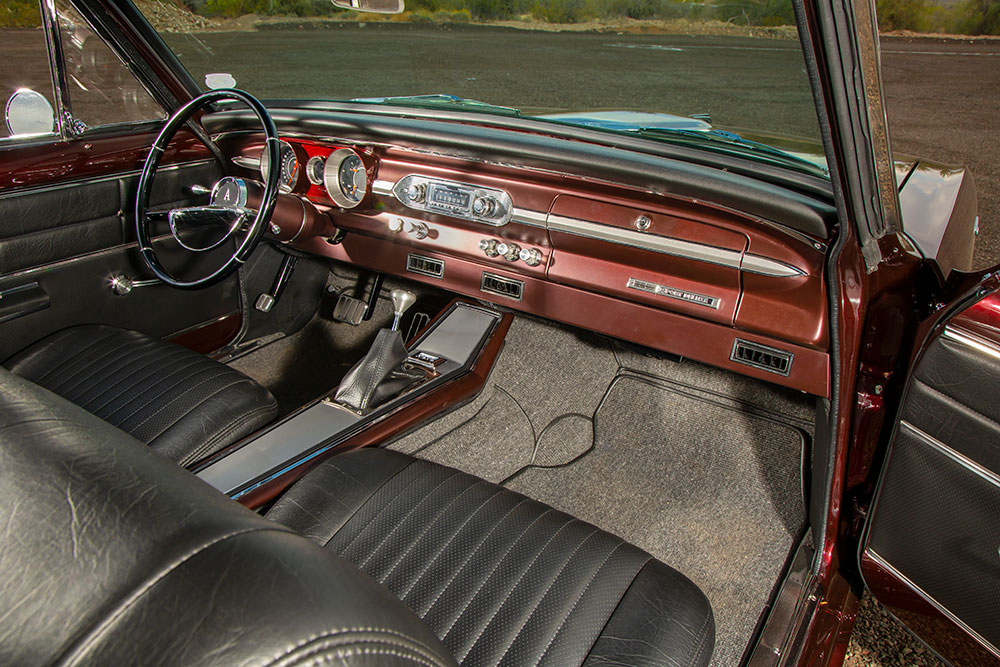 The in-house body and paint department at Hot Rods By Dean was next to get their hands on the Acadian, and boy, they did not disappoint. The entire body was massaged as smooth as can be, and all the gaps were measured and adjusted for a nice, tight, proper alignment from bumper to bumper. A few custom touches in the way of a new fuel filler door, mini-tubs, and inner front fenders, as well as a custom-grafted GTO hood scoop were incorporated into the mix before the custom PPG paint was shot. The color nearly epitomizes a Dr Peppery palette with a mixture of burgundy and brown hues that complement the car's clean lines superbly.
Read More: 1961 Chevy Brookwood Wagon Hot Rod Family Hauler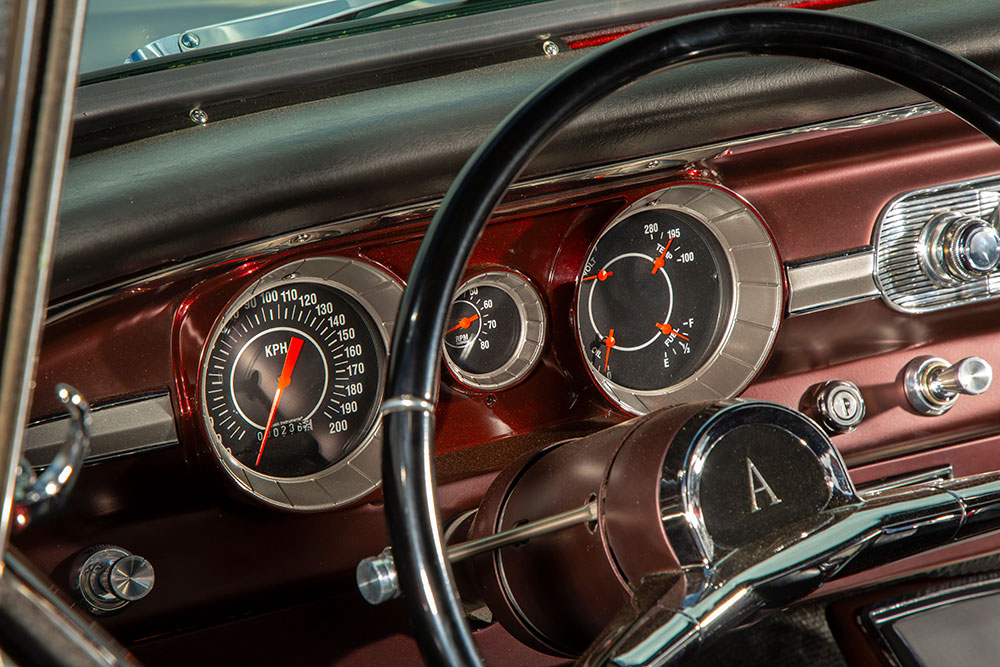 Moving inside the car, the same color paint was applied to the dash and door panels for a clean uniformity. Hot Rod Interiors by Glenn (Kramer) was then hired immediately to wrap the factory seats in supple black leather upholstery. A Vintage Air AC system was added for all-season comfort, a RetroSound head unit and Pioneer speakers were wired up to provide the cruising soundtrack, and a Classic Instruments gauge cluster with metric readouts was incorporated into the dash since the car would be being shipped directly back to Canada as soon as the overhaul concluded.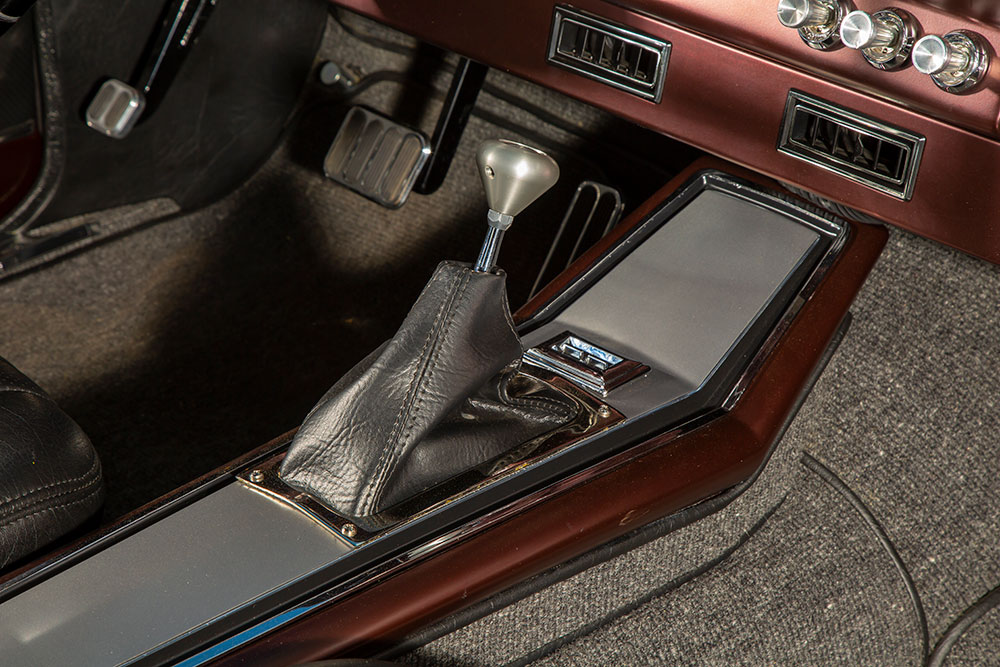 The entire build process lasted a good two years before the Hammers were reintroduced to their dream car. The Acadian name has a ring of rarity to it, and when it comes to the already limited number of these cars, this tricked-out Canso Sport Deluxe now sits atop the lot of them. MR