Divers Street Rods built 1966 Mustang with 5.0 Coyote Power
By Brian Brennan   –   Photography By Brian Woodwick
A lot has already been written about the Ford Mustang, especially the first-generation ('64-73), American-made hot rod. However, plenty more can be said for what individual hot rodders like Michael Newman teaming up with Tim Divers of Divers Street Rods (DSR) of Sultan, Washington, can accomplish. This '66 Ford Mustang Fastback has the right elements to give it staggering performance all the while keeping those classic fastback lines.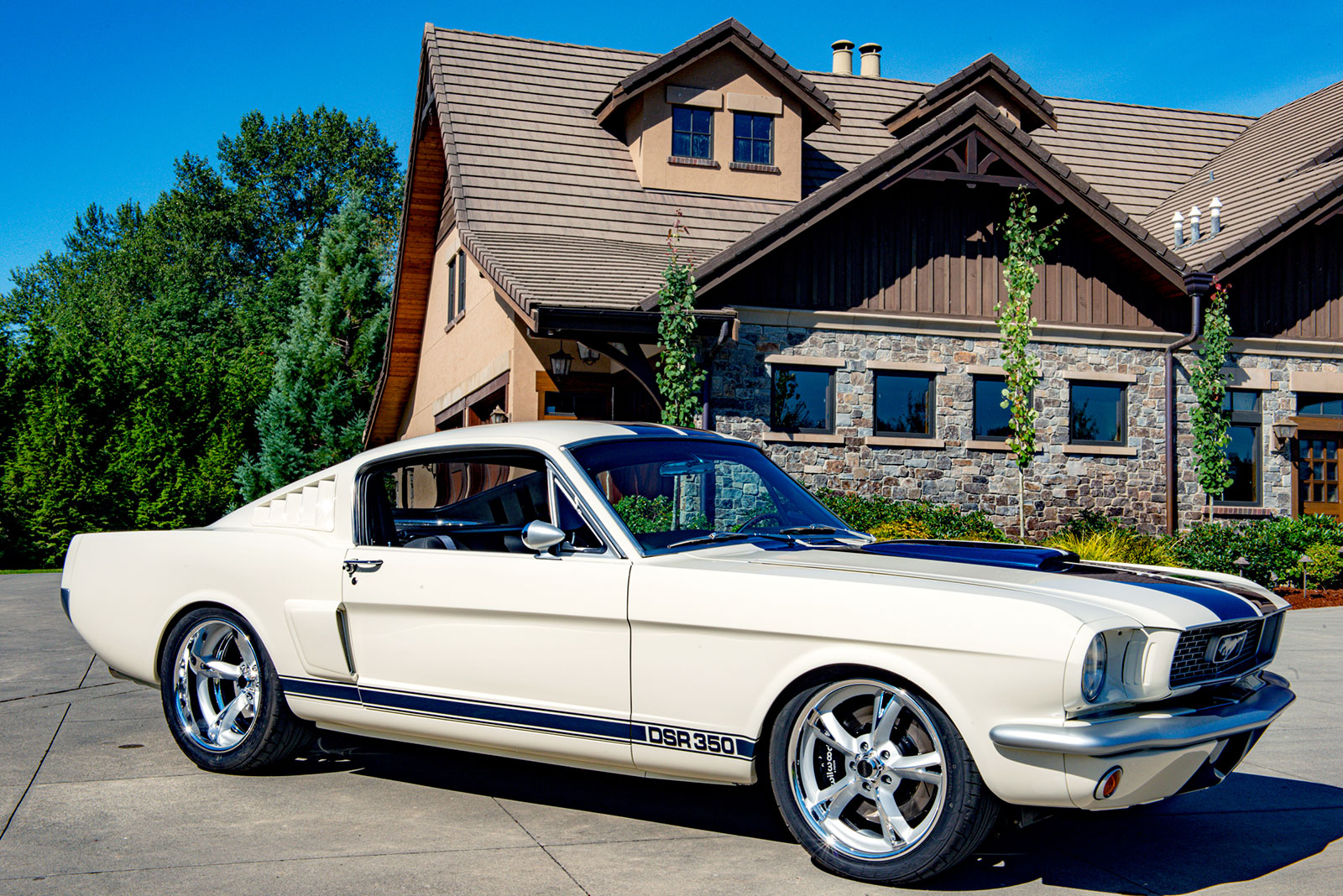 At first glance this '66 Mustang gives all the appearance of the iconic Mustang GT350 with its U.S. international racing colors of a white body with blue stripes. Upon closer examination you realize the "DSR350" is its own moniker. A great side story is how the original GT350 received its badging. According to stories from the day: The GT350 had neither 350 ci nor 350 hp. According to Shelby the name was arbitrary. The distance between Carroll Shelby's two shops was 350 feet. Well, as it turns out, it's 350 feet from Divers' shop to his cigar shed, hence DSR350. (Hey, you can't make this stuff up!)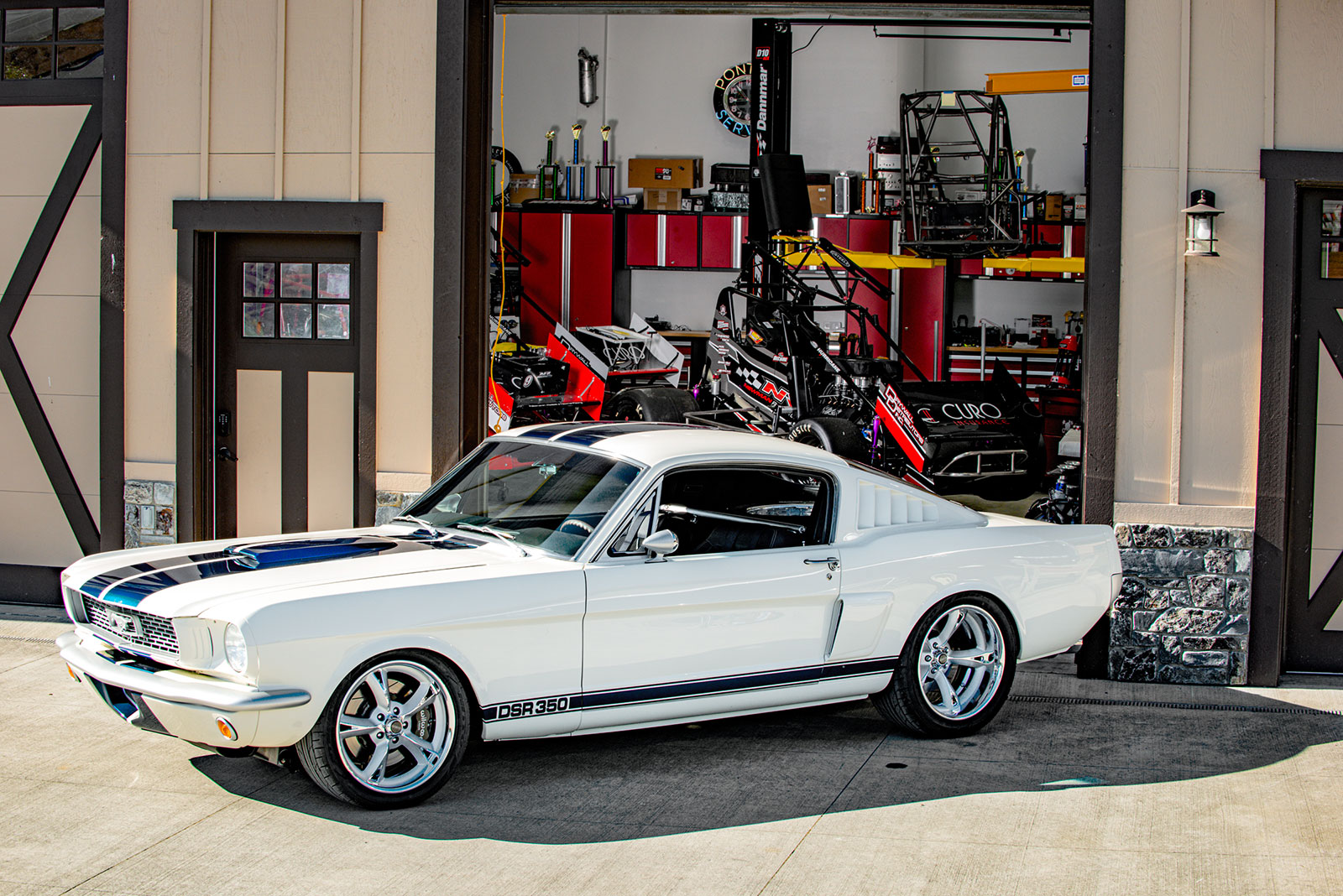 The foundation for this fastback is based on a factory frame that DSR installed, Detroit Speed subframe connectors and then an Aluma-Frame front Independent Front Suspension. The Aluma-Frame is based on a cast aluminum cradle with mounting components coupled with tubular upper and lower control arms, a Detroit Speed rack-and-pinion steering, and aluminum JRi shocks with 400-pound springs. To this a Detroit Speed front sway bar and spindles are now used.
Read More: Daily Driven 1955 Chevy Delray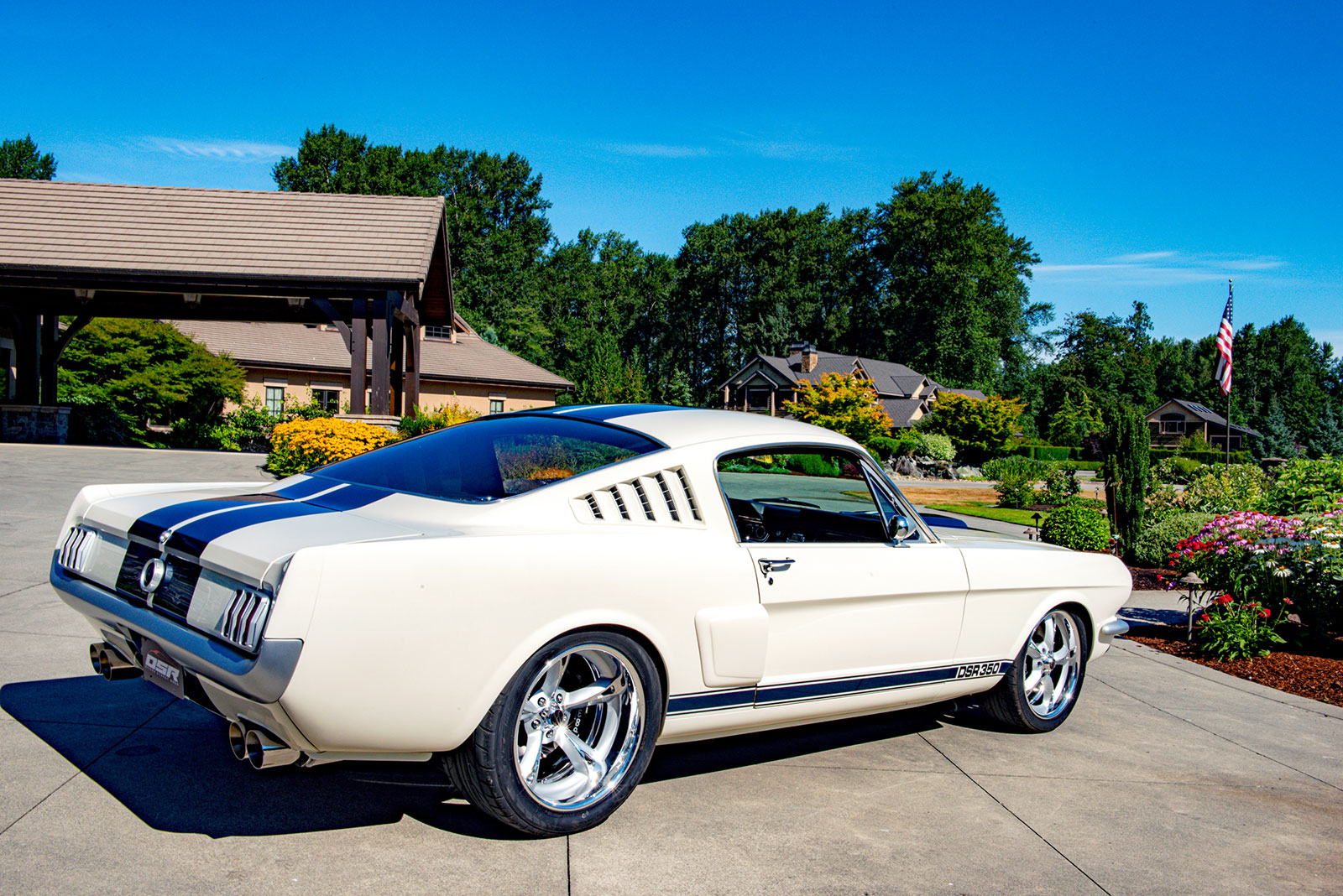 In back the Detroit Speed QuadraLink rear suspension is used that has specific Swivel-Links that allow for pinion angle and/or wheelbase to be adjusted. Long-lasting rubber bushings are used and add to the quiet ride along with a panhard bar, aluminum JRi shocks (175 pounds) that feature black powder coated components throughout. A Ford 8.8-inch differential with a 3.73 gear, Nitro Gear Axle shafts, and a Drivelines Northwest driveshaft are all now in service.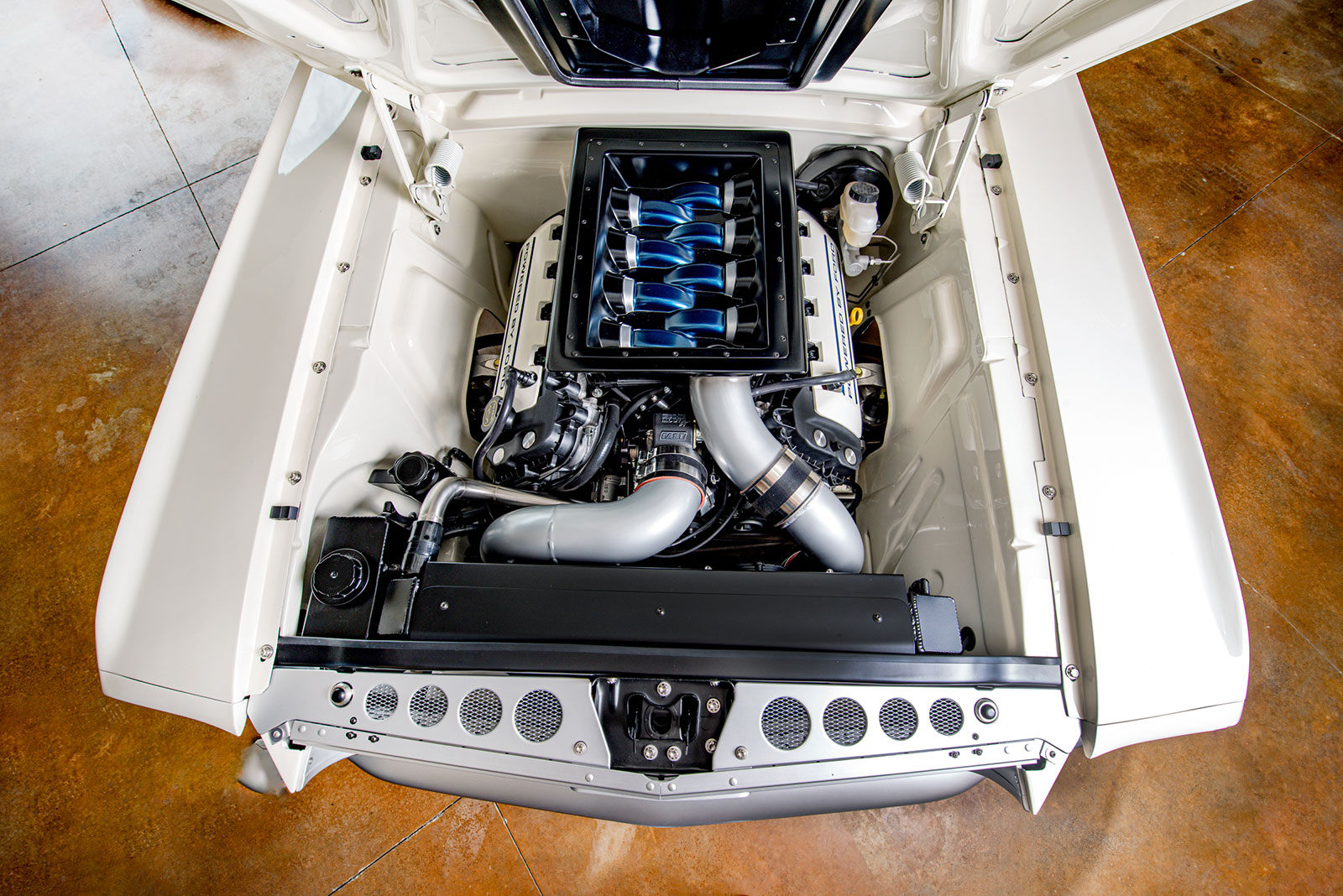 At the corners is a full complement of Superlite black powder coated Wilwood brakes and related accessories. In front six-piston calipers and 13.06-inch slotted rotors are used while in back four-piston and 12.88-inch slotted rotors are pressed into service. Rolling stock consists of Mach V EXL18x8 Schott wheels up front and 18×10 rear wheels wrapped with NT555 G2 Nitto tires, measuring 245/40ZR18 and 285/40ZR18, respectively.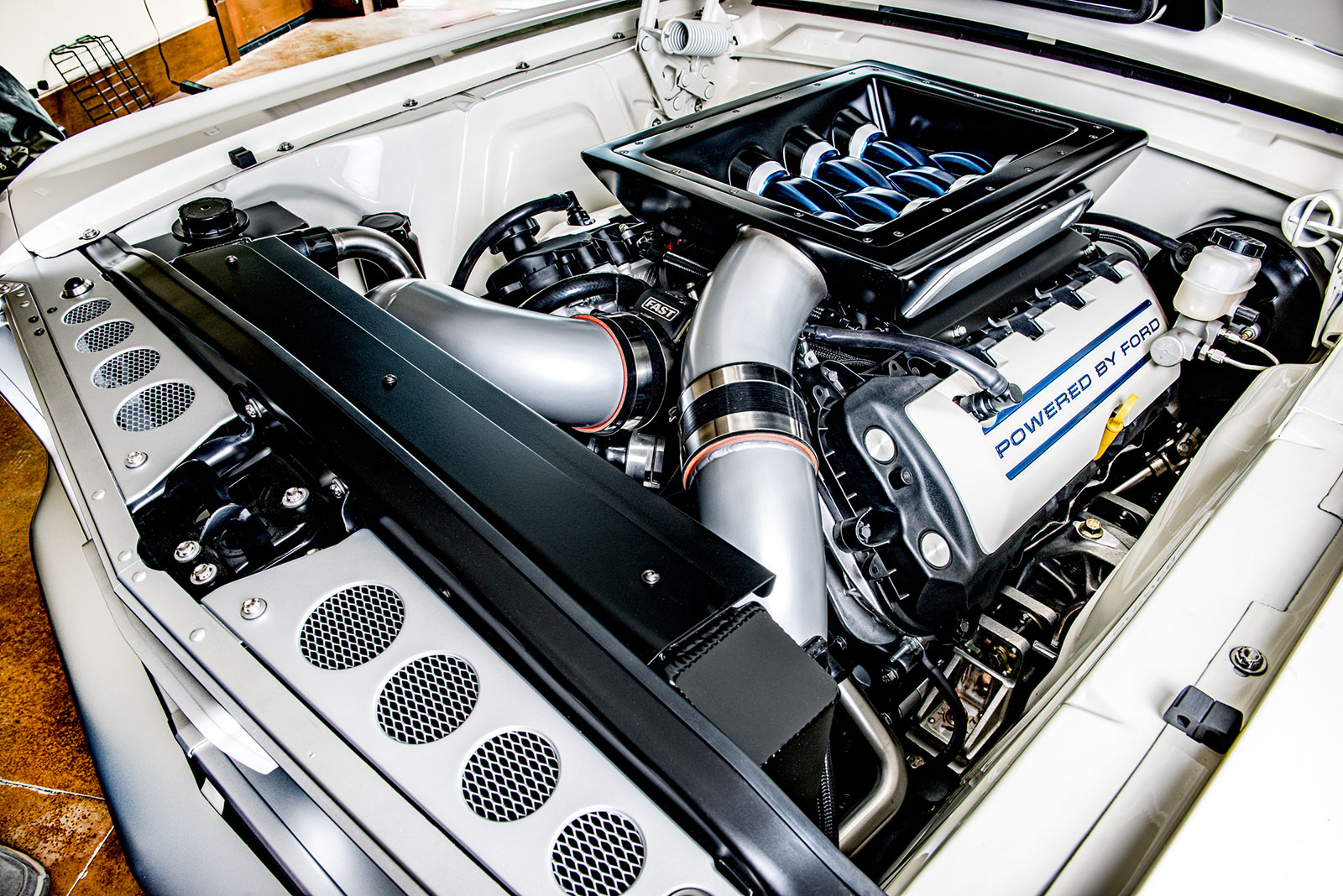 All of this "goodness" is neatly surrounding more power than the original Mustang Fastback was ever intended to have. A 5.0 Coyote V8 engine (302 inches) with aluminum block and heads provides the 500hp "giddyap." Internally, a Comp Cams Stage 2 camshaft is used while a Holley Dominator ECU with a Big Mouth LT 87mm FAST throttle body is mounted up top. The air box is another custom DSR item that is fitted with a K&N air filter. Firing the fuel load are stock coil packs receiving their "juice" from an Optima RedTop battery run through a Race Proven alternator while the spark continues within ACCEL spark plugs. Engine cooling chores falls to a Be Cool radiator, Maradyne electric fan, a Modular Motorsports Racing remote oil filter, and a Setrab Proline transmission cooler. The serpentine belt system comes by way of Vintage Air, and they also supply the cool indoor climes via their AC system.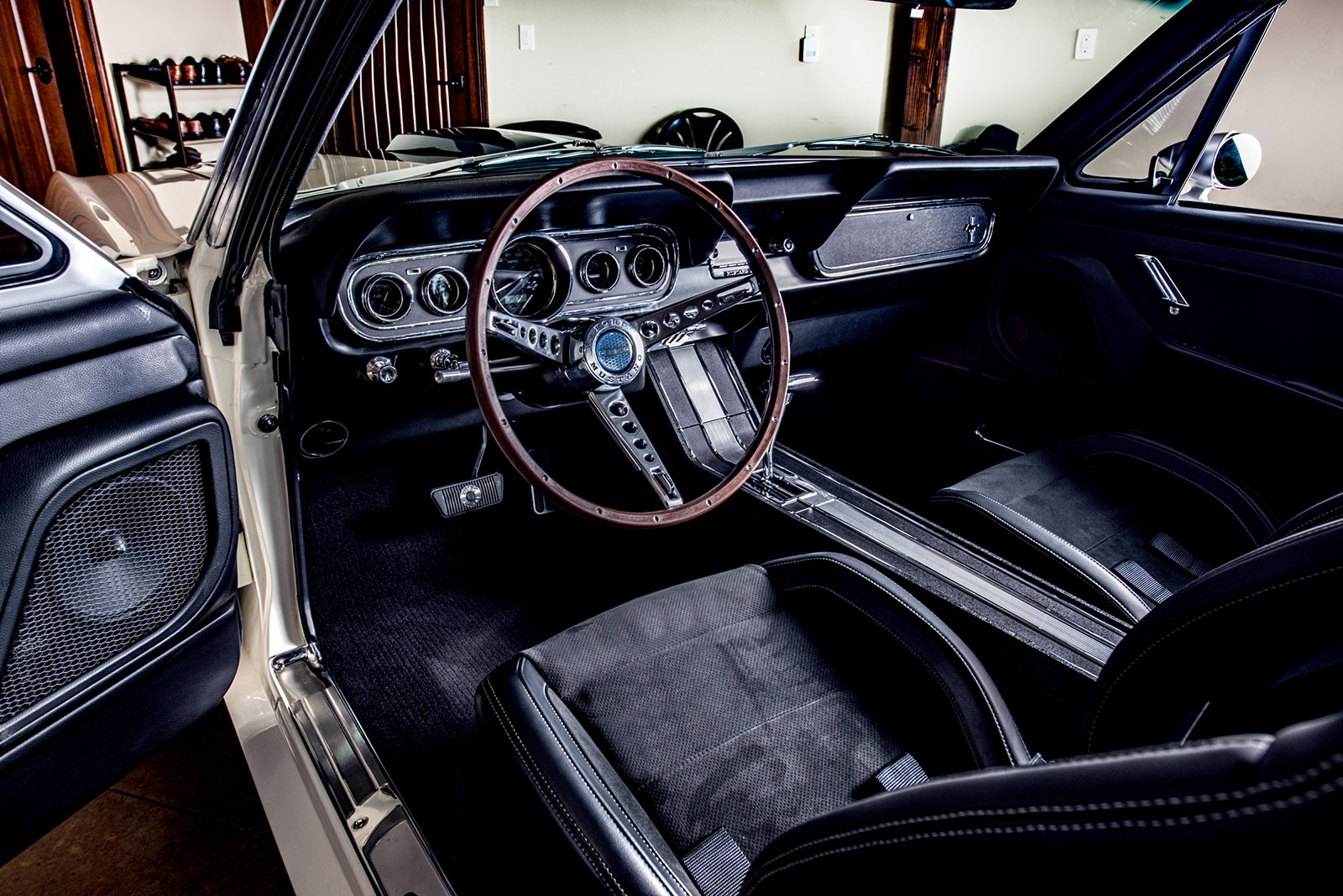 Read More: Flattop's 1932 Ford Roadster
Getting the spent gasses out are a pair of Detroit Speed SS headers, 1-7/8-inch main tubes leading back to 3-inch exhaust pipe all welded up by Ian "Chia" Richards of DSR. From here the exhaust runs through a pair of Hooker mufflers and Hooker Blackheart Attitude Cutouts. Matched to the 5.0 Coyote engine is a Ford 4R70W transmission with a TCS Performance Transmissions 2,000 stall-speed converter with some additional improvements handled by Rick from Snohomish Transmission.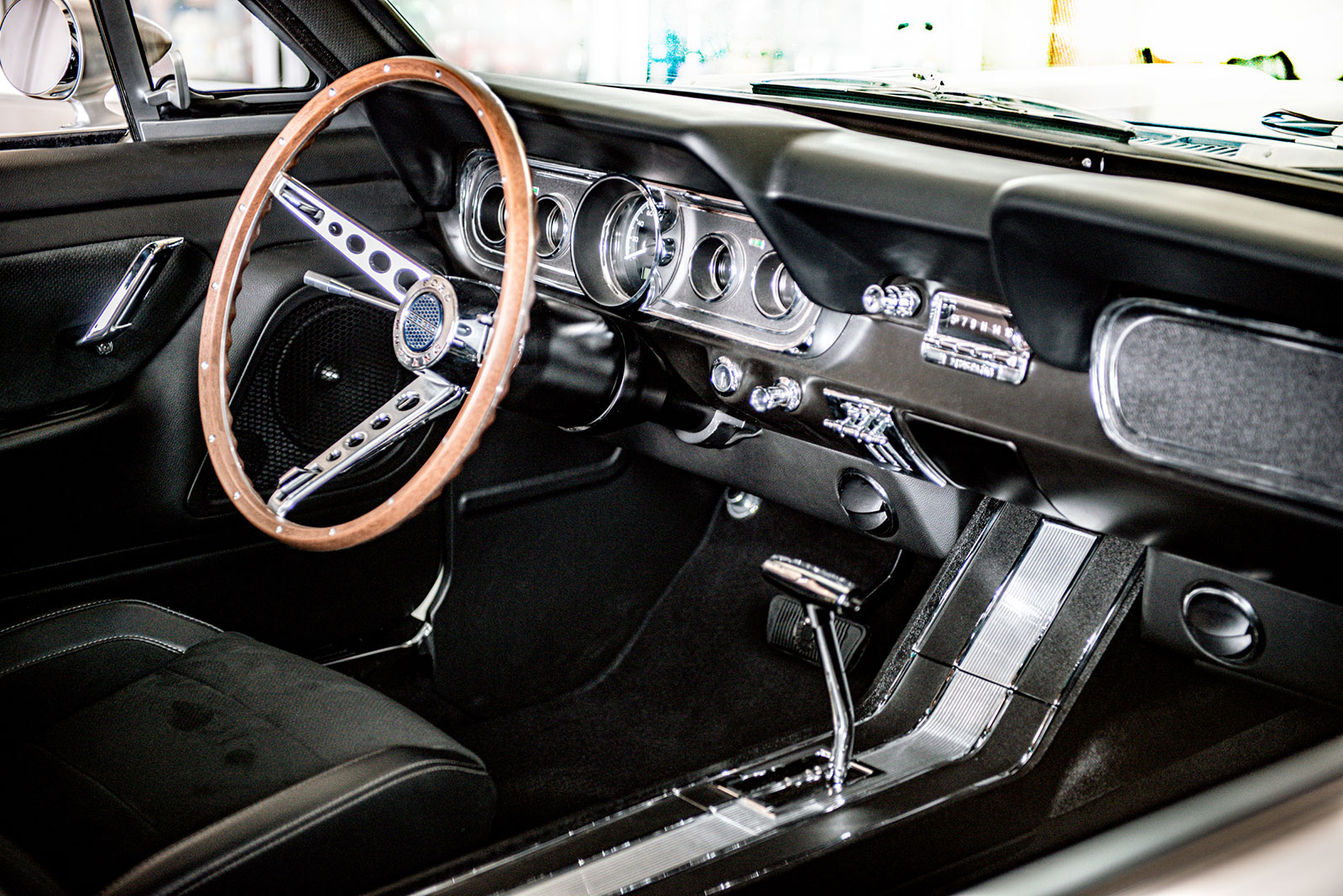 We did mention that this Mustang fastback retains its vintage looks but that's not to say there hasn't been a handful of well thought out modifications performed at DSR. At first glance you may notice that the cold air intake and the hood scoop are tied together while the front bumpers are tucked and smoothed and the rear bumper is flush mounted. The lower front air dam is fitted with a screen as are the side grilles. The distinctive DSR350 badges (lower front quarter-panels) were designed by Shane Burley and positioned over the Sig Schott bodywork and the Rich Thayer sprayed-on PPG Wimbledon White and custom blue mix color used for the main body racing stripes. (Remember, the U.S. international racing colors?) What you might not see, at least not here, are the DSR-installed Detroit Speed gas tank and rear mini-tubs to accommodate the oversized rubber.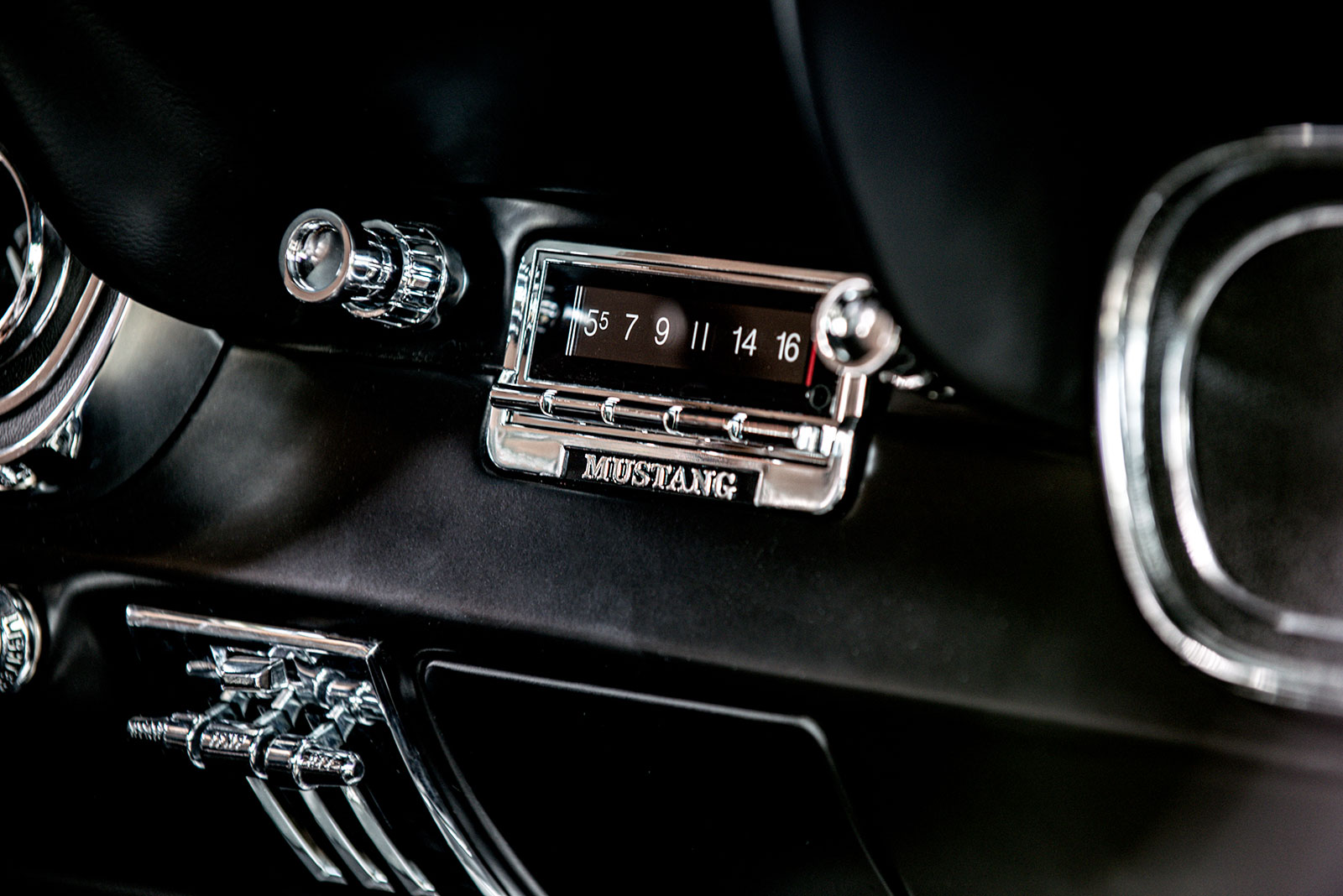 Now, how about a visit to the inside and see what's happening here? A stock dashboard with factory dash pad is used but from here a full complement of Dakota Digital VHX gauges were installed. You may also notice the "factory" radio that comes by way of Custom Autosound. It is a USA-740 that retains the classic look but at the same time comes with built-in Bluetooth and is smartphone compatible. It also packs 300-watt peak power along with USB input. It can even control a remote CD-1 player. Other interior goodies include the Vintage Air heating and air conditioning system, Detroit Speed Selectra-Speed windshield wiper system, a tilt ididit steering column topped with a reproduction wooden three-spoke steering wheel. All the required wiring was handled by DSR.
Read More: Hellcat Swapped 1955 Chrysler 300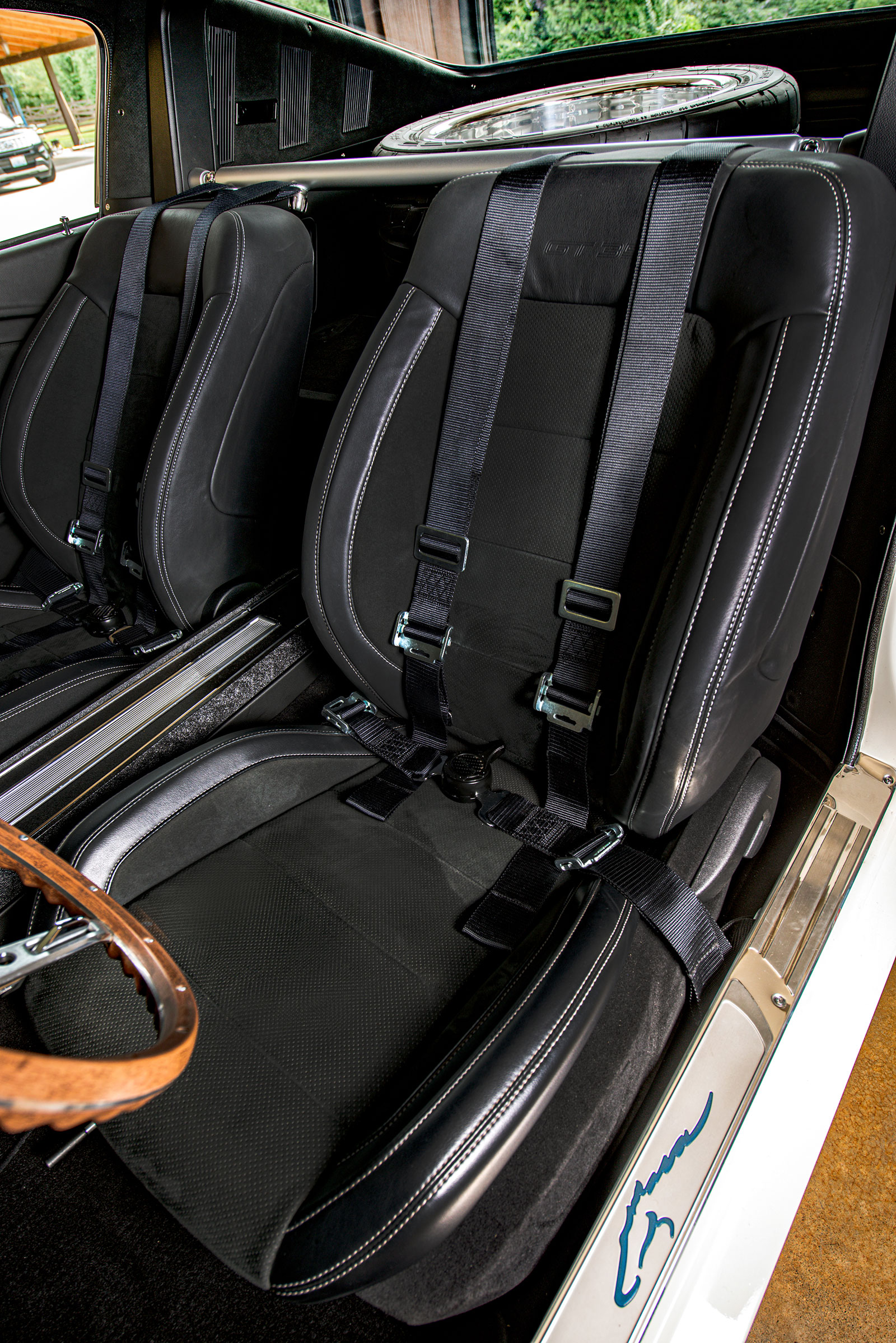 The upholstery comes by way of OEM Ford Alcantara for the seats and headliner and was realized by DSR's own Scott Divers, Tim's brother. Alcantara is a synthetic suede material that is resistant to abuse, long lasting, and easy to maintain, making it popular with manufacturers and gaining in popularity with hot rodders. The seating consists of DSR-modified '15 GT350 front and rear seating. Four-point NRG seat belts were used. Note that the rear seat folds down and has mounting provisions for the spare tire. All of this and more is the handiwork from DSR. Scott fabricated the rollbar and integrated it into the interior as would be found on a Shelby 500 convertible. The door panels are composite pieces that house the stereo speakers as well as the door pulls and door release.
There's a lot to the eye when checking out this '66 Ford Mustang fastback. We would like to think that early Mustang lovers would find this build just what Henry would have ordered … maybe even, Mr. Shelby