Simple Suspension Upgrades & Small-Block Power Provide a Traditional Hot Rod Good Enough for Daily Duty.
By Tommy Lee Byrd   –   Photography by the Author
Growing up around old cars can have lifelong effects. For some, it takes many decades to reach a financial position to invest in a car that takes them back in time. Casey Daniels, a young car guy from Taylorsville, North Carolina, took the accelerated route and bought this 1955 Chevy 210 Delray when he was 25 years old. His dad, Rick, bought a '55 while Casey was still in diapers, and those childhood memories of that car keeps their passion for old cars alive.
Casey found this 1955 Chevy 210 Delray for sale online. He was out of town for an extended amount of time and didn't want it to slip away, so he had his dad give it a once-over. Rick said it was a great car and that he should buy it, so he made the deal without seeing the car in person. Casey said that the previous owner didn't want to sell it to him because he was so young, but Rick assured him that he'd take good care of it and be responsible. It was a long three months before Casey made it back to town, but the ideas were already brewing. The car was a driver but didn't check all the boxes for him just yet.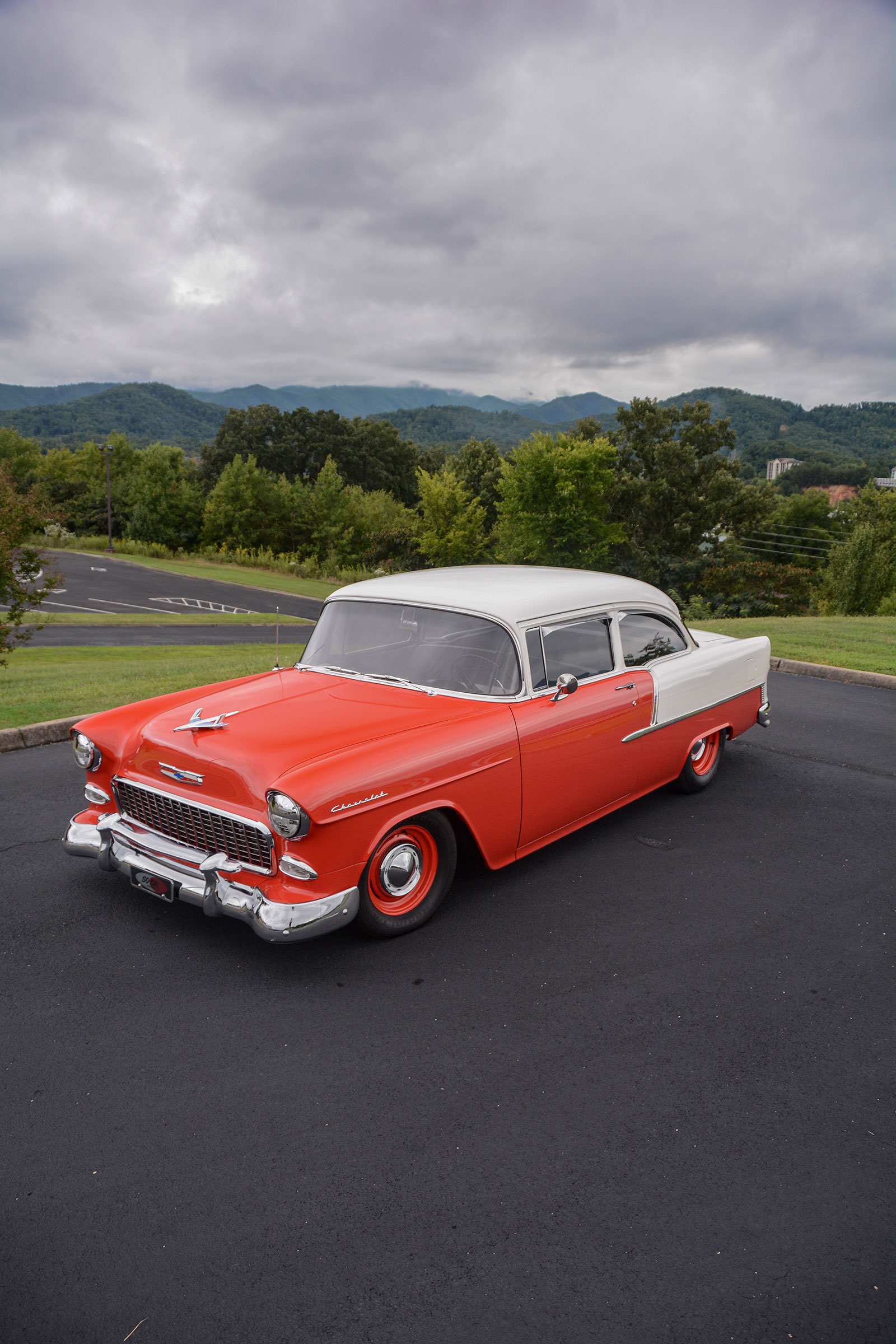 Read More: MetalWorks' Built Tri-Five Chevy
After a few years of owning the car, Casey was ready to give it a makeover, so he gathered up some parts and contacted a few trusted shops in North Carolina to help him make it happen. Deals Automotive handled the suspension upgrades. Casey went with a very simple setup but he wanted to make sure the stance was just right. To achieve the ride height he wanted, a pair of 2-inch drop spindles and 3-inch drop springs take the place of the stock units. It was also a good time to upgrade to disc brakes, a Classic Performance Products 1-inch sway bar, and 500-series steering box. Out back, the '55 still rides on leaf springs, but Deals Automotive removed one leaf and installed 2-inch lowering blocks. The stance is enhanced with a set of Wheel Vintiques OE steel wheels, which measure 15×5 and 15×8 and wear dog dish caps. The body color steel wheels are wrapped in BFGoodrich tires, sized at 215/65R15 and 235/70R15, respectively.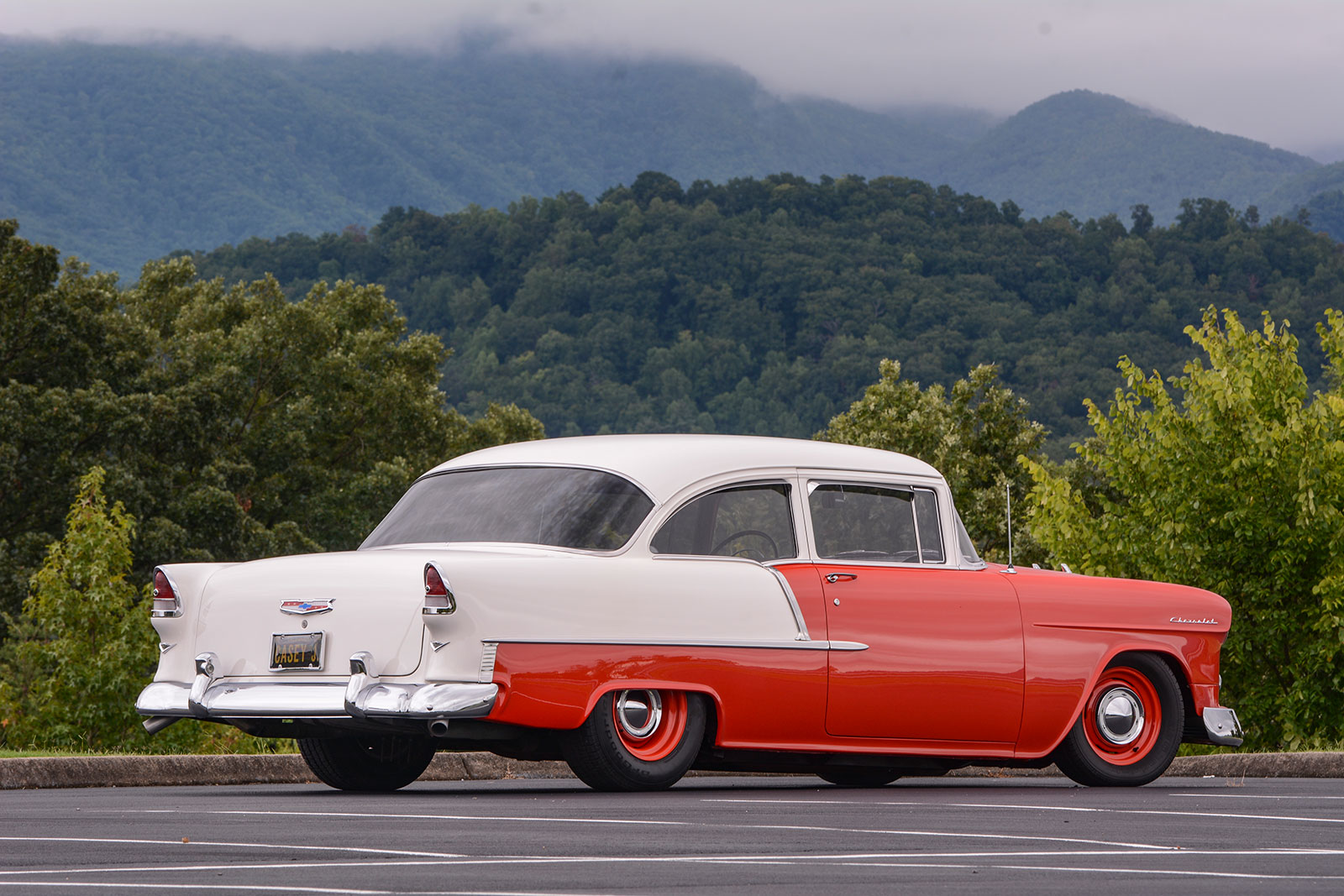 Casey kept it conservative in the horsepower department, sticking with the 350ci small block Chevy that was in the car when he bought it. Although it was in great shape mechanically, Casey and Rick pulled the engine when it was time for the car's makeover. This gave them a chance to smooth the firewall and to properly detail the engine. The trusty small-block features a set of Vortec cylinder heads and a Comp Cams Xtreme Energy 262 camshaft, giving it great performance and a nice idle quality. Fuel comes by way of a 650-cfm Holley 4 barrel carburetor atop an Performer RPM Edelbrock intake manifold, while electronic ignition lights the fire. Patriot headers and 40-series Flowmaster mufflers provide the soundtrack of Casey's youth. Chapman's Garage is responsible for the 2-1/2-inch custom exhaust system. Casey dressed up the engine with all-black accessories, including aluminum finned sbc valve covers and Olds/Cadillac air cleaner. He upgraded the accessories to an Eddie Motorsports S-Drive Raven series serpentine system, which includes an aluminum water pump, compact Sanden AC compressor, and a 170-amp Powermaster alternator. The cooling system consists of an aluminum radiator and electric fan.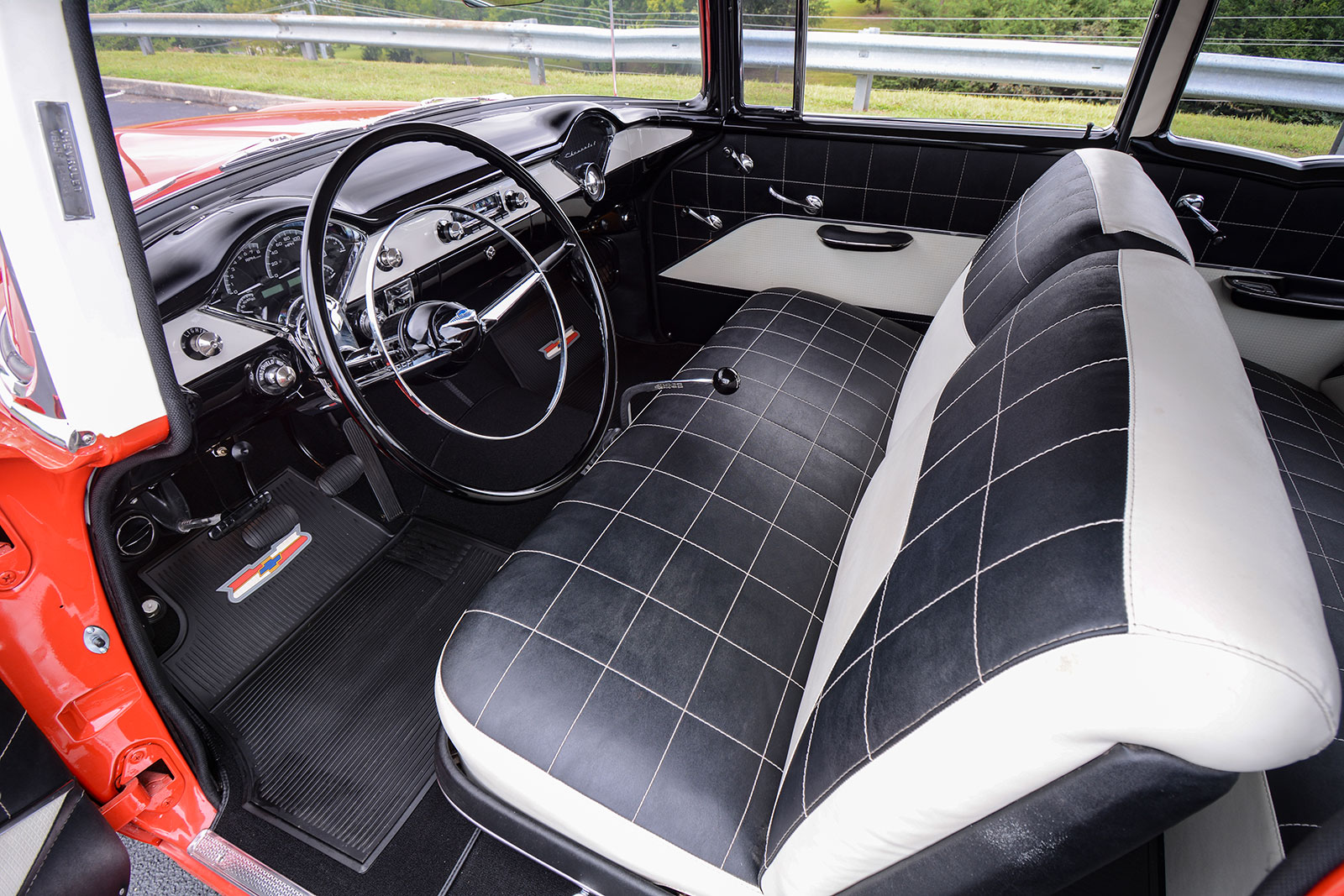 Read More: 1956 Crown Victoria With Ford Big Block Power
Behind the small block Chevy is a TREMEC 5 speed manual transmission that Casey bought locally. The car had a Muncie 4 speed in it when he bought it, but he wanted a little less rpm on the highway. The combination of overdrive and the 3.50:1 gear ratio in the original rear end works out nicely. Casey selects the gears with an old-school Hurst shifter that fits perfectly around the bench seat.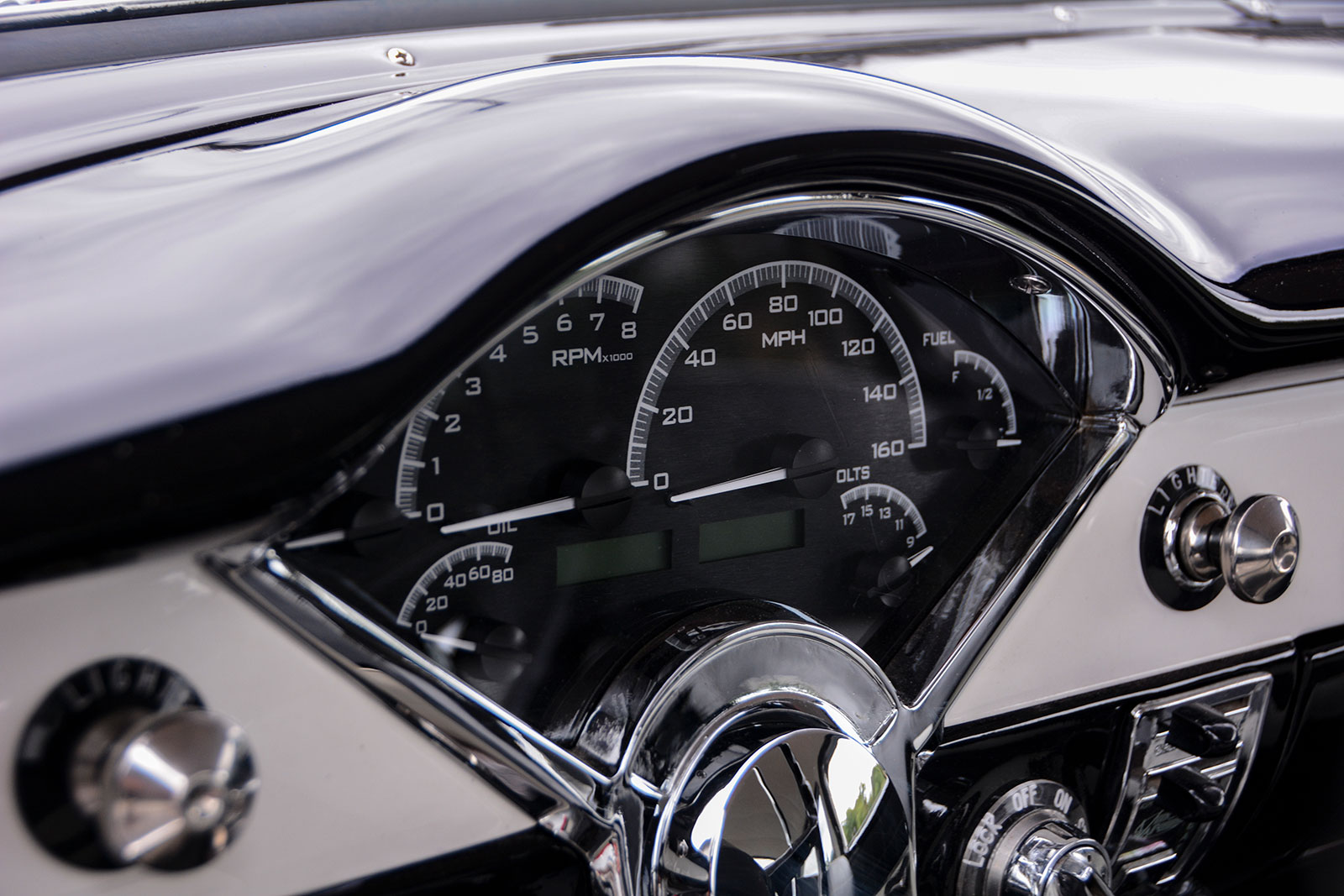 Aesthetically, the car is clean and simple and that's exactly how Casey wanted it. When he bought it, the lacquer paint was cracking but the body was in very good shape considering how long it had been together. Tony Tripplett handled the bodywork, stripping away the old paint and going back with modern urethane materials over the original sheet metal. He straightened the panels and applied Gypsy Red and India Ivory basecoat and followed that with a few coats of clear. He sanded and buffed the materials to a beautiful finish, and then it was time to install all-new 210 stainless trim and smoked glass.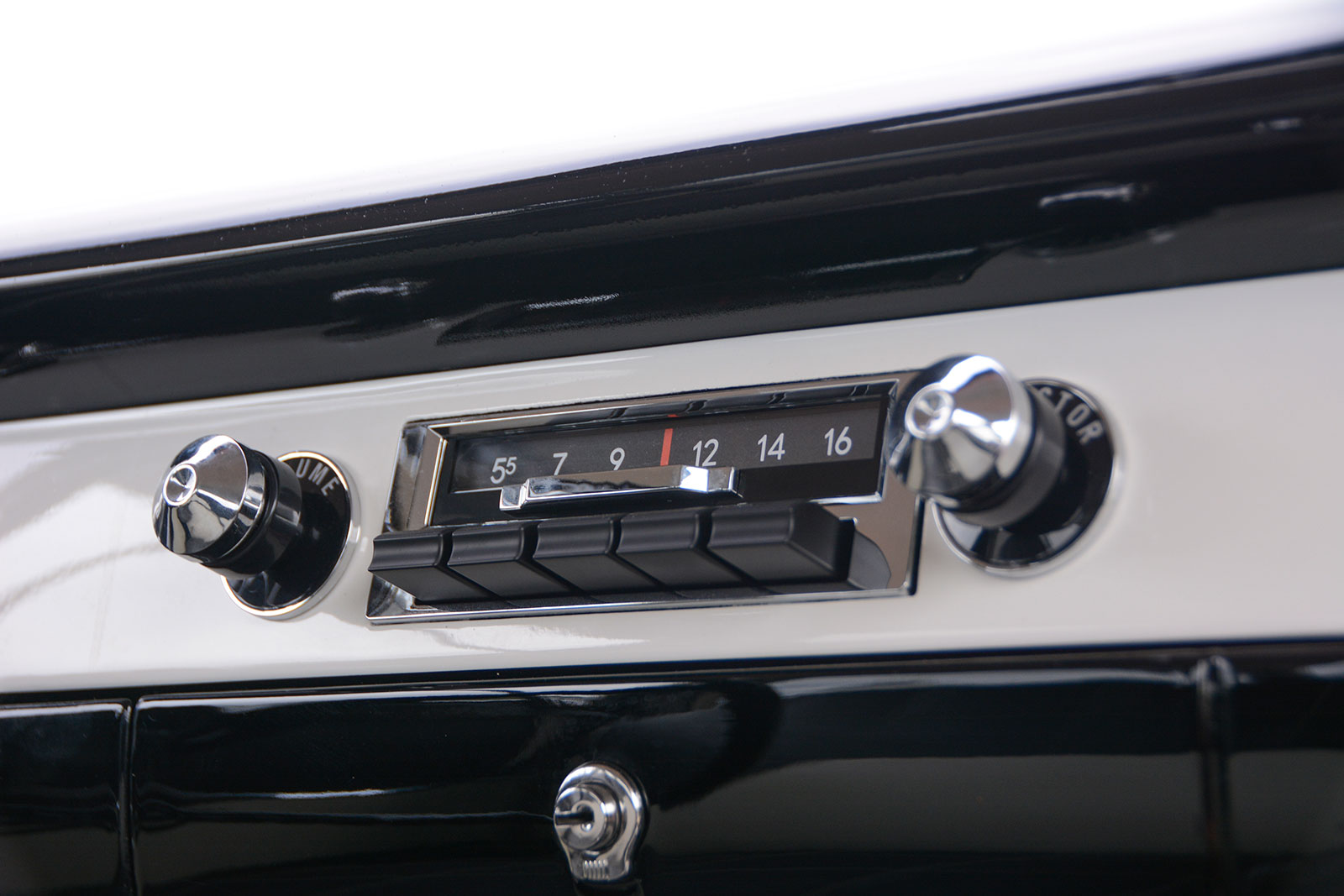 Inside is a mixture of new and old, as Casey retained the Delray seat upholstery and door panels that the previous owner had installed. After a thorough cleaning, the material was in great shape. He did replace the headliner and carpet, giving the interior a fresh look. He also upgraded the dash with Dakota Digital gauges, a Custom Autosound radio, and original-style slider controls for the Vintage Air AC system. An ididit steering column positions the original steering wheel in a nice spot for comfortable cruising.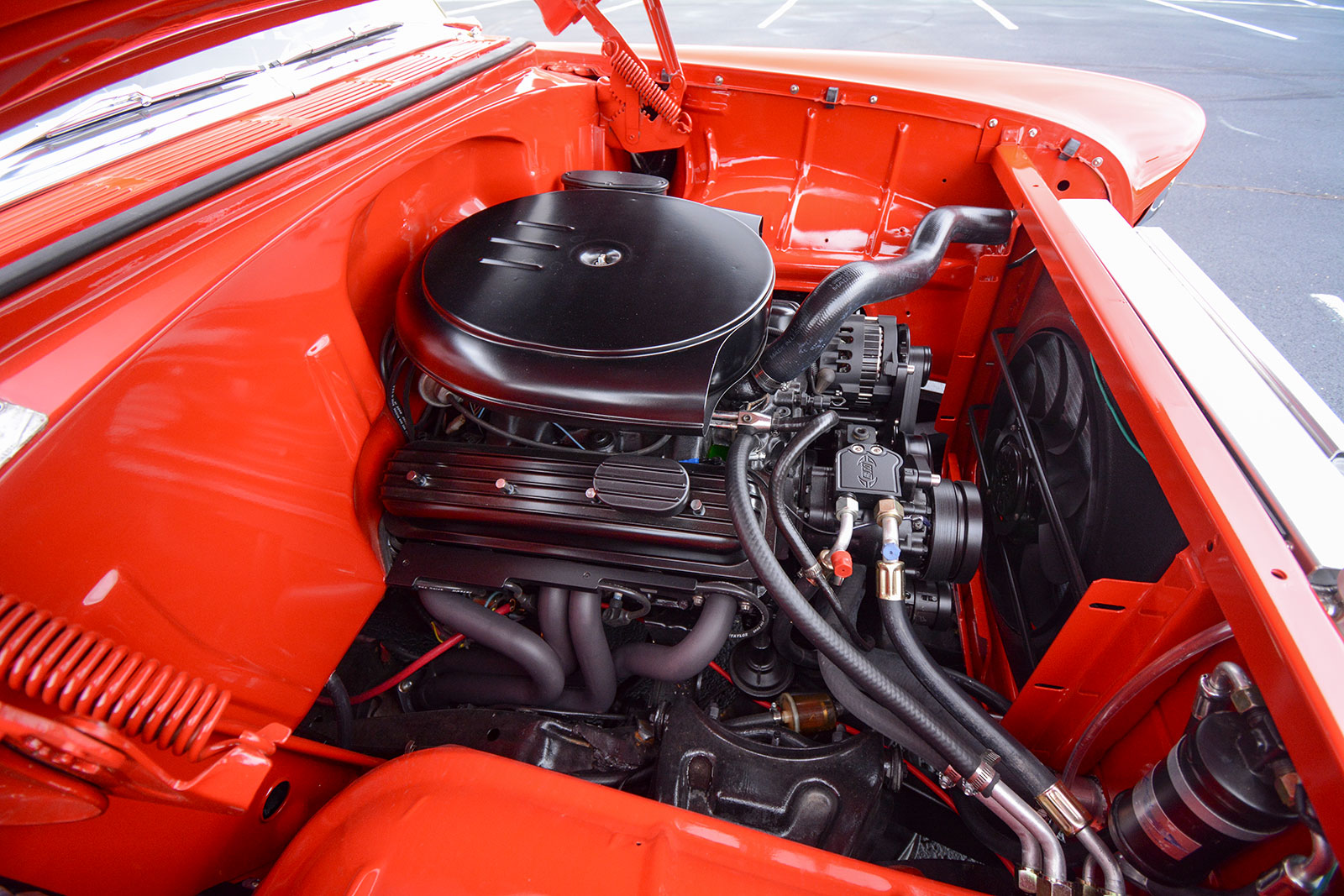 Read More: 1949 Chevy Fleetline With Timeless Design
After a few years of weekends and evenings, Casey and Rick finished the '55 Chevy Delray and immediately started putting miles on it. Father and son made the trip across the Great Smoky Mountains in fall of 2022 for the final Shades of the Past Hot Rod Roundup. The '55 grabbed the attention of the judges with its sanitary appearance and perfect stance, and the result was a highly coveted Top 25 Award. We're certain there are many more awards in this car's future but for now Casey plans to continue driving the car every chance he gets. Even though his dad's '55 Chevy Delray is still in the family, this car gives him the chance to relive those childhood days and start making new memories every time he slides behind the wheel. MR