Taking a Fast Chance on a Bizzarro Barn Find '68 Camaro
By Scotty Lachenauer – Photography by the Author
Web-based auction sites and social media swap 'n' shops continue to be the driving force in the everyday vintage car marketplace. It seems that the quickest way to post, locate, and purchase affordable classic cars and their corresponding parts is on the sites that get the most traffic. They have proven to be the ideal places to grab a part, chat about tech, or, better yet, score a ride that will make your buds green with envy.
Case in point is this bitchin Camaro right here on these pages. Rob Feasel of New Egypt, New Jersey, knows the power of such sites; not only to score cars and pertinent parts, but also to get leads on cars that you might not even be looking for. Feasel is a connoisseur of all things Chevy A-body. The Chevelle is what really drives his lust for classic rides. However, while selling off un-needed F-body parts on an auction site, he got a lead on a freshly pulled '68 big-block Camaro barn find that he just couldn't resist.
"The Camaro's new owner wasn't a car guy, I guess. He purchased a '67 console from me, which he was putting in his '68. He told me he had just bought the 396 Camaro fresh out of a storage unit and that it was an old back-halved race car. I couldn't really tell anything from the pictures he sent, so I just forgot about the car," Feasel states.
Check This Out: Here's a First-Gen Camaro That Packs Plenty of Big-Block Chevy Punch
Imagine his surprise when the same car popped up on an auction site a few weeks later. "From the glaring chrome wheels it was wearing in the photos it assured me this was absolutely the same car," Feasel excitedly states. With only 20,000 miles on the odometer and bearing its last inspection sticker from 1973, this car looks to have been stashed away for over four decades.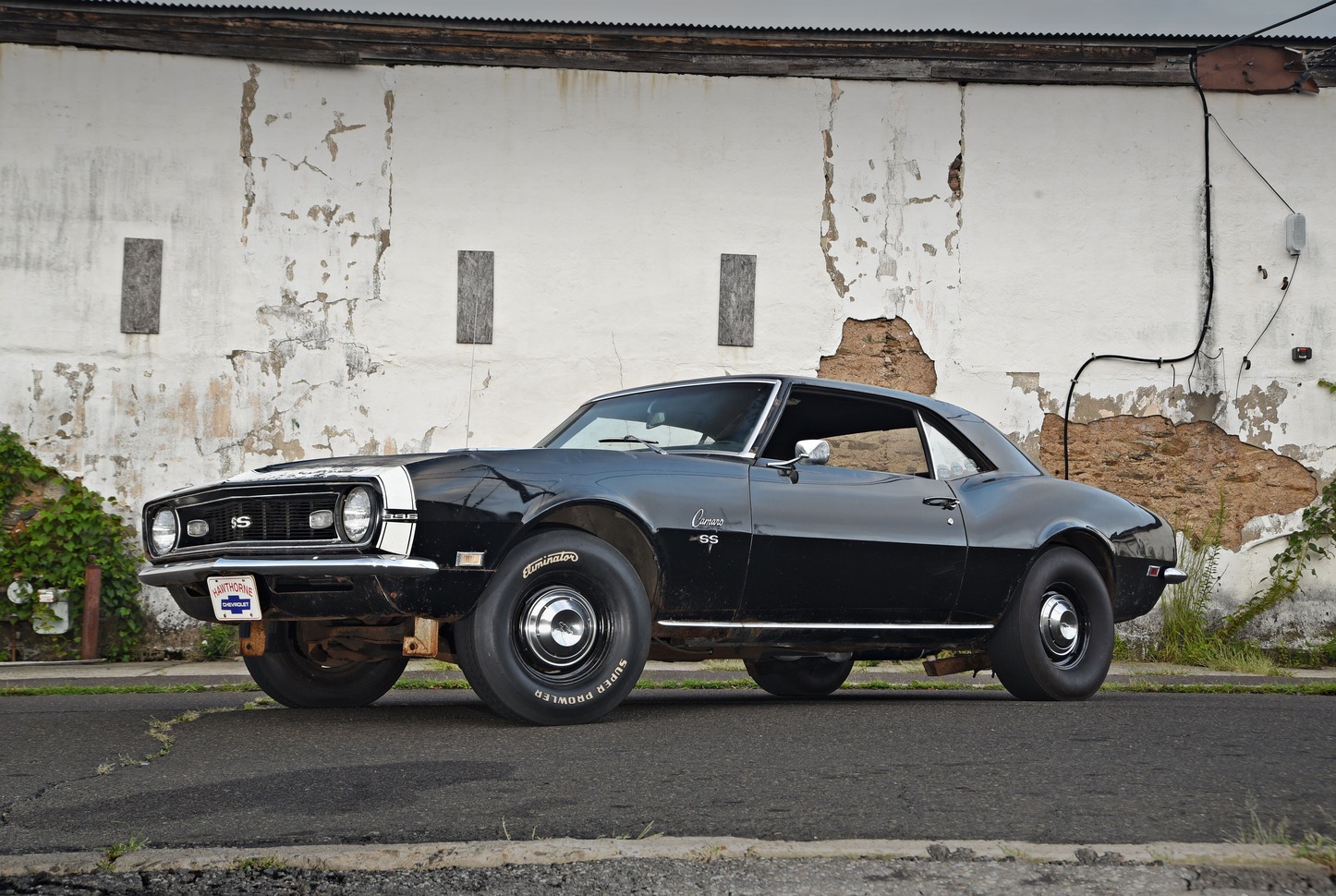 The Camaro's pictures included in the auction were also of poor quality, and it made the auction come across like the seller was possibly trying to hide something. "He once again mentioned that the car was an old racer and that it was back-halved. It just didn't seem right from what I could tell from the photos. I think it scared people away, which was a good thing because it gave me an opportunity to see it in person," Feasel says.
When Feasel got his chance to check it out, he was shocked, to say the least. "Besides the aftermarket wheels, the Camaro looked pretty much untouched. The paint was worn and the floor rusty; not bad for a 50-year-old car living in New Jersey.
Contrary to the owner's belief, the car was not back-halved, just some Lakewood traction bars underneath. I had to hold in my excitement," Feasel reveals.
But it got crazier. "I started looking around the engine bay for any signs of what this car actually was. There was no paperwork with the car, so I had to play detective. First thing I saw was the single 3/8-inch fuel line. Then I hopped underneath and spied the BV rear; a factory 12-bolt, 4:10 geared car. It also had a big-block heater box and the L78-coded intake and carburetor," Feasel discloses.
Read More: Bowtie Boneyard – Crusty Camaros
Then things got even more interesting. "I checked the heads. One was the original L78 piece while the other was the correct L78 service replacement head. I looked down at the block and then the "big blast" hit me. This engine was built with a 512 block, not a 323 like all 396 cars built before January 1968 should be. I concluded that this was probably a CE factory warranty 427 L88 replacement short-block installed sometime during its brief stint on the road. All I could think was, jackpot! I was not 100 percent sure, but I was ready to gamble and make a deal for the car," Feasel says.
Feasel quickly grabbed the Camaro. Once back at his place, he continued researching the car. "I sent out for the NCRS on the car. Turns out it was ordered and delivered new to Hawthorne Chevrolet in Hawthorne, New Jersey. This 1928-established dealership was known for engine conversions during the glory days of muscle cars. I actually found a few ads from back in the day," Feasel points out. Also of interest was the build date. Turns out the replacement heads and block were dated about six months after the build date.
"So, what I figured is that the first owner blew the engine within its warranty period and brought it back to Hawthorne. They probably offered him an upgraded short-block and then the dealership rebuilt the engine using the original parts that were salvageable. No hot rodder would replace just one head and keep the original carb and intake as well. That doesn't make sense to me, so it was probably a dealership repair. I can't be positive without paperwork, but that's what I figure," Feasel contends.
After some time with the Camaro, Feasel got a lead on an LS5 Chevelle convertible. To free up funds, he sold the Camaro to a longtime friend Dave MacConnell, proprietor of U.S. 1 Auto Sales and Service in Penndel, Pennsylvania. Dave is a longtime Chevy connoisseur who had always wanted an L78-powered Pony ride.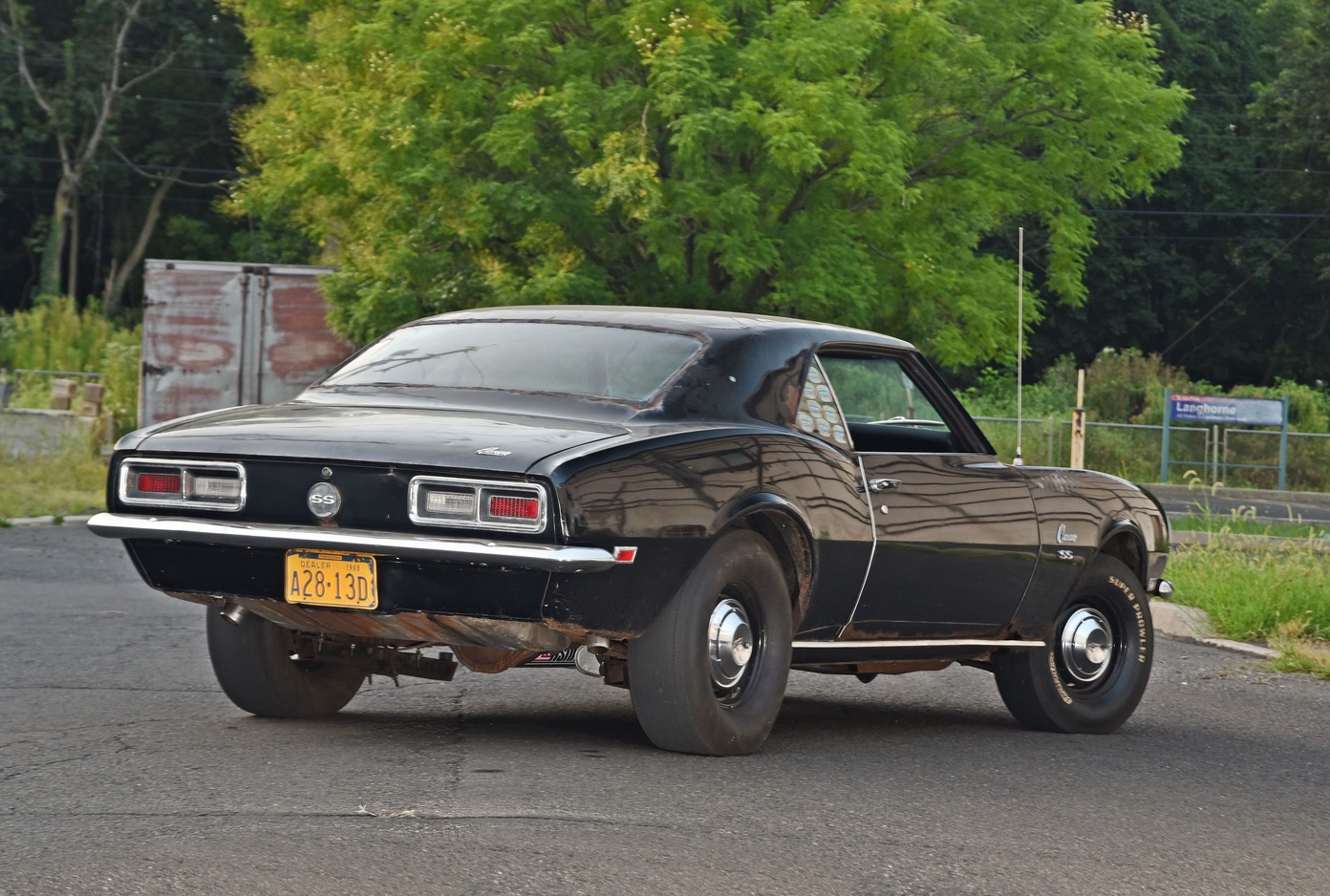 Once in his possession, Dave cleaned up the car and put proper steelies and "dog dishes" at the corners. "I also installed a new oil pump, rebuilt the carb, and replaced the fuel hoses. Next, I cleaned out the radiator and replaced the water pump, along with the hoses and thermostat. Lastly, I added a new brake master cylinder and replaced all the wheel cylinders," Dave states.
Of course, there was the interesting block that this L78 was based on. "I decided to drop the oil pan. There I found an octet of L88 pistons connected by the correct set of L88 rods and crank. [Feasel]'s guess that this was a replacement L88 short-block was correct," Dave reports.
Interested In Seeing More: Refreshing Our Camaro's Steering and Brakes With Parts From Duralast
The car has since been looked over by renowned Camaro master Jerry MacNeish who certified it as a true L78 car. Along with the fact it is an original four-speed, Tuxedo Black car, and you've got yourself one rare ride. For good measure, add in that L88 dealer-replaced short-block and you've got a barn find keeper that will continue to impress the Chevy diehards for years to come.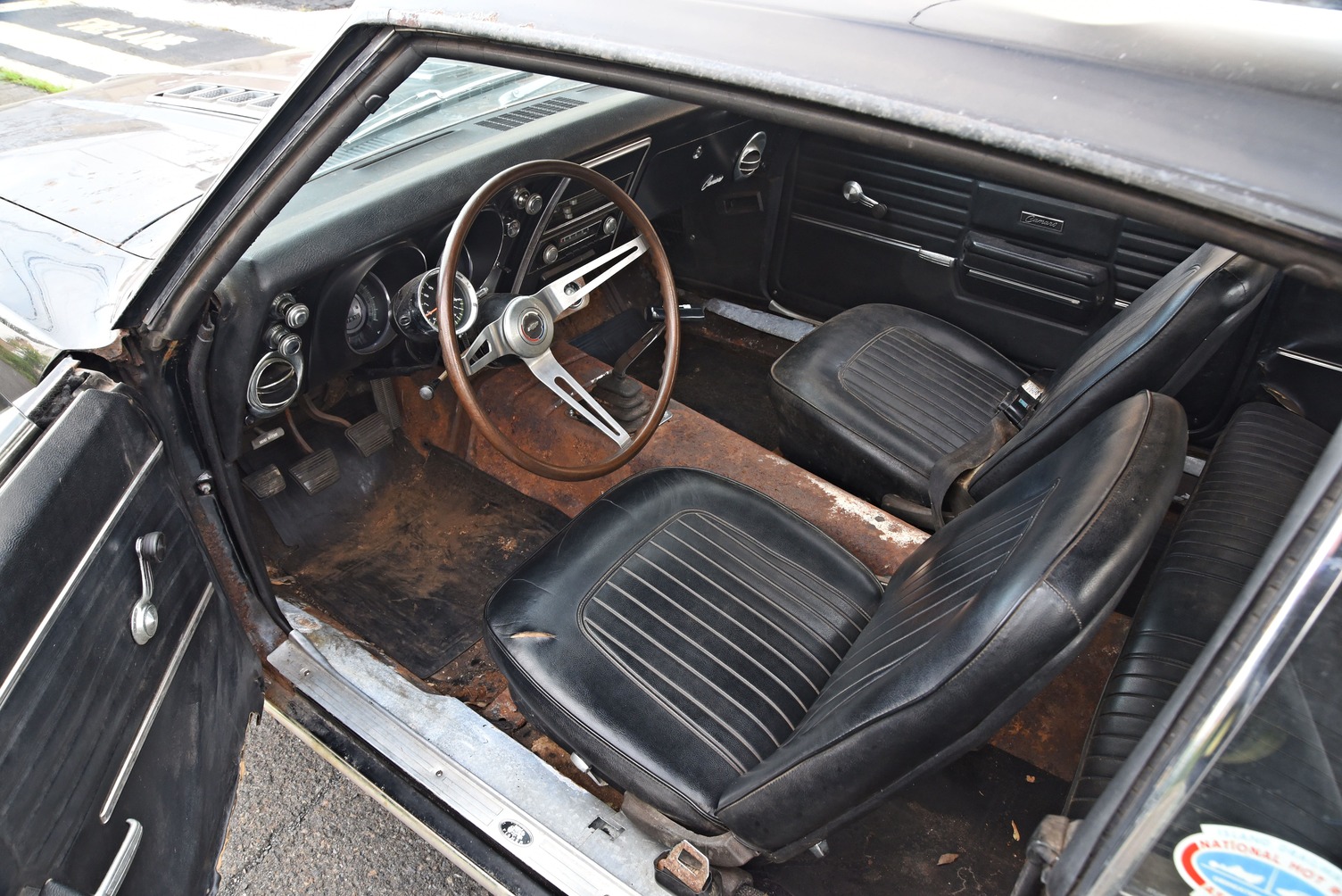 As for Dave, well he's got the ride he's always dreamed of. "I've spent years looking for a cool L78 Camaro, but I could never pull off the deal," Dave maintains. "This Camaro is an incredible piece of Chevy history. The car was flat towed to the racetrack on the weekends and is a class winner. Check out the Island Dragway stickers in the back windows. With its 12:1 compression, factory 375hp square-port heads, and 4:10 gears, this ride is back to breaking hearts and taking names."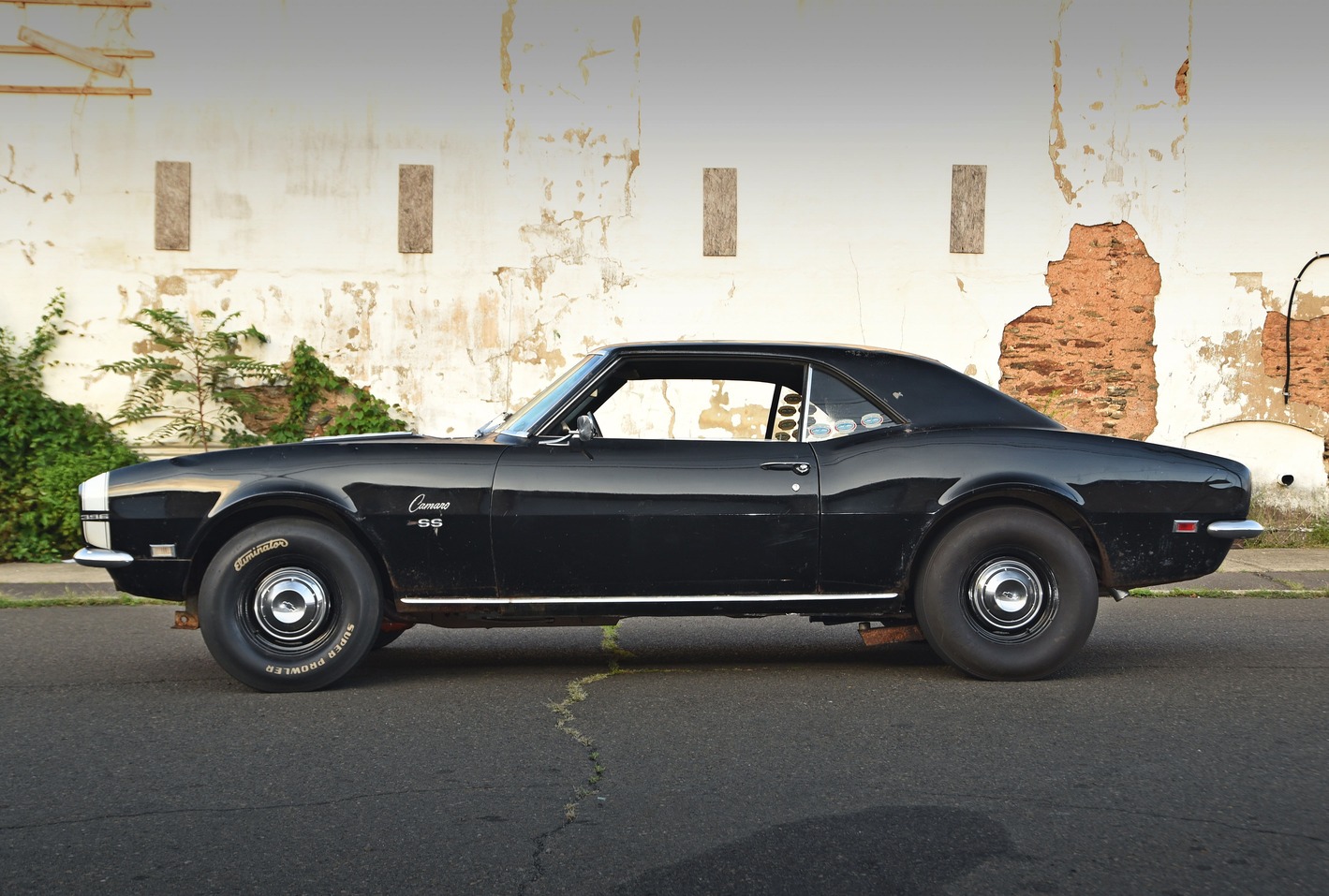 TECH CHECK
Owner: Dave MacConnell
Vehicle: '68 Camaro SS
Engine
Type: Big-block
Displacement: 396 ci stock, now 427 ci
Compression Ratio: 12:1
Bore: 4.25
Stroke: 3.76
Cylinder Heads: L78 square-port heads
Rotating Assembly: Forged steel crank, forged connecting rods, domed pistons
Camshaft: Stock L88 solid lifter camshaft
Induction: Stock aluminum high-rise L78 intake, Holley 4150 780-cfm four-barrel
Exhaust: N.O.S. Hush Thrush mufflers
Built By: Hawthorne Chevrolet
Tuned By: Dave MacConnell
Drivetrain
Transmission: M22 four-speed
Rear: Chevy BV 12-bolt with 4:10 factory gears
Chassis
Steering: Stock
Front Suspension: Stock
Rear Suspension: Stock with Lakewood traction bars
Wheels & Tires
Front: Stock Chevy 14-inch steel wheels, Super Prowler Eliminator polyglas F-70
Rear: Stock Chevy 14-inch steel wheels, Racemaster 800/8.50-14 tires
Interior
Seats: Stock
Upholstery: Stock
Gauges: Stock with Stewart-Warner tach and gauge pack
Steering Wheel: Stock wood-rimmed wheel
Carpet: None
Shifter: Hurst
Exterior
Paint: Original Tuxedo Black
Hood: Stock
Grille: Stock
Bumpers: Stock
Extras: Tow tabs, lots of patina!