Richie Strauss' Classic 1955 Chevy Bel Air With Tri-Power
By Chuck Vranas   –   Photography & Videography by the Author
It doesn't matter if your car was pro-built, crafted in a home garage, or recently purchased on the used market, evolution will naturally follow as the years pass by. The classic 1955 Chevy Bel Air laid out across our pages, owned by Richie Strauss of Westwood, Massachusetts, is once such car that's traveled through the time tunnel with a great story to tell since being originally built by the talented team at Classic Resurrection in Grove City, Ohio, well over a decade ago for longstanding client Michael Haughn of Columbus. Thankfully, the Bel Air had spent its entire life in California and was never subjected to the horrors of East Coast living where steel gets ravaged on a yearly basis from harsh winters and road salt.
Read More: 1955 Chevy Bel Air Convertible; Sight Unseen Hot Rod Build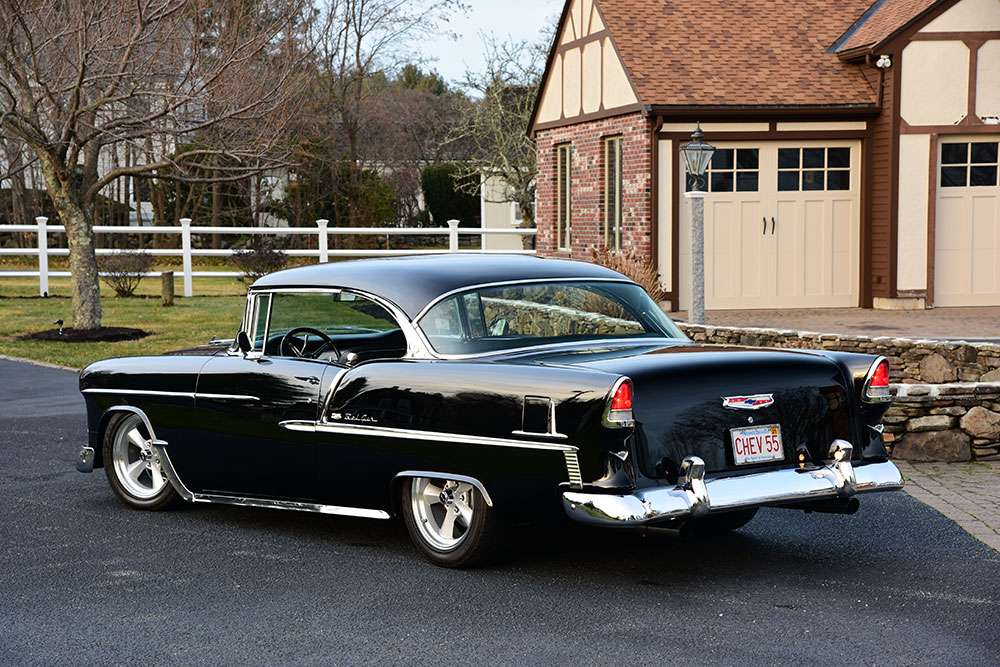 One of the coolest things about hot rodding is that once a build hits the streets, it can continue to evolve after the owner starts laying down the miles. It's a rare moment in time where you can consider a hopped-up car ever really done thanks to an endless stream of innovation arriving on a regular basis from the aftermarket incorporating the latest technology into everything from engine performance to chassis and suspension dynamics, advanced braking, interior comforts, and electronics. Automotive performance being the backbone of our hobby lets us fuse the latest and greatest advancements into our rides.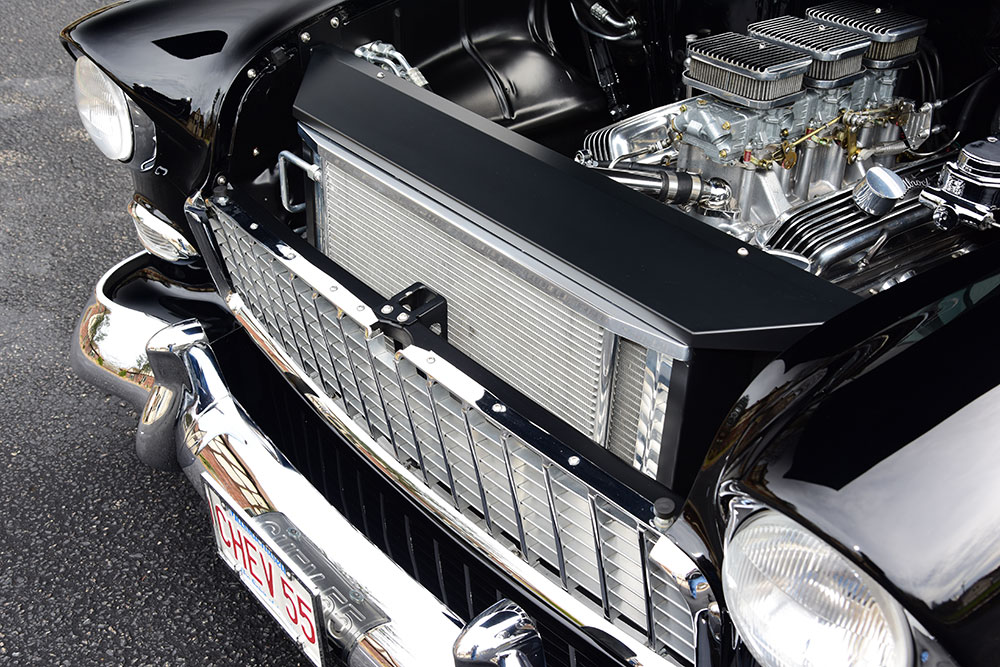 It's easy to see that Richie had all the right tools for following a performance path growing up especially since his family home was only a few miles from the legendary Norwood Arena where the sounds of un-muffled V8s would fill the air on a regular basis. Growing up next to his older brother, Bill, he experienced the full adrenalin rush offered by both circle track and drag racing at the arena as well as shadowing many of the local racers wrenching on their cars in neighborhood driveways. After earning his license, it was only a matter of time till he made the rounds in a 1963 Pontiac Grand Prix, cruising to the hottest spot in town, Art Johnson's Drive-In, to watch the wicked cars in town vie for total street domination. Soon after, a number of Pontiacs and Chevys followed, each one packing plenty of heat under the hood.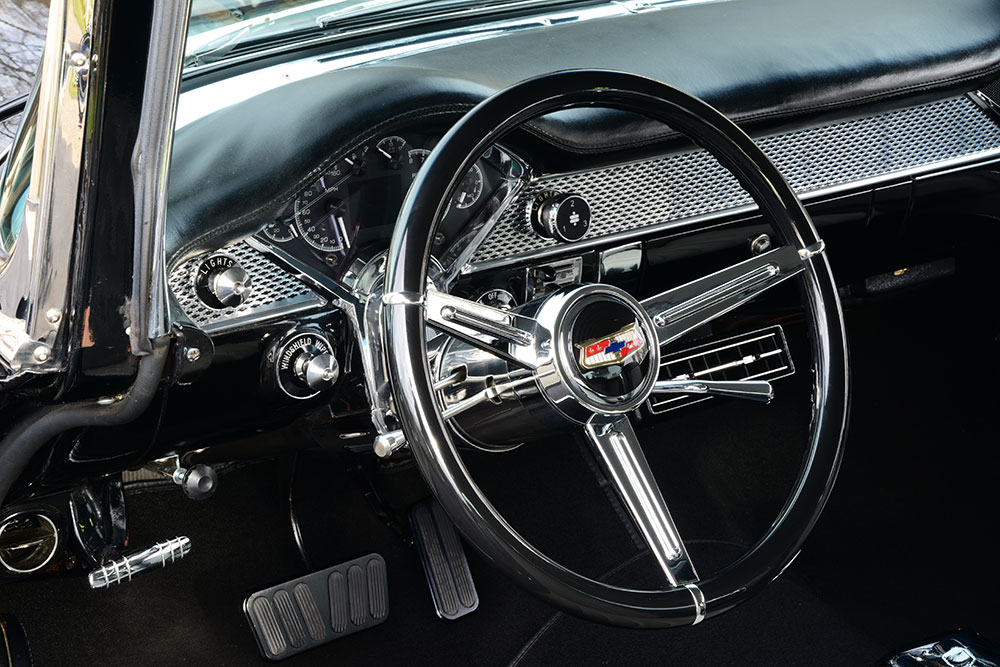 Even after owning plenty of cool cars over the years, Richie had always been drawn to the elegant lines of Tri-Five Chevy cars. It was only a matter of time till the search for one brought him face-to-face with a recently completed build being offered for sale. Without wasting any time, he swapped cash for keys, taking delivery of the '55 Chevy Bel Air noted above and immediately began putting down the miles. After the first year, however, it was time to make a number of changes to add even more performance to the mix. Let's take a look at what makes this ride so darn cool.
Read More: Second Time is the Charm: 1955 Chevy Bel Air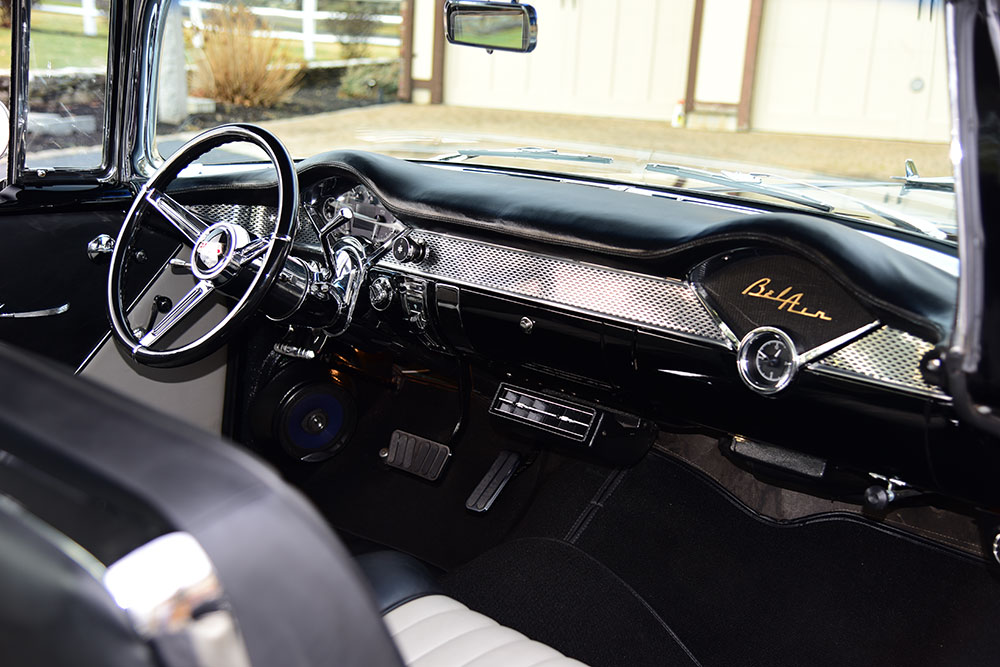 To get started, the team at Classic Resurrection tore the car down, reviewed the original frame, and, seeing it was rock solid, blasted it clean for the next step. For an awesome stance and great handling, a C4 Corvette Independent Rear Suspension was refreshed and installed utilizing a universal frame kit from Progressive Automotive to which Richie updated with Ridetech ShockWave airbags. Up front, a complementing C4 Corvette Independent Front Suspension was rebuilt and installed with a Progressive Automotive universal frame kit featuring their exclusive mounting hardware, which Richie also updated with Ridetech ShockWave airbags and air management controlled by a RidePro-HP system. For plenty of stopping power, a Tuff Stuff Performance dual power master moves fluid through stainless lines to C4 Corvette 12-inch vented rotors with matching calipers mounted at each corner. Linking it to the street, you'll find a set of timeless Ridler Wheels 675-Series, sized 17×7 at each corner, wearing Goodyear Eagle GT rubber, sized P235/55ZR17.
When it came time to upping the ante underhood, Richie contacted ATK High Performance Engines for one of their fire-breathing Chevy 383 crate engines. Starting with a seasoned four-bolt main block, it was machined to perfection and packed with a SCAT Crankshafts nodular iron crank linked to matching I-beam connecting rods wearing Keith Black Hypereutectic Pistons getting bumped by a Howards Cams hydraulic roller stick. A set of  high-performance ATK aluminum heads make plenty of seamless power, especially when matched to a Lester Performance Z3x2 three-deuce intake sucking down the goods through a set of Holley two-barrel carbs crowned with air cleaners from O'Brien Truckers. An MSD ignition lights the fire while exhaust moves through headers from Street & Performance to a custom 2 ½-inch stainless exhaust with Flowmaster mufflers. Other cool bits include the Hot Rods by Dean cooling module (core support, radiator, transmission cooler, overflow tanks, power steering reservoir), Lokar Performance cables and brackets, Optima battery, March Performance style track accessory drive system, and Edelbrock finned aluminum valve covers with all assembly and plumbing by Richie. To move the goods, a TCI Automotive StreetFighter 700R4 transmission links to a custom driveshaft.
Read More: Old- School 1955 Chevy Gasser Packs a Punch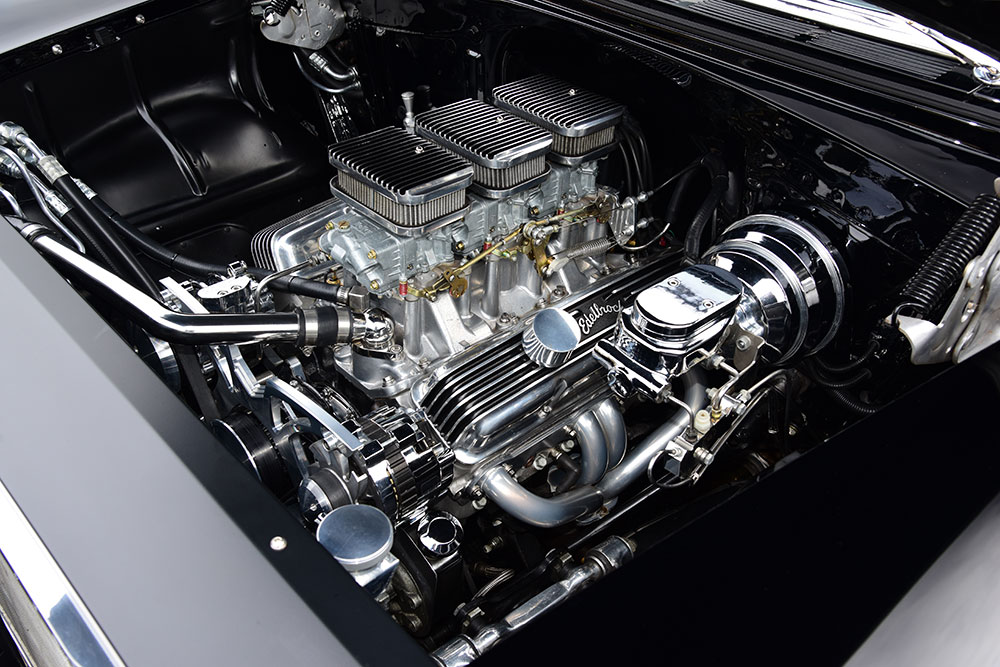 There's nothing better than blasting a body bare and finding out that there is minimal repair work needed thanks to the climate it's lived in over the past decades. Fortunately, the Bel Air got a clean bill of health, allowing the team at Classic Resurrection to mount it on a rotisserie to start finessing the sheet metal while also setting the gaps to prepare it for paint. A fresh coating of PPG Refinish Black set the vibe, bringing it all back to life. During reassembly, a bevy of fresh brightwork, including one-piece bumpers, grille, handles, trim, and accessories from East Coast Chevy in Doylestown, Pennsylvania, added a final classic touch. Inside, the padded dash was treated to a custom inlay and packed with Dakota Digital HDX instruments to monitor the vitals. A stainless steel polished Flaming River steering column shift showcases a CON2R Sebring-Series steering wheel, while Vintage Air provides the cool breeze and a Ron Francis wiring system (installed by Richie) ties it all together. For comfort, a set of 1963 Chevy Impala bucket seats with matching console and rear seating in black and gray Naugahyde finish the look accented by black loop carpeting. This is one Chevy that sees plenty of road miles, and to us that's what it's all about!    MR
Strauss' 1955 Chevy Bel-Air With a Classic Touch