Father & Son Built High-end Ford F250 With Ford Big Block Power
By Tommy Lee Byrd   –   Photography by the Author
Ford truck enthusiasts are a passionate group who lead the pack in terms of nicknames for their favorite body styles—Unibody, Bumpside, Dentside, just to name a few. Although less common, another nickname is the "Highboy," a name that refers to '67-77-1/2 Ford F250s, specifically those optioned with four-wheel drive. These old trucks naturally sat higher than their two-wheel-drive brothers due to the driveline configuration, earning the name and reputation for hard work. Highboys were rarely recognized for their fit and finish or overall build quality, but a father-and-son from Madisonville, Tennessee, changed that with the restoration of this immaculate '69 Ford F250.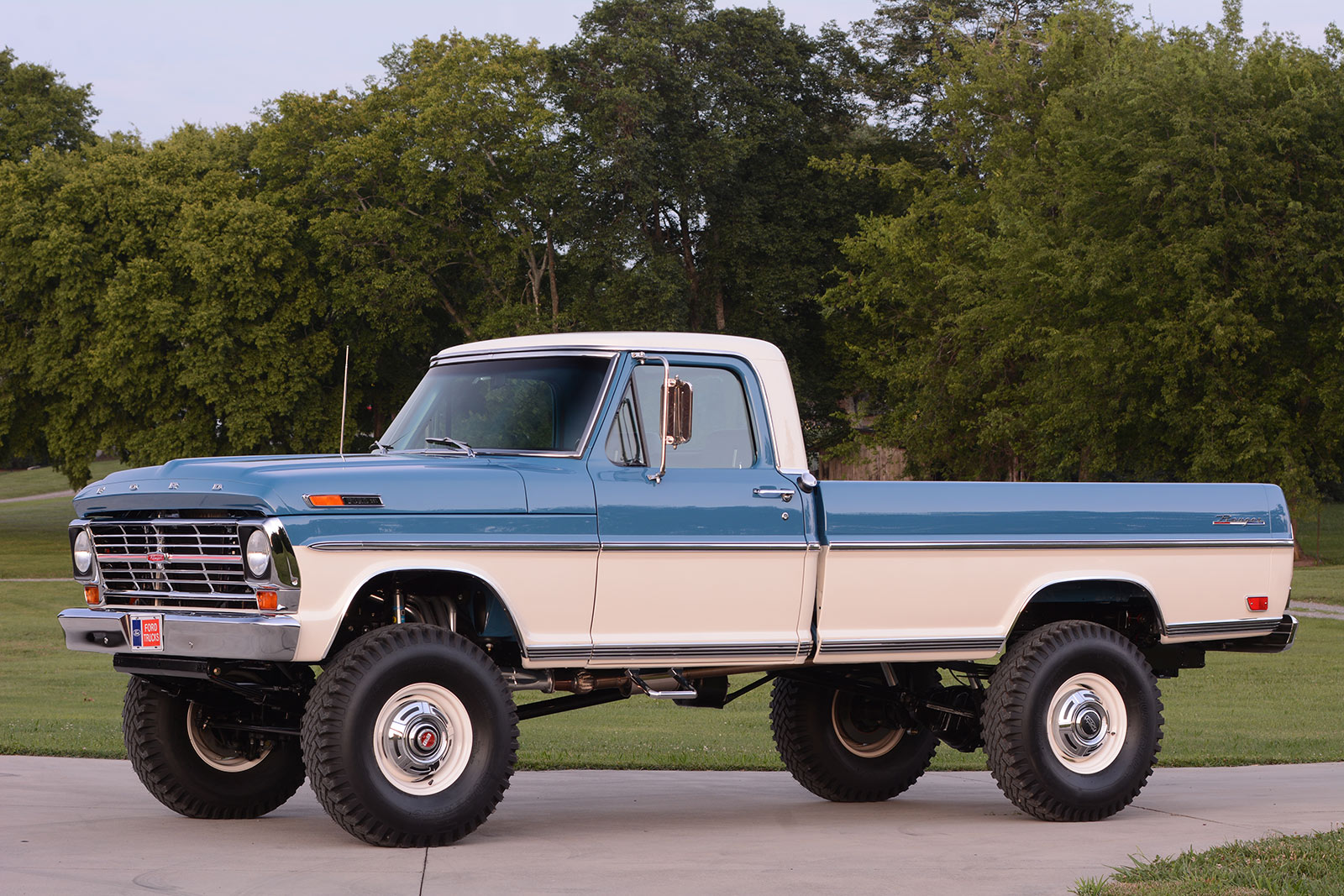 Read More: Duramax Powered Chevy K2500
This tough-looking Ford came to the Randolph family in 2015 as a rough start, but Chesley could see the potential, as he's spent many years studying, building, and trading vintage Ford trucks and parts. He always wanted to do a full restoration on a Highboy, and this '69 popped up in an F100 Facebook group at just the right time. Chesley's son, Carter, was young, but the truck would serve as a great way to introduce him to the intricacies of such an in-depth restoration project.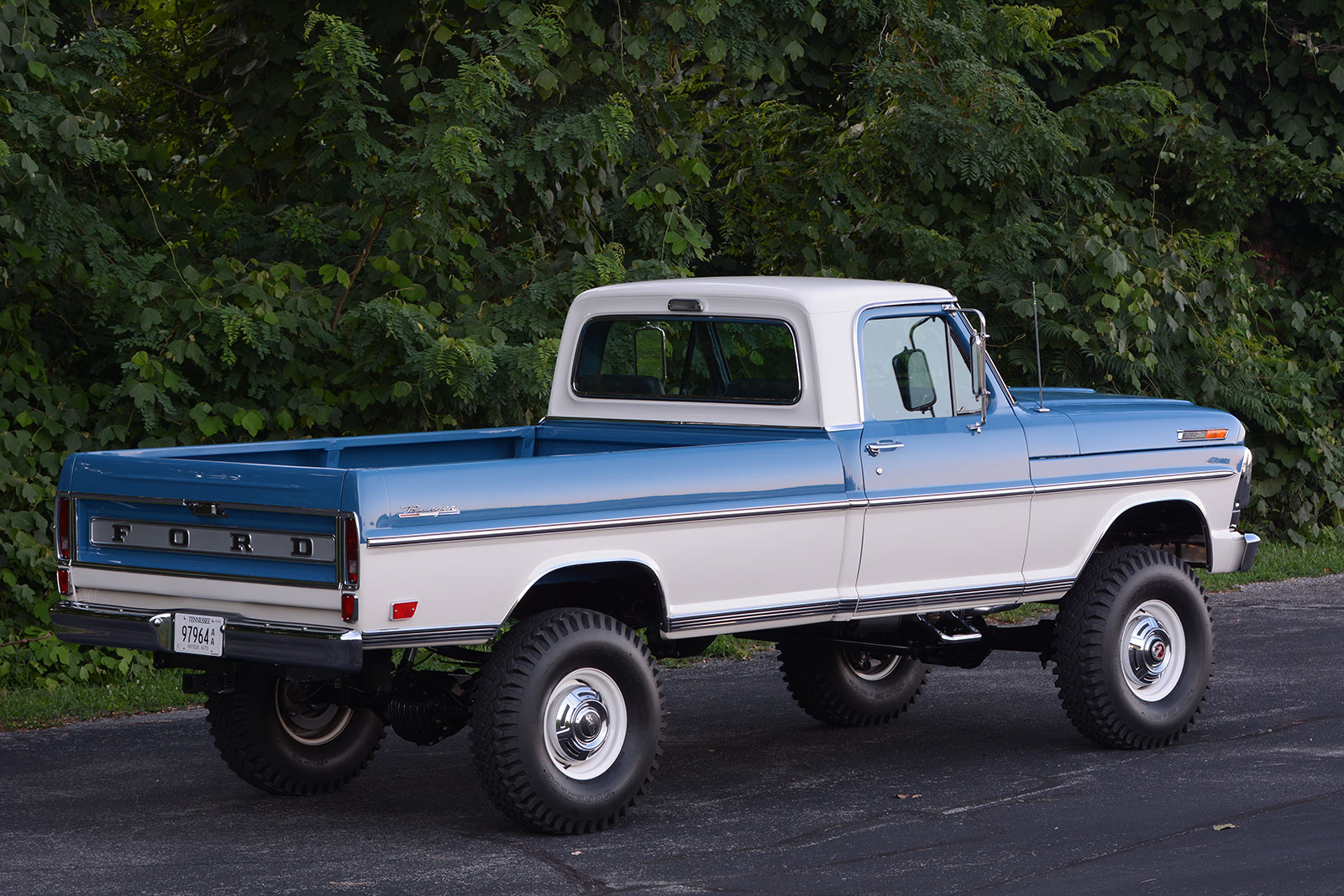 Chesley's goal was to build a Highboy with the classic stance that he remembered from his childhood. Since these old trucks featured lift blocks on the rear from the factory, he decided to keep it simple with a set of 1.5-inch lift leaf springs up front. This brought the ride height up to match the 4-inch blocks on the rear. Bilstein shocks control the ride quality, while a '78-79 F250 power steering setup offers improved steering performance. The Dana 44 front axle has been upgraded with a finned aluminum cover, and it was converted to '76 Ford Highboy two-piston disc brakes. Chesley also upgraded the Dana 60 rear end housing to disc brakes using a Lugnut4x4 conversion kit. Assisting the disc brake system is an F450–style Hydro Boost brake system by Power Brake Service.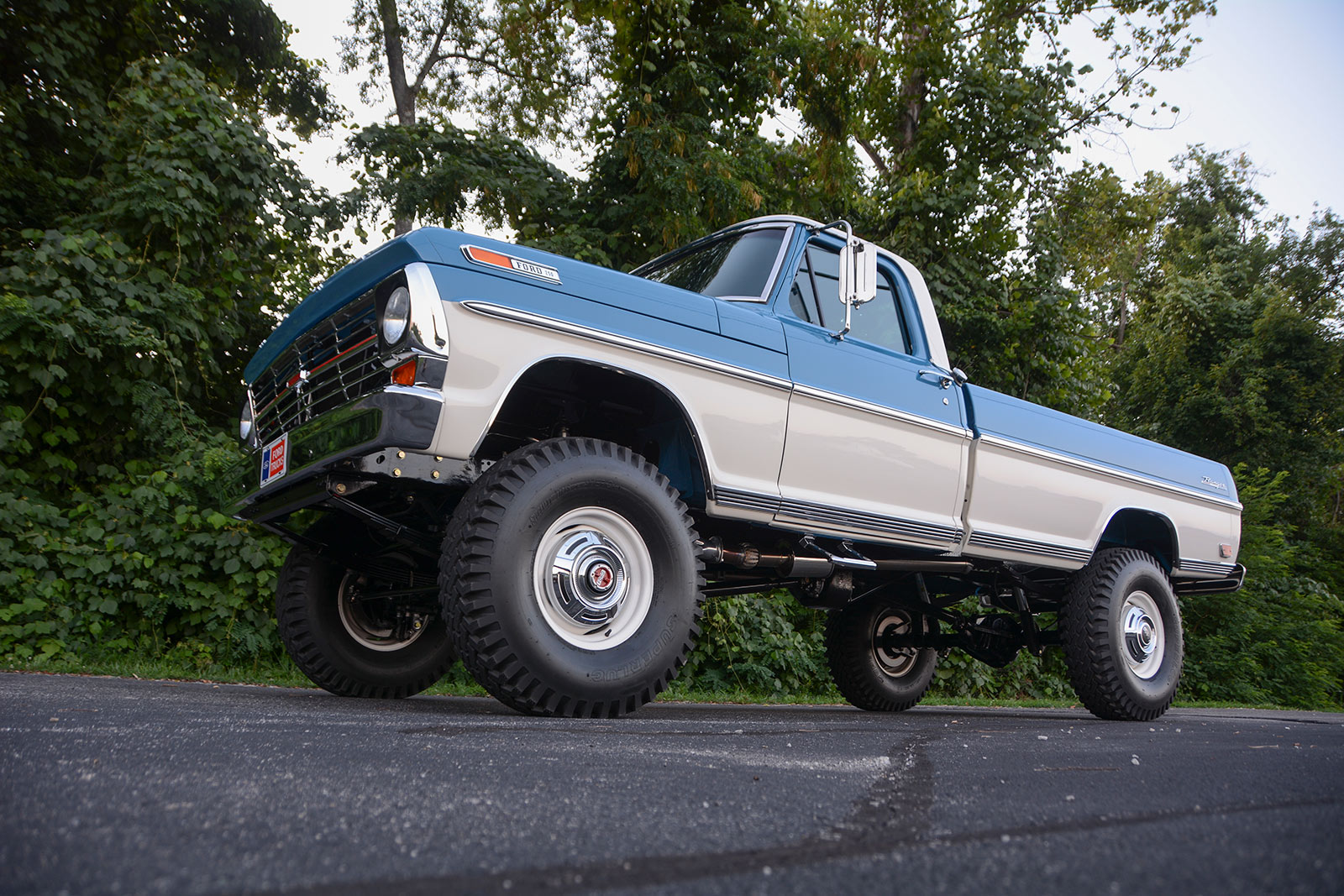 The truck rolls on a set of stock-appearing steel wheels, which are later-model wheels from the '90s measuring 16×7. The eight-lug steelies are powder coated white and feature a set of steel F250 center caps that have been chrome plated by Atlantic Coast Plating in Athens, Tennessee. The tall and skinny bias-ply tires are STA Super Lug 900-16 from Coker Tire; they measure 36 inches tall, a perfect fit for this high-riding Ford.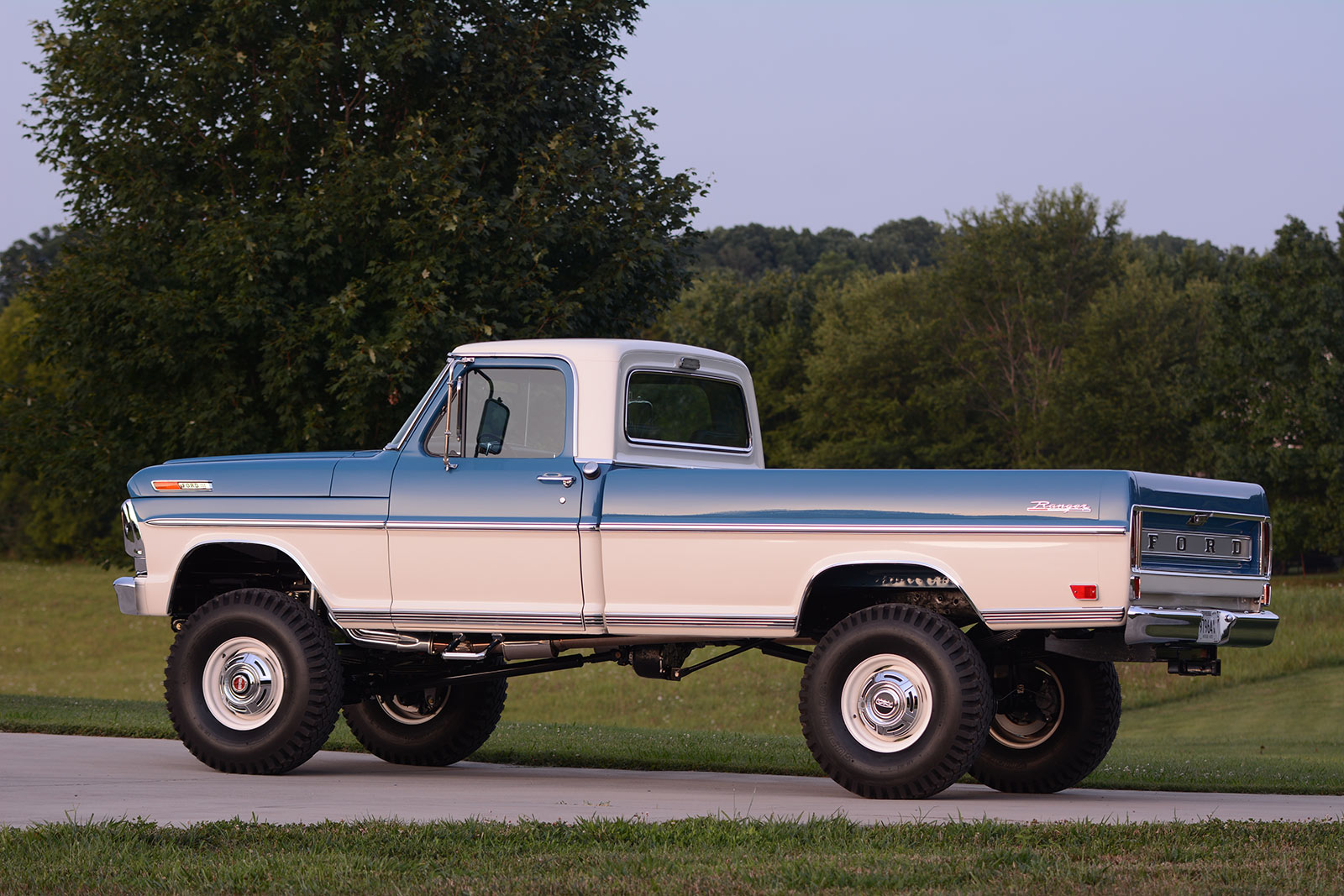 Read More: Gritty 1968 Dodge Power Wagon with Hellcat Hemi Power!
Horsepower comes from a 466ci Ford big block, originally yanked from a '68 Lincoln. The engine started life as a 460. Roberts & Sons bored the cylinders and prepared the block for new pistons. Chesley handled the engine build in his home shop, using a collection of Melling, Clevite, and Sealed Power components. Roberts & Sons lightly ported the C8VE cylinder heads and Chesley installed a Cam Research camshaft, which features 0.515/546-inch lift. Up top is an Air Gap Edelbrock intake manifold and an Edelbrock 750-cfm carburetor. Chesley upgraded the ignition system with a PerTronix distributor and coil and upgraded the cooling system with a Champion aluminum radiator and dual electric fans. A set of Hedman Husler fenderwell headers are ceramic-coated and provide a smooth path for the spent gasses as they transition into 3-inch stainless steel pipes and Vibrant Performance resonators. Horsepower for this combination comes in at approximately 430, while estimated torque is at 525 lb-ft.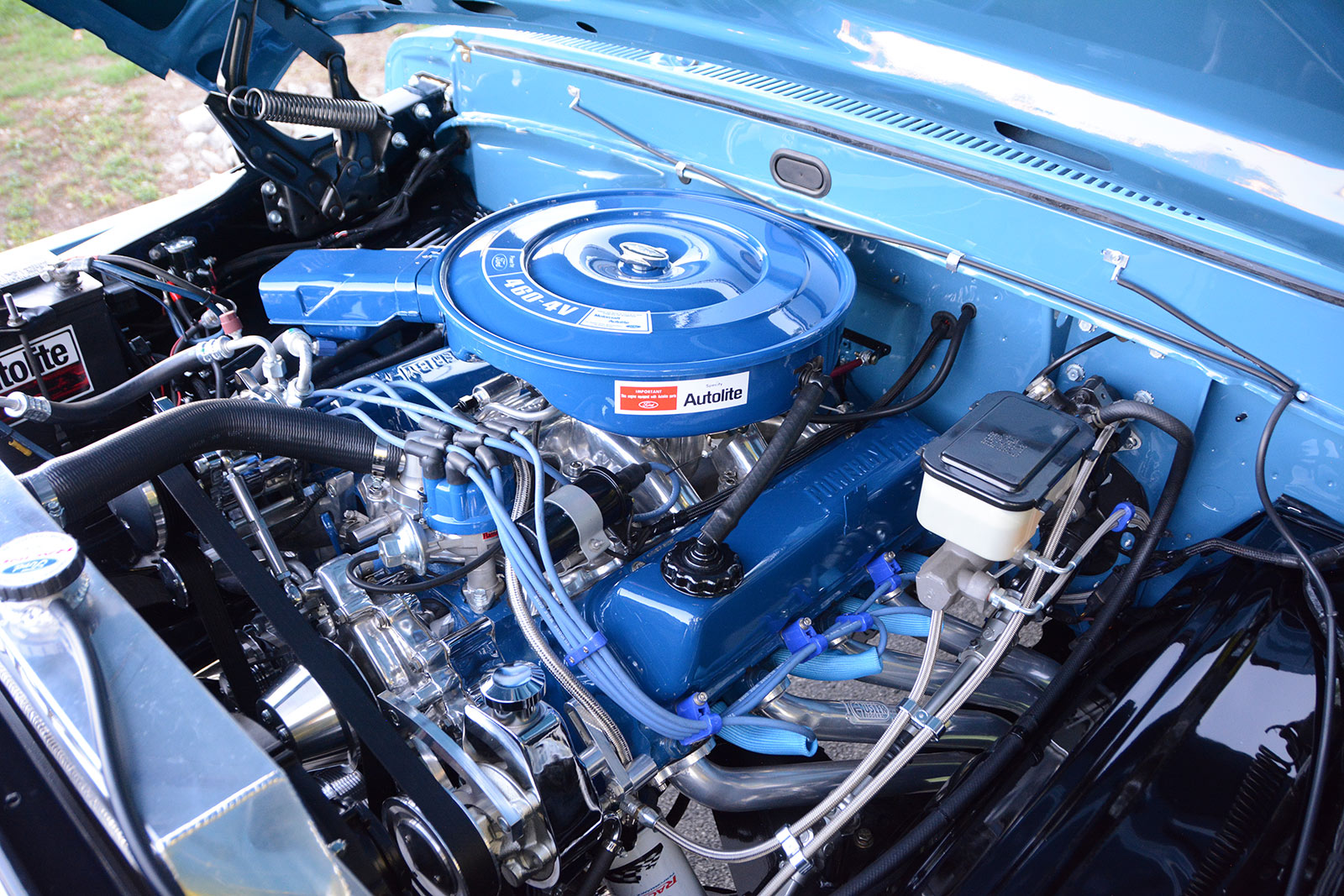 A CVF serpentine belt system gives the Ford big block a clean, custom look and makes it easy to mount the modern power steering pump and the polished AC compressor from Vintage Air. The engine features Ford Blue valve covers and a stock-style air cleaner, while polished aluminum components make the engine bay pop. Behind the Ford big block is a Ford C6 transmission that Chesley rebuilt. He kept it stock but added a 2800 Hughes stall converter to match up with the camshaft, 4.10:1 gears, and tire size.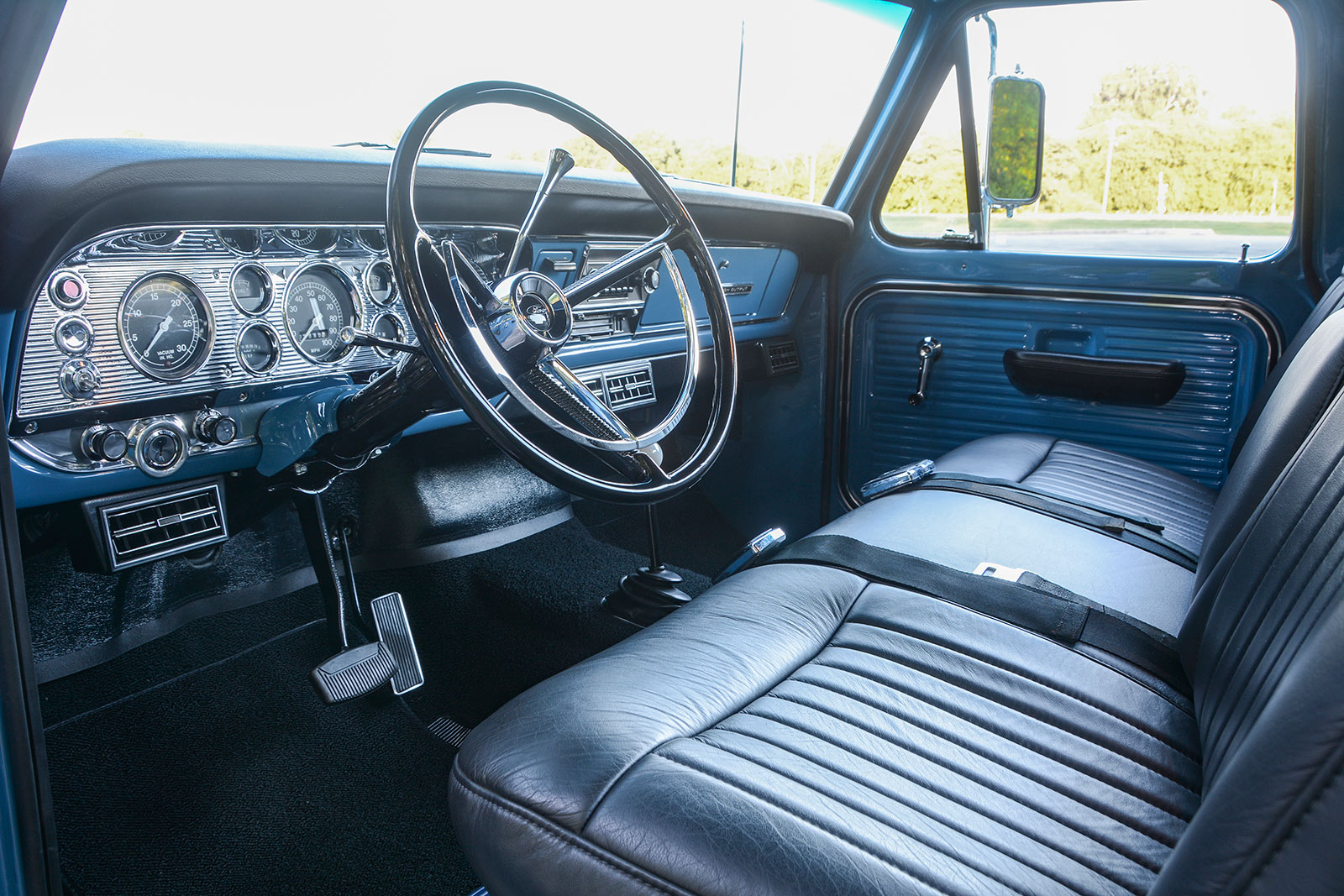 When it came to aesthetics, Chesley and Carter went to great lengths to find suitable body panels. Although the Marti Report says that this truck was ordered with a flare side bed, Chesley went with a fleetside bed. In fact, he swapped the entire body from a two-wheel-drive Camper Special to start with solid and straight panels. Chesley stripped the body to the bare metal on a rotisserie and handled the necessary fabrication work to replace the drip rail while Gary Denton straightened the panels and prepared them for paint. Denton was also responsible for spraying the R-M single-stage urethane paint, which is mixed in Harbor Blue and Wimbledon White. New upper and lower trim came from Dennis Carpenter, and Chesley found a nice, original white grille and sent it off for chrome plating in addition to the bully steps, tailgate hardware, and other odds and ends. All body mounting hardware was thoroughly cleaned and zinc-coated for the proper finish.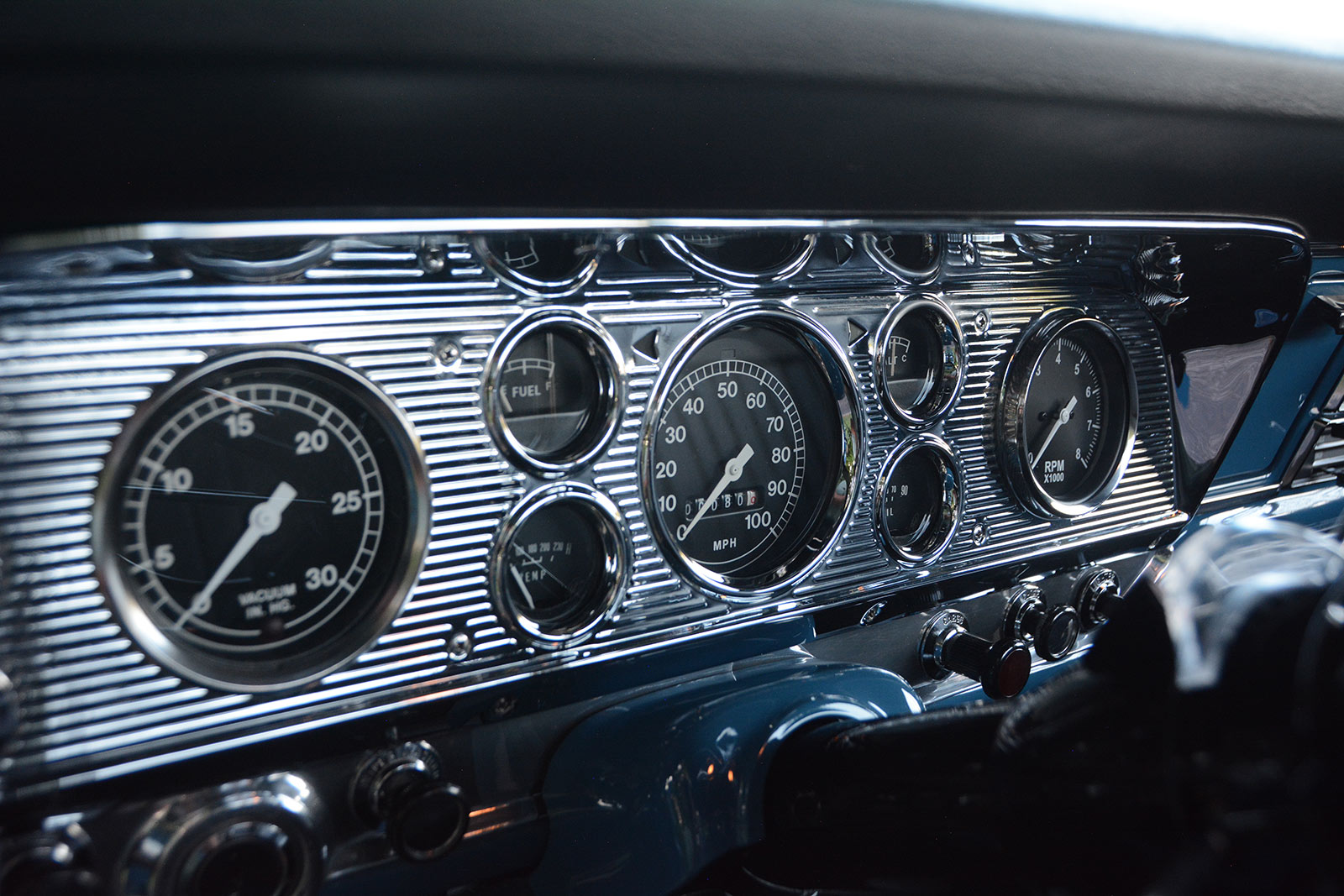 Inside, there is even more attention to detail, with immaculate trim and paint finishes throughout. The seat upholstery and custom headliner were stitched by Morgan's Auto Trim in Lenoir City, Tennessee, utilizing Moore and Giles leather. Chesley used an '87-91 F150 seat for comfort and went with a factory-style steering wheel that was cut down from 17 to 15 inches. The dash features an F600 gauge bezel, which has been chrome plated and filled with nicely restored factory gauges. Also in the dash you'll find the factory AM radio has been converted to AM/FM and auxiliary input by R&B Vintage Radio. Vintage Air AC controls replace the original heater controls, and an under dash vent panel offers the perfect vintage look.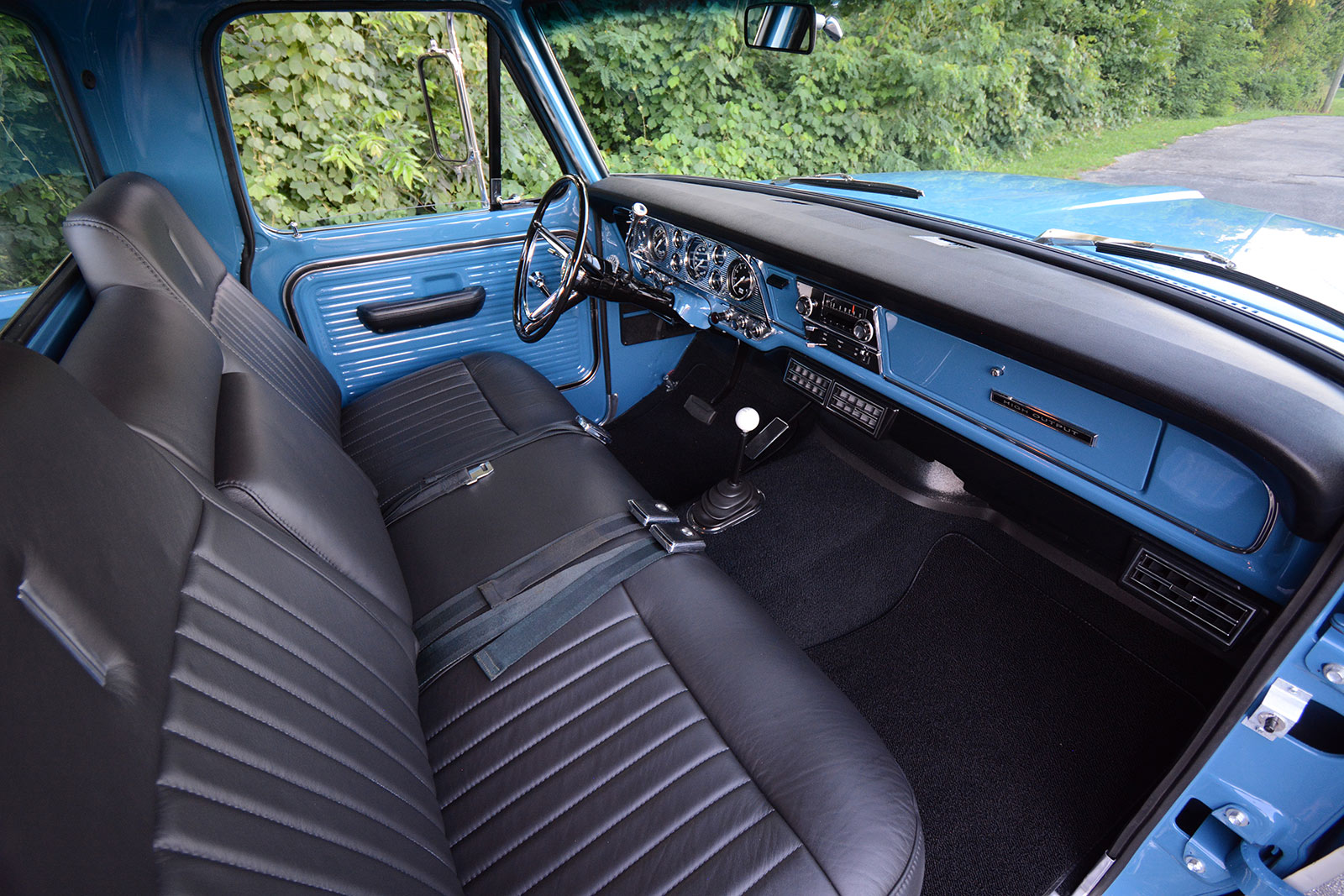 Read More: Best Of Both Worlds: LS Swapped '72 K5 Blazer
After more than six years of collecting parts and restoring this truck, the result is a Highboy that far exceeds Chesley's original expectations. It's a high-end truck that gets attention wherever it goes, whether it's an F100 show or the local cruise night. Chesley and Carter spent quality time on this truck, and now it's time to enjoy the fruit of their labor. The truck was finished just in time for the Grand National F100 Show in Pigeon Forge, Tennessee, and the father and son took home Best in Class against a huge field of trucks. With the support of his wife, Tanya, and help from friends like James Maston and others, the truck reached the finish line. The two-tone Ford stands tall, literally and figuratively, and holds a special place in the Randolph family, thanks to many years of work and the ultimate hands-on experience for a young truck enthusiast following in his father's footsteps.